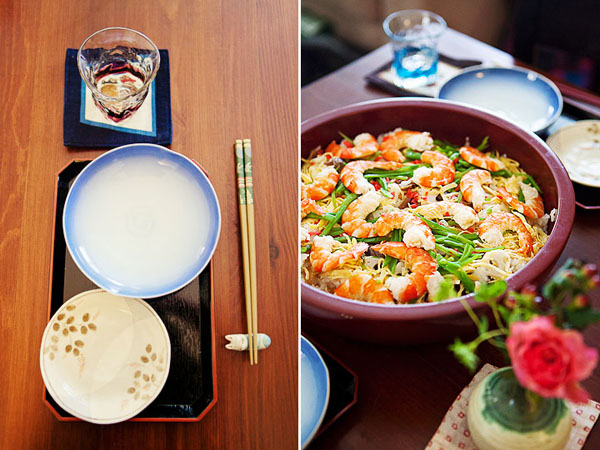 In Memory of Mrs Masako Kobayashi
Last year, I had the privilege of meeting Masako, a very lovely woman – mother of my dear friend Chiho. I went to Chiho's place to meet Masako for the first time as she visited Sydney to help Chiho looked after her second born. Masako greeted me with lots of smile and a beautiful Japanese luncheon. She was most proud of her signature miso soup with the added poached egg.
Unfortunately Masako passed away this year after being in a coma for a week due to motorbike accident. She was on her way to the grocery store nearby and a car hit her motorbike.
Her enriched life was very much celebrated and about 200 people attended the funeral in Nara, Japan. Masako has left many beautiful memories and cooked delicious food for all the people she loved and met in her lifetime. I think it is such a great thing that she left us these recipes to remember her by.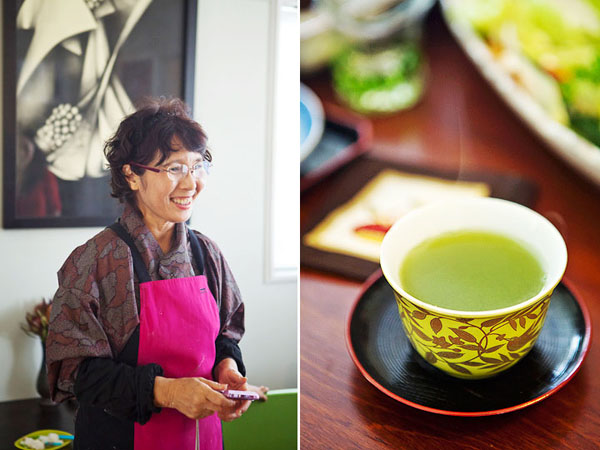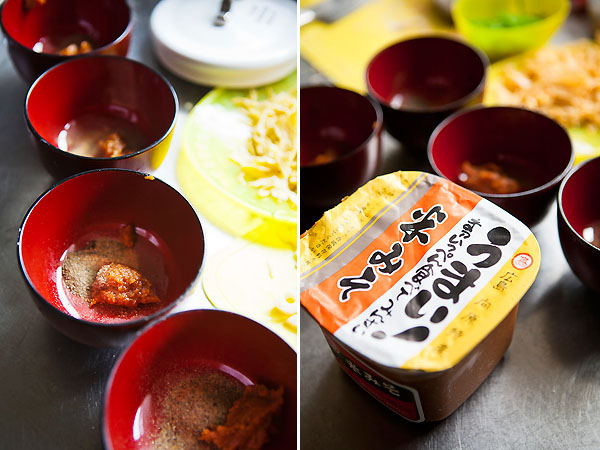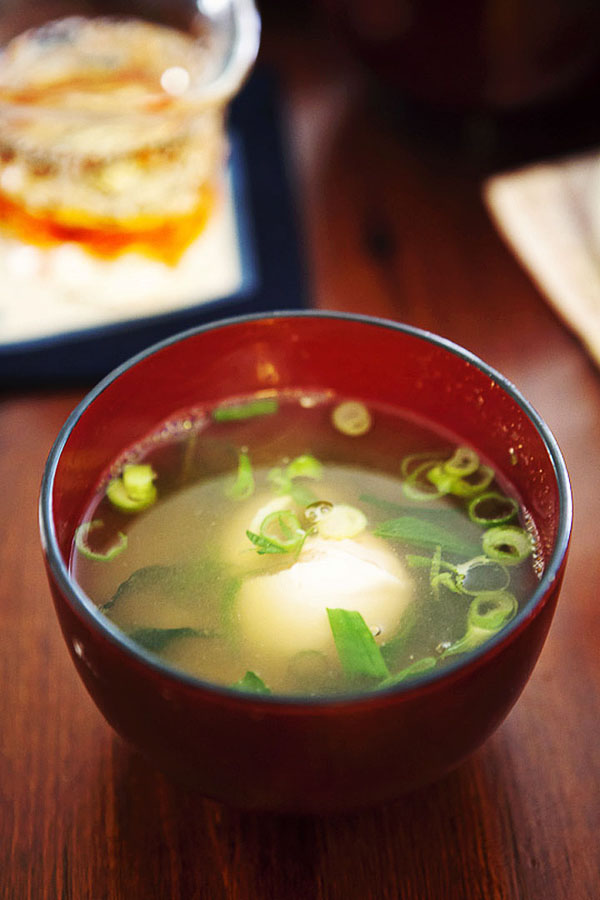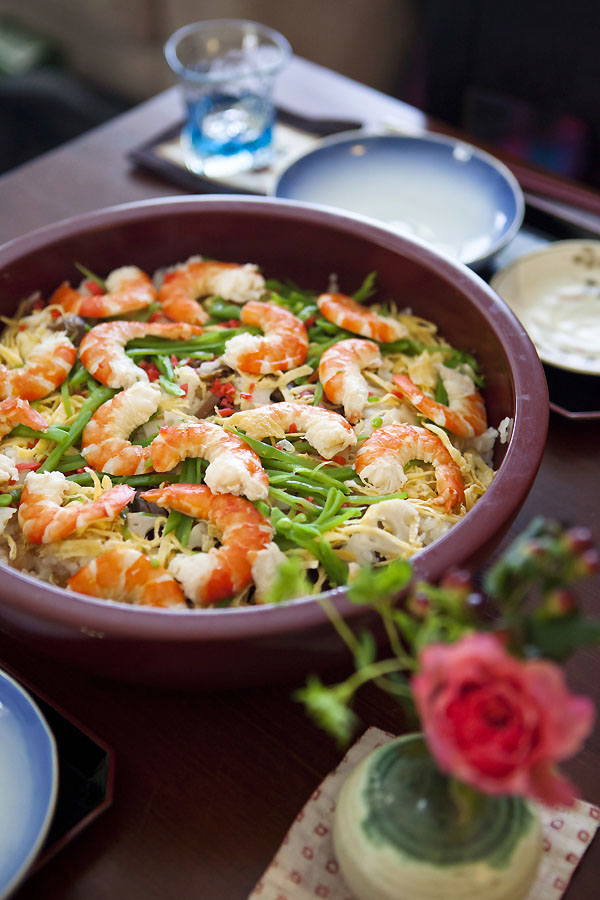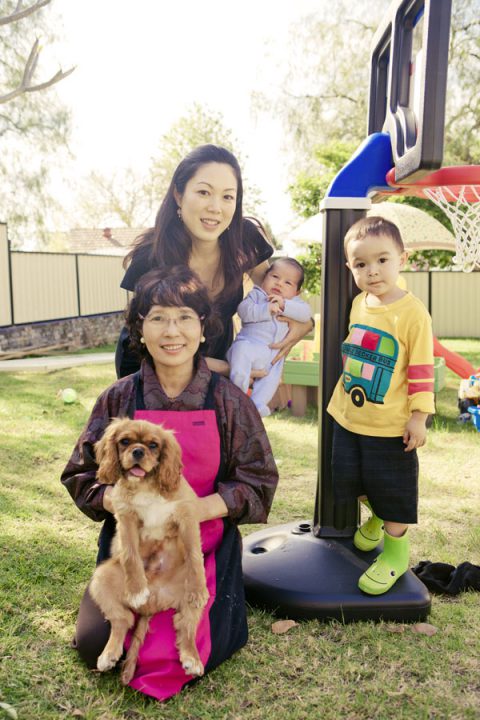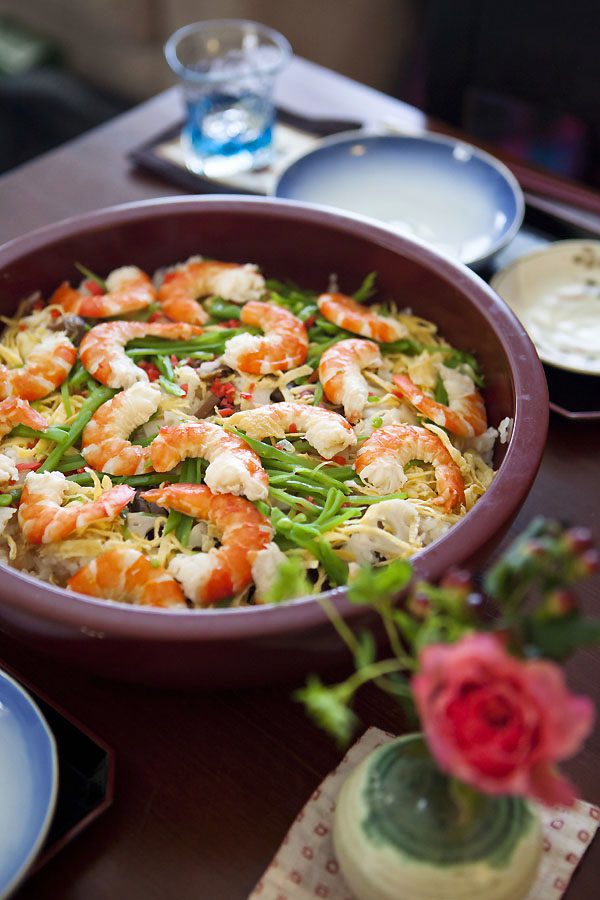 Chirashi Sushi
Prep time: | Cook time: | Serves 4
2 cups of short grain / sushi rice
1 cup of water
1 piece of konbu (dried kelp)
mirin (sweet cooking sake)
rice vinegar
sugar
salt
10g of kanpyo (dried gourd strips)
egg omelette
50g snow peas
1 medium size lotus root (can be replaced with frozen ones)
5 dried shiitake mushroom
12 tiger prawns
Combine water, rice, and konbu and cook in rice cooker.
Prepare the kanpyo by rinsing it in cold water and soak in warm water for 10 mins with a pinch of salt.
After the rice is cooked add 25ml rice vinegar, 15g sugar, 10g salt and kanpyo then mix thoroughly. Set aside to cool.
Boiled the unpeeled prawns with 1 tbs of rice vinegar, 1 tbsp of mirin. When cooked, peel and slice in half.
Soak the shiitake mushrooms in hot boiling water just enough to cover the mushrooms for around 5 hours then boil it in a pot with 1 tbs of mirin, 1/2 tbs of sugar, and 1&1/2 tbs of soy sauce until all liquid is reduced. Allow to cool and slice thinly.
Peel and place the lotus root in a pot and cover with water, soy sauce, mirin and rice vinegar 1 tbs each. Boil on low heat for half hour, set to cool, then slice thinly.
Thinly slice the egg omelette into long thin strips.
Boil the snow peas, drained and sliced thinly.
Put the mixed rice in a large serving bowl and scattered each sliced ingredients on top layer by layer.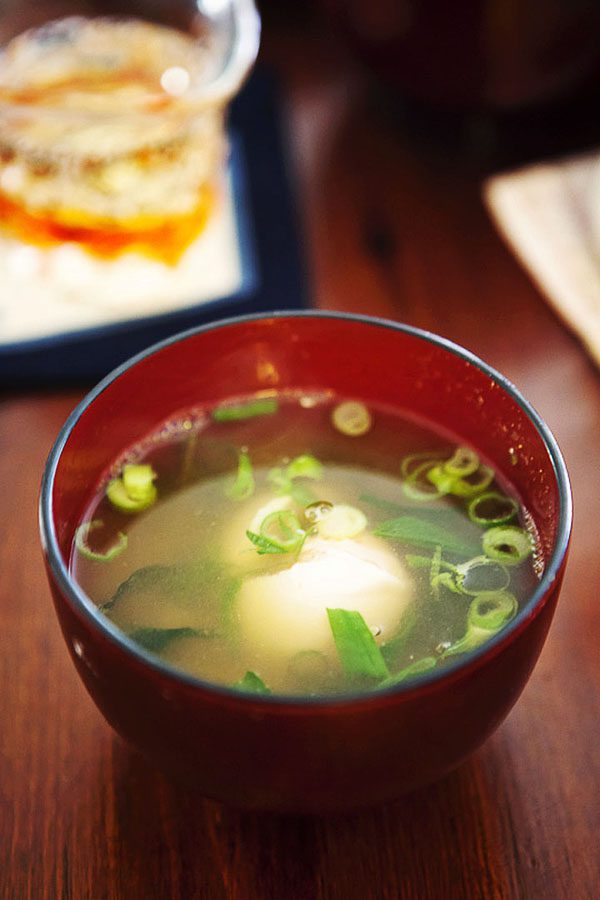 Miso Soup with Poached Egg
Prep time: | Cook time: | Serves 1
1 tsp miso paste
1 tsp dashi powder
spring onion
1 egg
Poached the egg

Place the miso paste and dashi powder in a single serving bowl and pour over hot boiling water, mix together, and add the finely chopped spring onion

Put the poached egg into the miso soup. Slightly break the yolk so it mixes with the soup