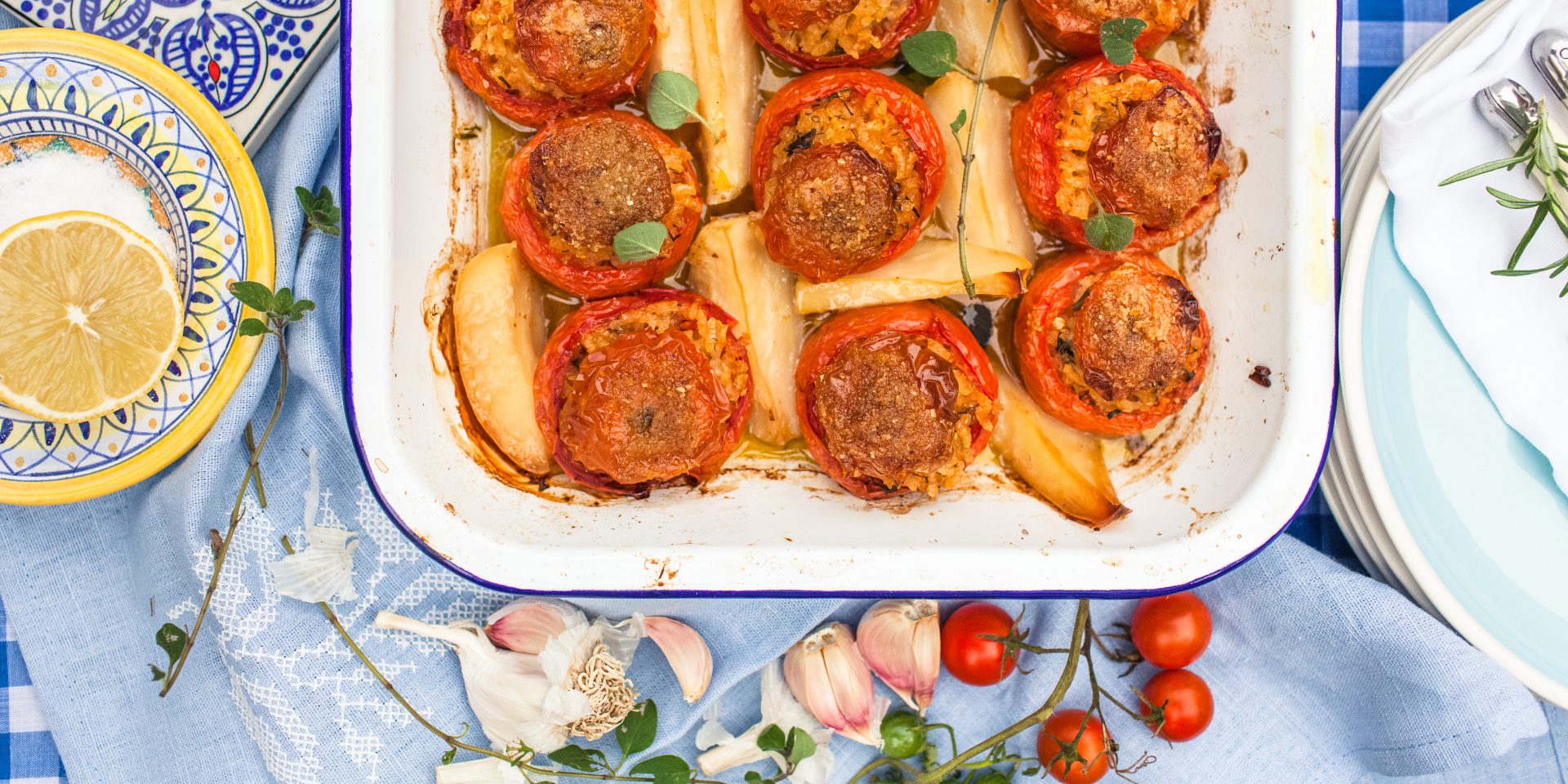 Mrs Mulberry shares with us her passion for Greek cuisine and culture, making this delicious Greek luncheon using her mother in law's family recipes.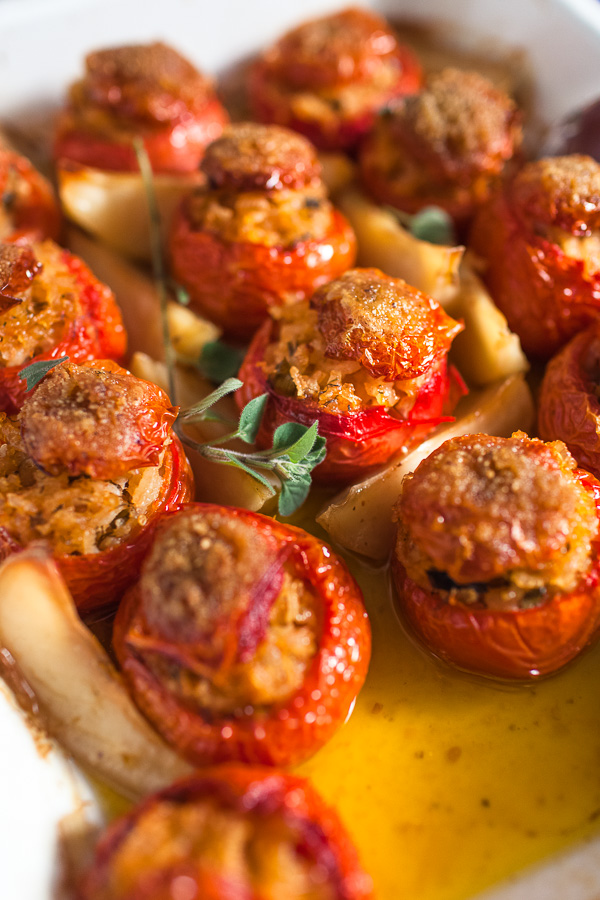 Mrs Mulberry: "On the day my family and Mr K's family met, my mother in law's stuffed tomatoes featured on the Greek Easter table. They were absolutely delicious and both I and my family adored them (my mother is completely tomato obsessed – so this was the perfect start to a strong friendship between in-laws). Since then, I have learnt this dish and many others from my beautiful and generous mother in law. In turn, I have shared these with my family and also cooked them for get togethers with both our parents. For me, this dish really symbolizes the coming together and lovely harmony between our two families and cultures."
WDTD had the pleasure of getting together with Mrs Mulberry of Mulberry and Pomegranate to sample some of her amazing greek dishes.
Mrs Mulberry says, "One of the great passions in my life is cooking for a shared table of my family and friends – and also photographing it and writing about it on my blog. I like to celebrate important moments in their lives with a wonderful feast inspired by the things they love. Since marrying my handsome Greek Australian husband in 2010, the flavours of the mediterranean, but most particularly those of Greece have filled my kitchen and my life."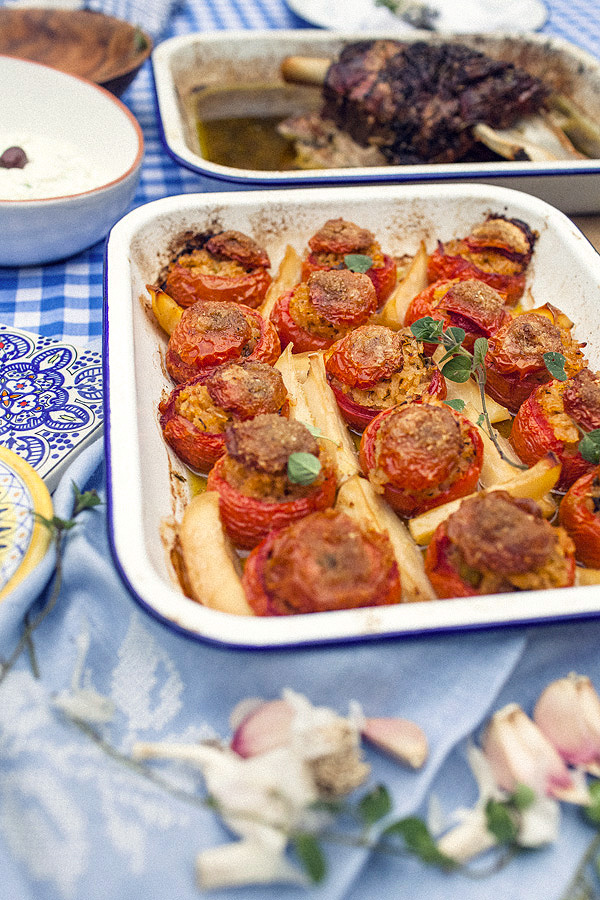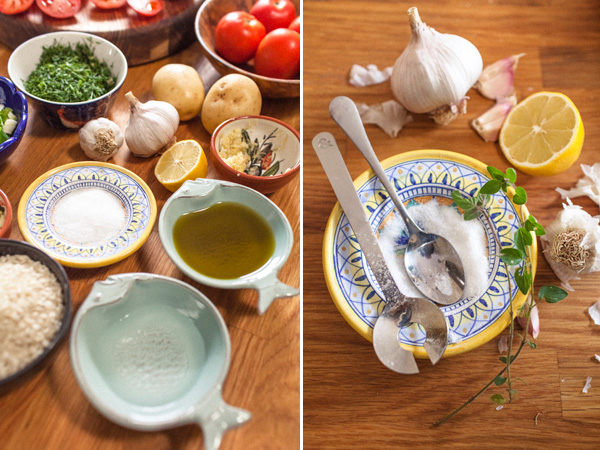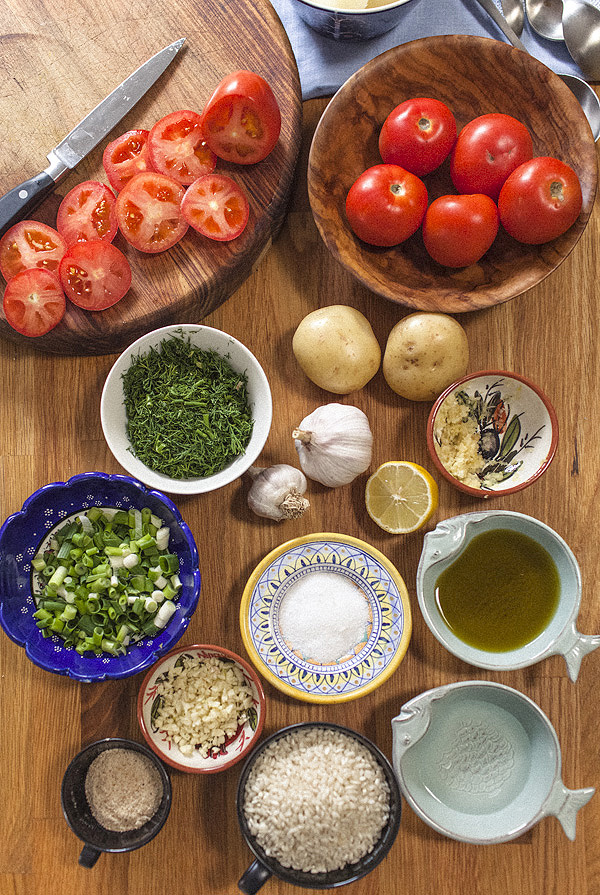 The little dishes used here have been collected on Mrs Mulberry and Mr K's mediterranean travels. The yellow dish was bought on their first holiday together in Sorrento on the Amalfi Coast, the little terracotta dishes with olives illustration are from Olympia on a visit to Mr K's father's village, the little fish dishes were from a trip to Beaune last year and the olive wood bowl is from Mr K's mother's island.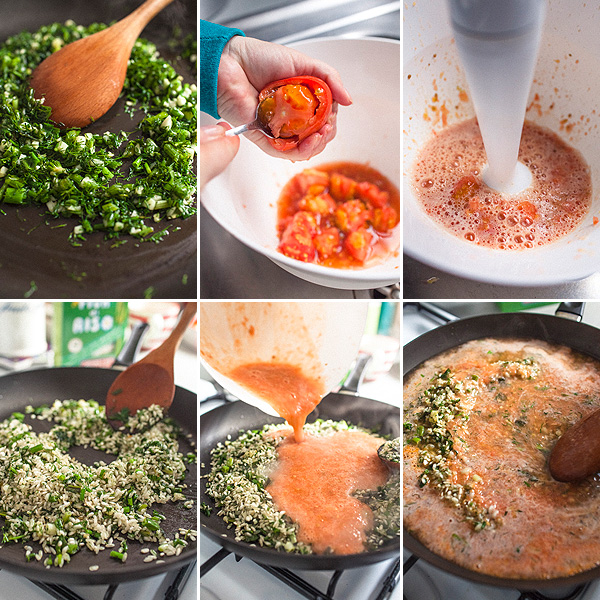 This Stuffed tomatoes (domates yemistes) recipe comes from Mrs Mulberry's mother-in-law and is a good example of the Zakynthian love of herbs. In Zakynthos (her mother in law's home Island) she would have used the maratho (wild fennel) growing in the olive groves and roadsides instead of dill. Sometimes, when this dish is made, she will also add capsicums, eggplants and zucchini.
Mrs Mulberry says, "If the dish is being made for a special occasion, Ma will also add about 1/2 cup of finely grated hard cheese to the mixture, just before stuffing the vegetables. The cheese used in Zakynthos would be homemade ladotyri (oil cheese) but pecorino or kefalotyri can be used here. Sometimes half a cup of the beautiful, unique Zakynthian currants may also be added."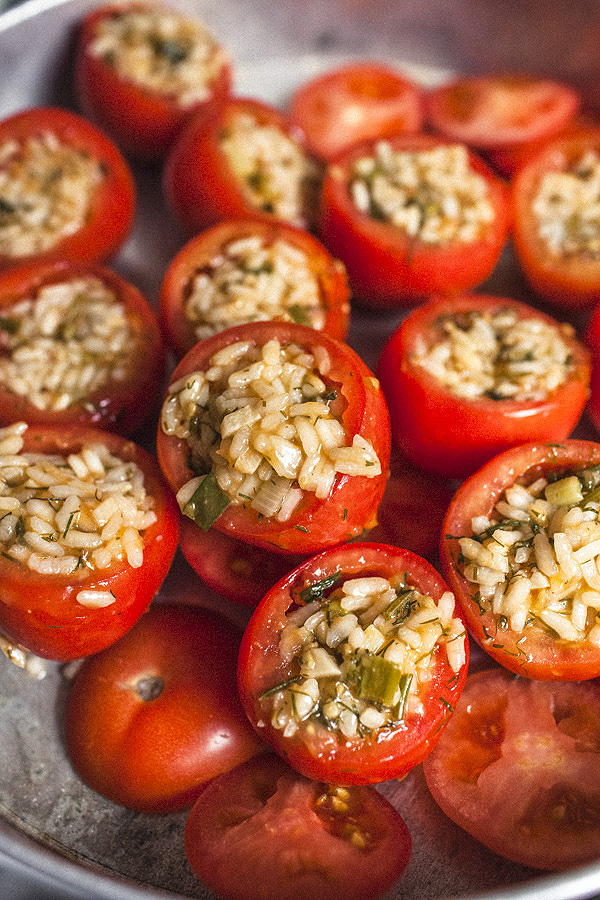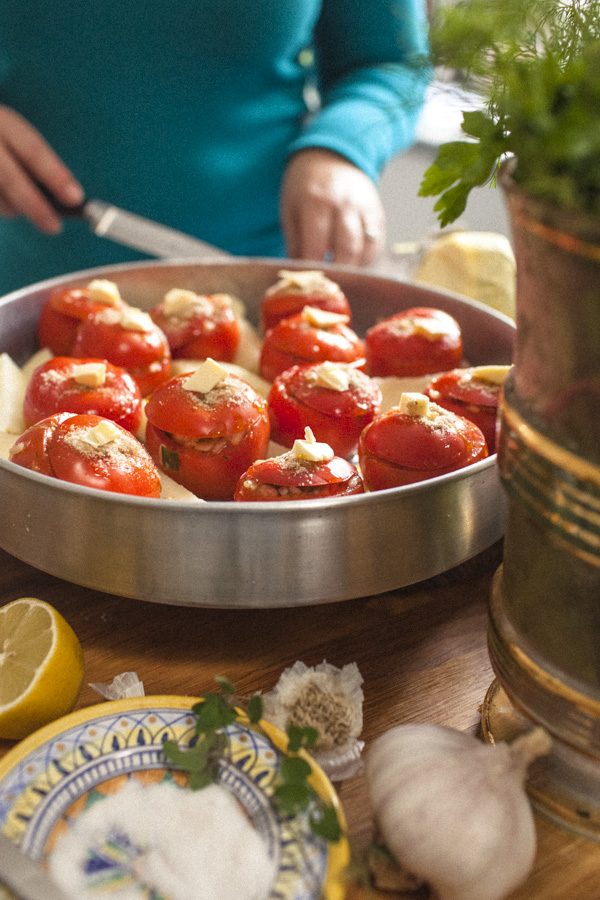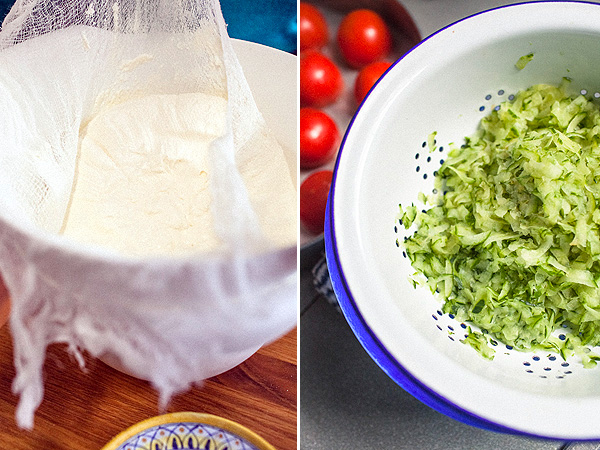 Truly the best Tzatziki ever!! This recipe comes from Mrs Androulakis, who is the mother in law of Mrs Mulberry's sister in law, Joanne (re-read the sentence if you have to). Mrs Androulakis is from Crete – and the Cretans are known throughout Greece for their excellent cuisine! Joanne and her husband often makes this Tzatziki for family get-togethers and it is always delicious. It is served with slow cooked or spit roasted lamb or goat and is also lovely on any meze platter with keftethes, fried zucchini or eggplant and little cheese triangles. Mrs Mulberry says. "My mother in law has recently suggested that it is best to make the garlic into a very smooth paste in a mortar and pestle, with a little salt, before folding into the yoghurt."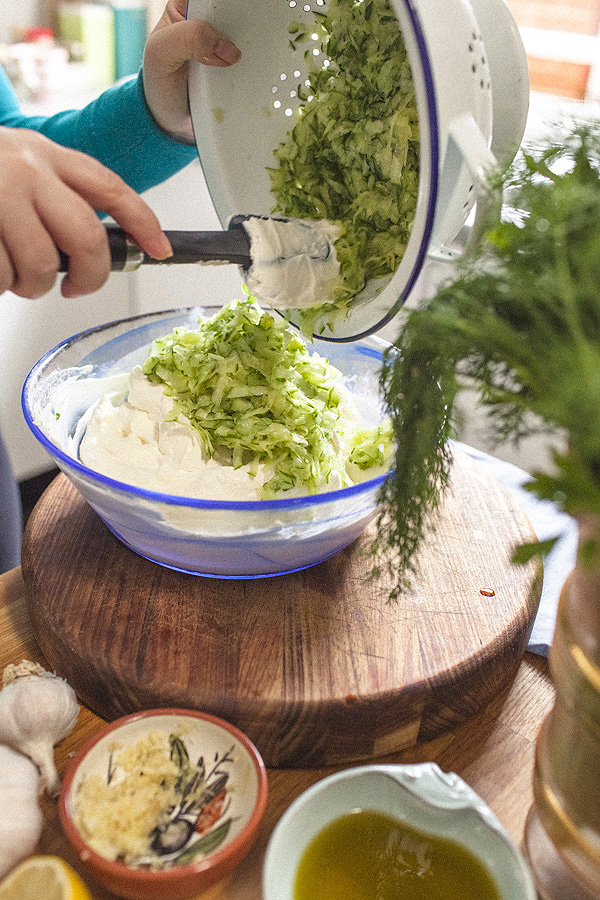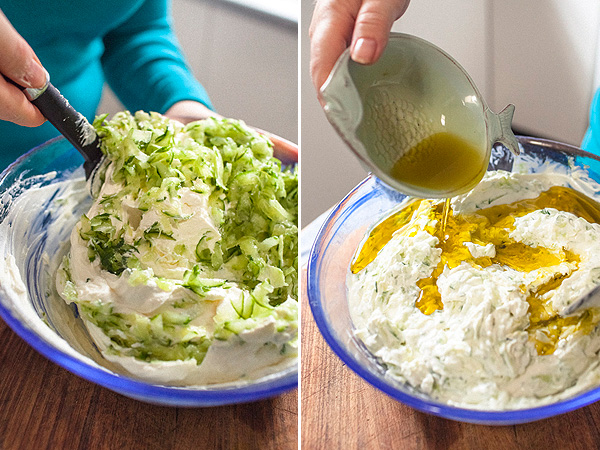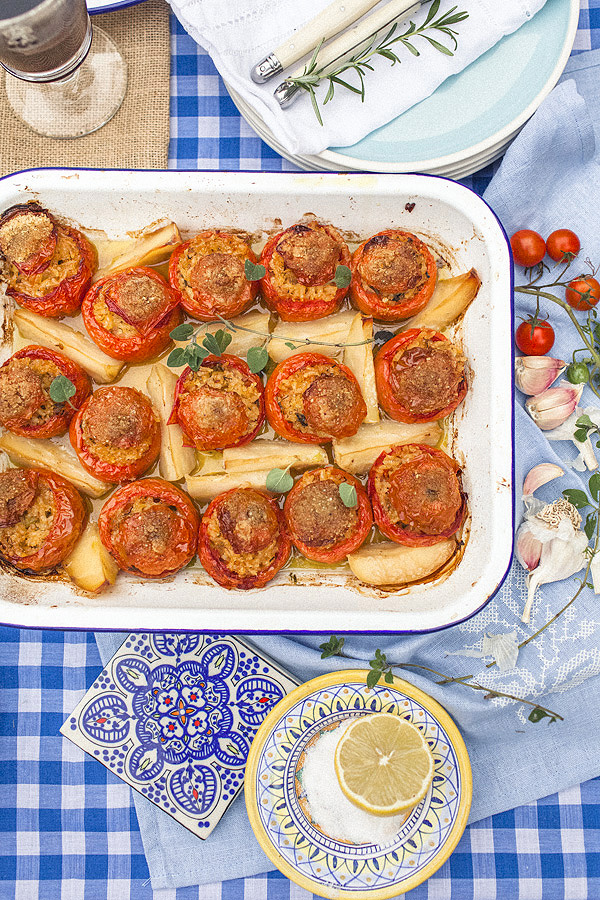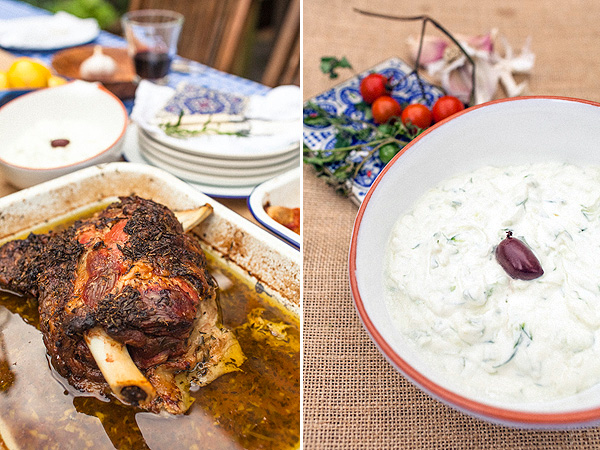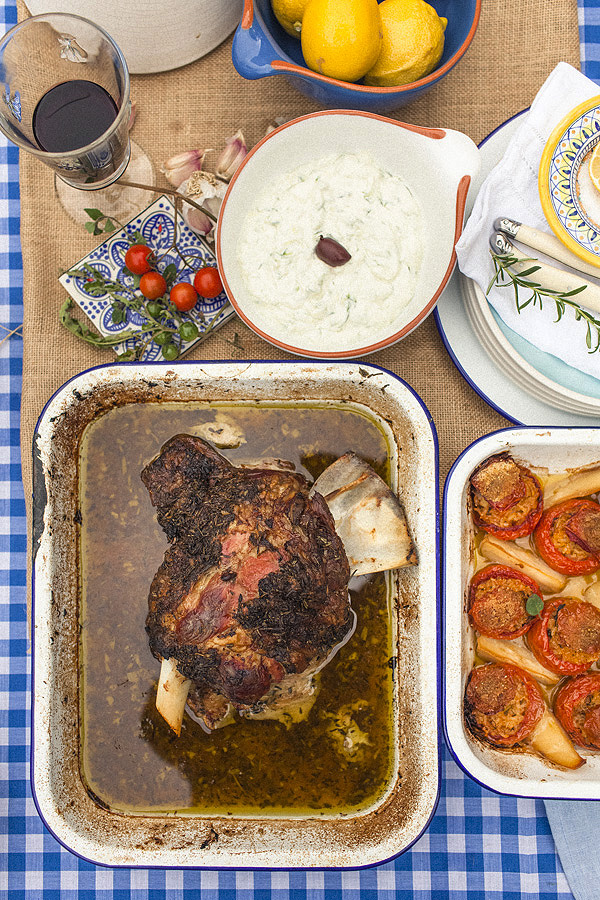 This lamb is a great dish to make when you are catering for a smaller group or if your husband is not really up for getting the lamb or goat on the spit!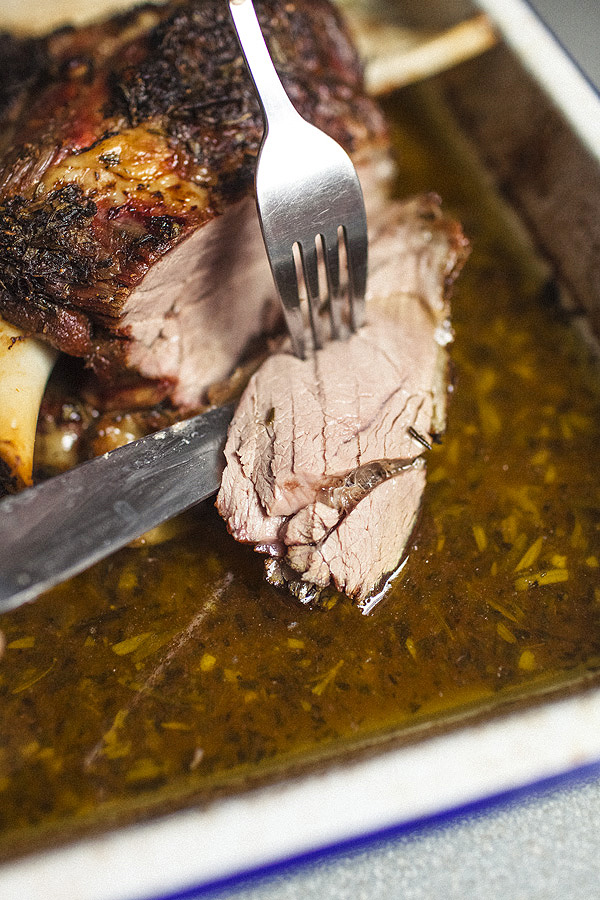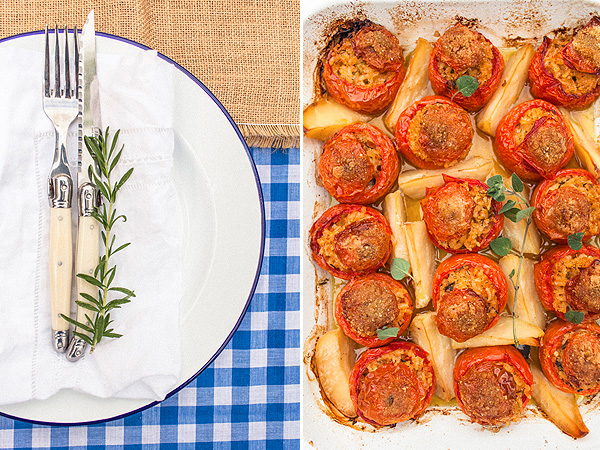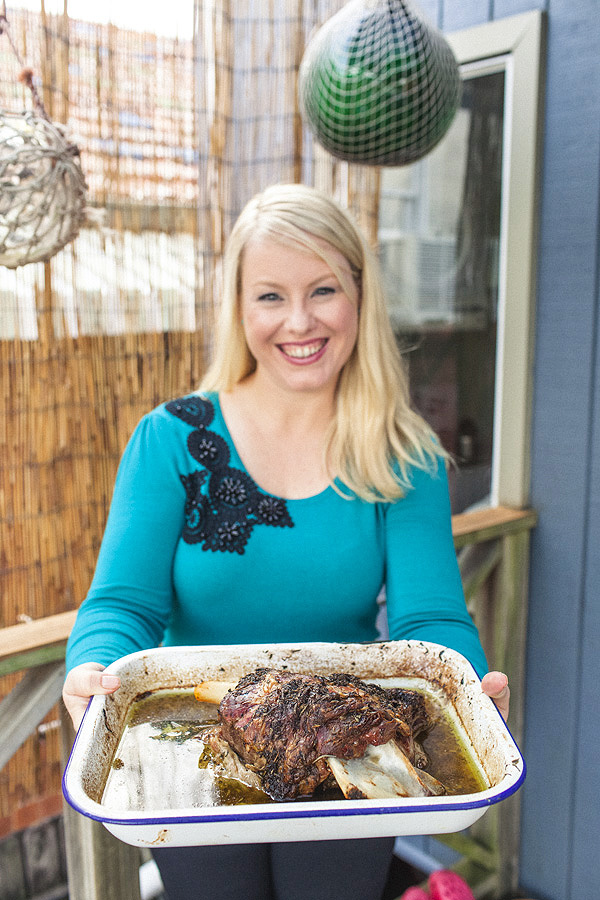 Who: Mrs Mulberry
Home is: Our fisherman's cottage, Ramsgate Beach
Family origin: Australian by birth – Greek by marriage! My mother in law comes from the Ionian Island of Zakyinthos and my father in law from a small village near Olympia in the Peloponnese
I can't live without: Mr K, my friends and family – especially when they are all gathered around a shared table. My garden and camera come a close second…
Occupation: Lawyer and part-time blogger /aspiring photographer
Dream Job: The "Blonde Nigella" filming, writing and photographing on location in the Mediterranean
Currently I am obsessed with: Autumn produce figs, quinces and the giant pomegranates from my father in law's garden
Childhood taste: Salmon patties and colcannon (mashed potatoes loaded with spring onions and chives)
I will always have in my pantry: Family produced Greek olive oil, bought back from our trips to Greece, homegrown garlic and lemons and French wine
I learnt to cook from: The hugely inspiring women in my life – my mother, mother in law, grandmothers and sisters in law
Currently I'm listening to: A rather eclectic mix – Kazantzidis (Καζαντζίδης) and Kokotas (Κόκοτας) – Greek folk singers from the 50s and 60s, Cat Stevens, Lou Reed, Bob Dylan,  Ella Fitzgerald and the Puppini Sisters
One day I must visit: Mytilene (Μυτιλήνη) otherwise known as the island of Lesbos – principally for the famous sardines and  Mr K is also keen to try their famous ouzo
Go to meal: If I've got my Greek on – usually Spanakorizo (similar to a spinach risotto) or good old Salmon Patties and Colcannon
The unforgettable meal: Very simply grilled pork chops with lashings of rigani, lemon and olive oil – with a side of grilled eggplant, tzatiki and summer tomato salad, at a table right on the beach at dusk on the island of Lefkada
My piece of Sydney: Relatively new to Ramsgate beach, I love the village atmosphere and mediterranean style ambience. Dolls Point is the perfect spot for a seaside picnic under the pine trees, next to the lavender…try seafood works for grilled fish and chips to have on the beach, "Meet the Greek" taverna at Brighton for great mezes – and waiters on working holidays from Greece, the Ramsgate Organics Market on a Saturday morning for seasonal produce, Pino's Dolce Vita for award winning Italian produce most notably Prosciutto, Salami, Capicola, Pancetta as well as Italian meatballs and Involtini
Guilty Pleasure: Every time, it has to be cheese – usually something French but recently I've been smitten by the truffle pecorino from Maloney's Grocer in Surry Hills
Who does the dishes: Me and Mr K….and any other help we can enlist!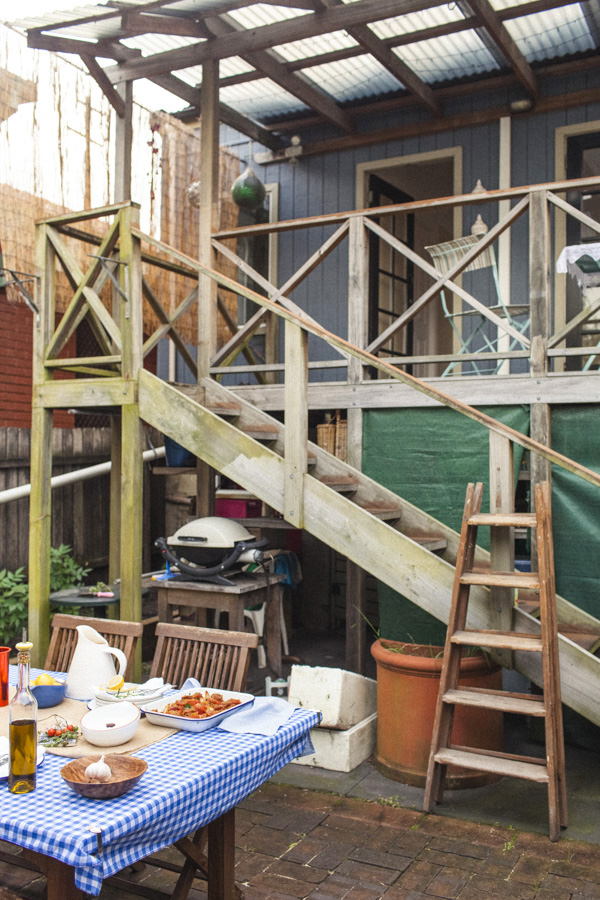 Mrs Mulberry and Mr K have recreated their very own greek style fisherman's cottage in their Sydney home.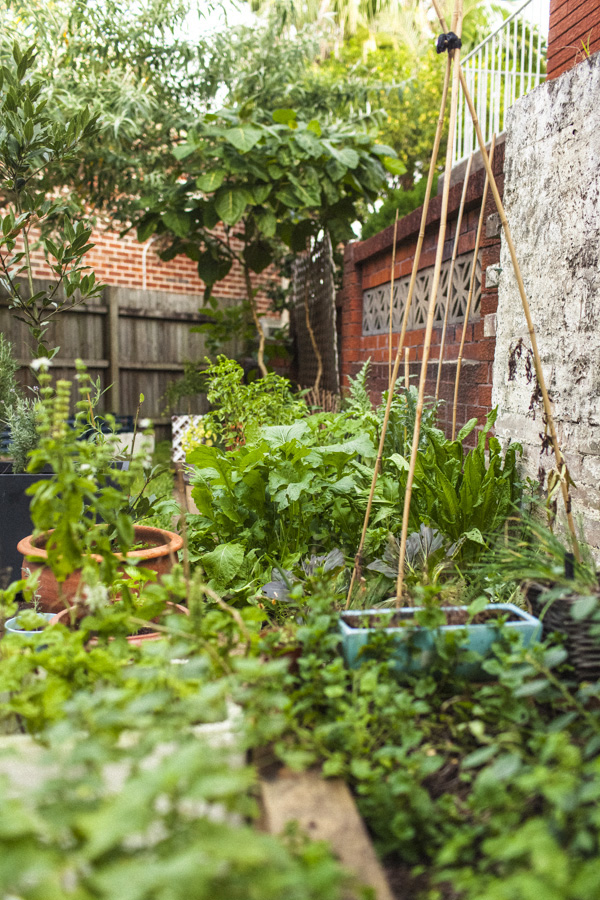 In the garden they are growing artichokes and broad beans, which should be right for picking in spring! Mache (a french style lamb's lettuce) for salads, lemony French sorrel and sweet rose Geraniums, purple sage and meyer lemons, blueberries, blackberries and native mint. They also have high hopes for the pomegranate, tamarillo and mulberry trees. This is one very impressive veggie-patch!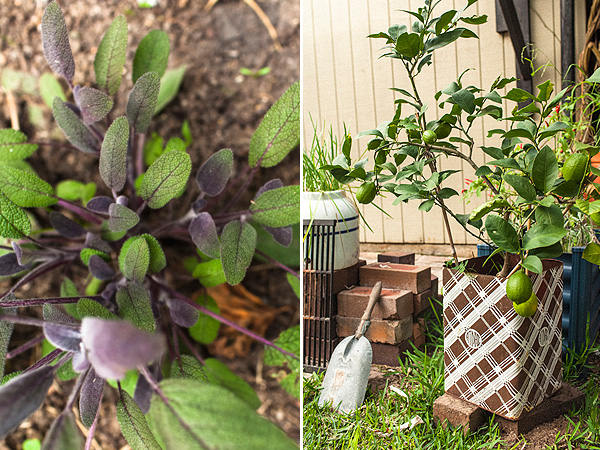 Mrs Mulberry and Mr K only cook with olive oil made by the family back in Greece. Every year they will come back from Greece carrying a tin like the one above (now used to pot the lemon tree) full of the years supply of olive oil.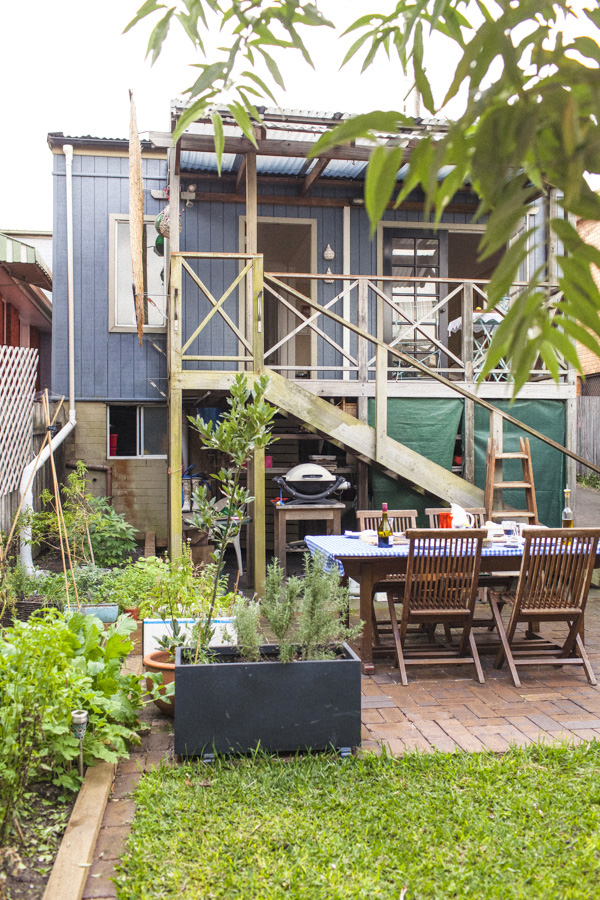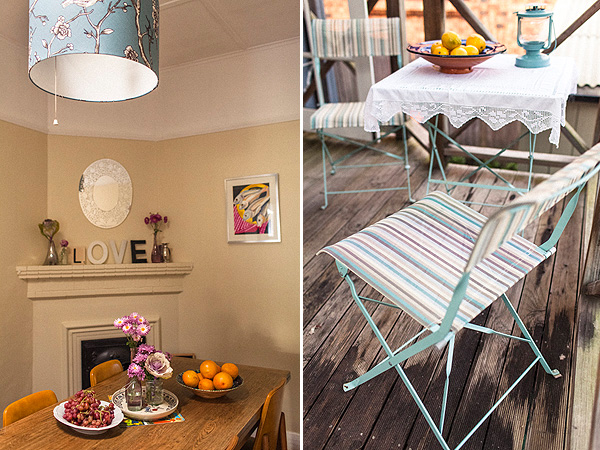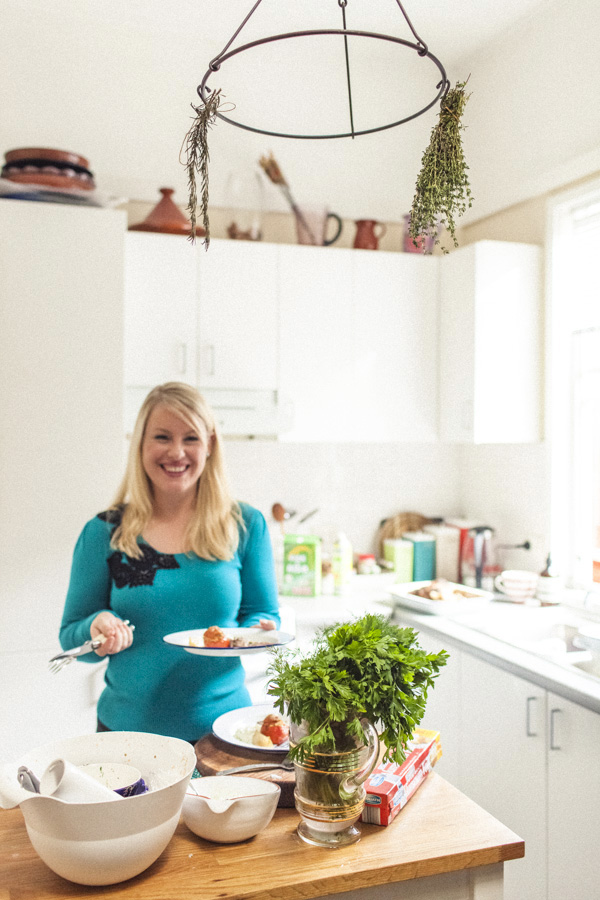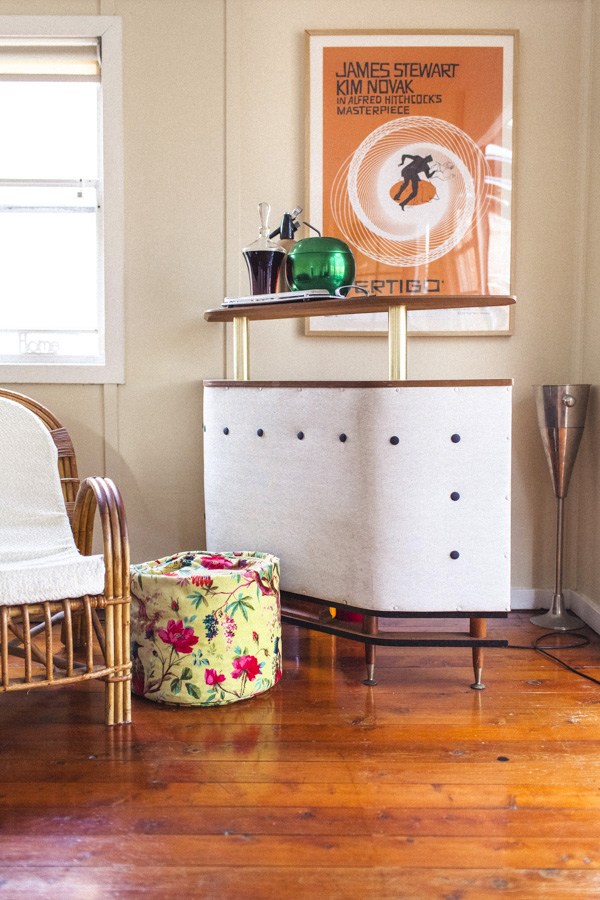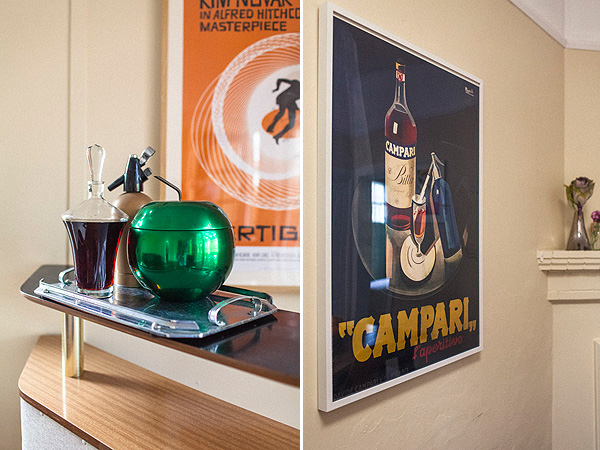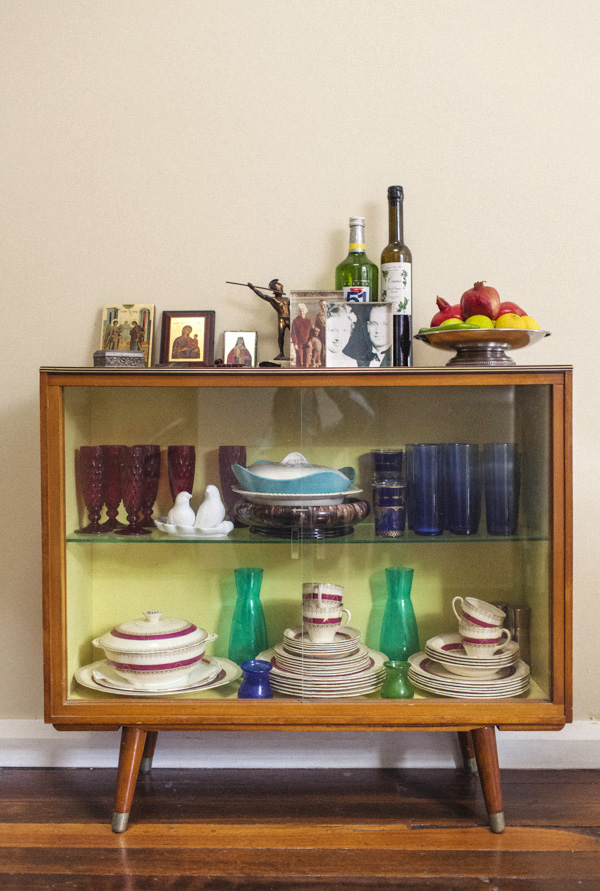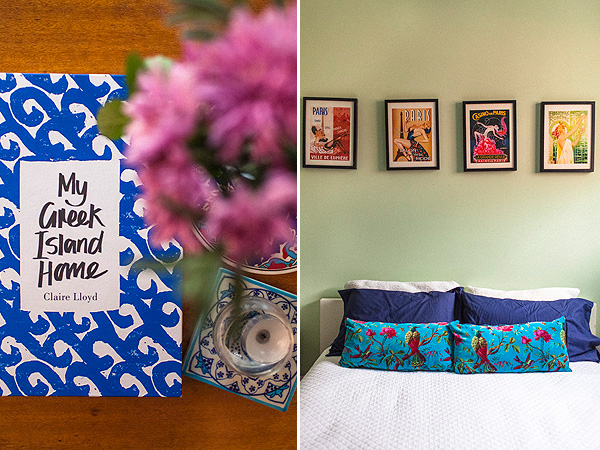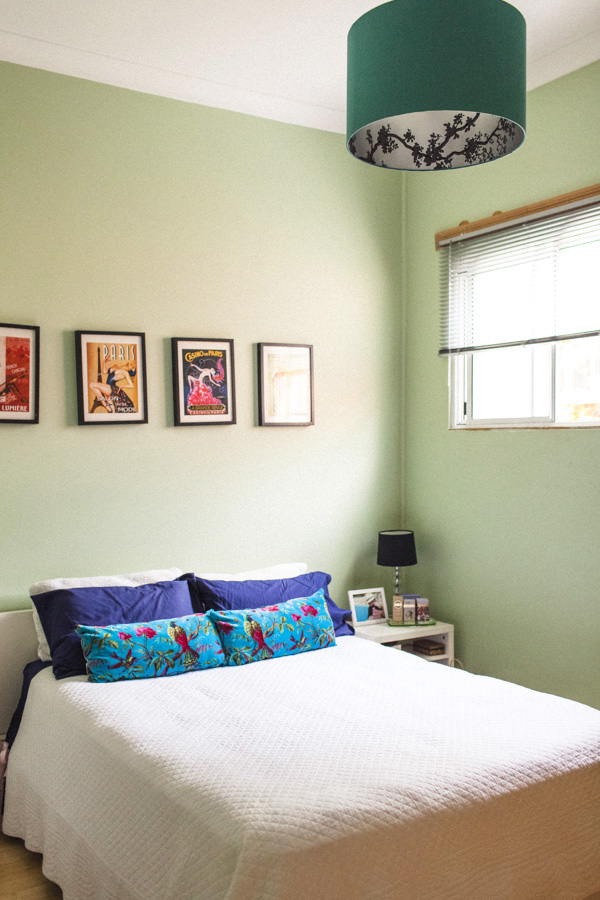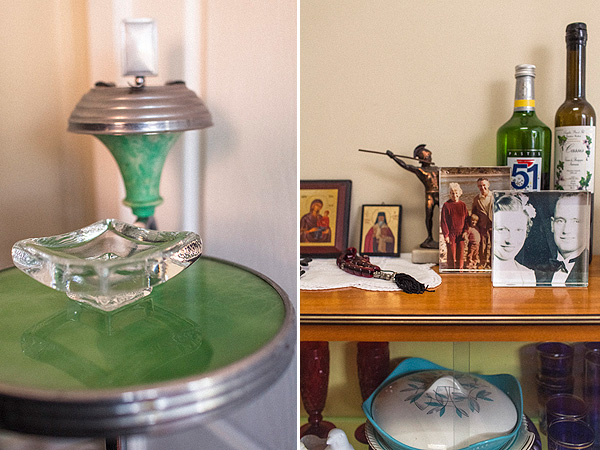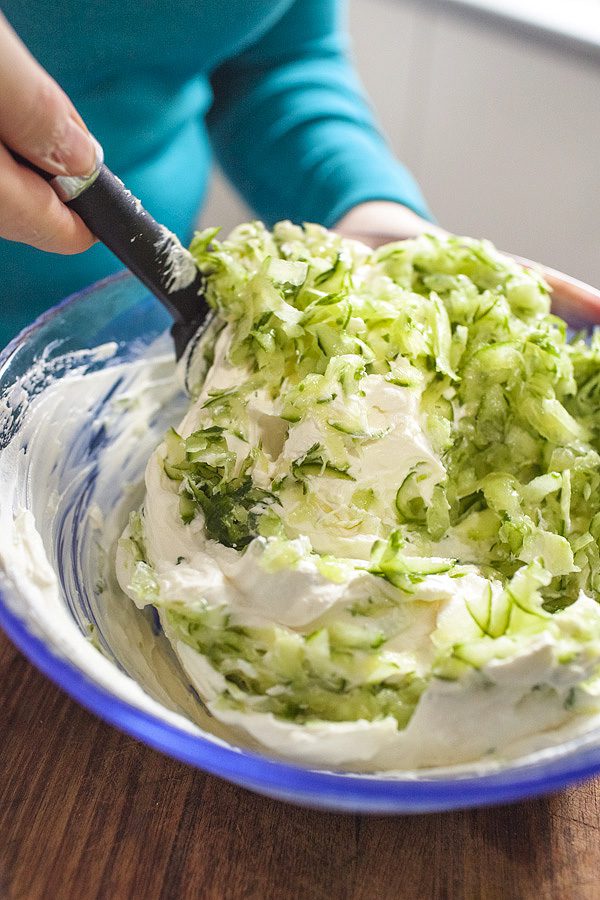 Cretan Tzatziki
Prep time: | Cook time: | Serves 6-12
2 kg good quality Greek yoghurt
5 cloves garlic, crushed
5 cucumbers, seeded and chopped into little tiny cubes or grated
5 tbs good Greek olive oil
5 tbs white vinegar
salt
Drain the yoghurt in a sieve lined with muslin cloth for at least 24 hours.
Place the chopped or grated cucumber in muslin or a clean tea towel and gently wring out any excess water.
Place the yoghurt in a bowl and fold through all the remaining ingredients, adding salt to your taste.
Cover and place in the refrigerator until needed. It is good to make a few hours ahead of when it will be used so that the garlic aroma and taste has time to settle in the yoghurt.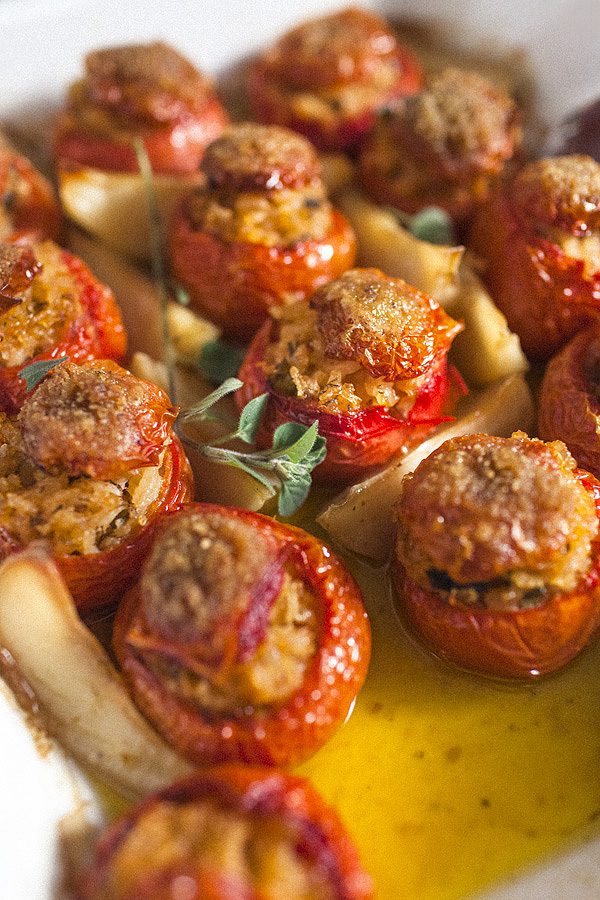 Greek Stuffed Tomatoes (Domates Yemistes)
Prep time: | Cook time: | Serves 6
12  small-medium tomatoes
2-3 spring onions, finely chopped
2-3 cloves of garlic, finely chopped
2-3 sprigs of dill
1 cup of short grain rice
1/2 kilo of potatoes cut into wedges
butter, salt and olive oil
bread crumbs
Preheat the oven to 190˚C. Slice the tops off the tomatoes and reserve. Scoop out the insides, placing in a separate bowl, taking care not to split or pierce the tomato skins. Sprinkle the cavities with salt and turn upside down in the baking dish you will use, allowing them to drain.
Grate or puree the insides of the tomatoes in the separate bowl.
Saute the chopped onions and garlic in olive oil, over medium heat, in a frying pan. Keep stirring so that they do not become overly brown or scorch. When the vegetables are soft add the dill and stir throughly. Then add the rice and stir, coating it in the herb and garlic flavoured oil.
Add the pureed tomatoes and about a cup of water. Cook over a low heat until the rice has absorbed most of the liquid. You may need to add a little more water from time to time to stop the rice from sticking to the pan.
Remove from the stove and fill each tomato with the mixture. Be careful not to stuff too full, or the tomatoes will split. Place the filled tomatoes and potato wedges into a baking dish – replace the caps on the tomatoes. Add about 1/4 cup of water to the base of the pan. On the top of each tomato cap – sprinkle some bread crumbs and add a little dollop of butter. Bake for about 1 hour covered with foil. Remove the foil and then cook for around 1/2 hour. Serve with a plate of feta cheese and olives – or as the vegetable accompaniment to the slow cooked lamb. These tomatoes are also wonderful served the next day at room temperature.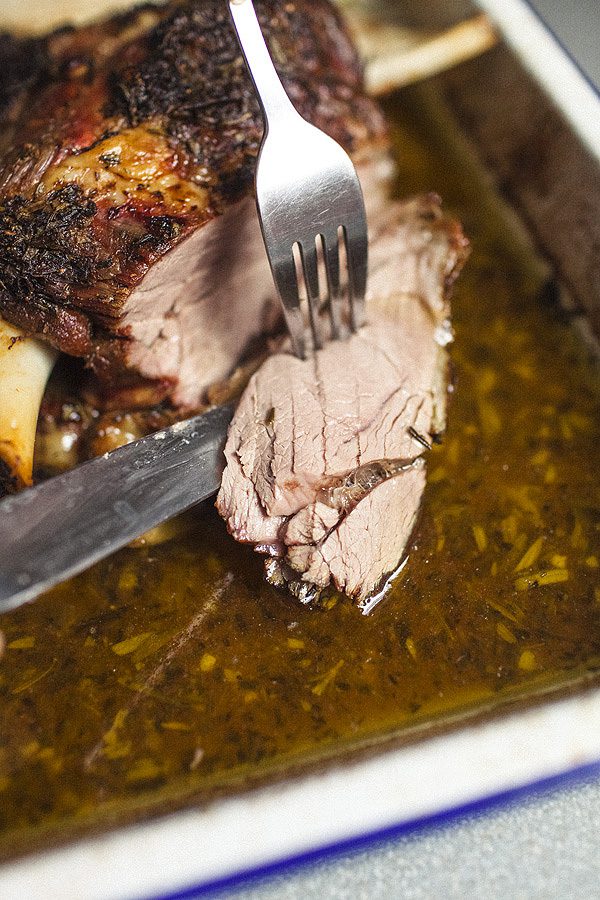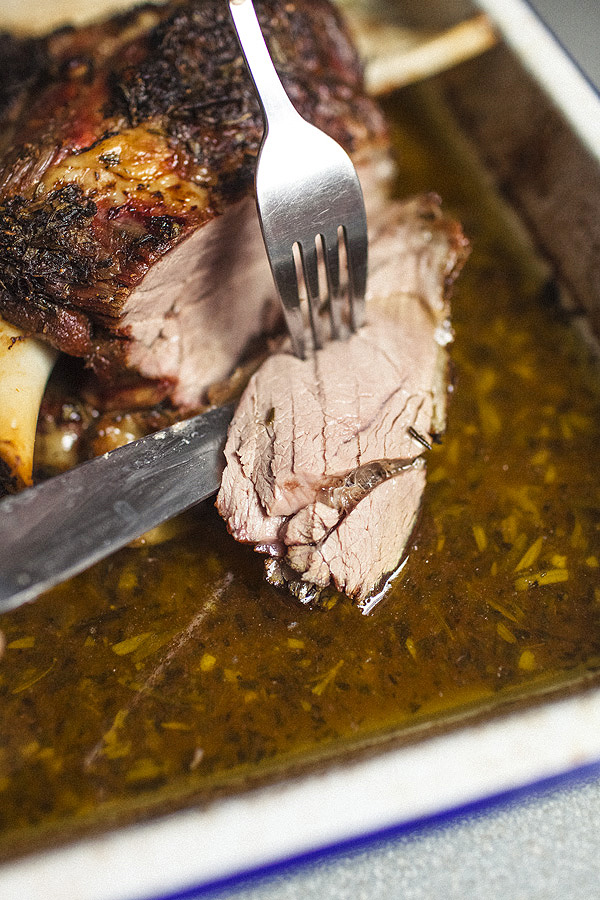 Slow Cooked Greek-Style Lamb Shoulder
Prep time: | Cook time: | Serves 6
Around 2 kg lamb shoulder
2 tbs sea salt
10 cloves garlic
4 fresh Rosemary sprigs
3 tbs rigani (Greek Oregano)
1 tbs dried thyme
2 lemons, juice and zest
50mls olive oil
100ml greek red wine vinegar
150ml water
Using a mortar and pestle or a small food processor blend together the garlic, salt and rosemary leaves. Then add the olive oil, rigani and thyme. Mix in the lemon juice and zest.
Spread the marinade all over the lamb and massage in – leave to marinate overnight.
Preheat oven to 160˚C. Place lamb in a baking dish, along with all of the marinade. Pour water and vinegar into the dish. Cover with foil and bake for about 2 1/2 hours (depending on the strength of your oven). Remove the foil, the lamb should be very tender by this time. Drain off any of the fat on the surface of the cooking juices.
Increase oven heat to around 220˚C and allow the top of the lamb to crisp up and brown. This should be around 5-10 minutes (depending on the strength of your oven).
Serve in the baking dish and pull off slices of the lamb. Serve with generous amounts of the herby-lemony cooking juices and of course the Cretan Tzatziki!