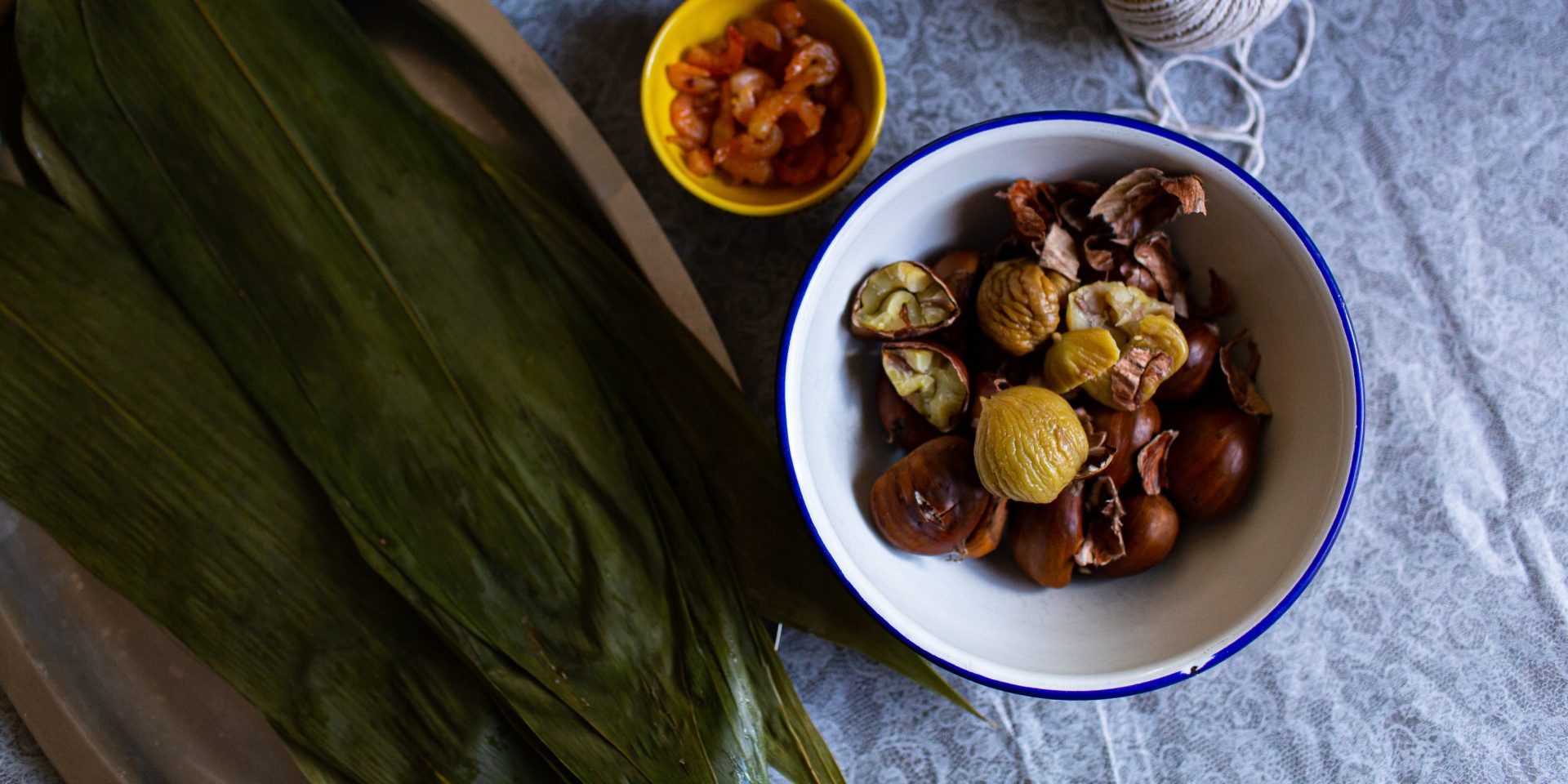 Today marks the first day of year 2020 Chinese Dragon Boat Festival. It is a tradition that on this day Zongzi (rice dumpling or Bakcang in the Fujian dialect) is consumed. I have fond memories as a child helping my Mama, Ama (grandma) and fellow Aunties making these rice dumplings around the big dinner table that has a lazy Susan in the middle of it. I was in charge of cutting the strings used to tie them up and hang them on a long pole. Over family gossips and politics, they would make so many of them to give away to relatives and friends. I count myself lucky growing up in an environment where food brings everyone together.
If you are interested in the history of this dish, there's an article explaining the origin of it here. Funnily enough my Ma's family name Chu is the same as the Kingdom of Chu mentioned in the article. So it is quite fitting that she is the one to pass down this treasured family recipe.
Fujian style rice dumpling is darker in colour as it is infused with the Chinese five spice and dark soy sauce. As it is now chestnut season here in Australia, Ma roasted some to use in the Zongzi. When fresh chestnut is not available you can use dried version that is soaked in water instead.
After all the Zongzi are wrapped they are boiled in Ma's precious Fissler pressure cooker that is as old as me!
Family origin
Fujian, China
I can't live without
dancing and lentils
Occupation
social butterfly
Dream Job
professional ping pong player
Currently I'm obsessed with
Turkish green chilli pickle
Childhood taste
oyster omelette
I will always have in my pantry
Chinese herbal medicines
I learnt to cook from
my late Ma, friends, my daughters
Currently I'm listening to
Tai Chi music
One day I must visit
America
Go to meal
Barley rice and steamed pumpkin
I am really good at
ballroom dancing
The unforgettable meal
my daughters' cooking
My piece of Sydney
where the beaches are
Best flavour combo
Chinese black vinegar and Lao gan ma chilli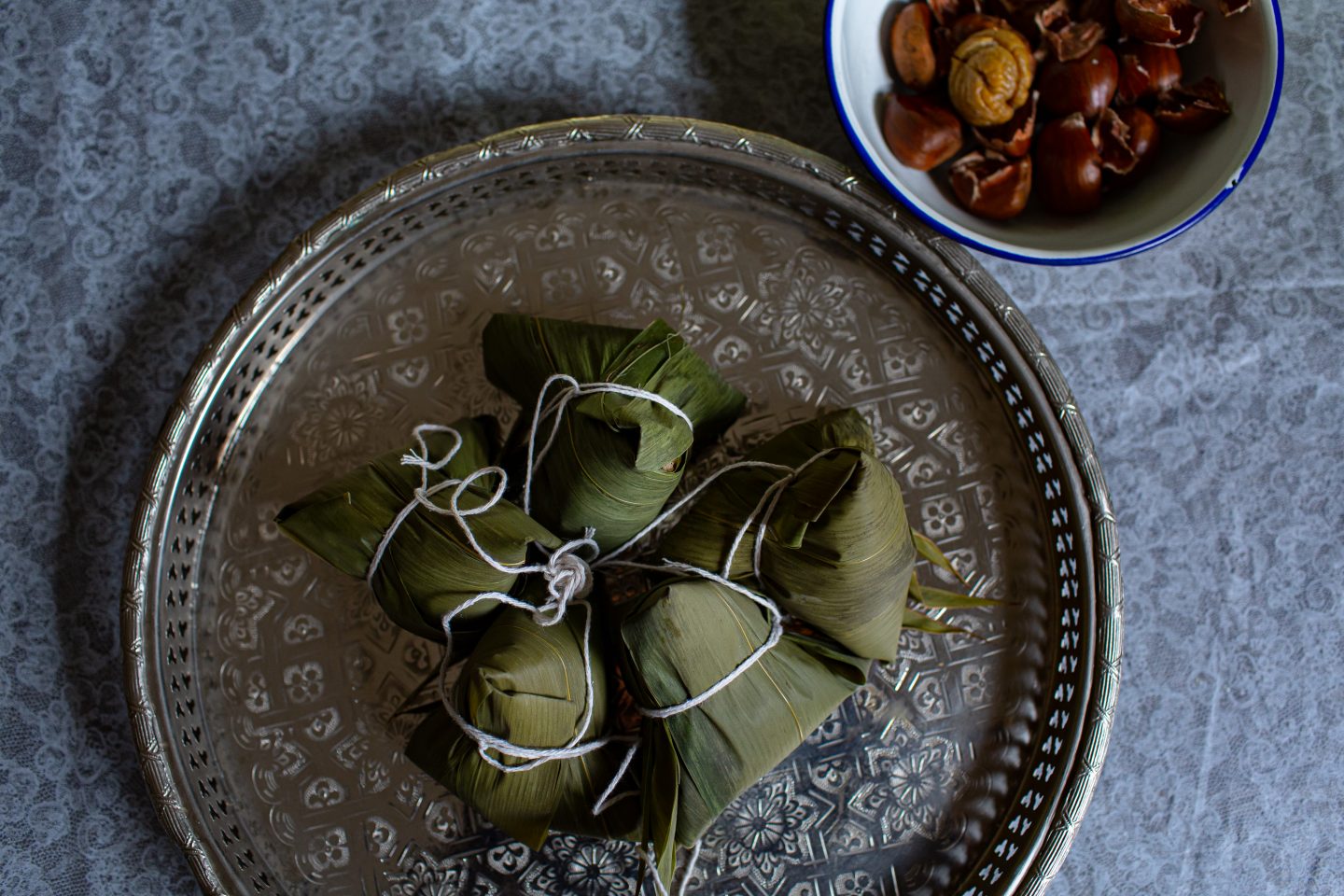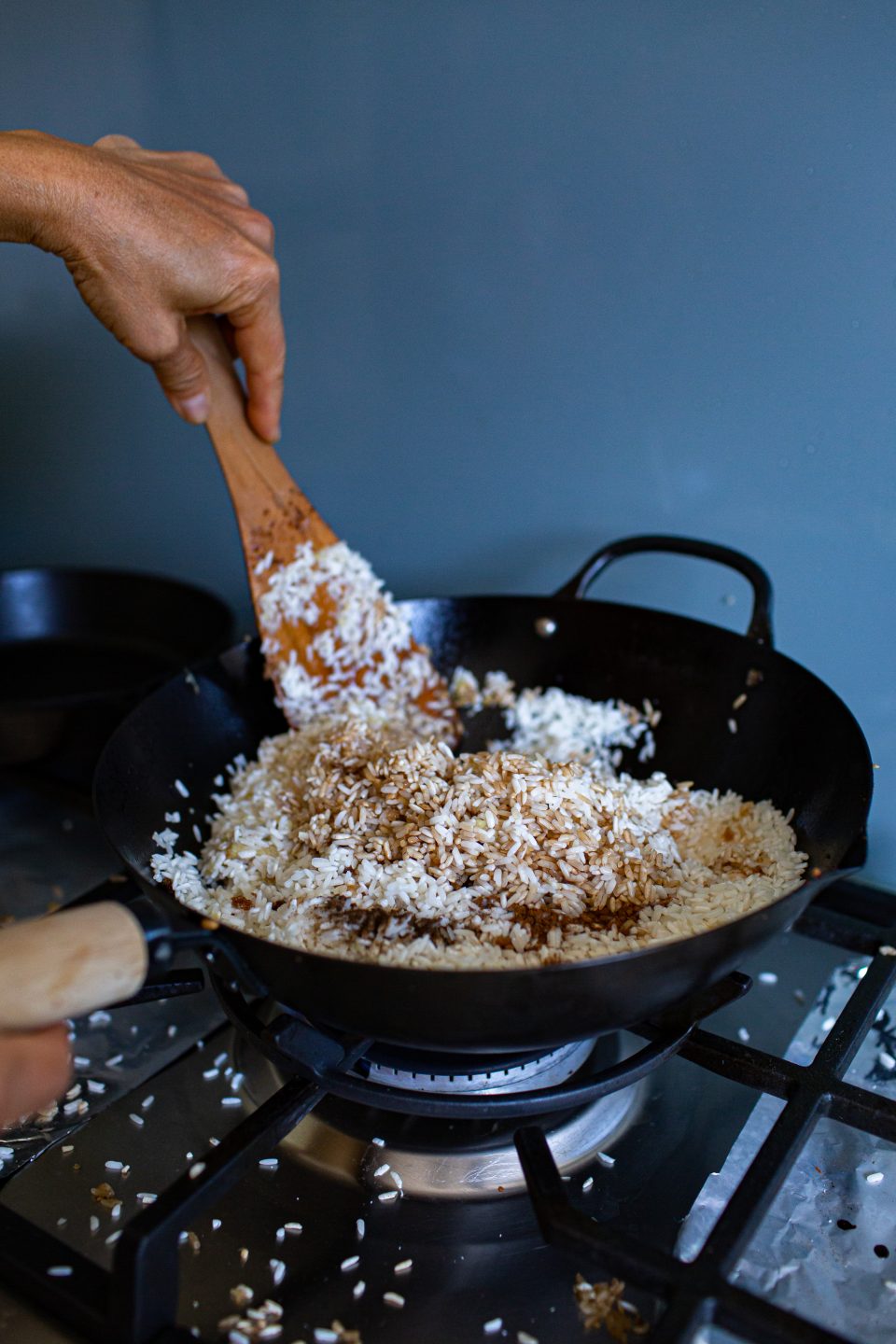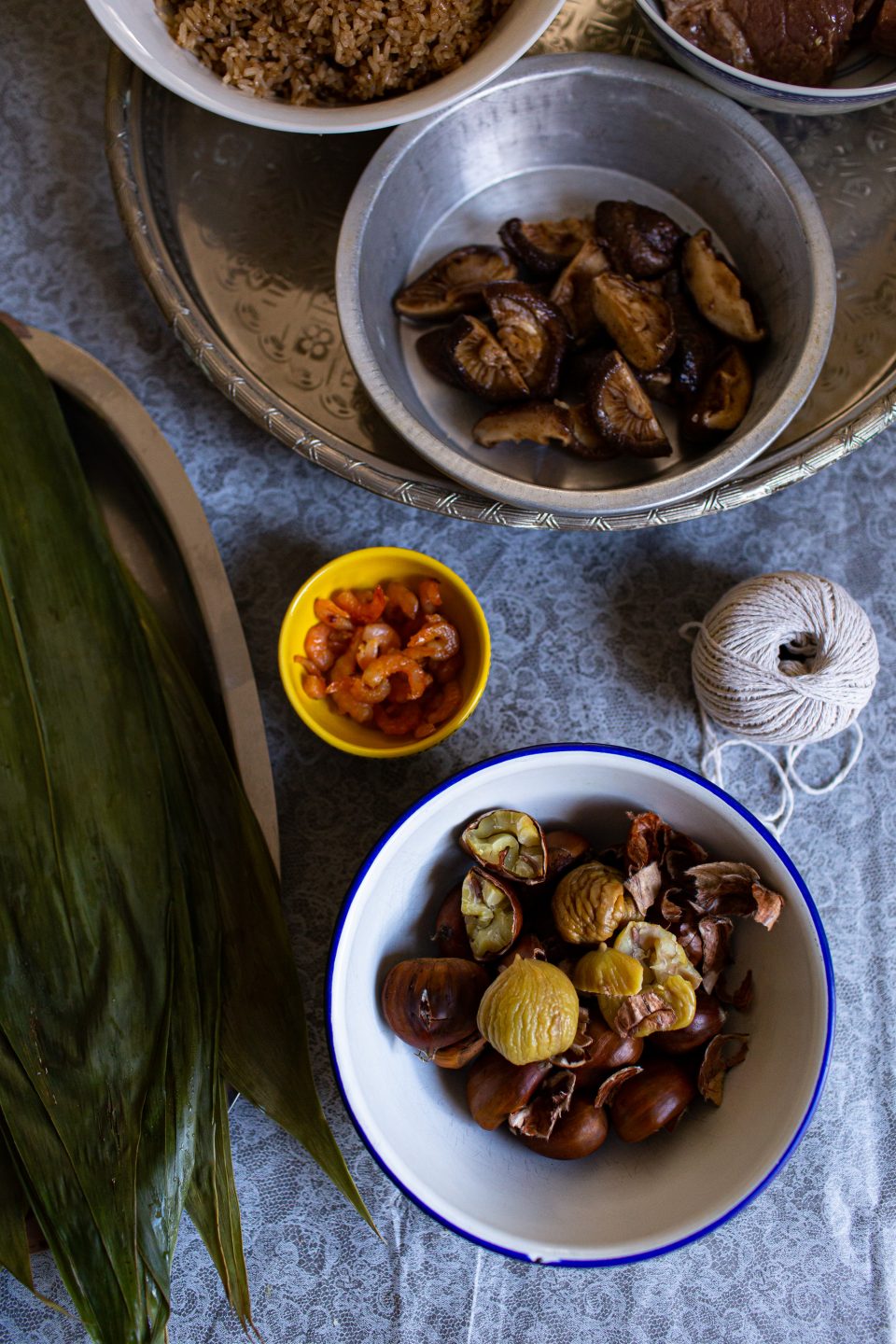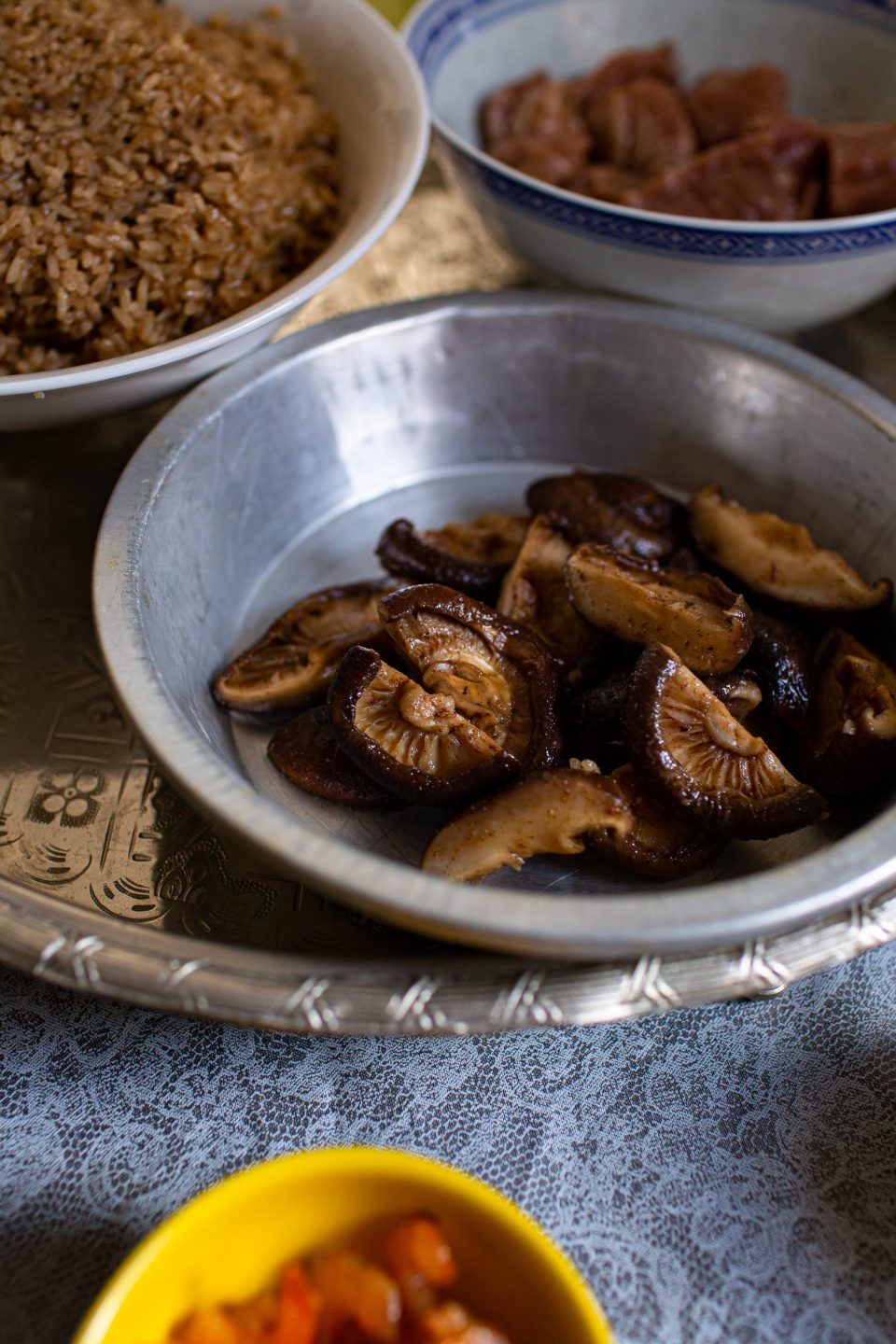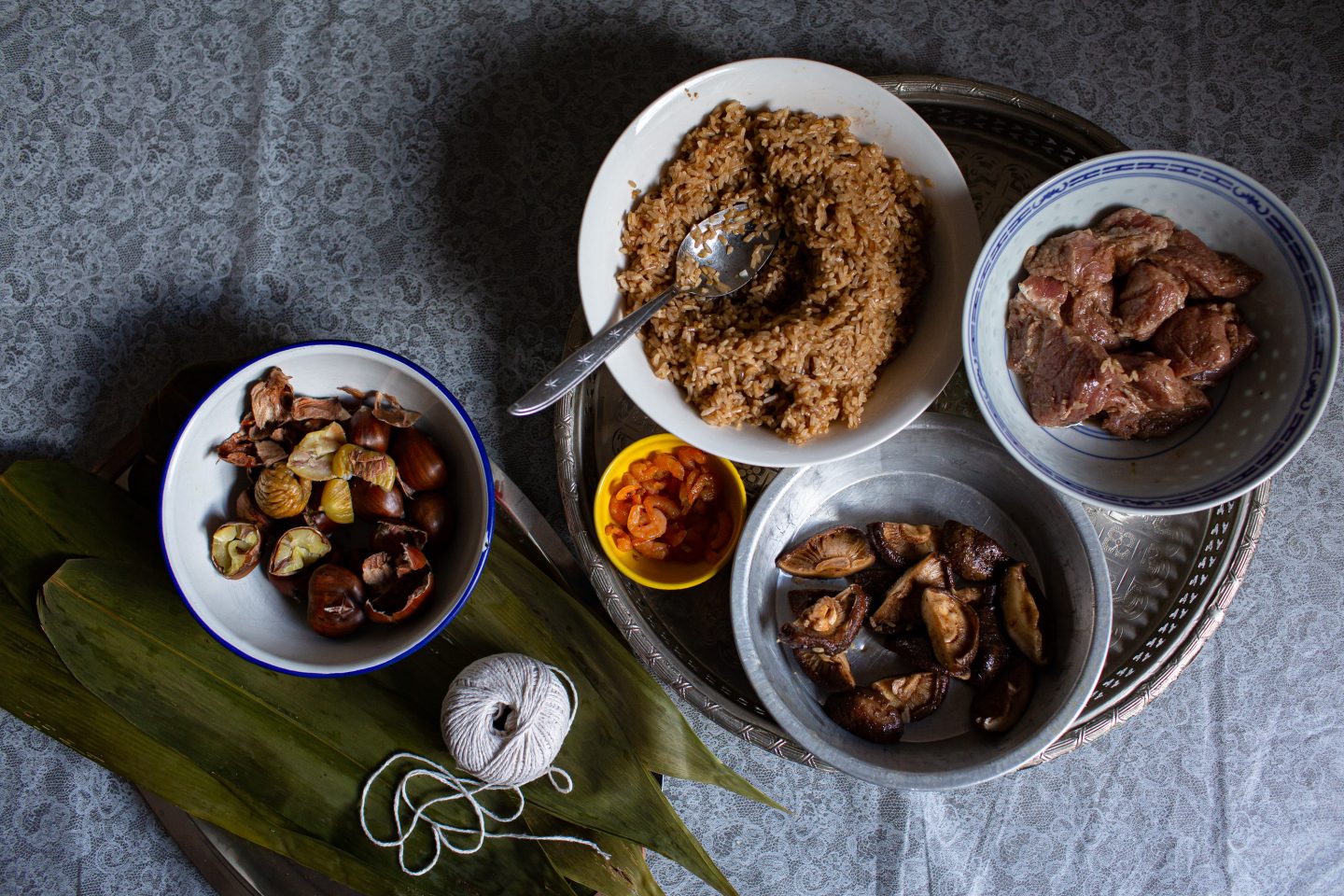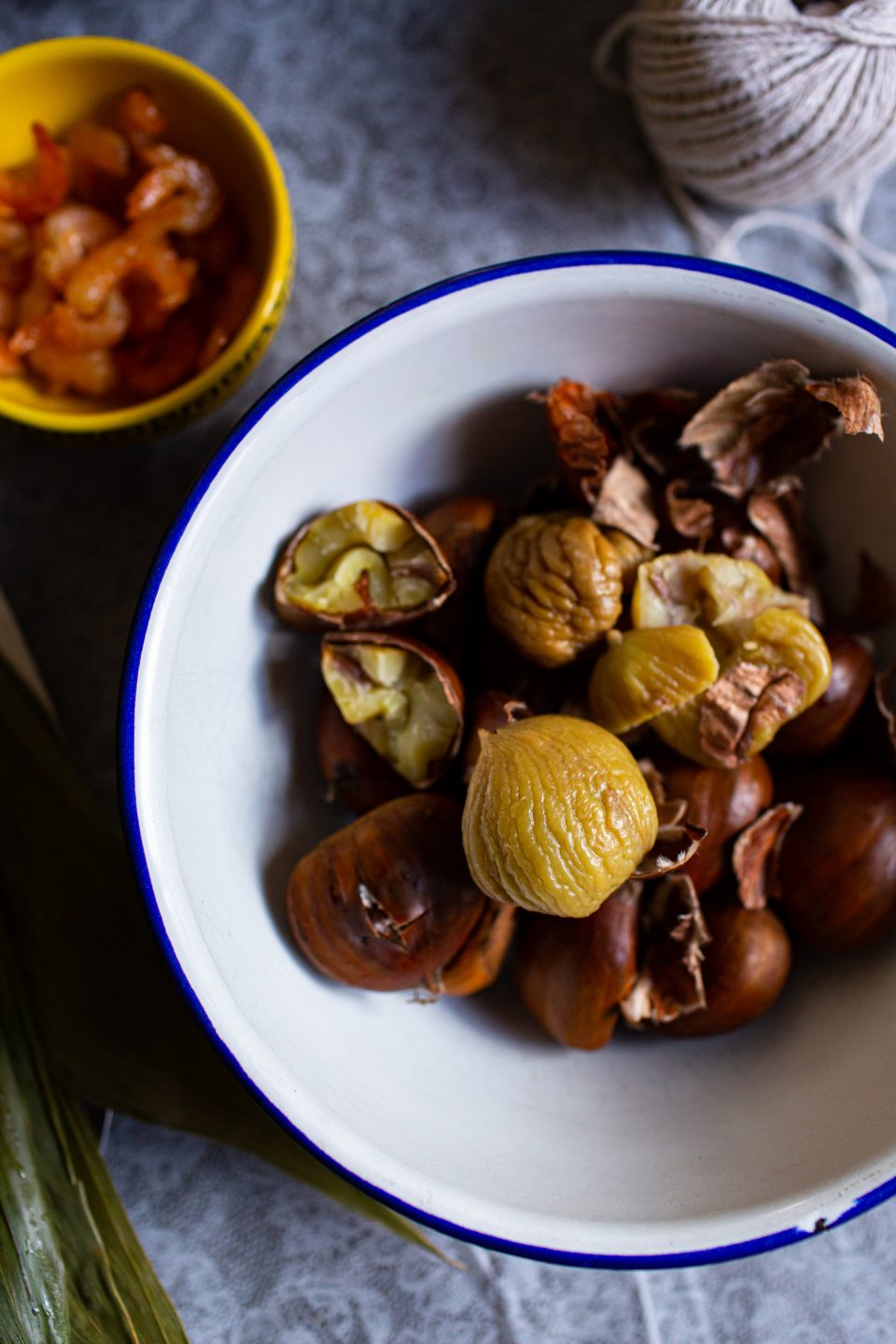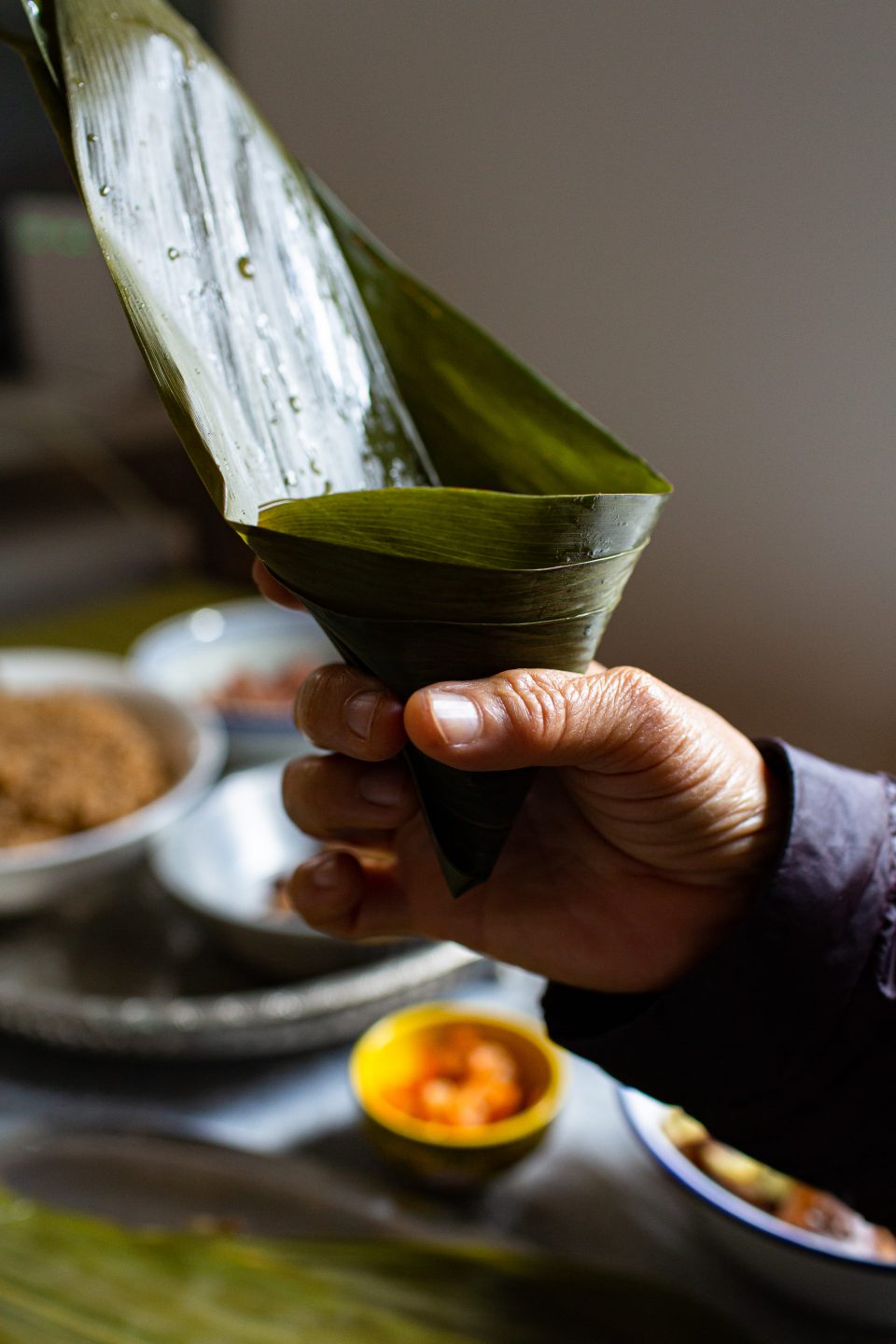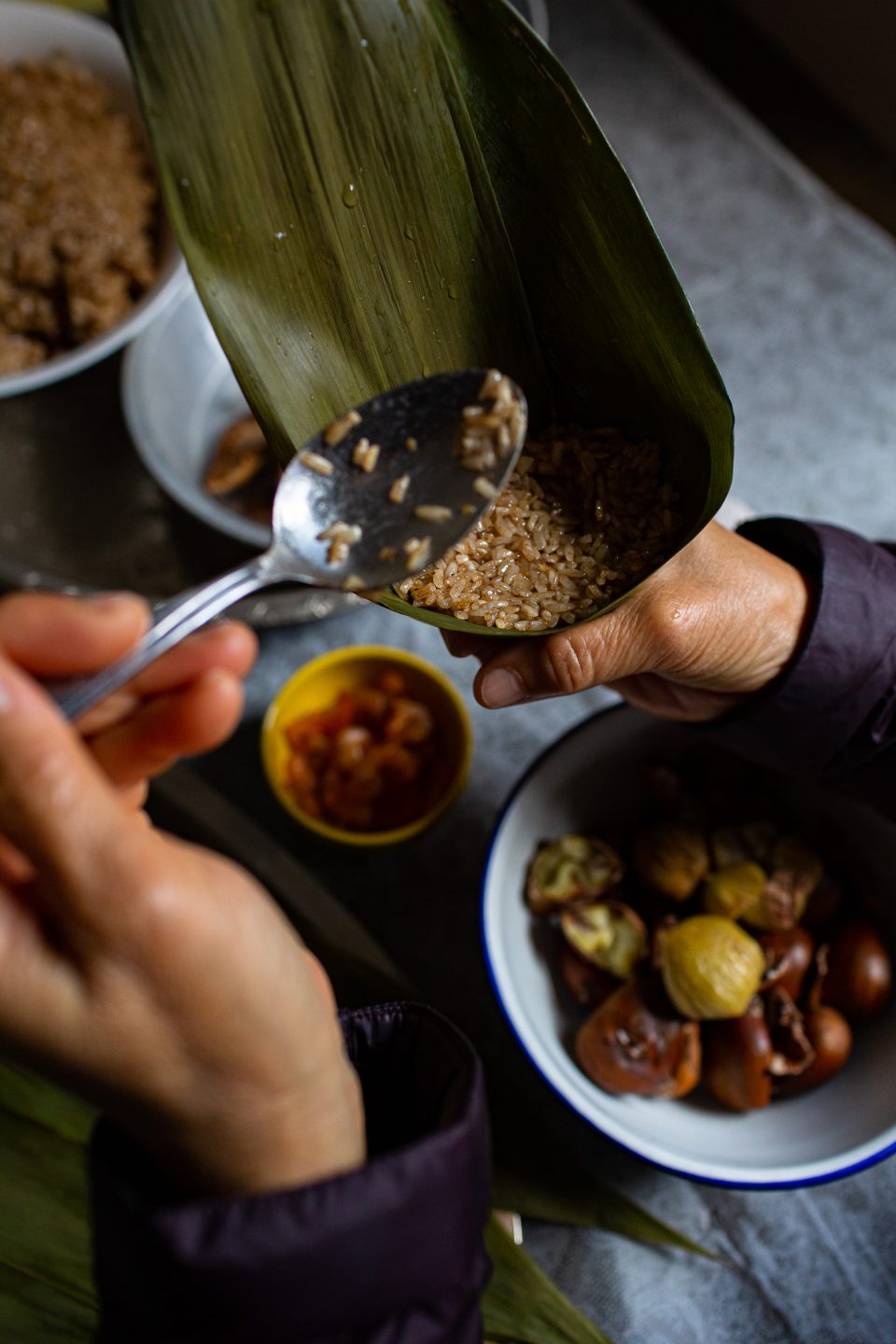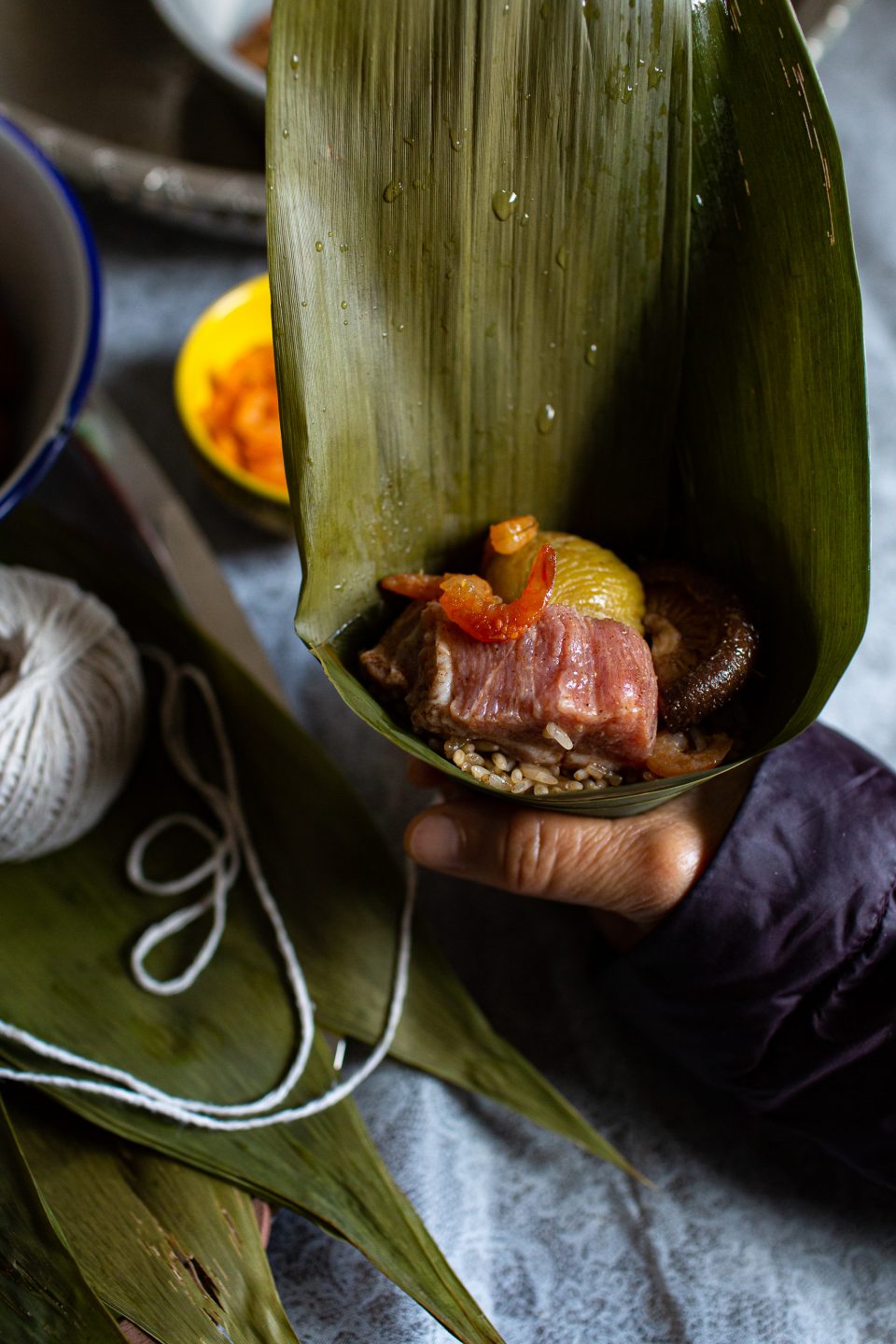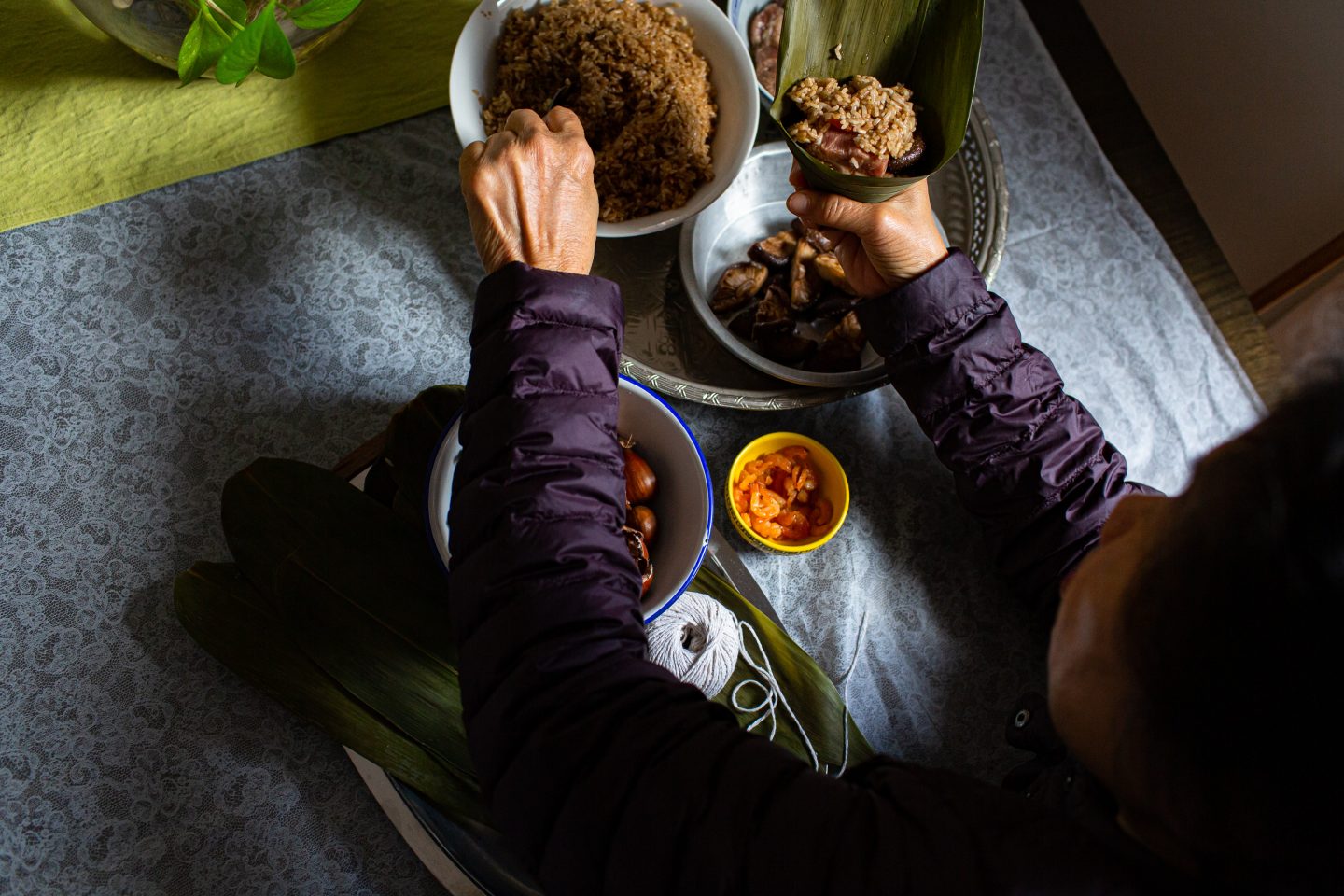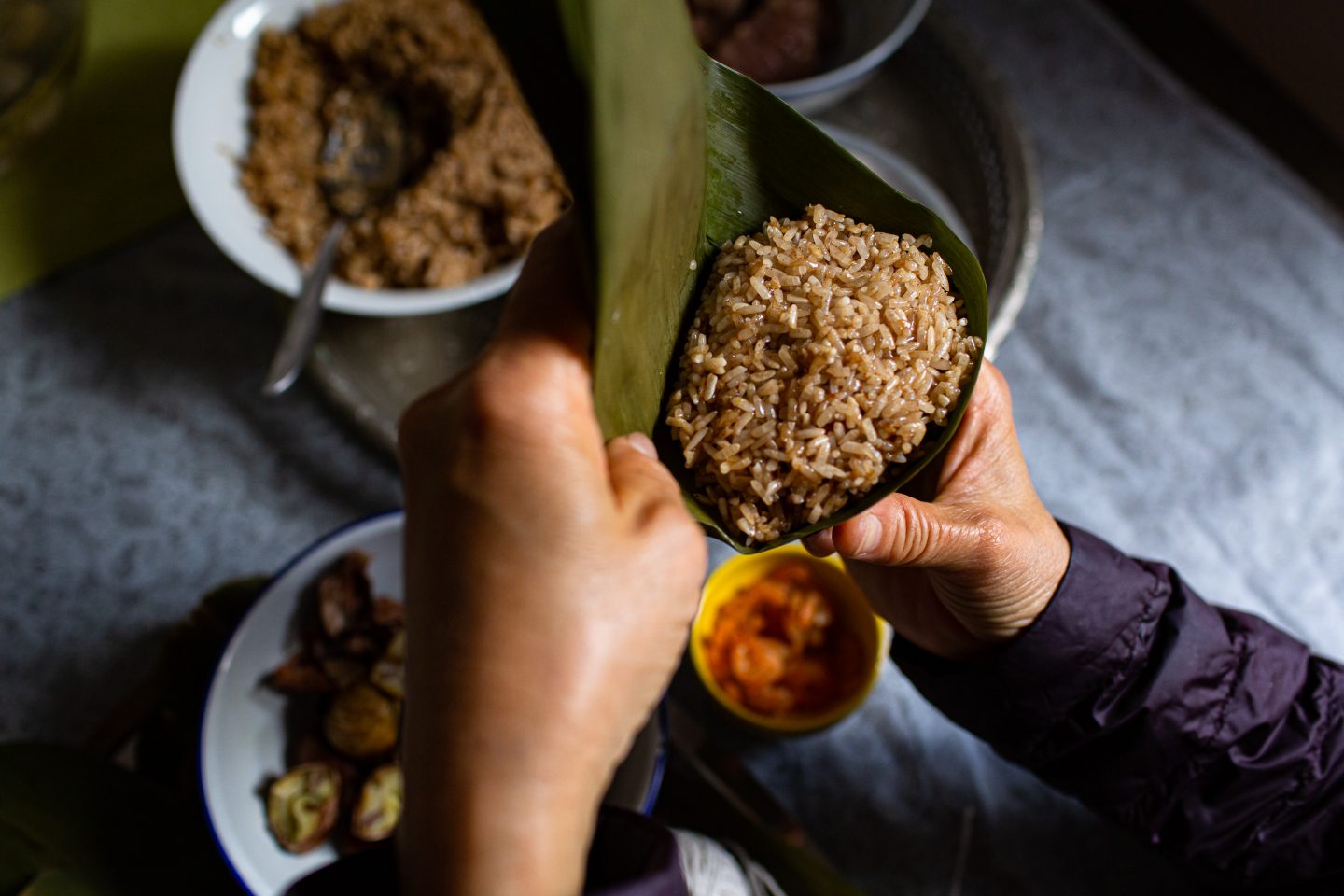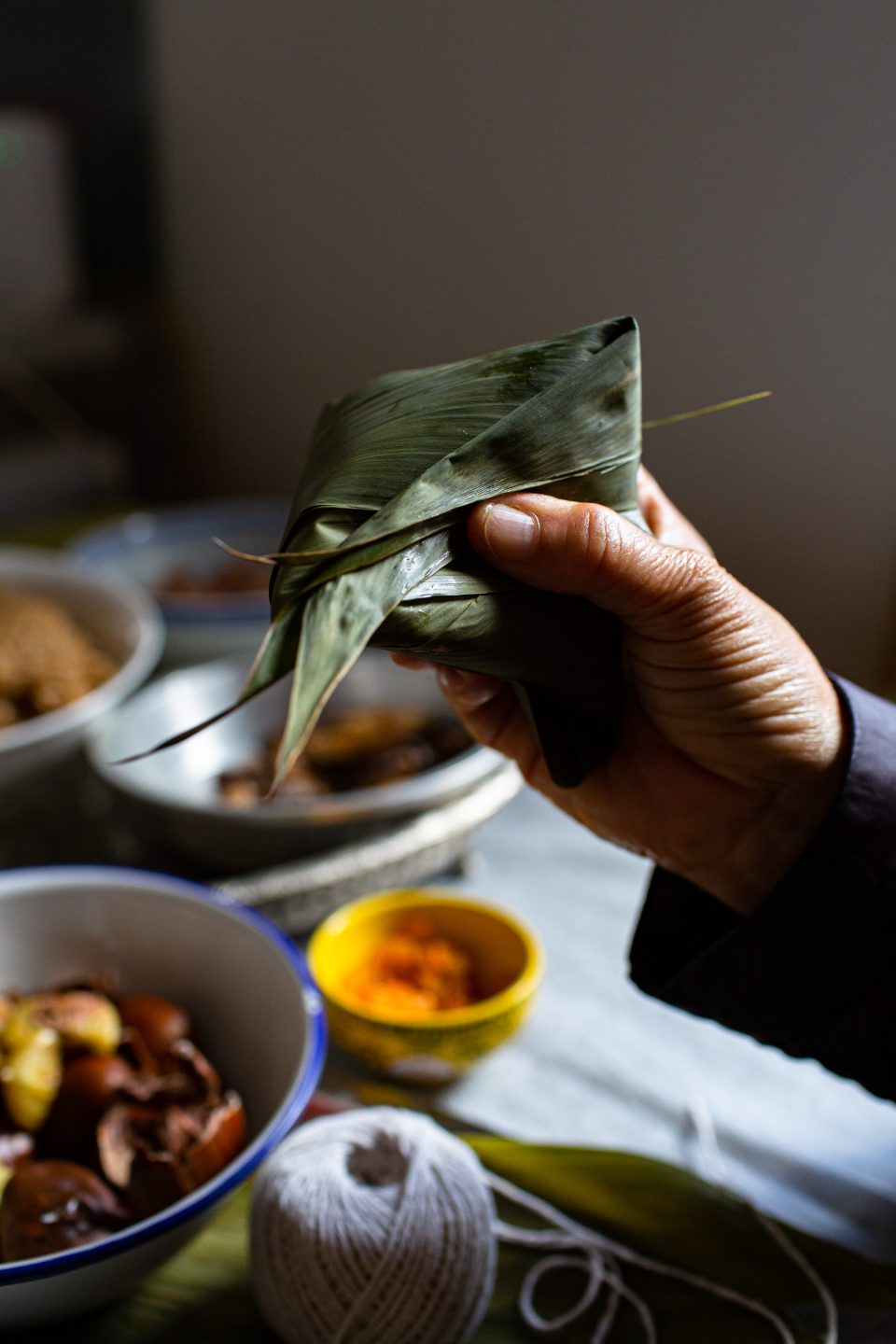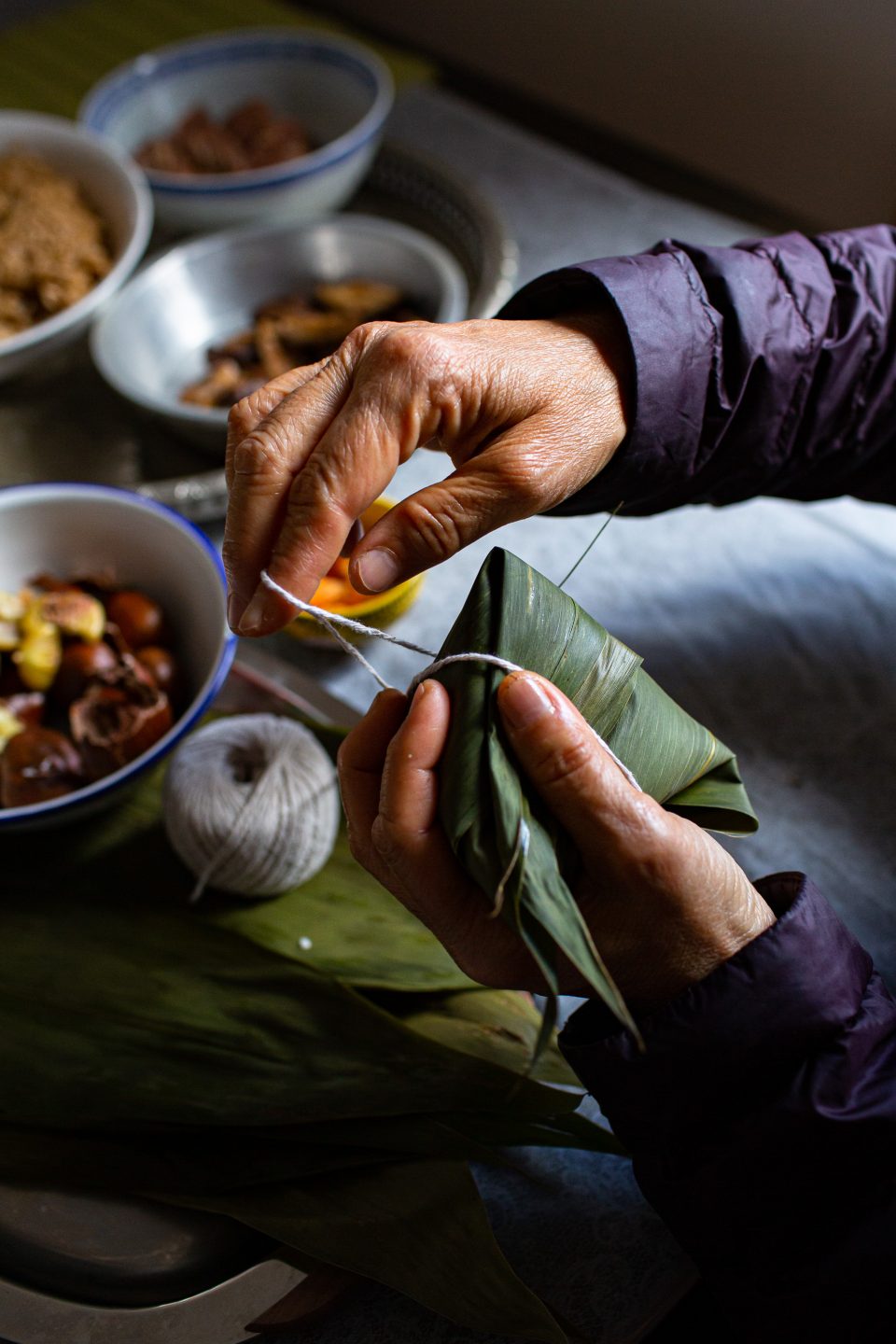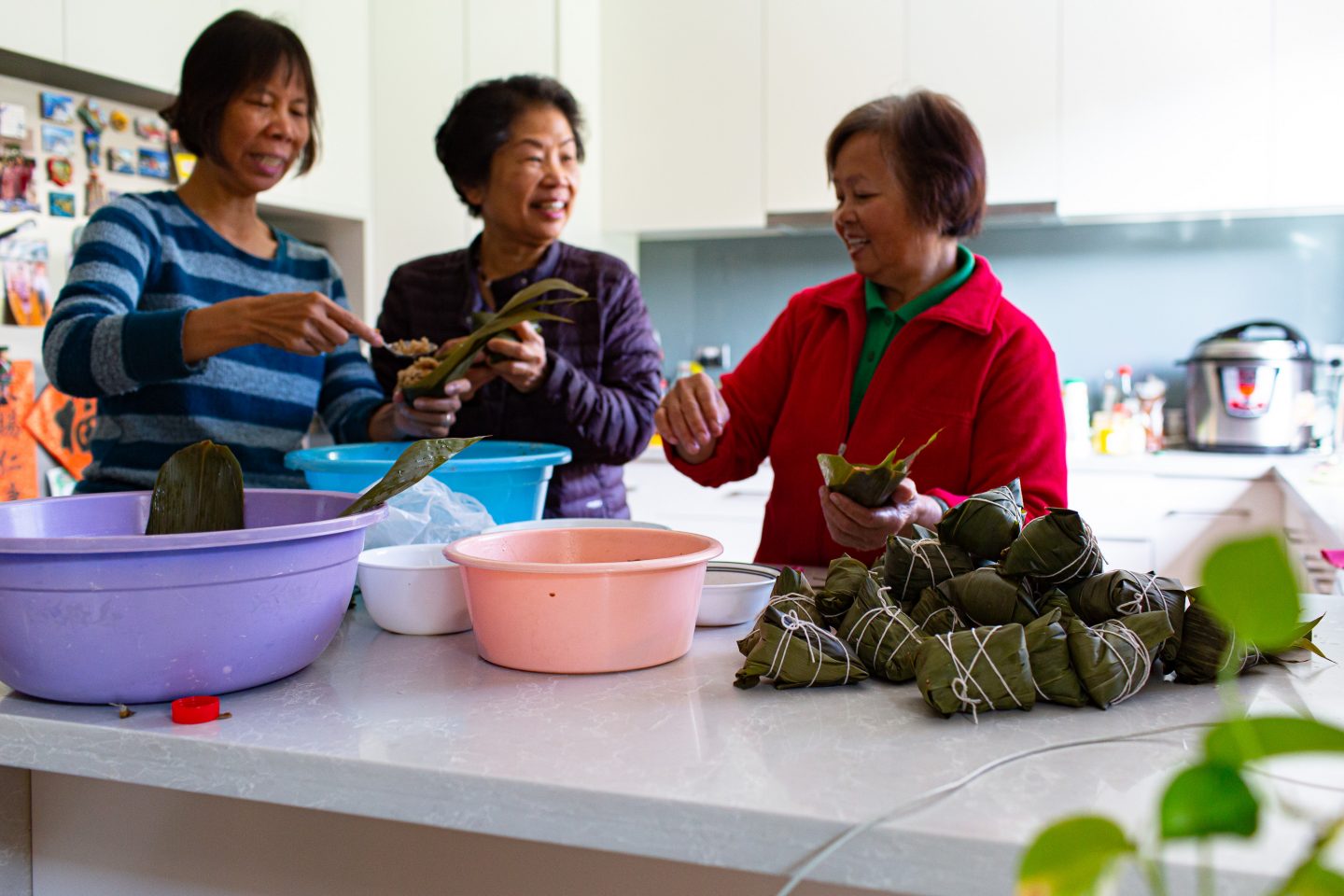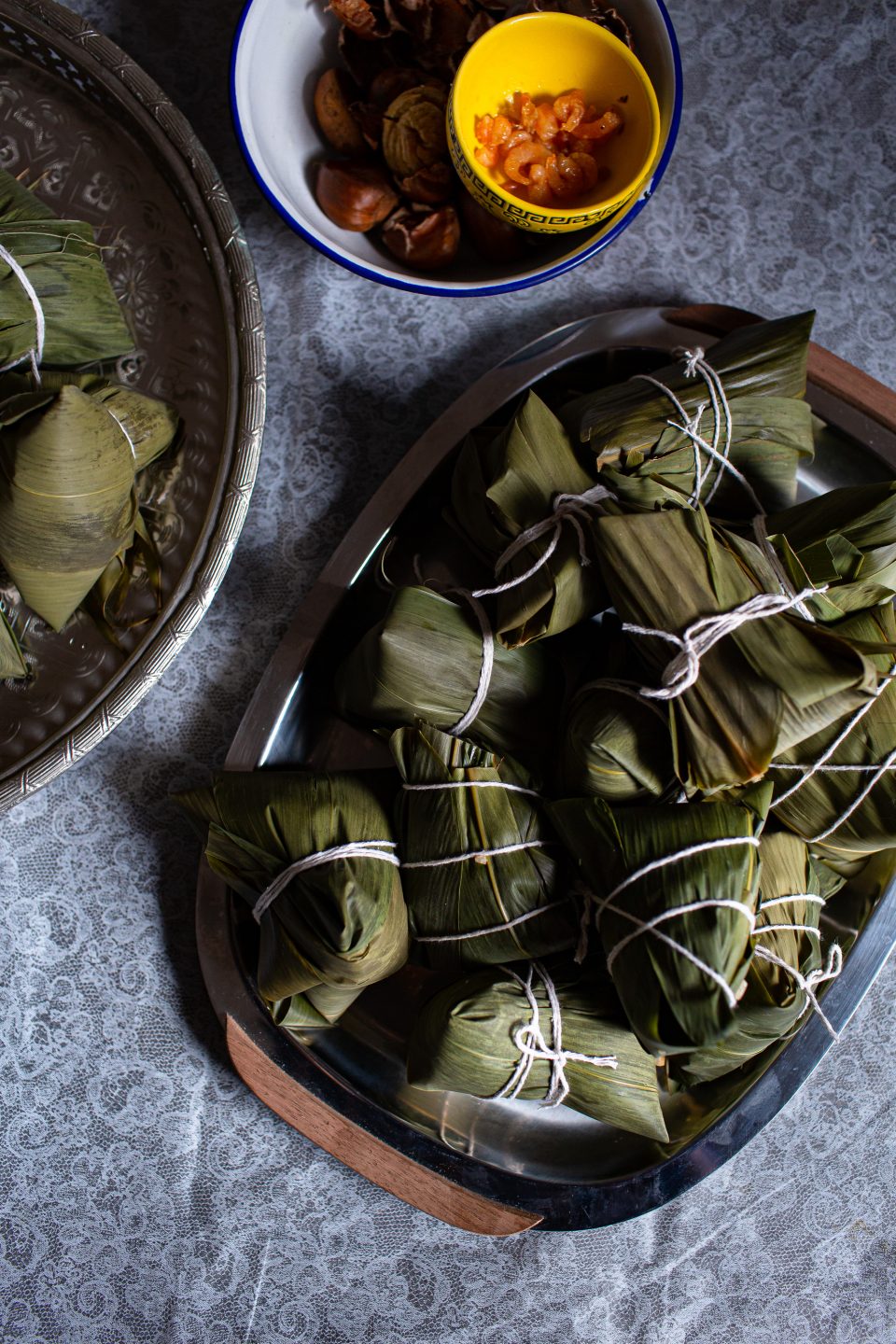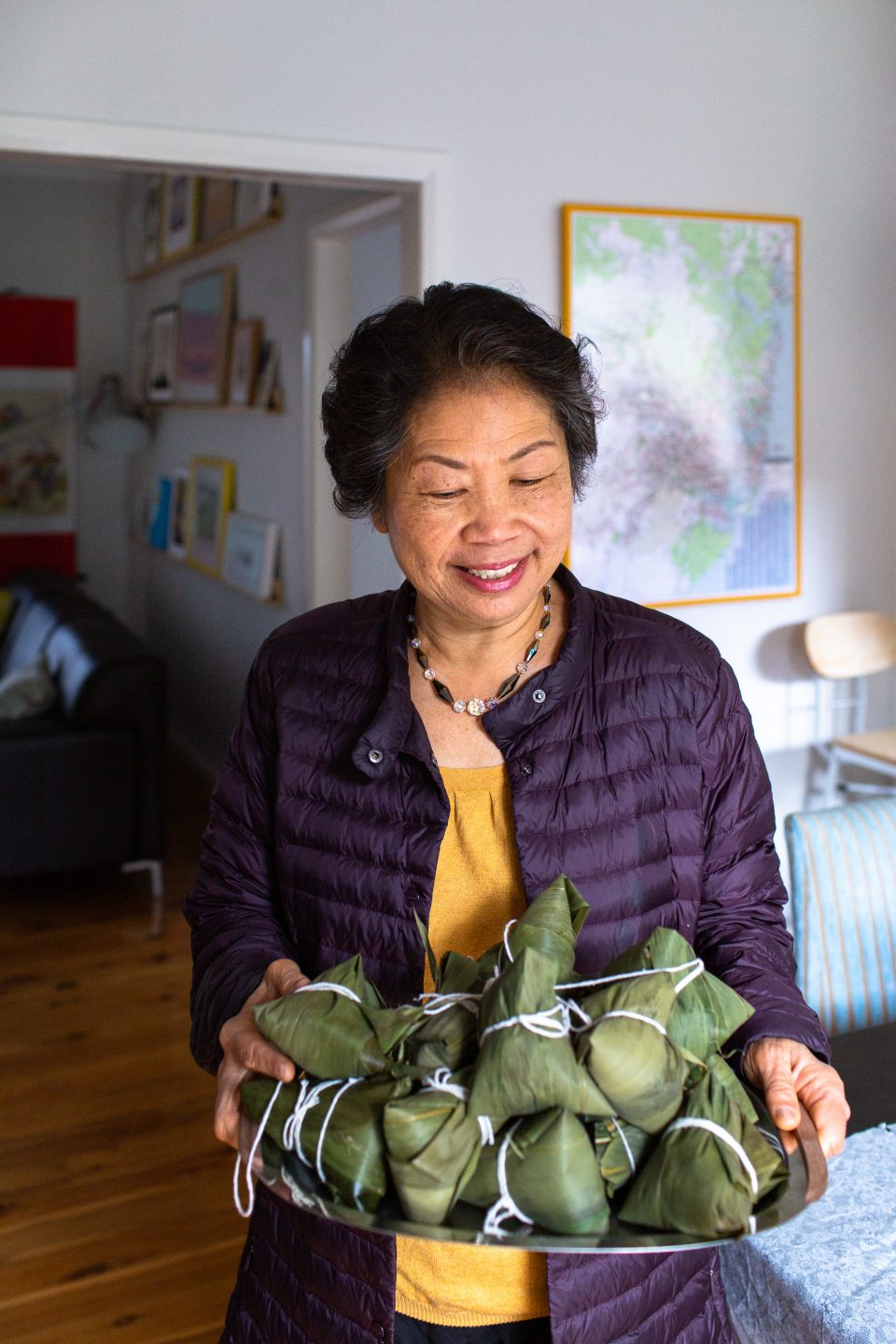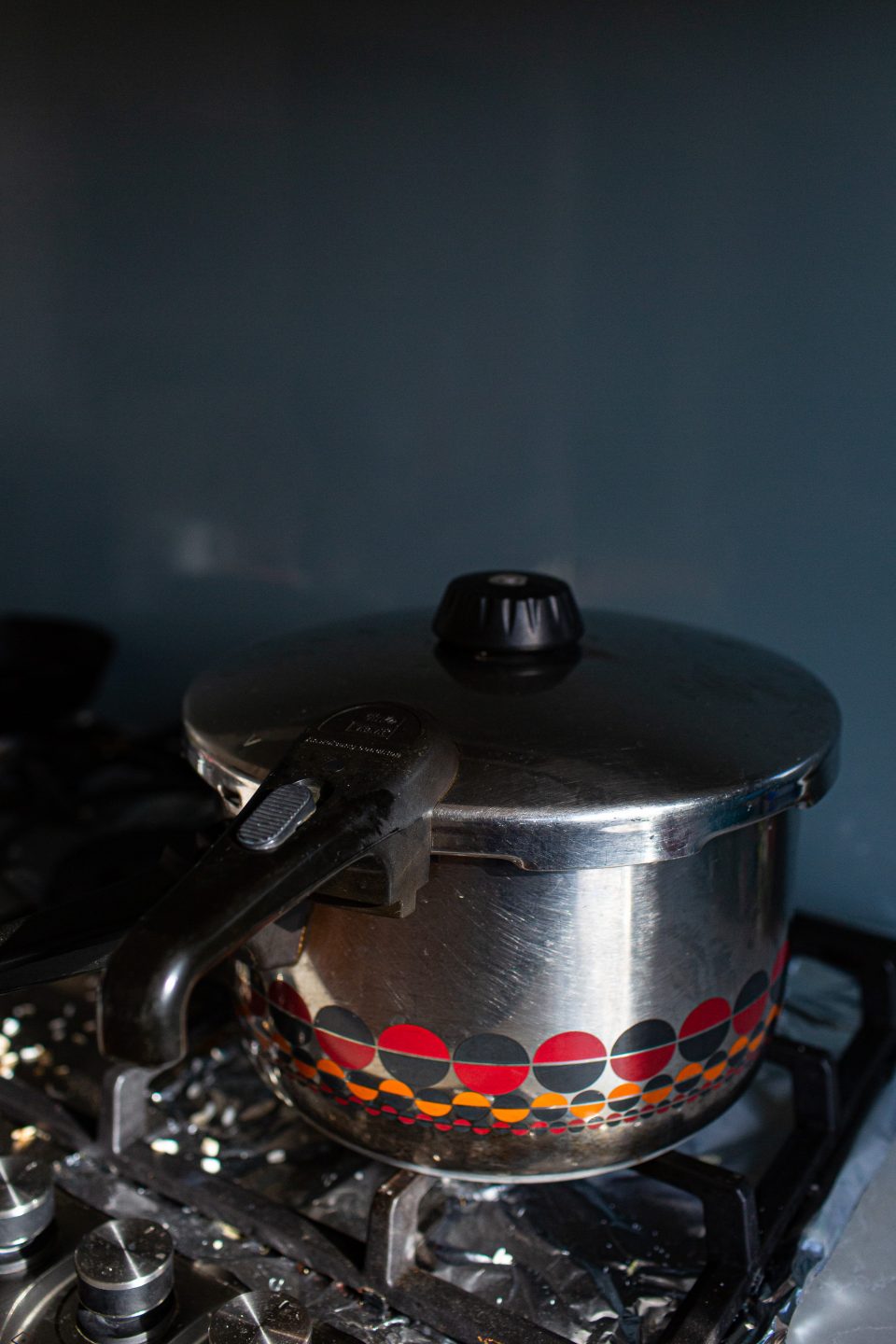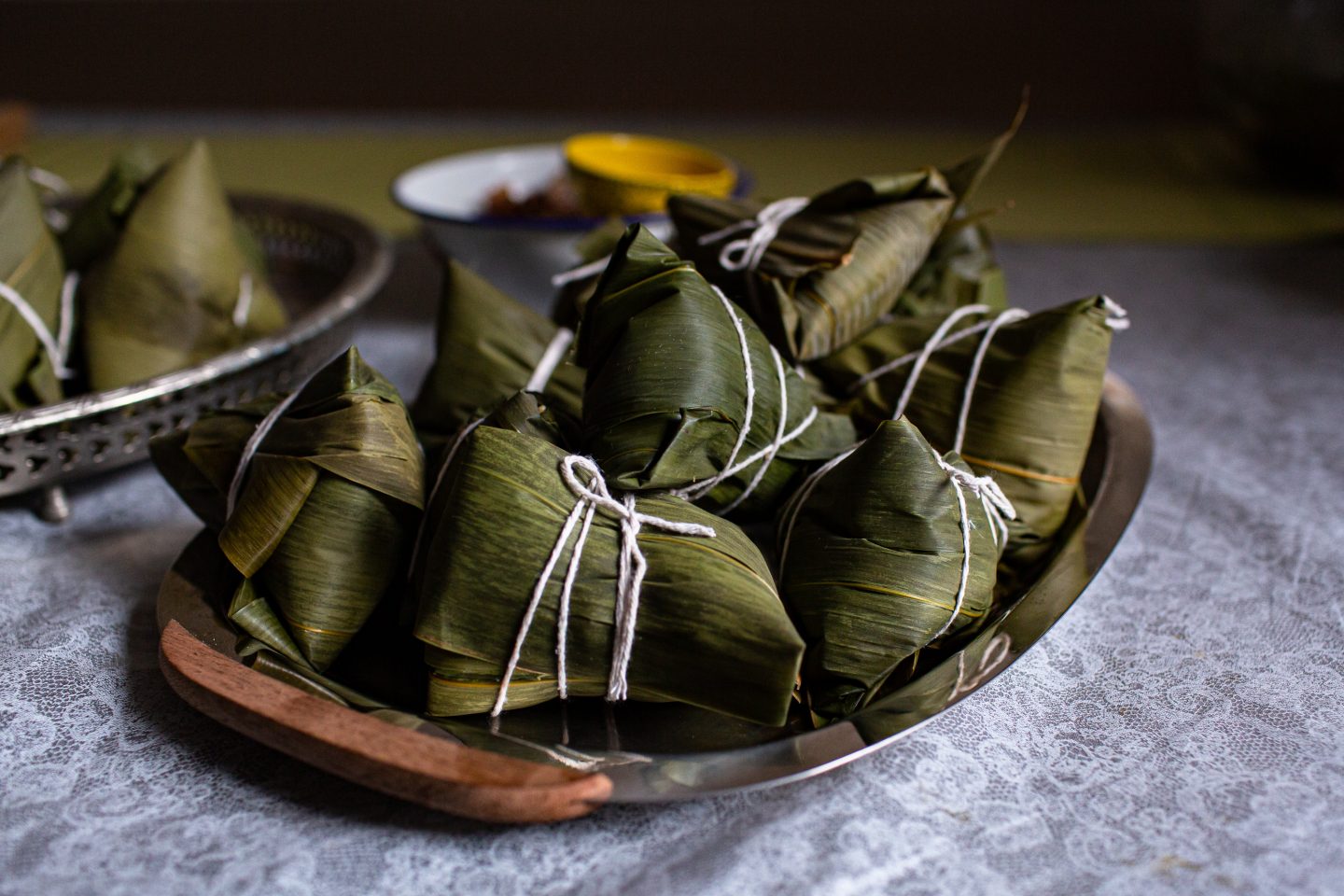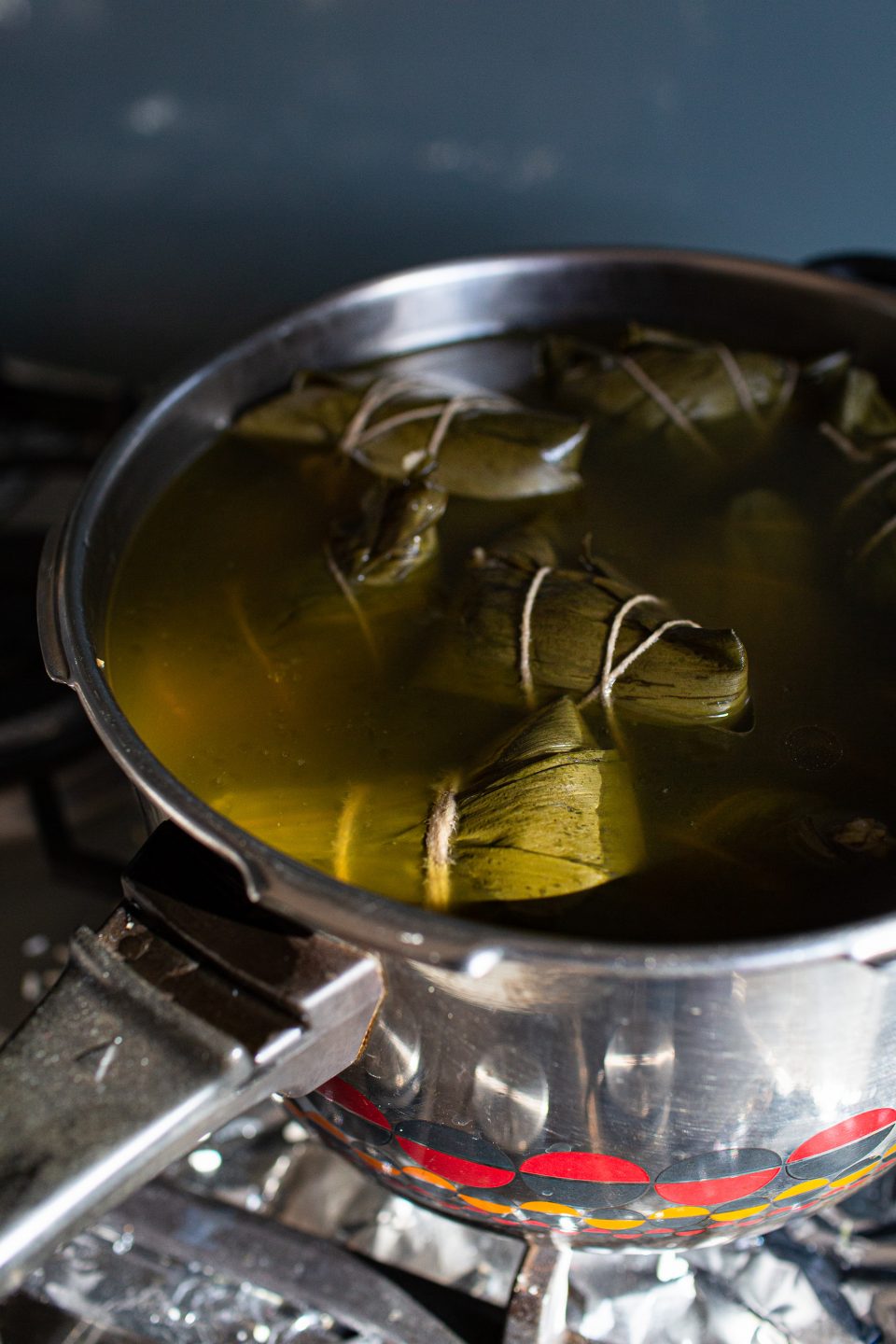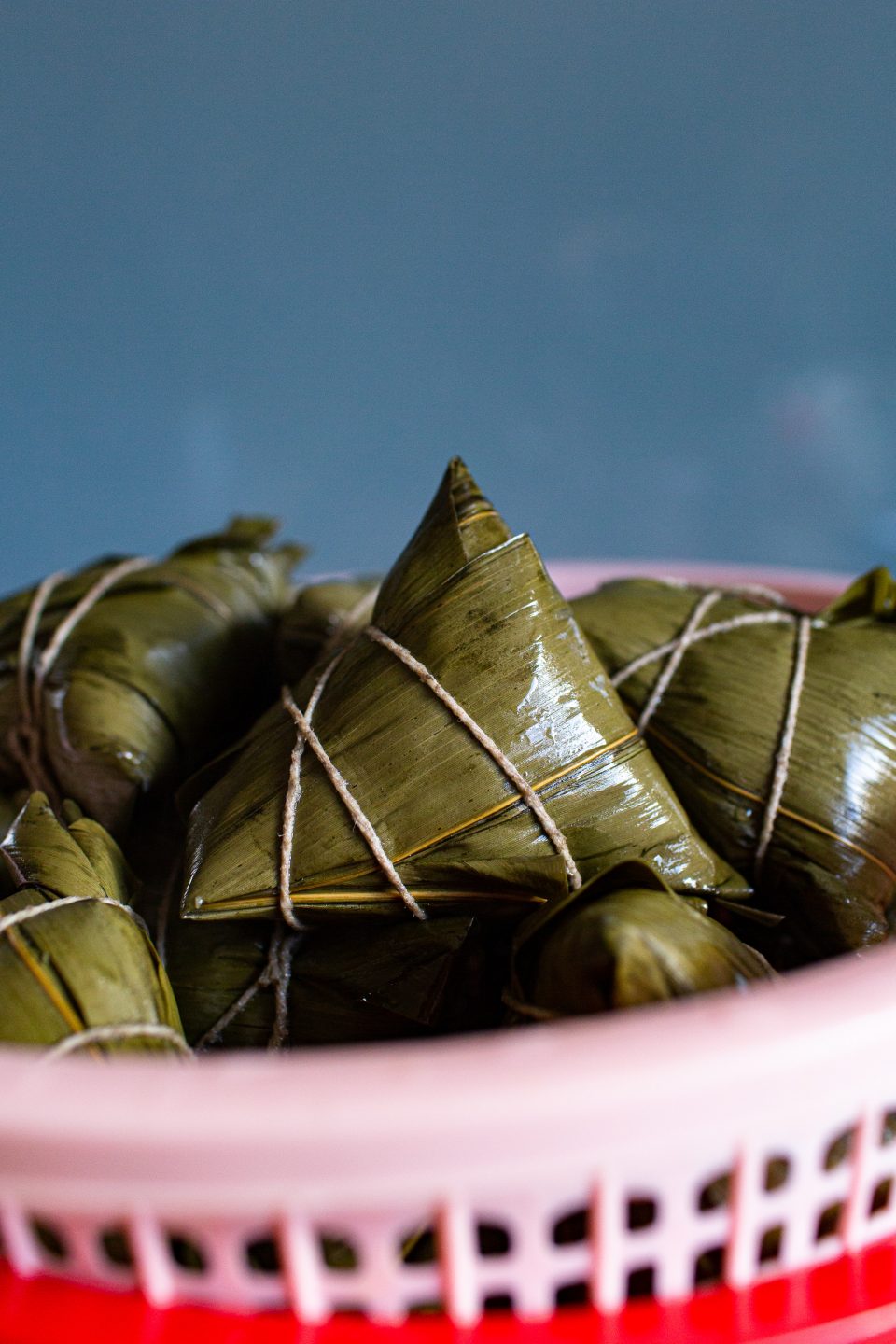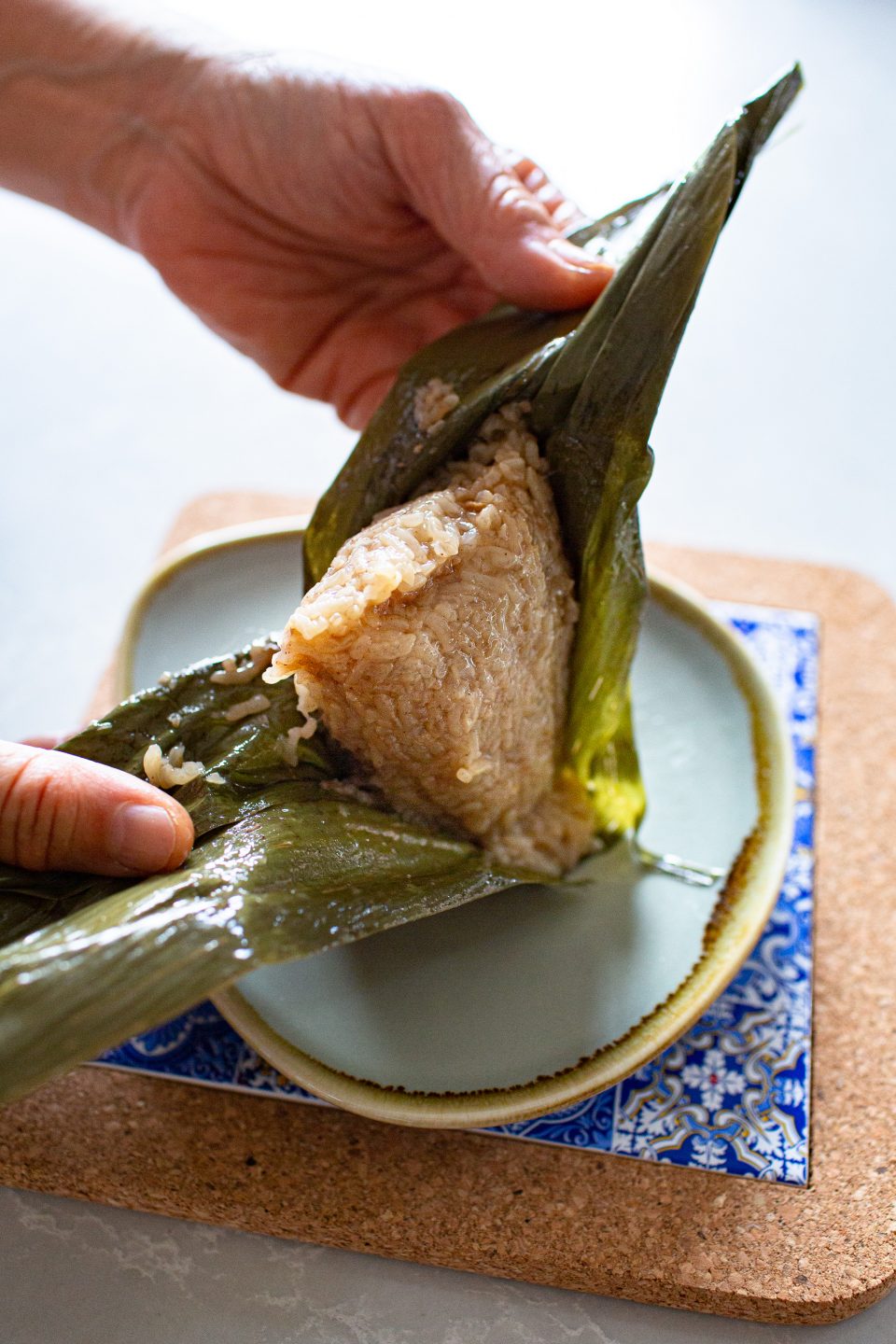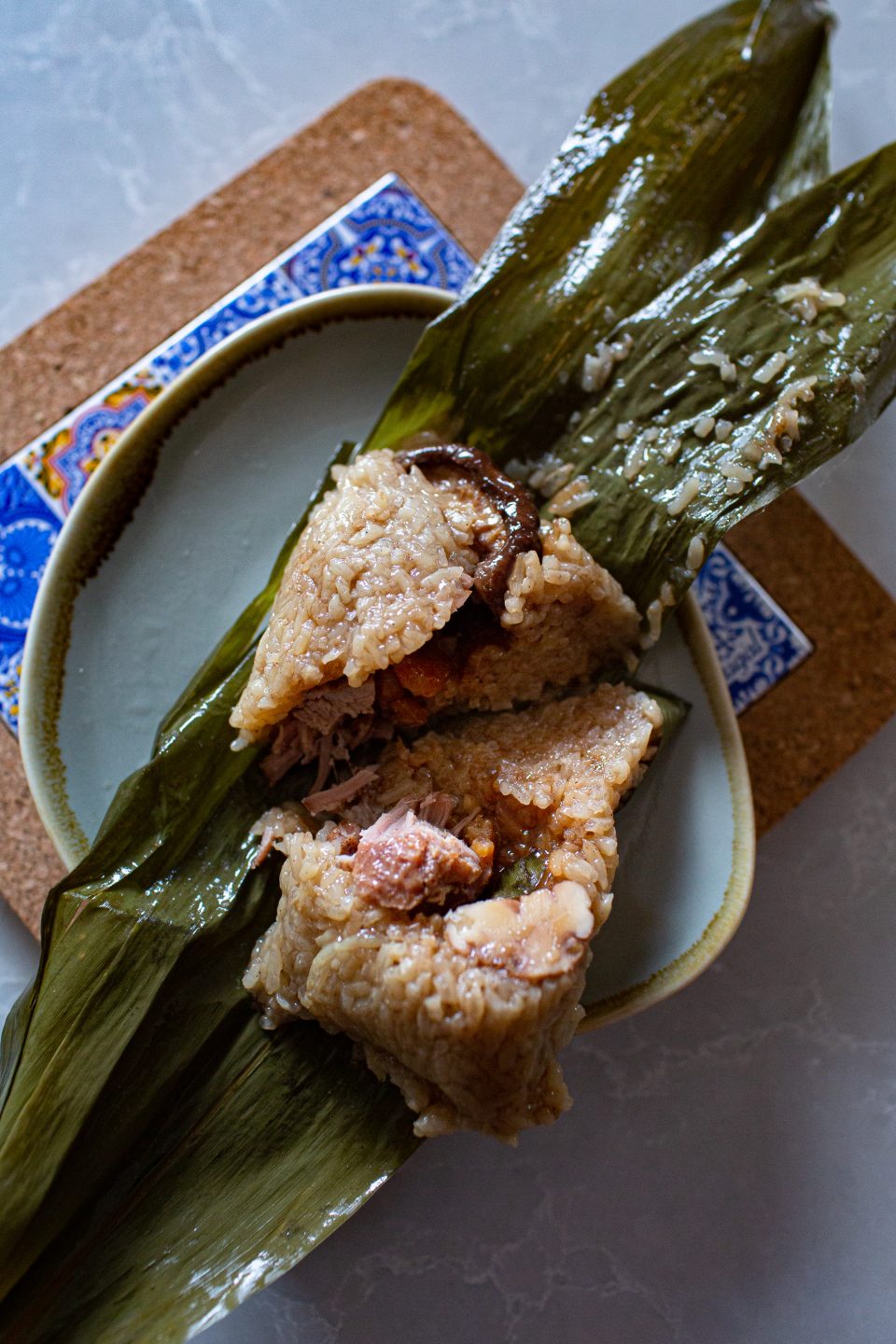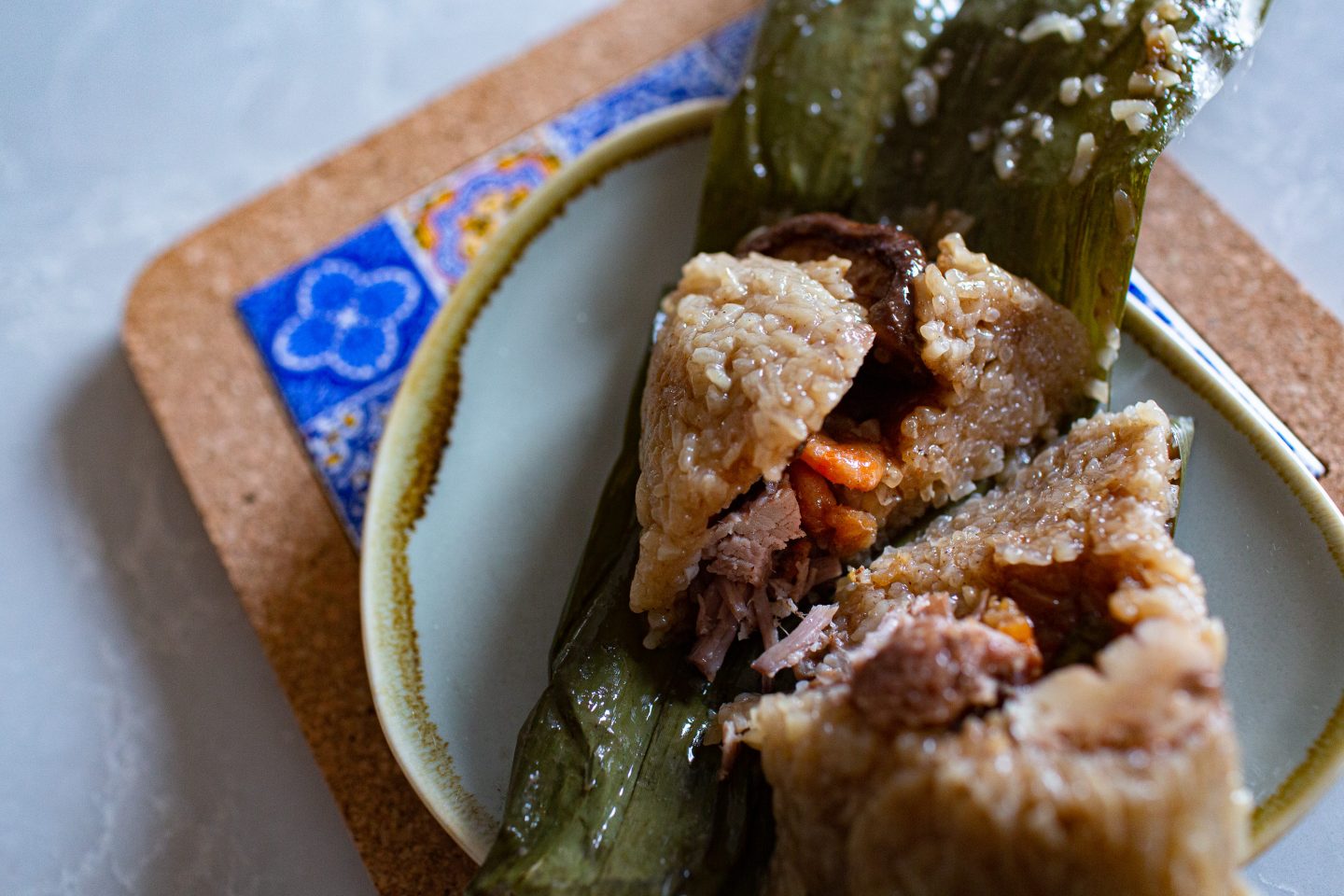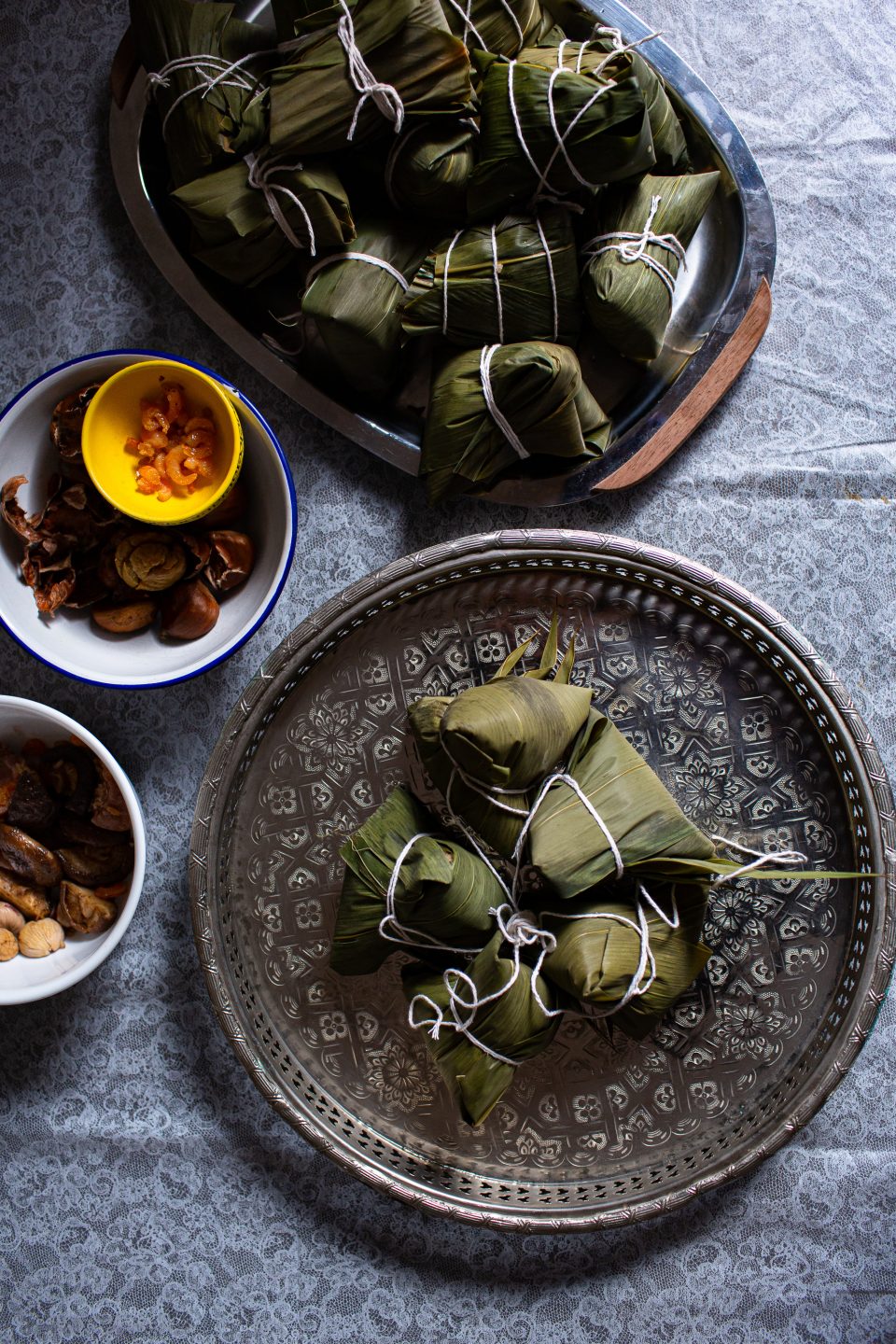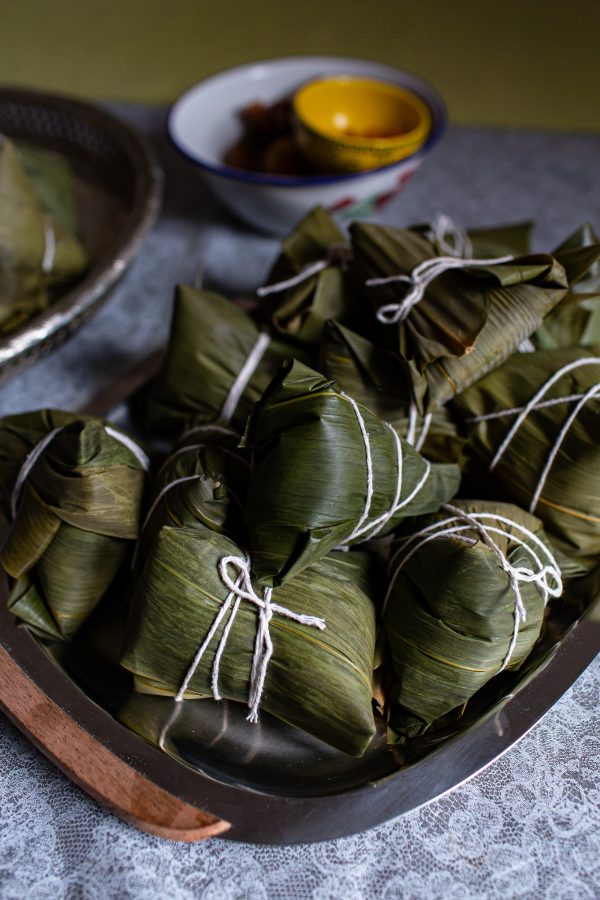 Fujian style Zongzi (Rice Dumpling)
Prep time: | Cook time: | Serves 20
For the rice:
1 kg glutinous rice
1 bulb garlic finely minced
3 tbs Chinese five spice
2 tbs chicken stock powder
2 tbs dark soy sauce
1 tbs sugar
Salt and white pepper to taste
For the filling:
20 dried shiitake mushrooms
40 dried shrimps
20 fresh chestnut
20 small cubes of pork loin
1 tbs Chinese five spice
2 tbs oyster sauce
1 tbs dark soy sauce
2 tbs Chinese cooking wine
1 tbs sugar
salt and white pepper to taste
For the wrapper:
40 sheets of bamboo leaves
Cooking strings
If you don't own a pressure cooker, soak the glutinous rice in water overnight then drain the day after. All the fillings can also be cooked the day before so you can just enjoy wrapping up the rice dumplings the next day.
The Fillings. Chestnuts. Cut a cross in the middle with sharp knife and roast in oven on 200C for about 20 minutes. These peel off easily when they are still hot fresh out of the oven.
Pork loin. Marinate the cubes in all the sauce and leave overnight.
Dried Shiitake mushrooms. Soak in hot water for a few hours until they have tripled in size then shallow fry in the wok/pan using the same sauces and quantities as the pork loin. Keep frying until all the sauces are fully soaked into the mushrooms.
Dried shrimp. Soak overnight in room temperature water.
The Glutinous Rice. In the wok, fry the minced garlic until fragrant then add in the rice, Chinese five spice, chicken stock powder, sugar and dark soy sauce. Keep frying on medium heat until rice is well coated.
The Wrapping. Wash all the bamboo leaves under running water and wipe well with tea towel. Place 2 leaves slightly overlapping each other at the end bits and fold to form a cone shape.
Fill the end bit of this cone with roughly a tablespoon of glutinous rice, each of the fillings then top with more rice. Make sure the contents are tightly packed so the rice will form a nice shape when cooked.
Fold down the top part of the leaves and wrap the excess part to the side. Tie with string in the middle, pulling really tight to create a 'waist'.
The Cooking. Place the 20 wrapped rice dumplings into a deep stock pot or pressure cooker and cover with boiled water from the kettle. For cooking in a stock pot – bring it to a boil then turn to low heat. Cook for up to 3 and half hours. For cooking in a pressure cooker – bring it to a boil until the pressure knob pops up then turn down to low heat. Cook for 1 and half hour, turn off the heat and let the knob slowly goes down to release the pressure.
Once cooked, take out all the rice dumplings and place in a colander to dry and cool down before serving.