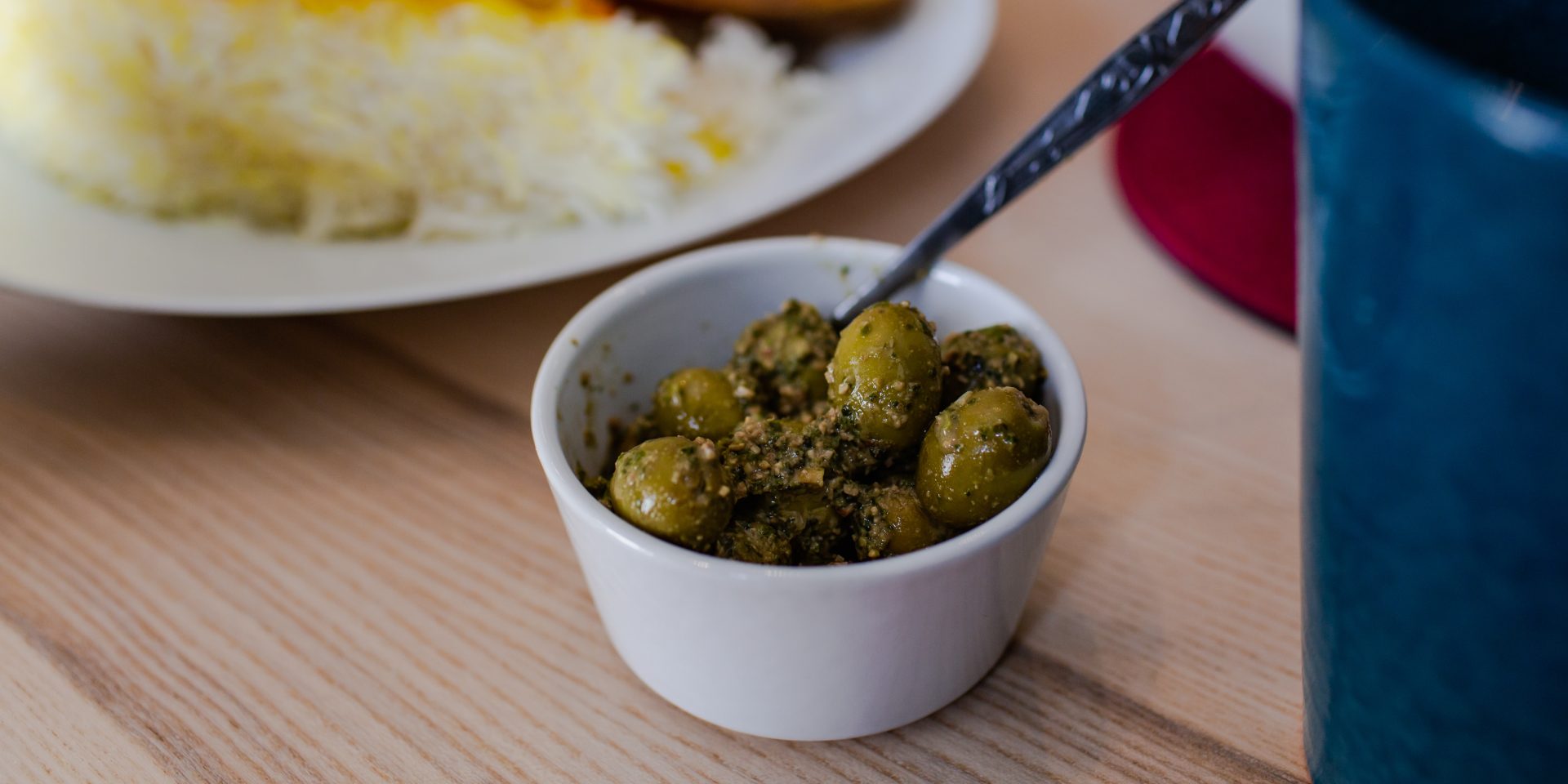 I first fell in love with Iranian cuisine when I had Mina's tahdig almost 20 years ago. I still remember the delicious little barberries she put in it. Growing up with Indonesian-Chinese style white rice, Mina's tahdig is really on another level. The necessary care but elegant process that goes into preparing the rice, with complex but comforting flavour combinations of saffron and ghee – makes this dish, in my humble opinion, the most special rice dish I've ever had. Not to mention the crispy potatoes to top all that! I am thrilled that Mina shares her tahdig recipe with us here as well as her other specialties like Fesenjoon and Mirza Ghasemi.
Mina has been cooking her version of Fesenjoon for around 40 years now. It's a very old and traditional Iranian meat stew cooked in walnut and pomegranate sauce. Mina first learnt this dish from her mother in law who's from Gilan province in the north of Iran that lies along the Caspian Sea. Pomegranate which grows in this region tends to taste quite sour and Fesenjoon dish from this region also tastes quite sour due to the pomegranate molasses used. But that's how the locals there like it. Mina prefers to use the pomegranate molasses from Khorasan province, in the north east of Iran where she's from. It still has the tartness but a touch of sweetness too. Fesenjoon is one of the homefood dish that goes so well with Tahdig. And to accompany the potato tahdig Mina also made some Mirza Ghasemi which is a Persian smoked eggplant with tomato and eggs.
As you can see here, the Tahdig (which literally means 'bottom of the pot' in Farsi) takes the centre stage.
I can't live without
my social media
Childhood taste
Sweets and cakes
I will always have in my pantry
Pistachio and other nuts
I learnt to cook from
from my Mum and Grandmother
Currently I'm listening to
traditional Persian music and Celine Dion's music
One day I must visit
Italy
Go to meal
Salad with smoked salmon & sushi
I am really good at
keeping my friendships
The unforgettable meal
Sushi train
My piece of Sydney
Sydney Opera House
Favourite spice
Saffron, black pepper, sumac, turmeric and cinnamon
Best flavour combo
Turmeric with fried garlic and onion
Guilty pleasure
Binging movies and eat too much sweets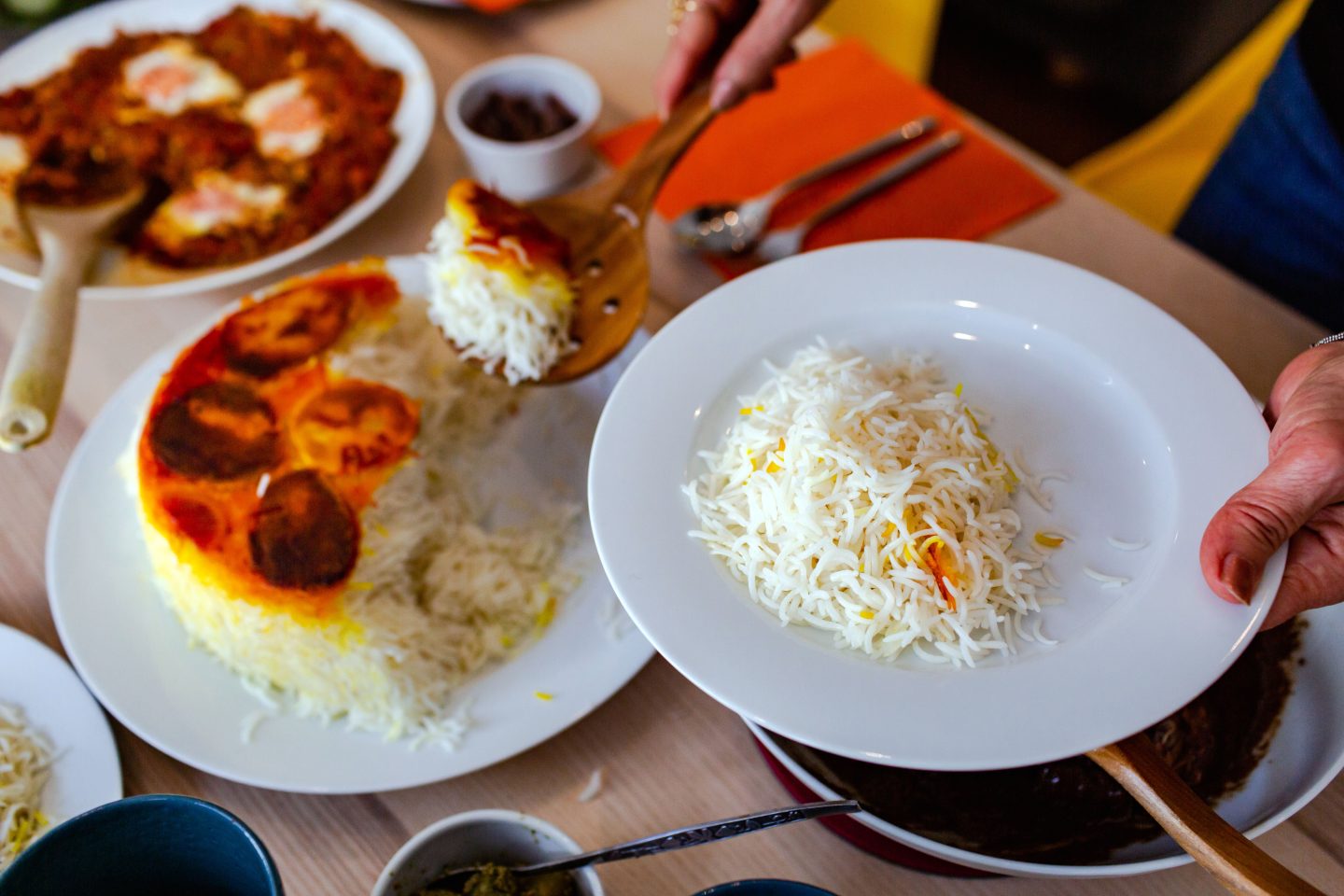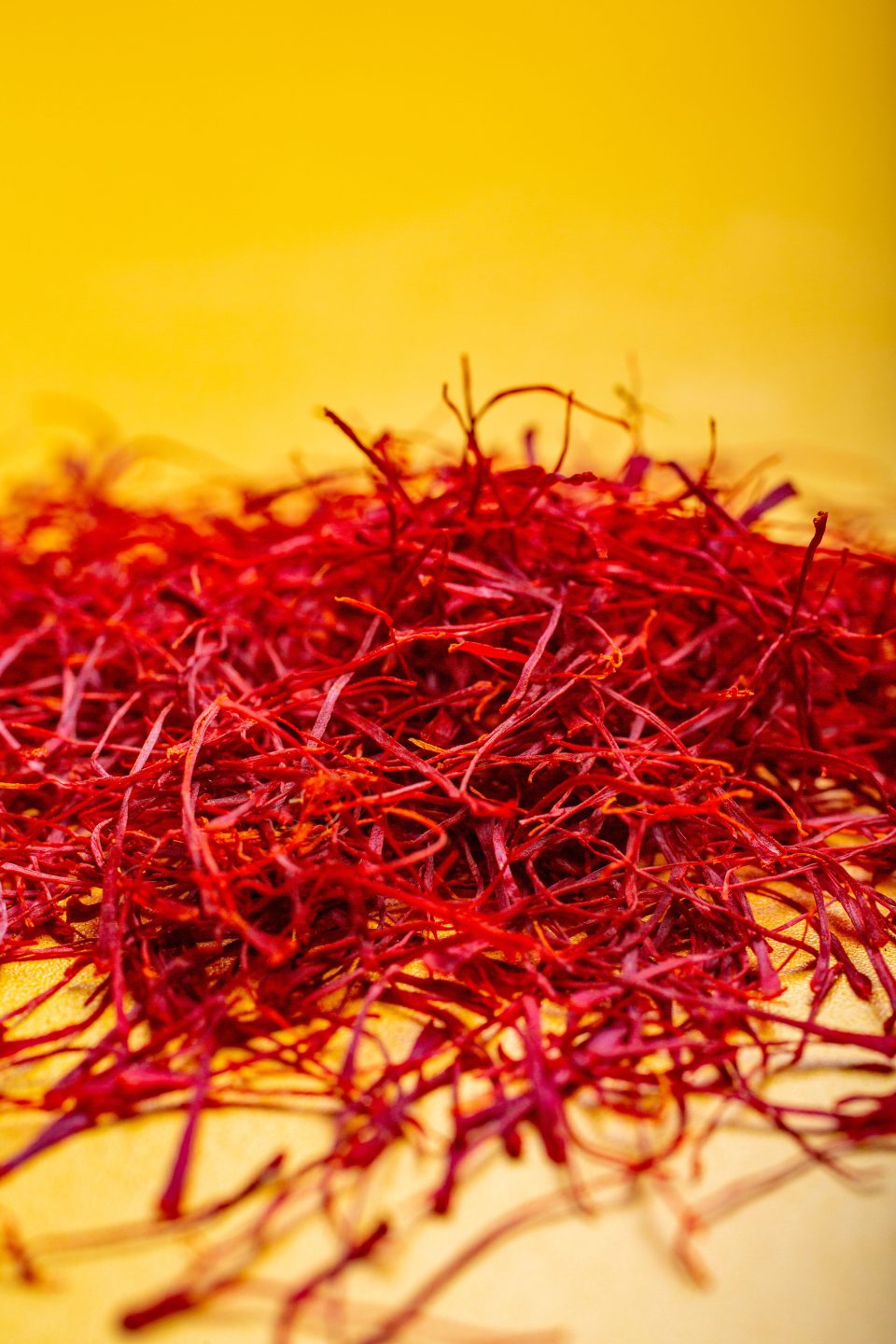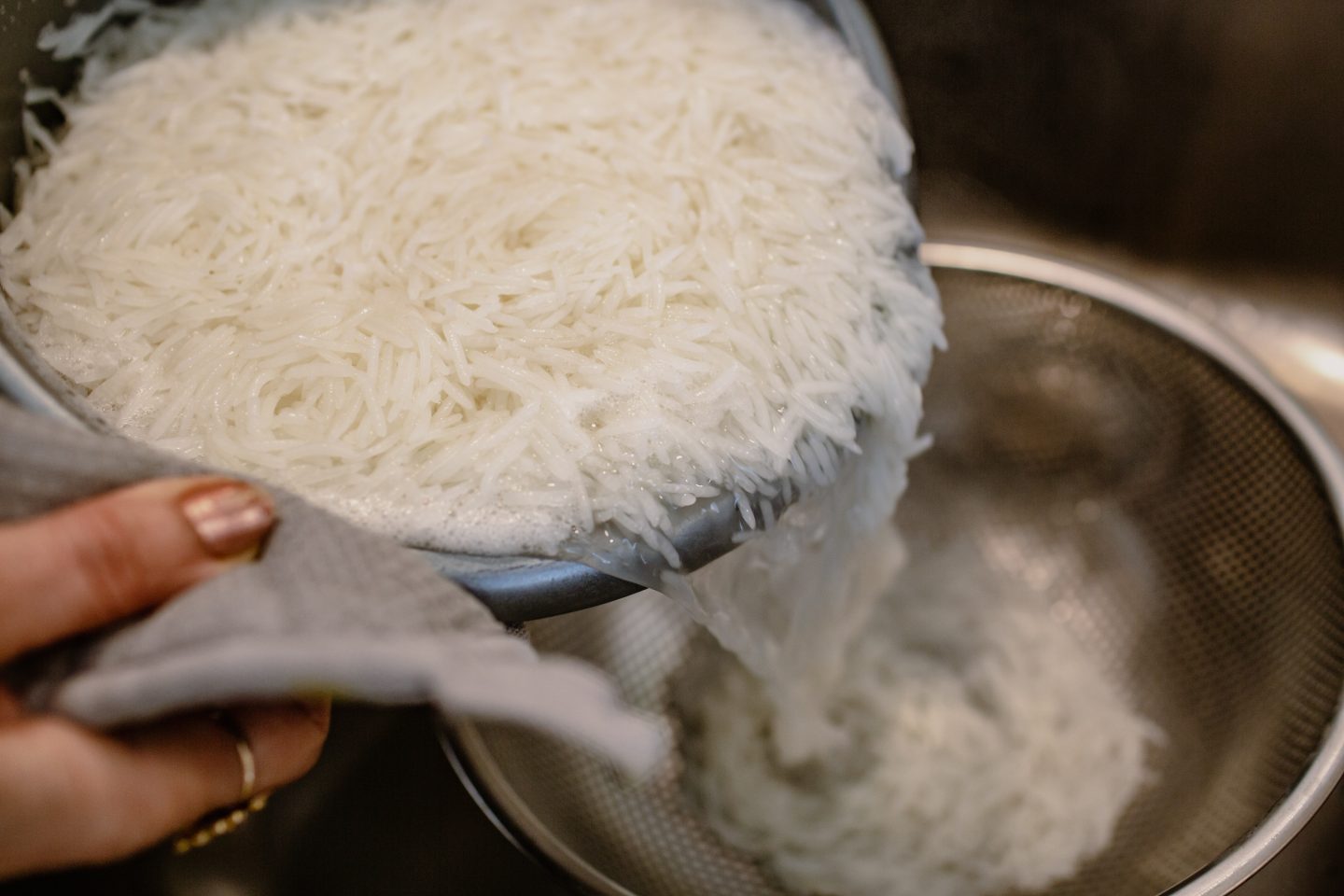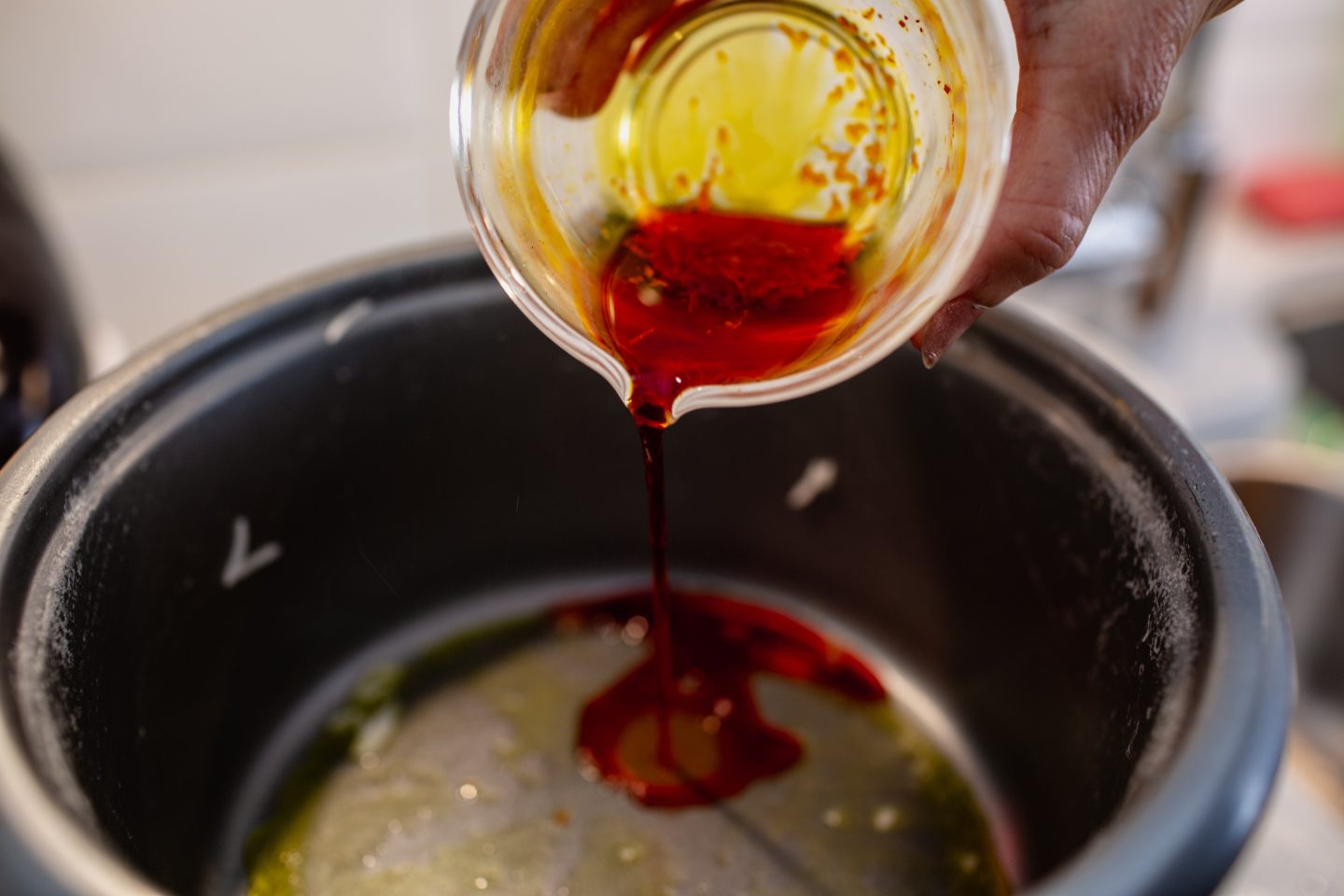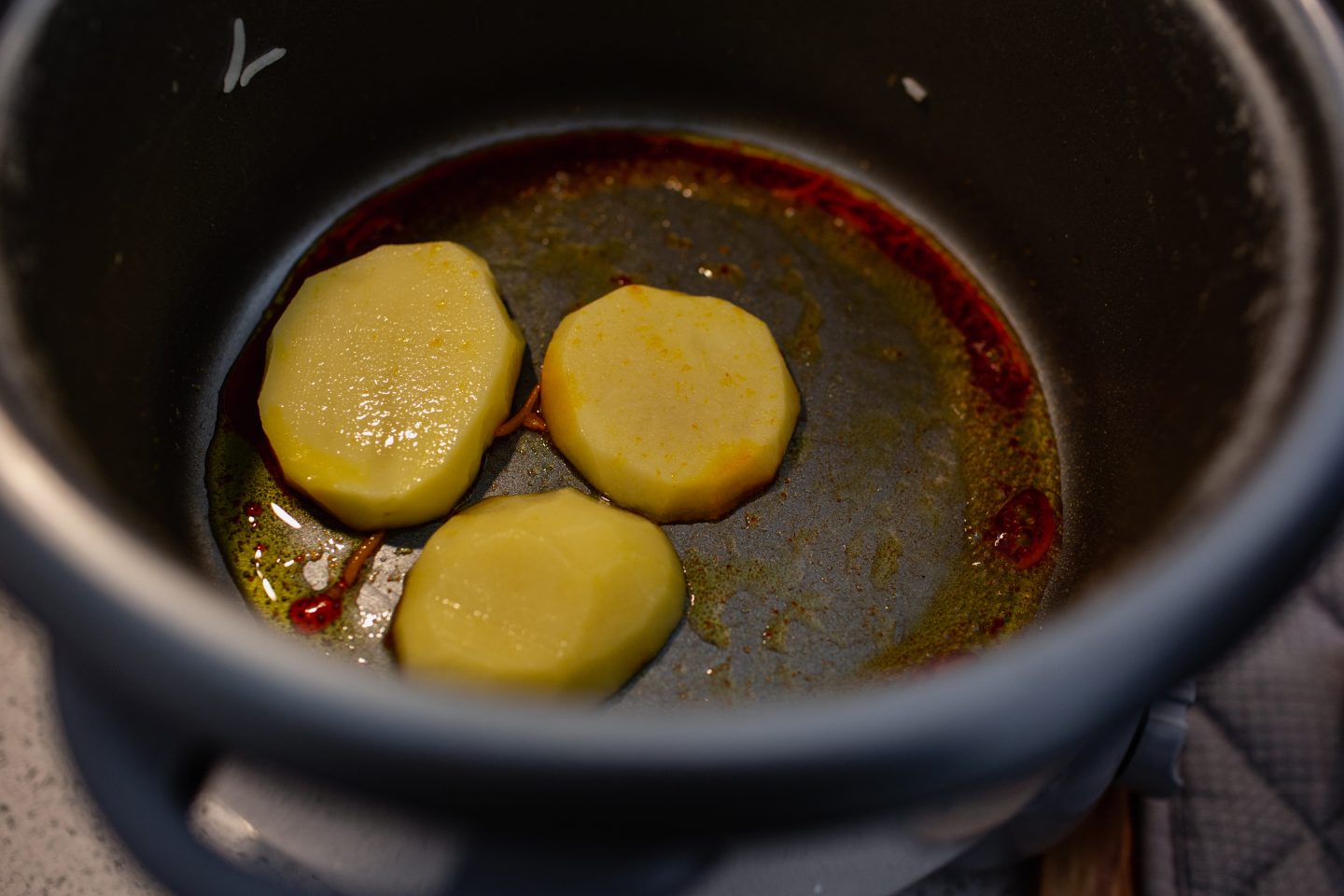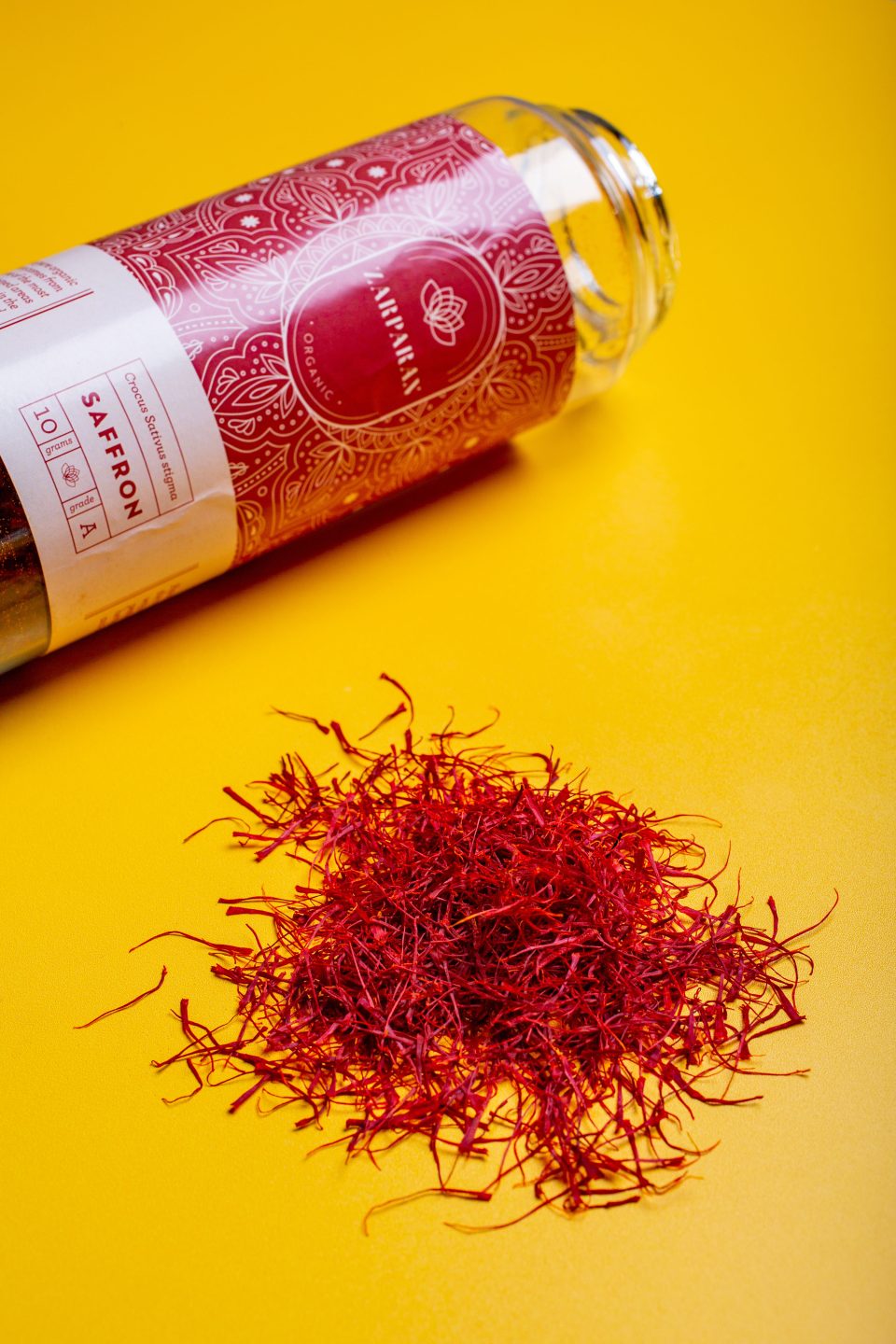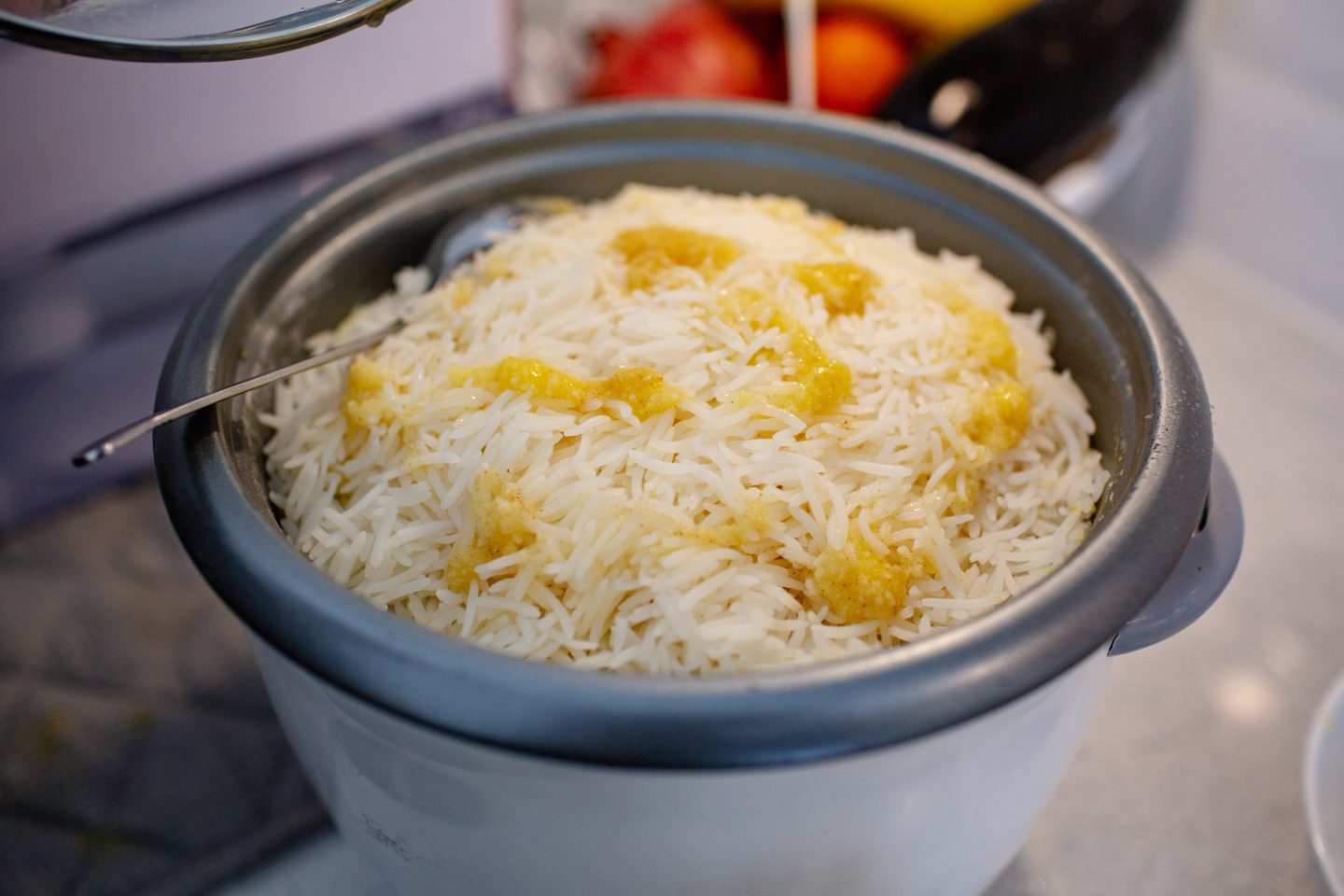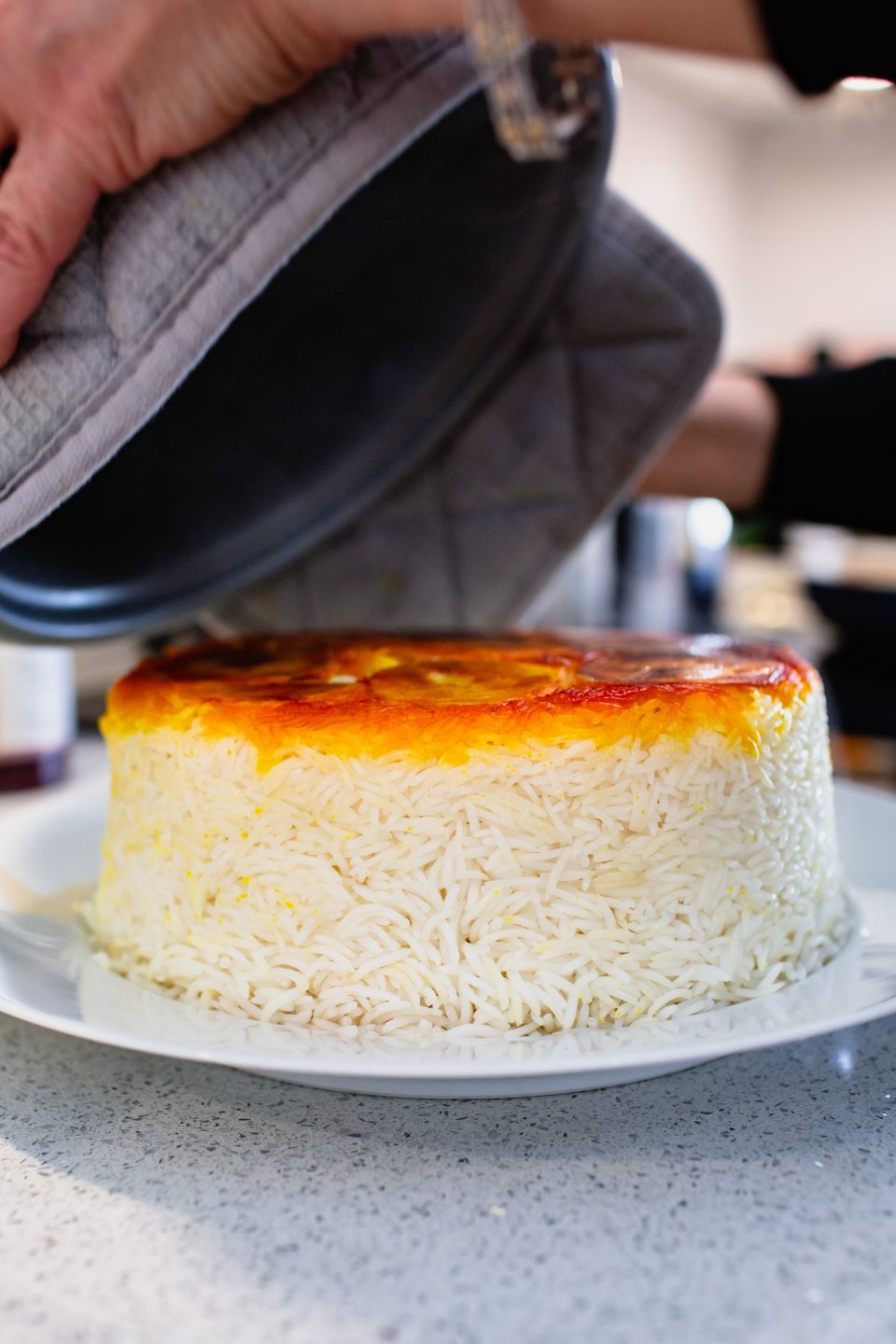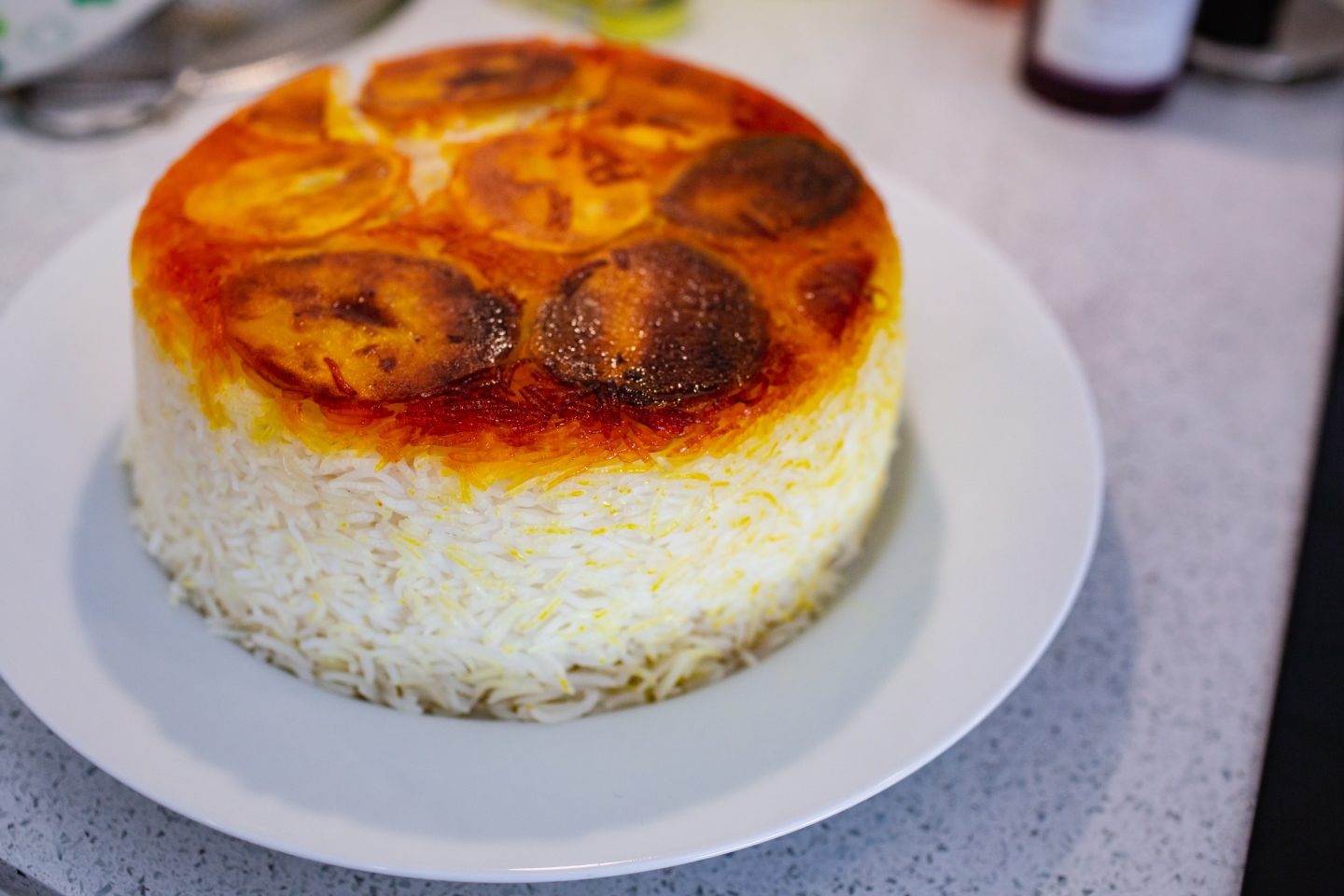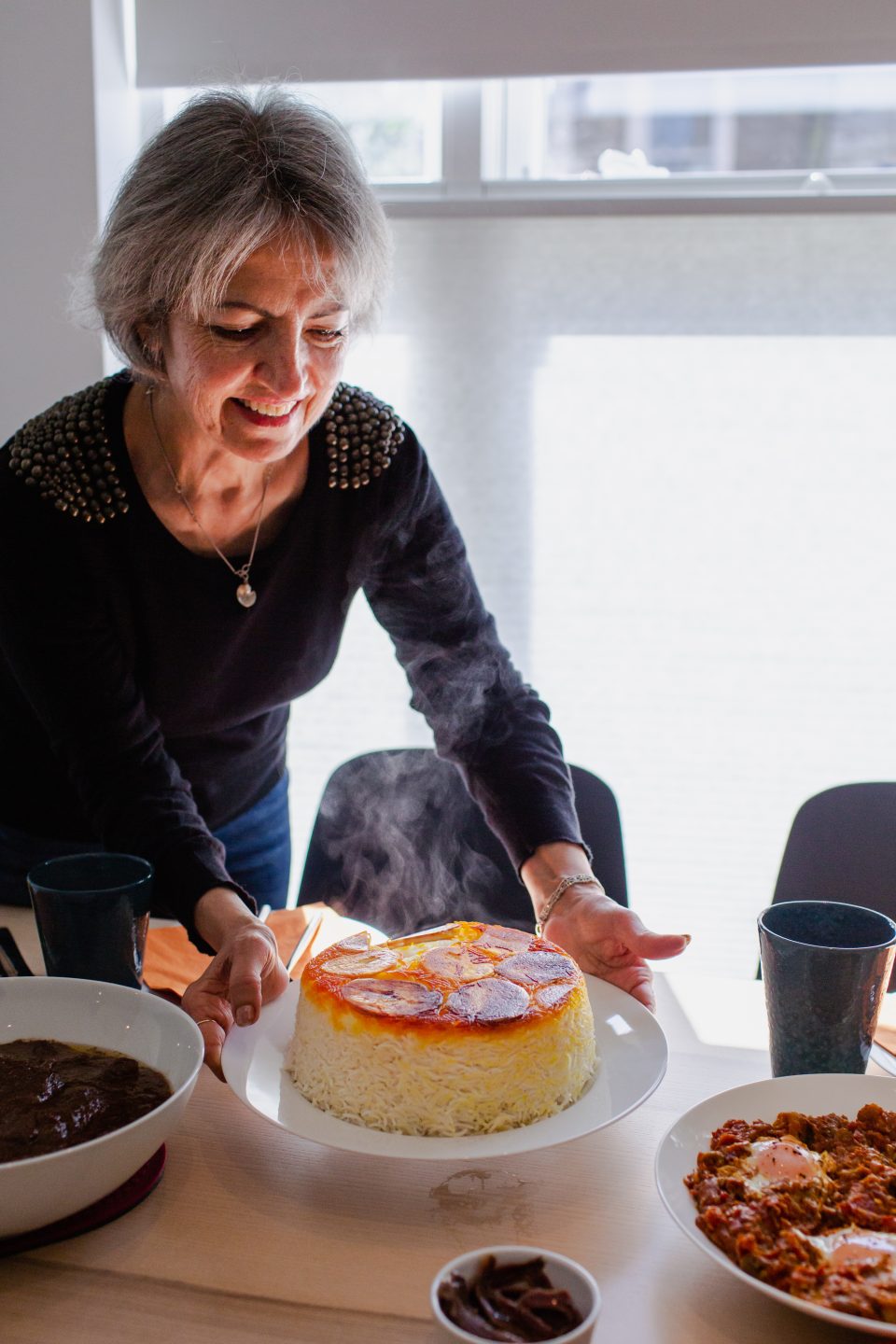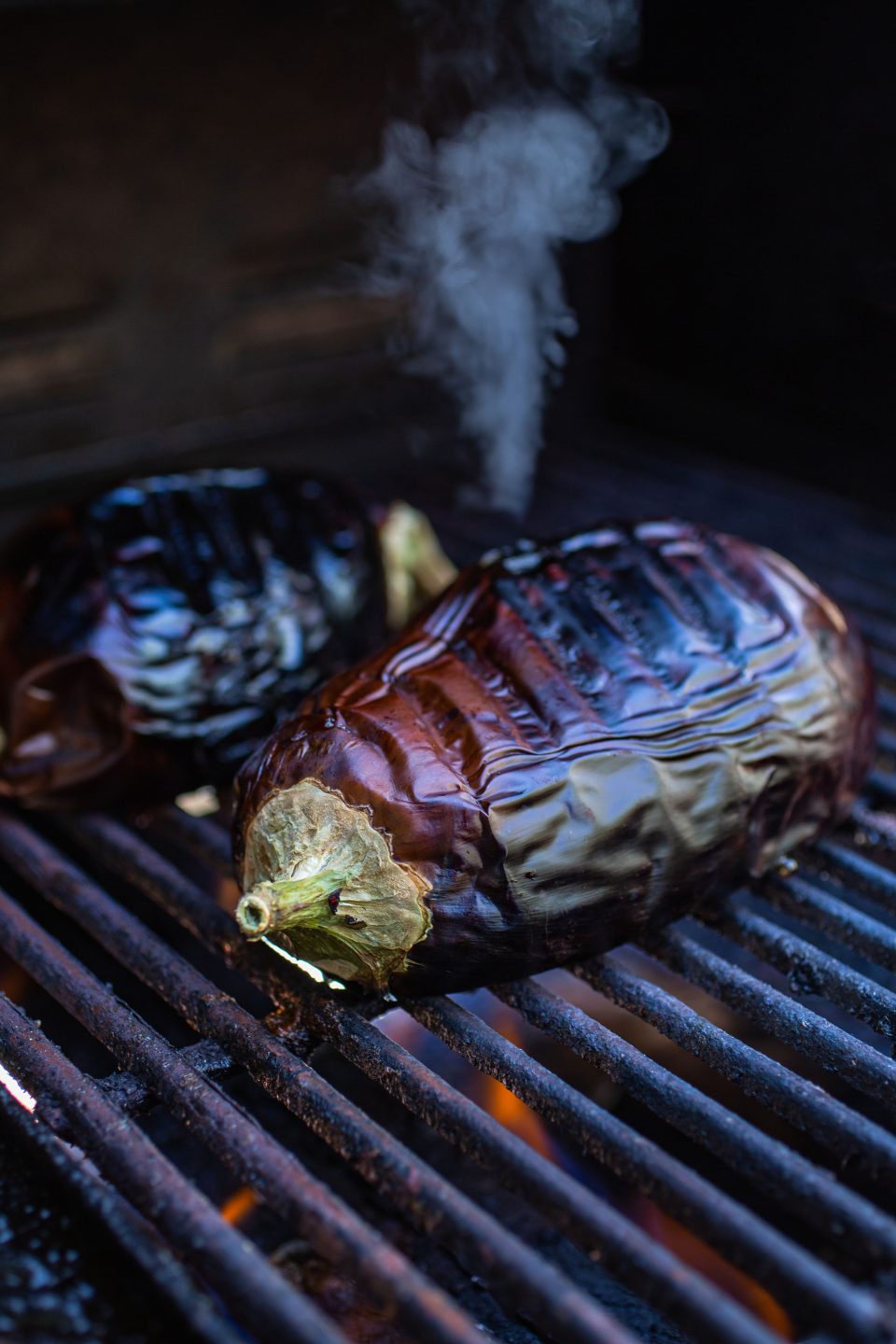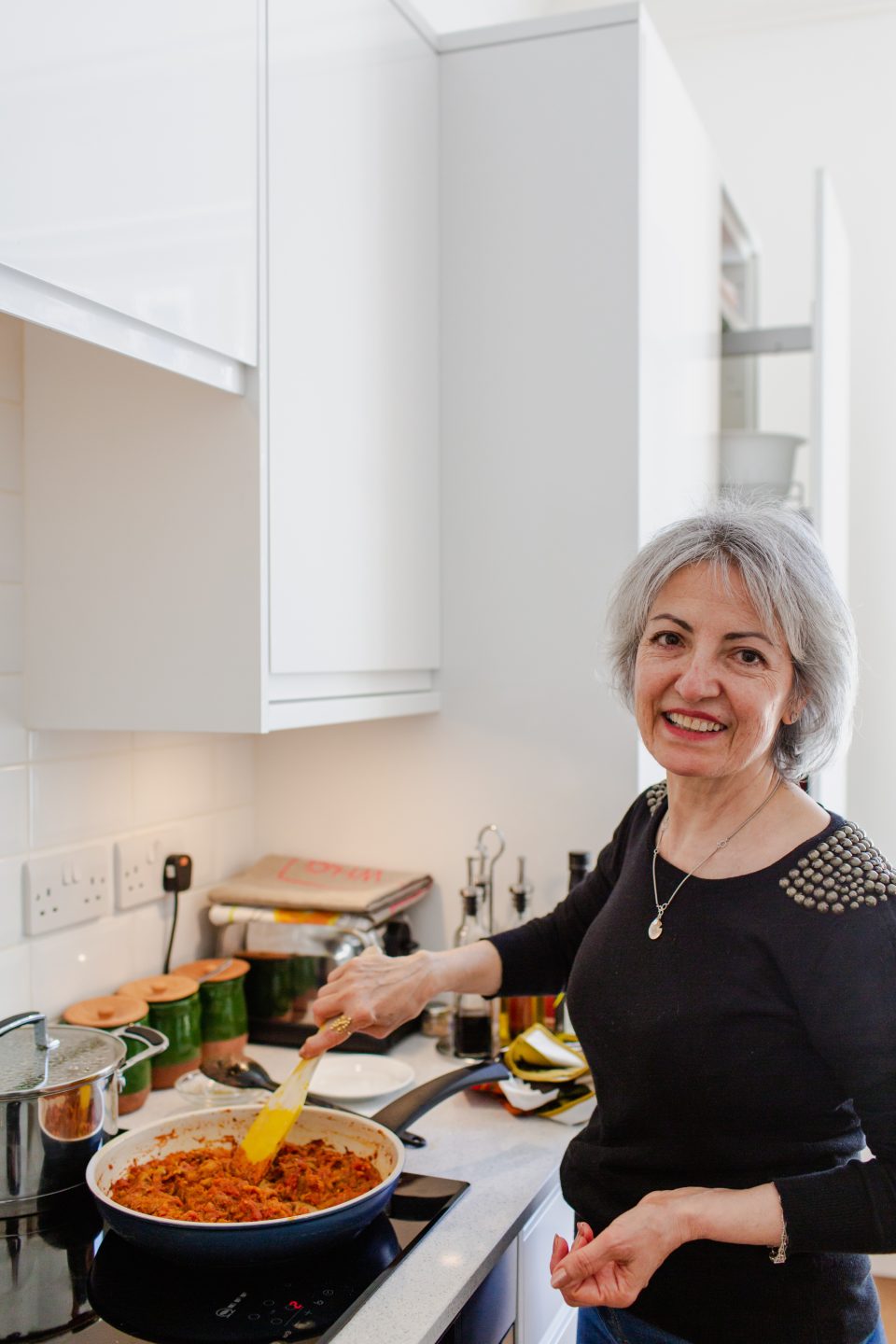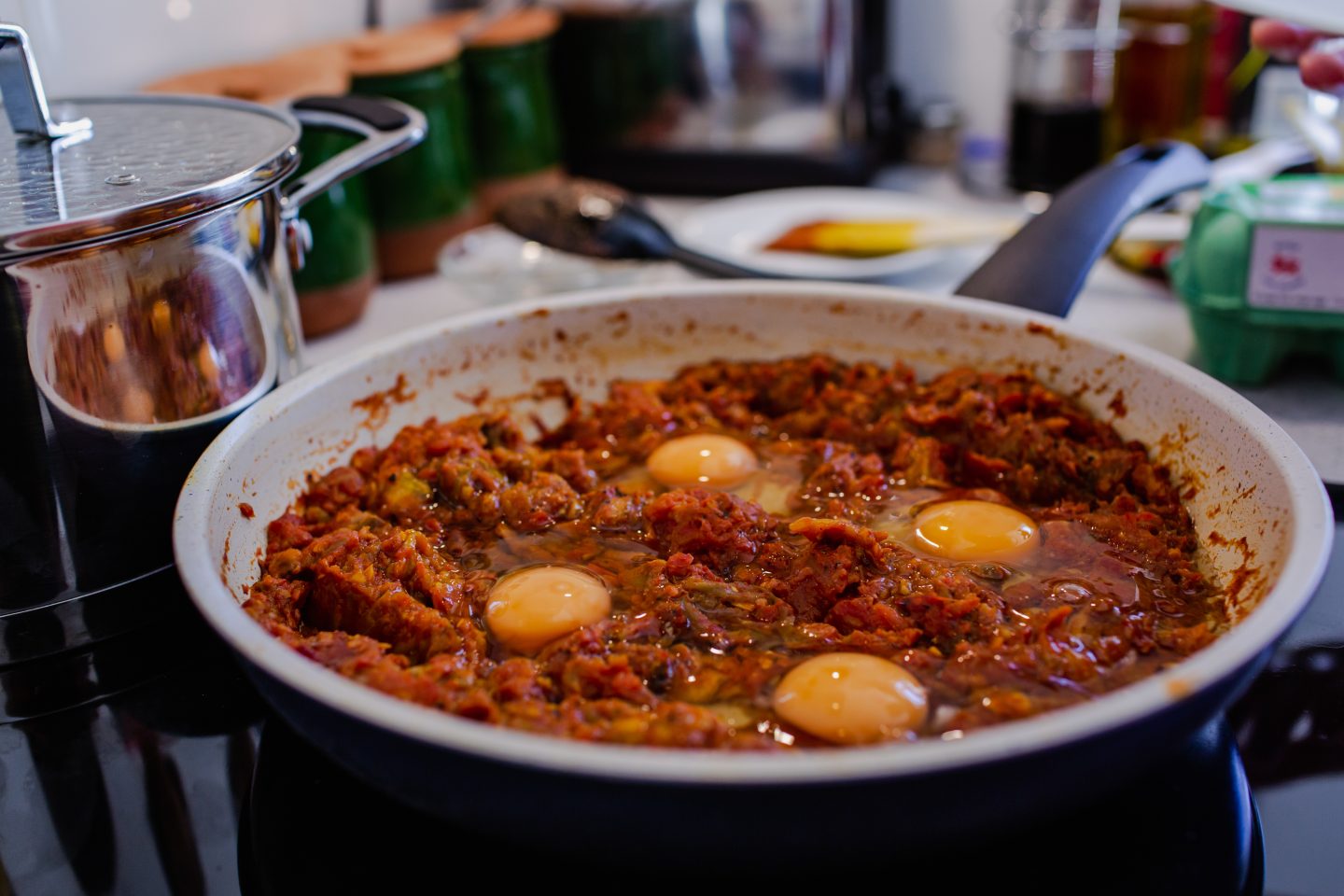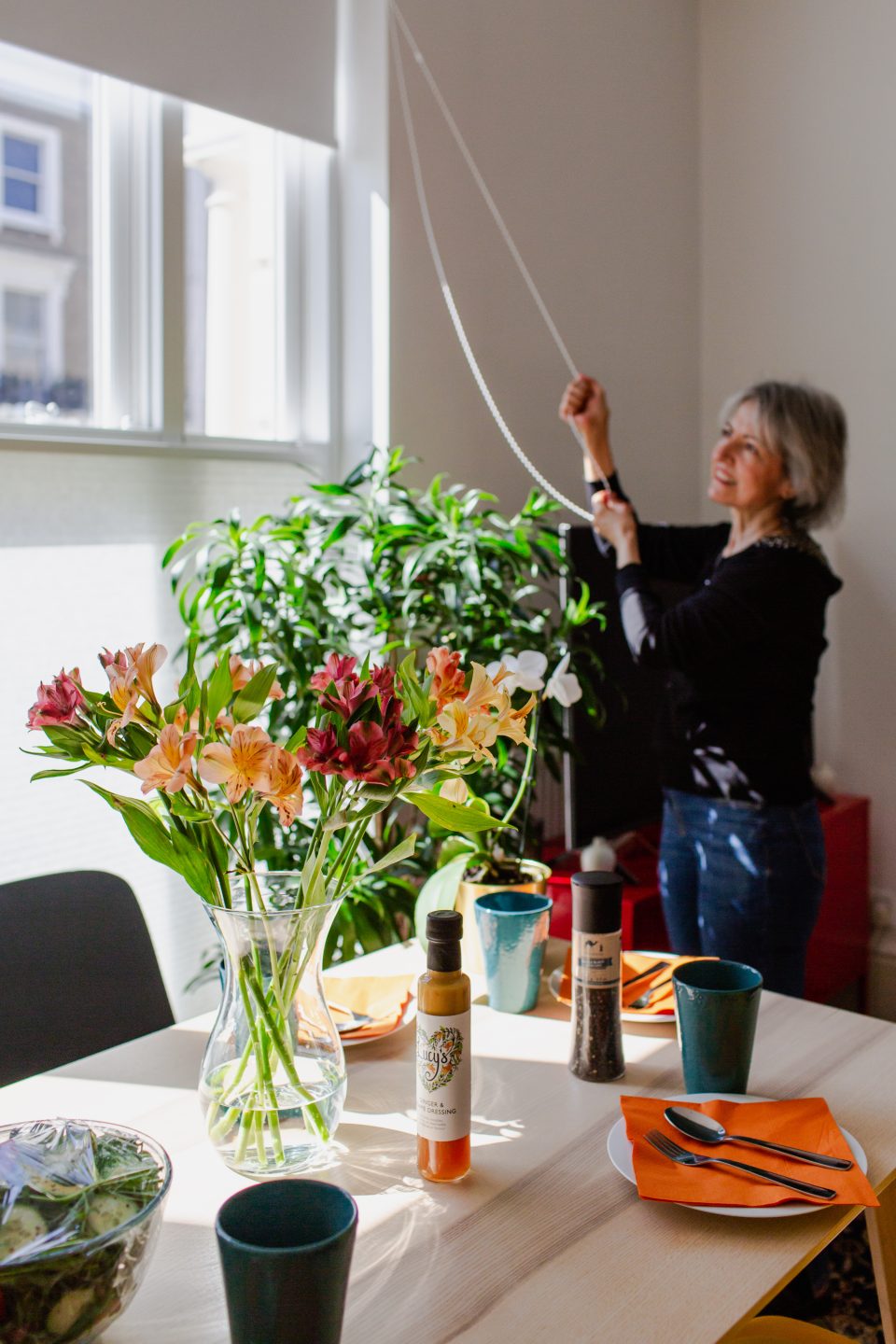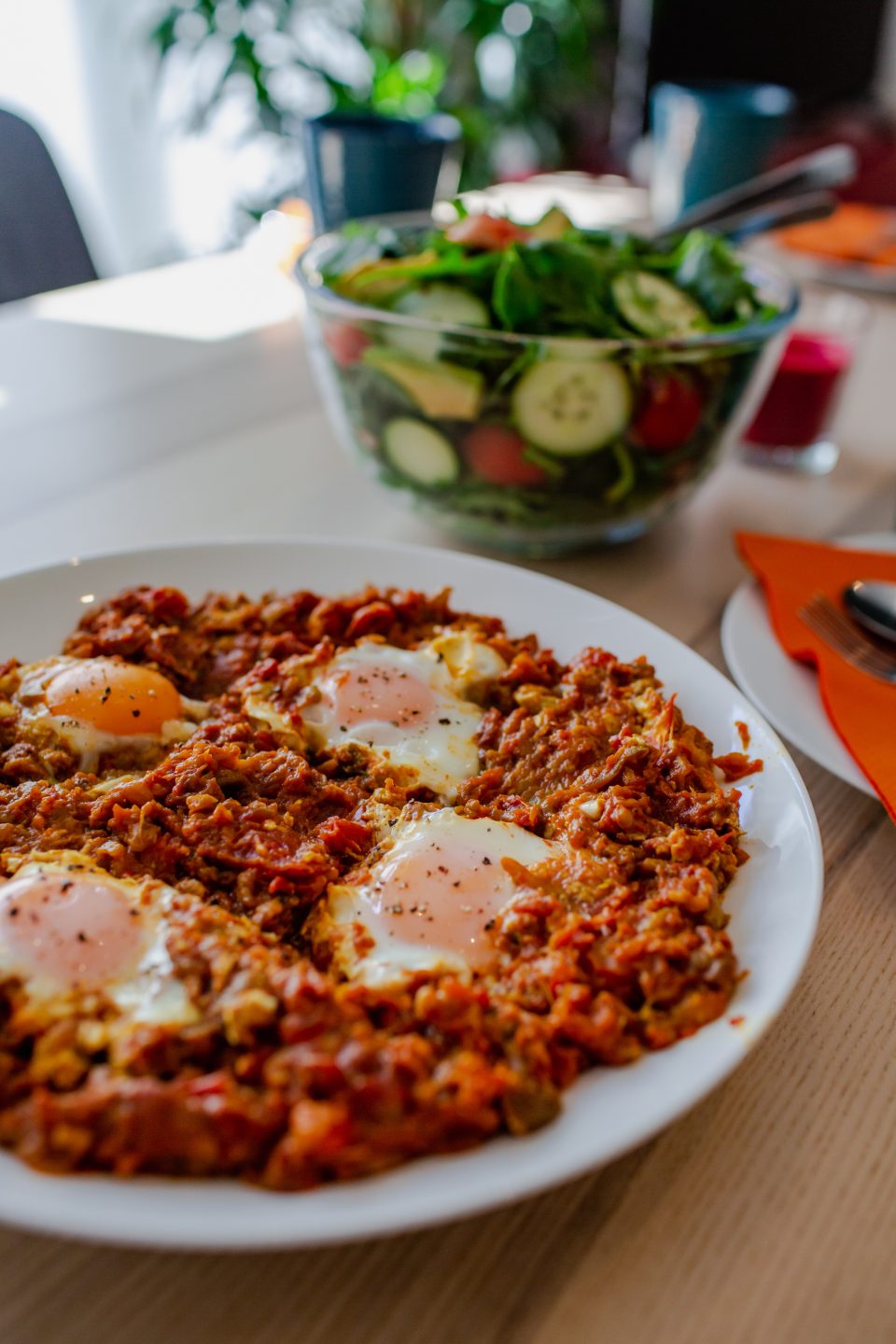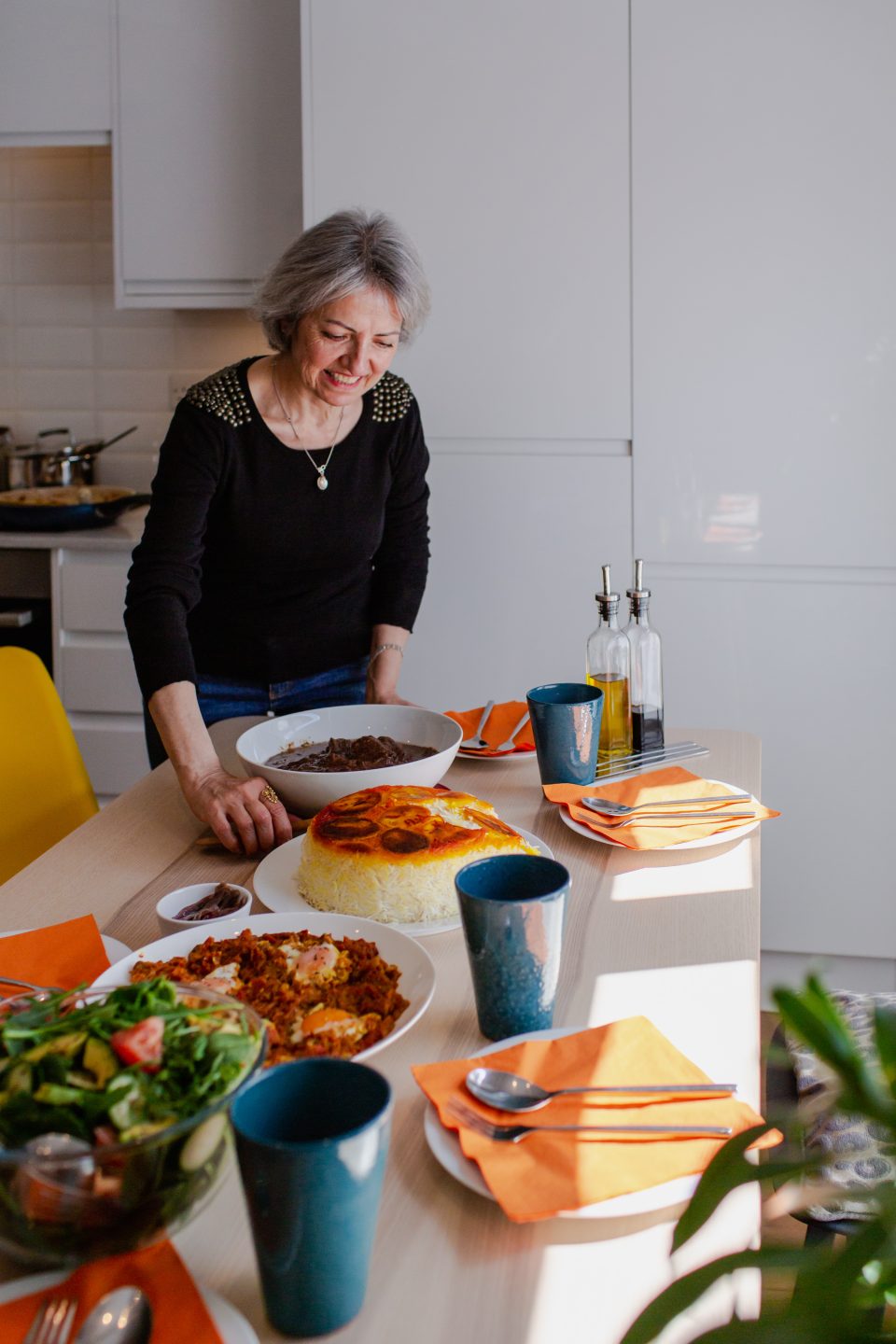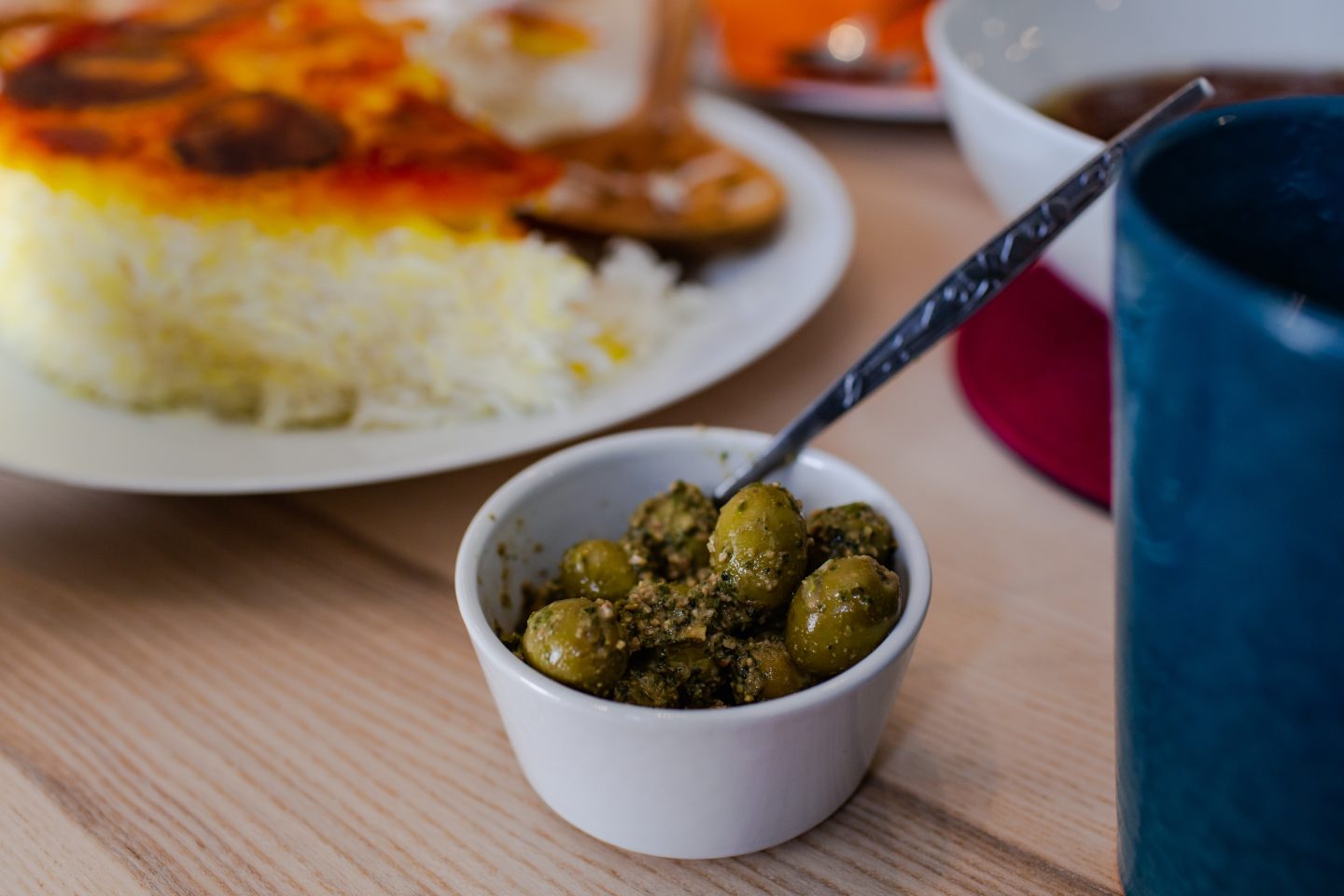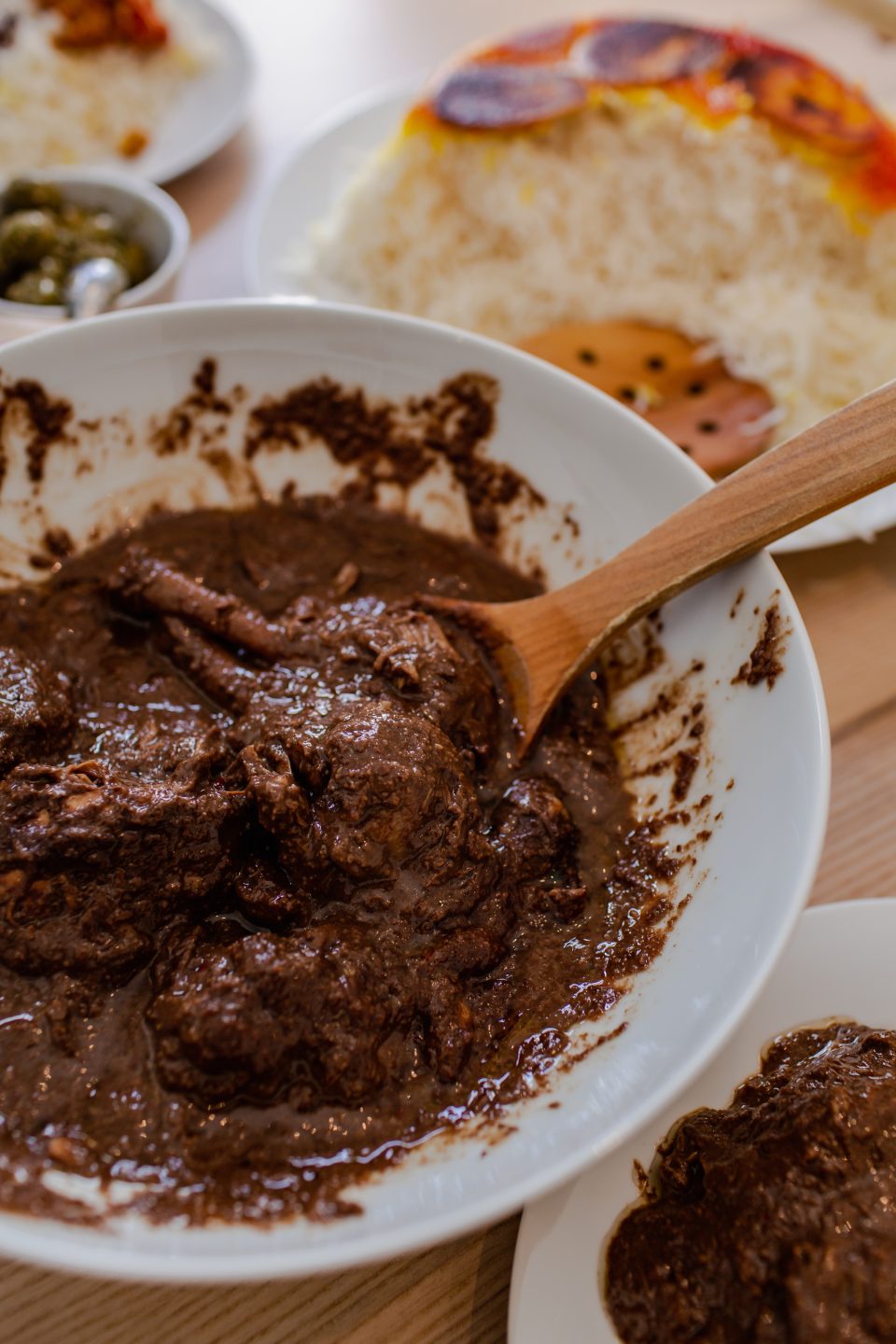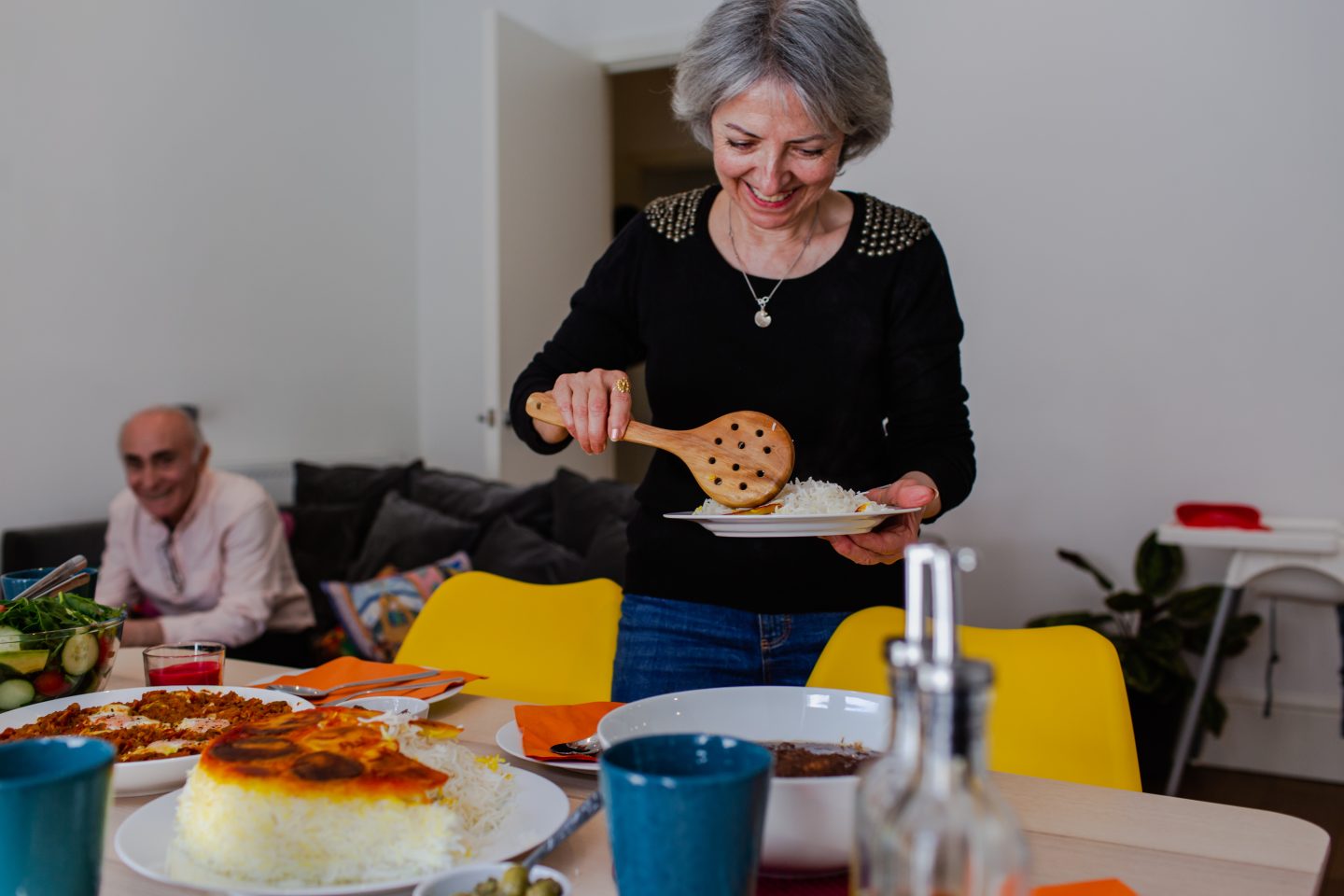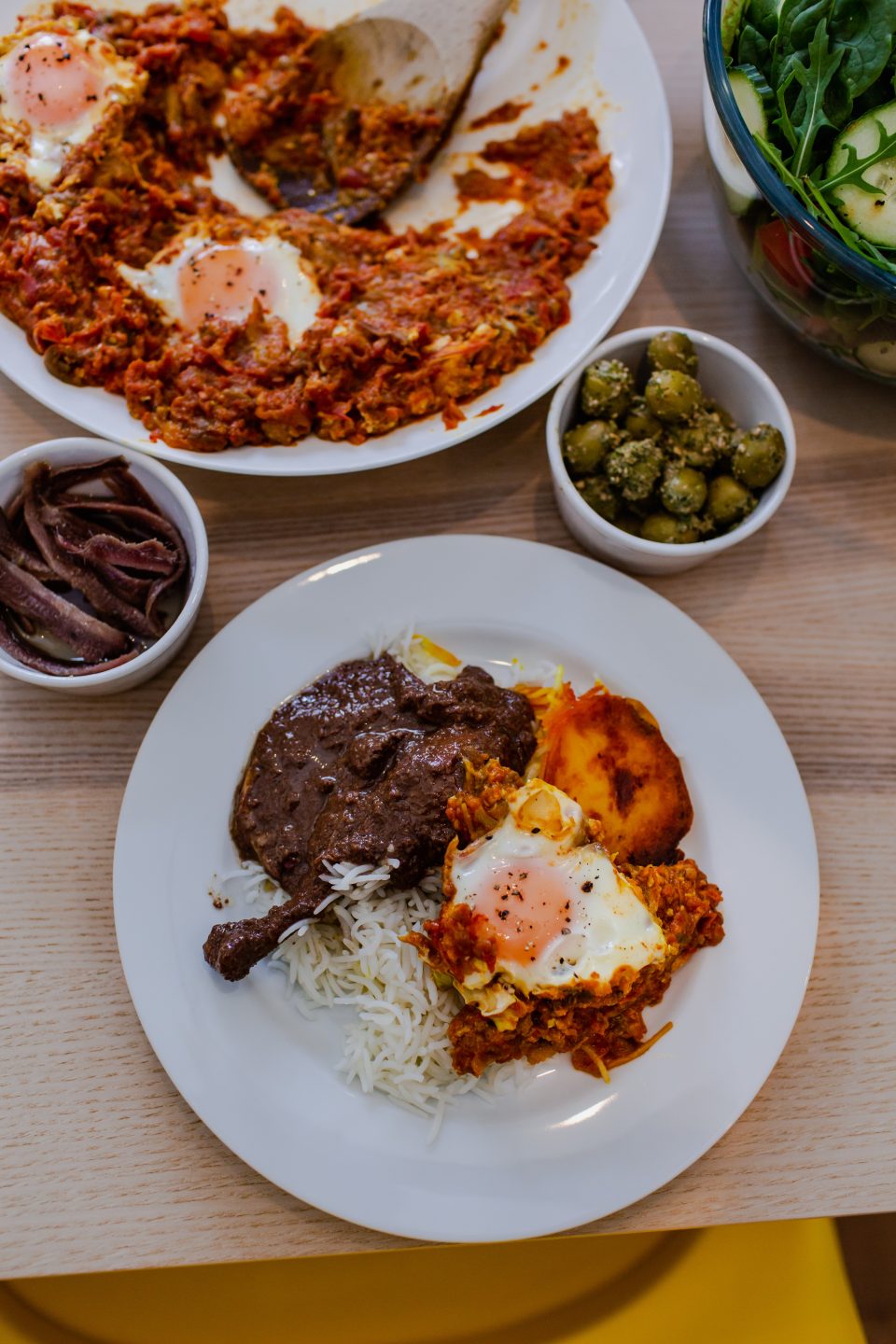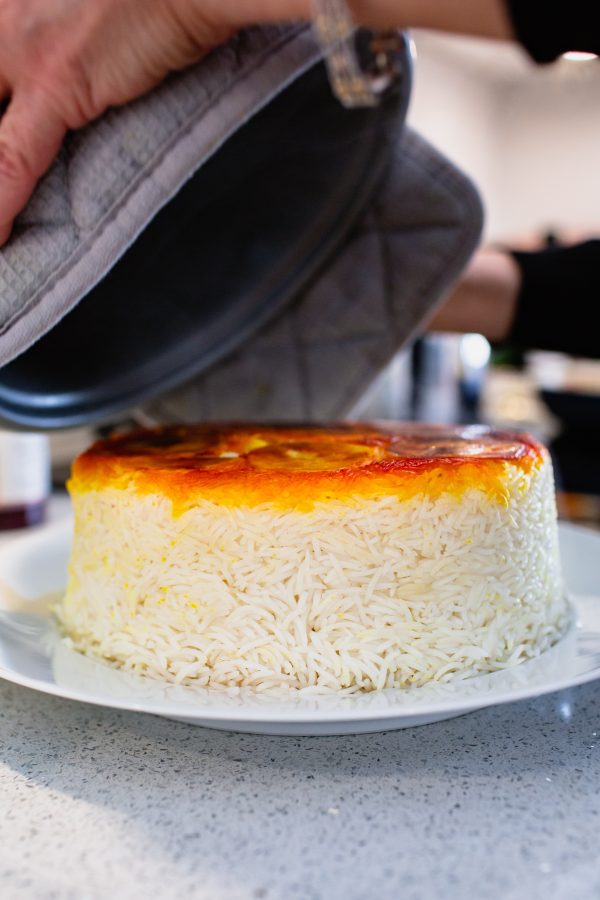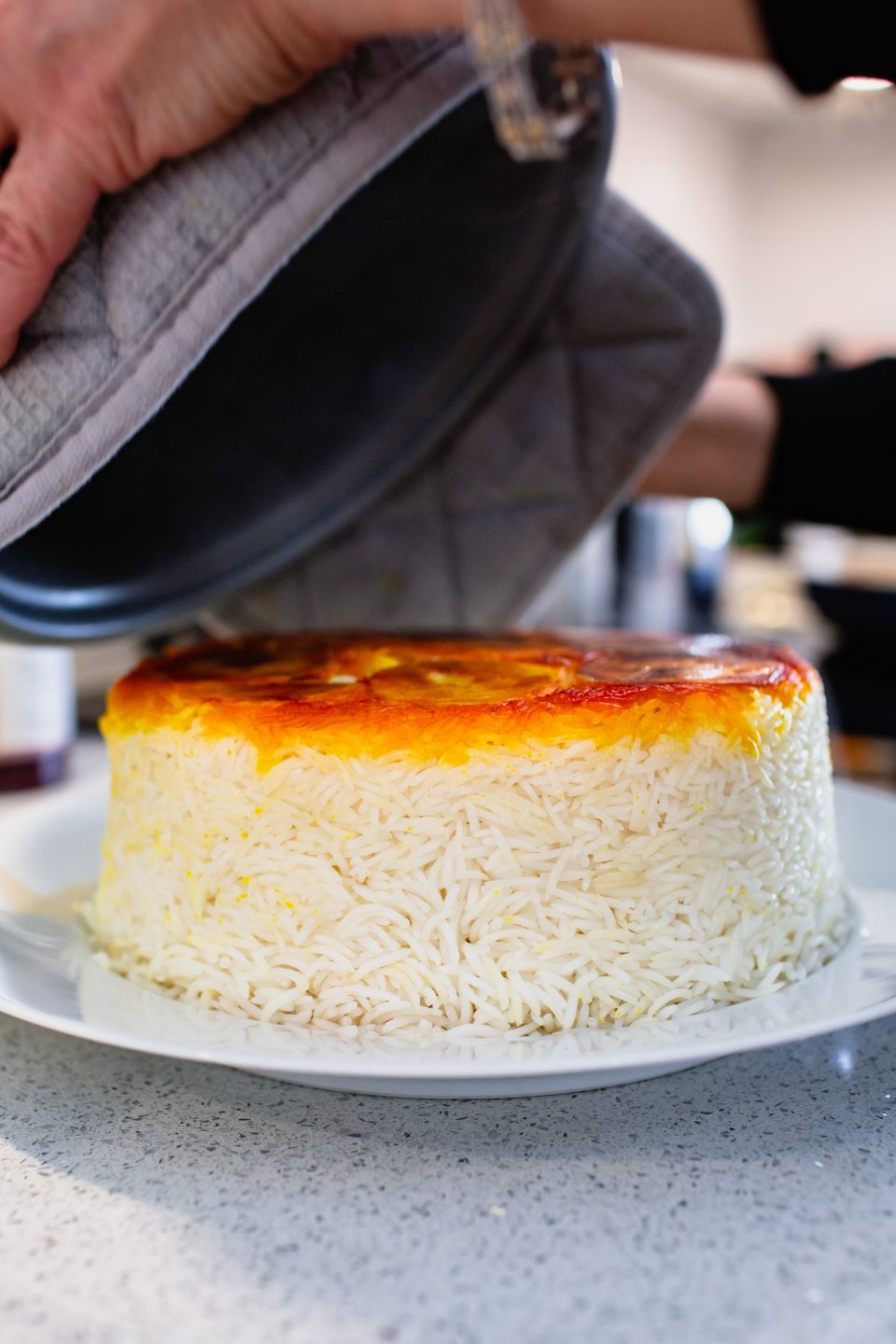 Potato Tahdig (Persian Saffron Potato Rice)
Prep time: | Cook time: | Serves 6
3 cups basmati rice
1 tsp ground saffron
1 large potato thinly sliced
1 tbs salt
2 tbs ghee
Using mortar and pestle, grind the saffron threads into powder. Place saffron powder into a cup and pour over around 2 – 3 tbs of lukewarm water. Set aside for 30 minutes to infuse.
Wash the basmati rice until water is clear then soak it in cold water with 1 tbs of salt for at least 2 hours. Fill a large cooking pot with water and bring it to boil, then put in the soaked rice, cook for about 10 mins or until rice is al dente. Drain the rice in the colander, quickly rinse with cold tap water and put aside.
In a non stick pot with a plate size surface area, heat up about 1 tbs of ghee on low medium heat then pour in the saffron water. Place the sliced potatoes to cover all the surface area then the par boiled basmati rice, top with 1 tbs of ghee. Create some holes in the rice using the back of the spoon/spatula to let steam to rise up.
Cover the pot with a clean tea towel and put the lid on. The tea towel will absorb the excess steam from the the cooking process. Cook for 10 mins on medium heat then another 45 mins on low heat.
After the rice is done cooking, take the lid and tea towel off and let it cool down for 10 mins. On the pot, place a serving plate larger in surface area than the rim of the pot and flip it upside down, slowly releasing the tahdig.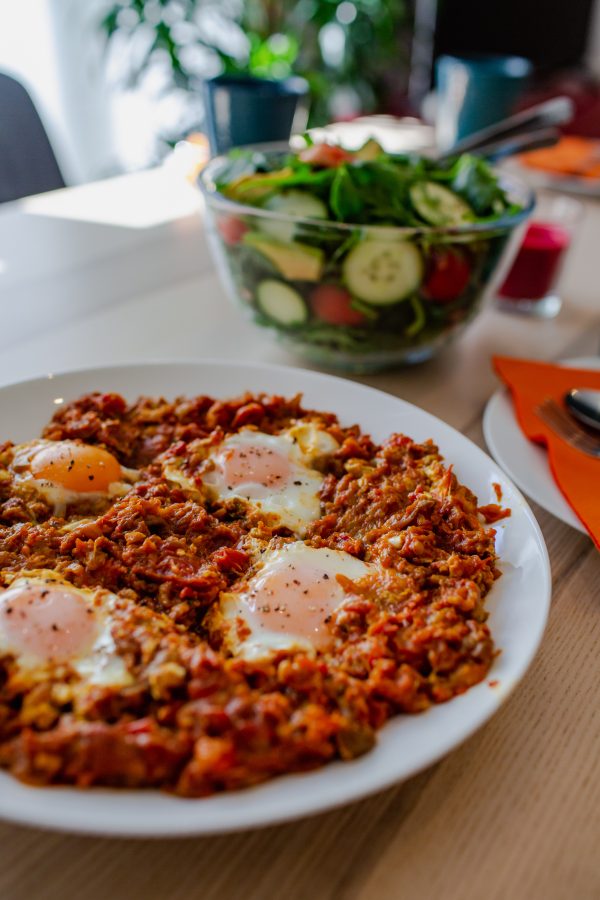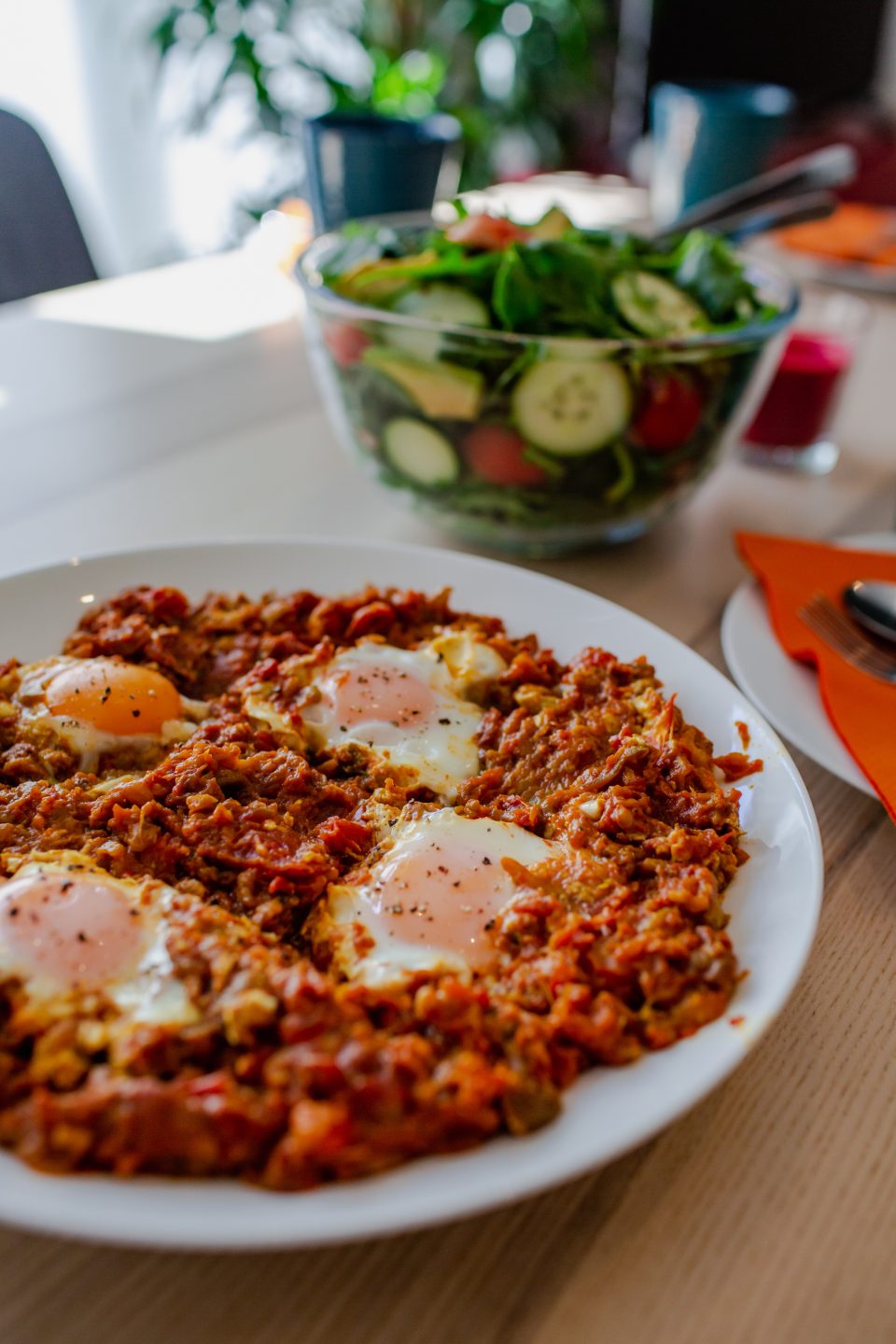 Mirza Ghasemi (Persian Smoked Eggplant with Eggs)
Prep time: | Cook time: | Serves 6-8
2 large eggplants
3 large tomatoes
6 cloves of garlic
1 sachet of tomato paste (50gr)
2 tsp ground turmeric
4 eggs
salt and pepper to taste
olive oil for cooking
First we smoke the eggplants. You can do this either on a BBQ grill, flame of gas cook top or on a griddle pan on a stove. Wash the eggplant well and wipe dry. Place directly onto the heated grill until the skin really puffs up and you see steam comes out. Most of the eggplant skin should be quite charred by this point. This process usually takes about 15-25 mins.
Meanwhile, finely chop the garlic and cube the tomatoes. Fry the chopped garlic on a skillet pan with olive oil on medium high heat until fragrant then add in the chopped tomatoes. Mix well until all the tomatoes are wilted and most of its liquid evaporated. Then turn the stove heat to low.
Now we scoop out the flesh out of the charred eggplants. Place the scooped out silky eggplant flesh on a colander so the excess liquid from eggplant can drain.
Still on a low heat setting, place the rest of the ingredients into the tomato garlic mixture: eggplant flesh, ground turmeric and tomato paste. Using your cooking spatula, roughly chop the eggplant until quite mashed, constantly mixing in the rest of the ingredients in the pan for about 10 minutes. Add more olive oil if it looks too dry.
To add in the eggs, create 4 wells in the pan and crack in the eggs. Cover the skillet pan with a lid to steam the eggs for about 5 minutes or until egg whites are cooked. If you like your egg yolks more cooked then leave for another 3 minutes or so.
Season with salt and pepper to serve.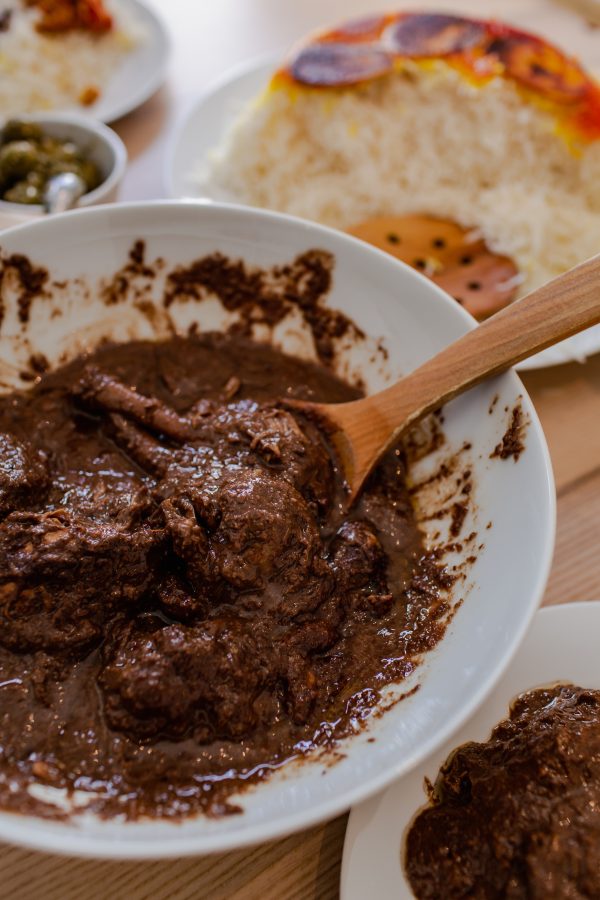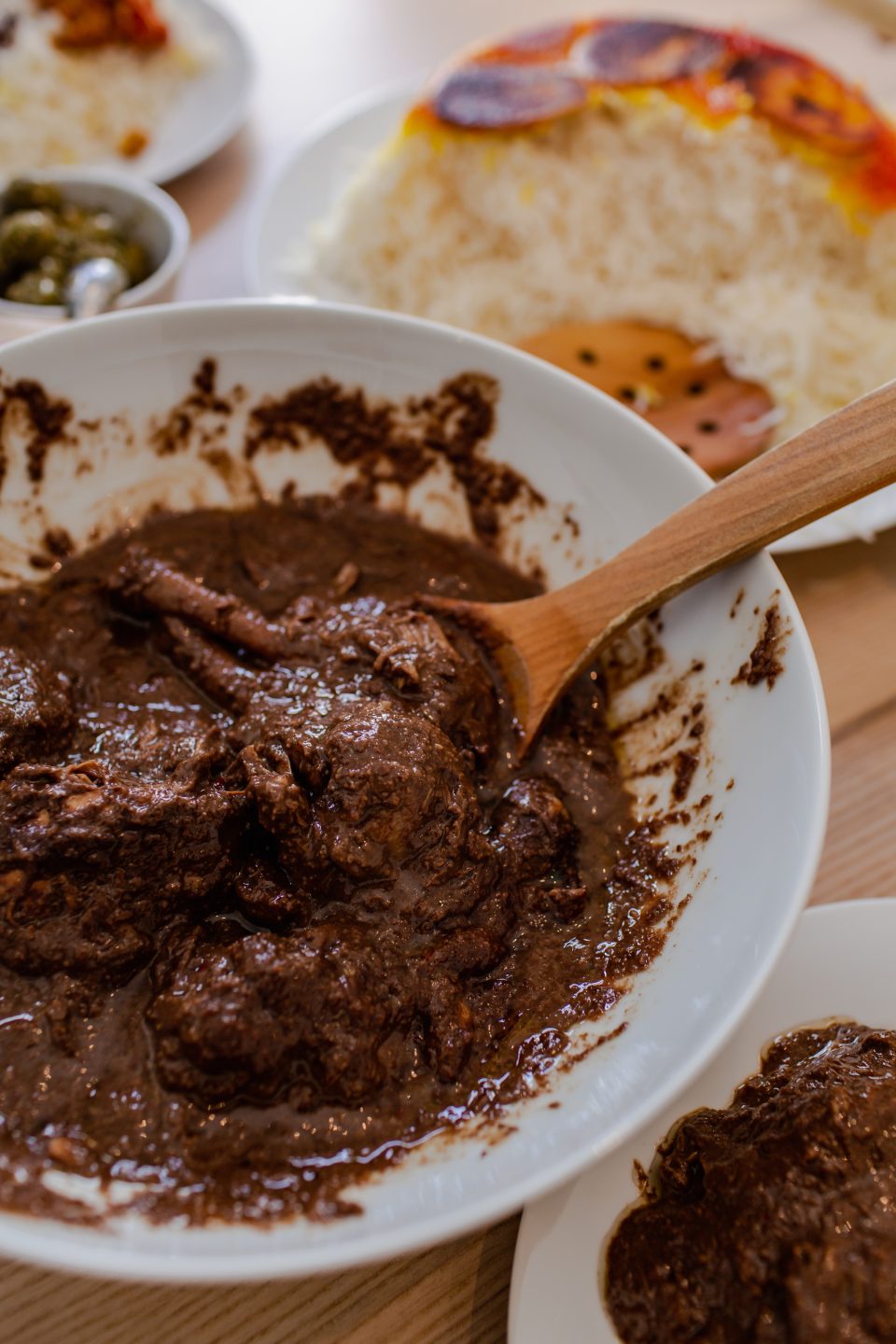 Fesenjoon (Persian Chicken in Walnut and Pomegranate sauce)
Prep time: | Cook time: | Serves 6
2 cups of walnut
1 large onion finely sliced
8 pieces of chicken thigh/drumsticks
3/4 cup pomegranate molases
1/2 tsp of ground turmeric
4 cup water
Olive oil for cooking
Salt and pepper to taste
First let's make the walnut paste. Place walnuts in a food processor with 4 cups of water and blitz until milk like consistency. In a big cast iron pot, cook the walnut milk on low heat for at least 2 and half hours until it thickens like yoghurt consistency. The colour should be dark clay-like and the walnut oil will appear on edges of the pot.
Meanwhile, slice the onion thinly and fry with olive oil until it caramelise.
In the walnut mixture pot, mix in the pomegranate molasses, chicken pieces, ground turmeric and caramelised onion. Mix well and season with a bit of salt and pepper. Cook on low heat for about 1 hour until chicken is tender and the sauce is blacken. Taste it before serving, if it's too sour to your liken then add a bit of sugar.
Garnish with fresh pomegranate seeds (optional). Best served with Tahdig.