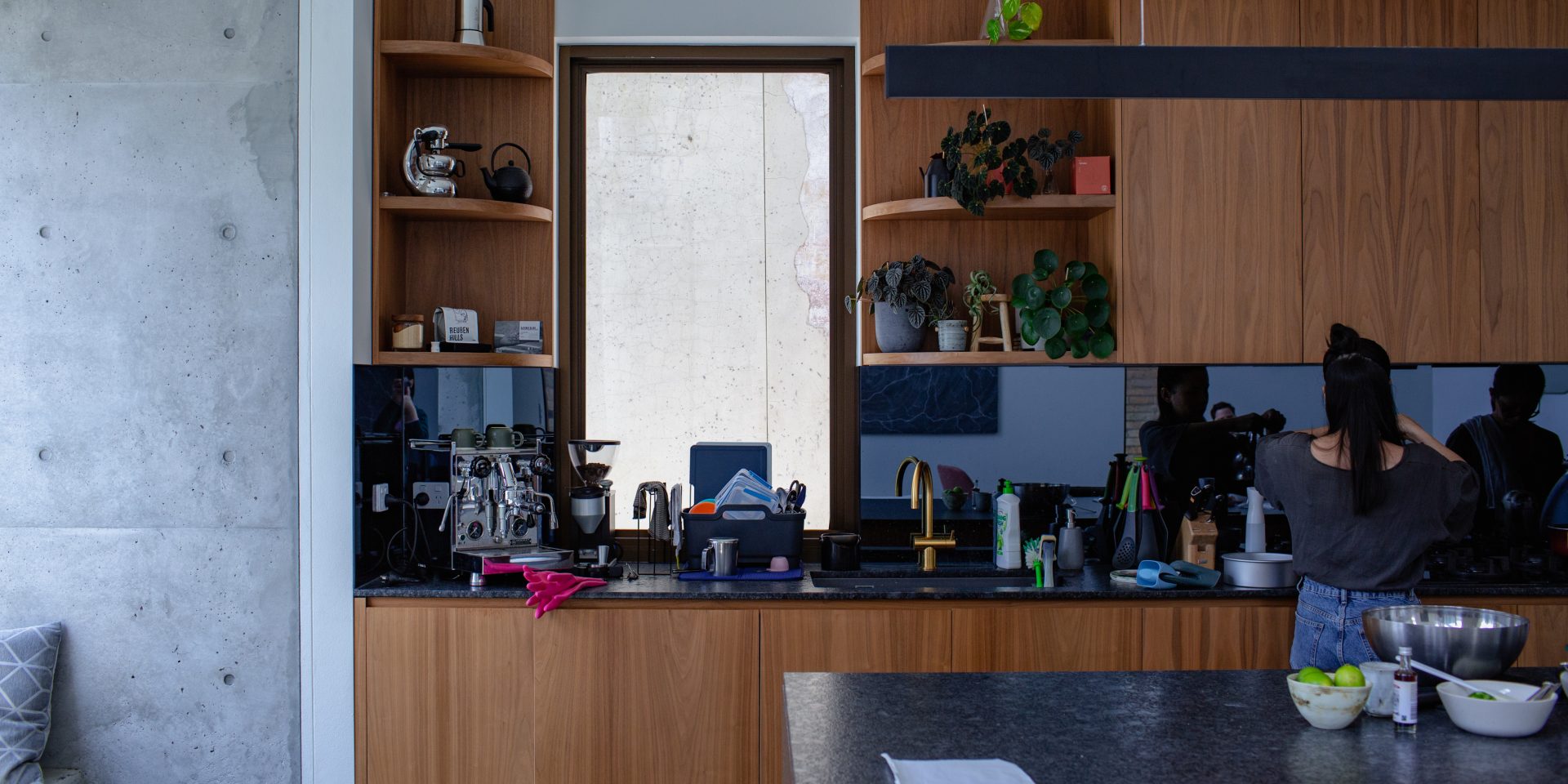 This week, Maricar of Maricor/Maricar an award winning Sydney-based embroidery artist shares with us a very special dessert recipe from her home town in the Philippines called Leche flan.
"Leche flan is a popular Filipino dessert, it's our version of creme caramel. It's made for sharing with loved ones during celebration such as birthdays, Christmas or New Year. The recipe only uses egg yolks and it's said that leche flan arose from the need to use up all the leftover egg yolks from the Spanish colonists, who used egg whites in their building construction. I use the egg whites in pavlovas instead."
The most common way to cook Leche flan is with condensed and evaporated milk but Maricar likes hers lighter in texture so she uses full cream milk instead. It does mean the flan is a little fragile so there's a higher chance it won't come out clean when it's time to turn it out of the pan. For this version, slightly overcooking will be better than undercooking. The flan also needs to set overnight in the fridge before being served.
To get ready for Mother's Day this weekend, start baking today for double desserts!
Family origin
Philippines
I can't live without
my loud, crazy, funny family
Occupation
Embroidery artist at Maricor/Maricar
Dream Job
having a shop filled with beautifully crafted items to use everyday made by artisans from around the world
Currently I'm obsessed with
Ceramics
Childhood taste
halo halo - a Filipino dessert
I will always have in my pantry
rice, garlic, soy sauce, tin tomato, pasta, anchovy
I learnt to cook from
my auntie and the internet
Currently I'm listening to
old mix CDs
One day I must visit
a completely random destination my partner and I choose once we arrive at the airport
Go to meal
anything with rice
I am really good at
overthinking
The unforgettable meal
seafood pasta in Riomaggiore
Favourite spice
coriander
Best flavour combo
coffee and dessert
Guilty pleasure
instant decaffeinated coffee, I actually don't mind the flavour
Who does the dishes
I like to, since I find it calming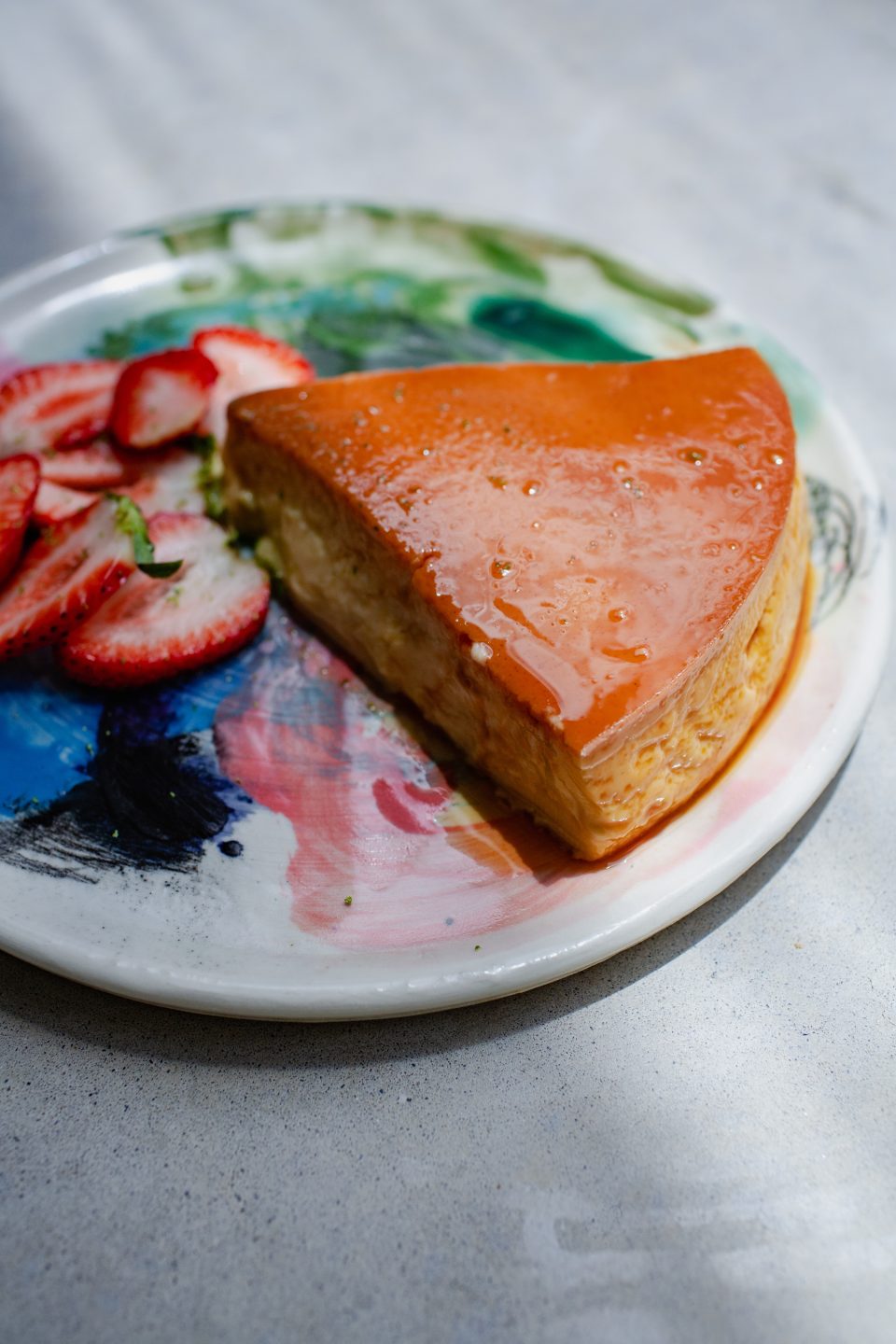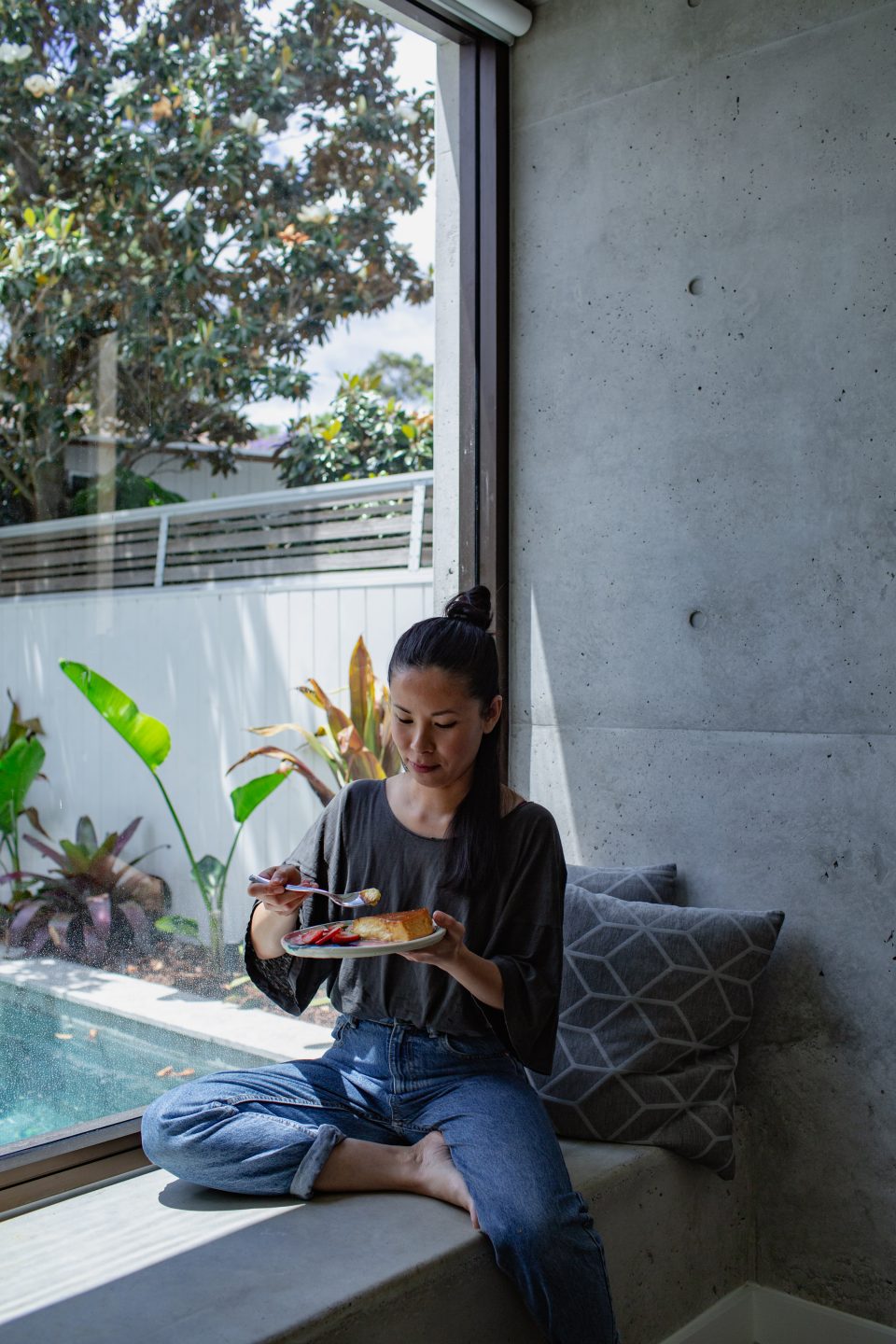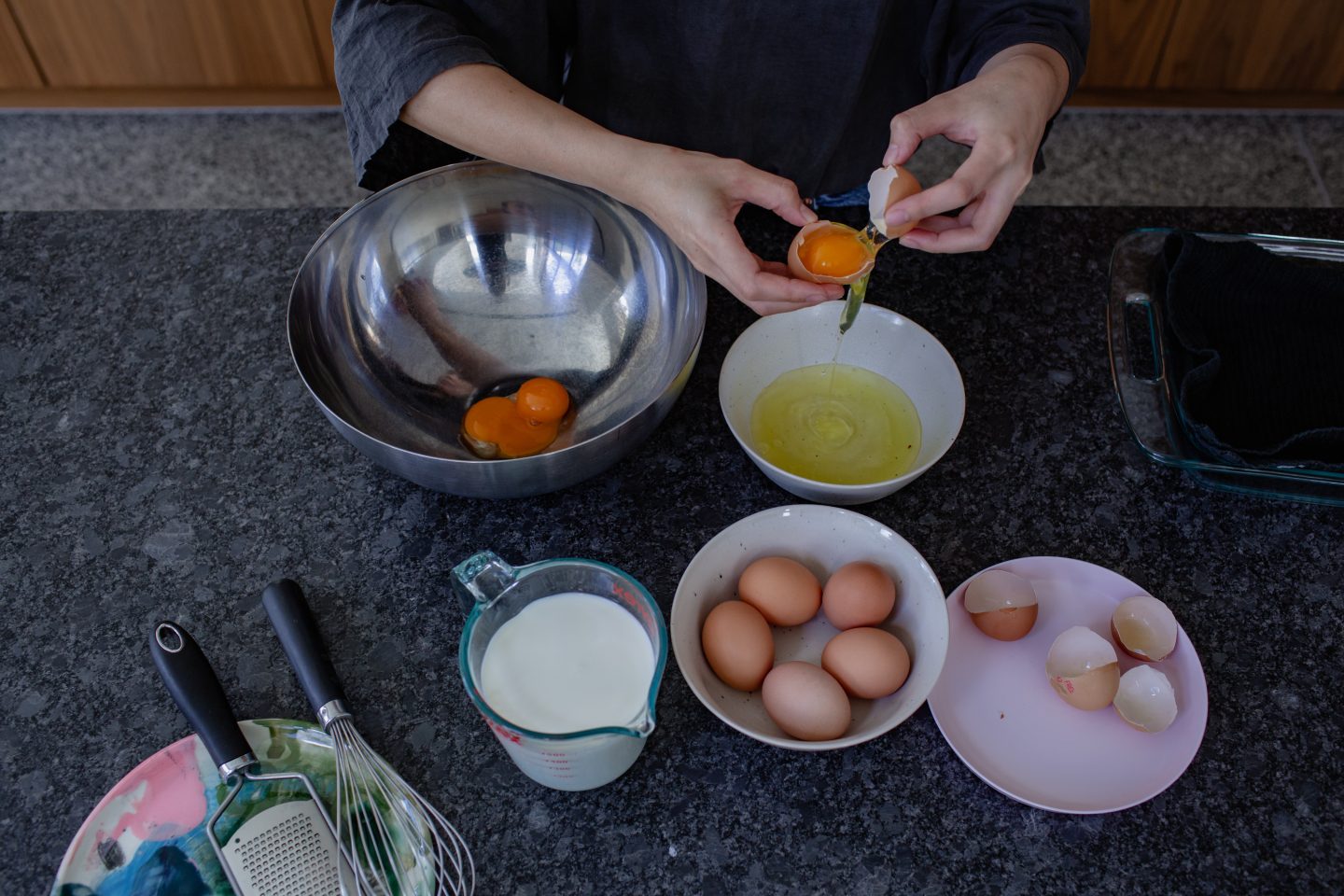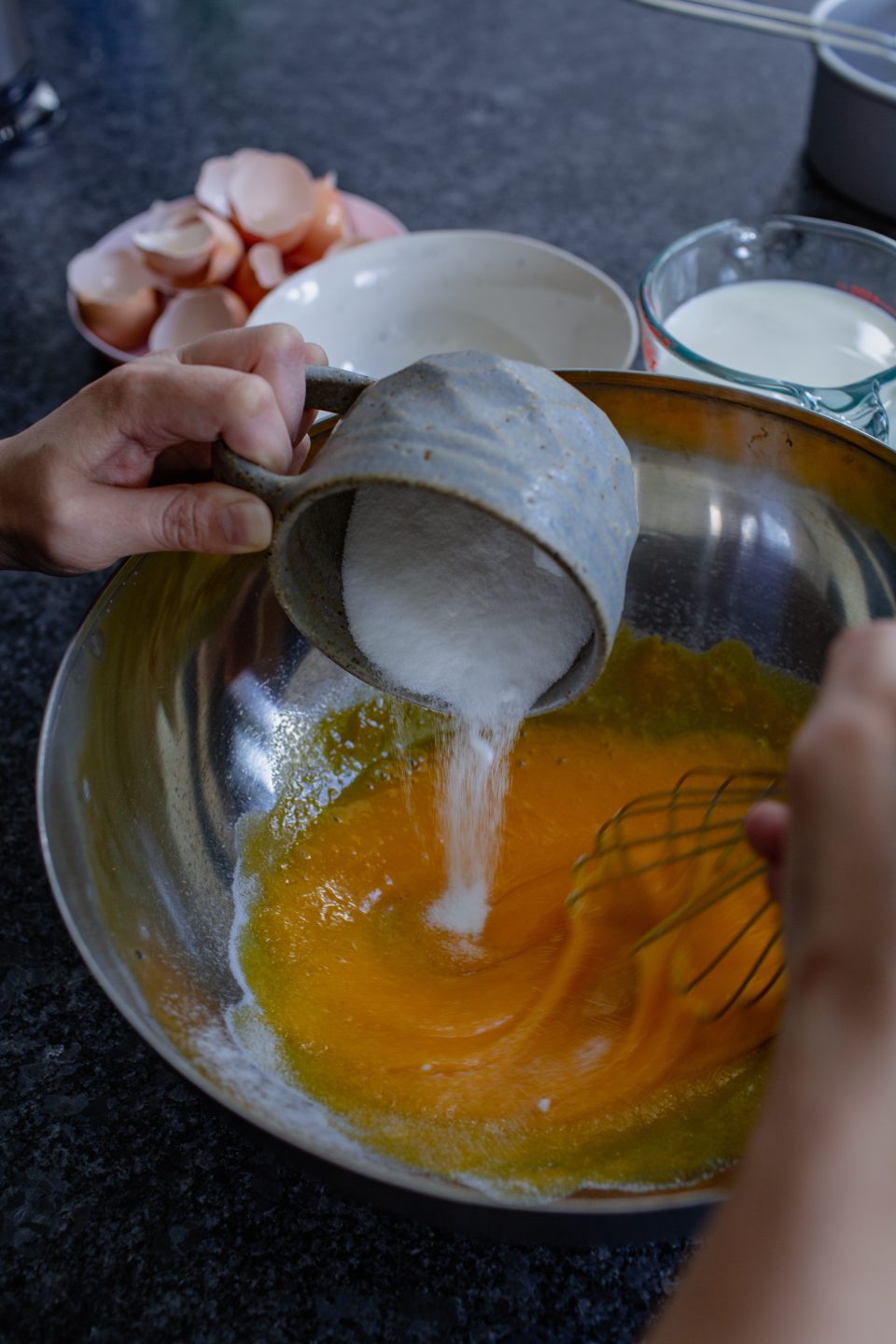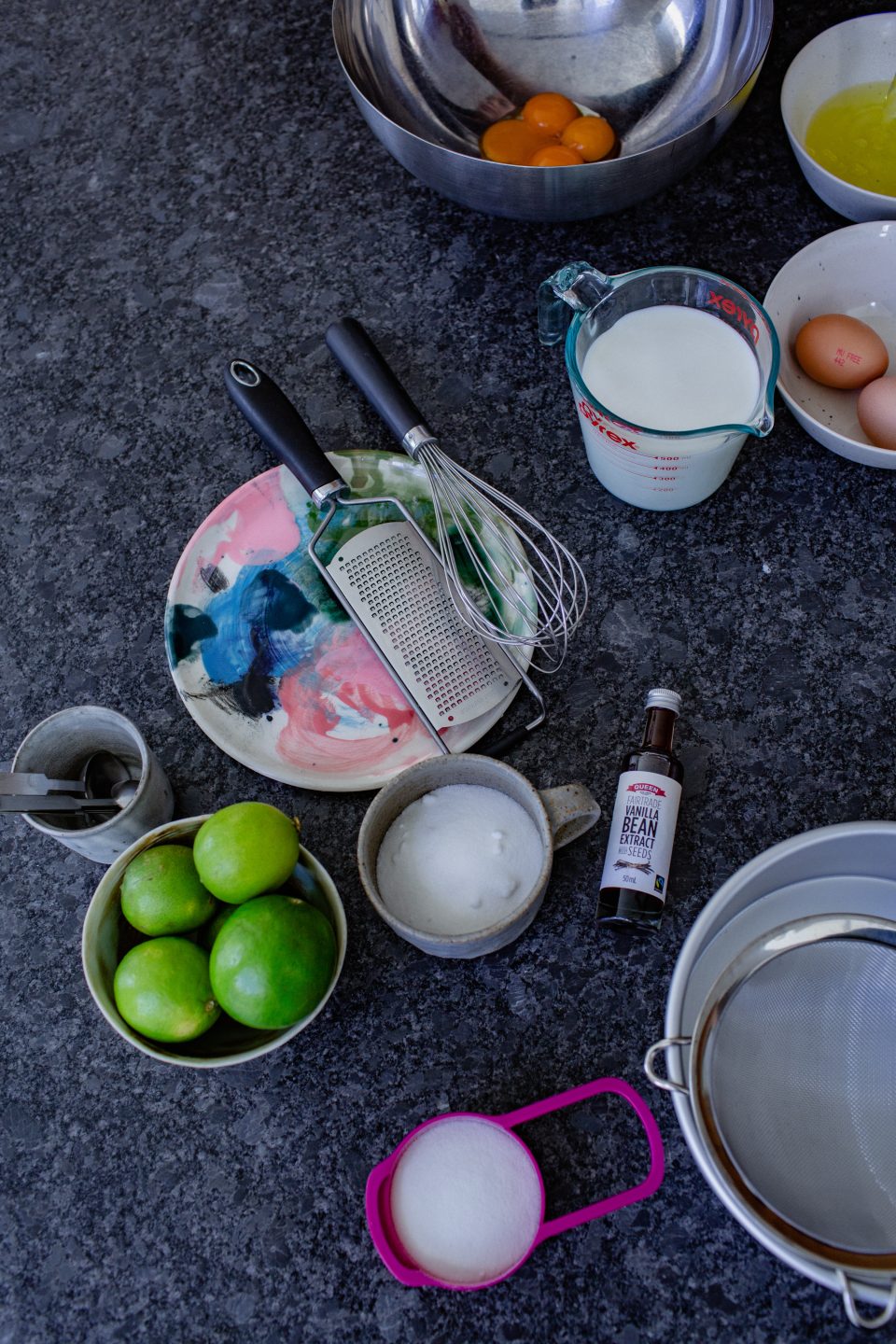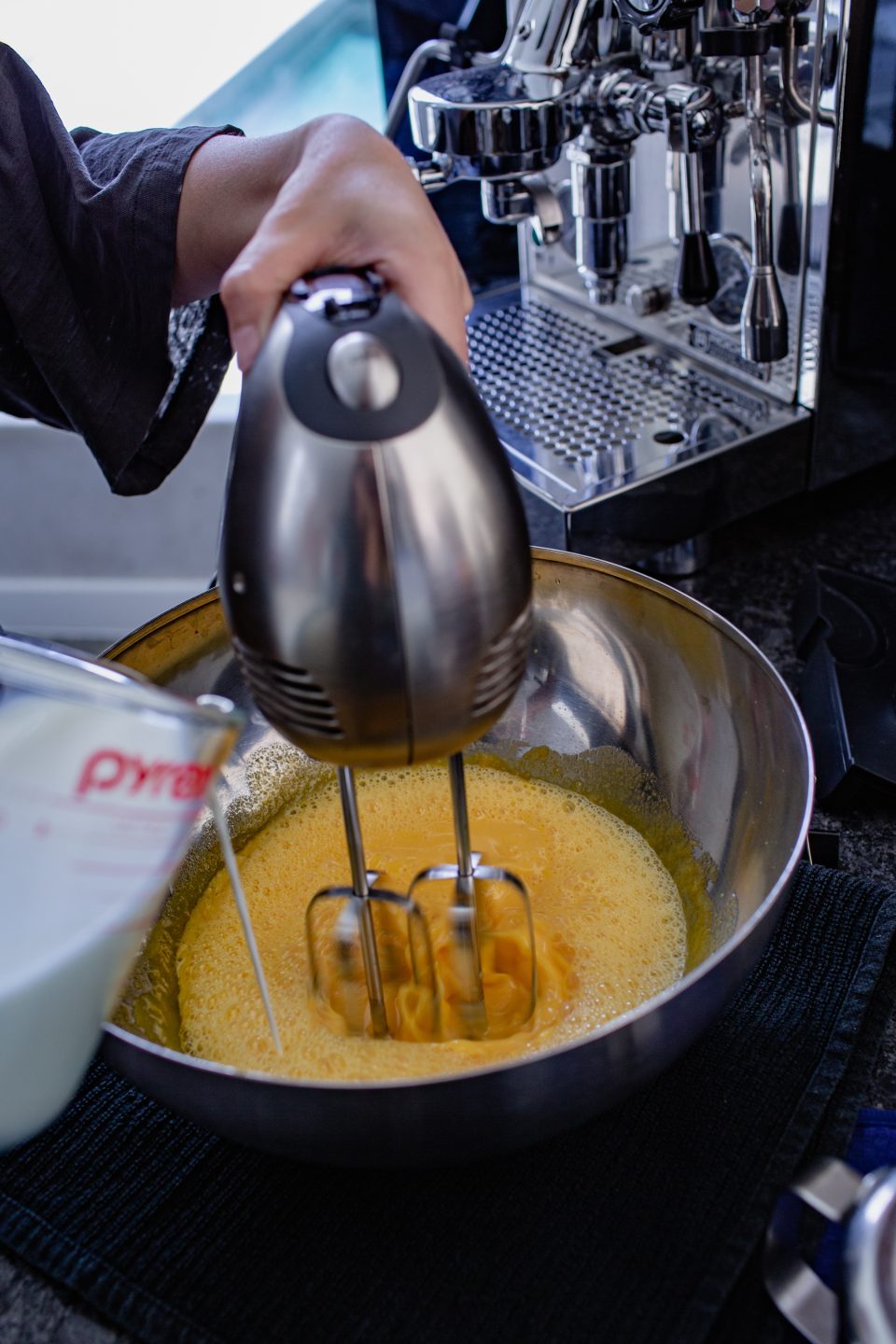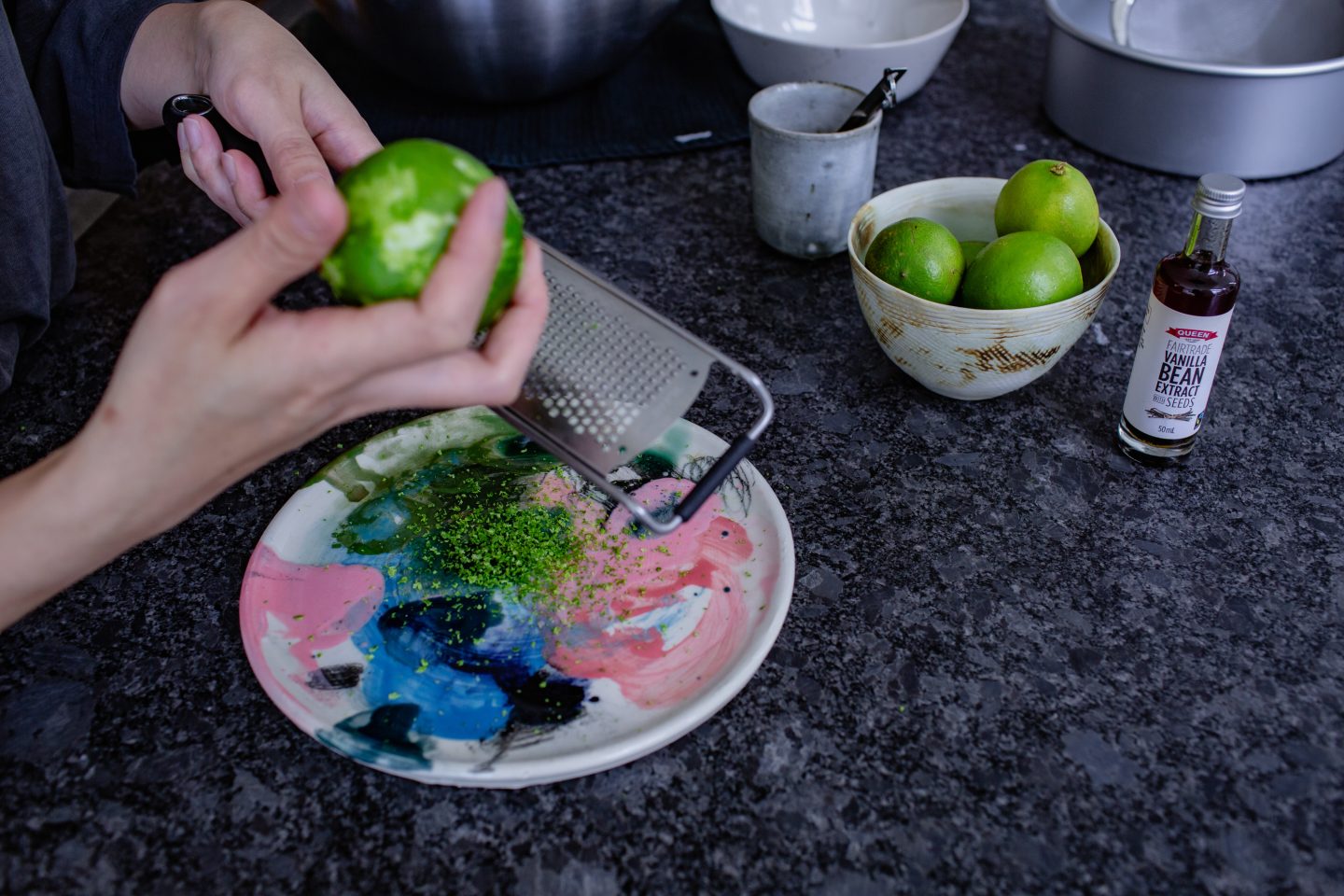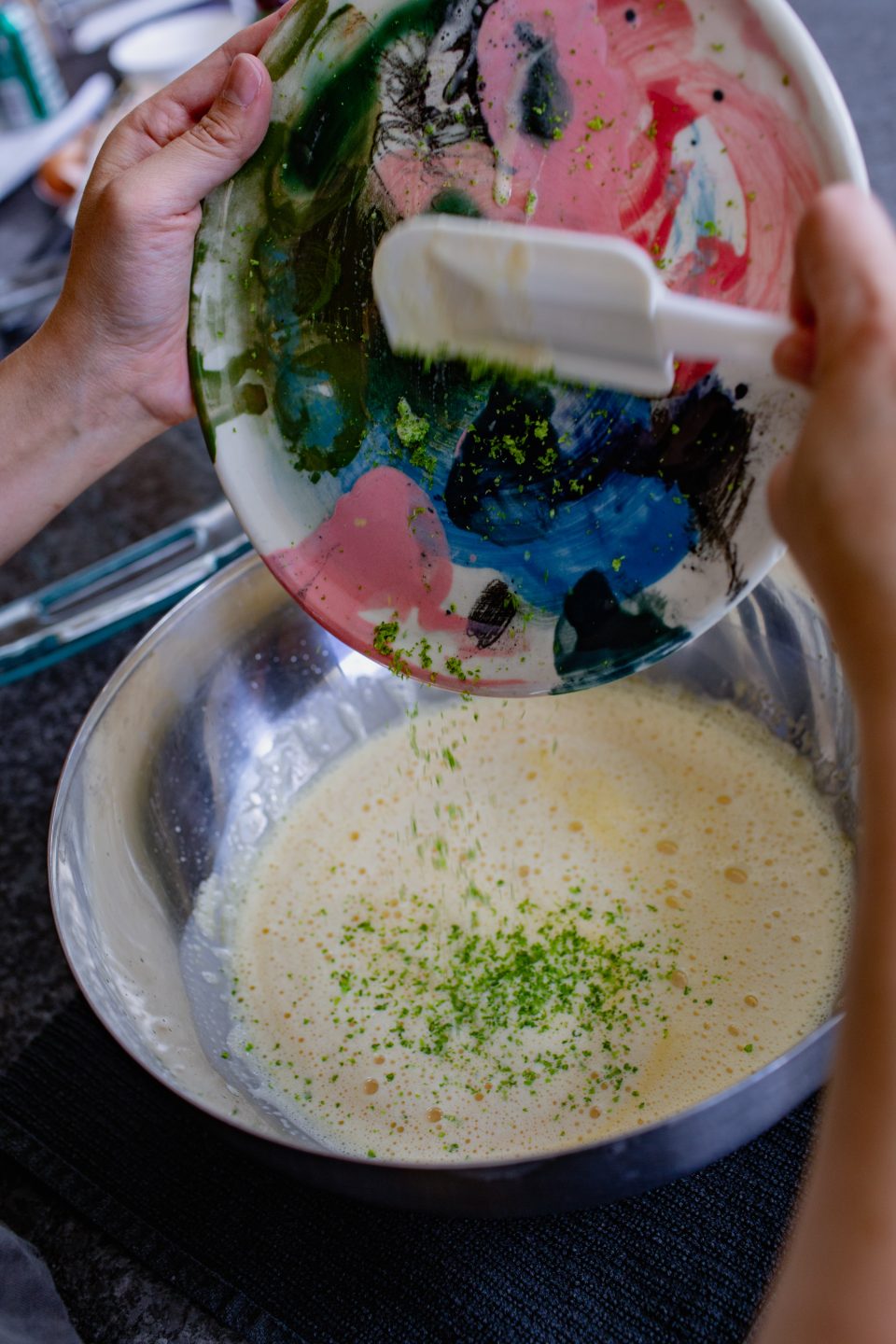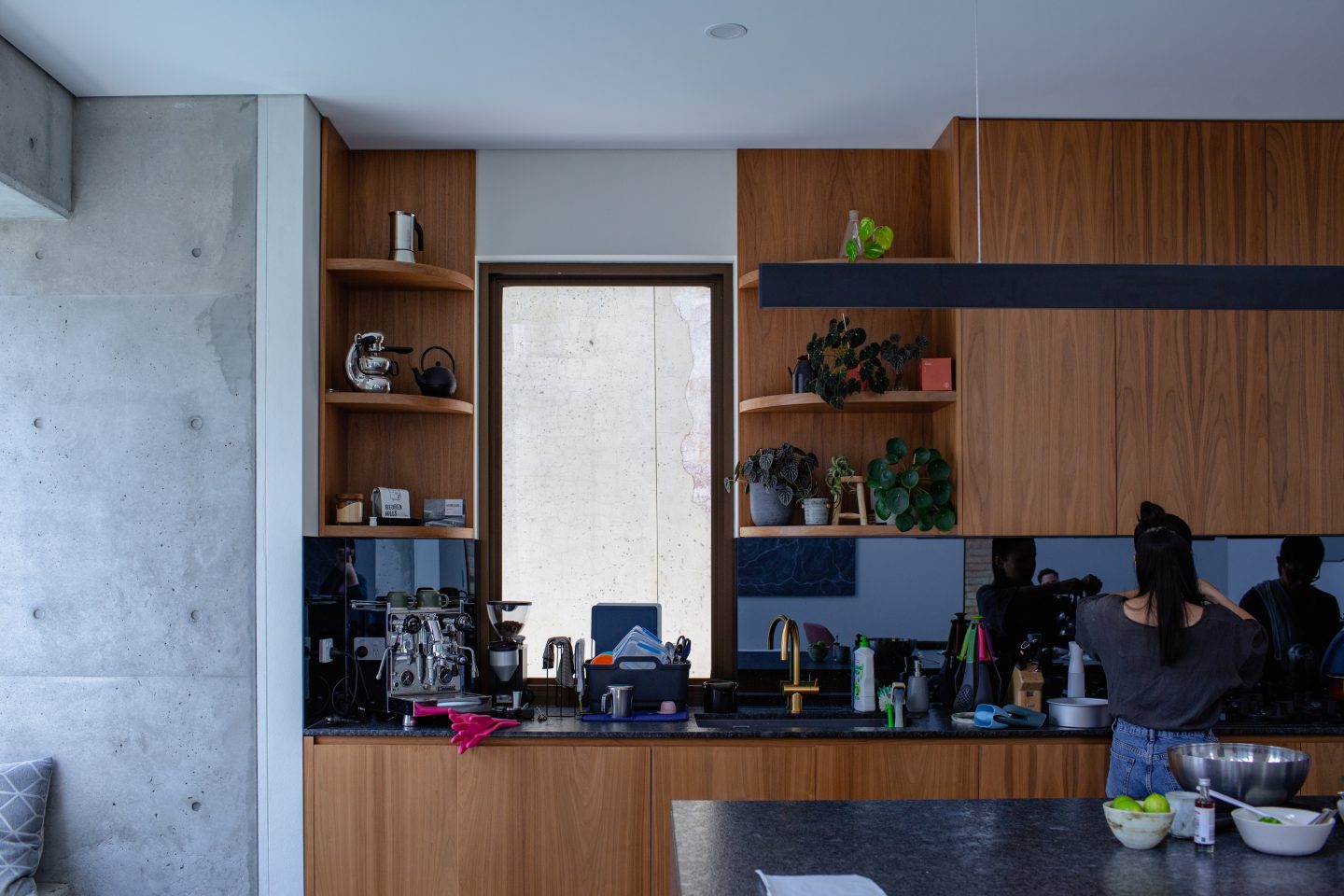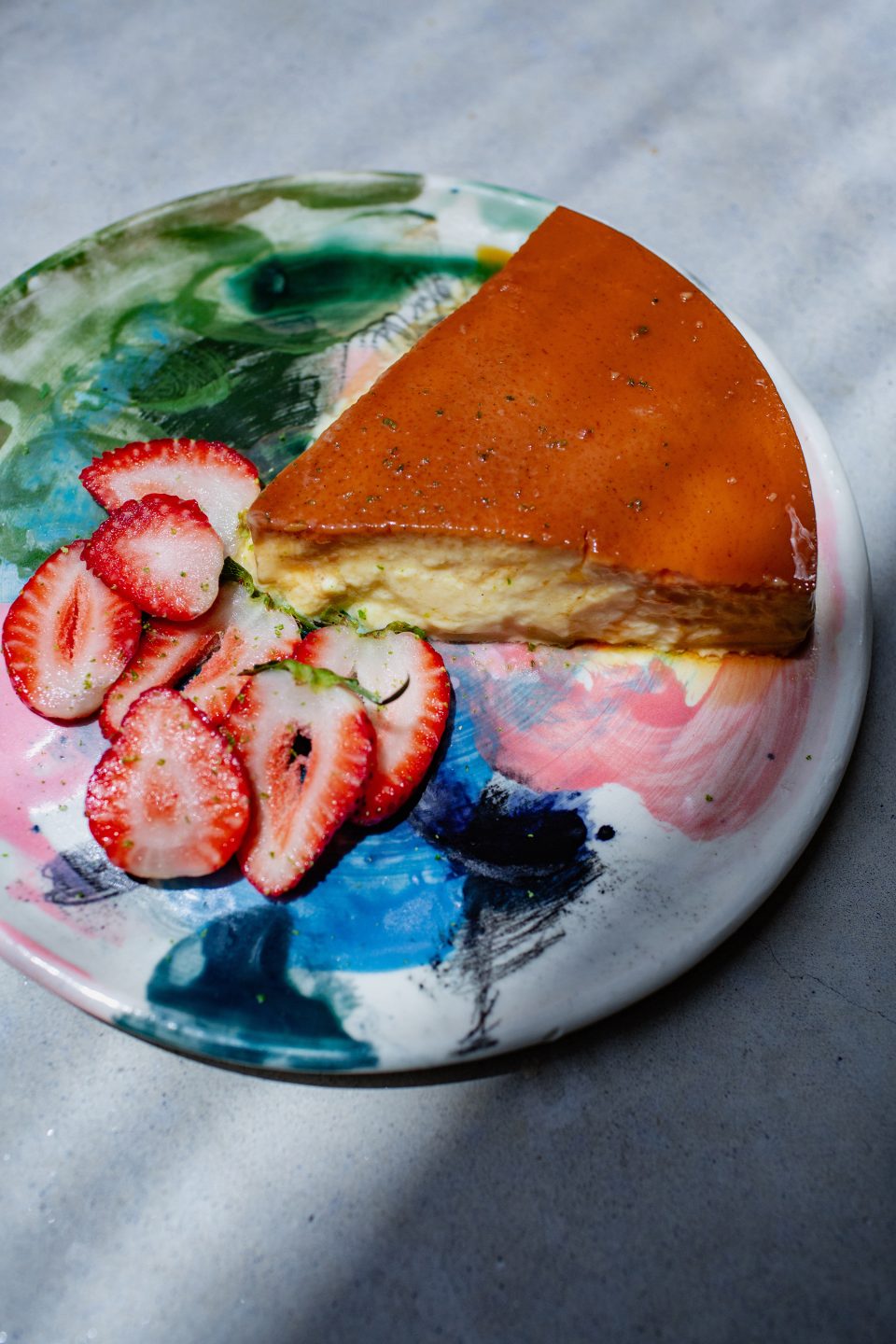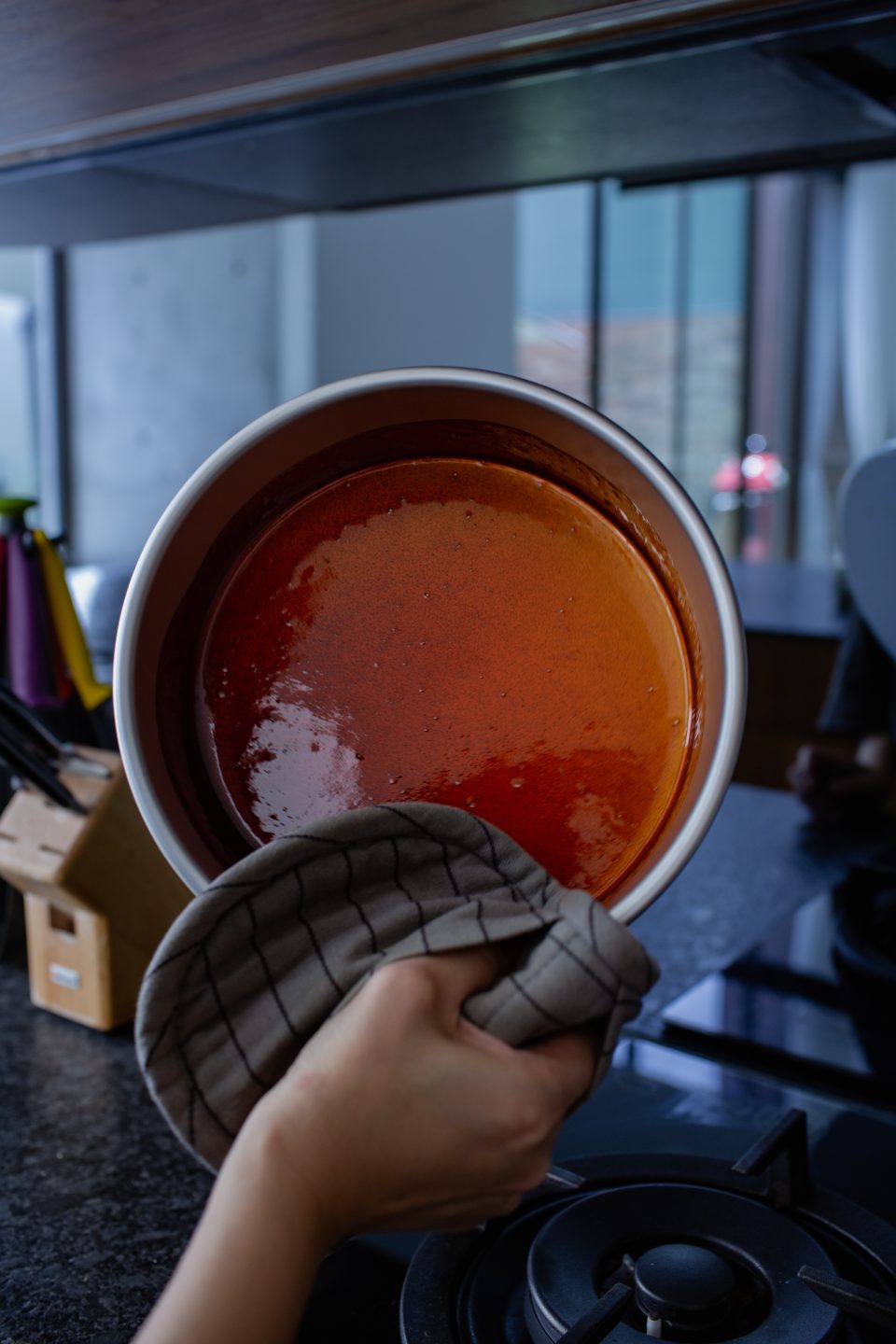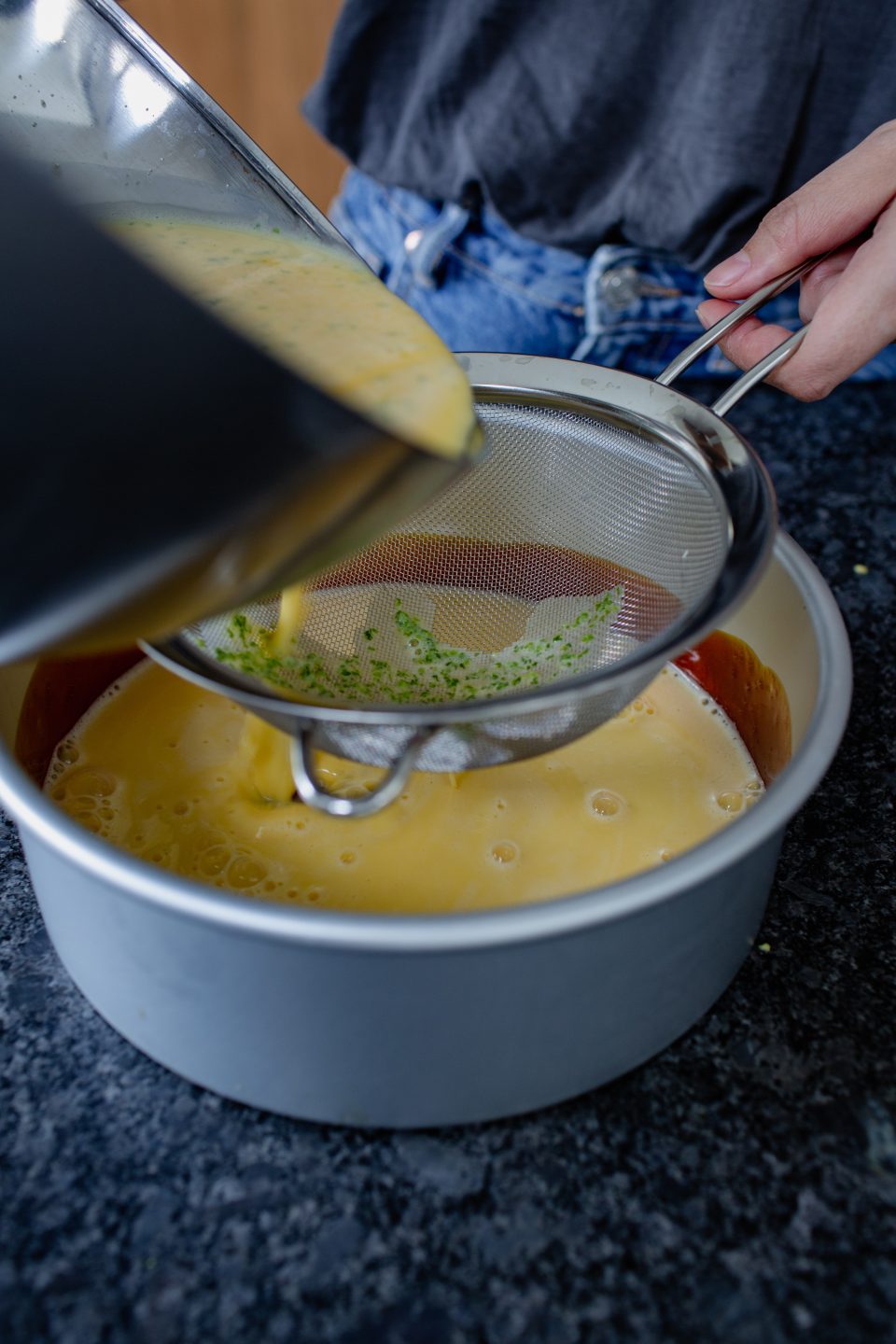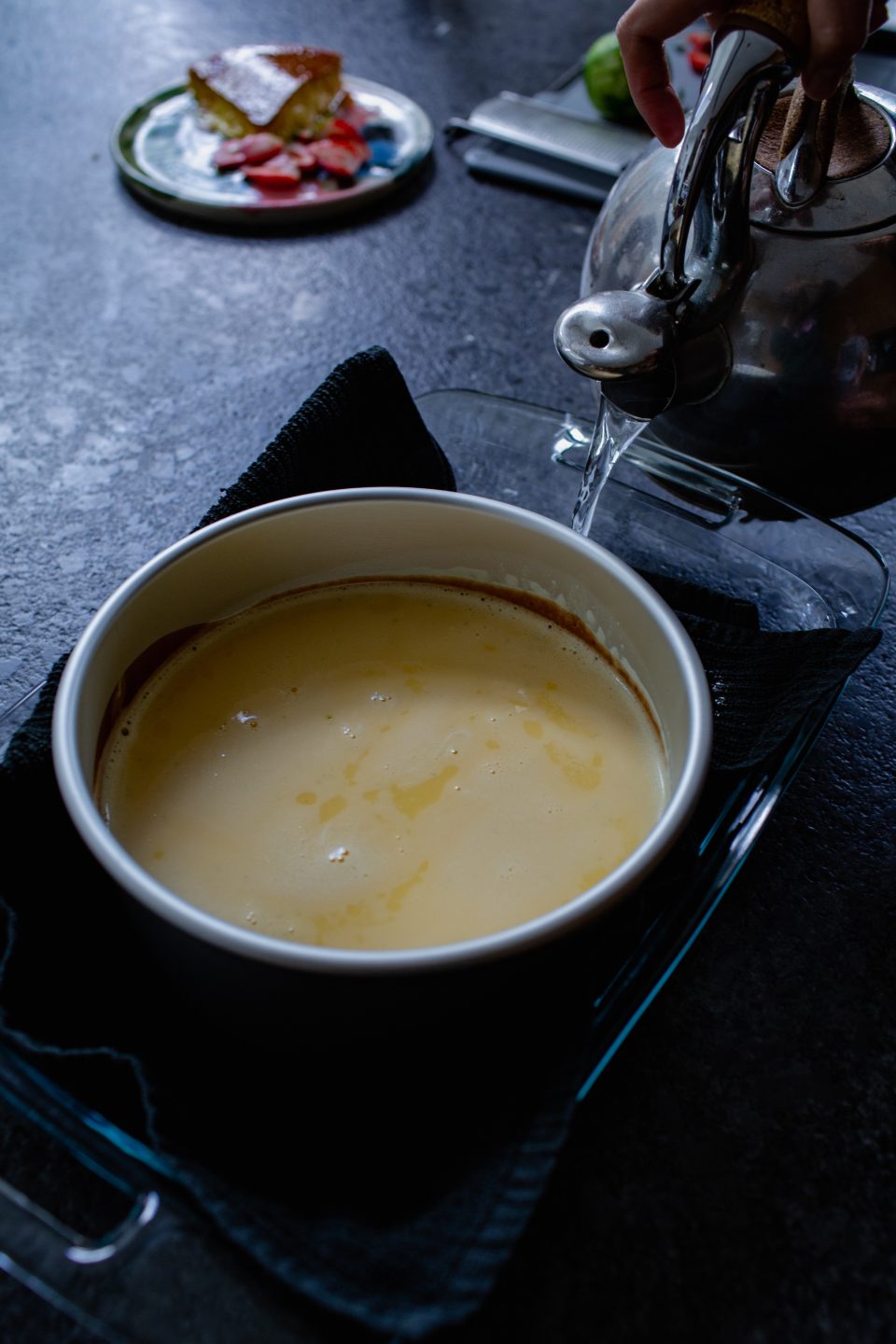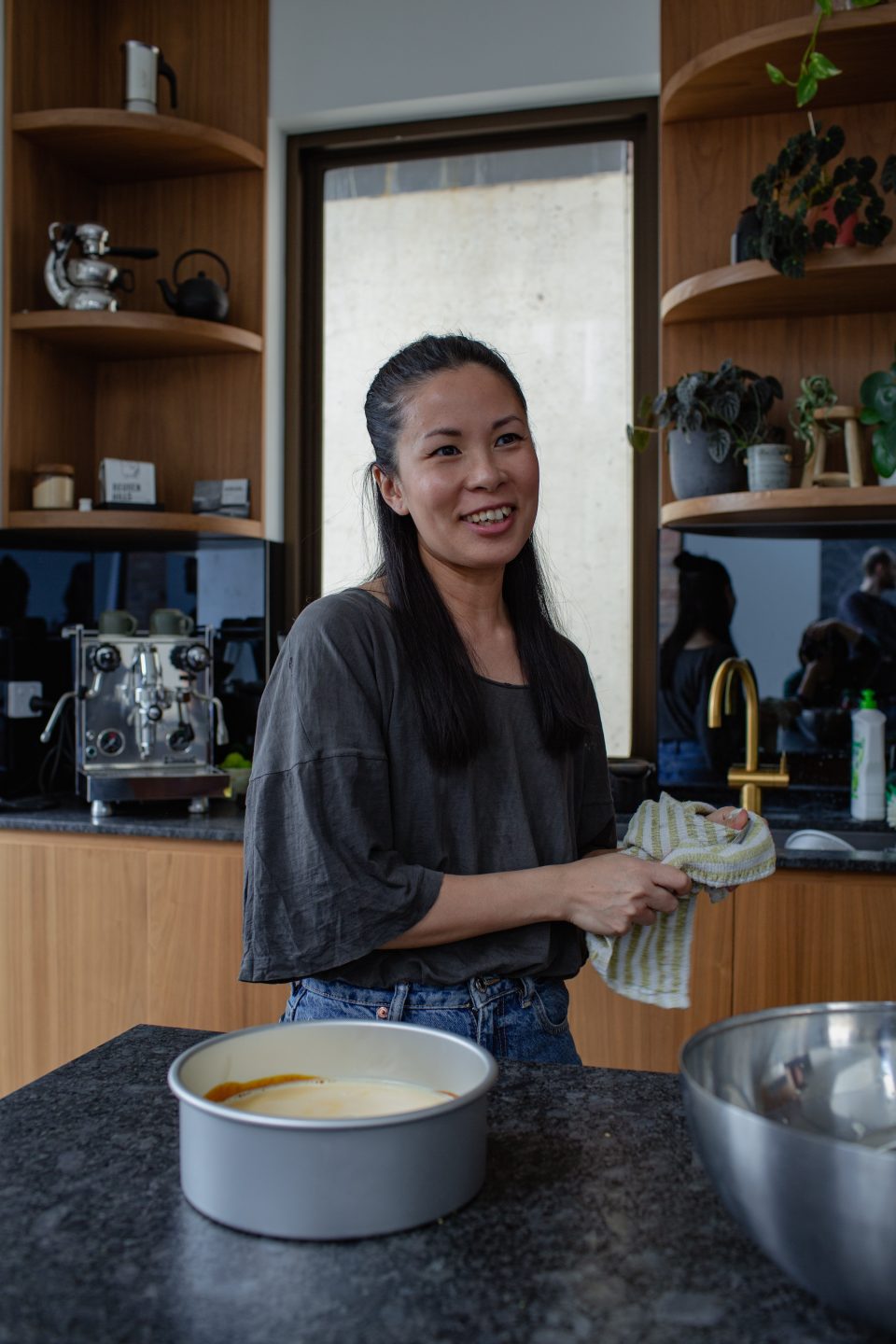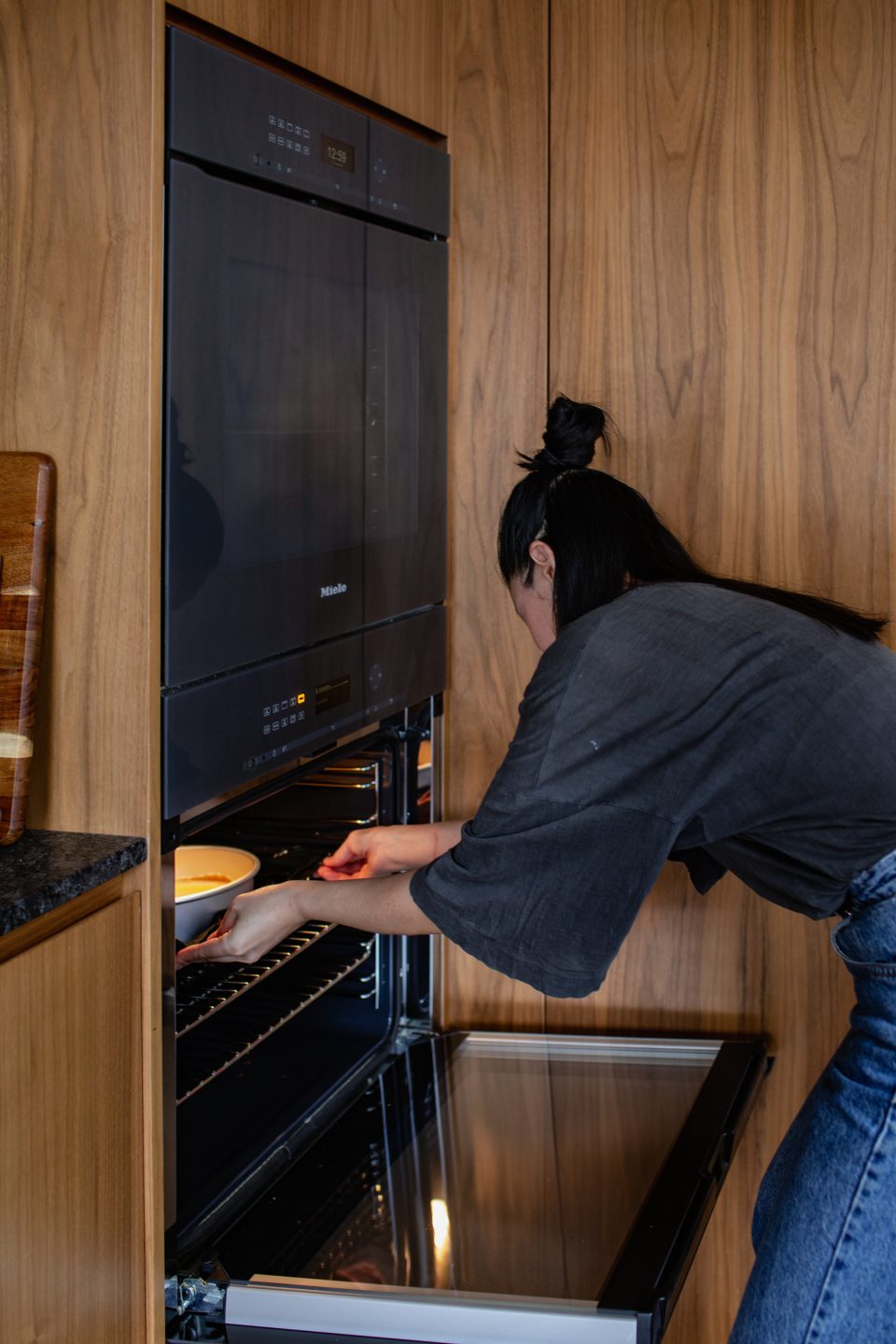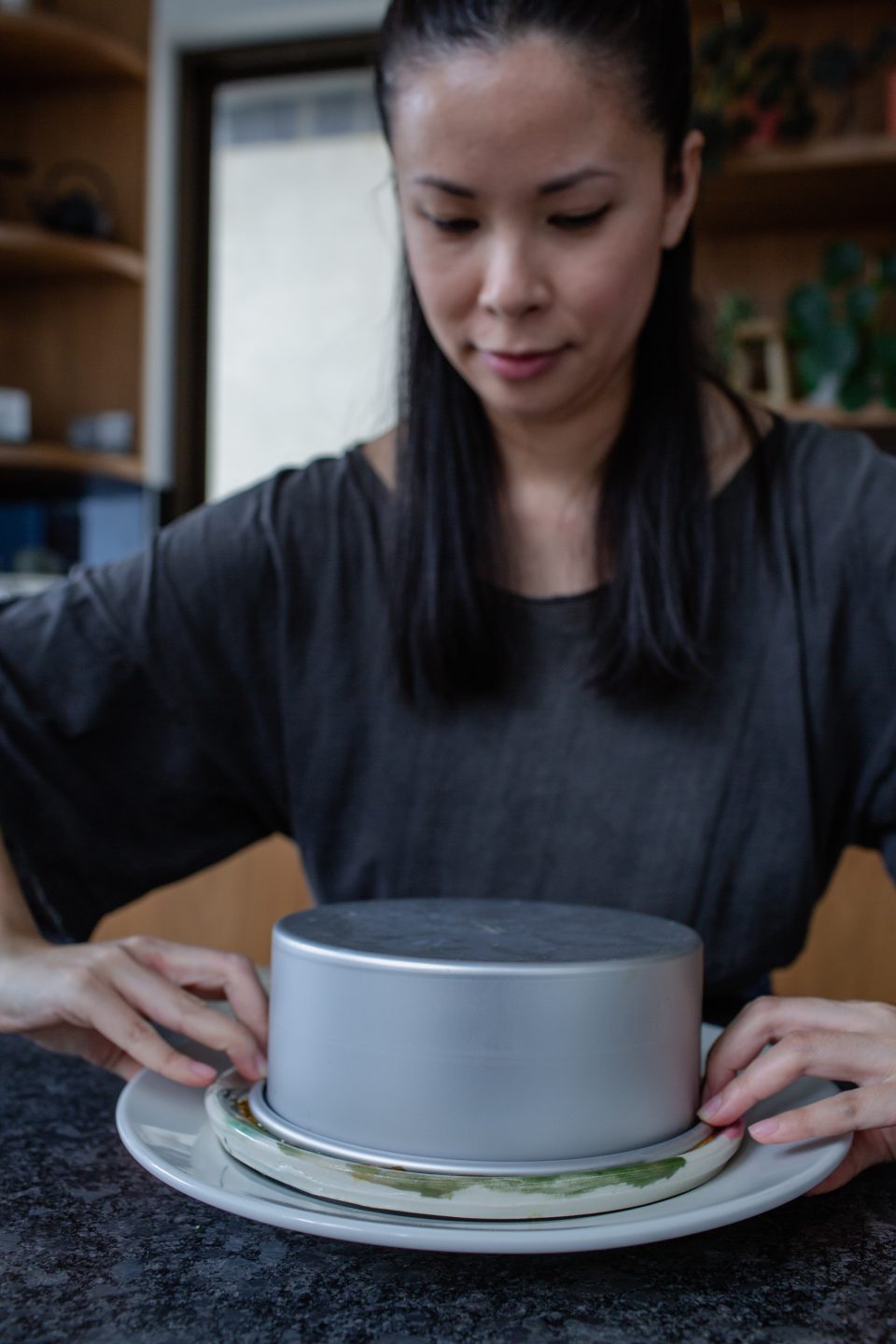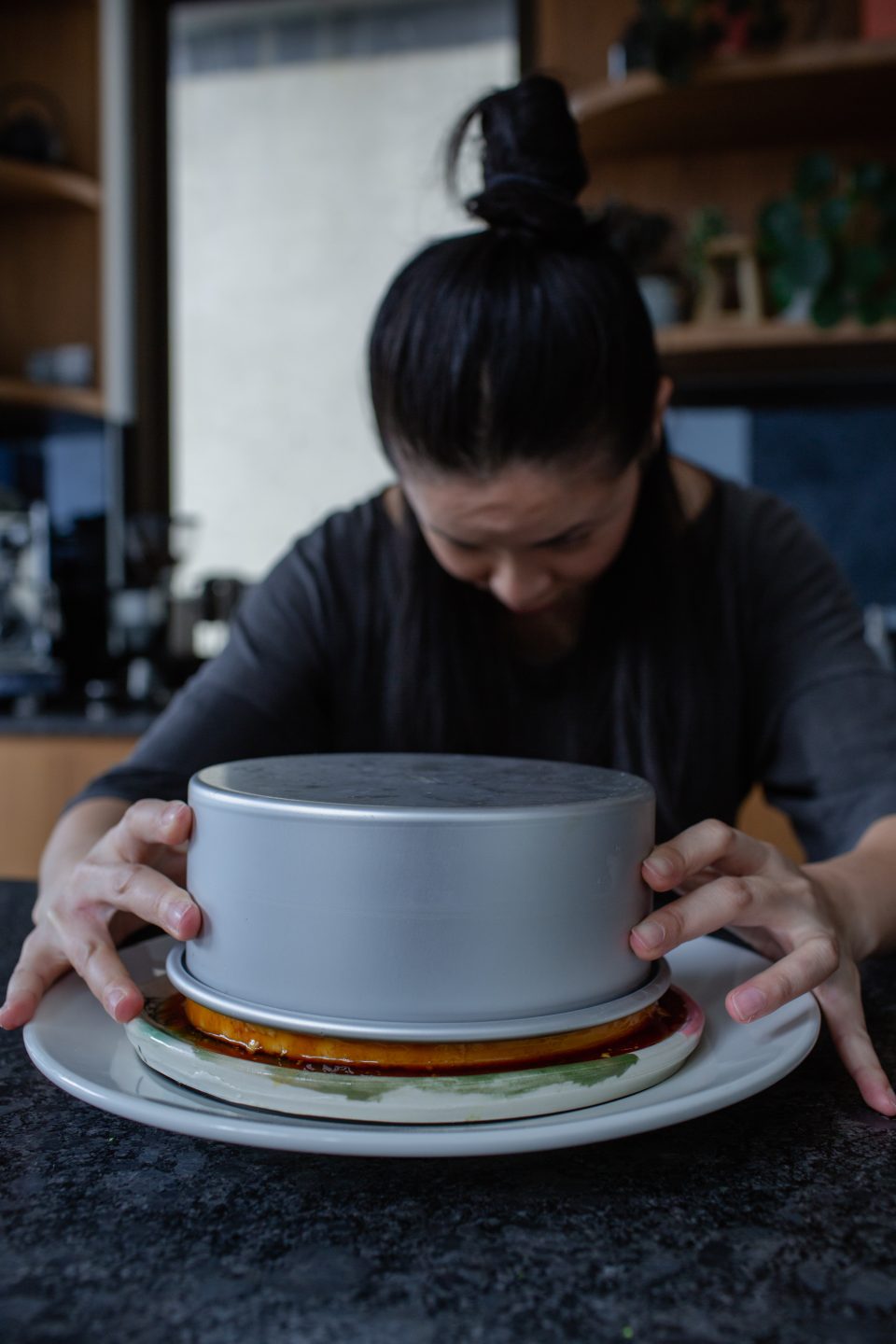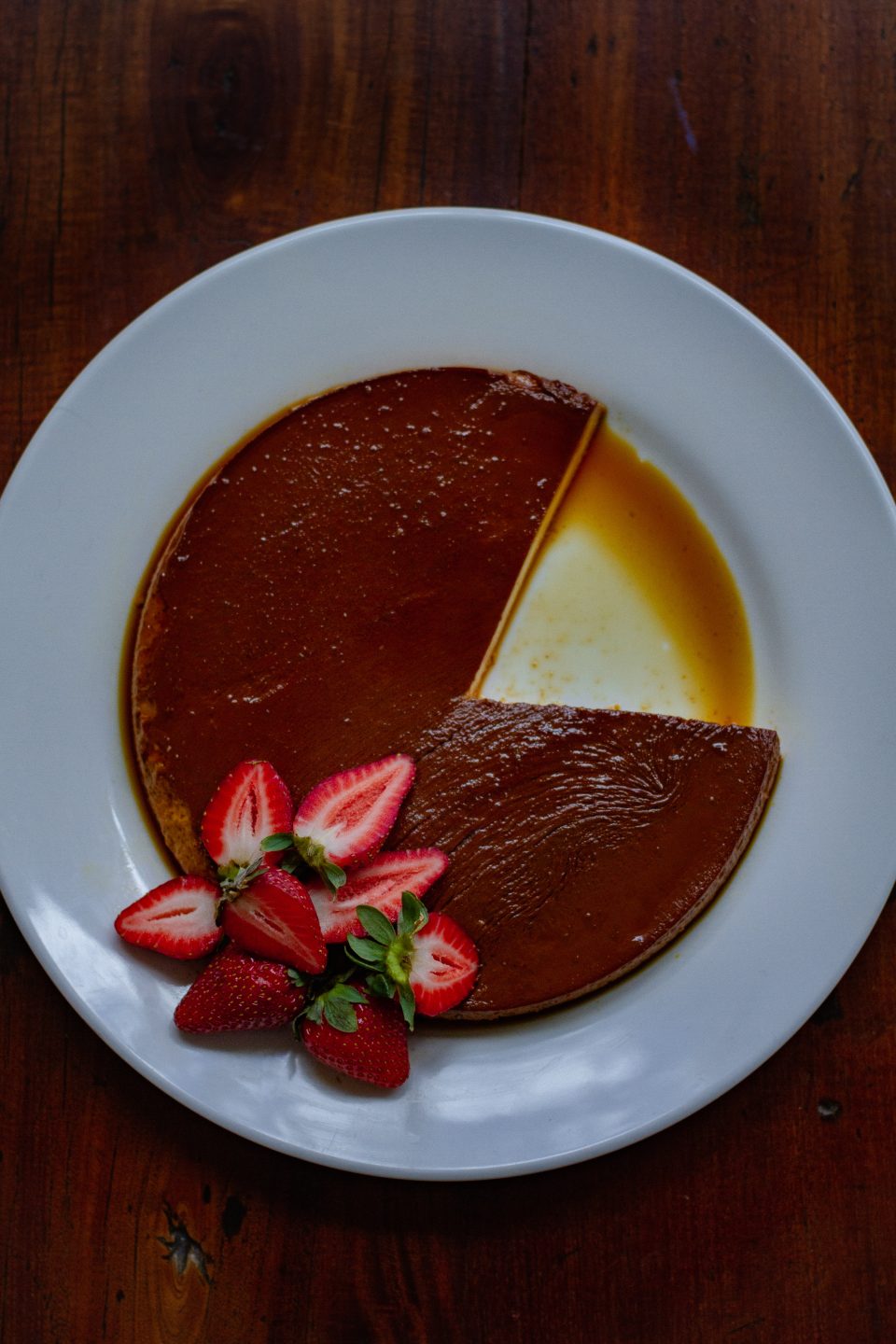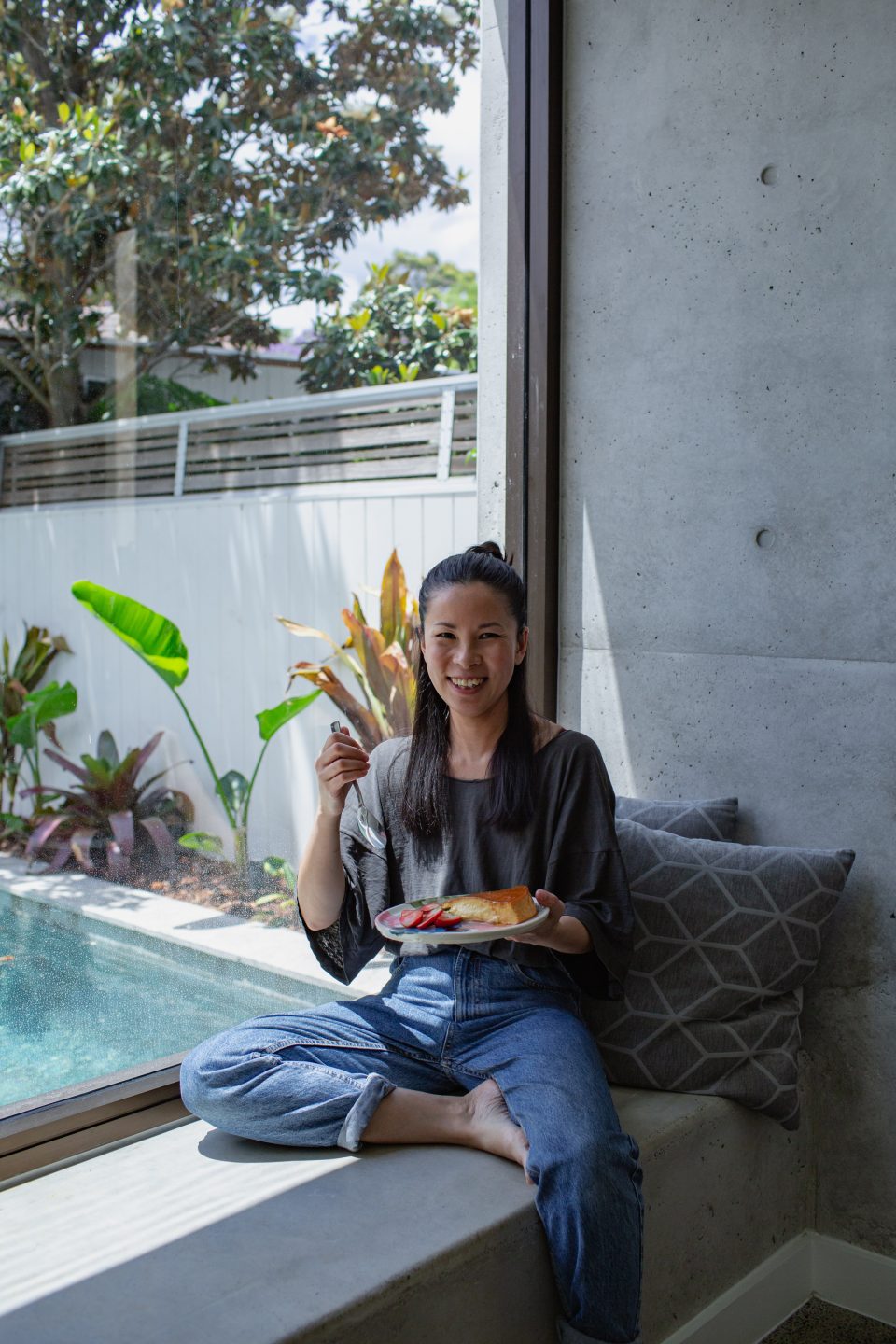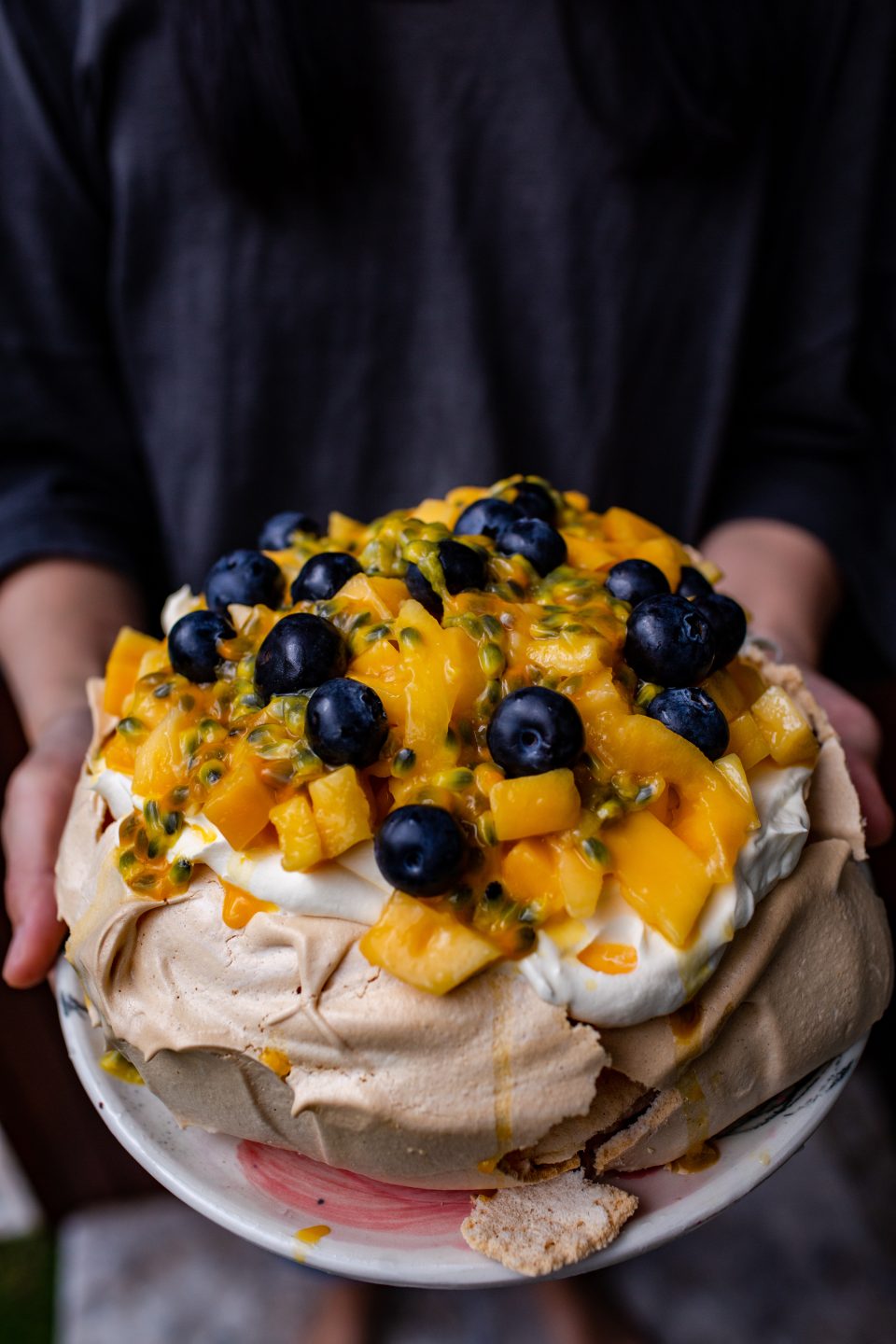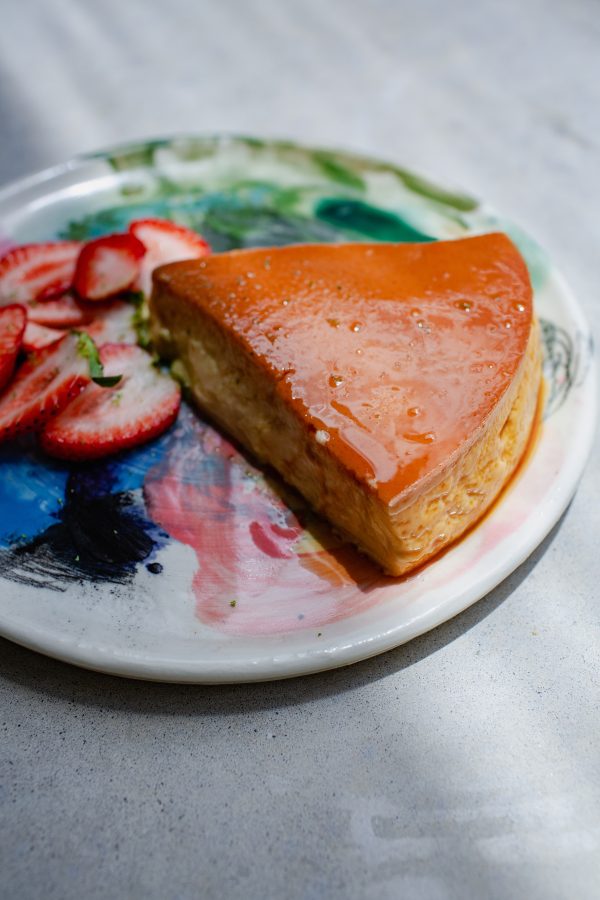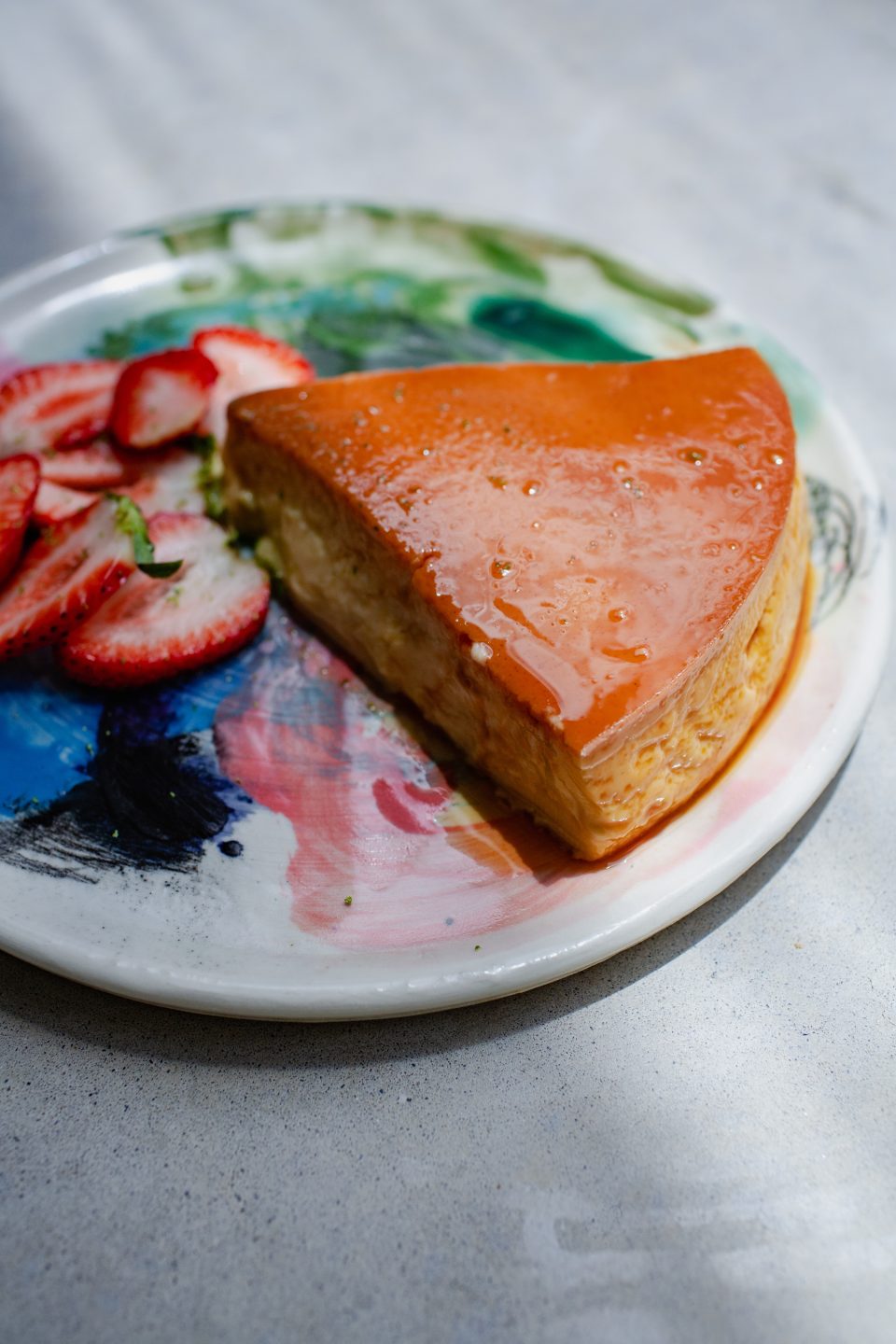 Leche Flan
Prep time: | Cook time: | Serves 8
1 1⁄4 cups caster sugar
8 egg yolks
2 1⁄2 cups full cream milk
1 lime, zest finely
1⁄2 tsp vanilla extract
Pre-heat oven to 160°C
Using a microplane, finely zest 1 lime and set aside
Beat egg yolks in a large bowl, gradually add 3⁄4 cup of caster sugar, mixing in thoroughly
Pour milk slowly into the egg mixture and mix gently, trying not to create too many bubbles
Stir in the lime zest and vanilla, set aside to allow the lime zest to infuse into the custard mixture – while you let the custard infuse, caramelise the sugar in your tin/mold. Traditionally leche flan is cooked in a mold called a Llanera which is oval in shape, I don't have one so I use an 8inch round baking pan instead (if you have a shallow pan that's even better).
Place the remaining 1⁄2 cup of caster sugar in your pan and place over low heat. Tip the pan back and forth as the sugar melts to distribute the caramelized sugar evenly and avoid burning. Keep an eye on the sugar because it goes from nicely golden to burnt, very quickly. I cook mine until it's a rich brown just on the verge of burning, since the slight bitterness will help cut the sweetness of the custard. Allow the caramel to cool and harden, then using a fine mesh sieve, strain the custard mixture into your pan.
Take a deep roasting tray and lay a tea towel on the bottom. Place your custard pan on the towel and then pour enough hot (not boiling) water into the roasting tray so that it comes halfway up the custard pan, careful not to splash any into your custard.
Set it on the middle shelf of your oven and bake for 1 1⁄2 – 2 hours or until a knife inserted in the centre comes out clean.
Let cool to room temperature then cover in foil and chill in the fridge overnight
To serve, remove the foil and run a knife along the edge of the custard to loosen it, then place a large plate over the pan and carefully flip the plate and pan over.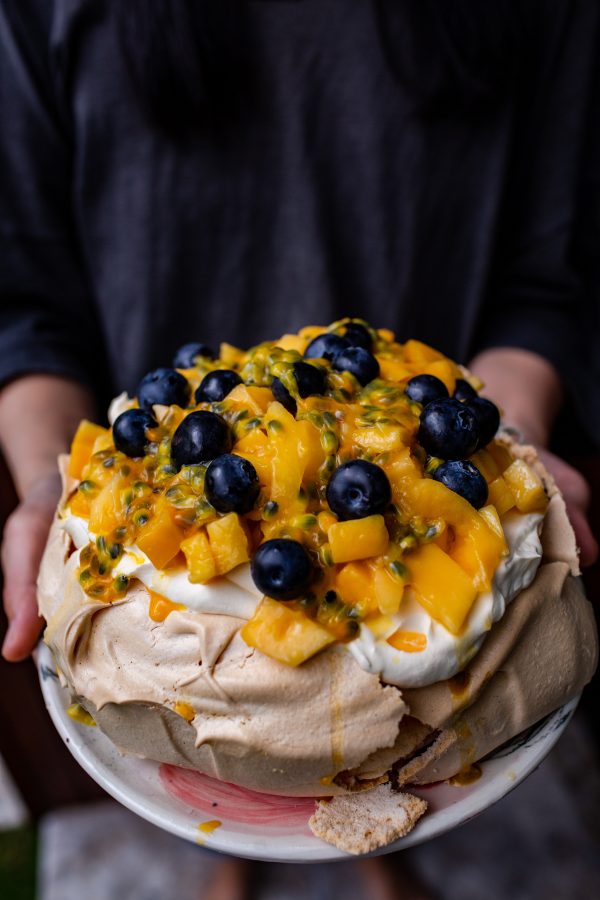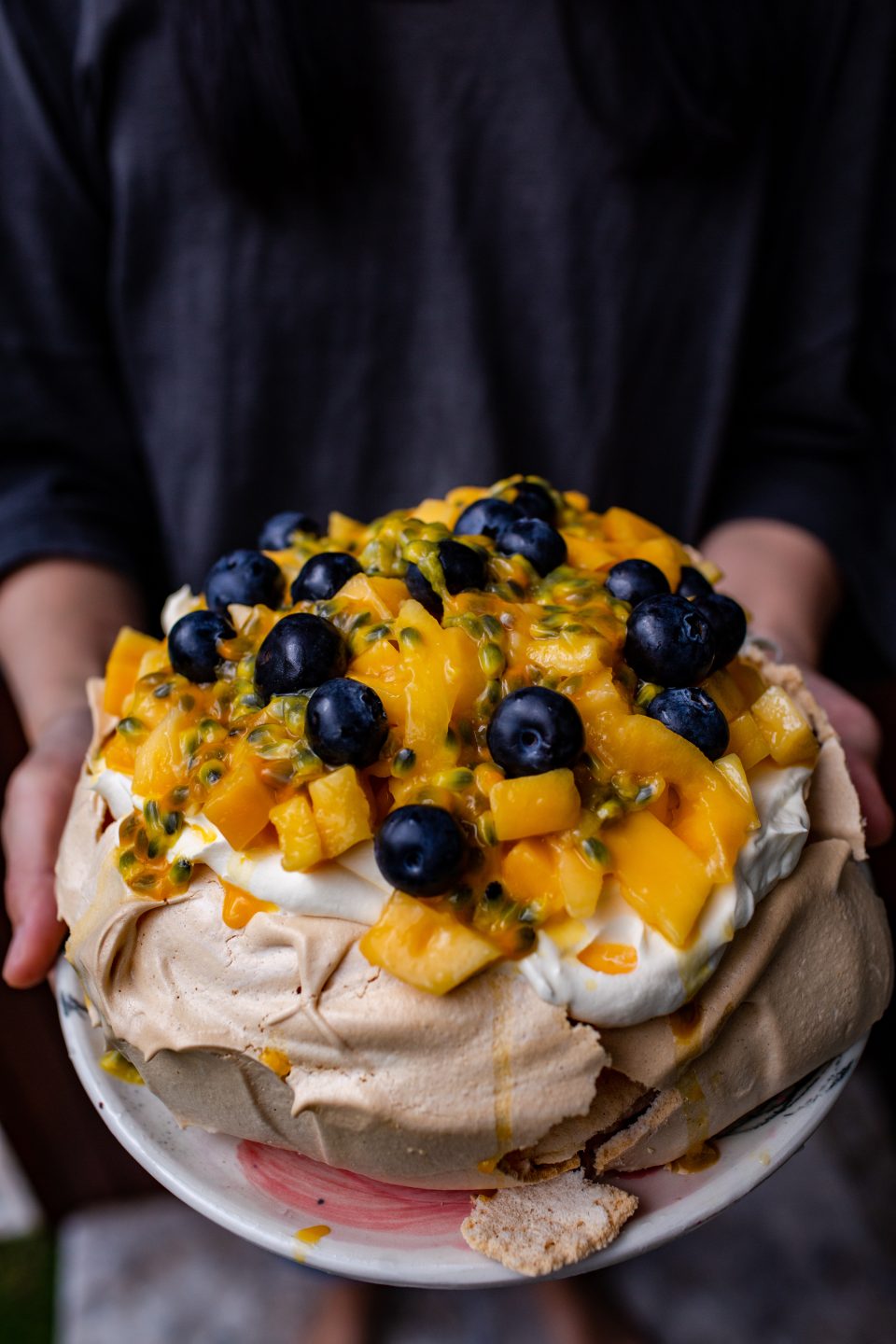 Pavlova with Fresh Fruit
Prep time: | Cook time: | Serves 8
Meringue shell
4 large egg whites (separate cold eggs and then let the egg whites warm to room
temperature)
1 cup caster sugar
1tsp white vinegar
1⁄2 tbs cornflour
1tsp vanilla extract
Cream
1tbs vanilla extract
500ml thickened cream
Toppings
Seasonal fruit, if it's berry season: strawberries, raspberries, blueberries, blackberries or in summer time – mango, peaches and passionfruit
Preheat oven to 140°C (non fan forced).
Line a baking tray with foil and set aside.
In a clean and dry large metal bowl, beat the egg whites with an electric mixer on medium speed. Beat until the whites form soft peaks.
Gently sprinkle the sugar into the egg whites, 1 tbs at a time, beating continuously until the whites form stiff glossy peaks. You can test by lifting the beaters out and holding upright, the tail of the meringue mix should mostly hold its shape and only fall slightly. On humid days you will find that beating to this tage takes longer.
Sprinkle the cornflour and vinegar on the meringue and fold gently with a plastic spatula. Add the vanilla and gently fold the mixture again.
Gently scoop the meringue onto the foil lined tray and form into a circular shape with edges slightly higher than the centre. I make mine about 20cm in diameter. Try not to overwork the meringue mixture as you do this, a little rustic is ok.
Turn down the oven to 110°C and place the tray on the middle shelf. Bake for about 1hr 15min or until the shell has a pale, pinkish eggshell colour. Do not open the oven as it bakes or the pavlova will collapse. Turn the oven off, keeping the door closed still, and leave the meringue overnight.
To assemble the pavlova. Transfer the pavlova and foil onto your serving platter. Lift one side of the shell carefully and peel away the foil.
Add your cream and vanilla into a large bowl and whip with an electric mixer until peaks form.
Chop/slice your fruit and scoop out the passionfruit pulp.
Some cracking of the shell, especially the middle will be inevitable, but the magic of pavlova is that you can hide most of these with the whipped cream and toppings. Spoon out the cream onto the shell and top with your fruit.