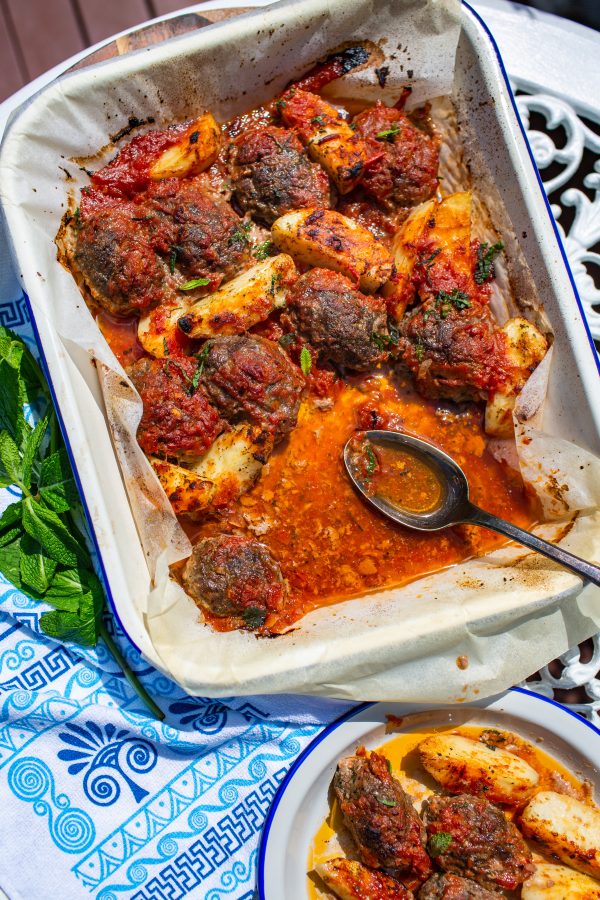 Prep time: | Cook time: | Serves 4
Soutzoukakia mixture
500g Beef mince
1 whole grated onion
2 grated cloves of garlic
handful of chopped parsley
¼ cup of breadcrumbs
1 egg
1/8 tsp All spice
½ tsp on cinnamon
1 tsp cumin
5 tbsp extra virgin olive oil
1 tsp dried oregano
salt and pepper
Potatoes
5-6 potatoes peeled and cut into wedges
1 tsp dried oregano
8 tbsp extra virgin olive oil
salt and pepper
Sauce
5 tbsp extra virgin olive oil
1 whole grated onion
2 grated crushed garlic
400ml tomato passata
½ cup of water
½ tsp dried oregano
2 bay leaves
½ tsp ground cinnamon
1/8 tsp all spice
To prepare dish, preheat the oven at 180°C. Begin by combining all potato ingredients in your baking tray. Cover with foil and bake for approximately 30 mins.
While potatoes are in the oven, begin the sauce. Over a medium heat, combine olive oil, onion, and garlic. Sauté for approximately 3 minutes or until soft. Add tomato passata and water, bring to the boil. Then add oregano, cinnamon, all spice, bay leaves, salt and pepper. Turn the heat down to medium-low and allow the sauce to cook (stirring occasionally) for approximately 20 minutes or until the sauce has thickened slightly. Turn off the heat and allow to cool to some extent while you prepare the soutzoukakia. By now the potatoes should be soft enough to remove from the oven. Check to ensure they have softened enough, then set aside.
To prepare the soutzoukakia, combine all listed ingredients into a bowl. Using clean hands combine all the ingredients until they are well incorporated (if you feel the mixture is not coming together or holding well enough, keep working it with your hands. The more you work it the better it holds).
Once you are happy with the consistency, form the soutzoukakia into oval sausages, about the size of your palm. Once you have formed all the mix, it is time to arrange on the tray with the potatoes. You may need to move the potatoes around to fit the soutzoukakia. When this is completed, spoon the tomato sauce over the soutzoukakia and potatoes. Return the tray to the oven and bake for approximately 20-25 minutes ensuring soutzoukakia have cooked through and the potatoes have developed a little colour.