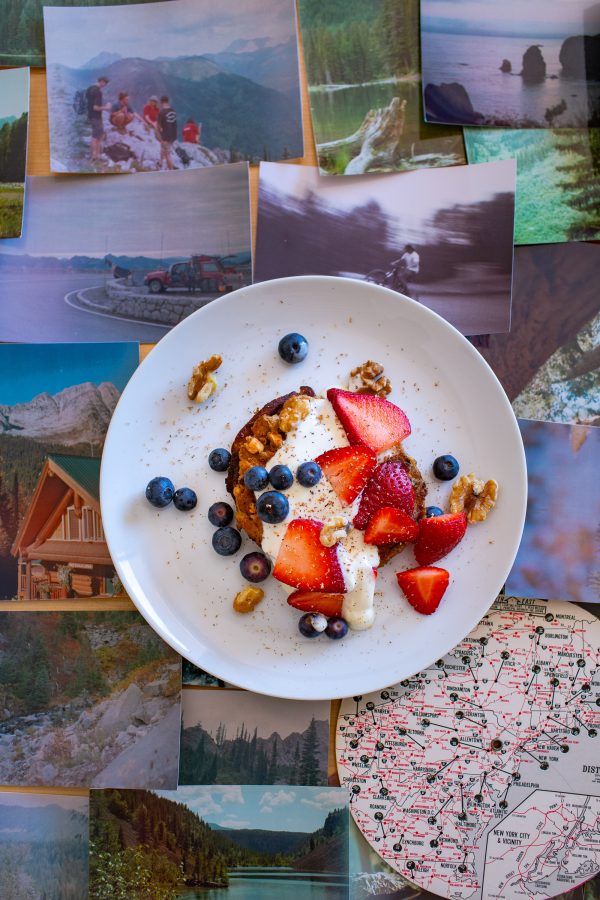 Prep time: | Cook time: | Serves 3
3 ripe bananas
3 eggs
1 heaped tablespoon of Peanut Butter
Butter for cooking
1/2 cup of crushed walnuts
1 Nutmeg to grate (optional)
1/2 vanilla bean (optional)
For serving

Greek yoghurt

Strawberries

Blueberries

Any extra walnuts you have left over
Mash up ripe bananas in a large mixing bowl with a fork.
Add crushed walnuts and mix into banana mash.
In a separate bowl whisk eggs and add a spoonful of peanut butter to eggs mixture and mix well.
Add eggs and peanut butter mixture to the banana walnut bowl and stir until combined.
Grate half the nutmeg into the pancake mixture .
Slice the vanilla to add the seeds into the mixture or you can use vanilla essence.
On low heat melt butter in a fry pan.
Spoon the pancake mix into the fry pan, wait until you see little air holes appear in the pancakes before flipping.
Serve with a dollop of Greek yoghurt, blueberries, strawberries, walnuts and a grate of nutmeg.
Enjoy with your morning cup of coffee and good company.