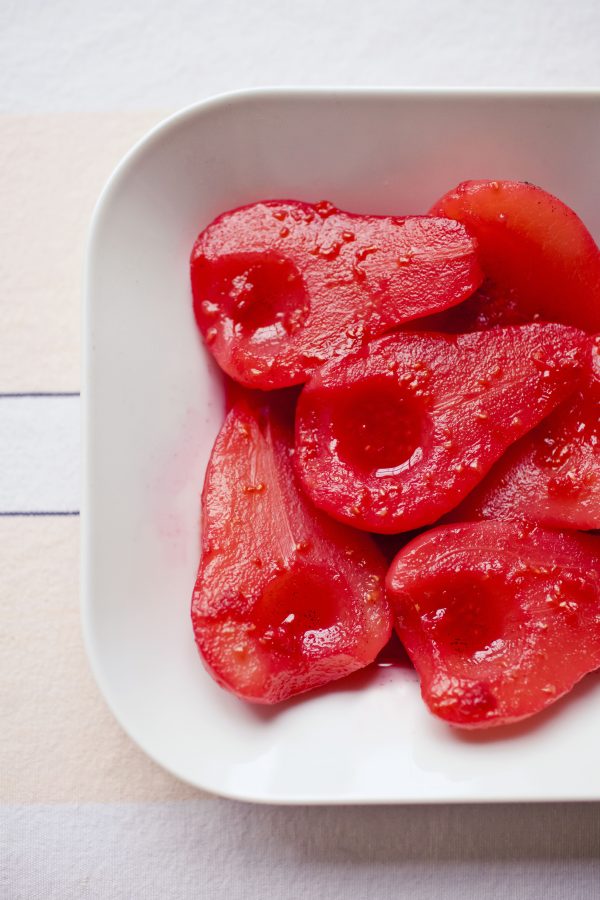 Prep time: | Cook time: | Serves 4
600 – 800g beurre bosc pears, peeled, halved and cored (use pears that are still a little firm to the touch)

400g frozen raspberries

1 vanilla pod, seeds scraped

zest of 1 lemon (in big strips)

2 – 3 cups of water, enough to cover the pears

1 cup of sugar and 1 tbsp honey or 3 – 4 tbsp honey to taste
Place water, raspberries, sugar, honey, zest, and vanilla in a pot and bring to the boil.

Reduce the heat to barely simmering and poach the pears for 30 – 35 mins, until the pears are tender and translucent but not soft, you don't want the pears to lose their shape.

Cool the pears separately from the syrup so they do not continue to cook.

Any leftover poached pears can be stored in the fridge for up to 5 days. Great addition to your morning bircher muesli yoghurt mix.