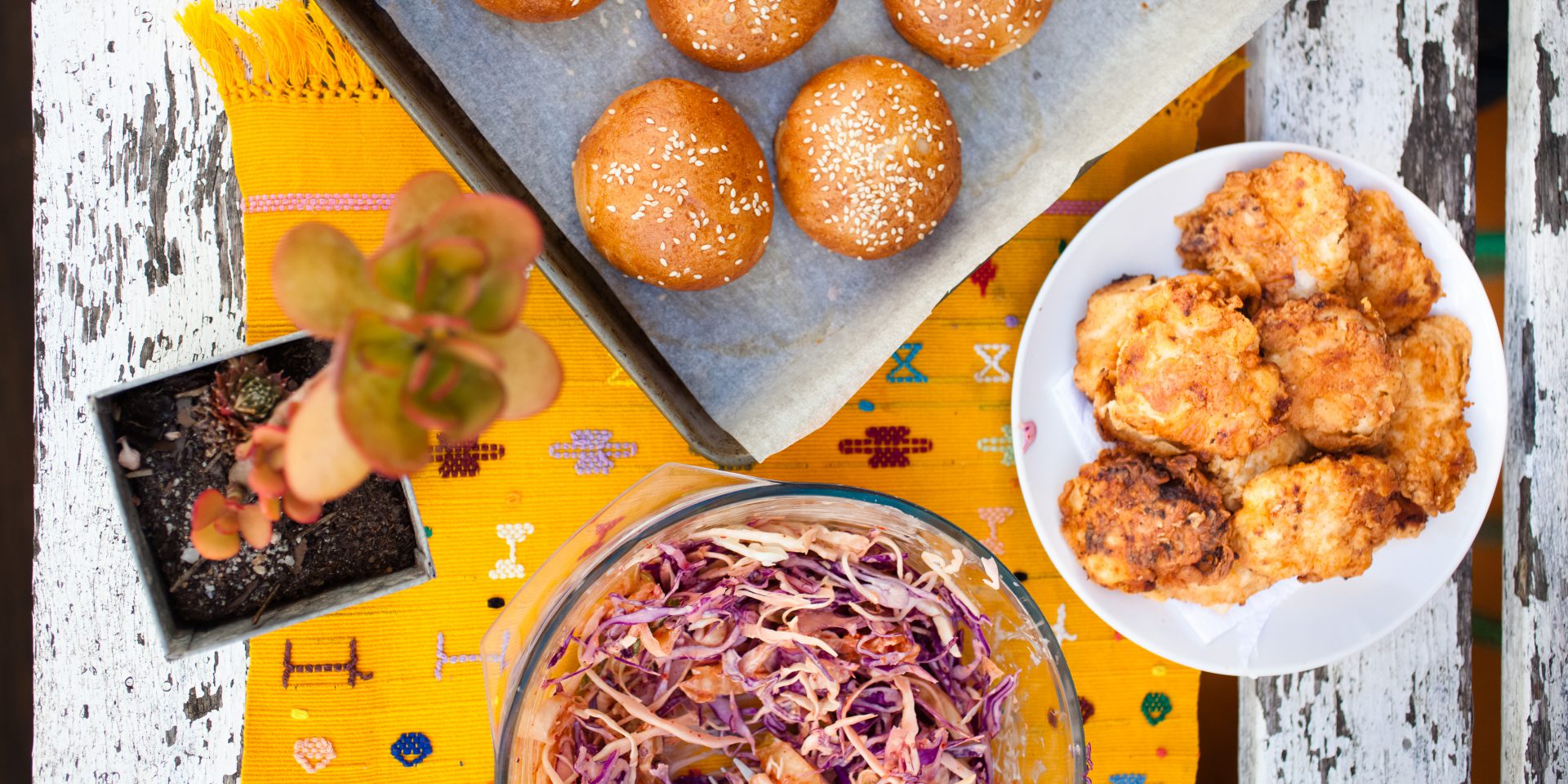 When Jax and Rosie told me what they plan to make for WDTD – Buttermilk Fried Chicken Slider with Kimchi-slaw, I knew straight away these mini bundle of deliciousness would be so fun to photograph (and super tasty). This post is a testimony to their team effort delicious creation – from Rose's crispy buttery soft bun combined with Jacquelyn's succulent and spicy fried chicken, topped with a beautiful kick of kimchi slaw. This dish is the ultimate party pleaser and I highly recommend you all try to make it at home.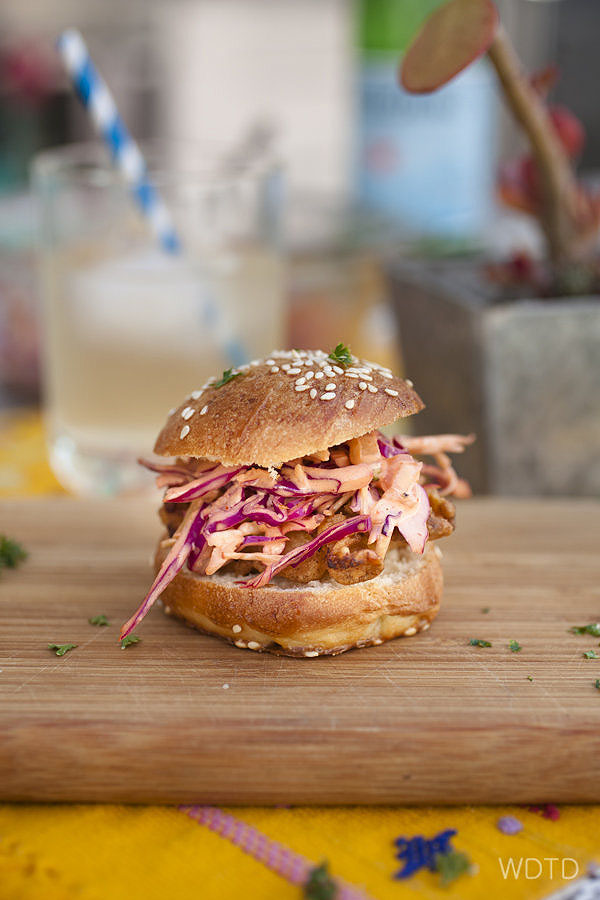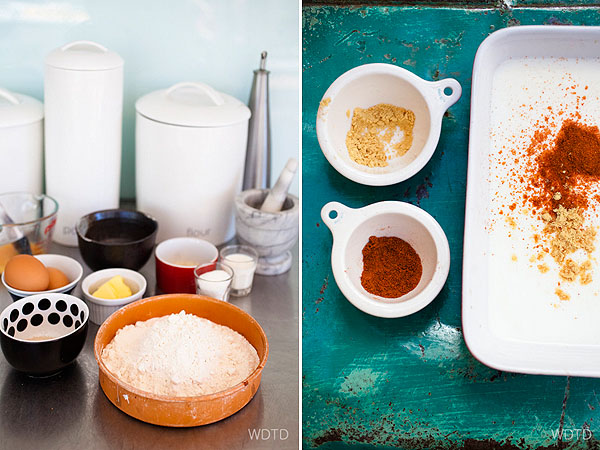 Jacquelyn: A lot of the dishes we've been enjoying at home recently have been inspired by local trends popping up in and around Sydney. The slider obsession kickstarted with a Calamari slider recipe borrowed from work and then soon morphed into Rosie experimenting with brioche bread because it was hard to come by at local bakeries. The kimchi coleslaw was a fun addition inspired by Rosie's mum who still insists kimchi complements any western dish.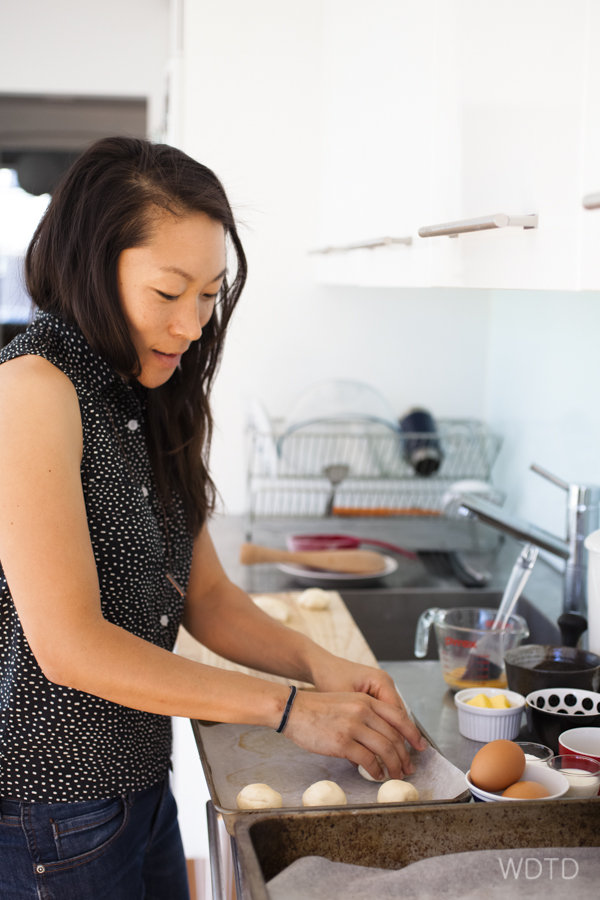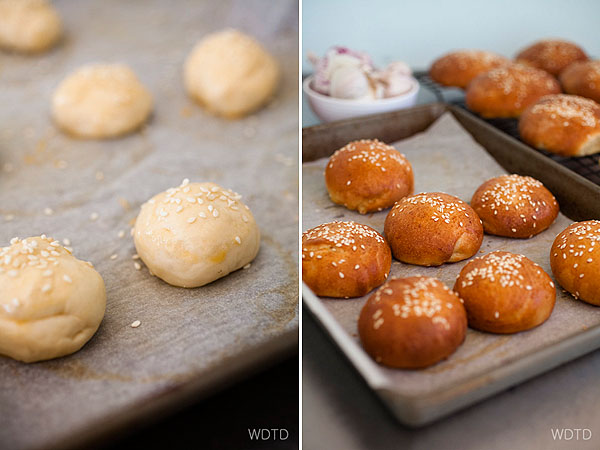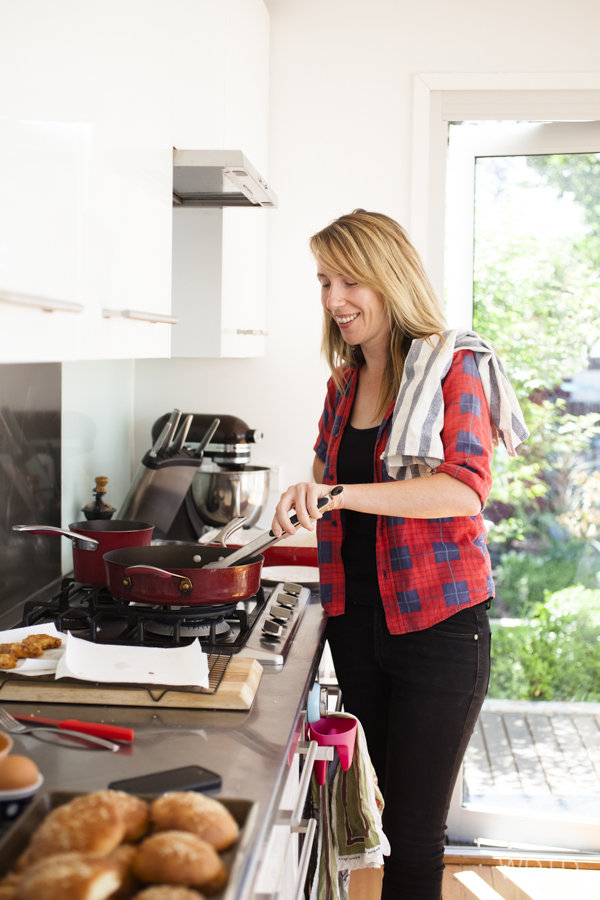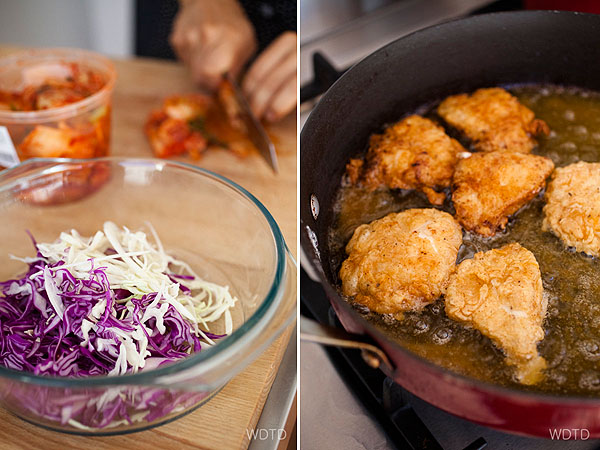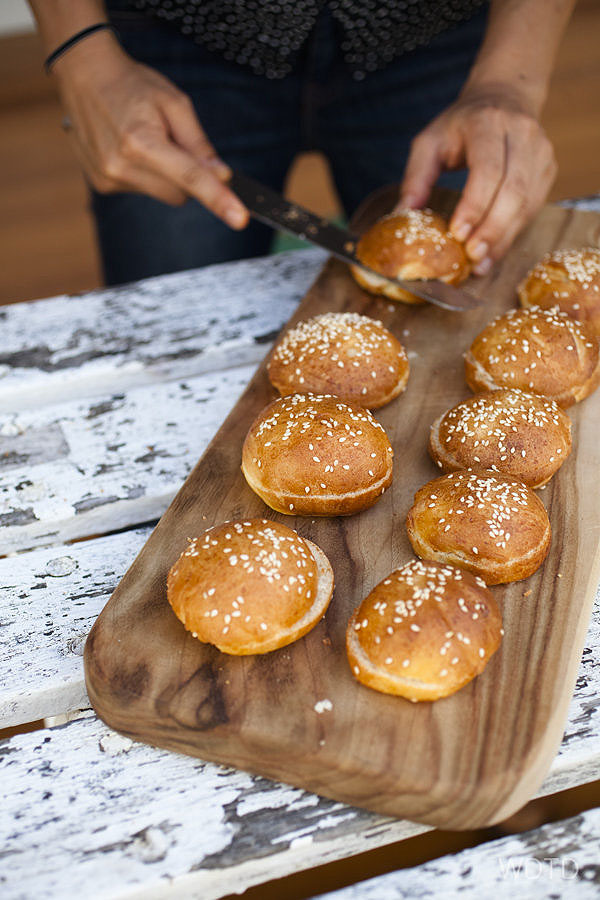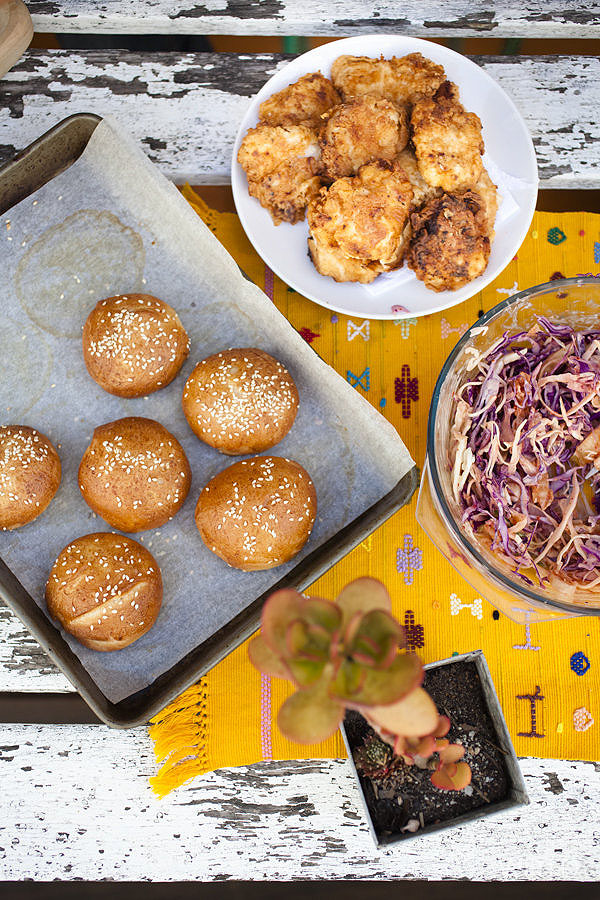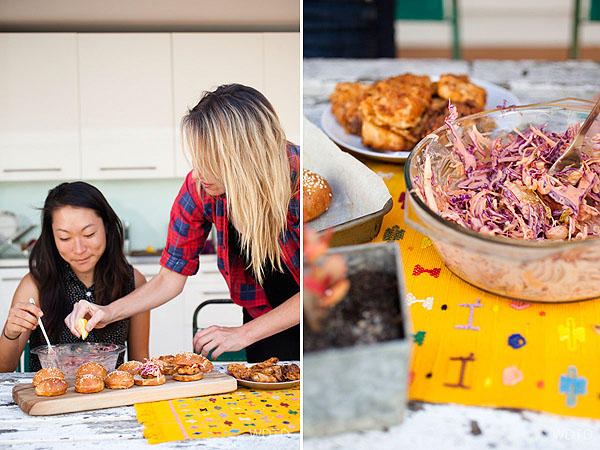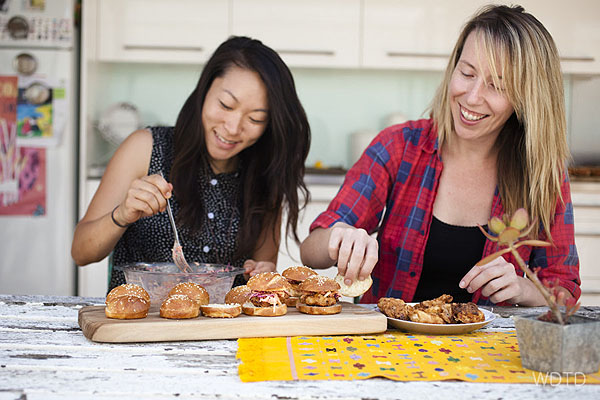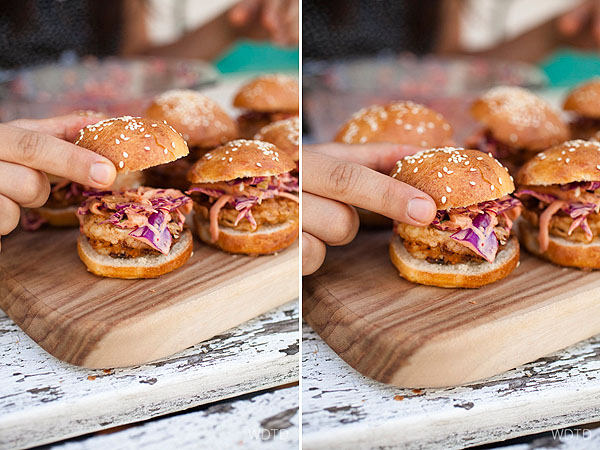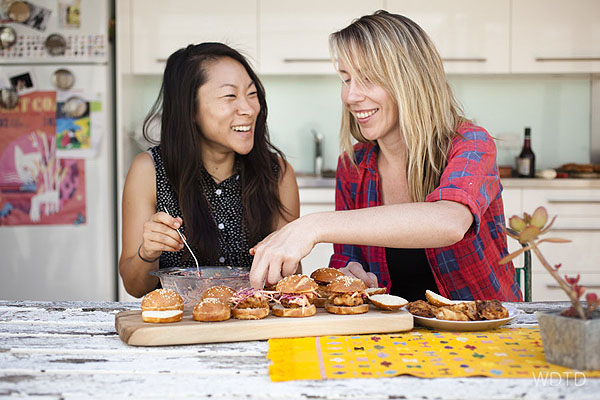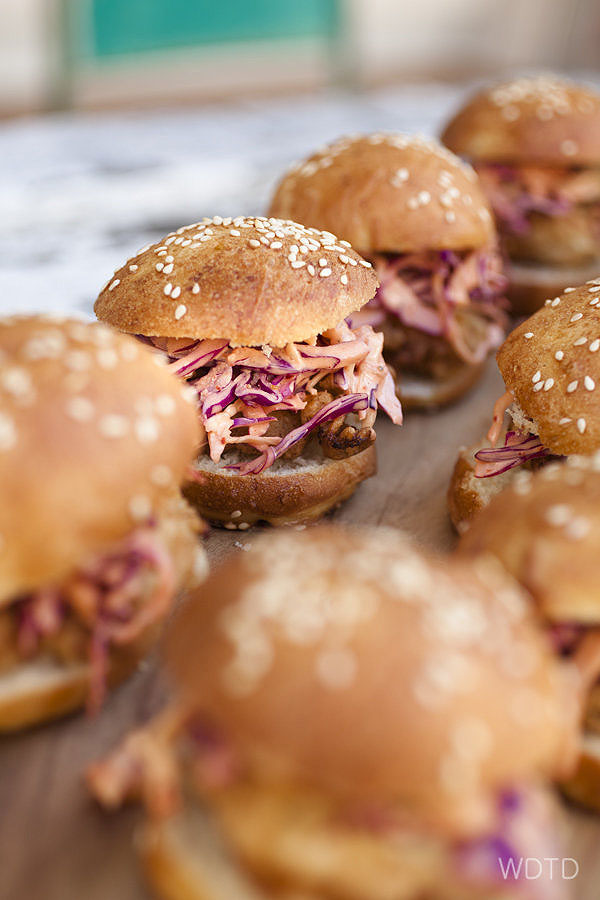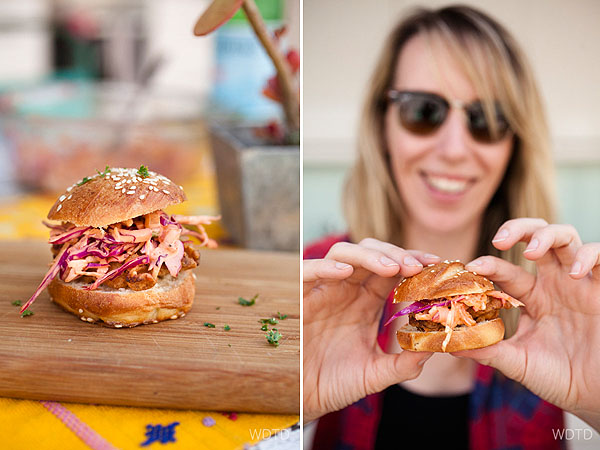 Who: Jacquelyn Marker
Home is: St Peters
Family origin: Australia
I can't live without: Hot showers
Occupation: TV Producer
Dream Job: Engineer/Inventor
Currently I am obsessed with: Dumplings
Childhood taste: Vinegar
I will always have in my pantry: Garlic
I learnt to cook from: My mum and the internet
Currently I'm listening to: Camera Obscura, Desire Lines
One day I must visit: Japan
Go to meal: Tomato, cheese and avocado on bread
I am really good at: Pictionary
The unforgettable meal: Cape Lodge tasting menu. Marron!!
My piece of Sydney: The Inner West
Guilty Pleasure: Chicago deep dish pizza
Who does the dishes: Whoever feels like it or whoever doesn't cook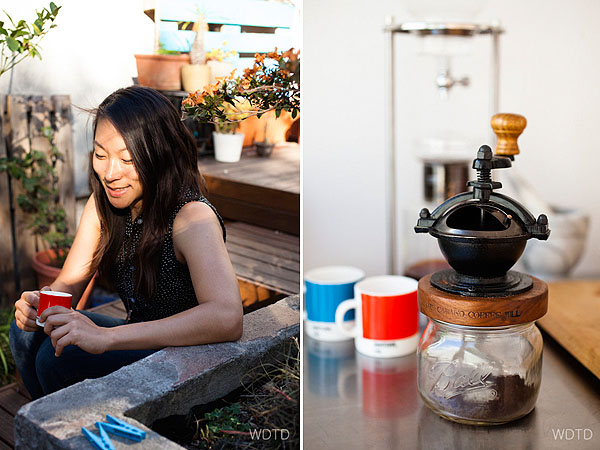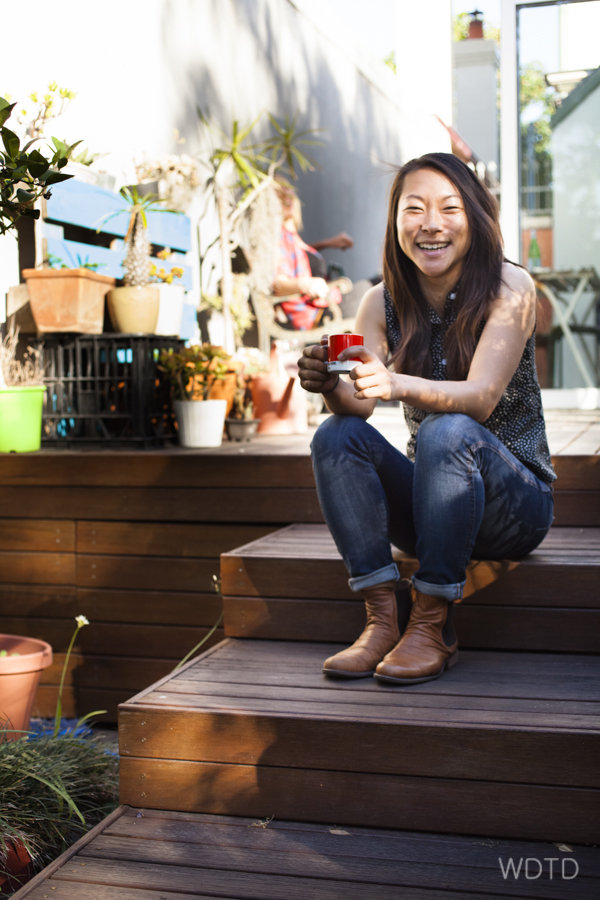 Who: Rose Kang
Home is: St Peters
Family origin: South Korean
I can't live without: Being outdoors
Occupation: Shooter/Editor
Dream Job: To work on a David Attenborough production
Currently I am obsessed with: Tahini
Childhood taste: Almond cookies that my mum used to bake, homemade onigiri
I will always have in my pantry: Tahini
I learnt to cook from: Cooking disasters and recipes
Currently I'm listening to: Bill Callahan – Dream River
One day I must visit: Berlin
Go to meal: Brinner – eggs on toast with tomatoes, parsley or coriander with olive oil (and recently sesame seeds)
I am really good at: Packing cars
The unforgettable meal: William's baked brie from Farm Cafe in Portland, OR
My piece of Sydney: McKenzie Beach
Guilty Pleasure: Cookies + milk
Who does the dishes: Whoever feels like it or whoever doesn't cook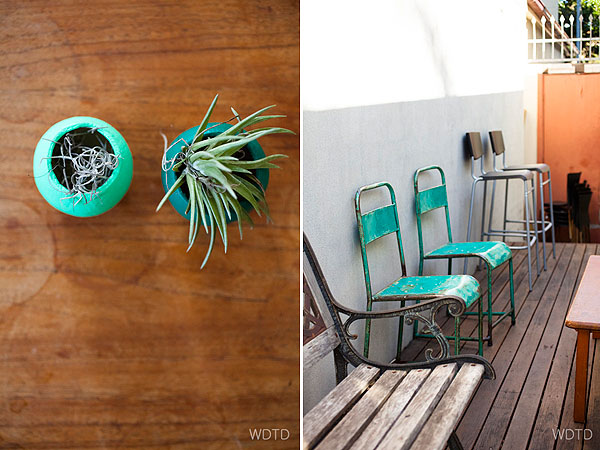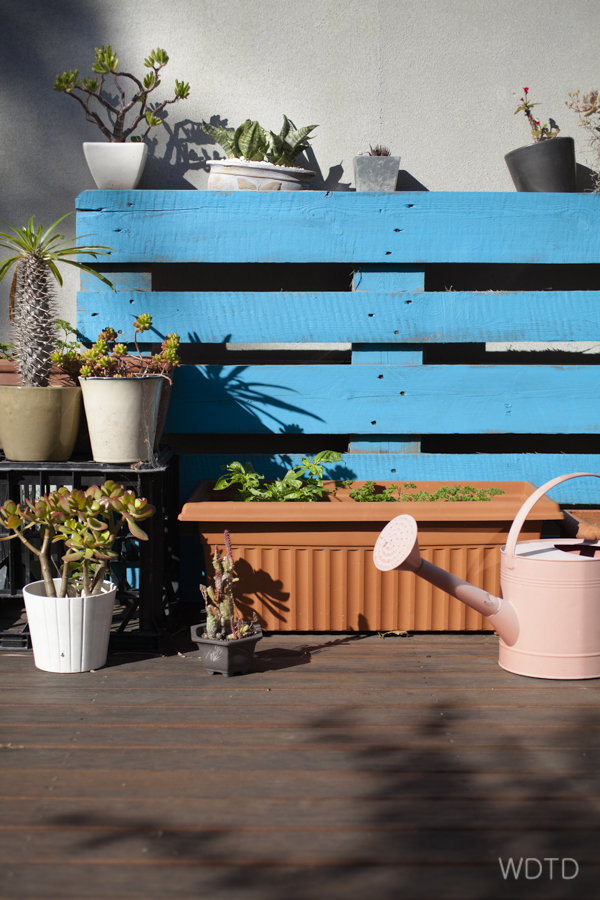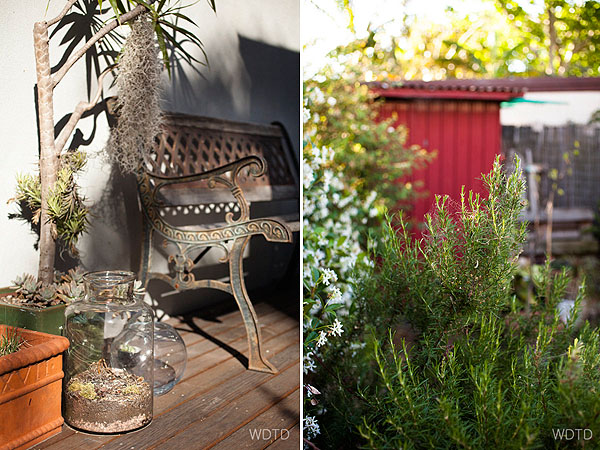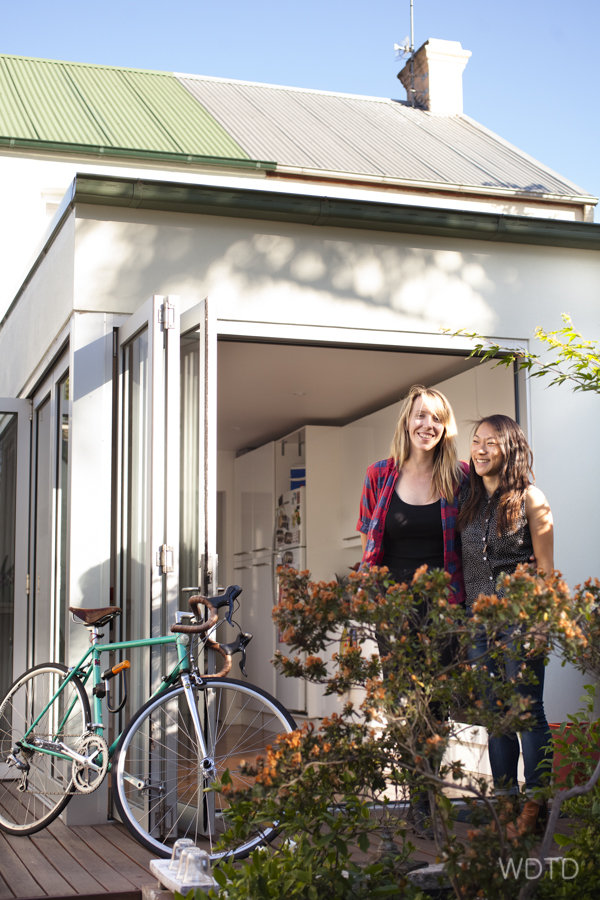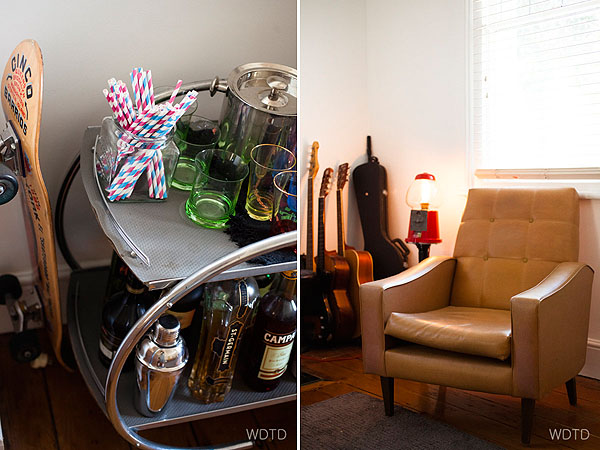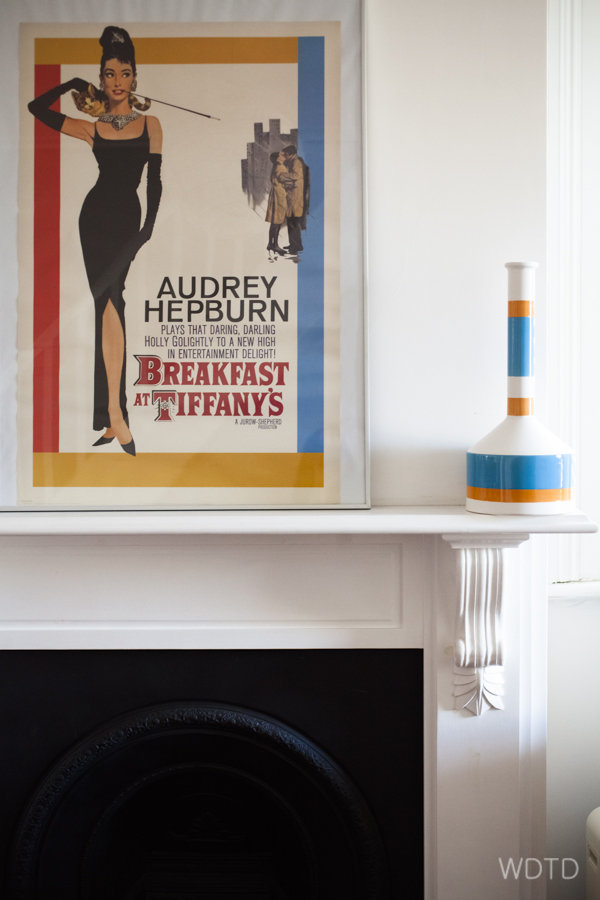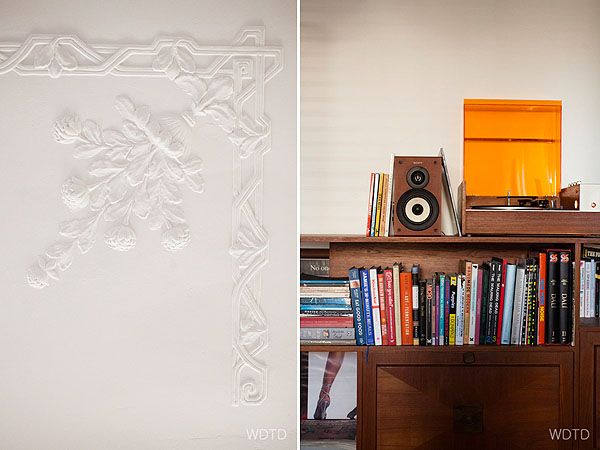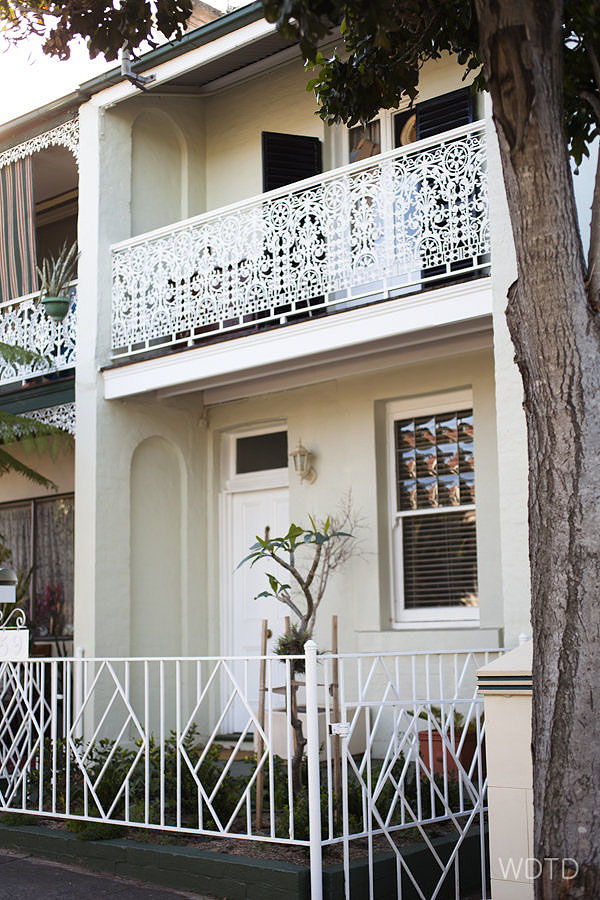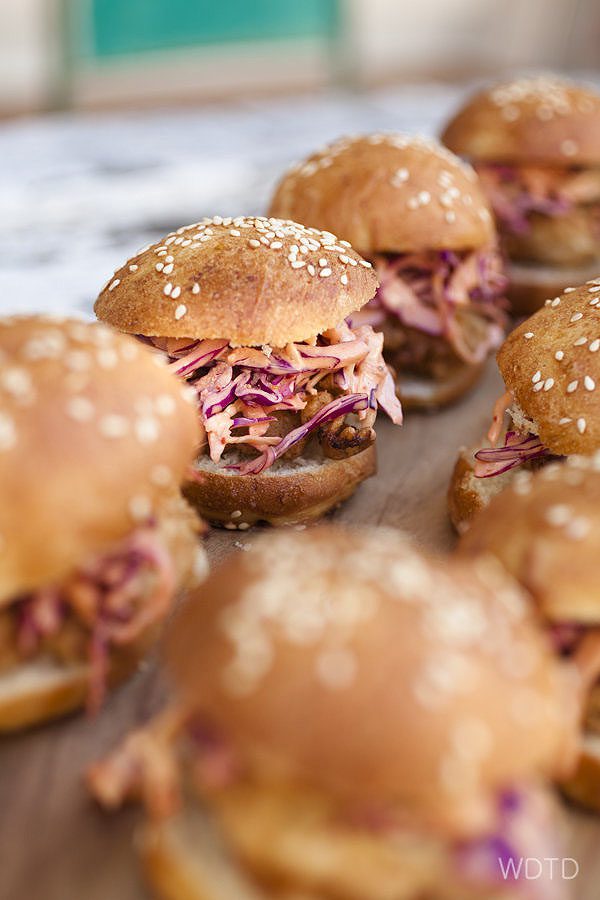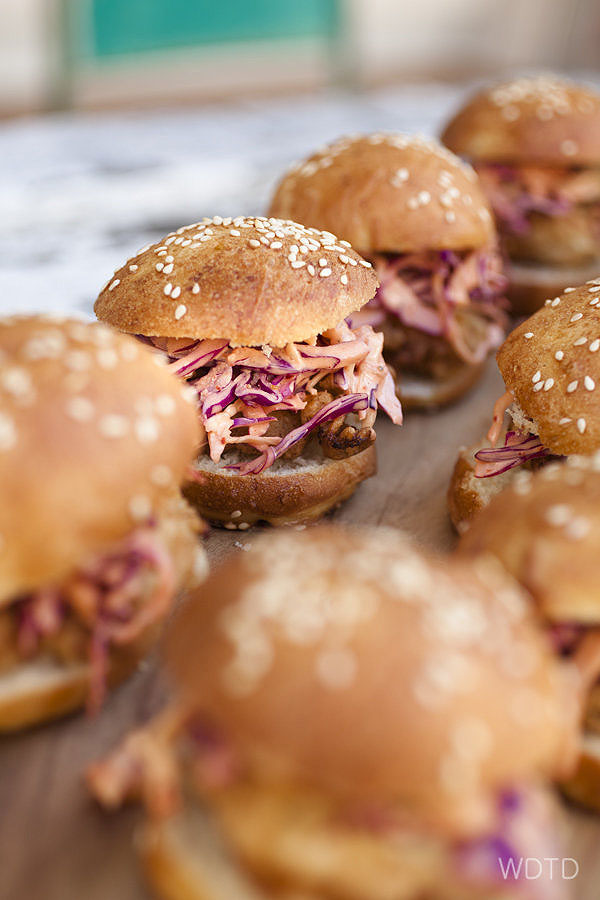 Buttermilk Fried Chicken Slider with Kimchi Slaw
Prep time: | Cook time: | Serves 8-10
For the Light Brioche Slider Buns (makes 16-20)
3 tablespoons warm milk

2 teaspoons active dry yeast

2 1/2 tablespoons sugar

2 large eggs
3 cups bread flour
1/3 cup all-purpose flour

1 1/2 teaspoons salt
2 1/2 tablespoons unsalted butter, softened
Sesame seed (optional)
For the Buttermilk Fried Chicken
Buttermilk batter:
3 cups buttermilk
3 tsp Cayenne pepper
1 tsp black pepper
1 tsp ground coriander
1 tsp Keens powdered mustard
Tapatio hot sauce
Flour seasoning:
2 cups flour
2 tsp Cayenne Pepper
2 tsp Salt
1 tsp pepper
1/2 tsp ground coriander
For the Kimchi Slaw
1/4 Red Cabbage
1/4 White Cabbage
Kimchi – as little or as much as you want
1/4 cup of Japanese Mayonnaise
1 tsp White vinegar
A squeeze of lemon juice
Salt & pepper to taste
Brioche Slider Buns (Prep time is about 4 hours, so make sure to do this step well in advance). In a glass measuring cup, combine one cup warm water, the milk, yeast and sugar. Let stand until foamy, about five minutes. Meanwhile, beat one egg.
In a large bowl, whisk flours with salt. Add butter and rub into flour between your fingers, making crumbs. Using a dough scraper, stir in yeast mixture and beaten egg until a dough forms. Scrape dough onto clean, well-floured counter and knead, scooping dough up, slapping it on counter and turning it, until smooth and elastic, 8 to 10 minutes. The dough will be on the sticky side so it can be a bit messy, but keep in mind that the more flour you knead in, the tougher the buns will get. Try to leave them tackier than you would a round loaf.
Shape dough into a ball and return it to bowl. Cover bowl with plastic wrap and let rise in a warm place until doubled in bulk within one to two hours.
Line a baking sheet with parchment paper. Using dough scraper, divide dough into 16 – 20 equal parts. Gently roll each into a ball and arrange two to three inches apart on baking sheet. Cover loosely with a piece of plastic wrap lightly coated in nonstick spray and let buns rise in a warm place for one to two hours (it usually only takes 1 hour for second rise).
Set a large shallow pan of water on oven floor. Preheat oven to 190-200˚C with rack in centre. Beat remaining egg with one tablespoon water and brush some on top of buns. Sprinkle with sesame seeds, if using. Bake, turning sheet halfway through baking, until tops are golden brown, about 15 minutes.
The buns soften as they cool down, so cool them completely on a rack before you assemble the sliders.
Buttermilk Fried Chicken (marinate for at least 4 hours or overnight). Slice chicken breasts into 1cm thick pieces and then cut again into slider size portions.
Pour buttermilk into a baking dish. Add paprika, pepper, Tapatio hot sauce, ground coriander and mustard powder. Stir through.
Place chicken pieces into the buttermilk batter. Cover and store in the fridge for 4hrs or overnight.
Mix together flour seasoning in a shallow bowl ready for coating chicken.
Heat the vegetable oil in a frying pan with high sides.
Remove chicken pieces from the buttermilk mixture. Shake off any excess batter before coating the chicken in the seasoned flour mixture.
Using metal tongs, place the chicken in the vegetable oil and fry until golden brown.
Remove from oil and place fried chicken on a wire rack with a piece of paper towel (the wire rack will prevent the chicken from going soggy like KFC).
Kimchi Slaw. Thinly slice the two type of cabbages and kimchi and mix in a bowl.
Add the Japanese mayonnaise and vinegar together with the coleslaw mix.
Add pinch of lemon juice and mix well.
Add salt and pepper to taste.
Set aside in fridge and use when assembling sliders.