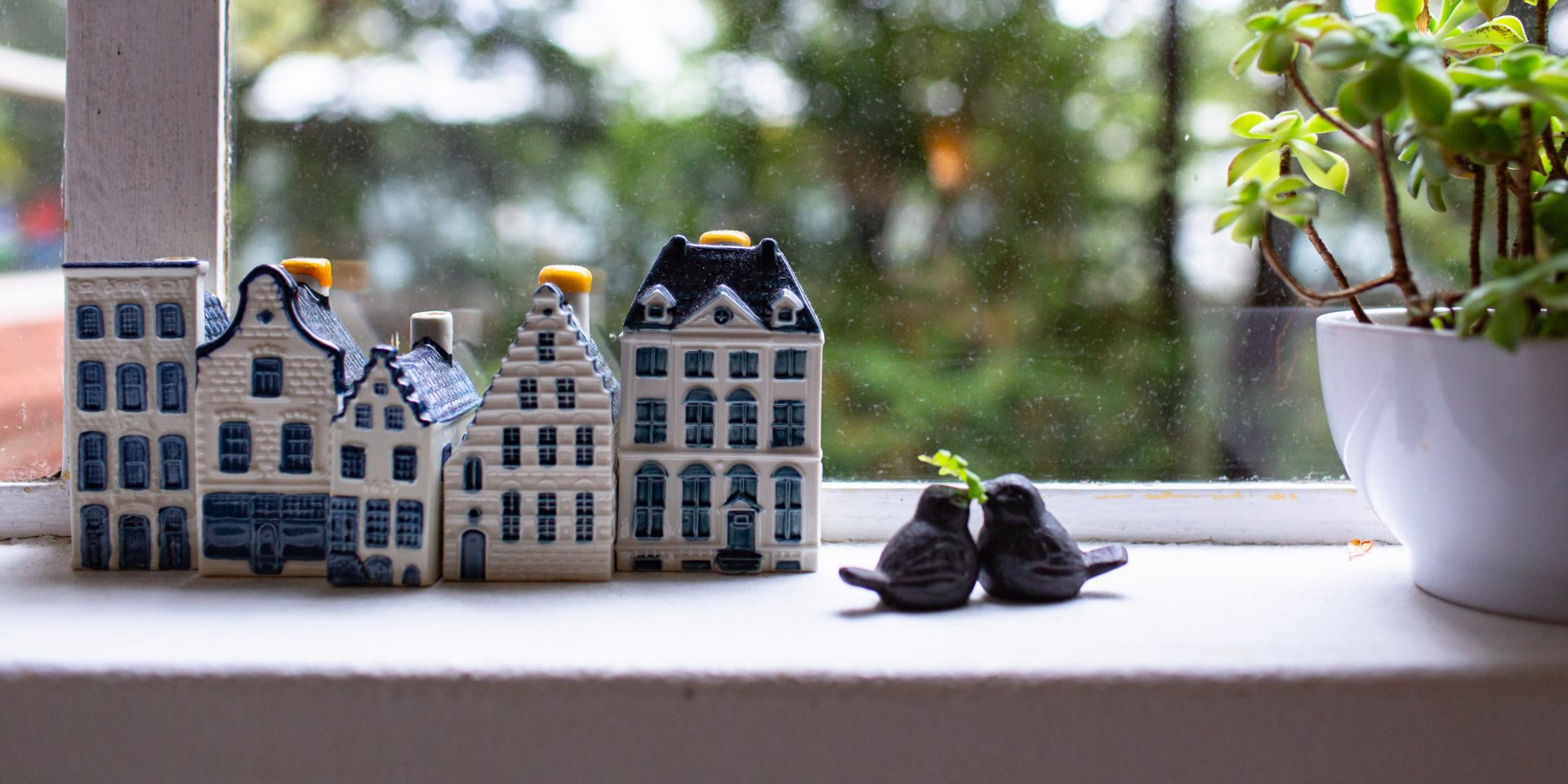 Growing up with Indo Dutch parents, Thalita remembers fond memories of enjoying this little coconut sticky rice parcel that her Mum used to make. Filled with spiced chicken that's cooked with caramelised onion, tamarind paste, spices and coconut cream, every mouthful is special and you'd wish the rice parcel is bigger! But then you can always have more…
What attracted the Dutch many centuries ago to the spice-rich land of Indonesia is still embraced by many Dutch people now – through food. You will be sure to find sambal (chili paste) and kecap manis (sweet soy sauce) in every Dutch pantry/fridge!
Many countries have their own version of 'rice parcel' ie. Onigiri from Japan, Lo Mai Gai from Hong Kong, Zongzi from China, Ouzi from the Middle East. This much loved Indonesian snack from Java island is called Lemper Ayam and it showcases a lot of the country's array of rich spices and ingredients. It may visually look simple but it possesses a beautiful complex flavour and aroma.
Here Thalita shares with us a recipe that's been passed down to her by her Mum. "You really need to get the sticky rice steamed to the right consistency. You don't want it to be too moosh or too hard." With a bit of trial and error, you too can create this authentic sticky rice parcel at home.
Home is
Where I can laugh until my belly hurts
Family origin
Dutch indonesian
I can't live without
Laughing
Currently I'm obsessed with
Completing my bucket list, margaritas and dancing
Childhood taste
Poffertjes
I will always have in my pantry
Maggie's sauce, fresh coriander and Greek spice mix
I learnt to cook from
Mum
Currently I'm listening to
Springloaded playlist
One day I must visit
Greece
Go to meal
Anything with Greek spice mix
I am really good at
Buying things on a budget. Mucking up saying.
The unforgettable meal
Franca Brasserie Potts Point
My piece of Sydney
Anywhere where sand meets the ocean
Best flavour combo
Coriander Maggie's sauce on fresh tomato
Guilty pleasure
Wining and dining
Who does the dishes
Me and my 13 years old son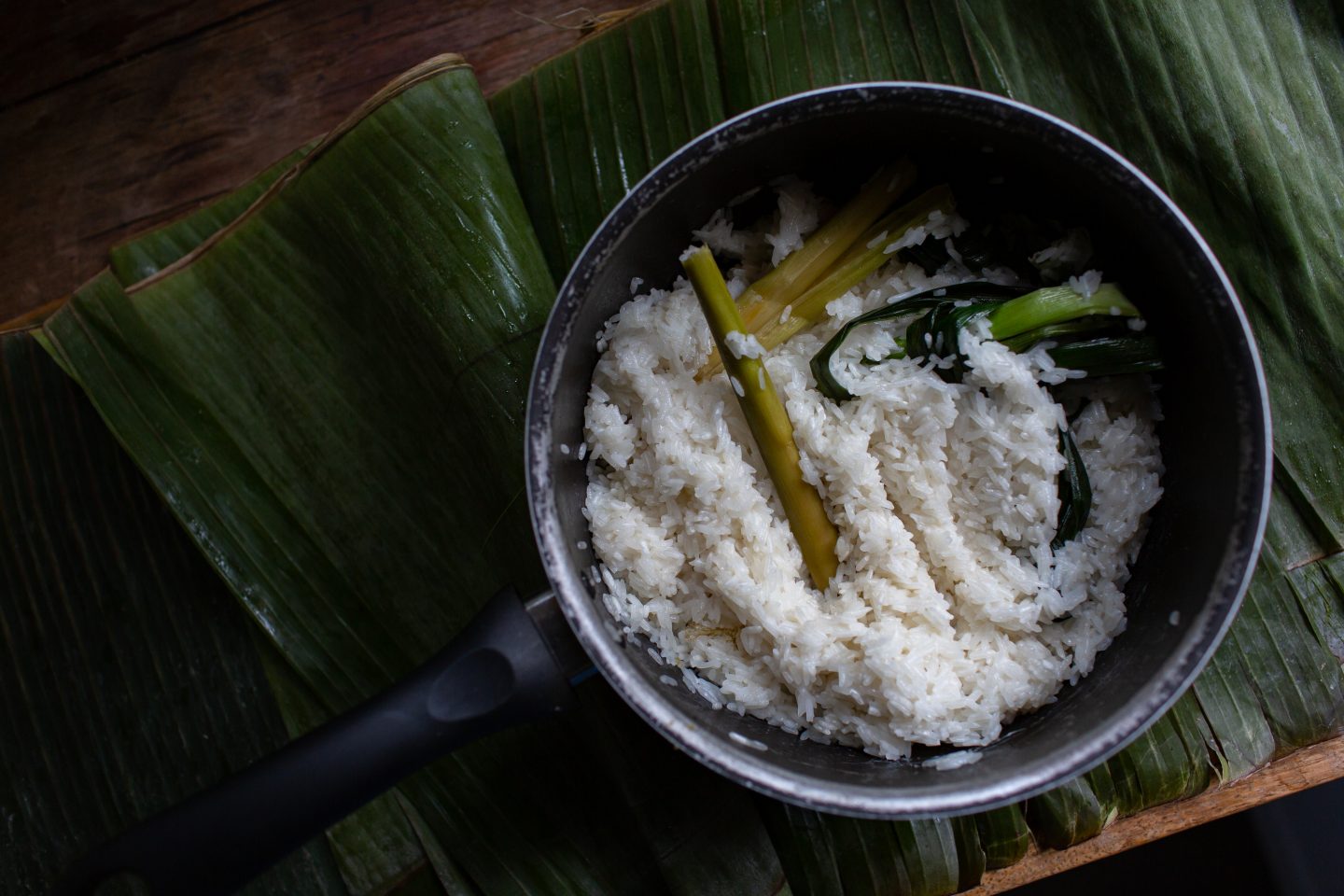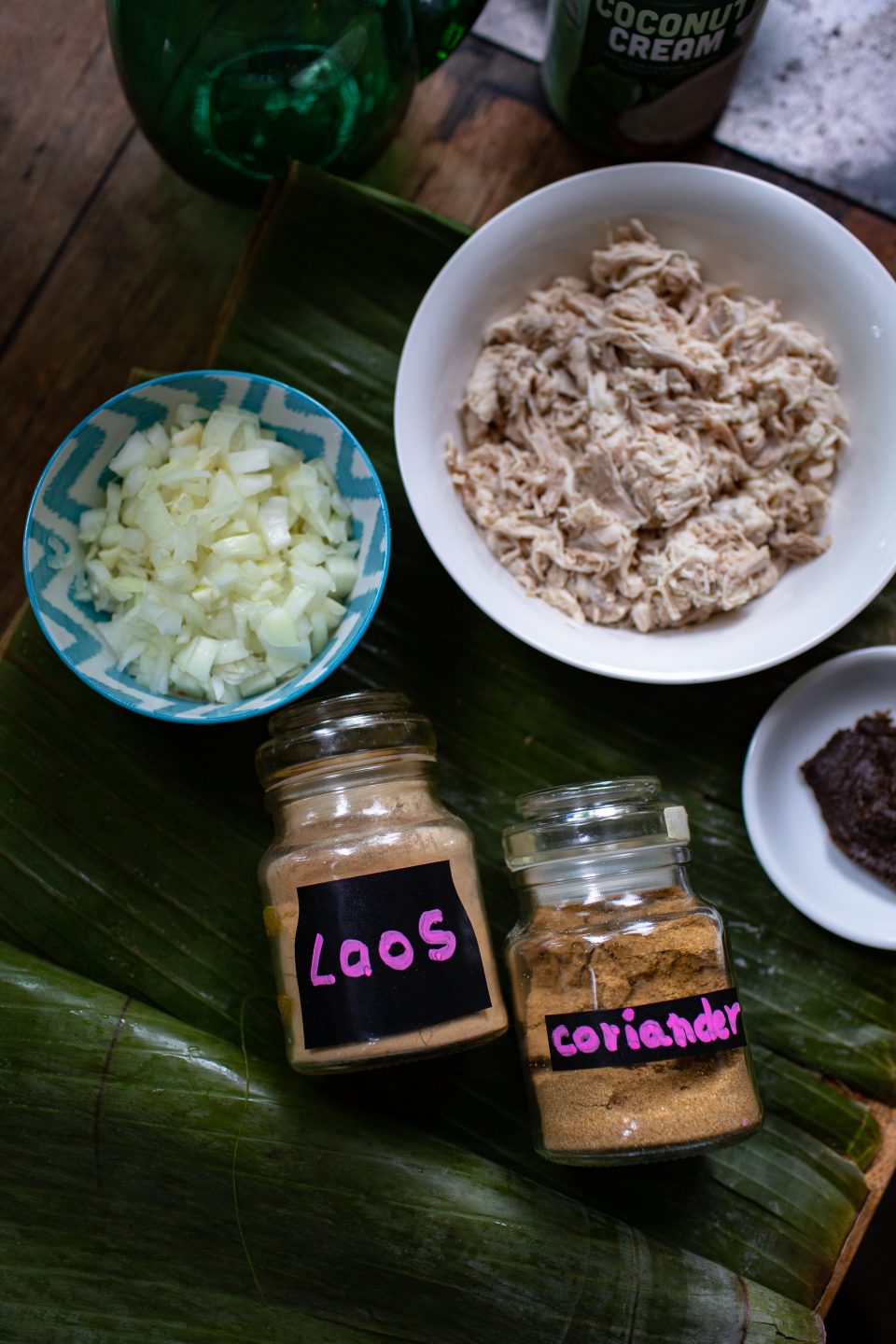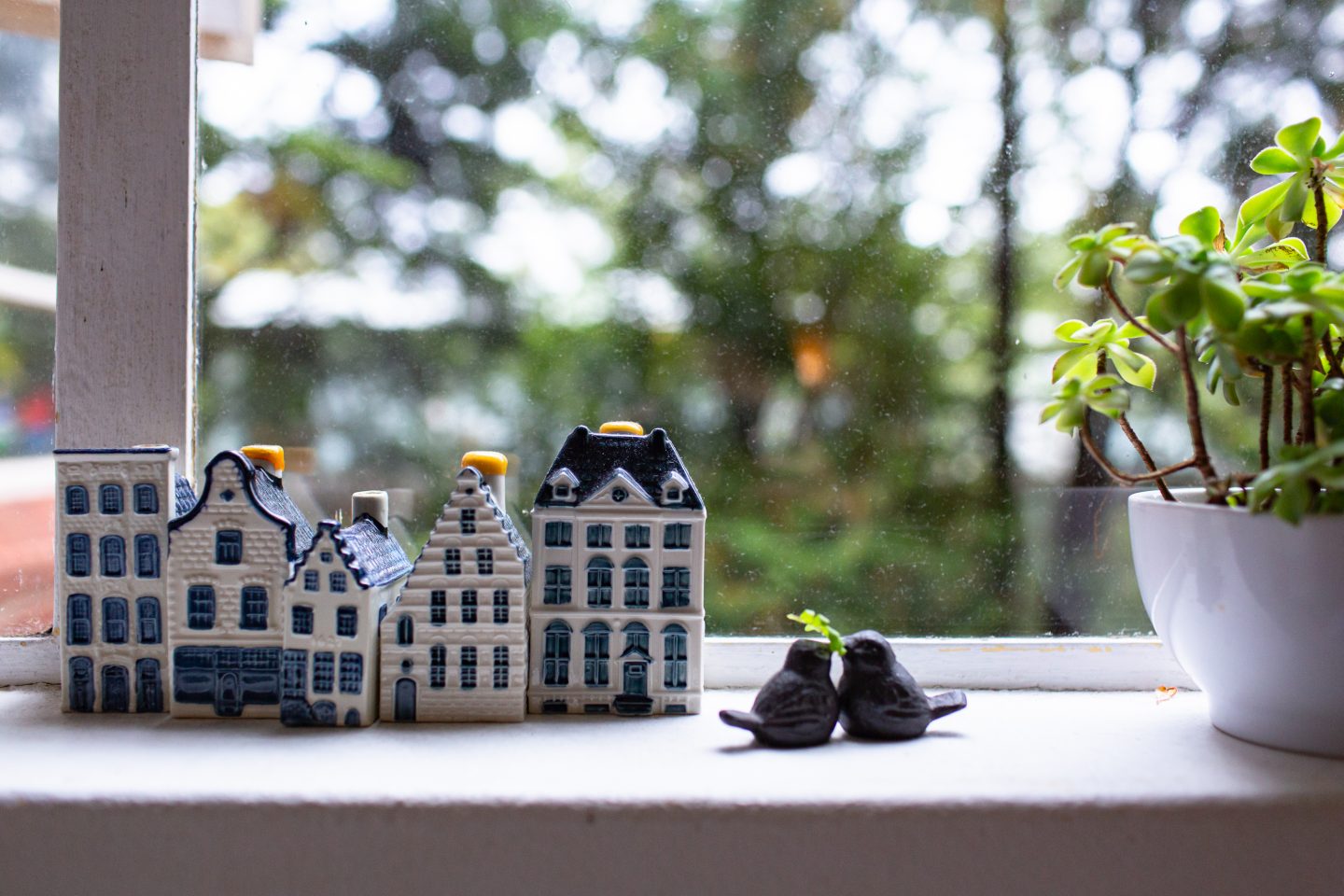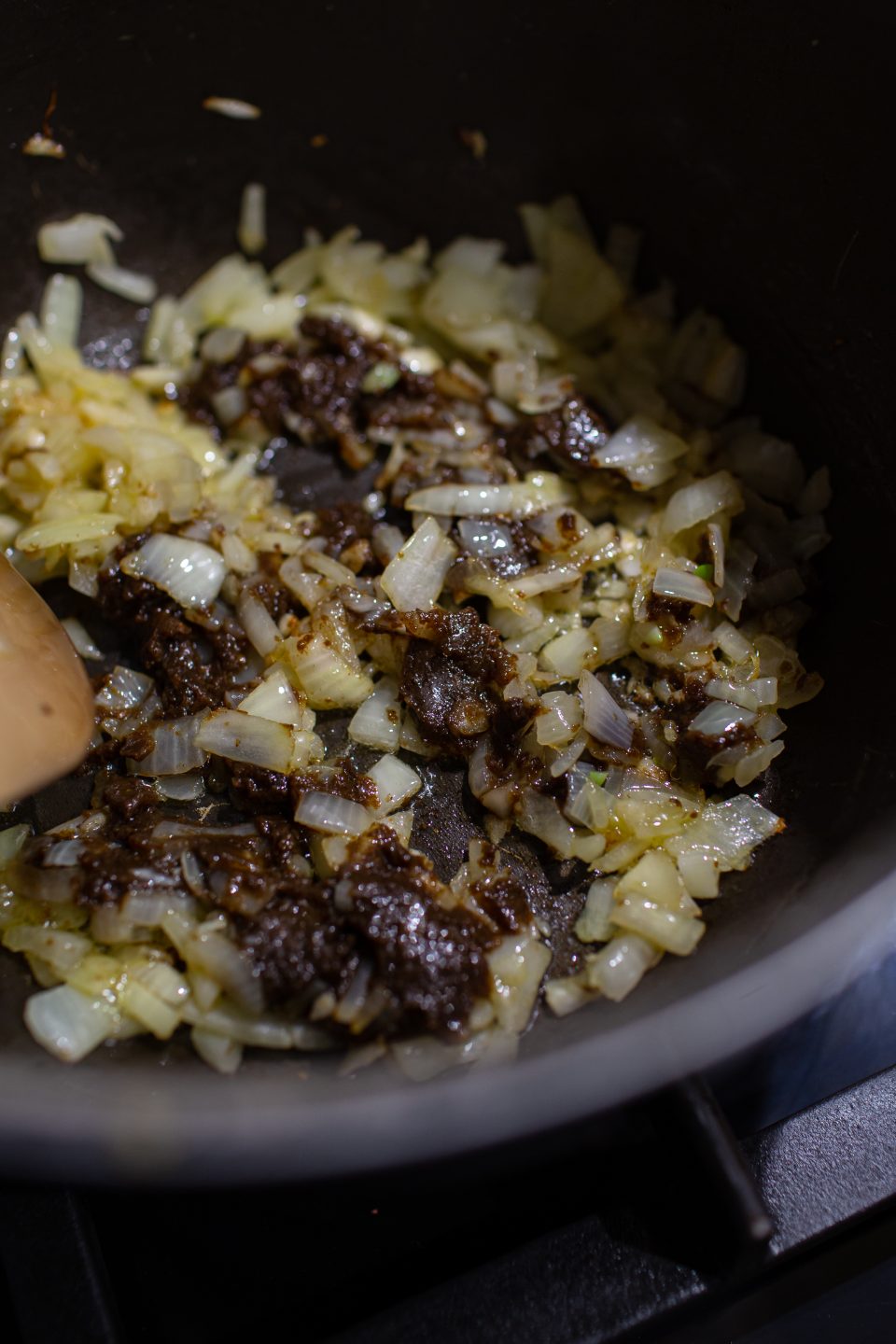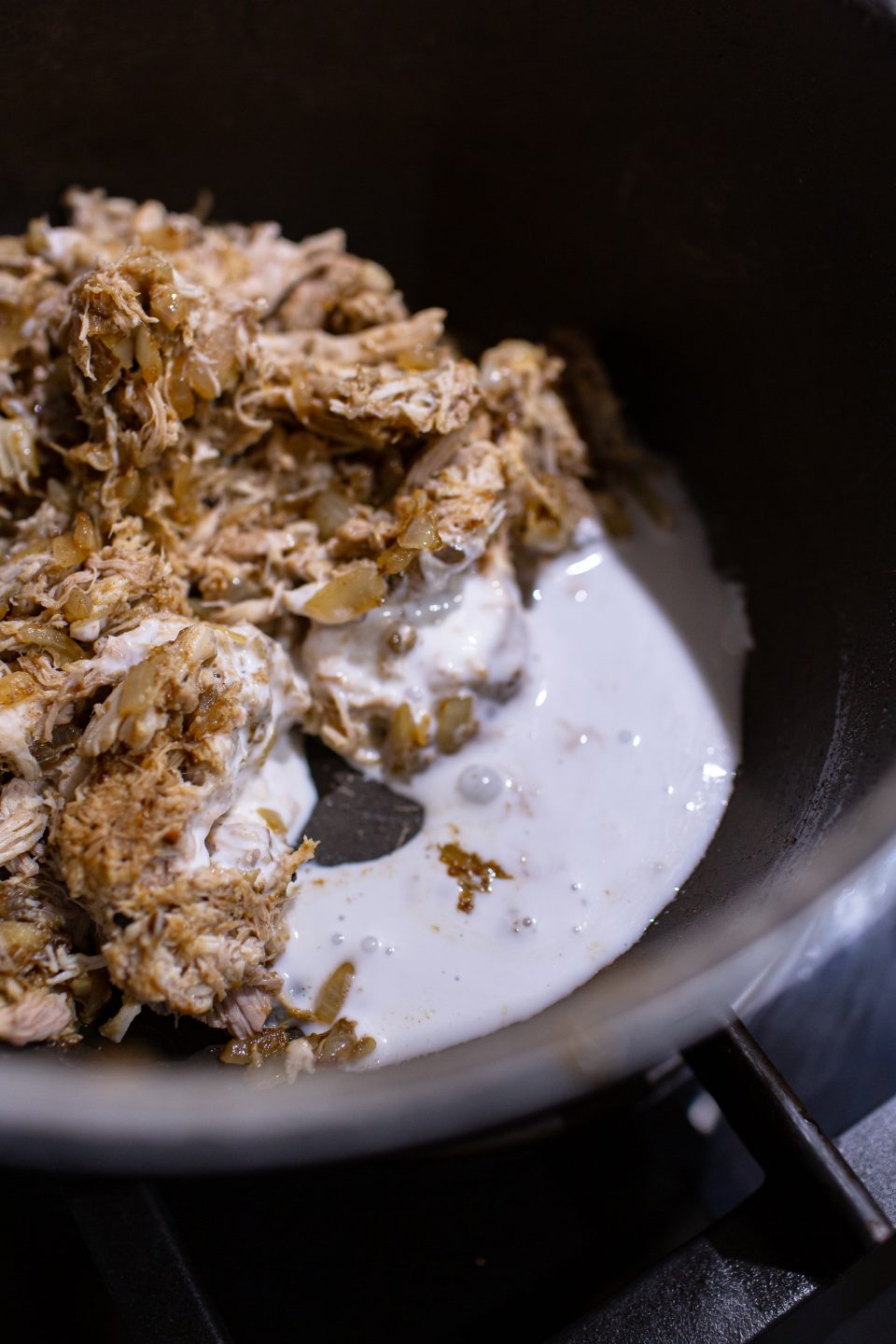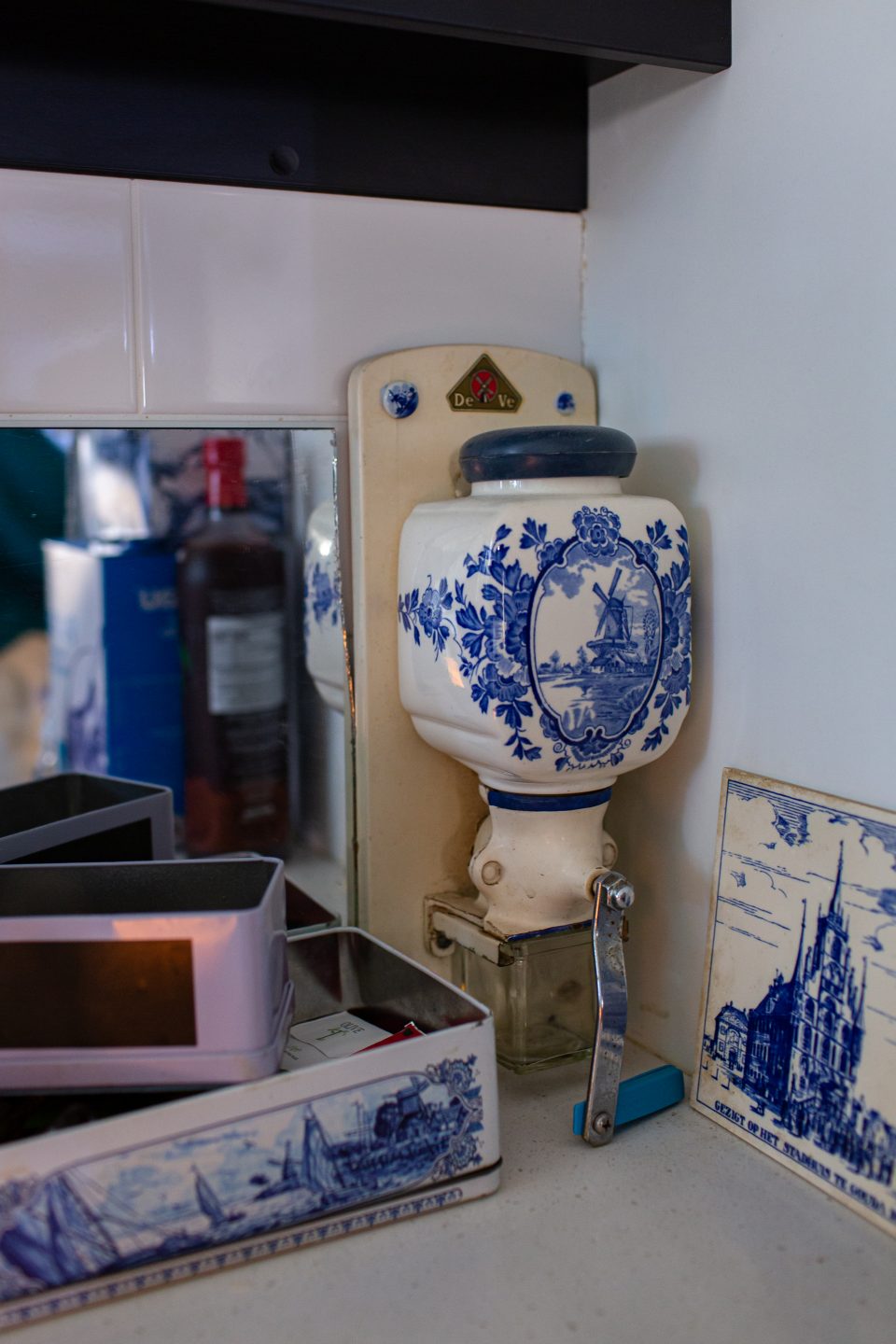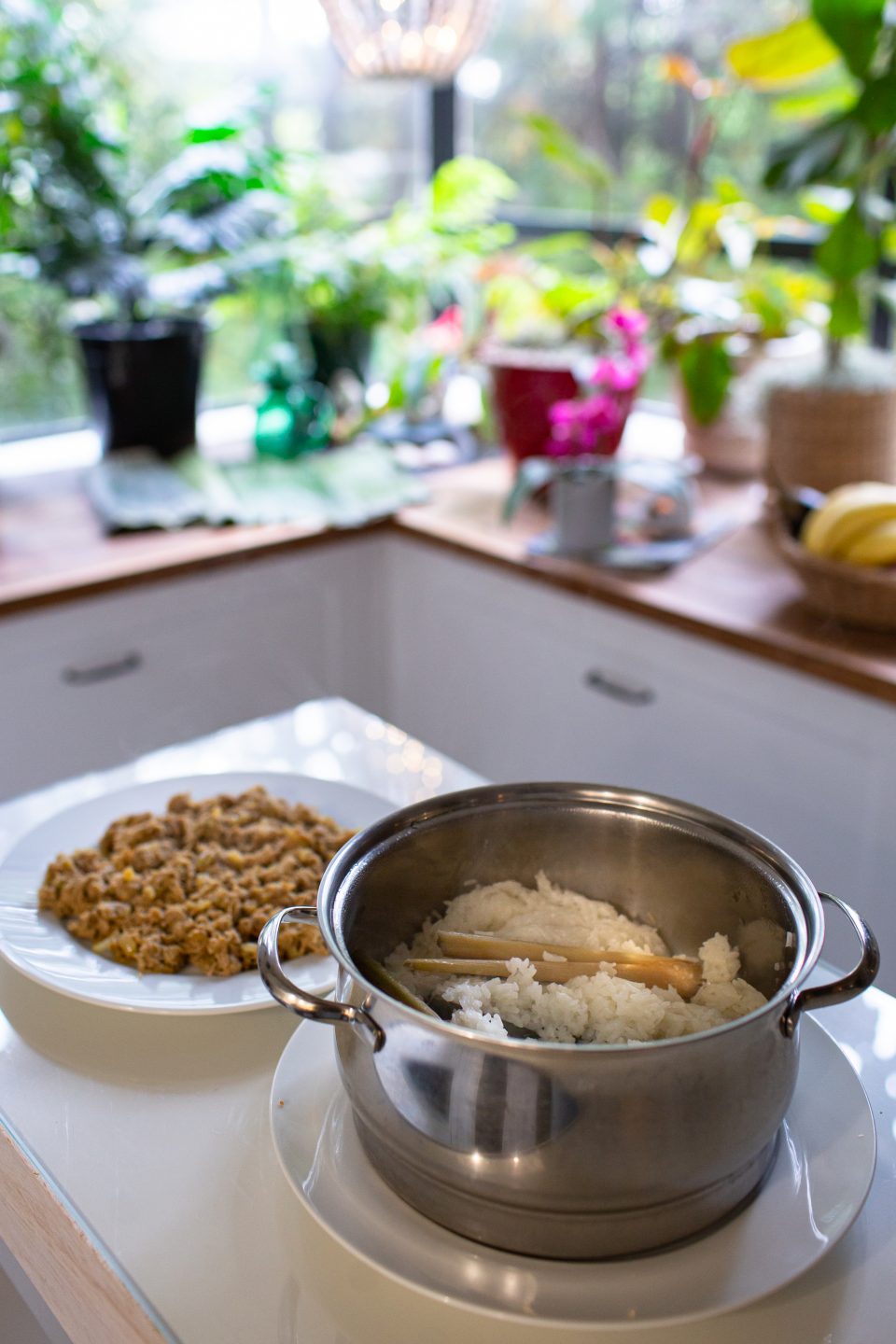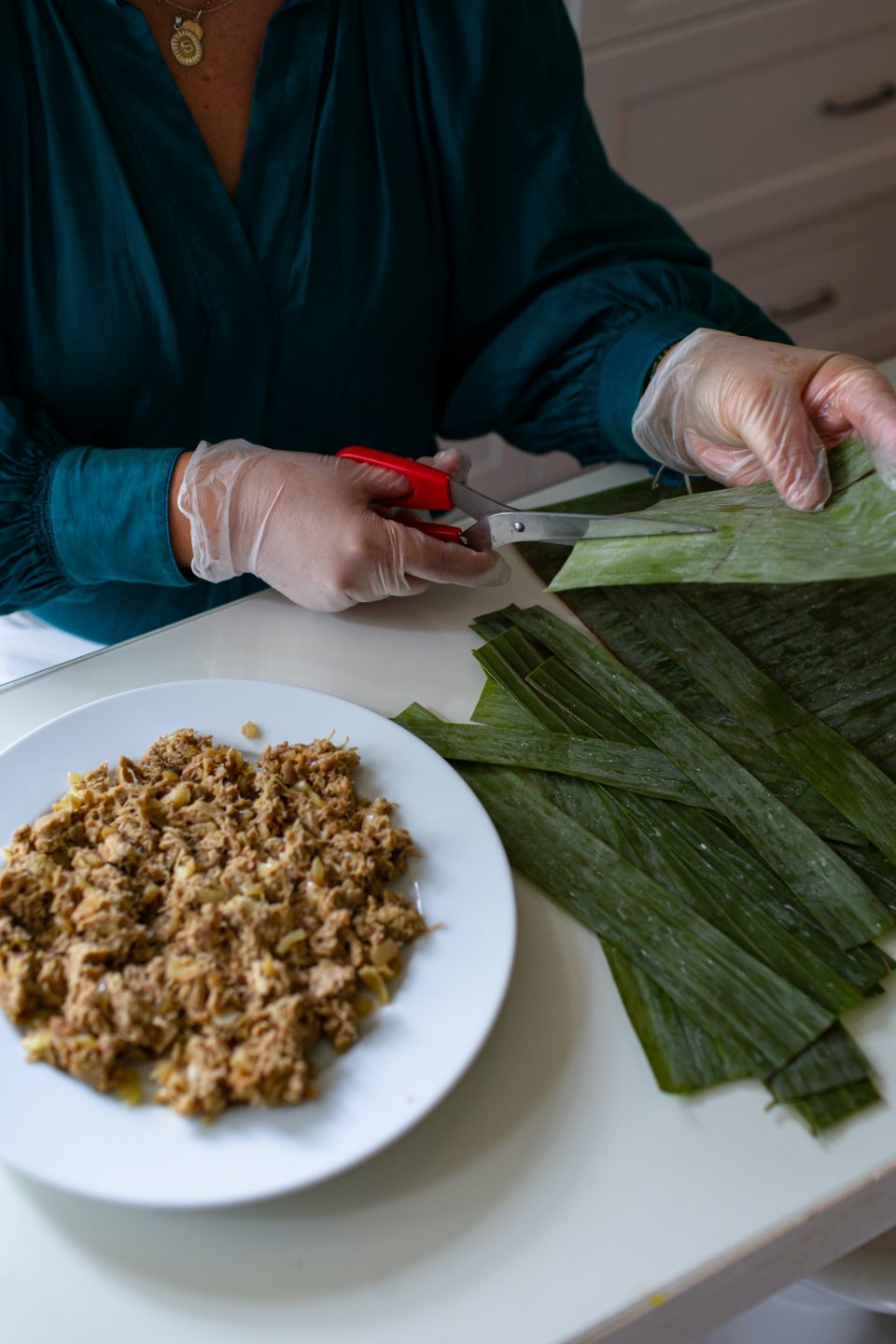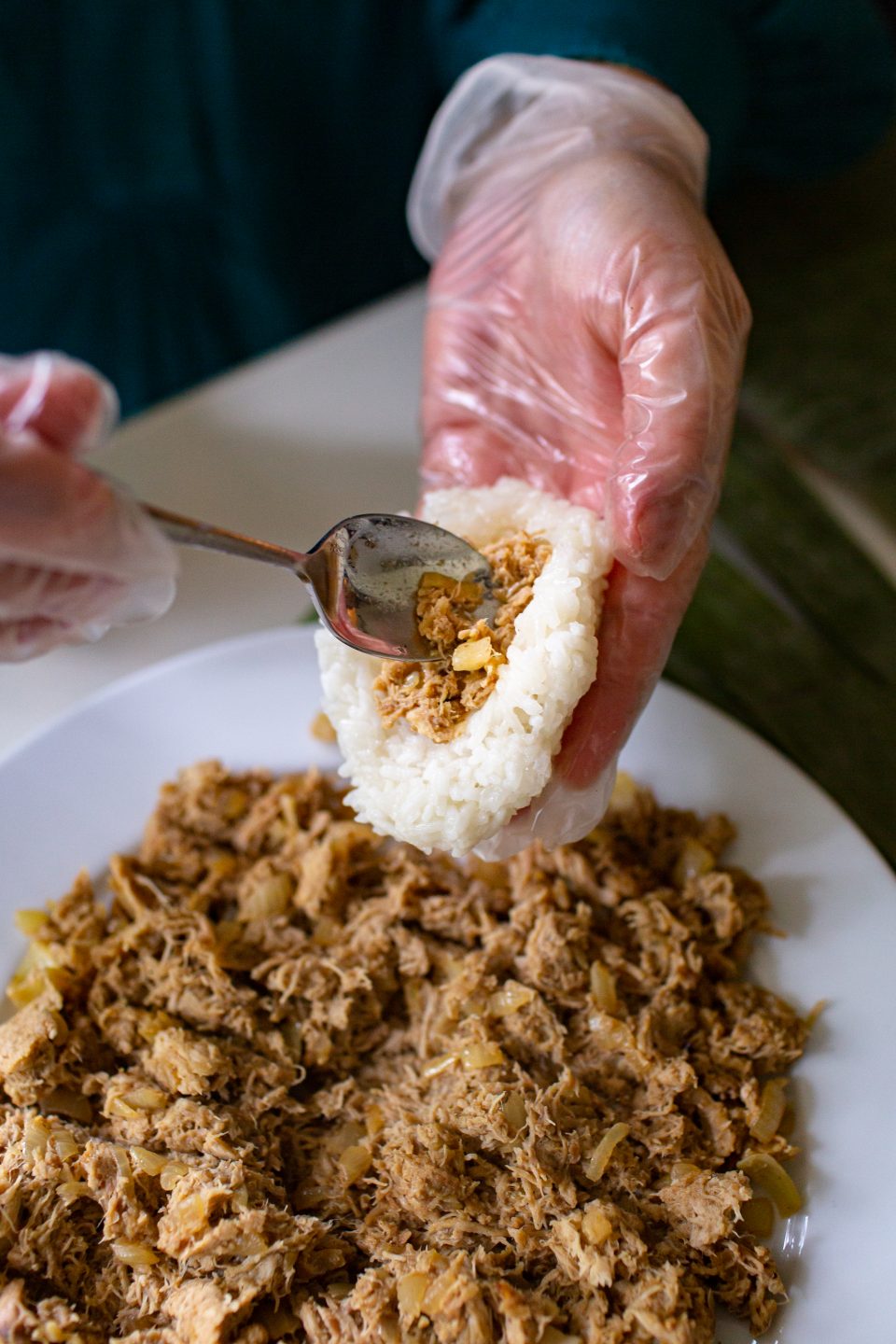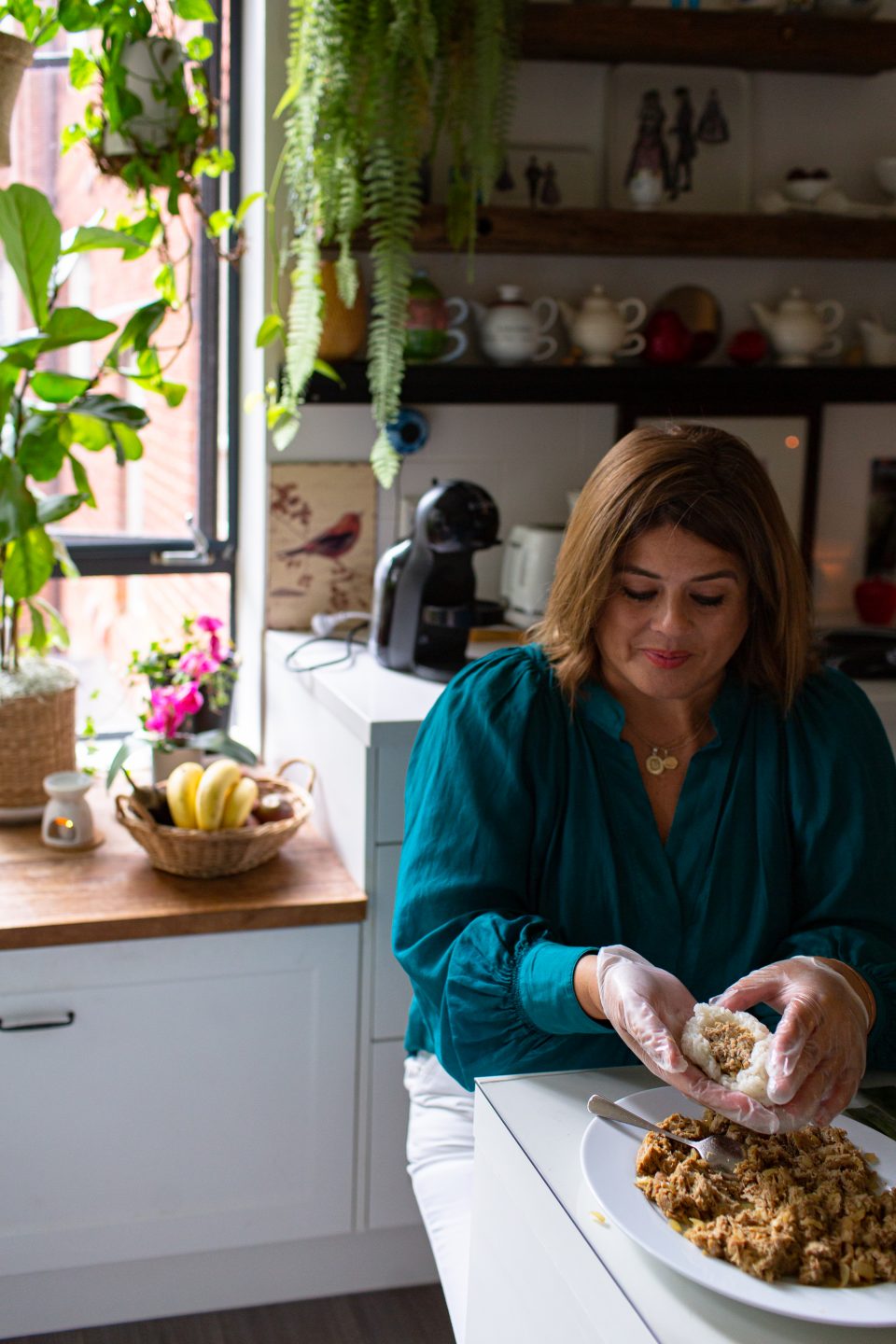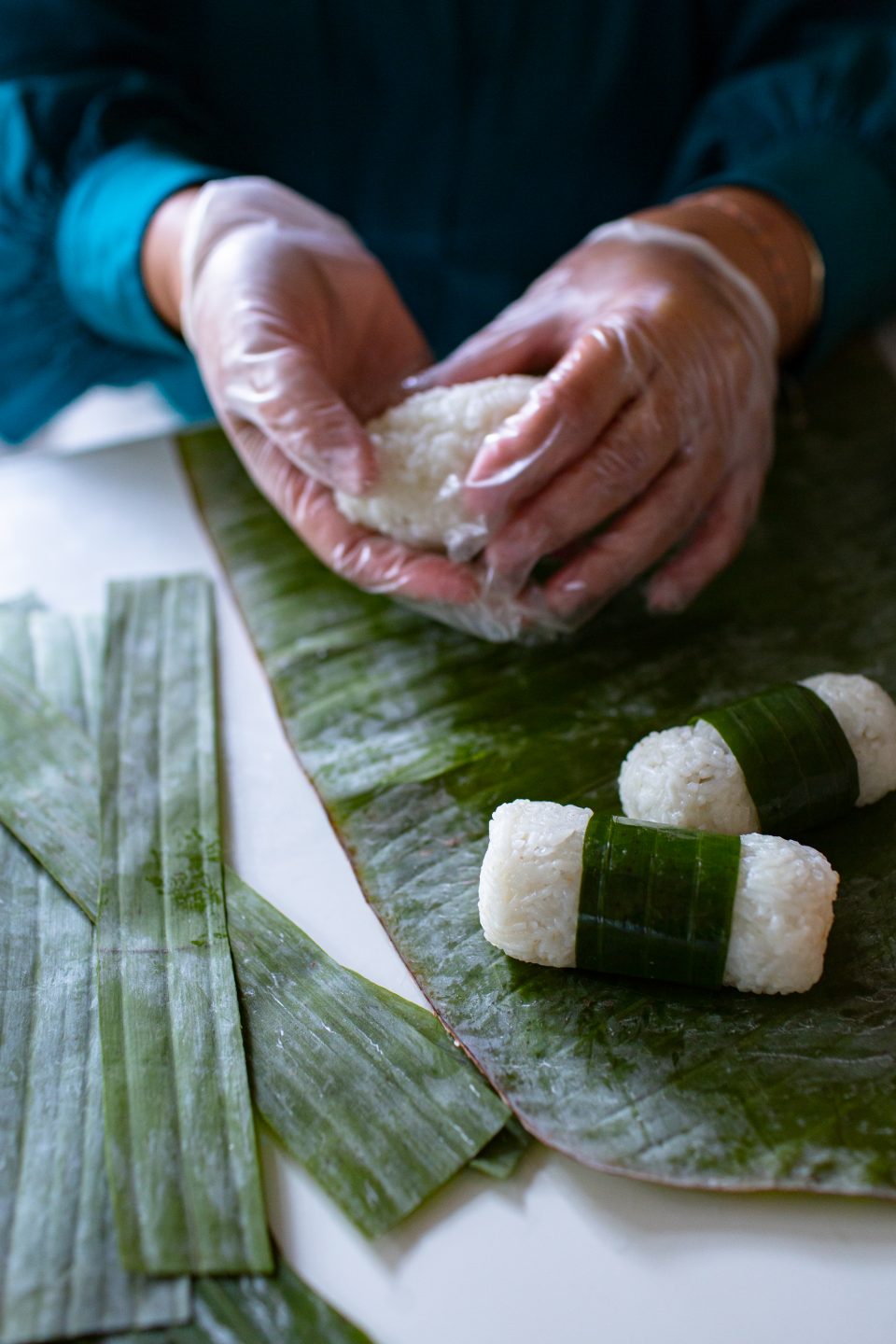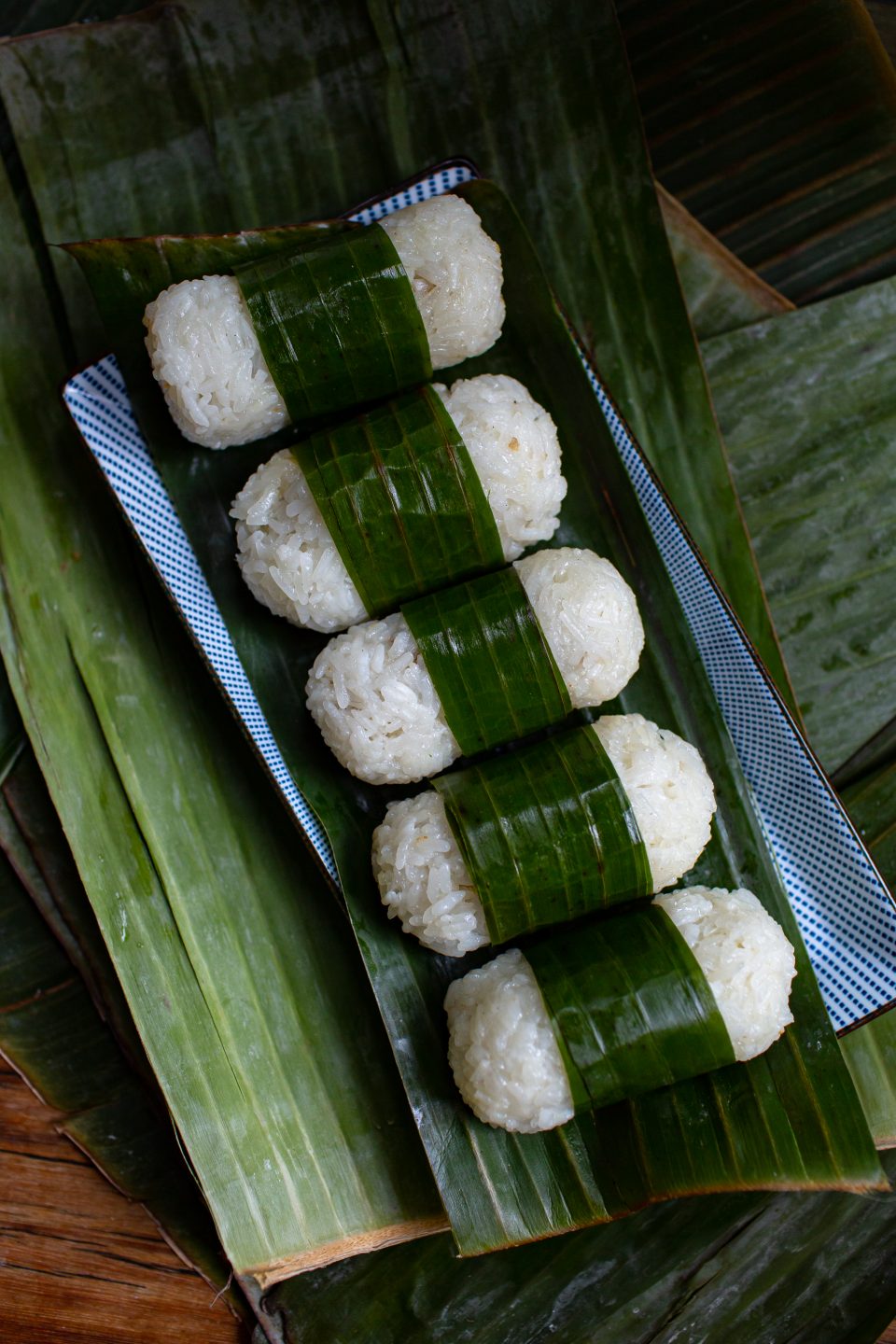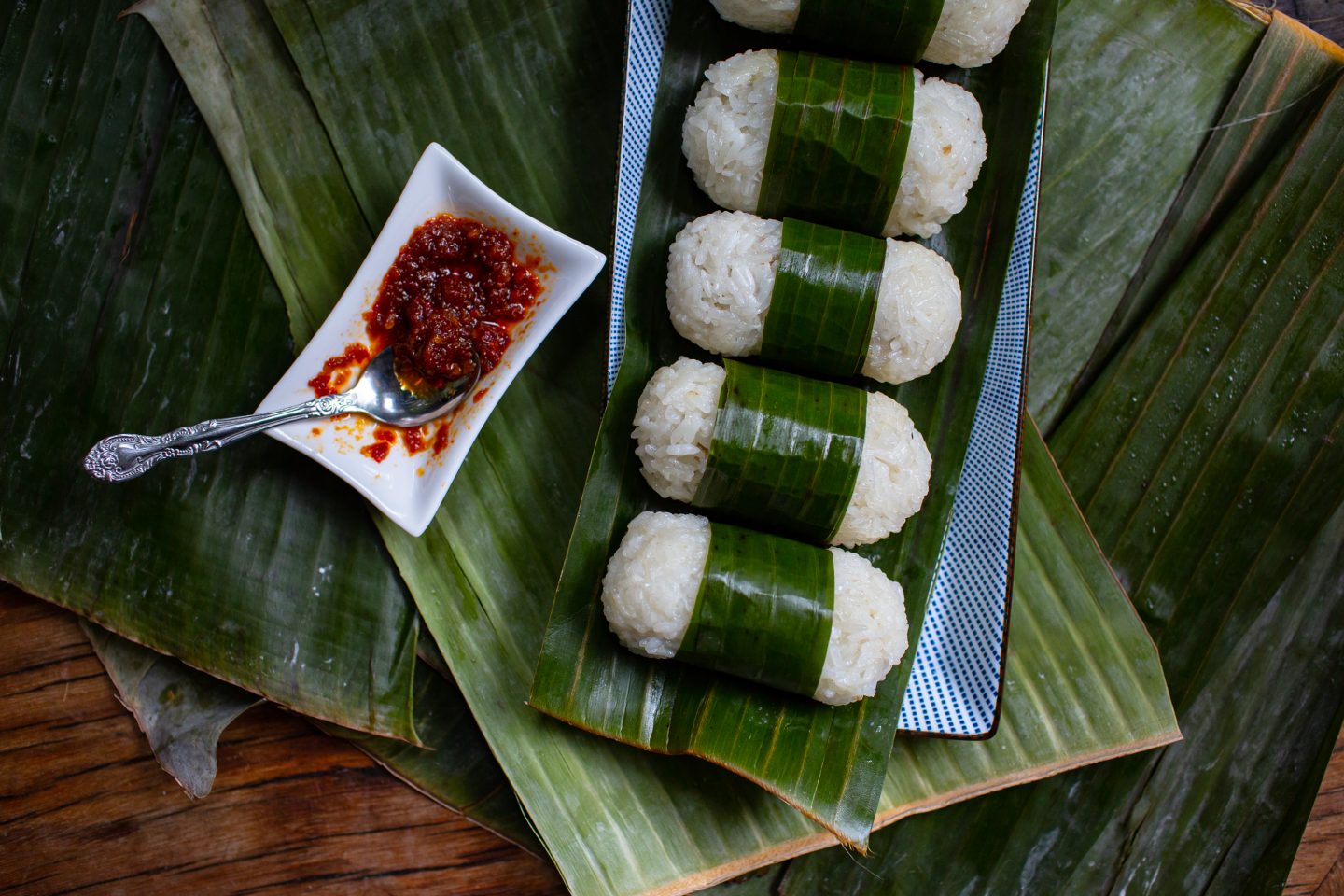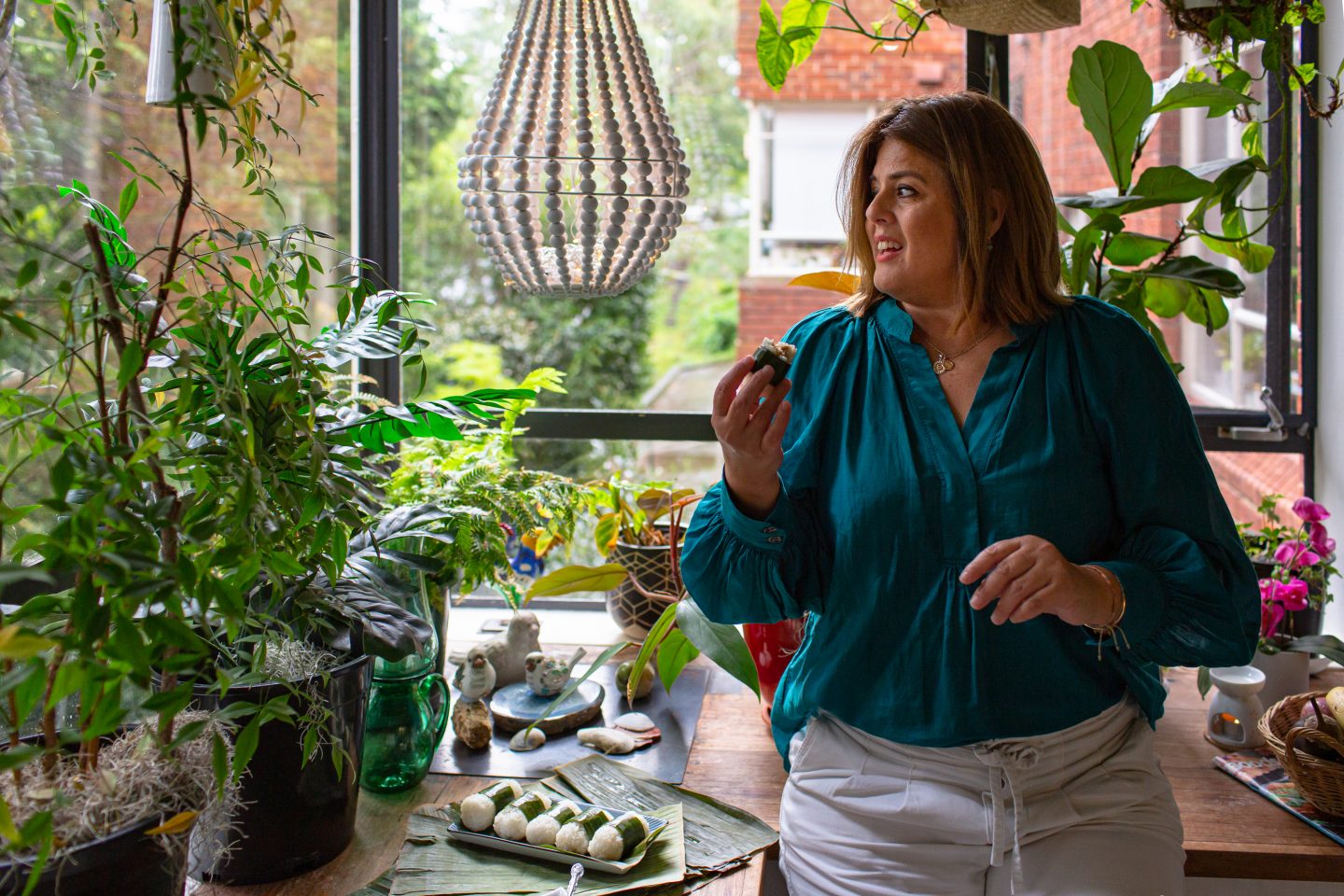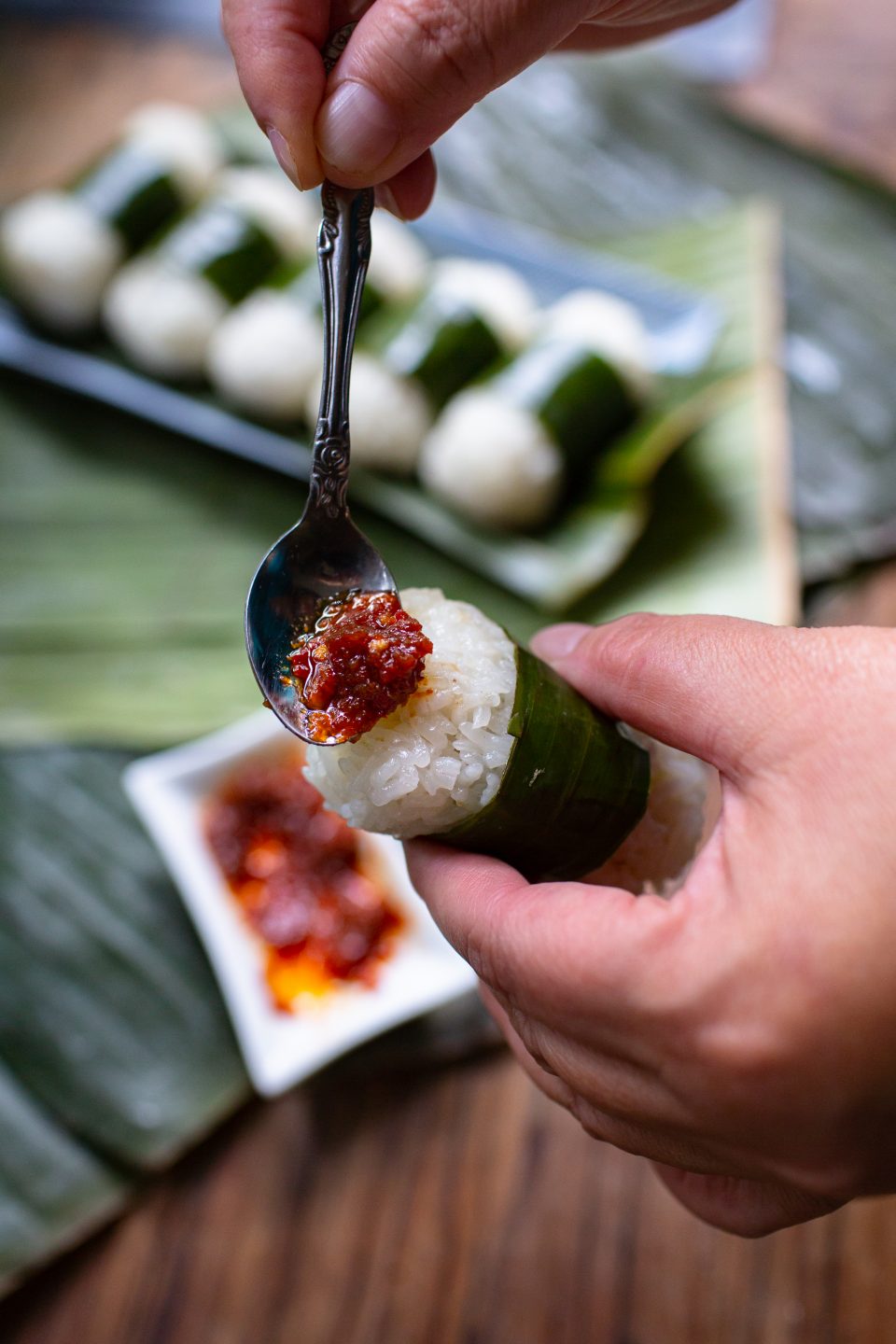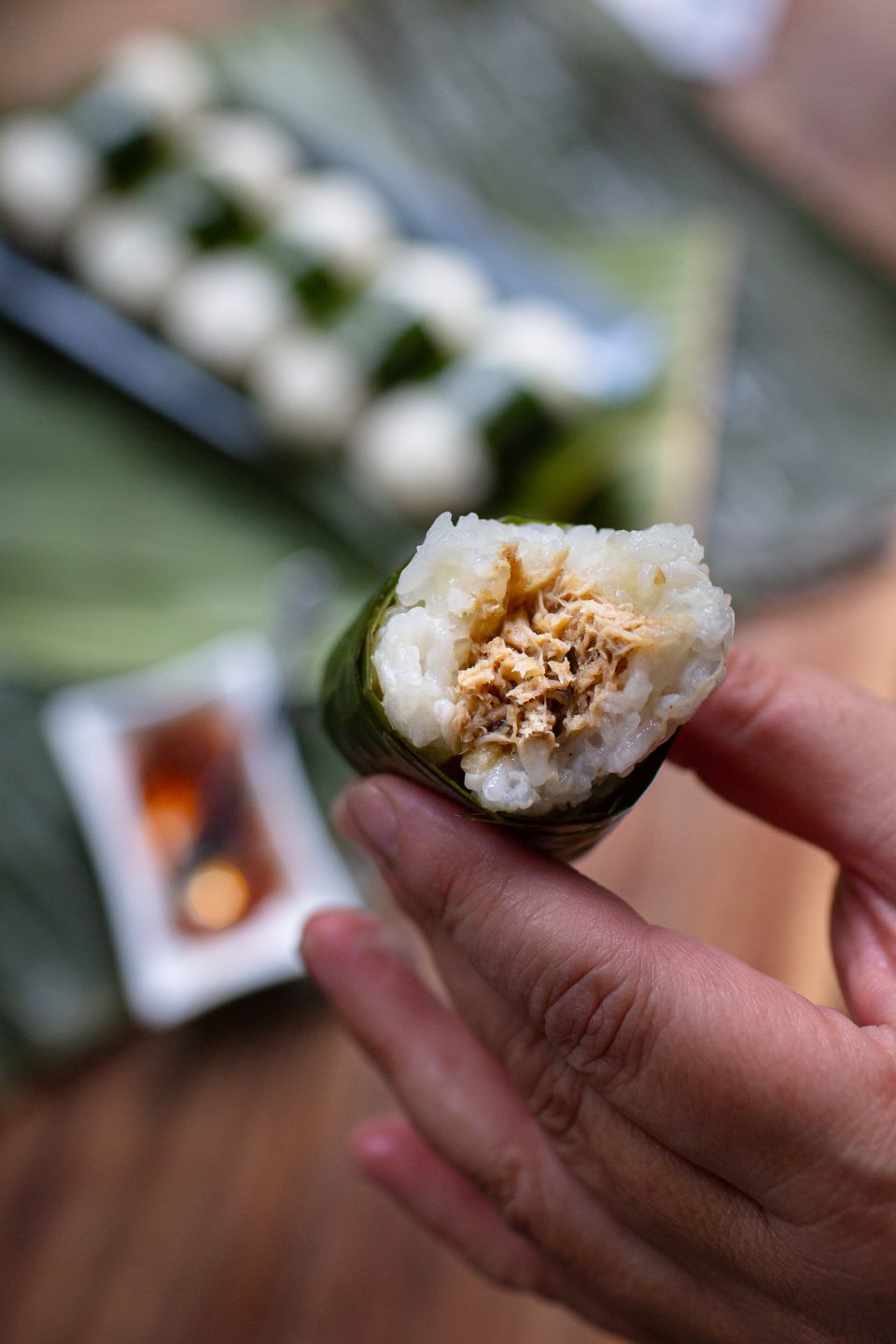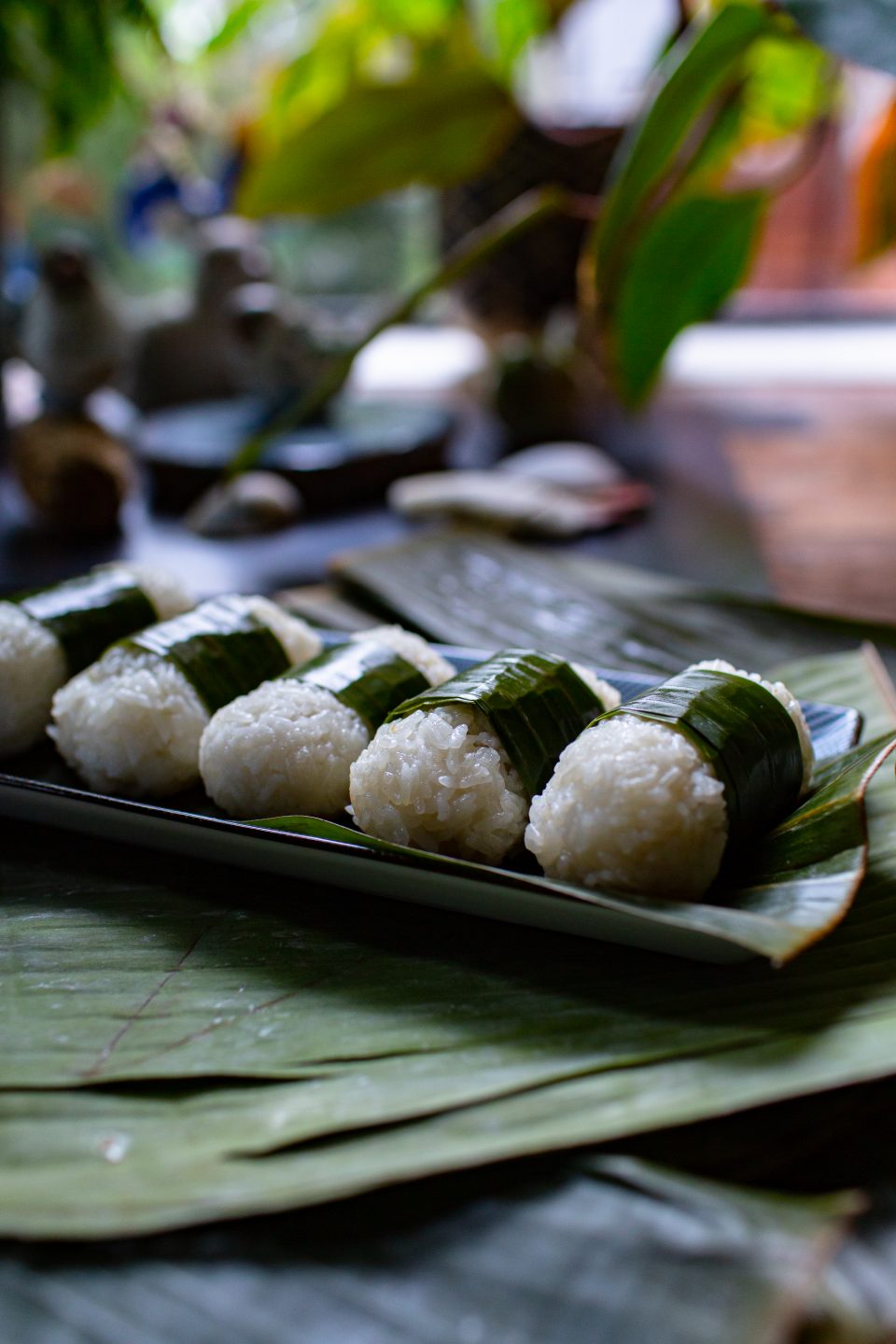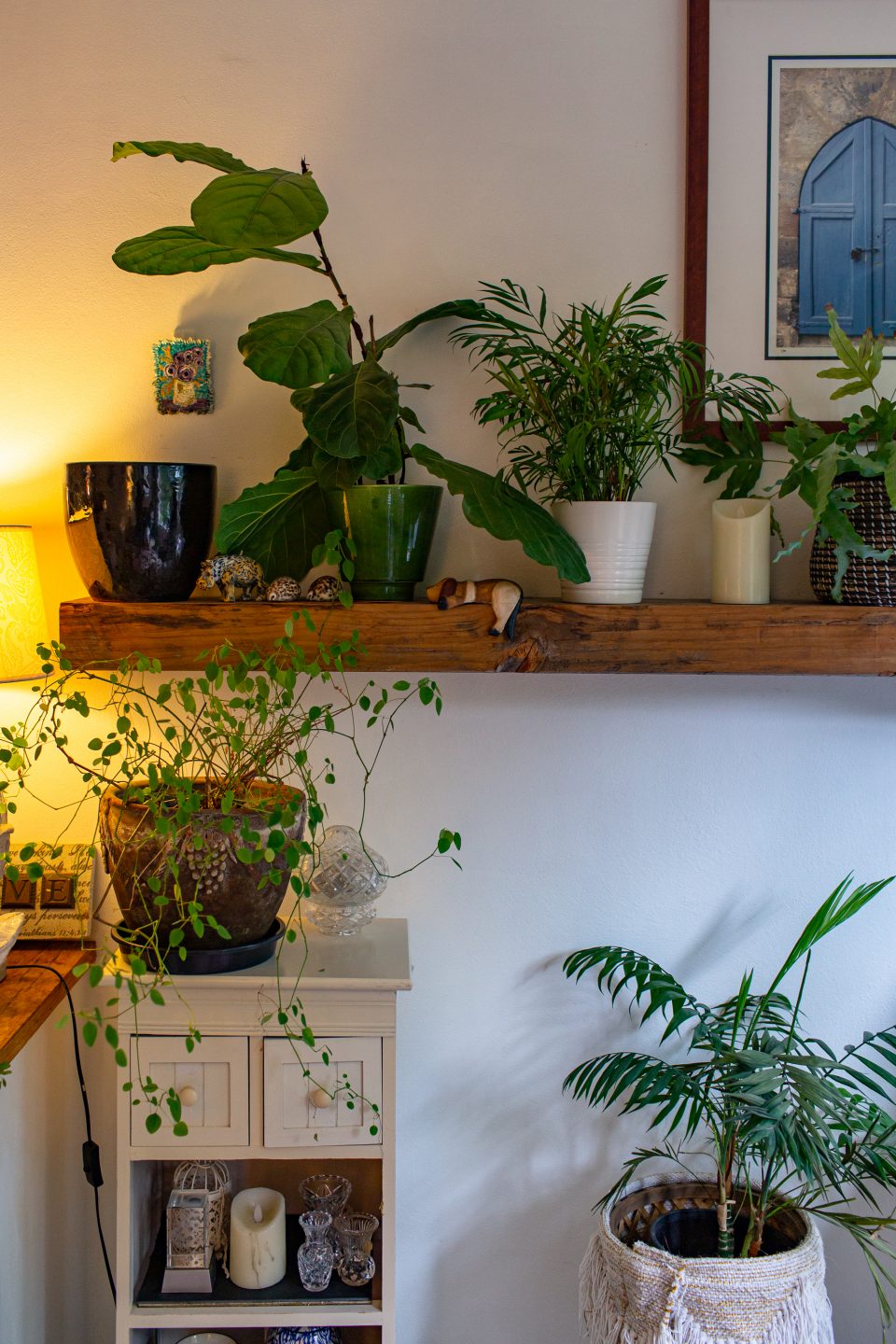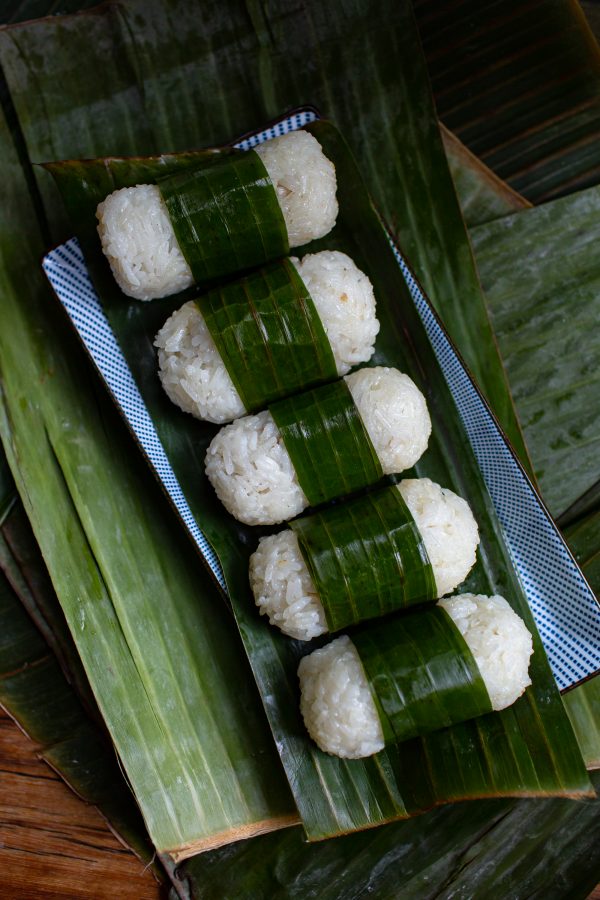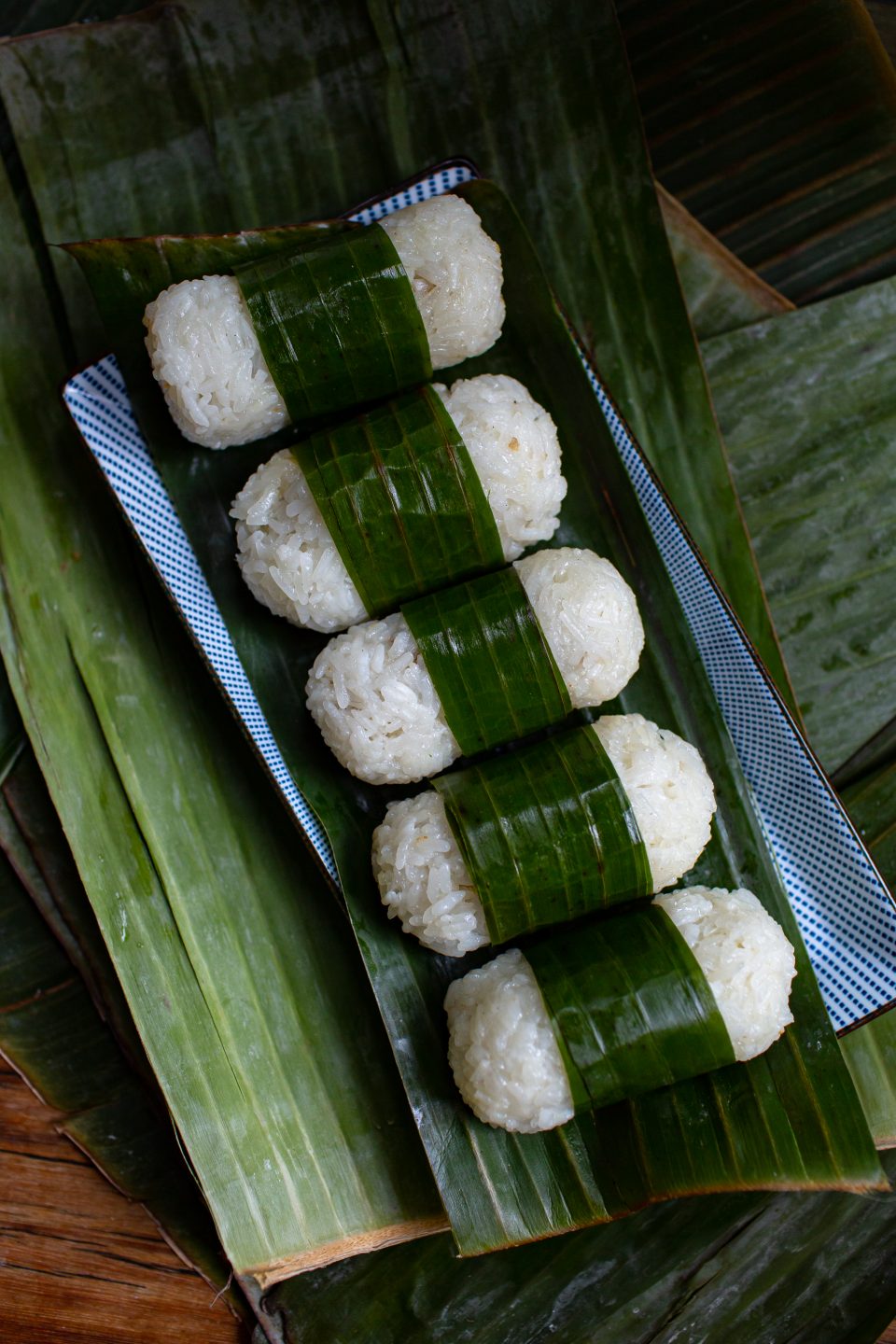 Lemper Ayam (Coconut Sticky Rice Parcel with Spiced Chicken)
Prep time: | Cook time: | Serves 4-6
Coconut Sticky Rice
500 gr white glutinous rice (soaked for at least 4 hours)
300 ml coconut cream
200ml water
3 lemongrass sticks
4 pandan leaves – knotted
2 tsp chicken stock powder
Chicken Filling
500 gr chicken breast
100 ml coconut cream
2 tsp ground coriander
2 tsp ground galangal
2 tsp ground cumin
1 tbs tamarind paste
1/2 onion finely diced
2 tsp white ground pepper
2 tsp salt
2 tsp sugar
Wrapper strip.
1 big sheet of banana leaf
Coconut Sticky Rice. In a medium size pot add coconut cream, water, lemongrass sticks and knotted pandan leaves. Bring it to a boil over medium heat then add in the soaked glutinous rice and chicken stock powder.
Turn the heat to the lowest setting. Stirring continuously to avoid rice sticking to the bottom of pot, cook the glutinous rice until most of the liquid is absorbed. This might take about 20 minutes.
Move everything from the pot into a heatproof bowl and steam it over medium heat for about 40 minutes.
After it's done, turn off the heat and leave the steamed sticky rice in the steamer to cool down just slightly. You want the sticky rice to be still warm when shaping it.
Chicken Filling.
Poach the chicken breast in water or you can use leftover roast chicken. Once cooked, pull the chicken into thin strips like a floss or finely mince it.
On a frying pan, lightly fry the finely chopped onion with some cooking oil on medium heat until it caramelises.
Mix in the tamarind paste, all of the ground spices, salt, sugar and pepper. Keep frying until fragrant.
Mix in the prepared chicken breast floss and the remaining coconut cream. Keep stirring until every ingredient is mixed well together then set aside to cool down.
Assembling the Lemper Ayam. Wash the banana leaf thoroughly, pat dry with tea towel then cut into strips (3 cm wide x 10 cm long). To shape the sticky rice, you may wear a pair of food grade gloves to avoid sticking. Take about 1-2 table spoon worth of steamed sticky rice and shape it into a 1cm thick round dish on the palm of your hand and fill the centre with the chicken floss mixture. Close up the remaining sticky rice around the edges to form an oval. Keep shaping the oval using palm of your hands to achieve desired shape. If your hands get too sticky, coat with some water in between moulding. Wrap the sticky rice balls with the banana leave strip to hold it together.
Serve on its own or with some spicy Indonesian sambal and kecap manis.