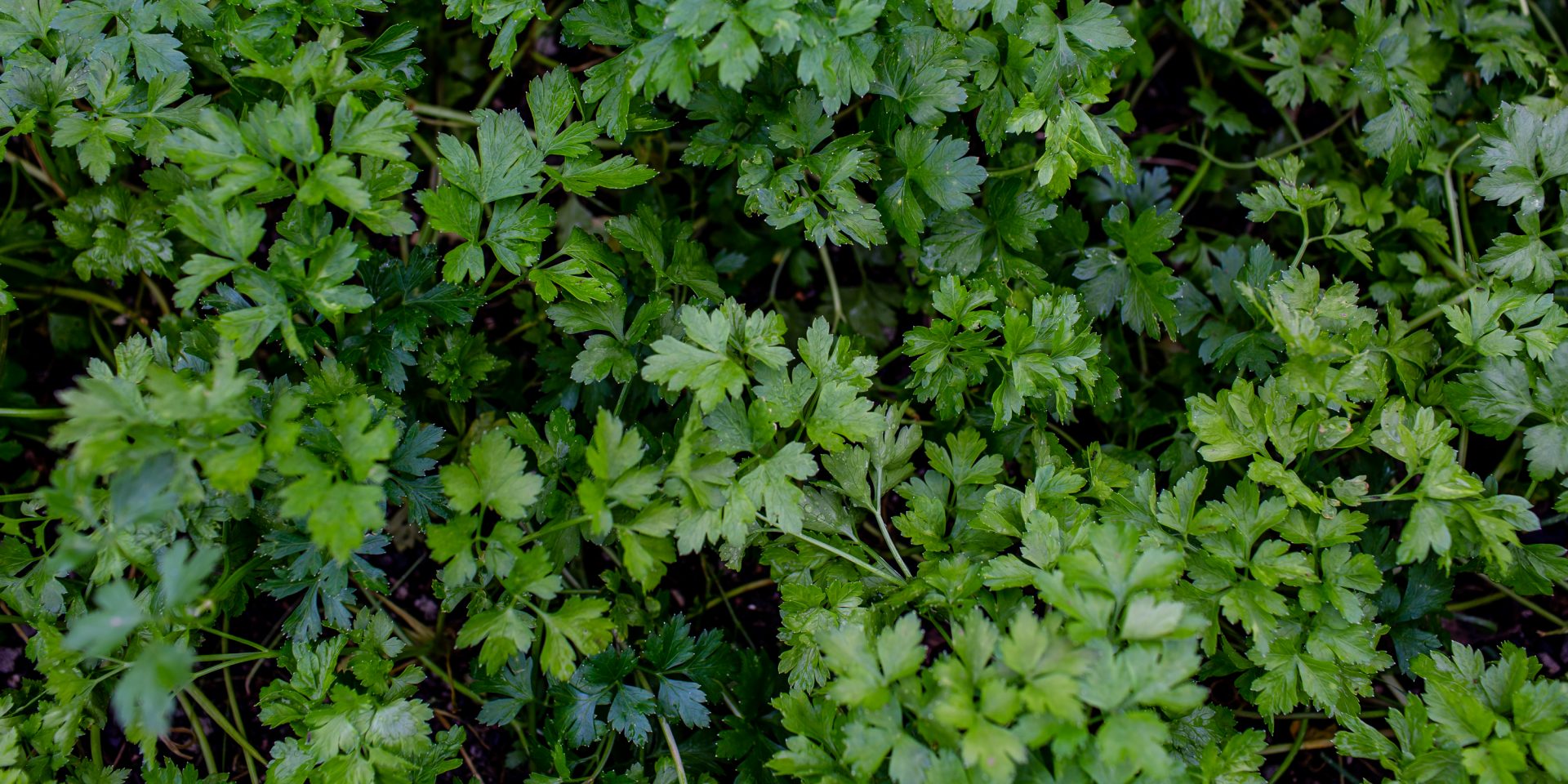 Uncle Mohamed's and Aunty Malake's garden is my kind of candy store. Please let me indulge you in the beauty of their fresh produce. There was so much to photograph and try. As Uncle and Aunty walked me through what's currently growing, the chickens were happily clucking away. I was especially taken by the Wyandotte chooks. Just gorgeous!
They have been living off their land for almost two decades now. Moving away from the city gives them plenty of space to grow what they love to eat, be in tune with the seasons and manage quality control of the produce. "I am a pescatarian and I love my vegetables. I grow my own food for its freshness and quality", says Uncle Mohamed. It was summer and the garden was filled with many authentic vegetables such as the Arab Mallow to make the nourishing Lebanese Molokhia stew, the Barbarella eggplant to make the creamiest Baba Ganoush, white zucchini for Kousa, okra for Bamia b'zeit, flat parsley for everyday needs of Tabbouleh, olives, Lima beans, varieties of capsicum and deep red plumps oxheart tomatoes. The list goes on. With a garden that size, there's always surplus of produce. But not to worry, nothing go to waste! After giving them out to family and friends, they snap freeze the remainder. Brilliant!
Feeling so enamoured by the garden I almost missed the part where Aunty Malake mixed in the onion and spices paste into her soaked burghul to make Kibbeh for our lunch! Kibbeh is this delicious oval shaped ball that's made of hand-pounded soaked burghul, meat and spices. "It is quite a laborious dish to make but easy to eat". If you've never made one before it's a great way to practise as you'll see each one gets better and better, it's very satisfying! That afternoon we sat down with Aunty Malake along with her daughter Maha, catching up with each other's life over shaping delicious kibbeh balls. Aunty's recipe that's been passed down to her by her Mum has no pine nuts in it but has the additional spices which are marjoram and mint. "I am glad I can grow this type of Marjoram in my garden because it reminds me of my home in South Lebanon and my Mother."
Another dish Aunty was cooking was the Bamia. She deep fried the okras to get rid of the sliminess and for them to retain their shapes while simmering with other ingredients. That day she decided to add in lamb chunks, which means poor Uncle Mohamed couldn't have some. Nonetheless, I was feeling very spoiled that day: beautiful lunch and company, a lesson in how to make Kibbeh and a box of fresh produce to take home!
Even if you don't have 5 acres of land to grow your own vegetables, you can start small. Tasting beautiful produce as they grow in their season is truly a nature's gift to us.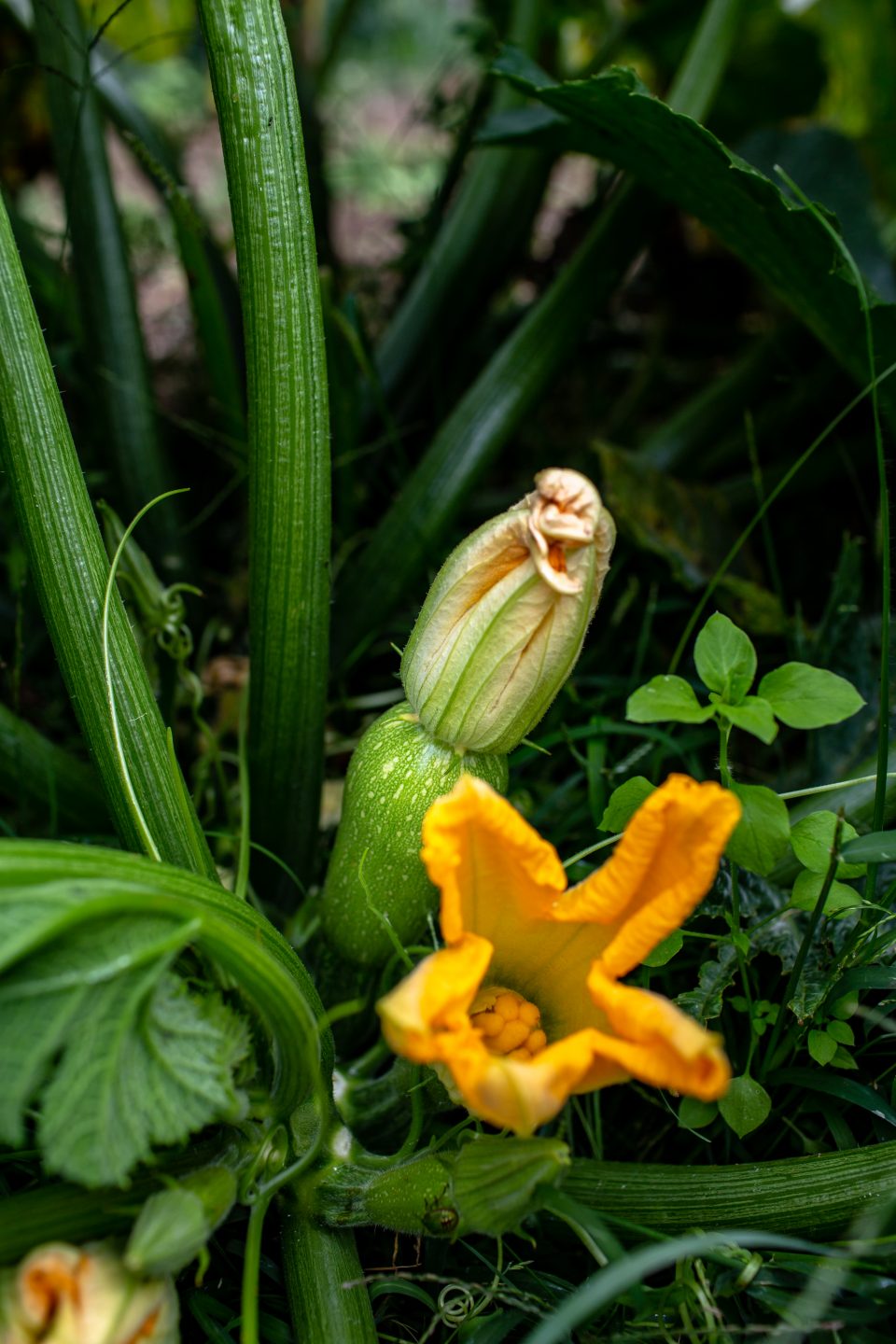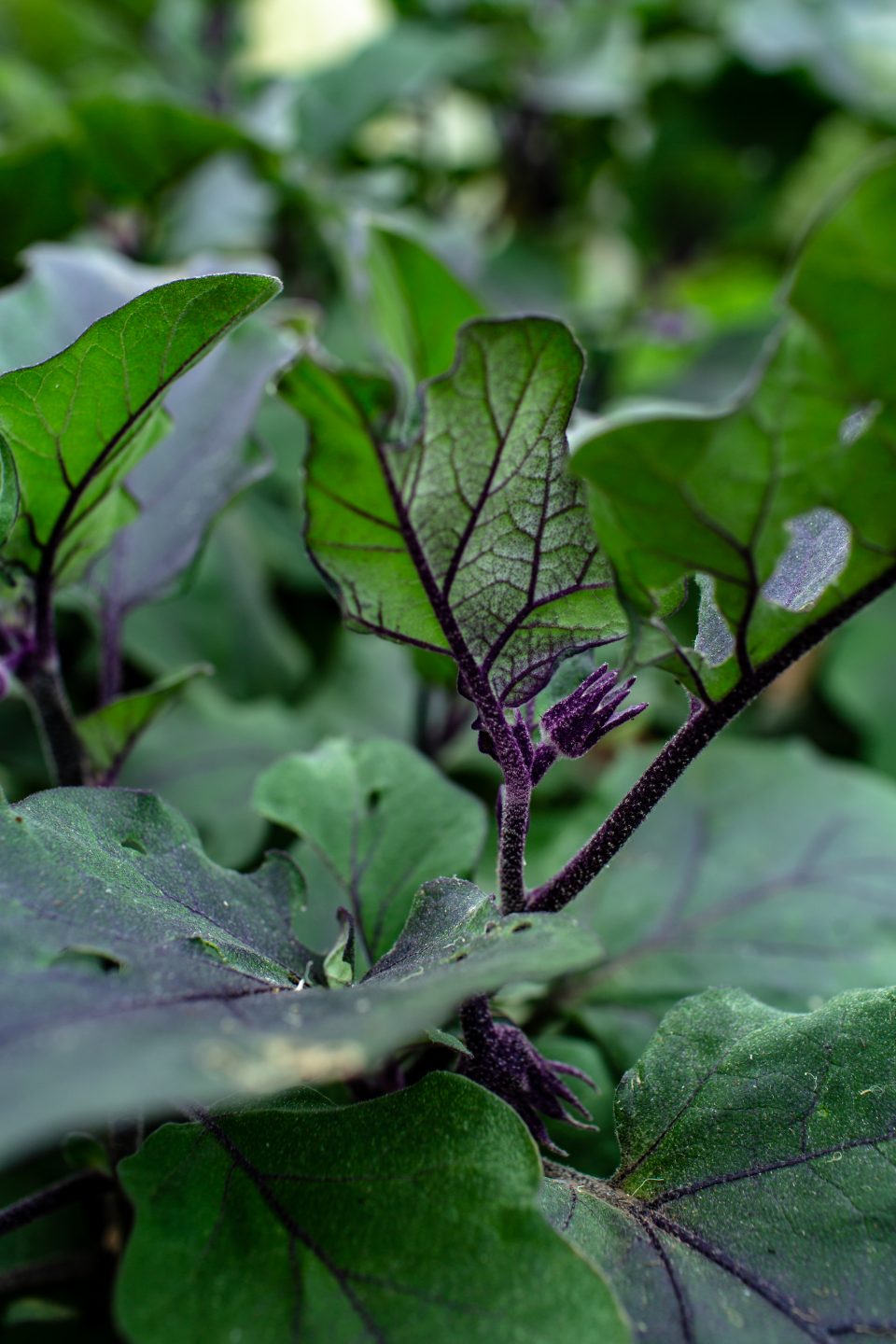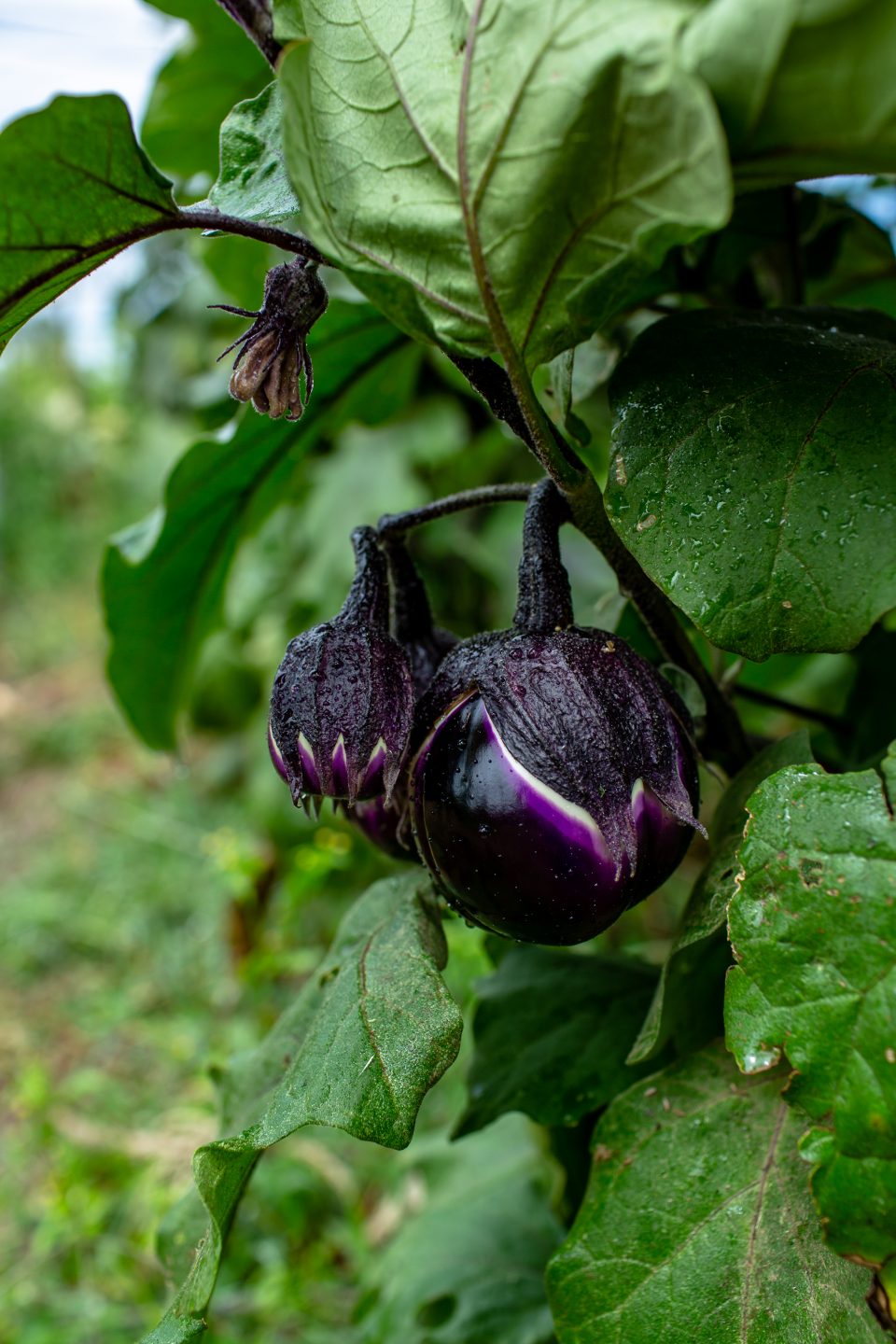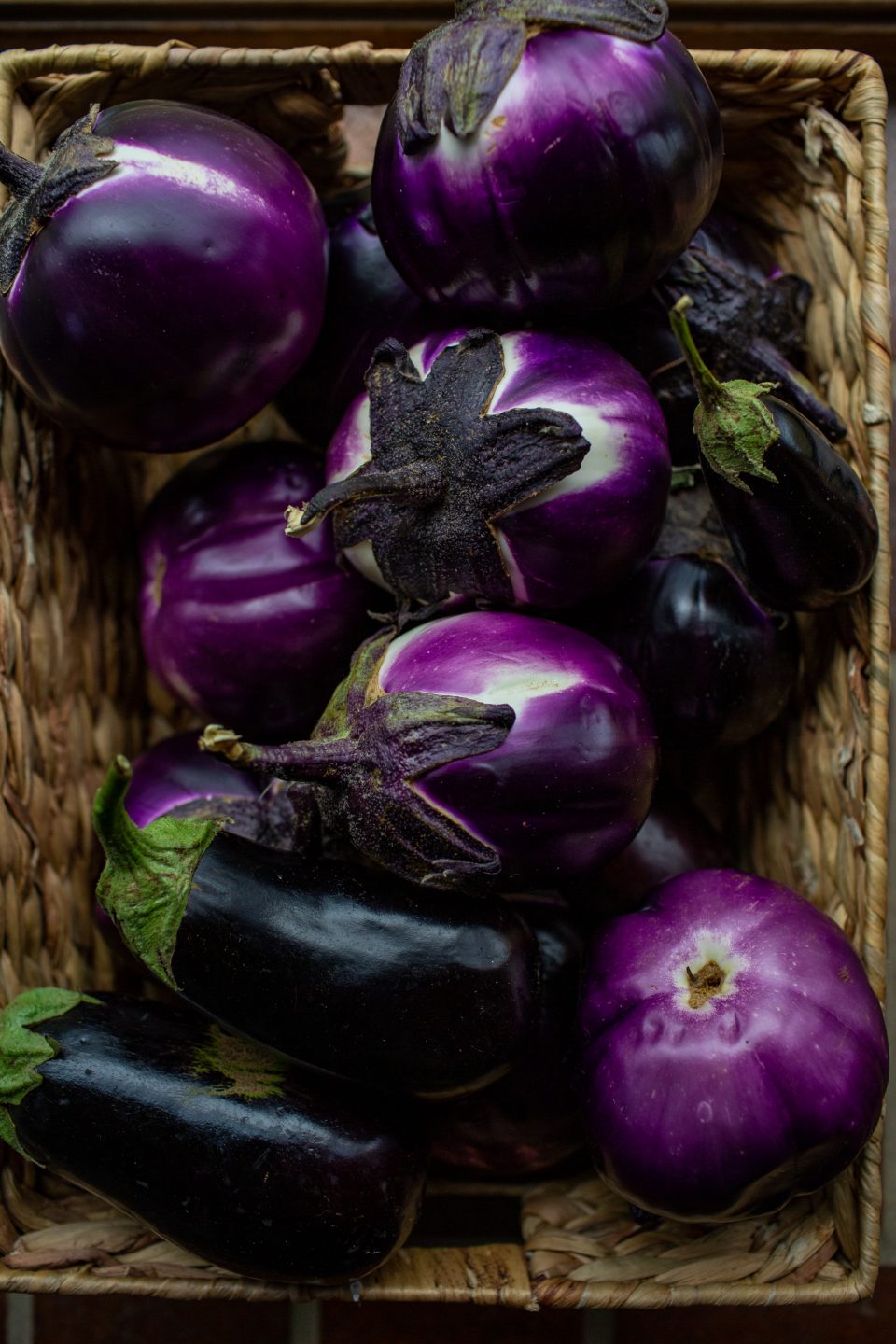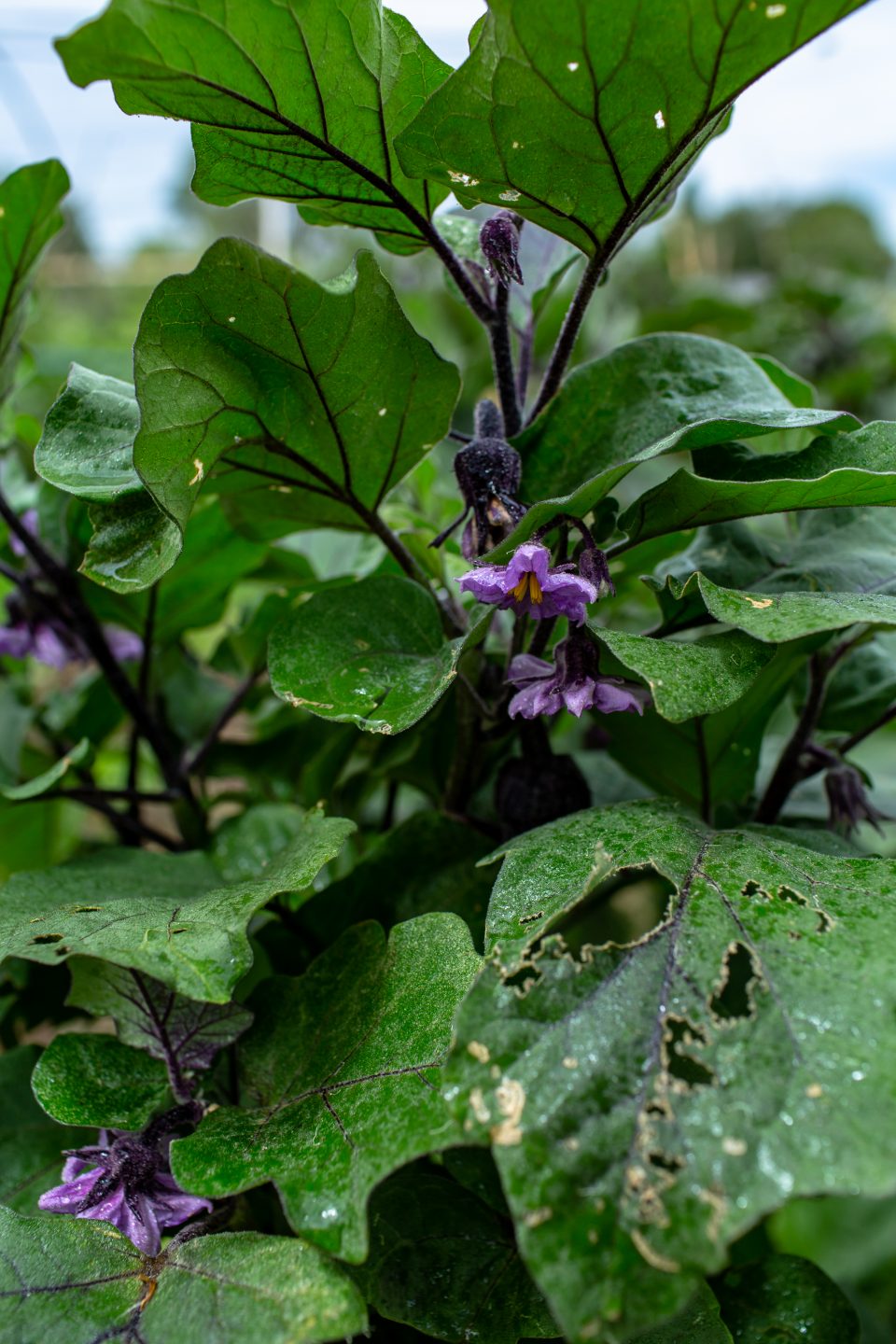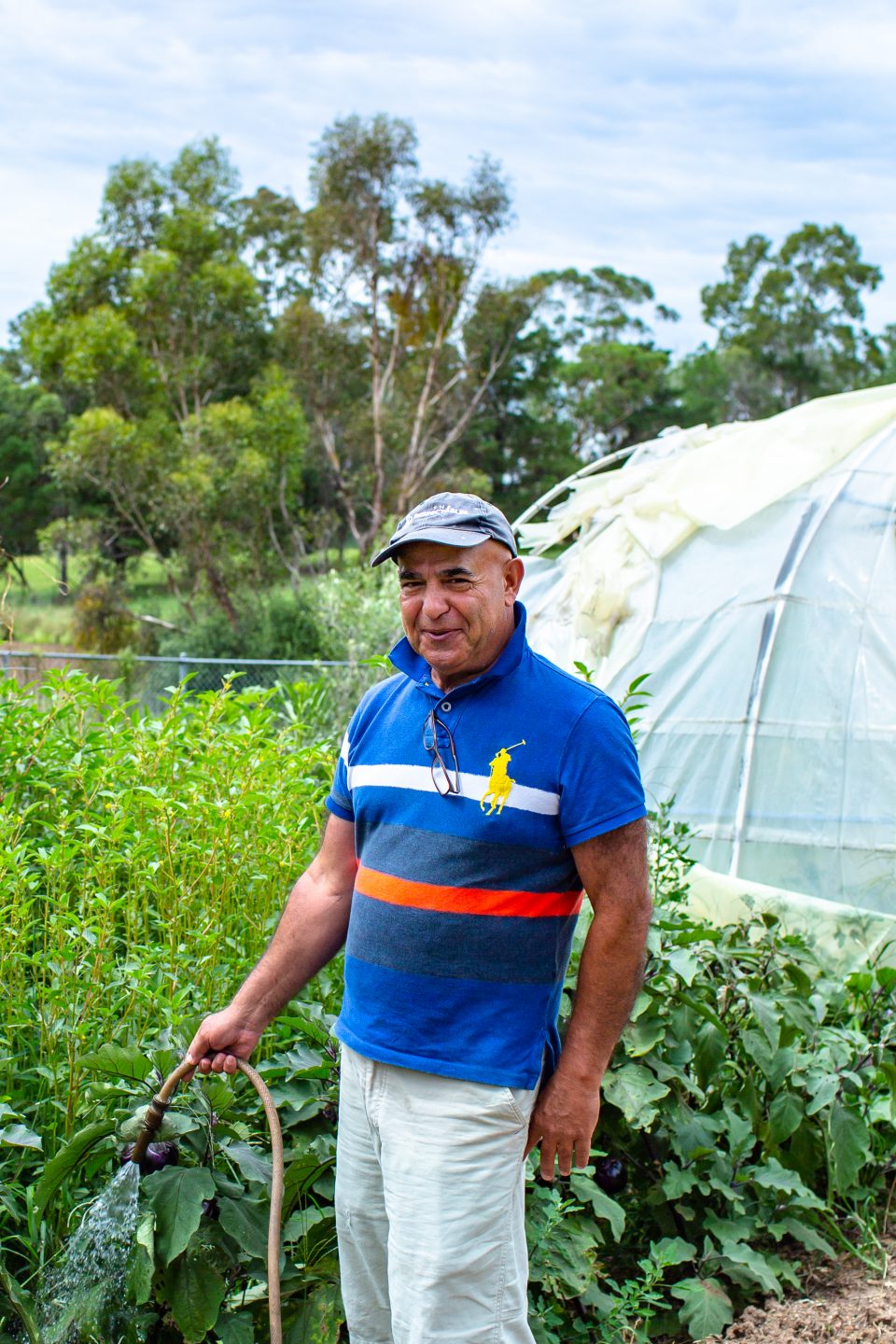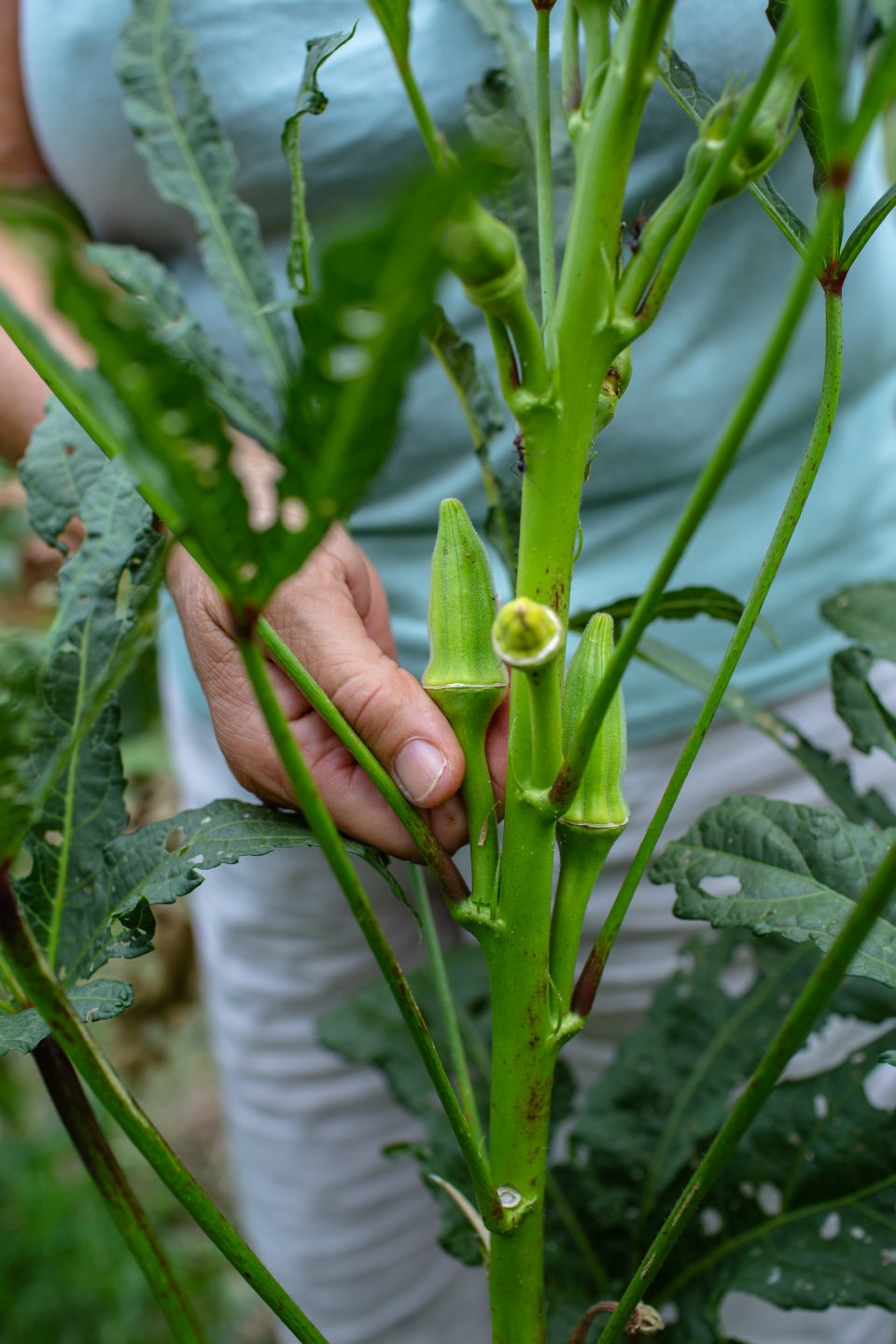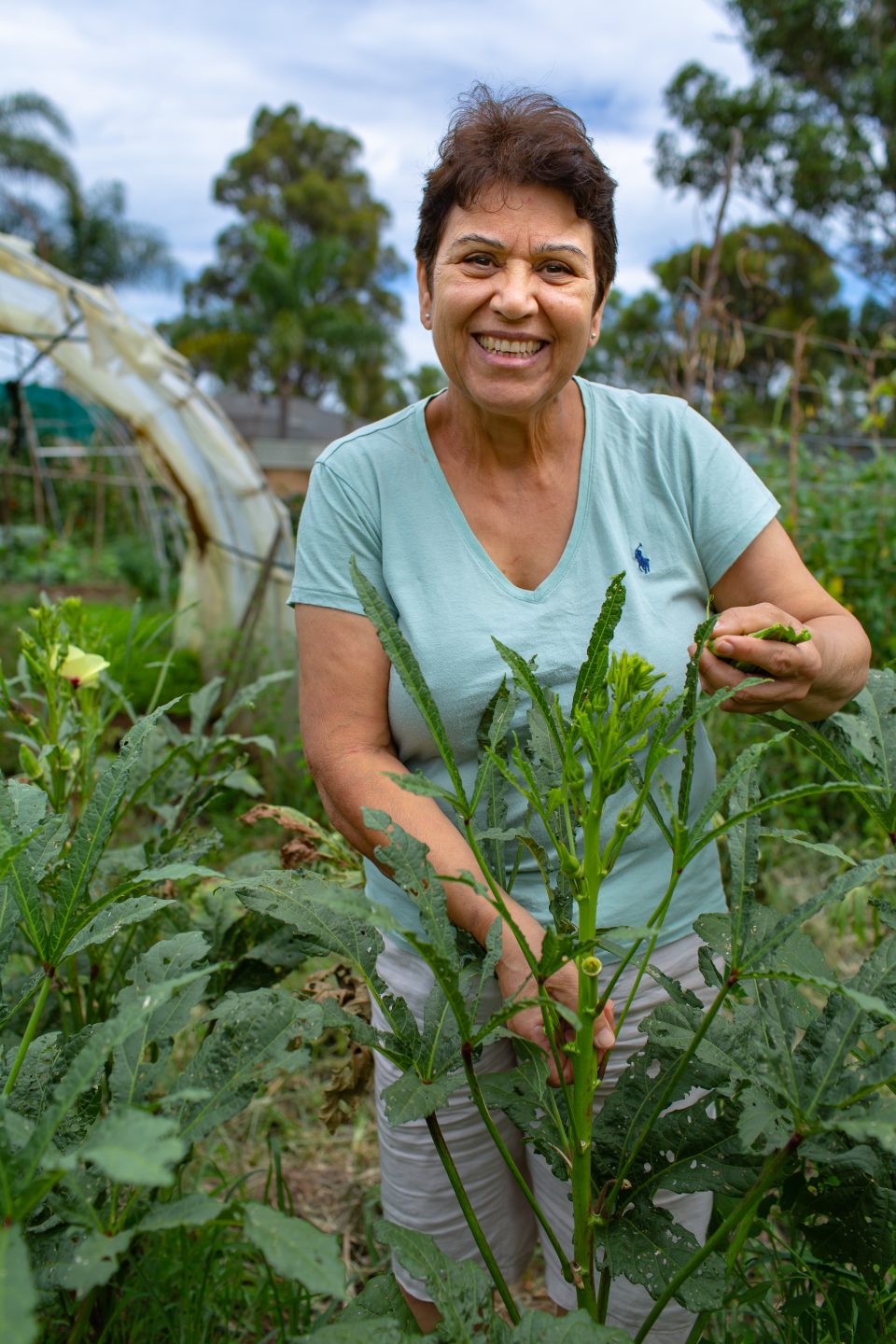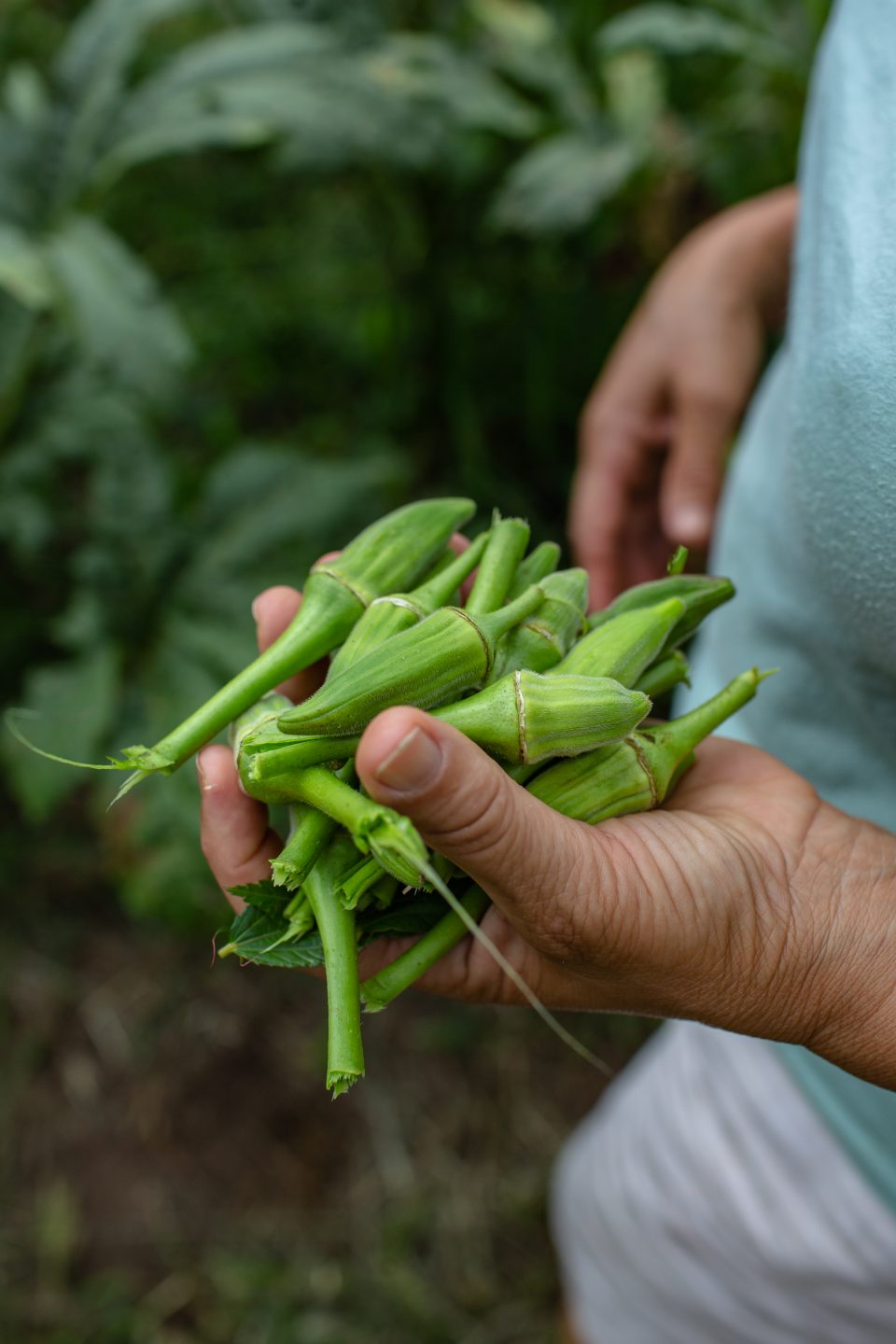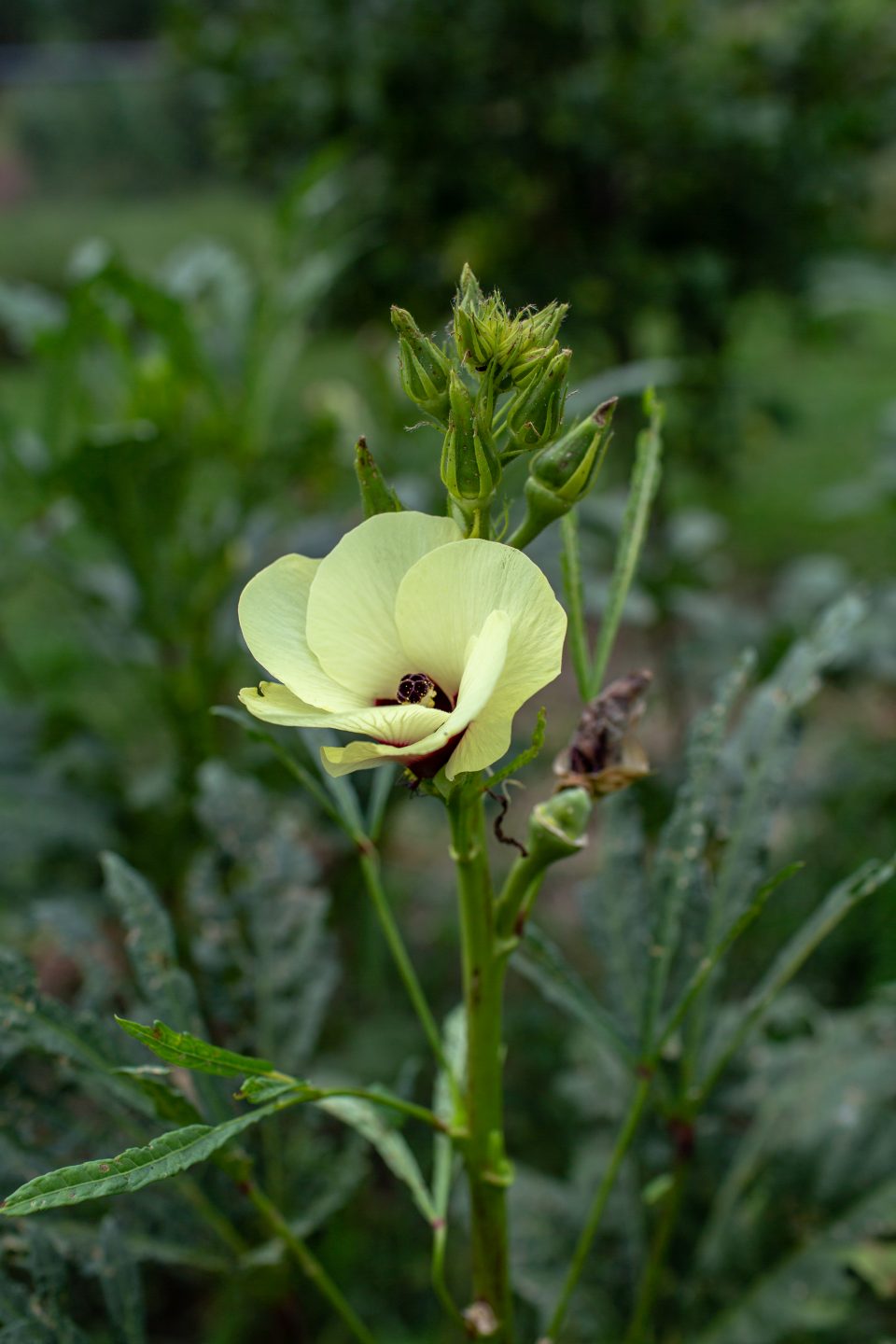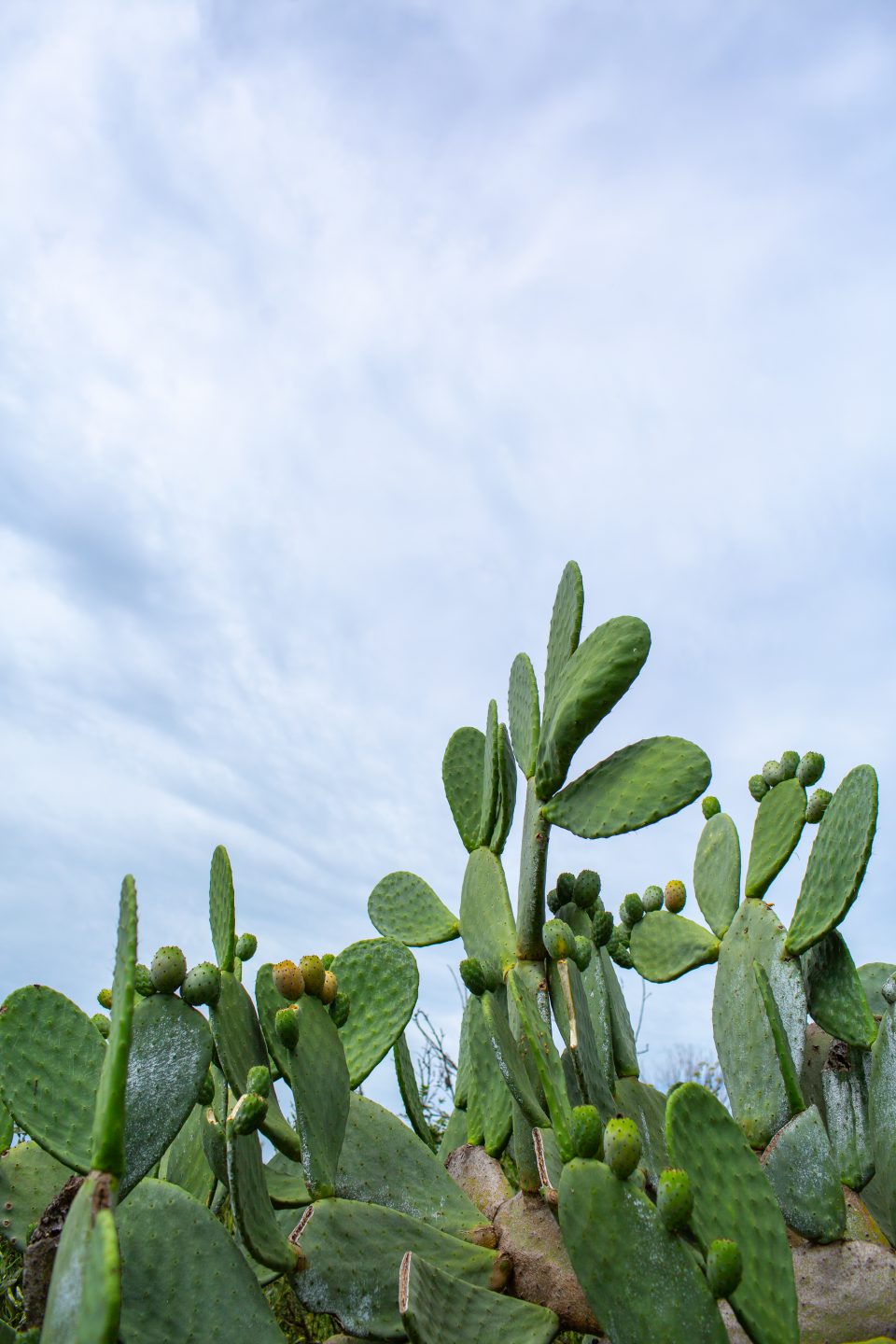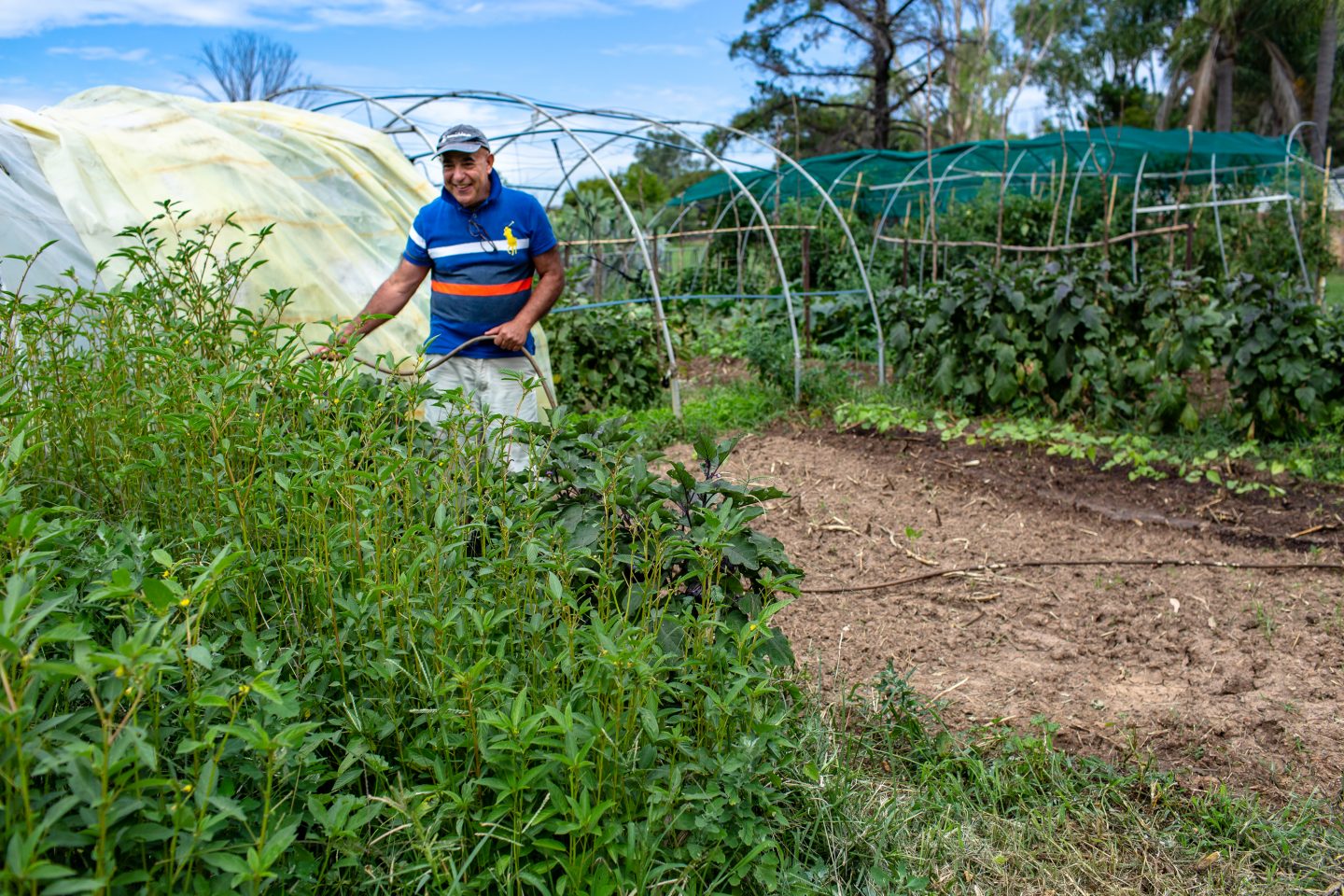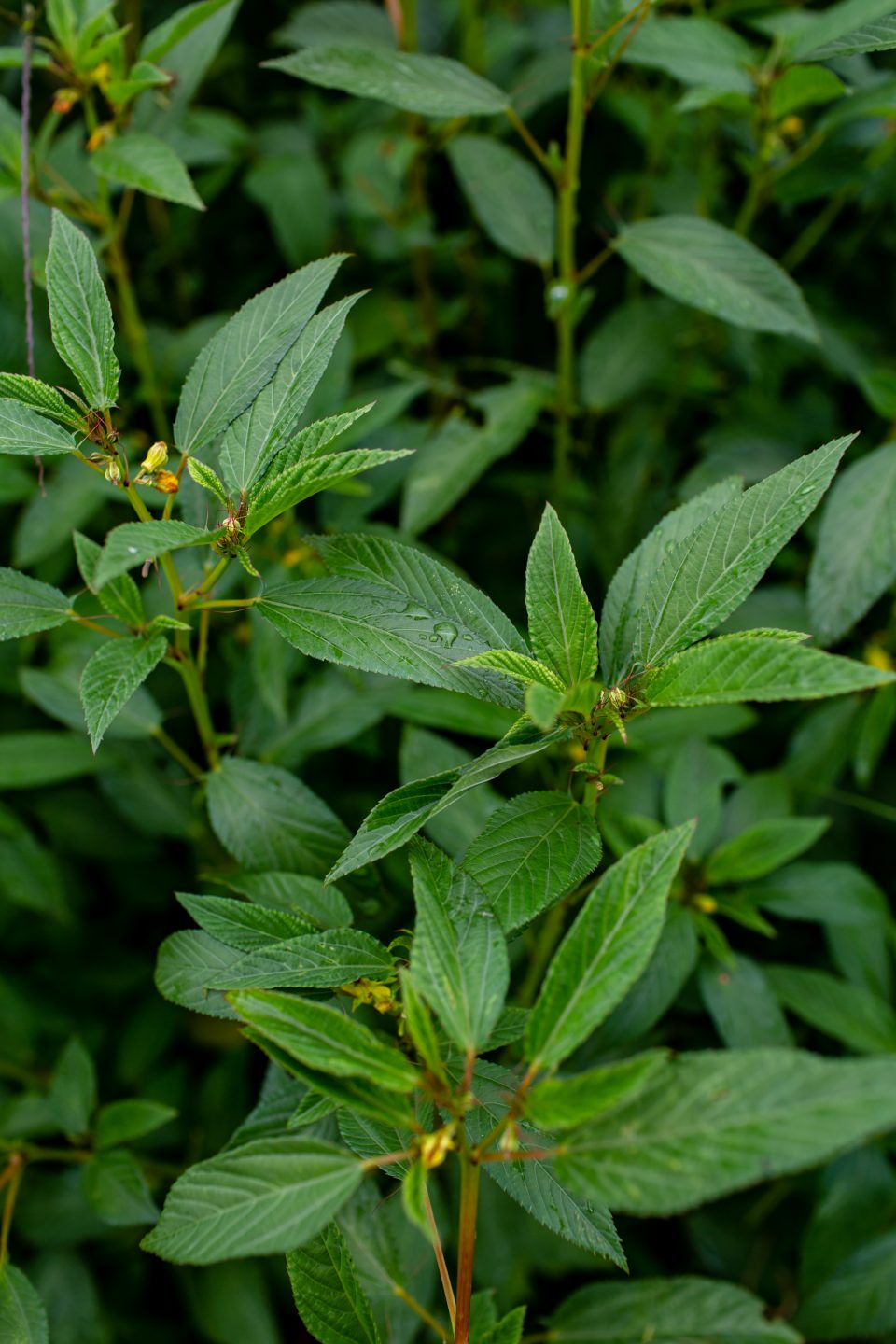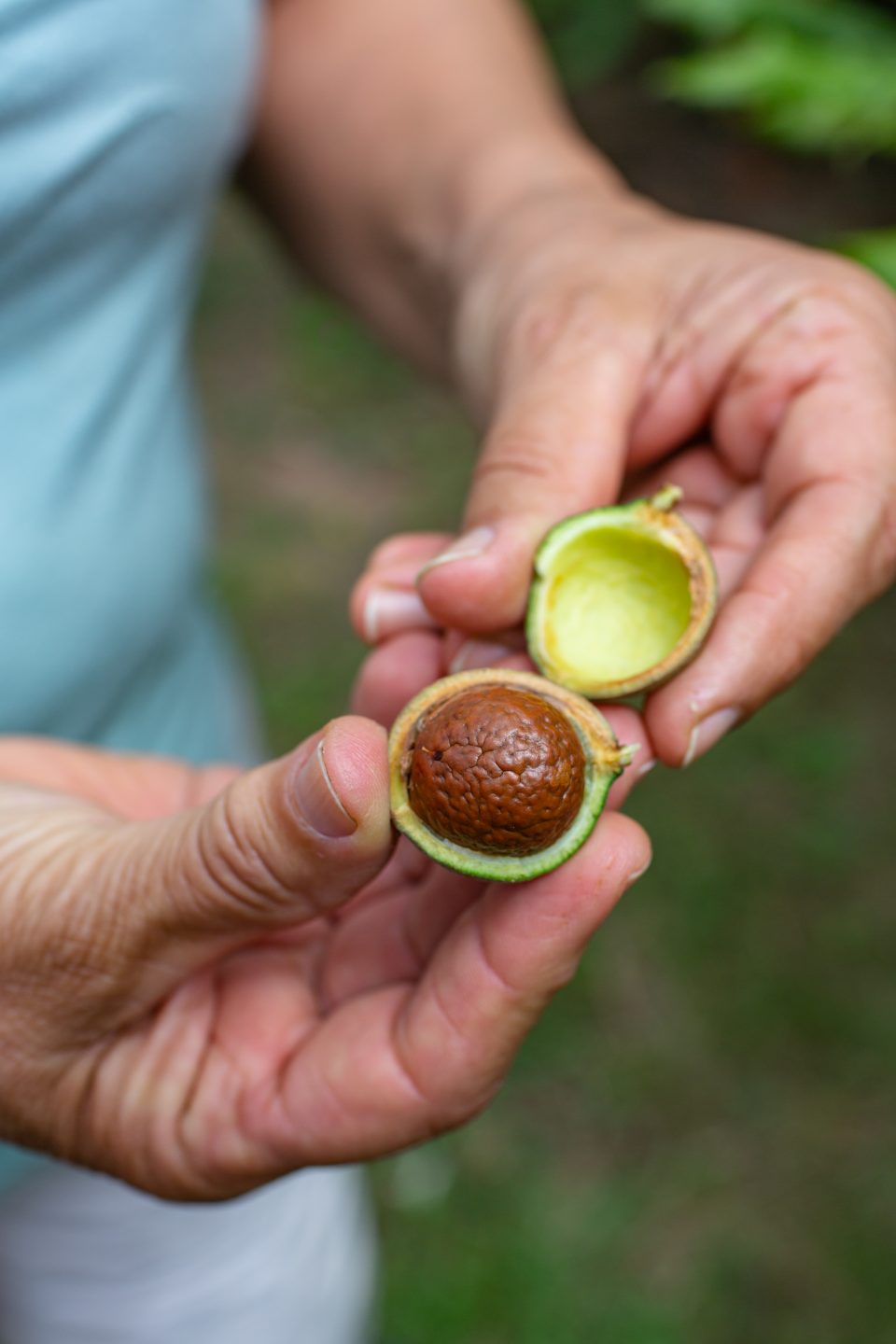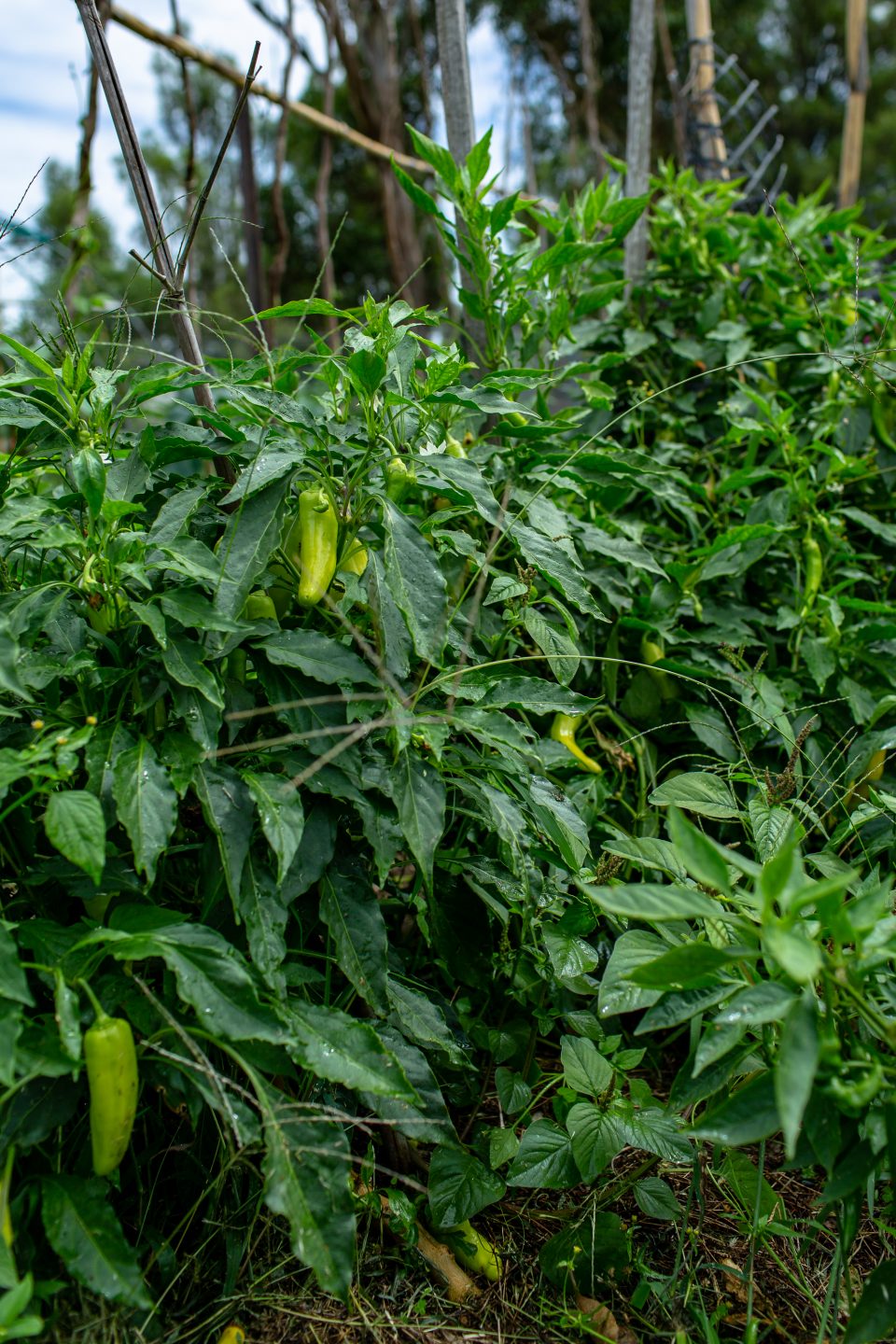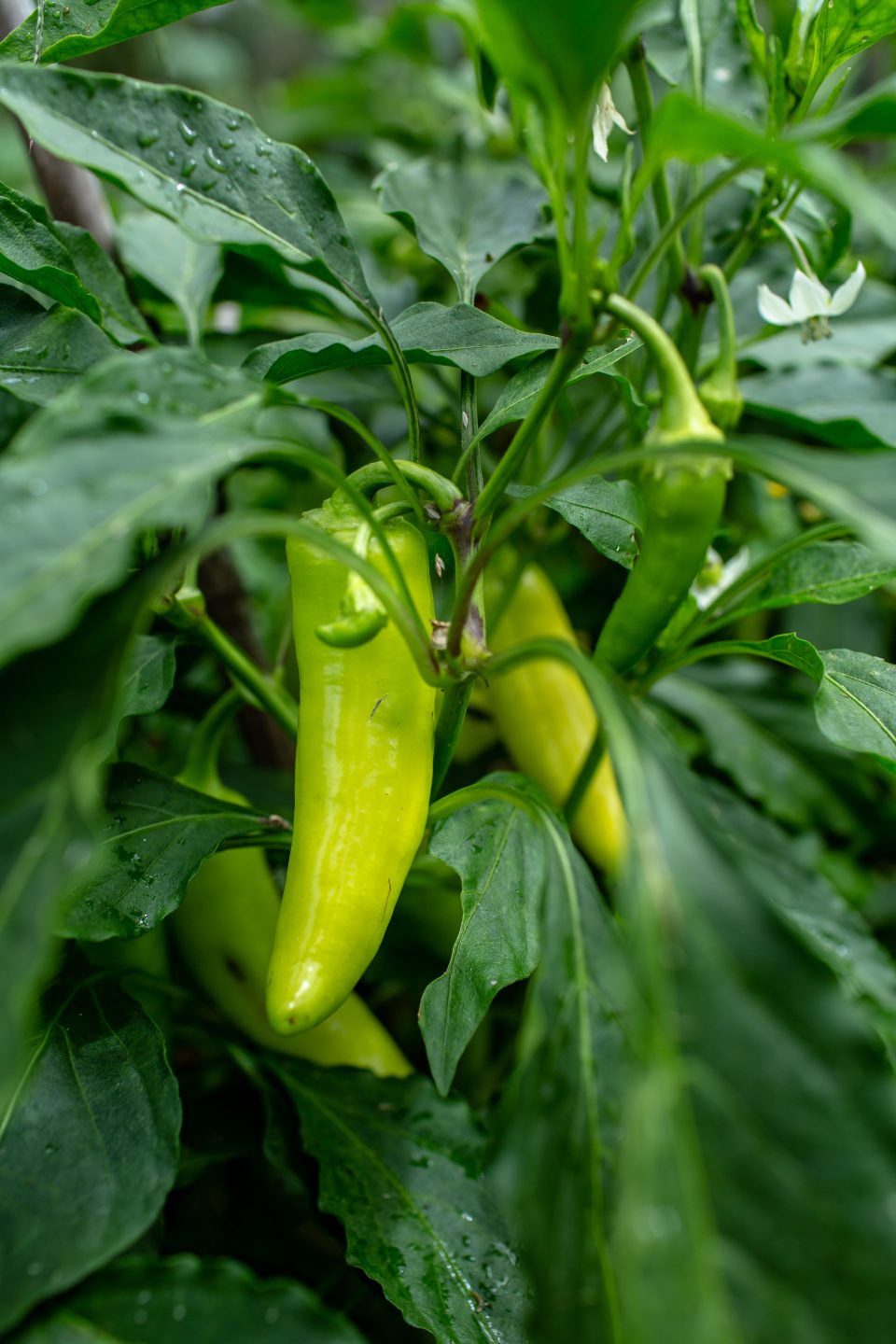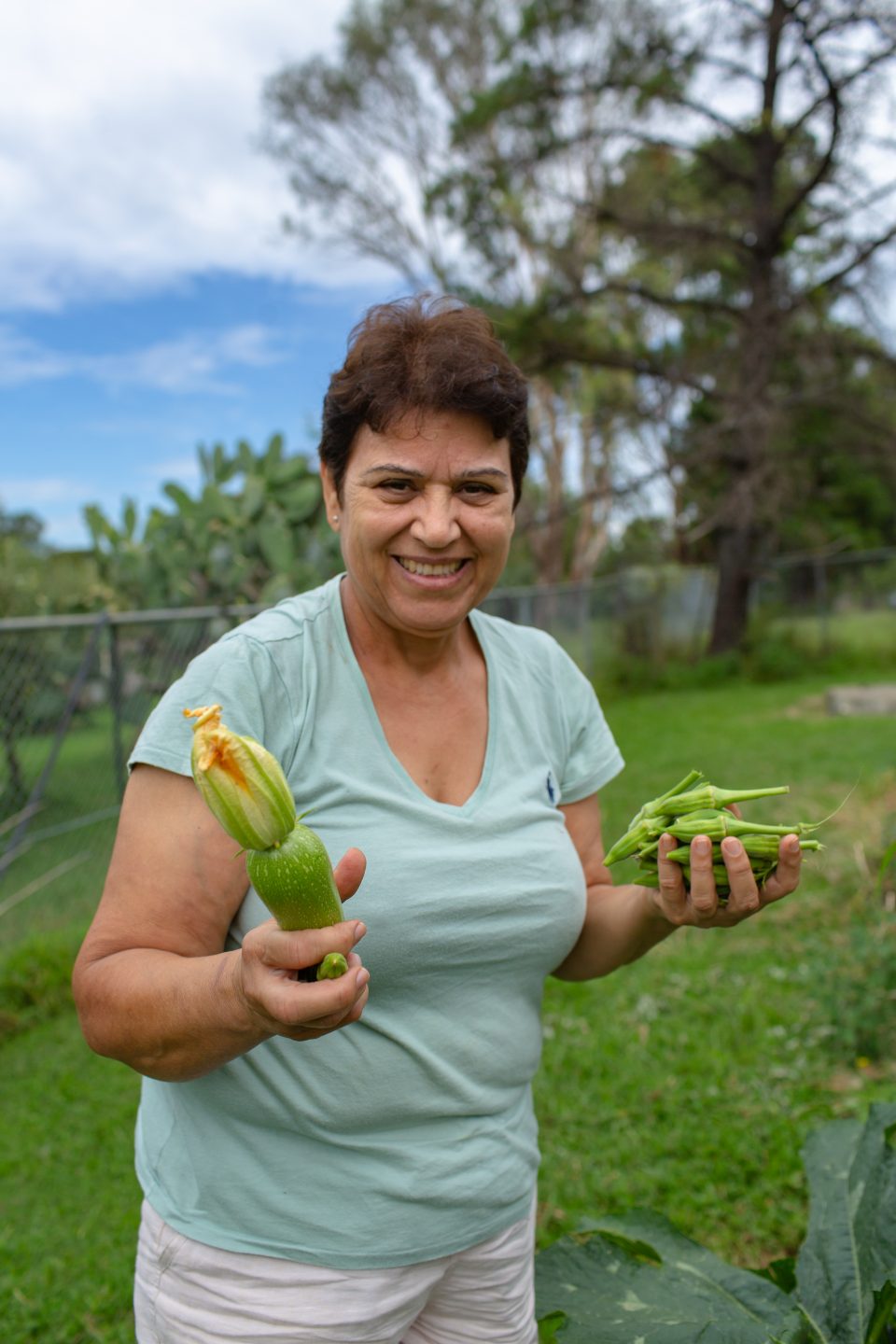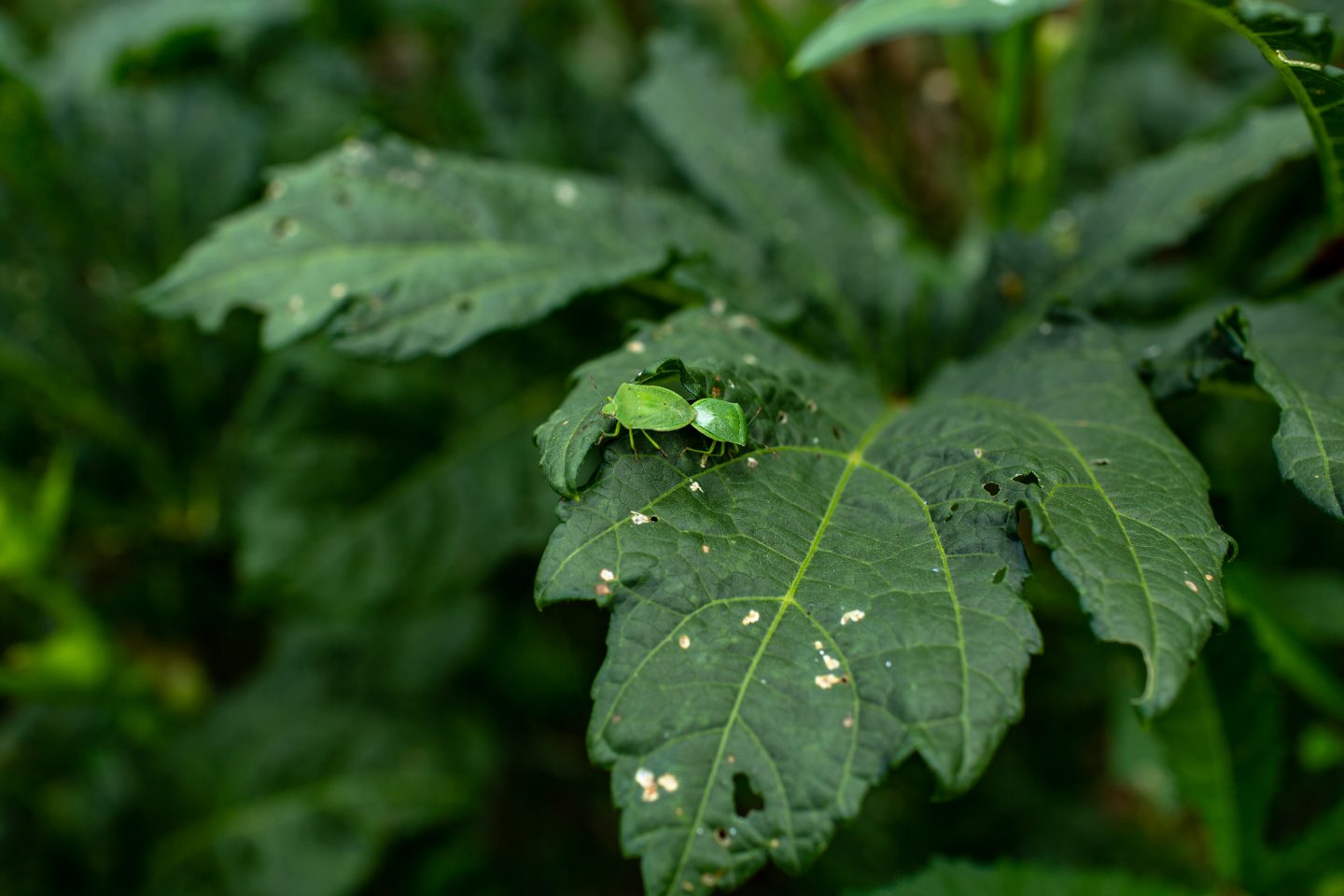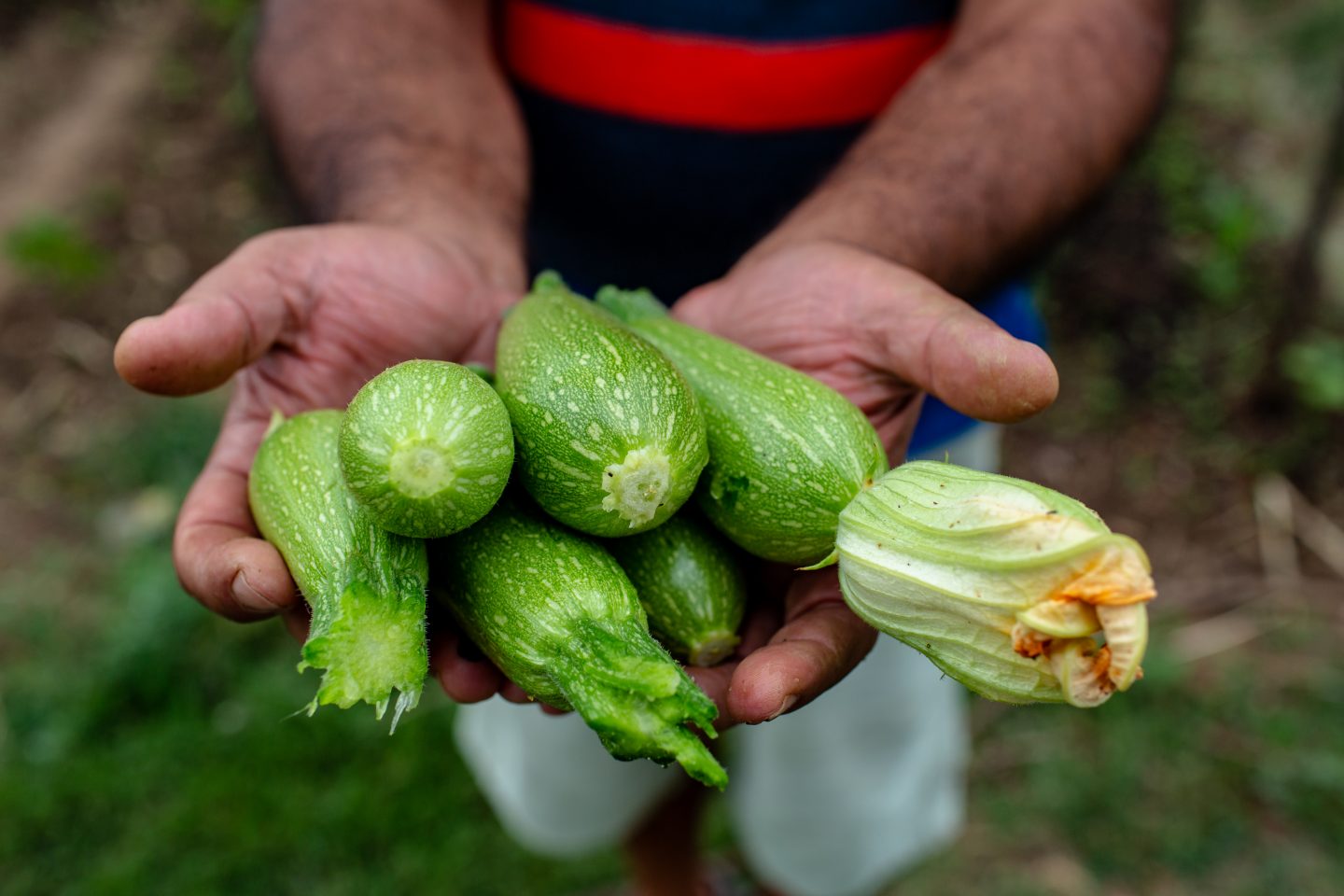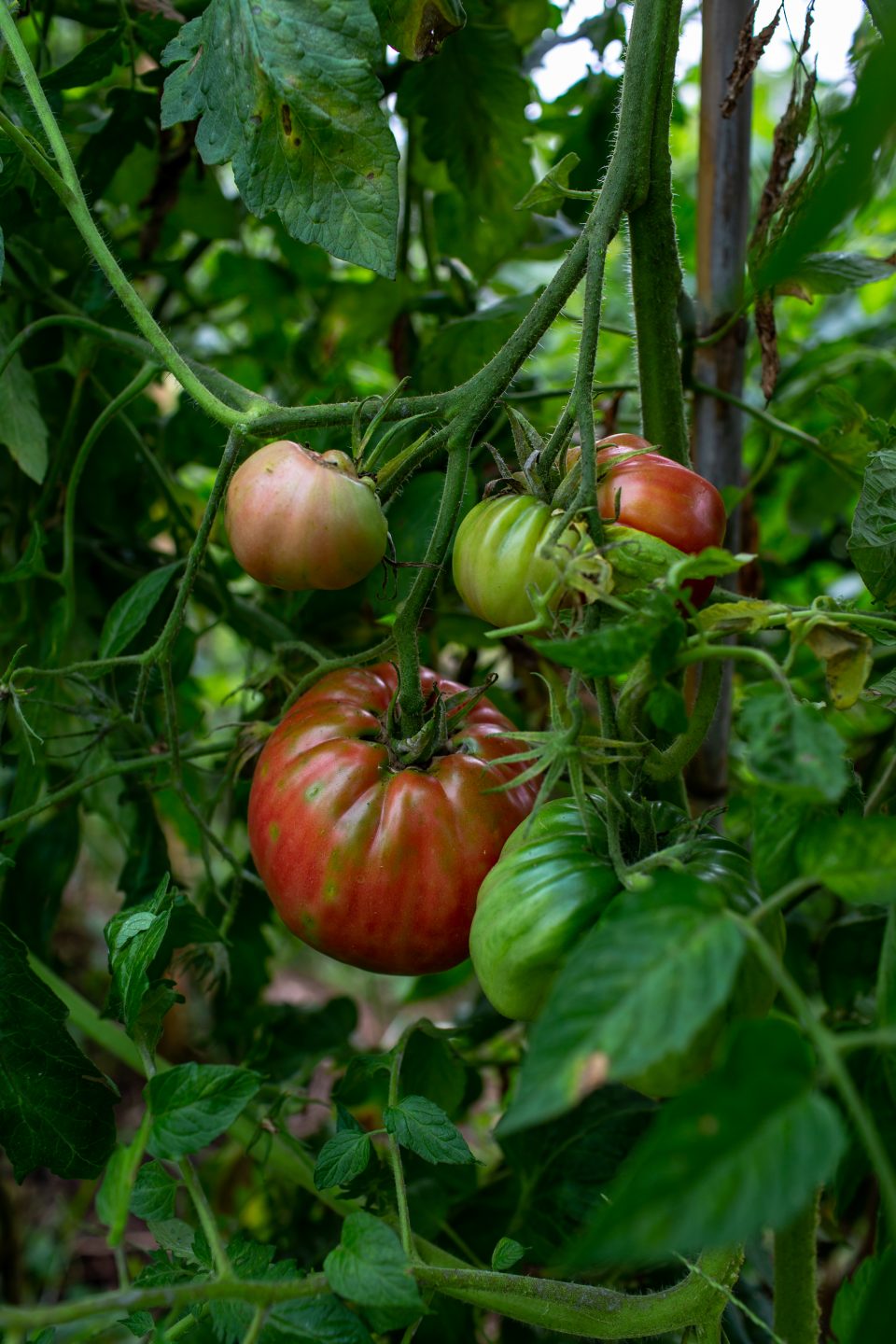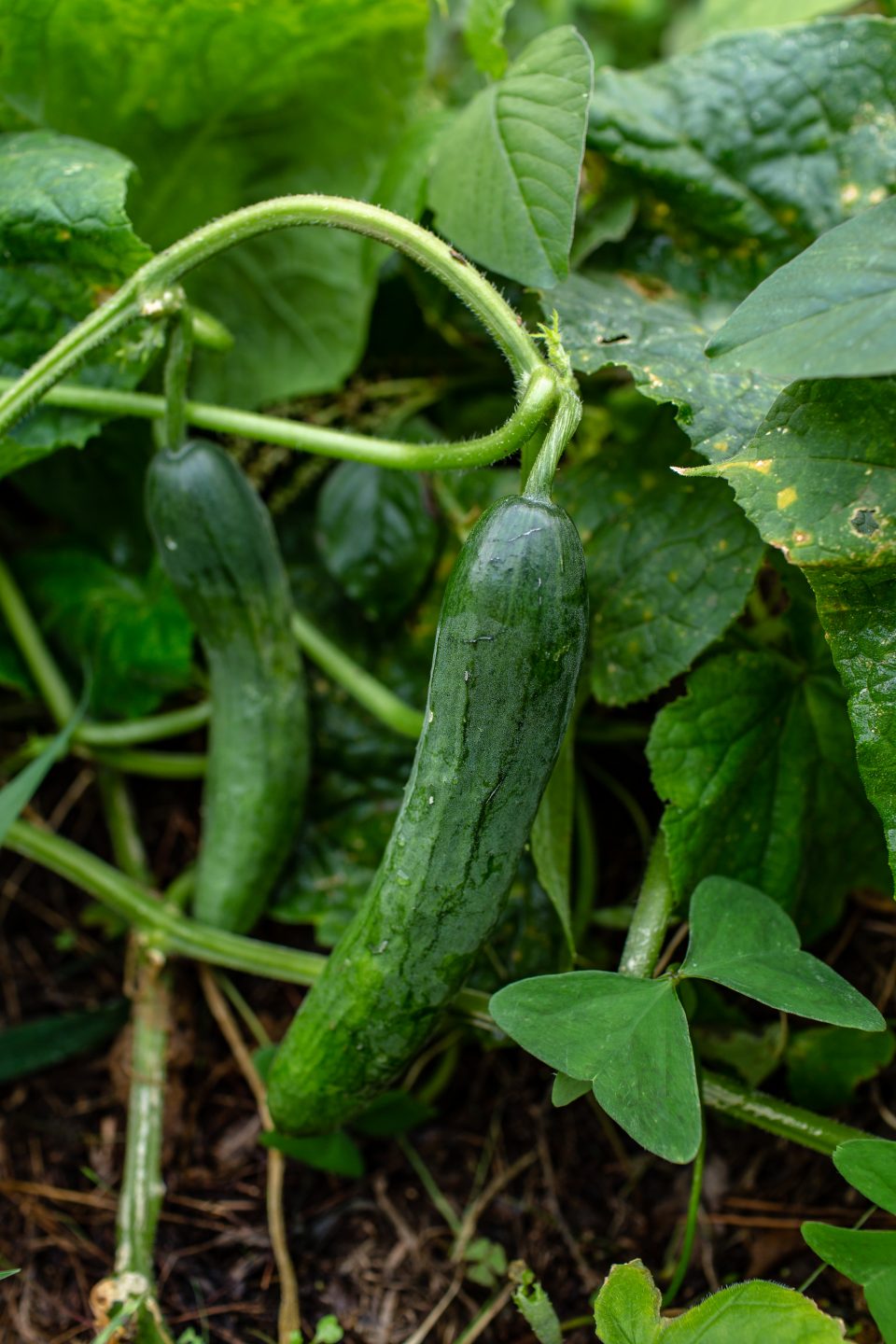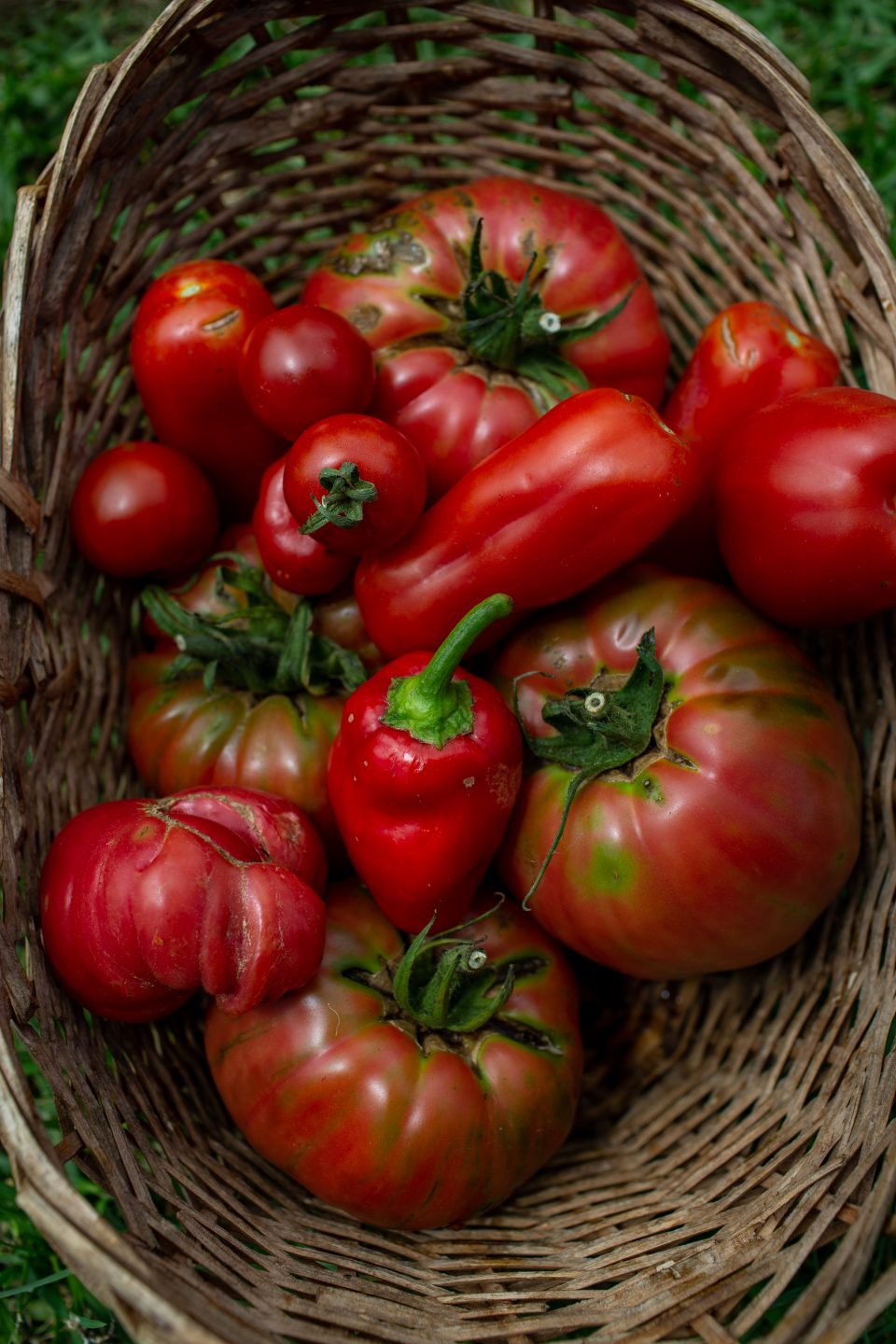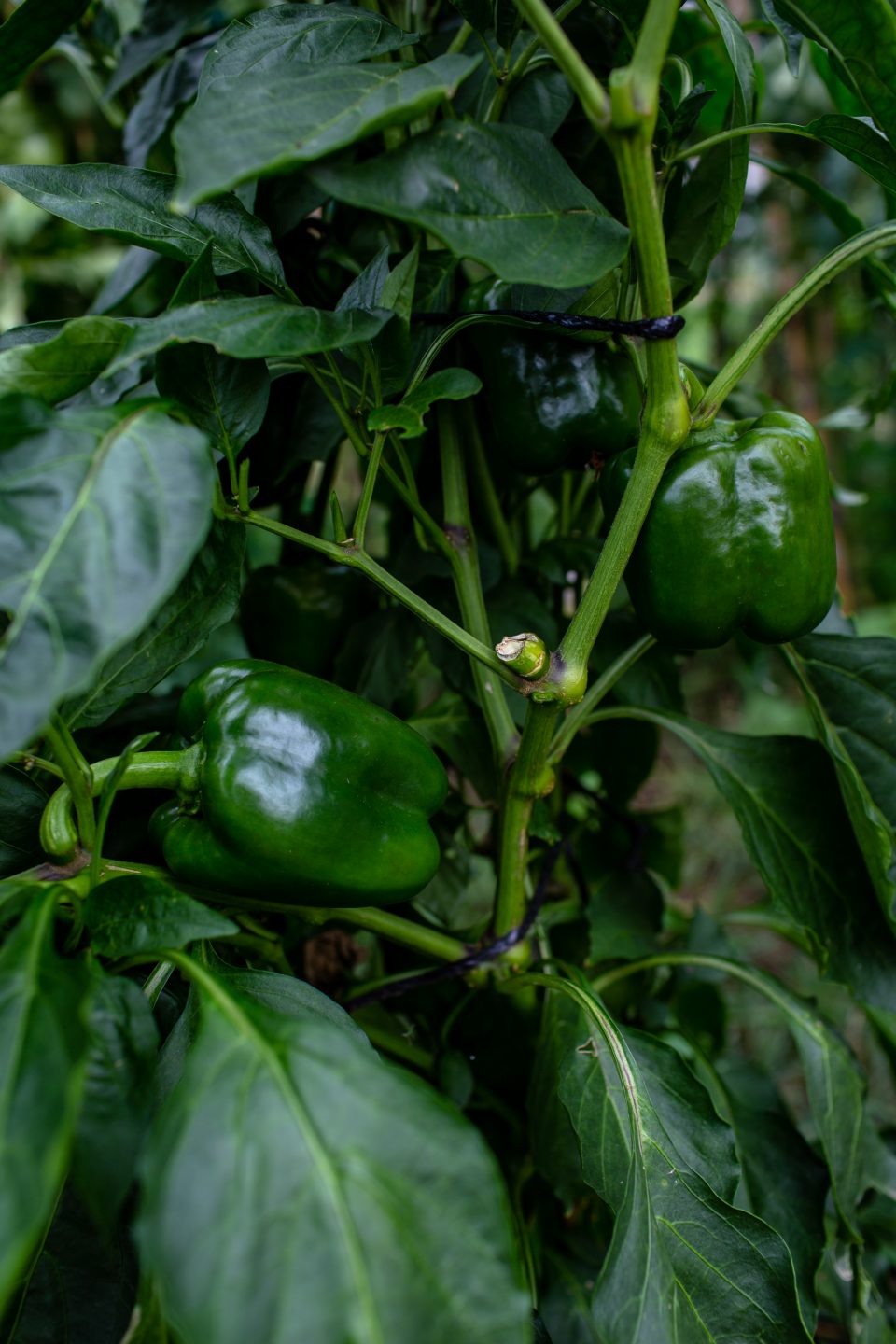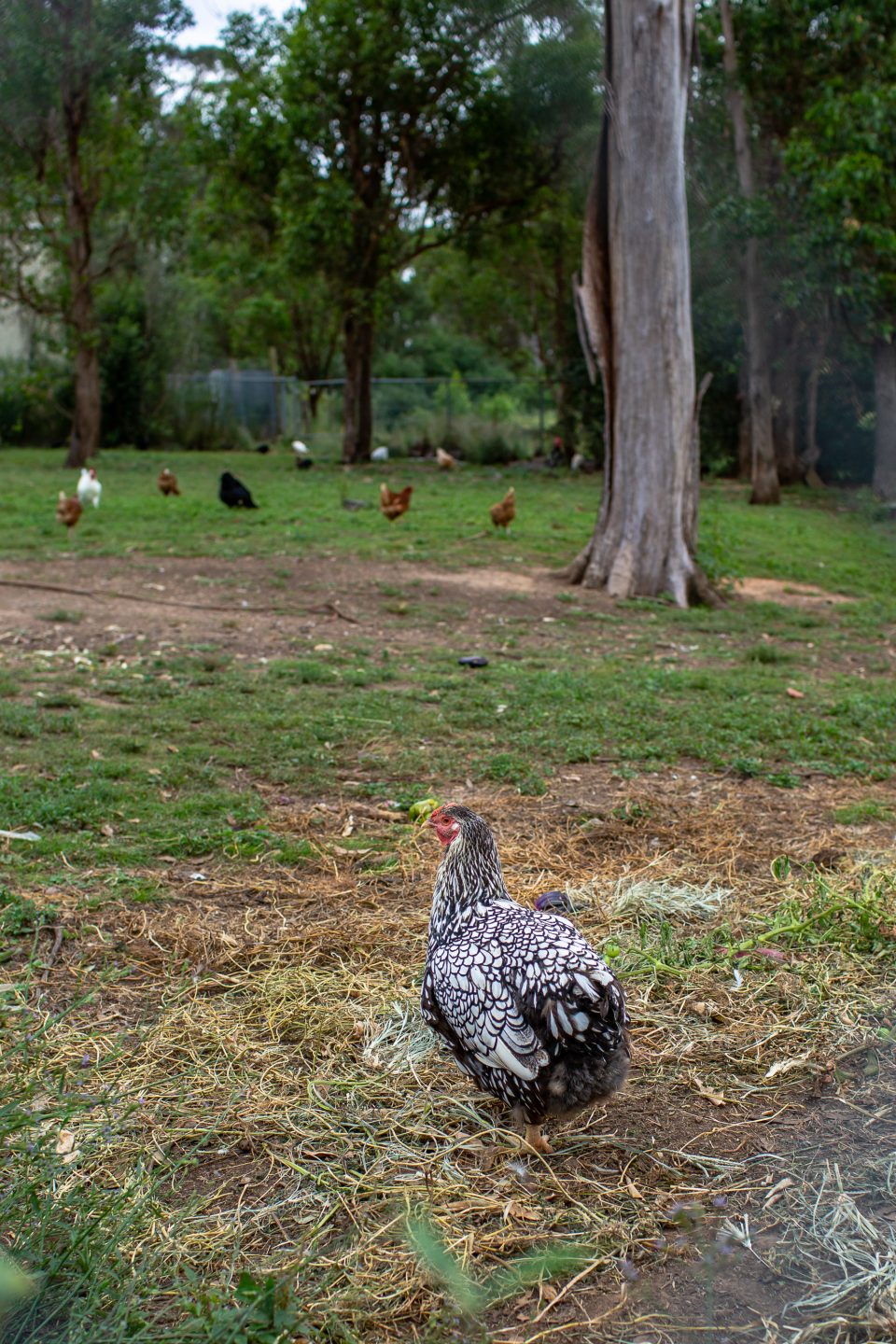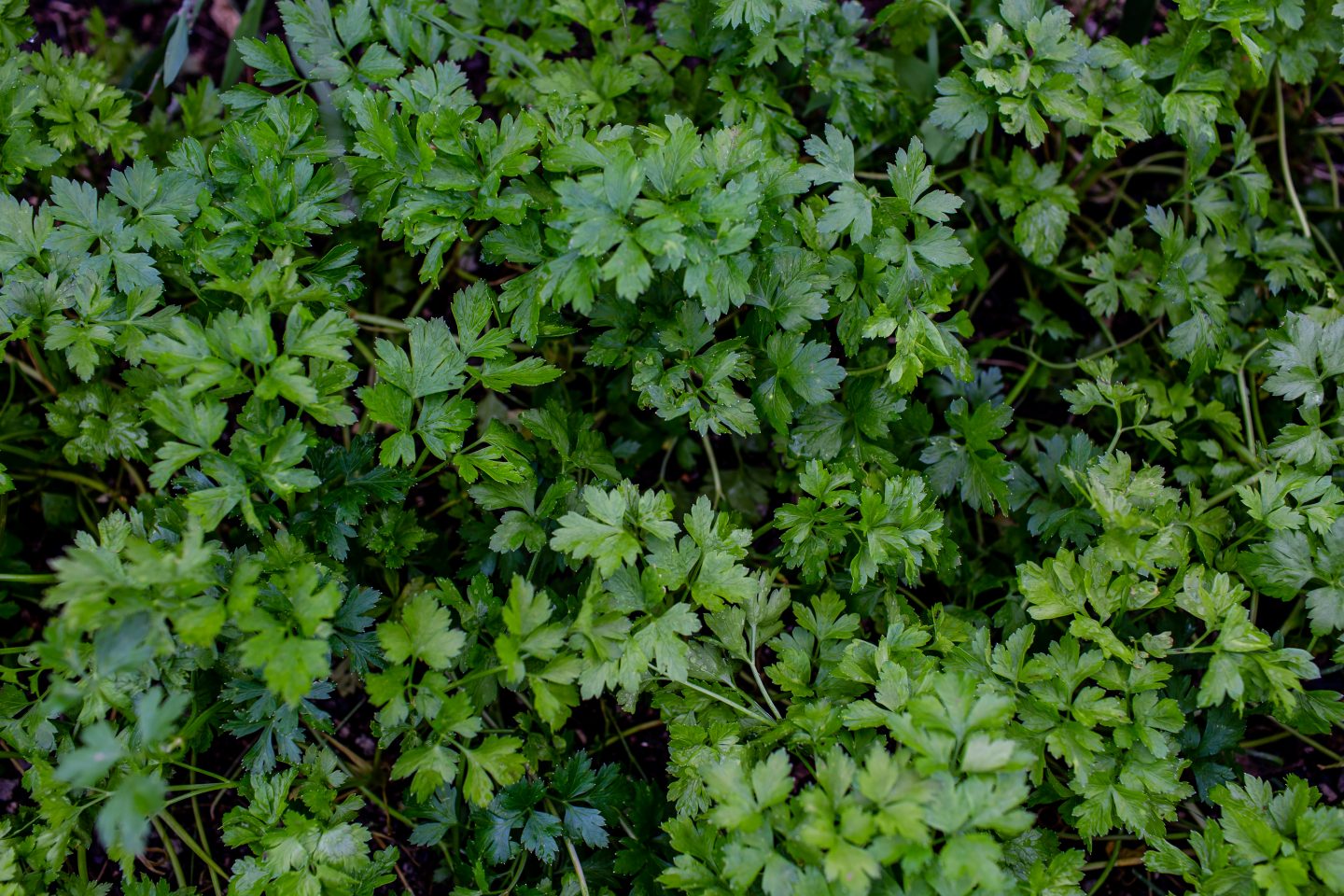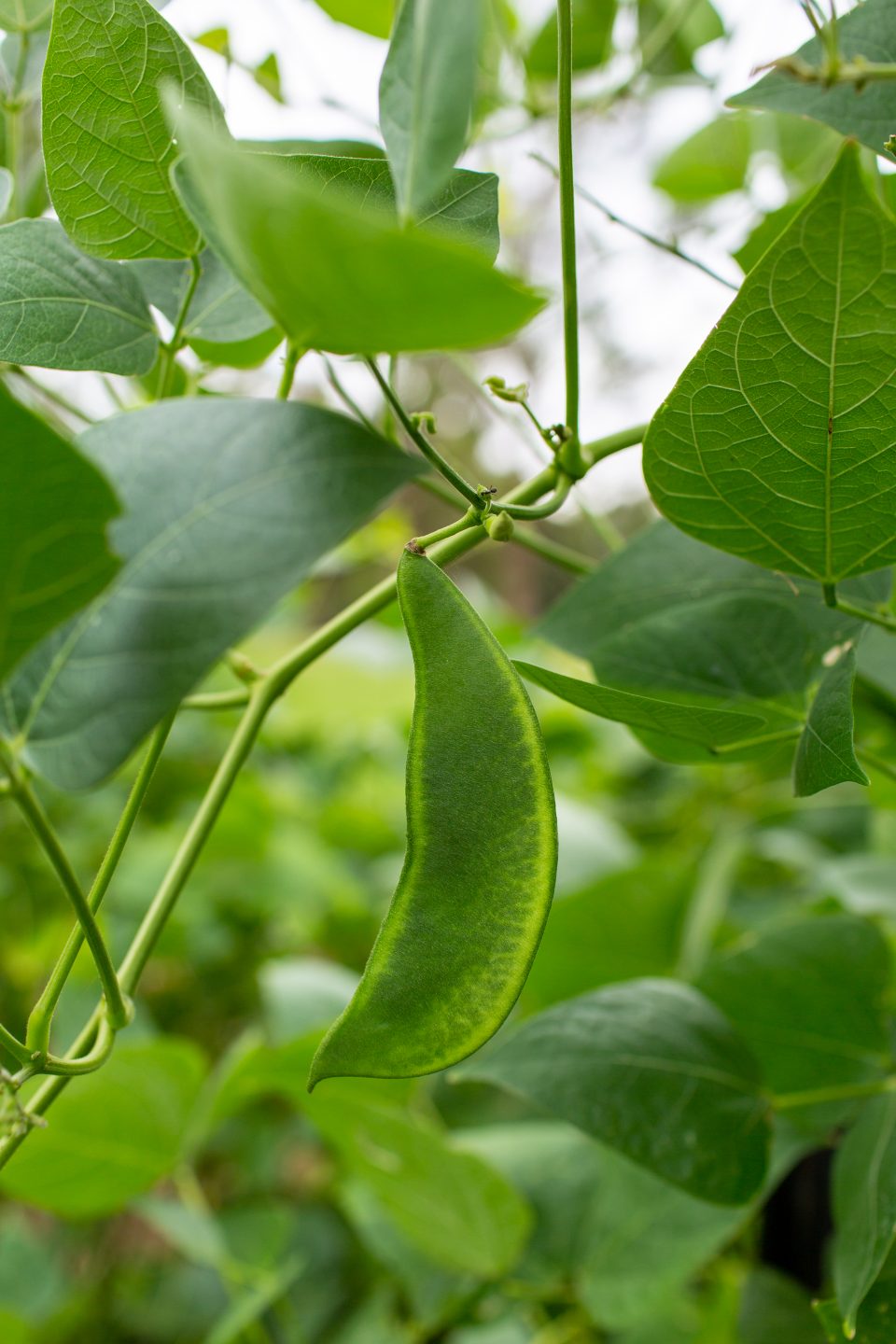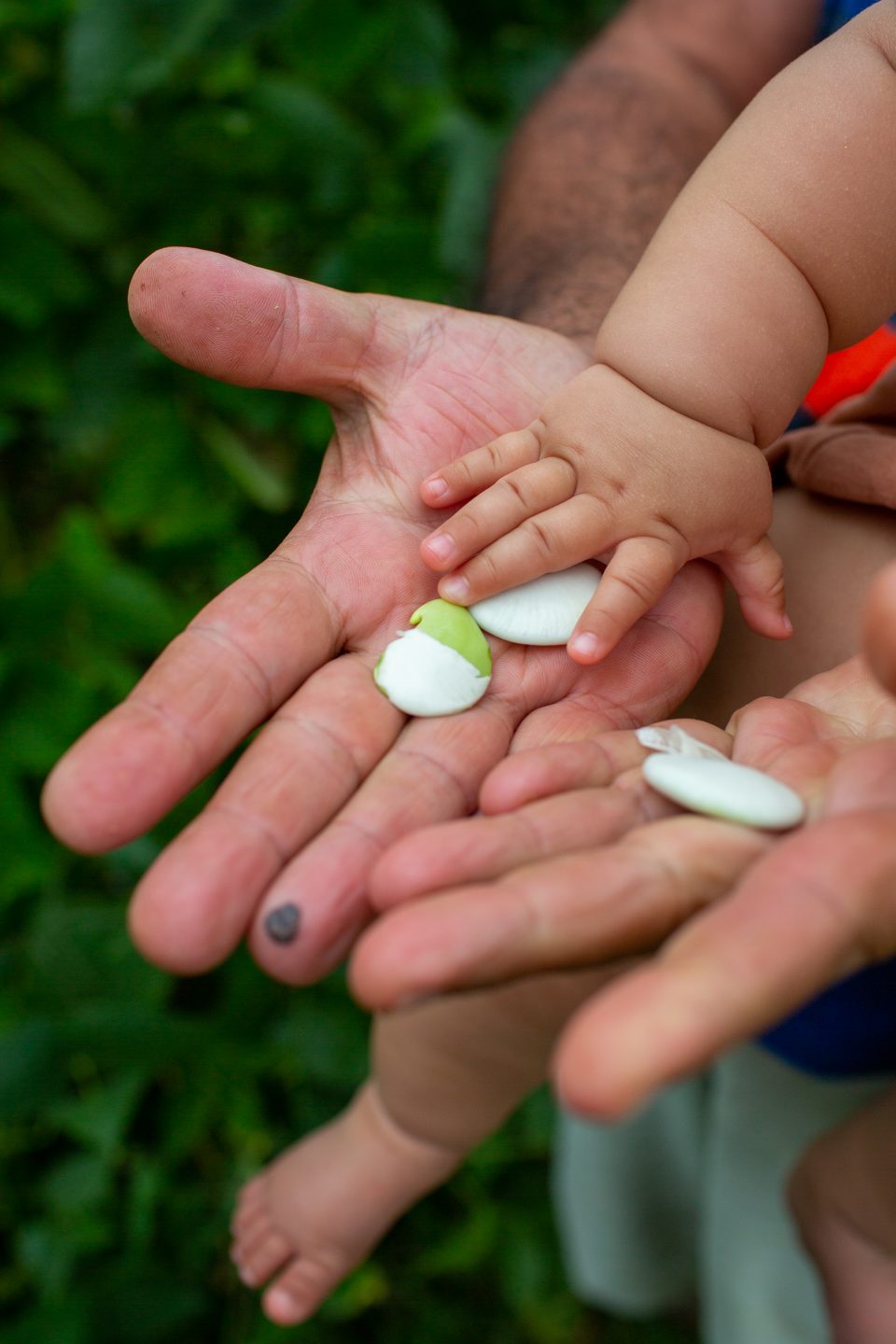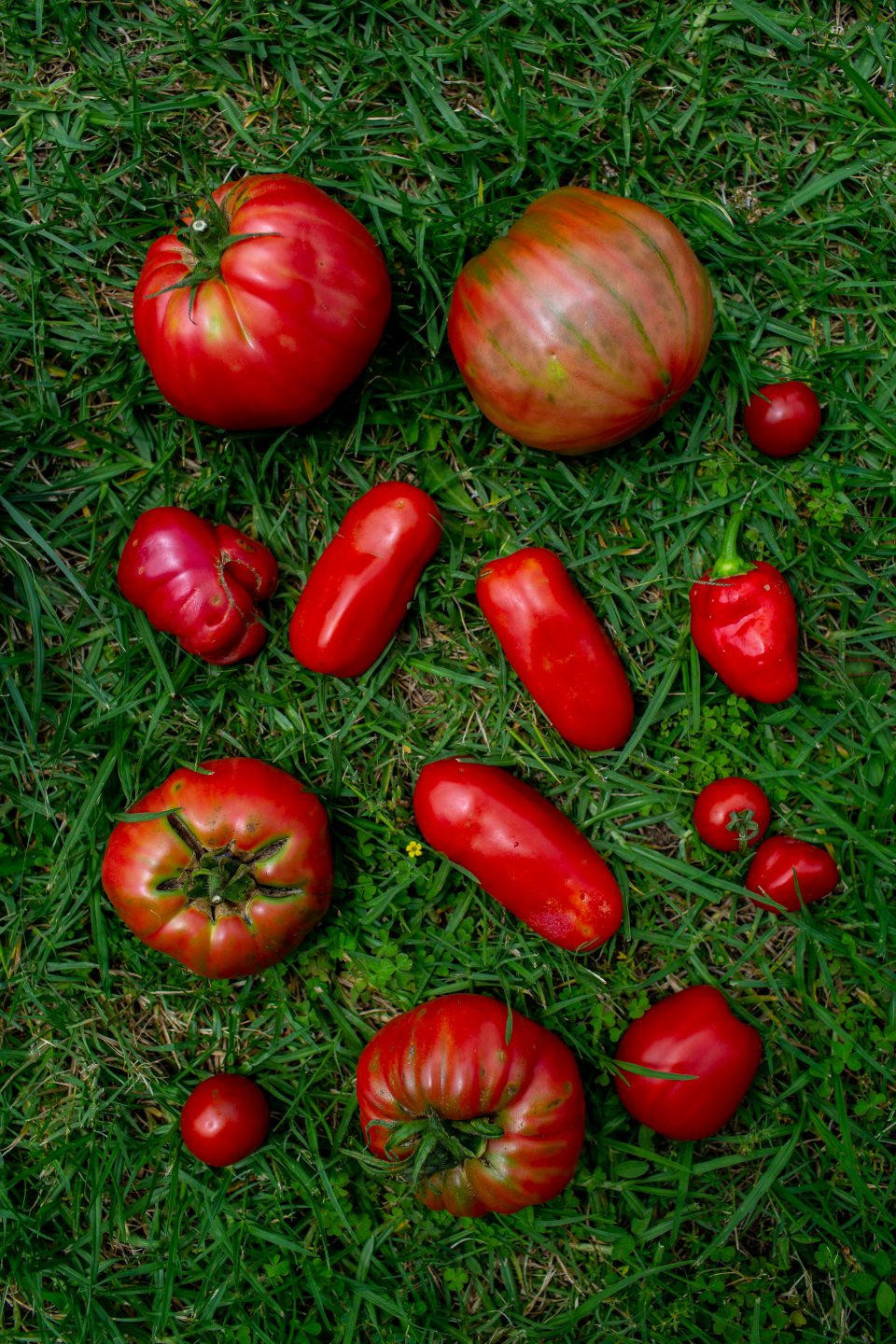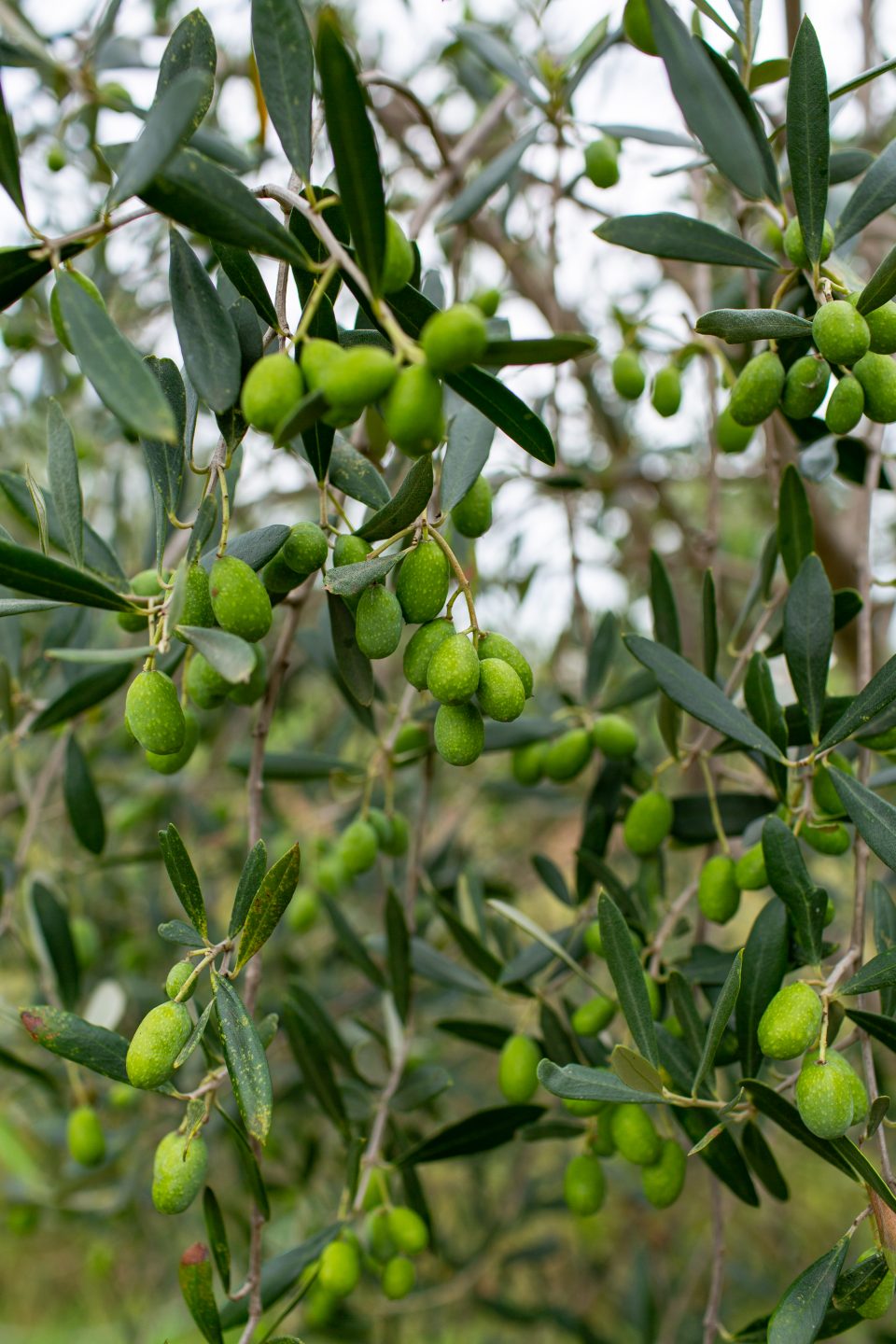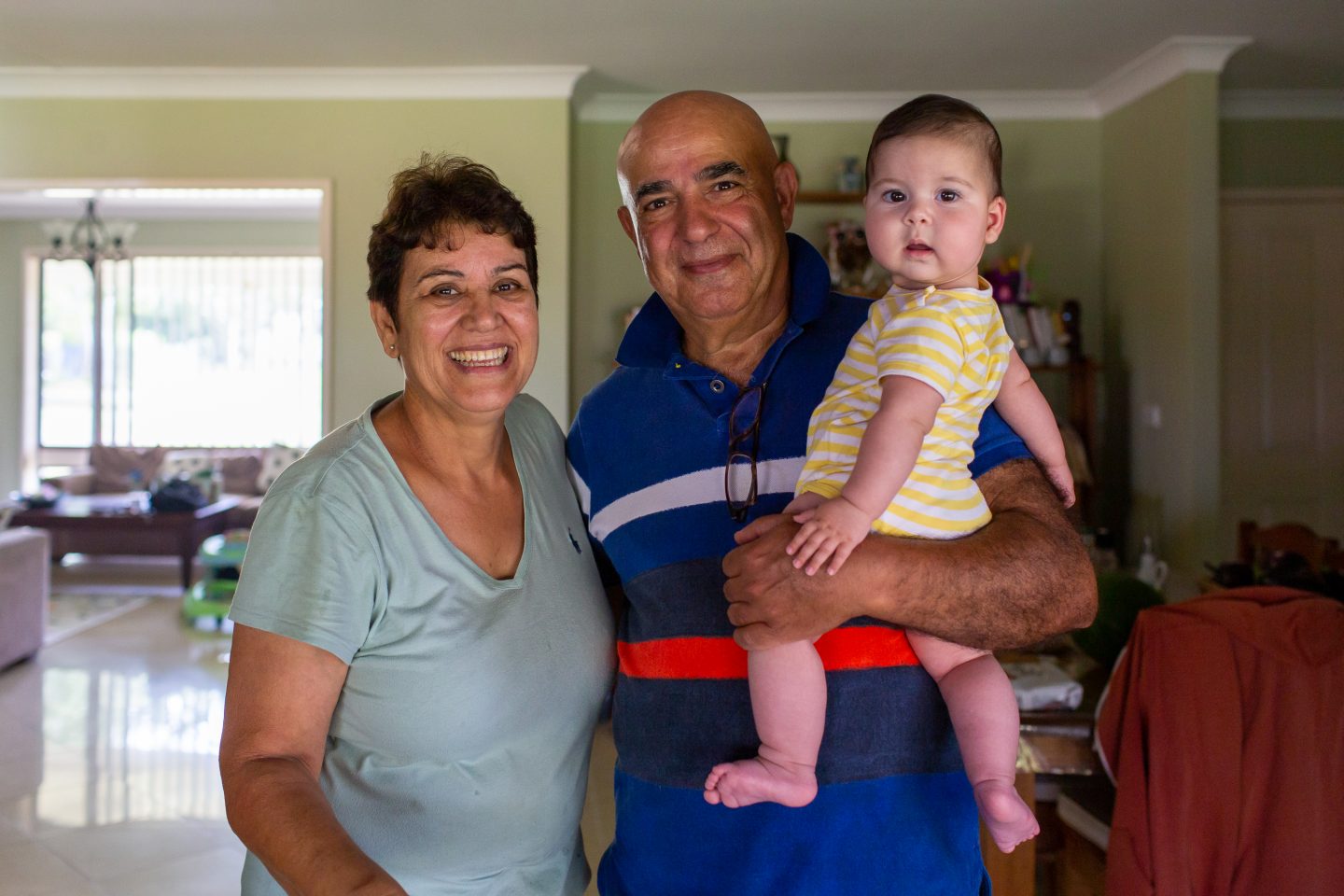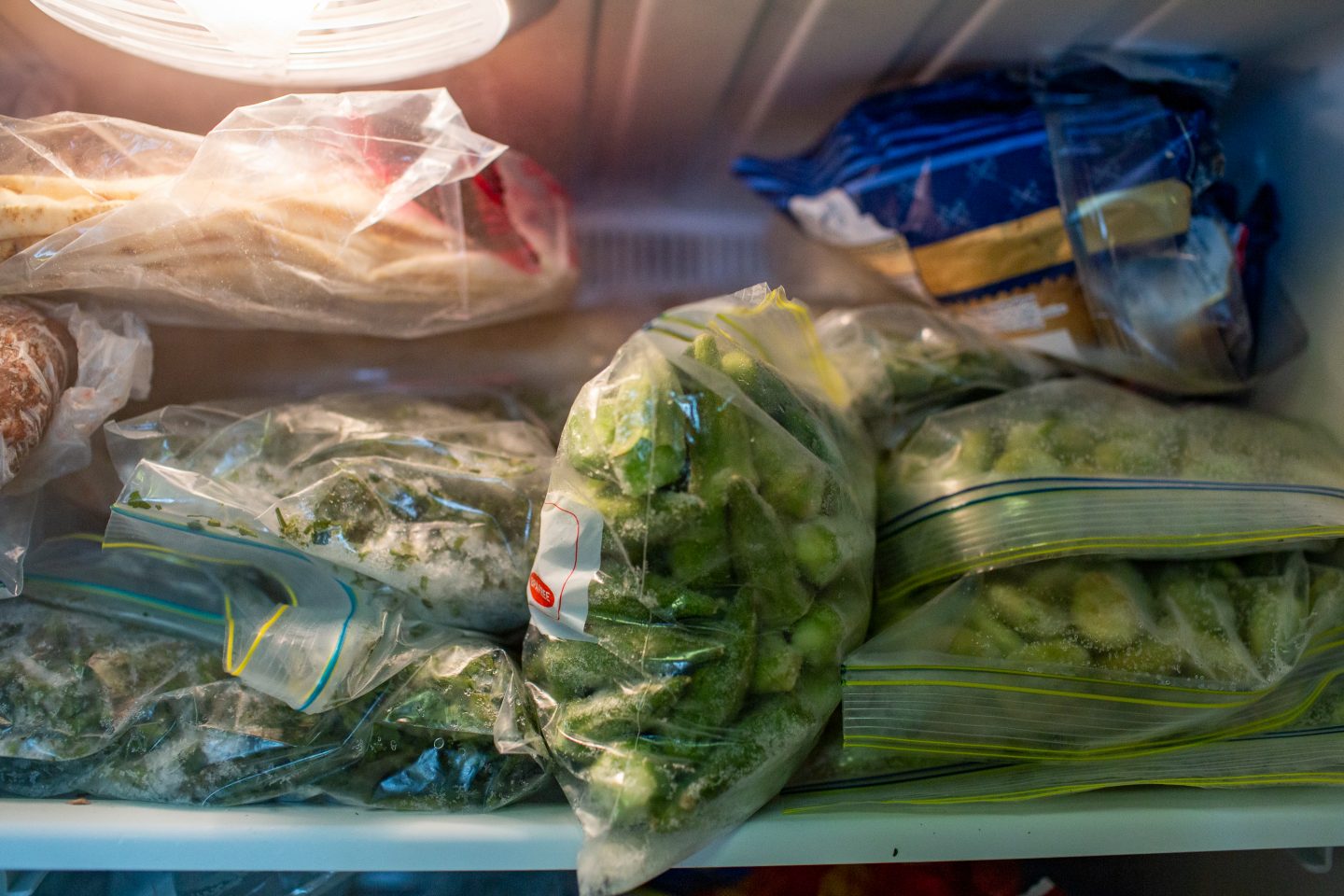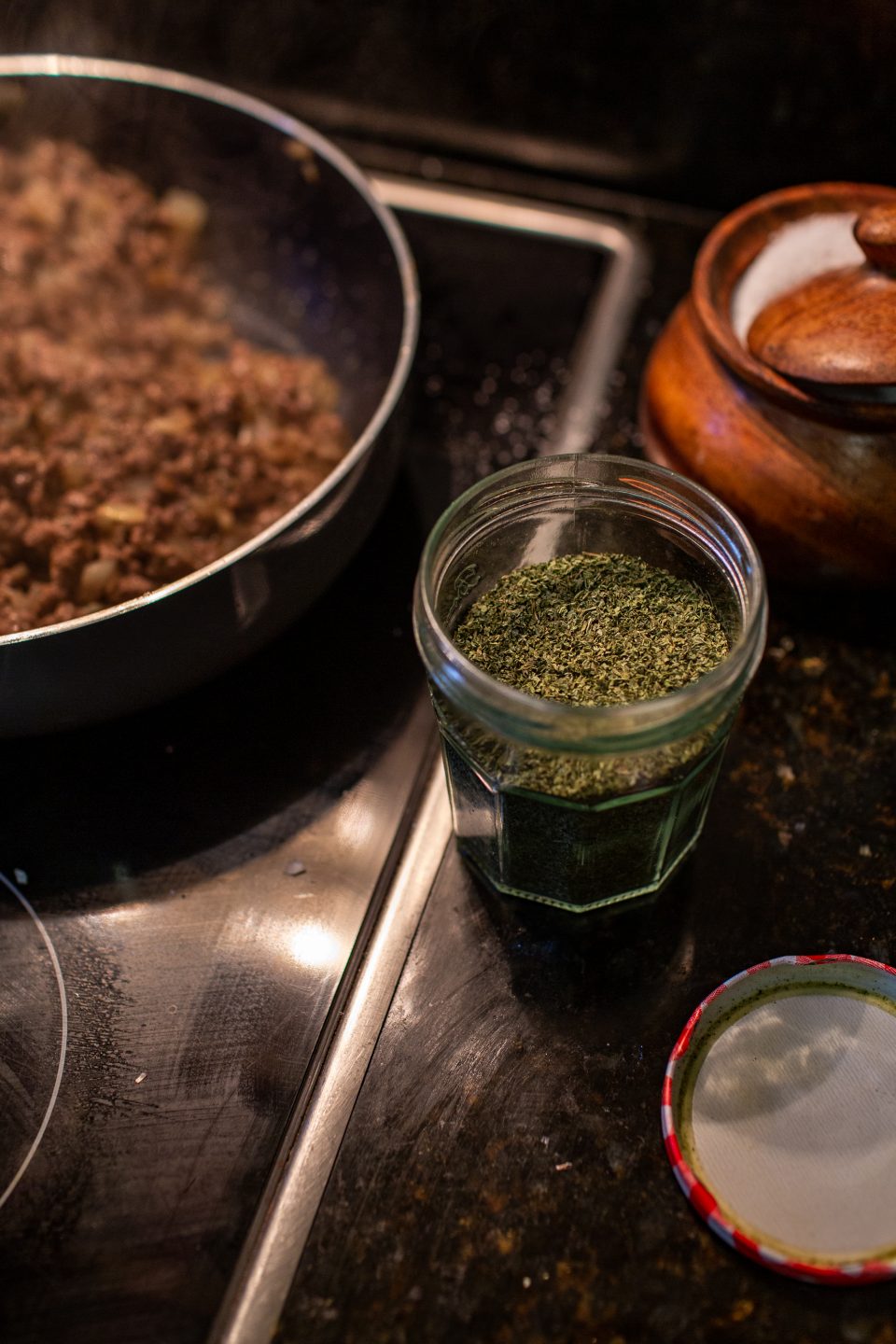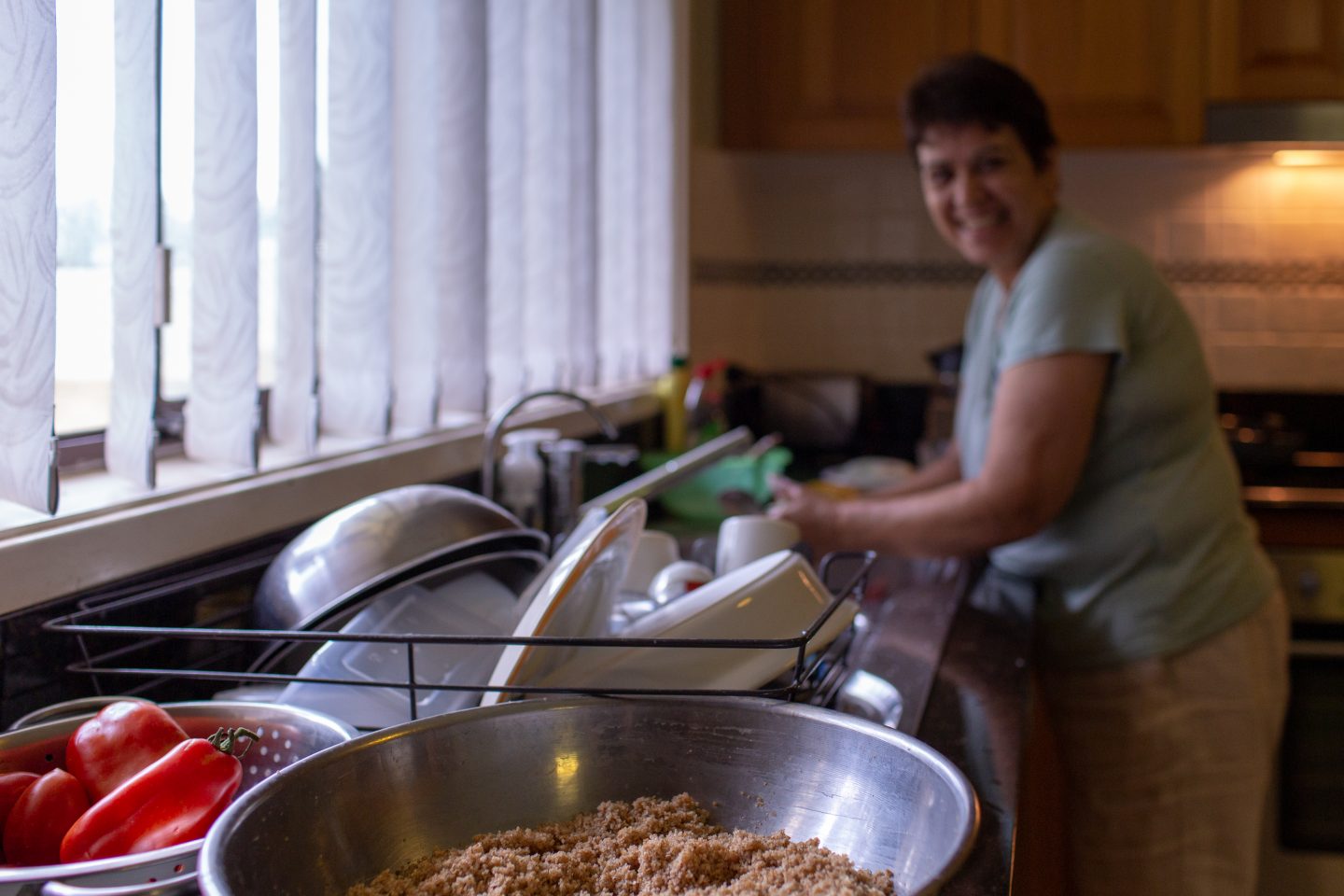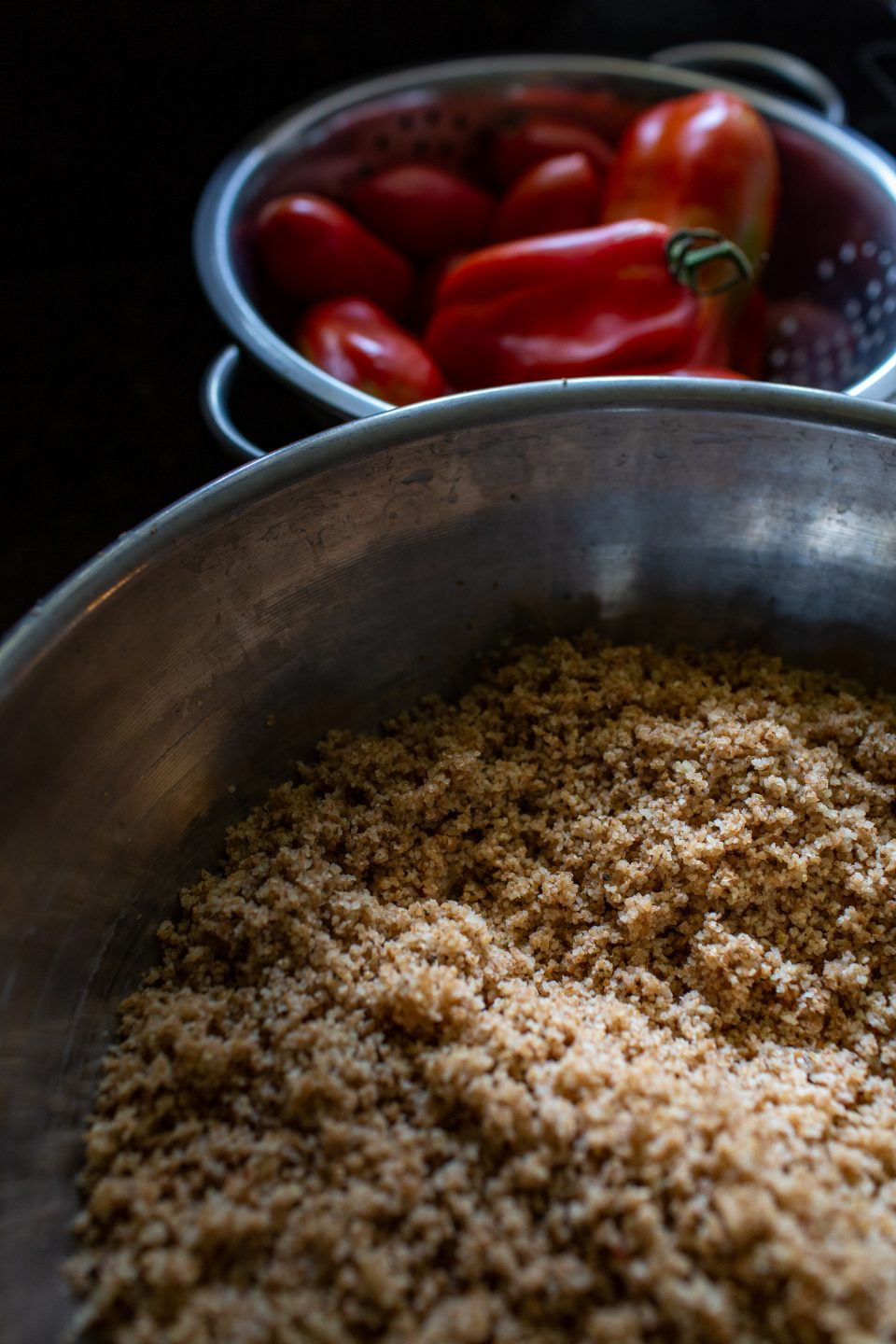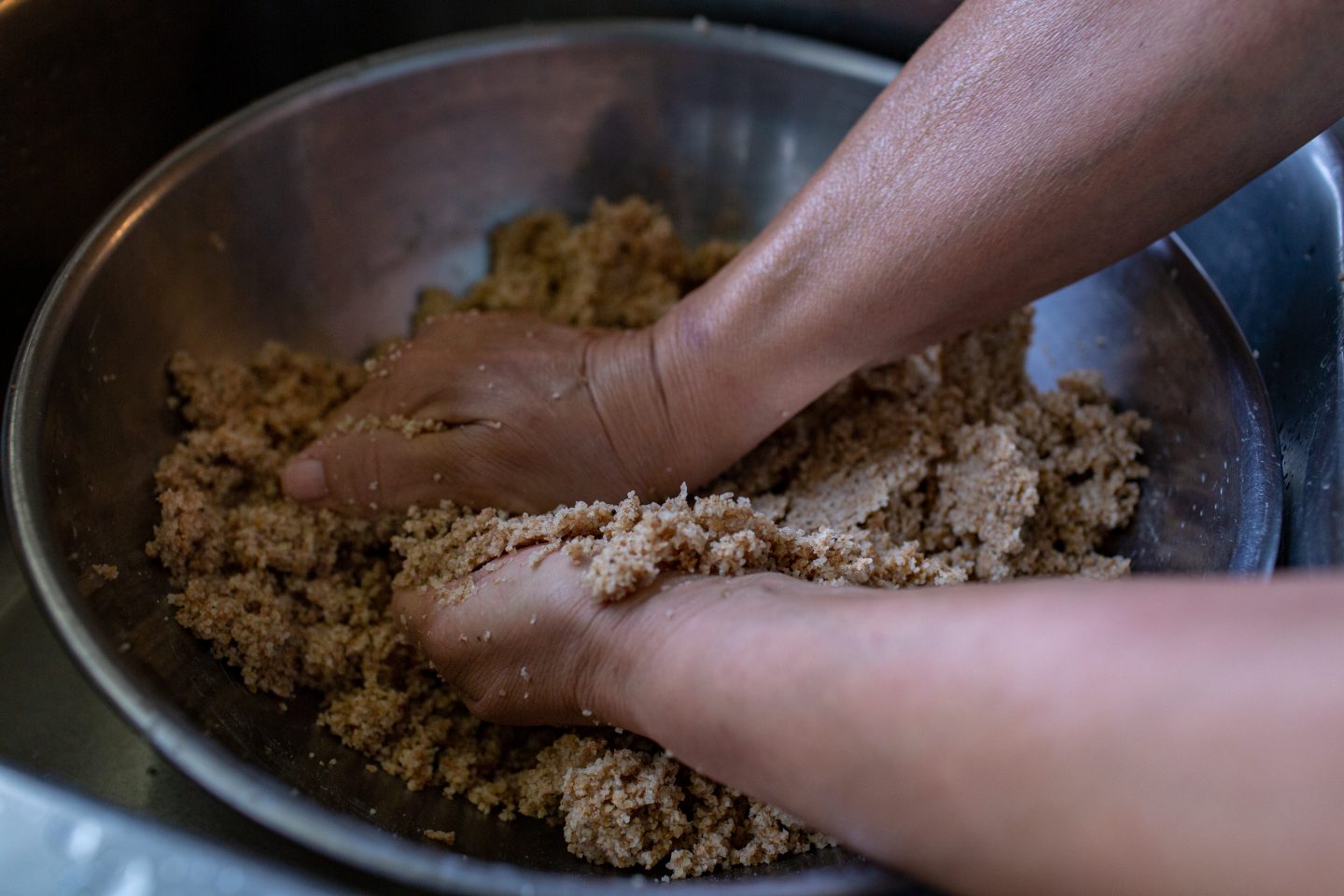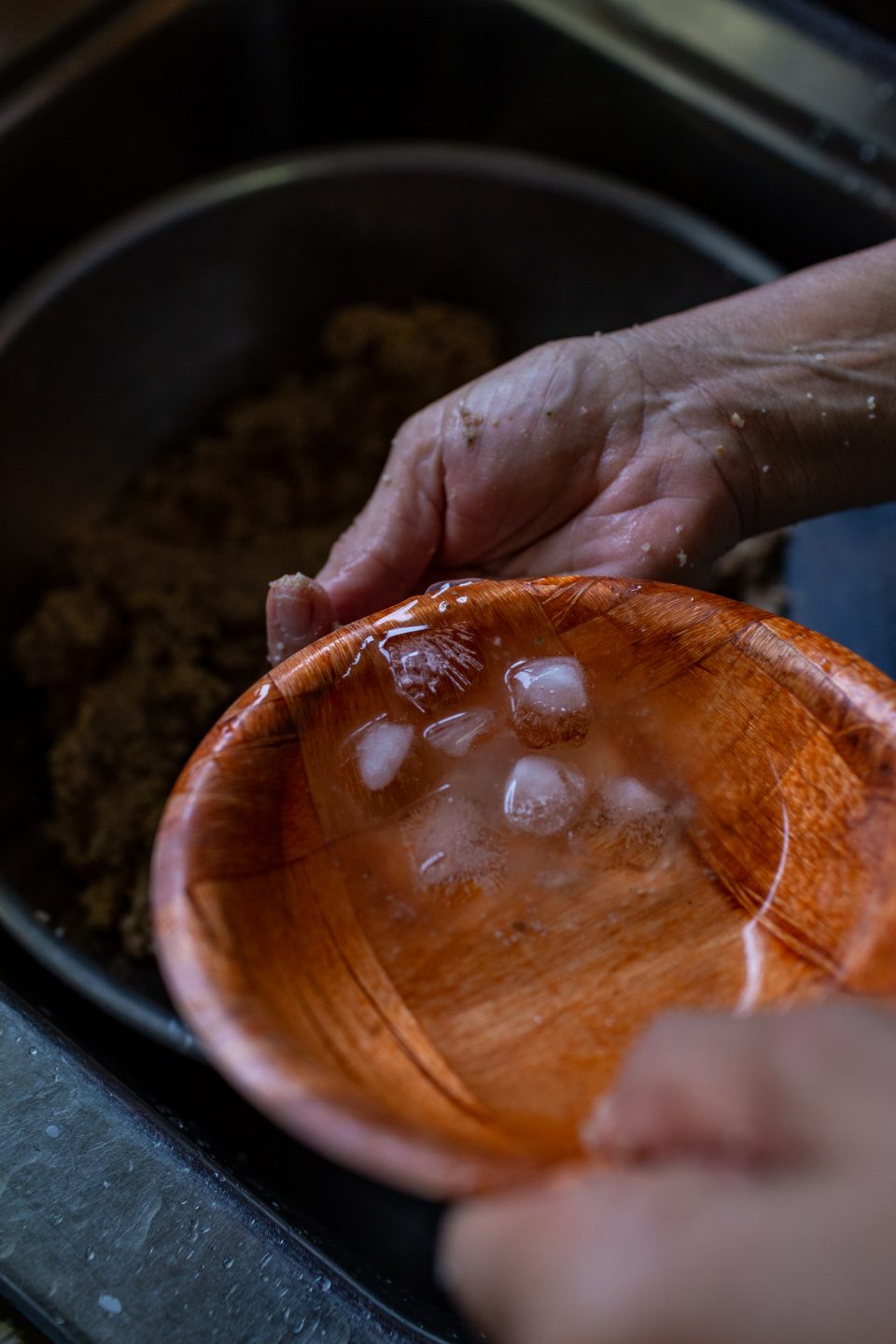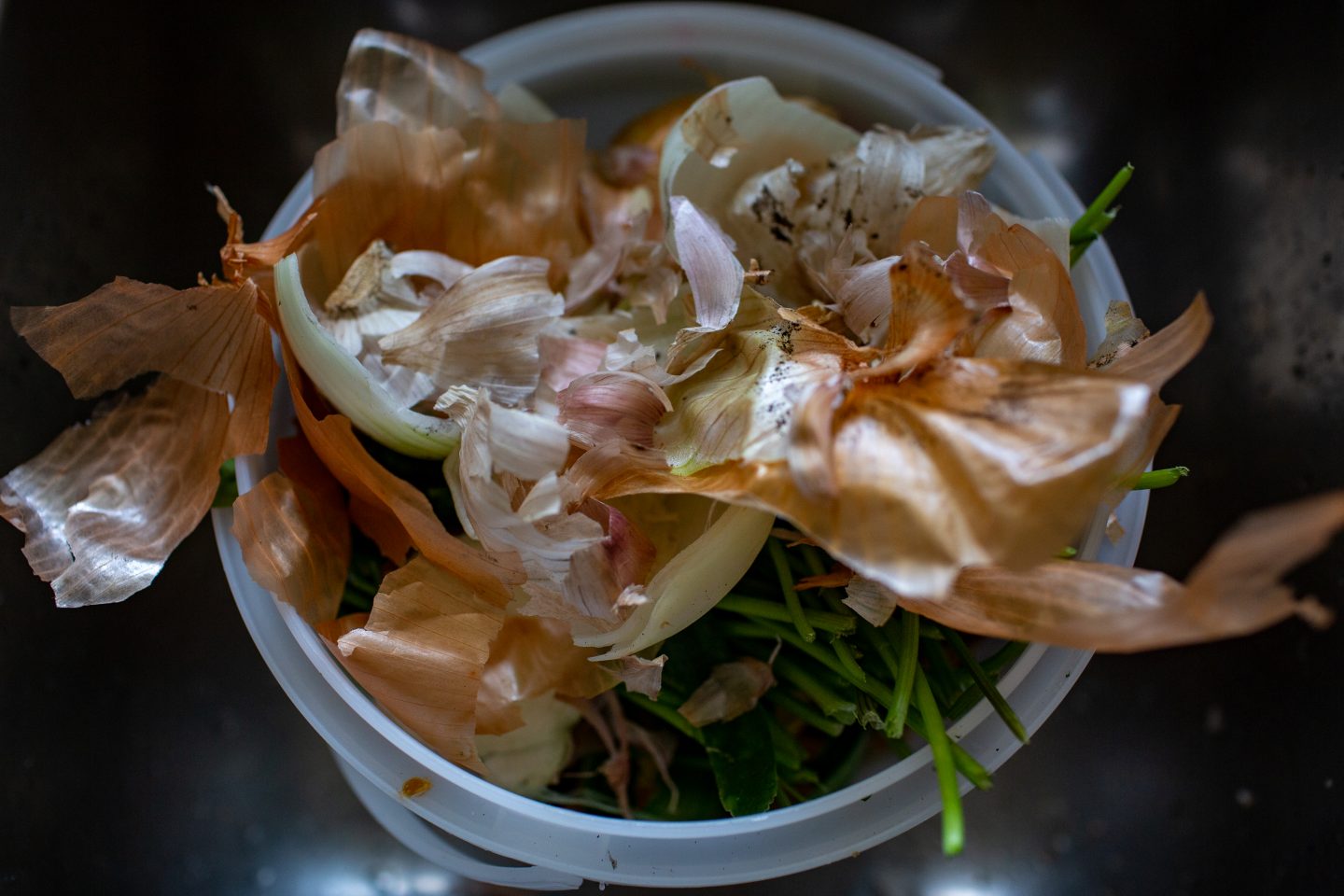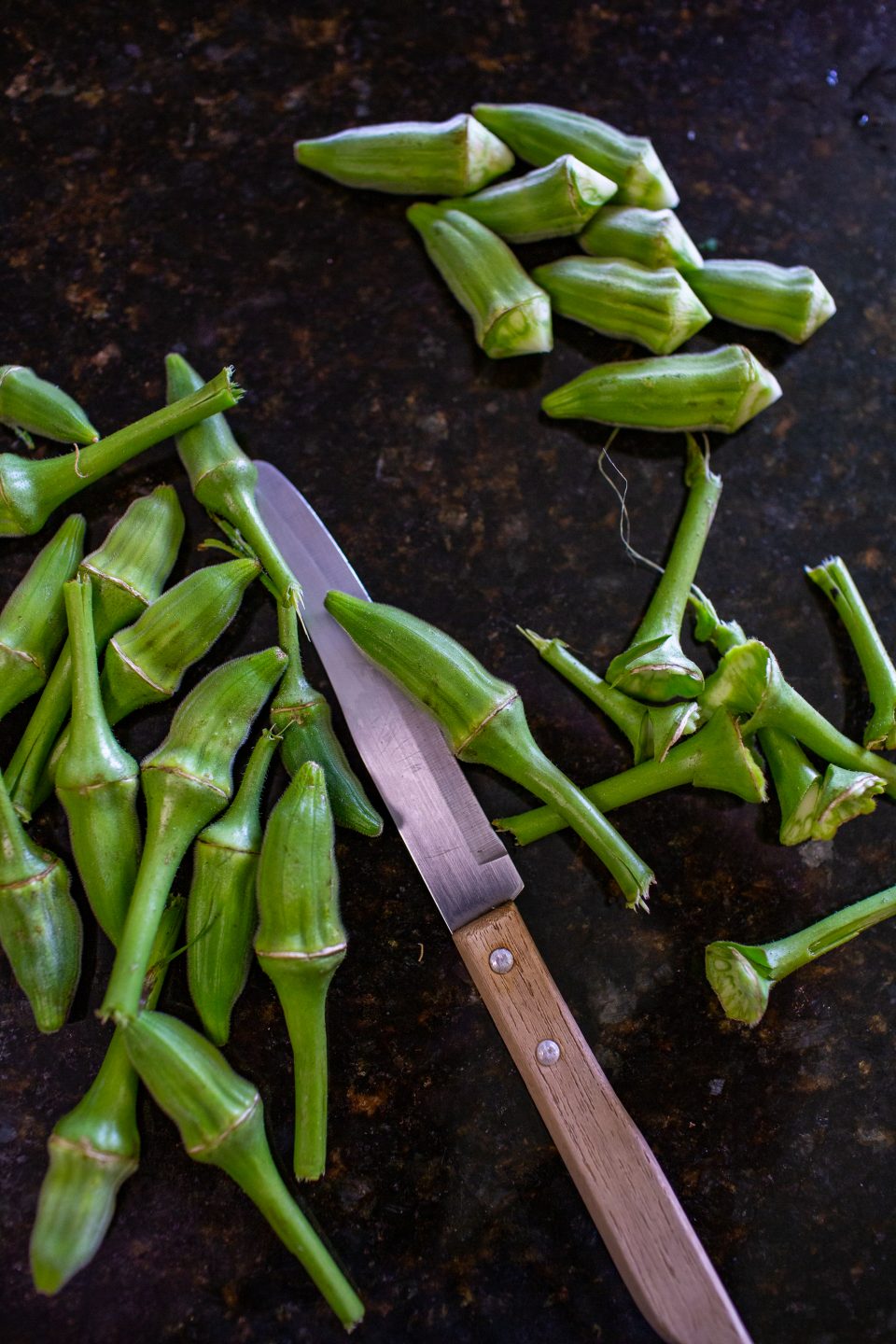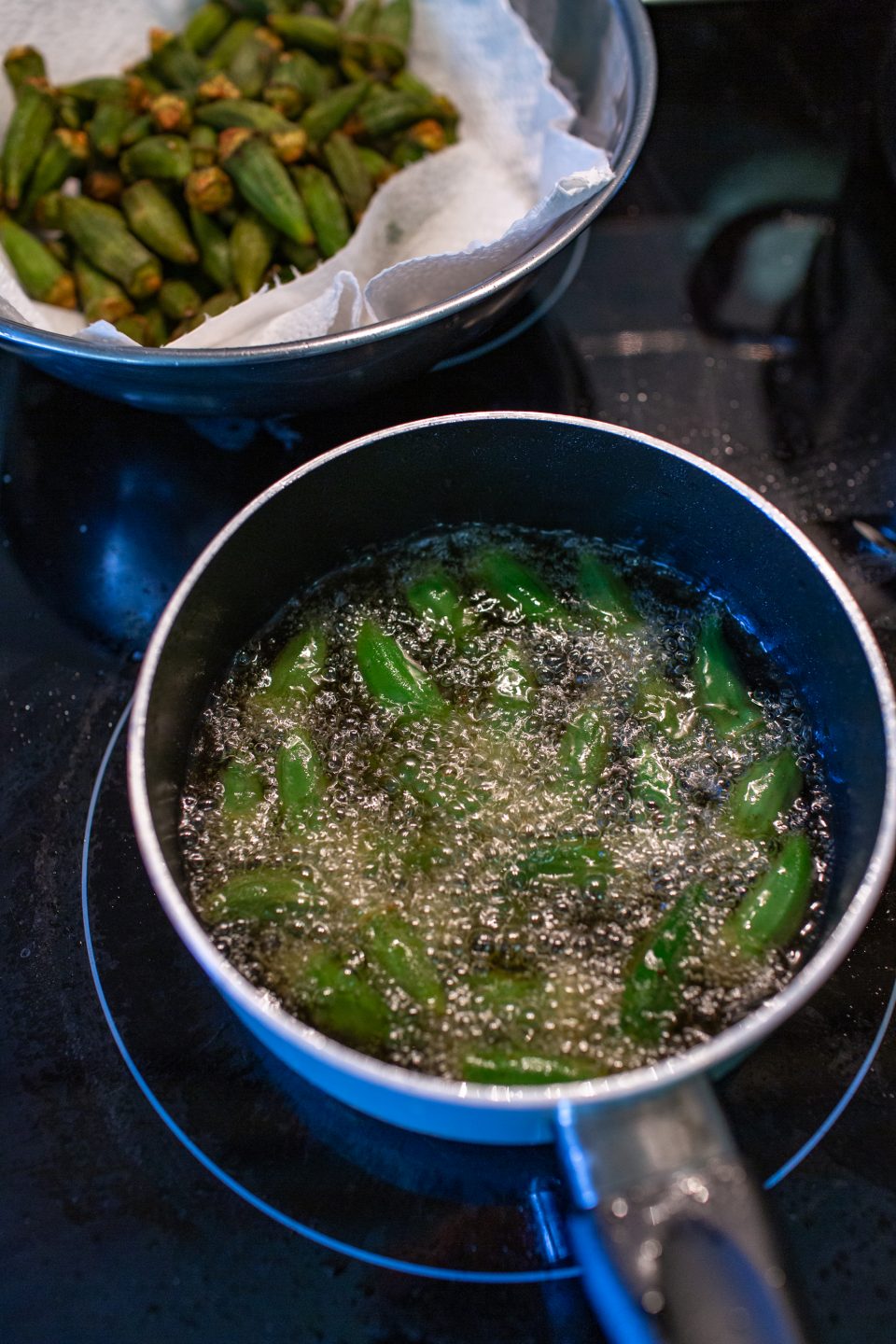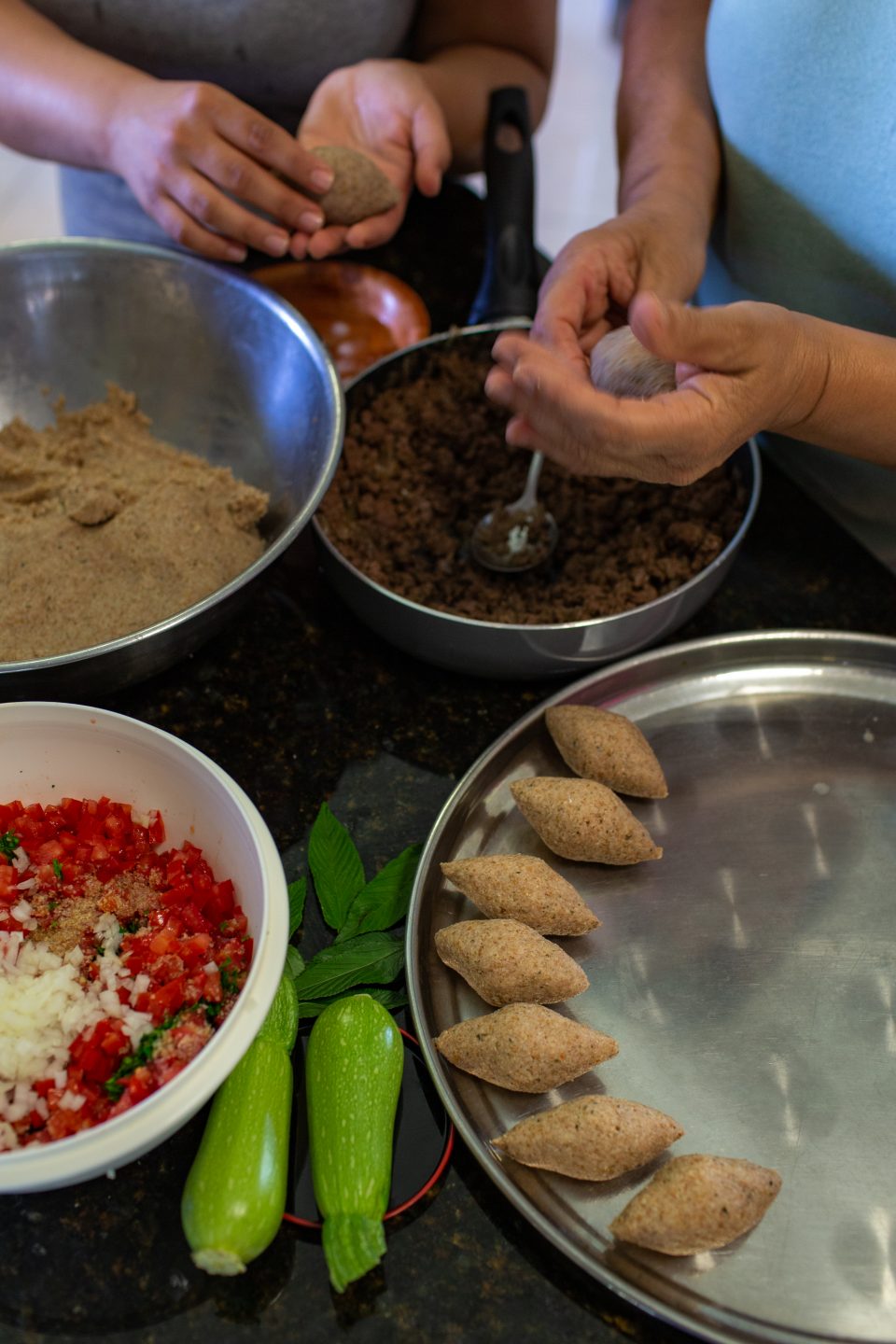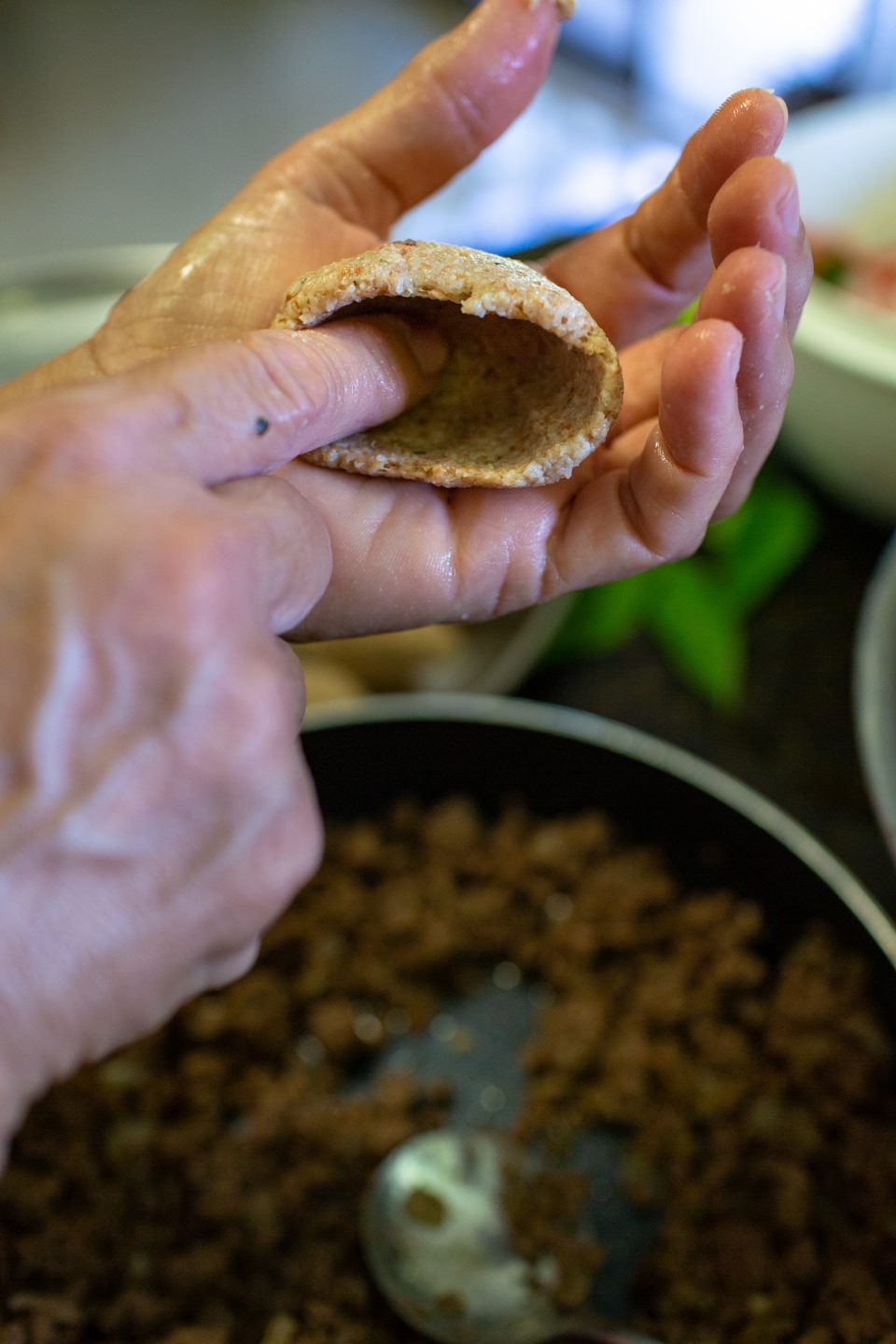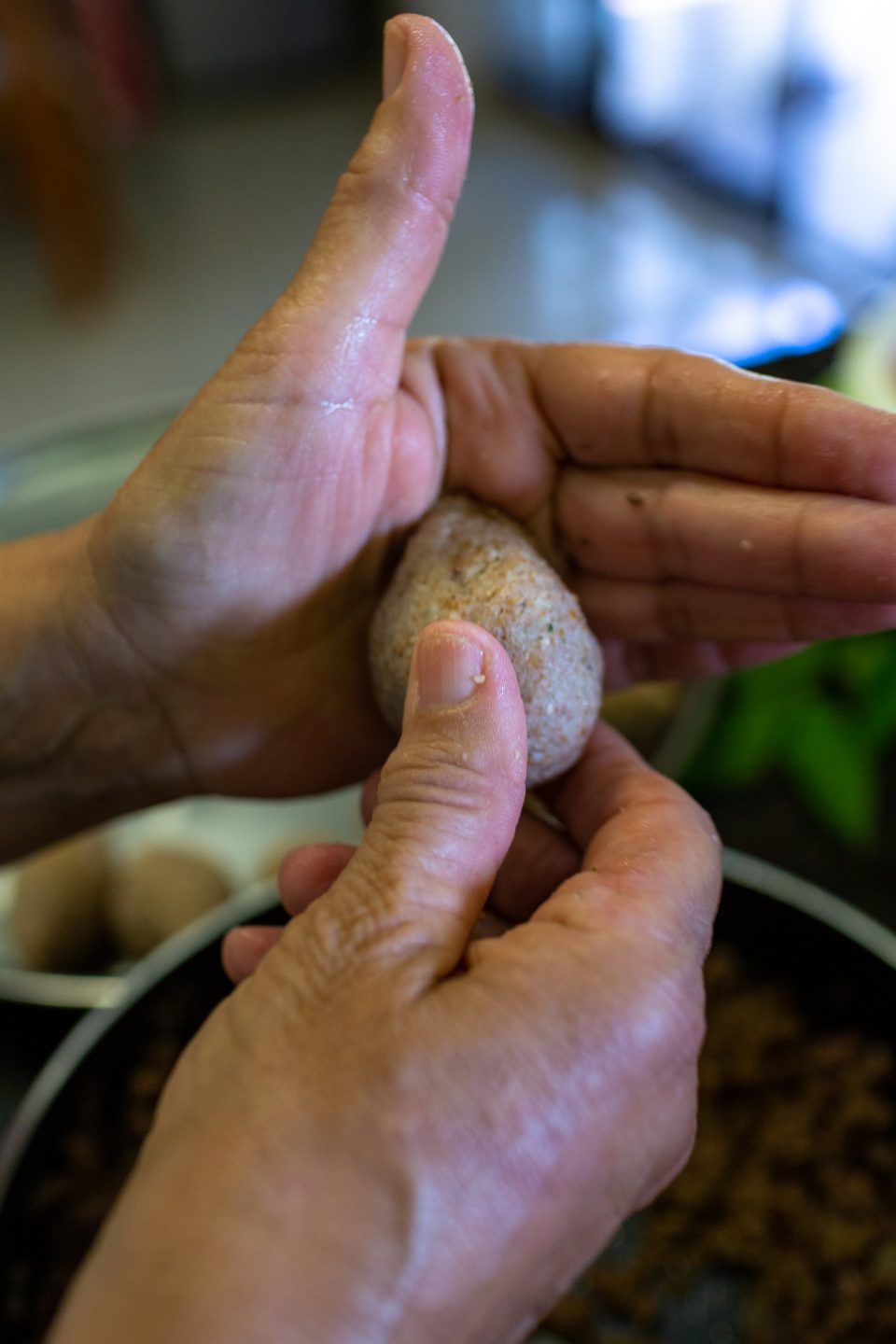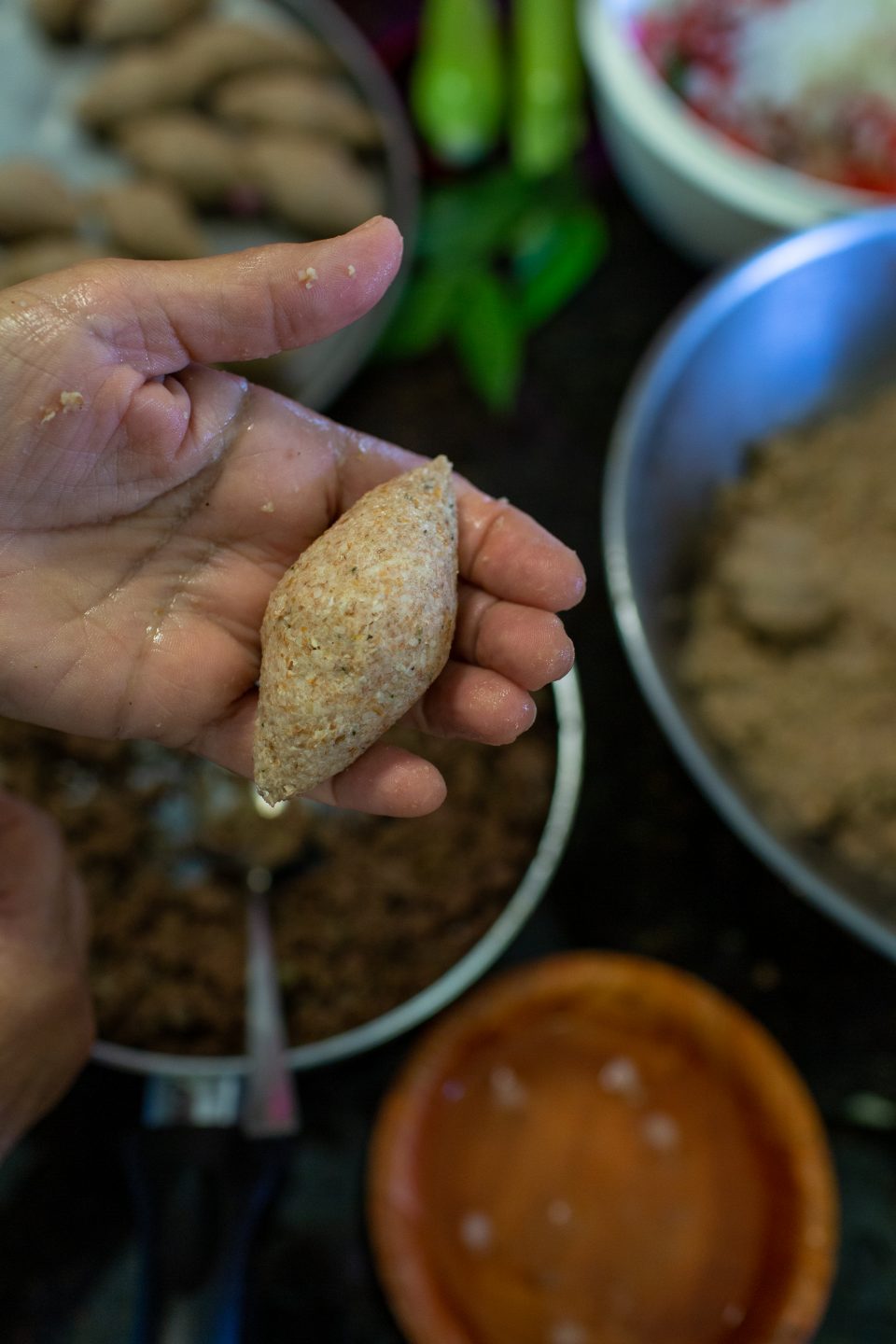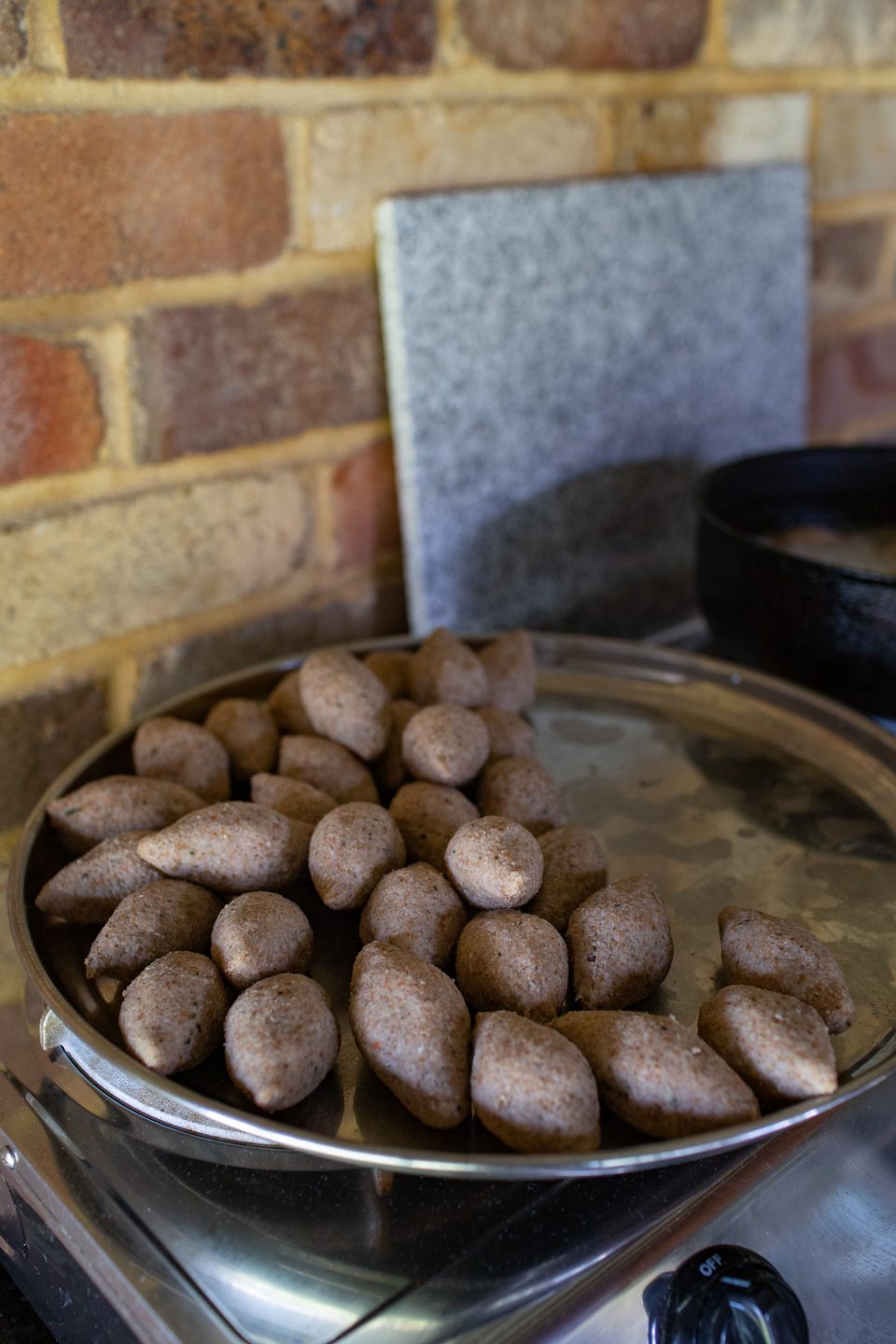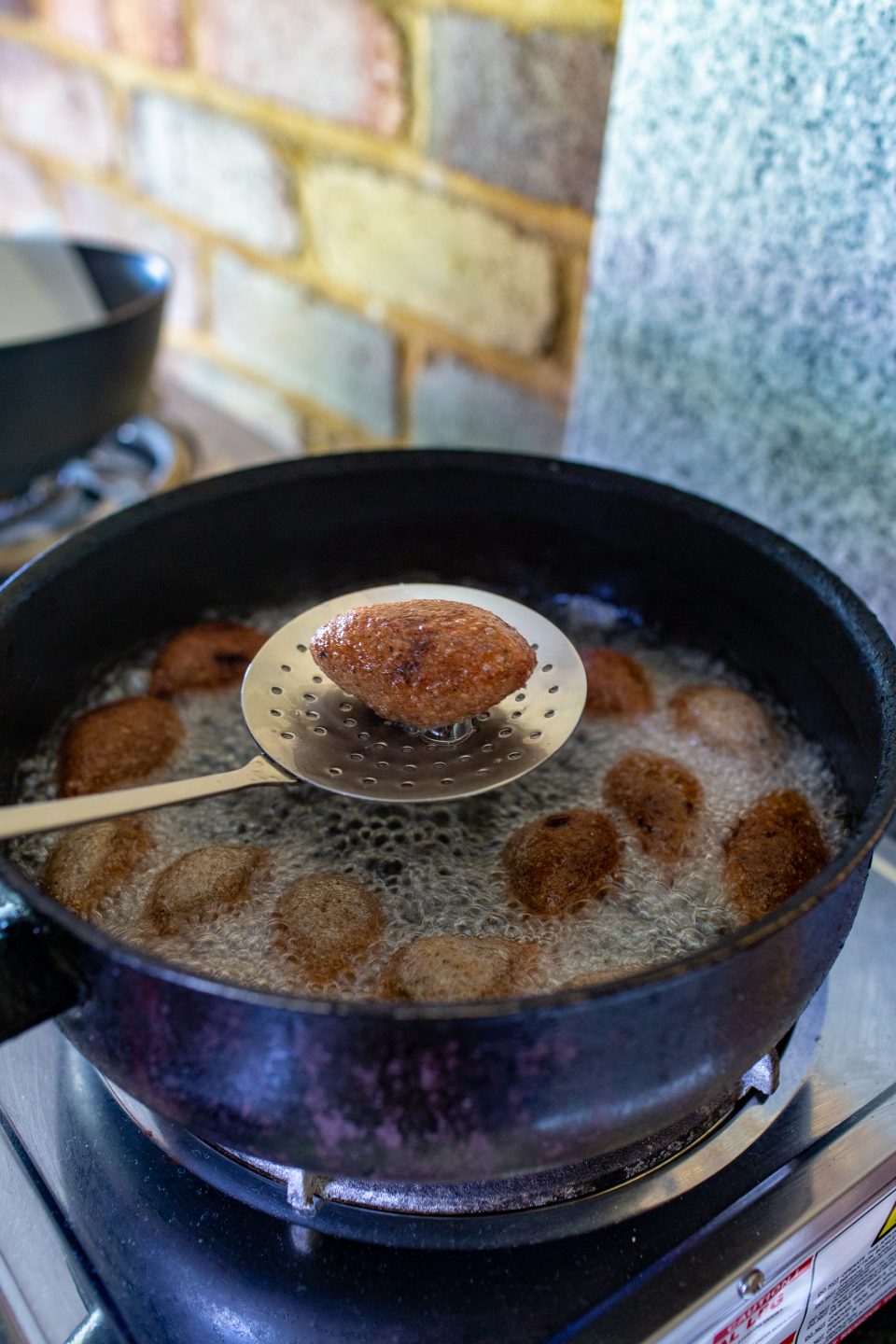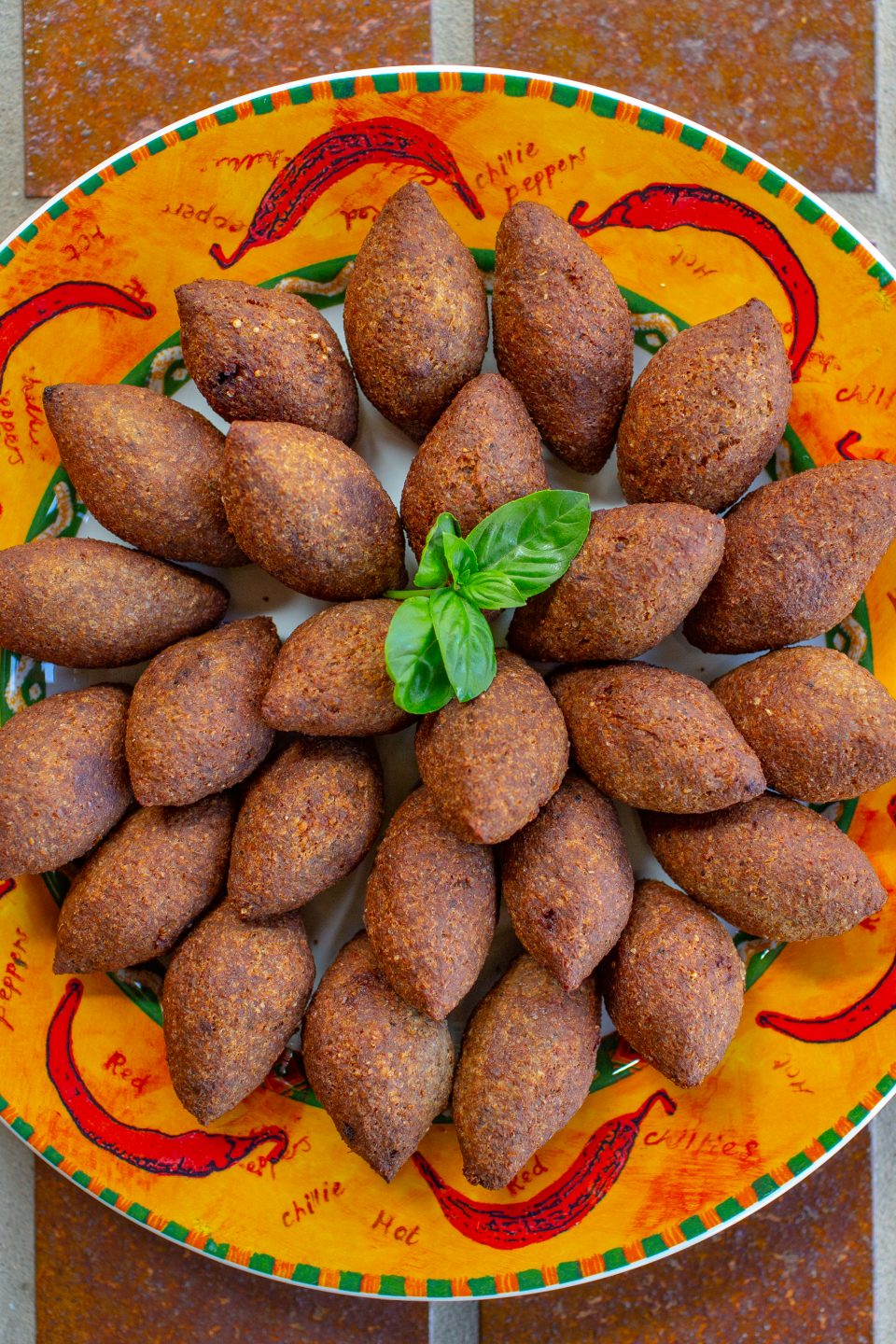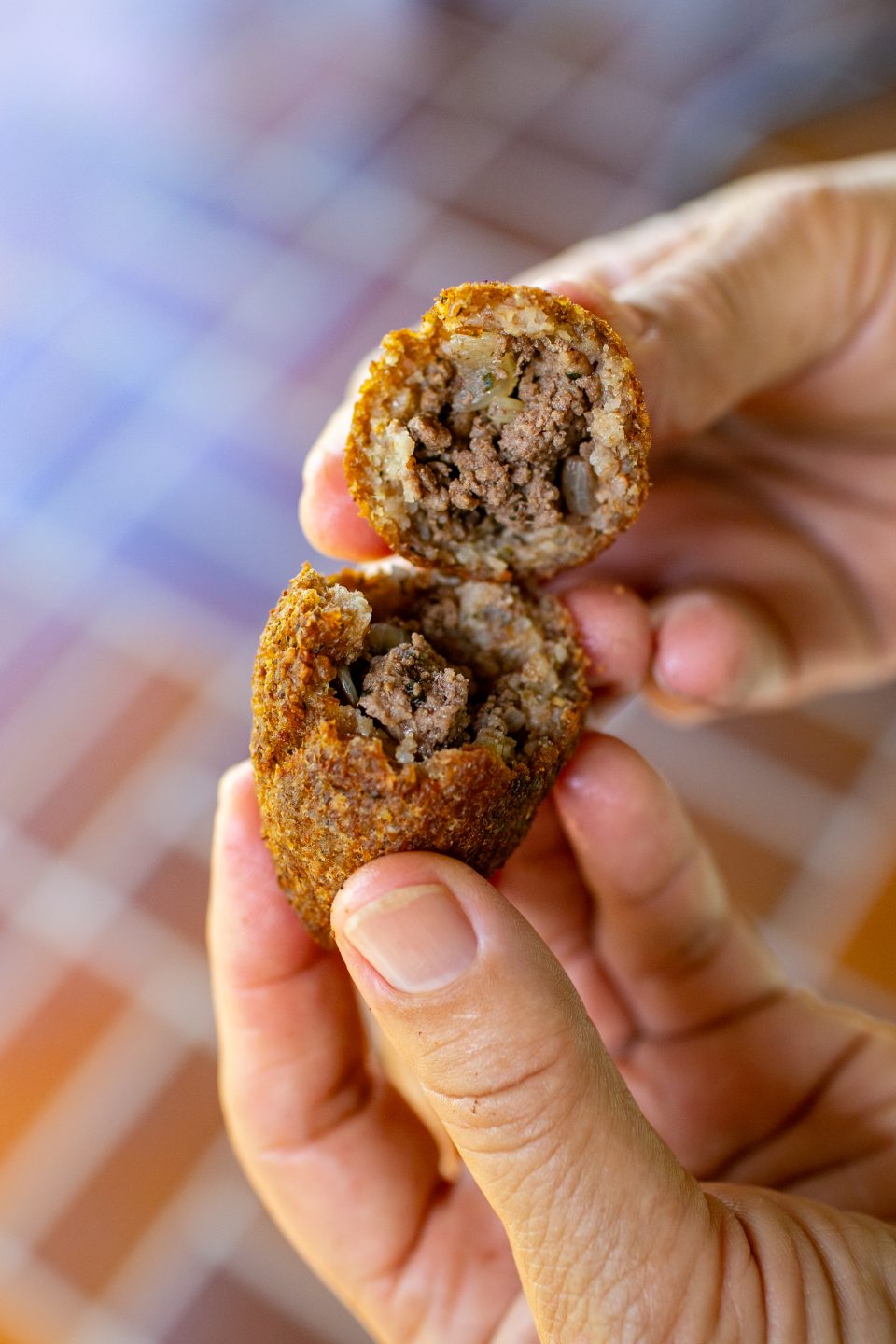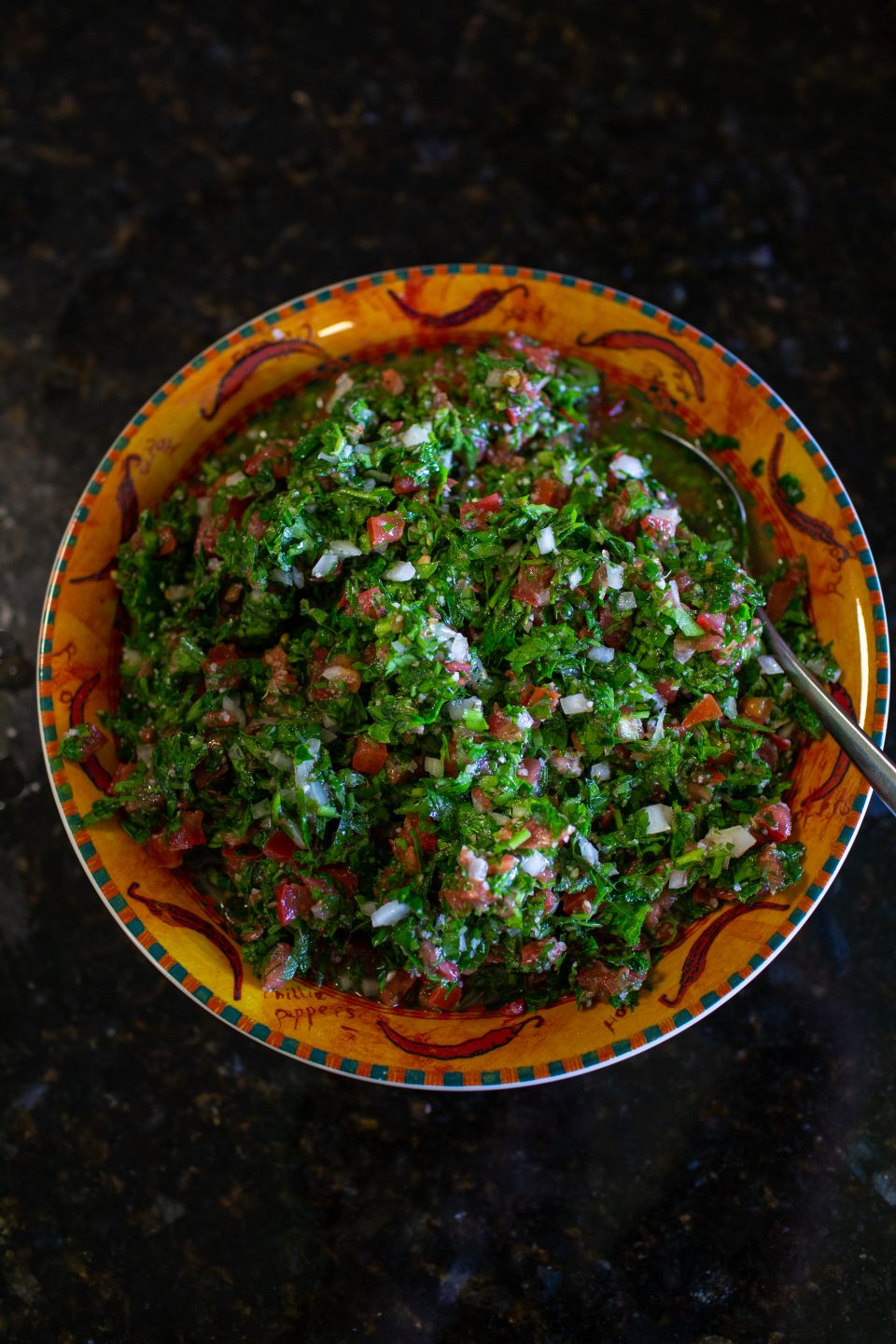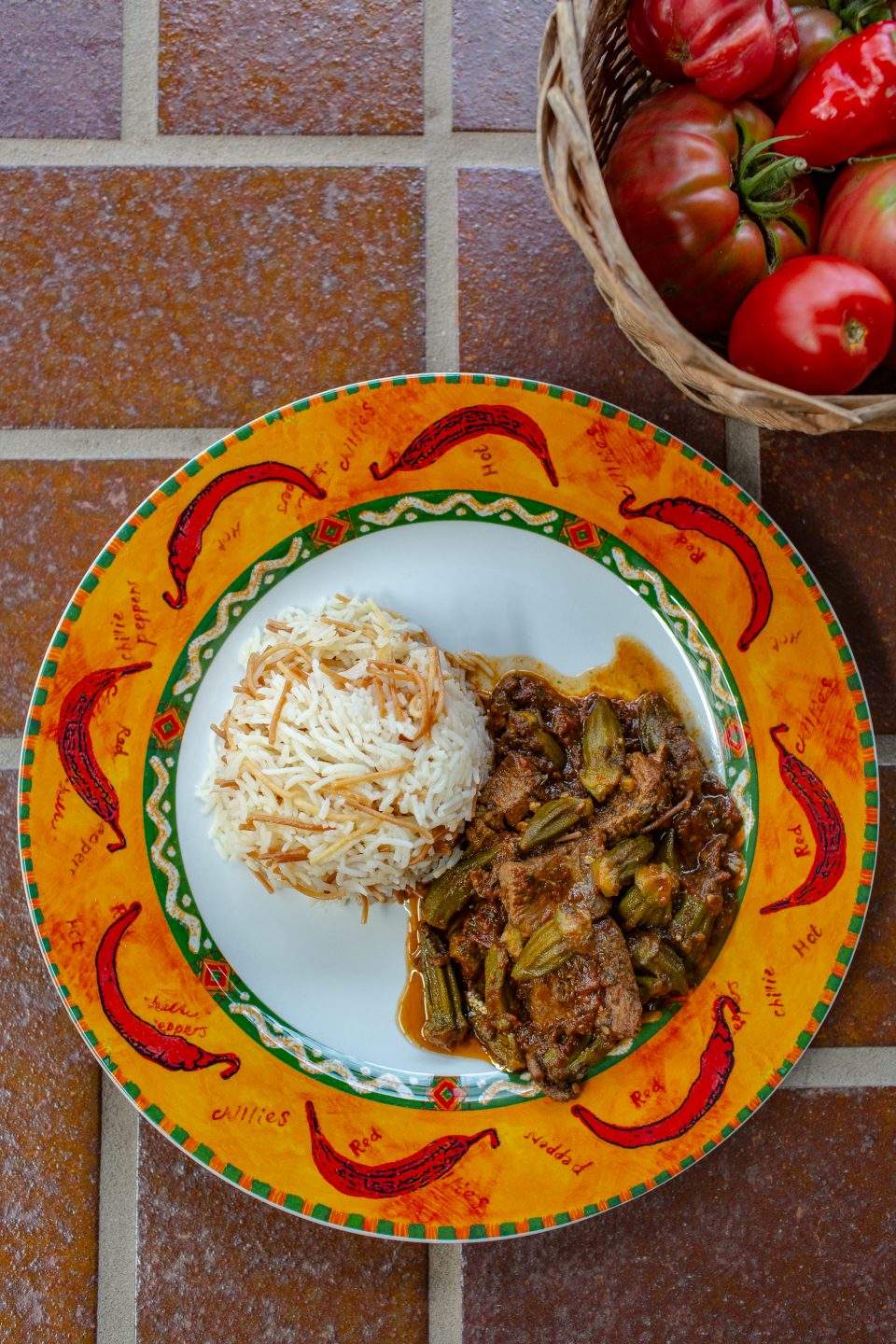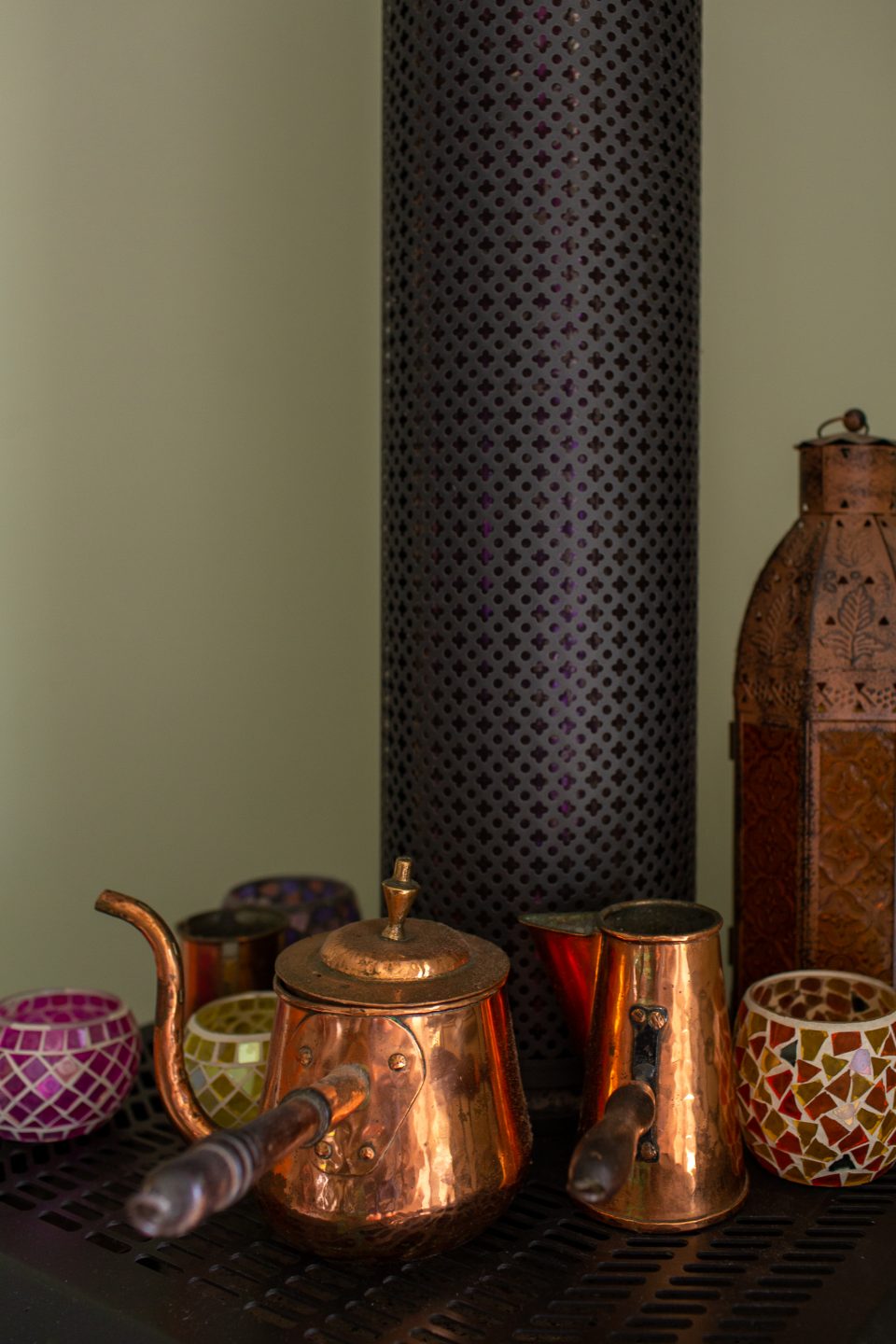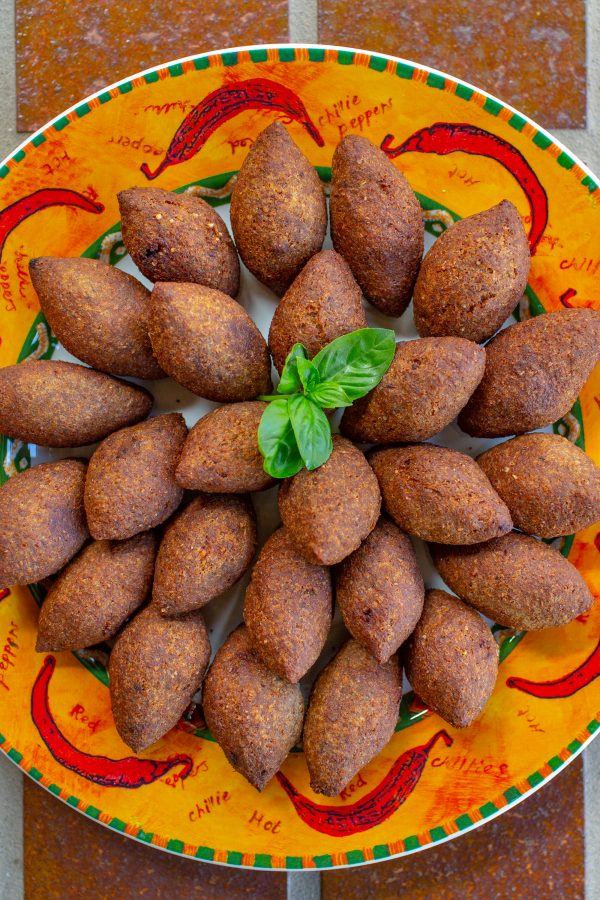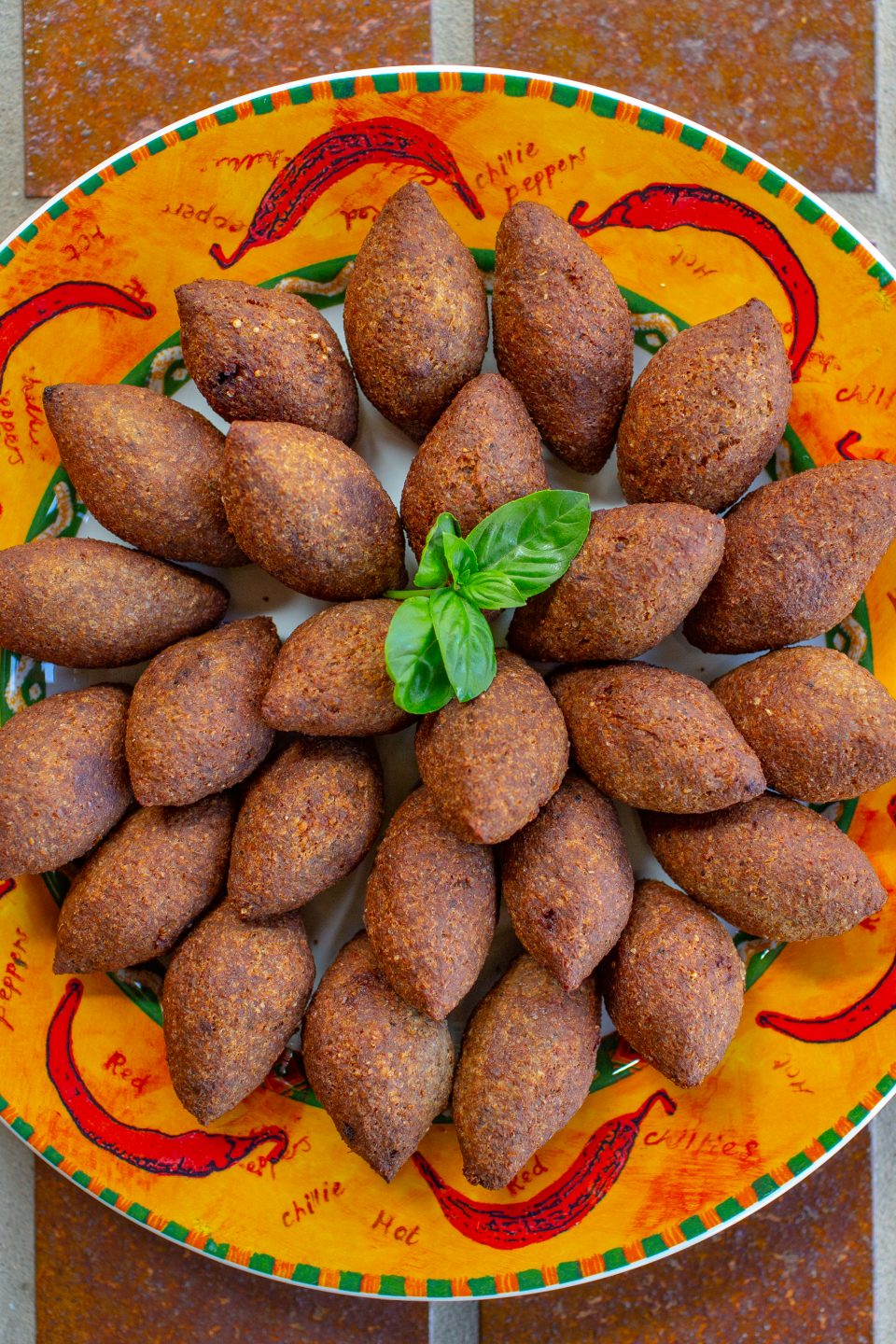 Kibbeh
Prep time: | Cook time: | Serves 10-12
Kibbeh Dough
500gr lean finely minced beef or lamb
500gr very fine burghul
1 medium onion
1/2 tsp dried marjoram
1/2 tsp dried mint
1 tsp Baharat 7 spice mix
1 tsp ground cumin
Salt and ground chili to taste
A small bowl of water with ice cubes
Kibbeh Filling
500 gr beef or lamb mince
2 onions finely chopped
1 tsp Baharat 7 spice mix
1/2 tsp dried mint
1 tsp ground sumac
Salt to taste
Vegetable oil for frying
Kibbeh Dough. Soak the burghul with enough water for at least 2 hours.
Using a food processor, finely chop the onion. Then add the spices, salt and chili into the food processor and blend further until you get a fine paste.
After the burghul has soaked up all the water, mix in the onion spice paste as well as the finely minced meat.
Mix everything by hand, squeezing/flattening the burghul by scrubbing two hands together. Slowly add in a little bit of iced water whenever it's needed to lubricate the dough and this will also create elasticity. Repeat this process until you get a dough consistency.
Kibbeh Filling. On a frying pan, fry the onion until it caramelises and soft.
Add in the mince and cook until brown then add in the spices towards the end. Let it cool down.
Prepare a small bowl of water to dip your fingers into when shaping the kibbeh to avoid sticking. Roll kibbeh dough into a golf ball size and make an indentation with your index finger. Rolling the dough as you thin it out by pressing it with your index finger onto the palm of your hand. You'd want the casing to be as thin as possible but without breaking.
Place 1 tablespoon amount of filling into the casing then close it up shaping the top into a cone shape like by rolling and cupping it with the other palm of your hand. Please refer to the photographs on the blog post for a visual guide.
Fill 1/2 of a medium/large size saucepan with vegetable oil and heat up until oil temperature reaches about 180C. Fry the kibbehs until golden brown. Don't overcrowd the the pan as this will make the oil temperature go down too much and kibbeh won't cook properly. Place cooked kibbeh on a paper lined plate to absorb any excess oil and to cool down.
Serve fried kibbeh with yoghurt dip.