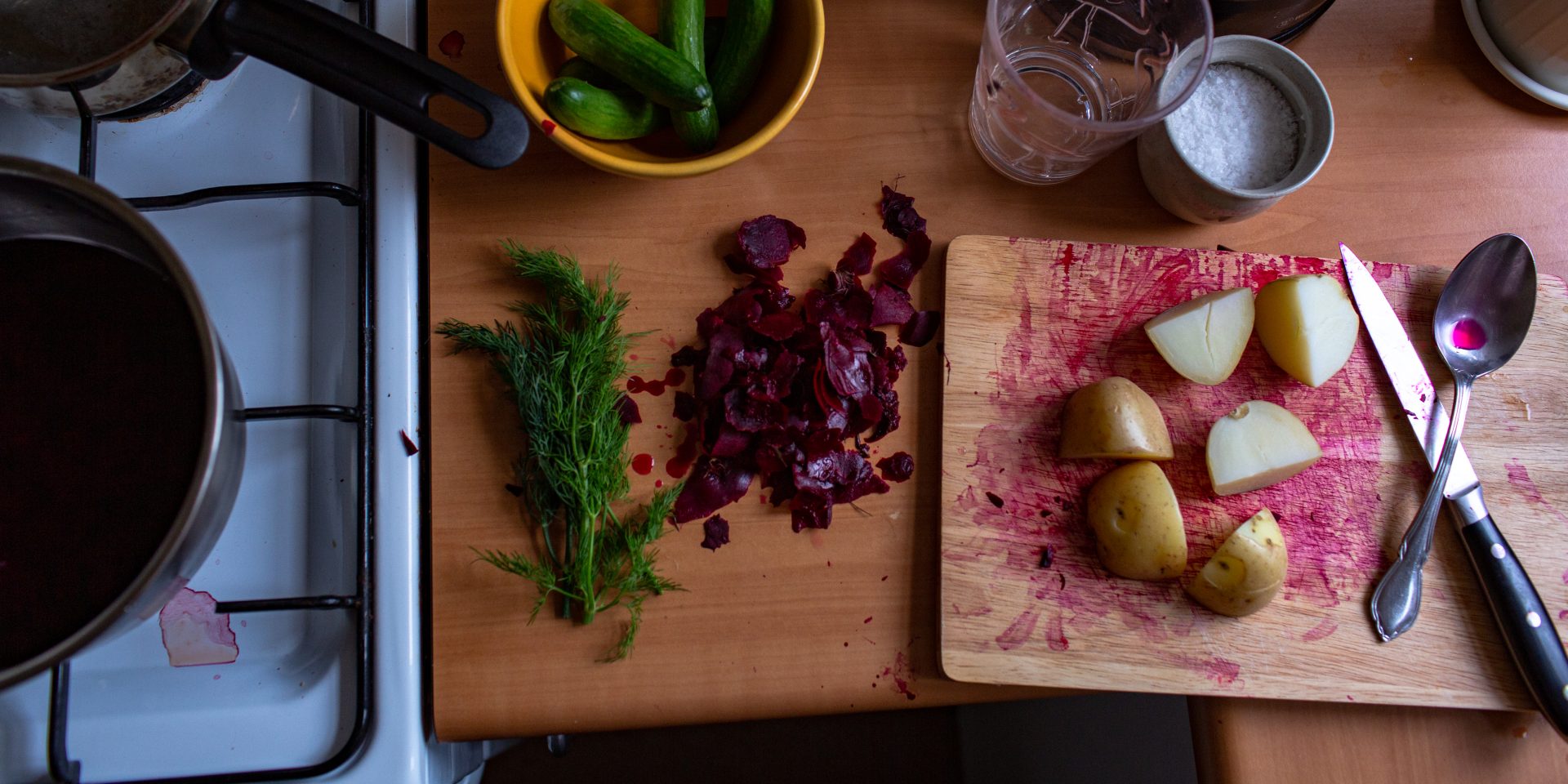 In 2014 in Moscow, Russia – Anna took up an ambitious and insightful project of cooking the dishes from the one and only cookbook available in the USSR "The Book of Tasty & Healthy Food" (first published in 1939) with the supervision from her babushka (grandmother) Elena who grew up in the Soviet era. The book is filled with tips for every Soviet housewife on how to create healthy and tasty food, how to set the perfect table, choose the best wine and organise their time in the kitchen. It is also filled with stunning and lavish food images showcasing what Soviet families should attain to achieve in their kitchen and meal times.
As a food history writer and educator, this project let Anna to delve into social history and be creative in her cooking approach adapting the Soviet recipes to suit the modern diet. Cooking for Anna is not just about mixing the ingredients. It's a way for her to learn and connect with the history and keep memories going. After 2 years of posting her blog entries on the iconic Soviet recipes, Anna put together all the contents into her first book called The Soviet Diet Cookbook. (You can purchase the e-book version here). I myself am intrigued to create both the original Soviet Pizza and Anna's version in my kitchen one day.
Meeting and getting to know Anna for the first time at her Sydney home, I felt a connection where we both take interest in food culture beyond recipes and cooking techniques. That morning Anna cooked me her Ukrainian great grandmother's recipe of Svekolnik, a cold marinated beetroot soup with soft boiled egg, perfect for hot summery days. Made with some simple fresh ingredients that are transformed into a dish that's rich in history, nostalgia as well as the most vivid colours. Anna hosted online cooking session creating this dish as part of fundraising for #CookForUkraine.
I can't live without
rye bread
Currently I'm obsessed with
childhood recipes (Blinis, Pirozhki, Borscht, Plov)
I will always have in my pantry
Chickpeas, roasted buckwheat, sunflower seeds
I learnt to cook from
my grandmother, friends & cooking classes
Currently I'm listening to
Purple People Eater
One day I must visit
France
I am really good at
writing, yeasted dough
The unforgettable meal
Moroccan chicken on the Great Ocean Road in Victoria
My piece of Sydney
Inner west and Botanic Garden
Favourite spice
cumin and mint
Best flavour combo
Potato and sour cream with dill
Guilty pleasure
popcorn, nutella
Who does the dishes
whoever doesn't cook
Anna's babushka's food waste tips
1. Spread the love. If you see that you've got too much of something and you won't go through it, share! Give it to neighbours, invite people over, if you're going to see friends, bring the food. "I've made so much fish soup, come over right away!" - was not an unusual text from granny. My Uzbek friend would make a big pot of plov and then knock on neighbour's doors to share with them. True story. 
2. Look before you cook. That simple: open the fridge, see what's begging to be eaten, and make it. If you don't feel like eating it yourself, see tip 1.
3. Zapekanka is your friend. Got a bit of cooked pasta, one egg and a sad looking tomato? Mix all together, add some bread crumb and bake! Anything goes into a zapekanka, and all tastes good with a generous dollop of smetana. My great grandmother Moun'ka's go-to dish.
4. Friendship, again! This time in the form of kasha (porridge). Mum says they used to cook up all the remaining grains together, or mix cooked grains together in one pot. And of course it was called druzhba (friendship). Grains of all sort, unite!
5. Pancake whenever possible. Got some milk or yogurt that's on the turn? Make blini or oladyi (pikelets). You can also make tvorog out of the milk and use the whey to make pancakes with.
6. Borrow! Yes, neighbours again. If you know you only need a little bit of something and you wouldn't use a whole tin/jar/bottle, knock on your neighbors' doors and ask if they have some to share! Also perfect opportunity to share something you have, see tip 1!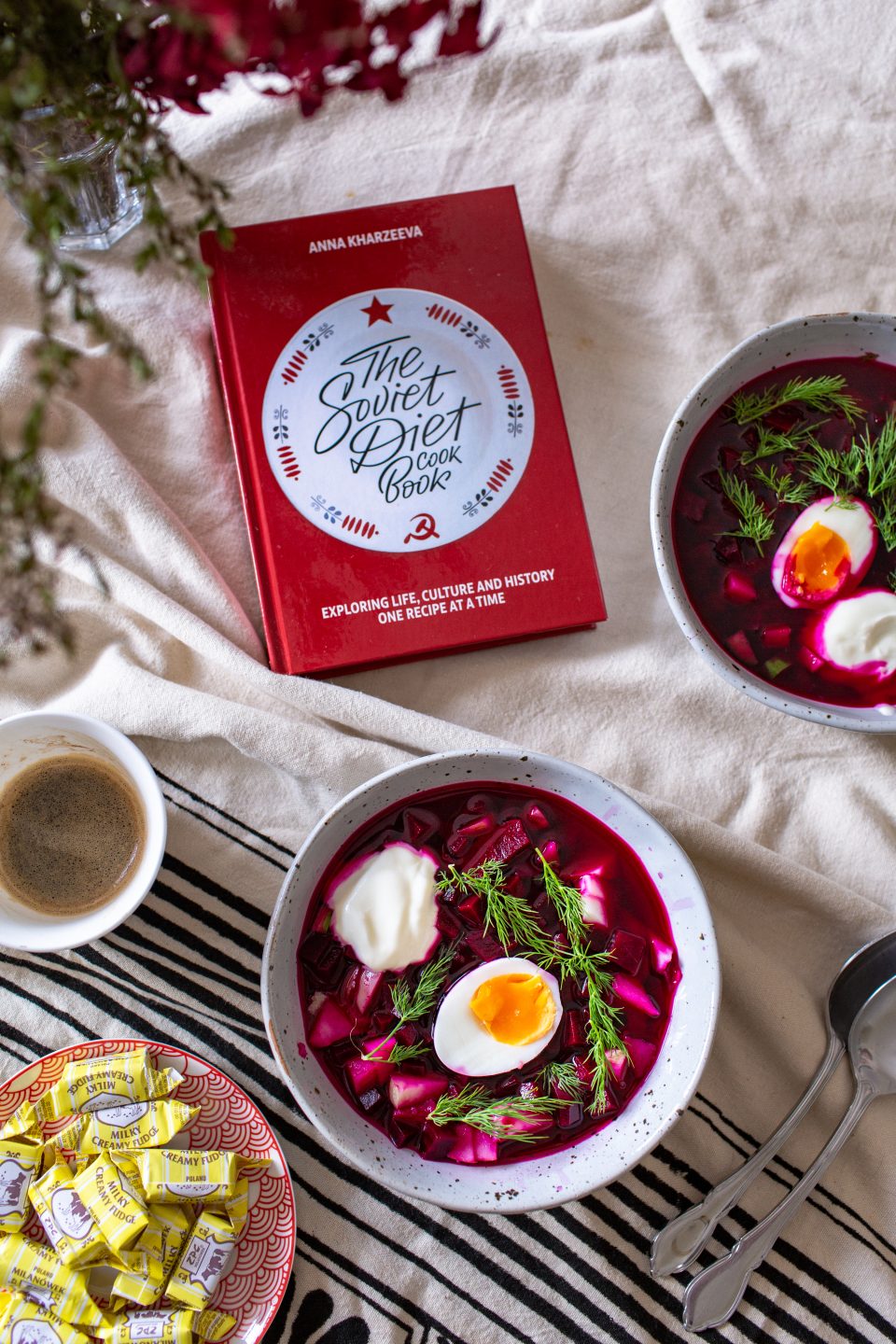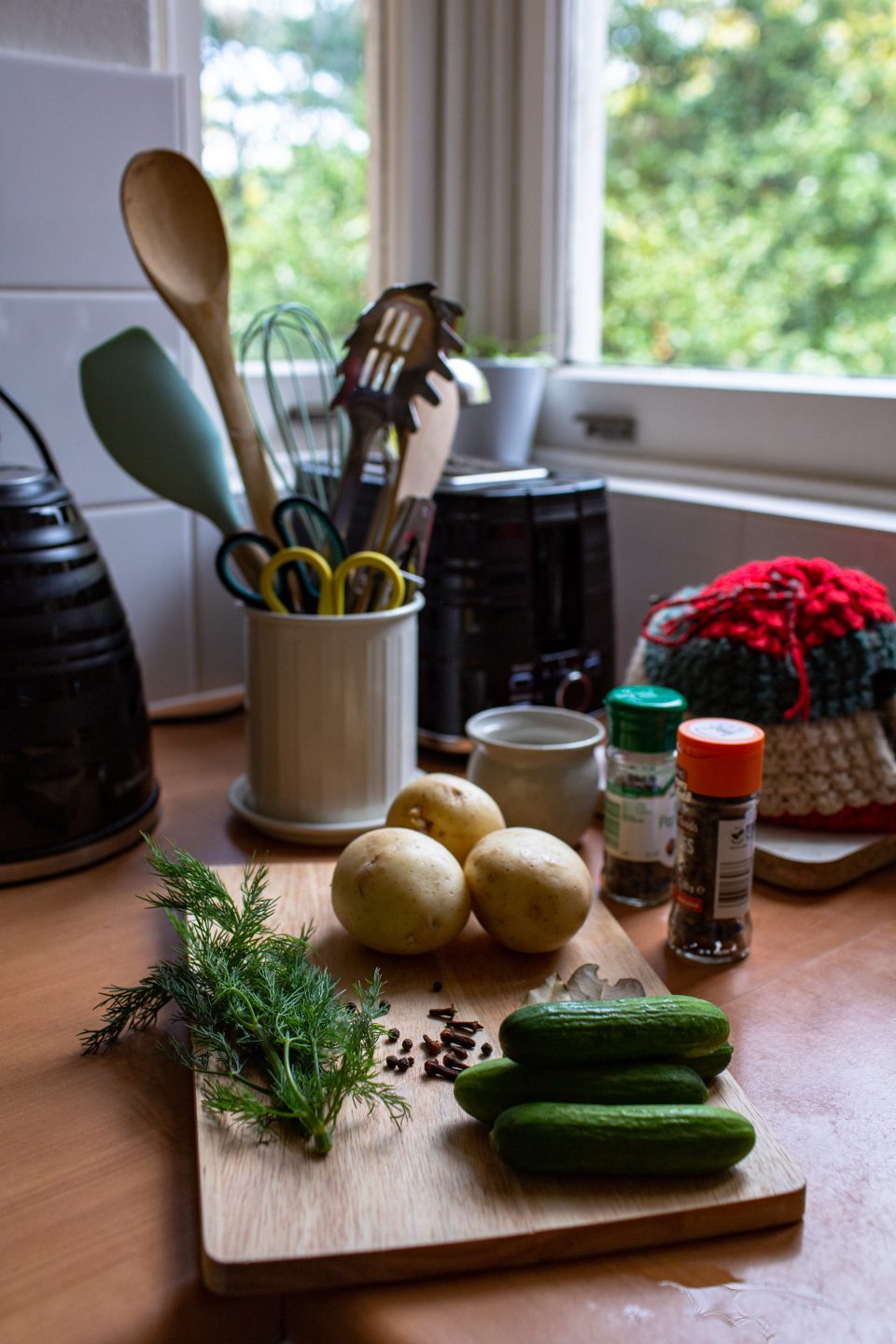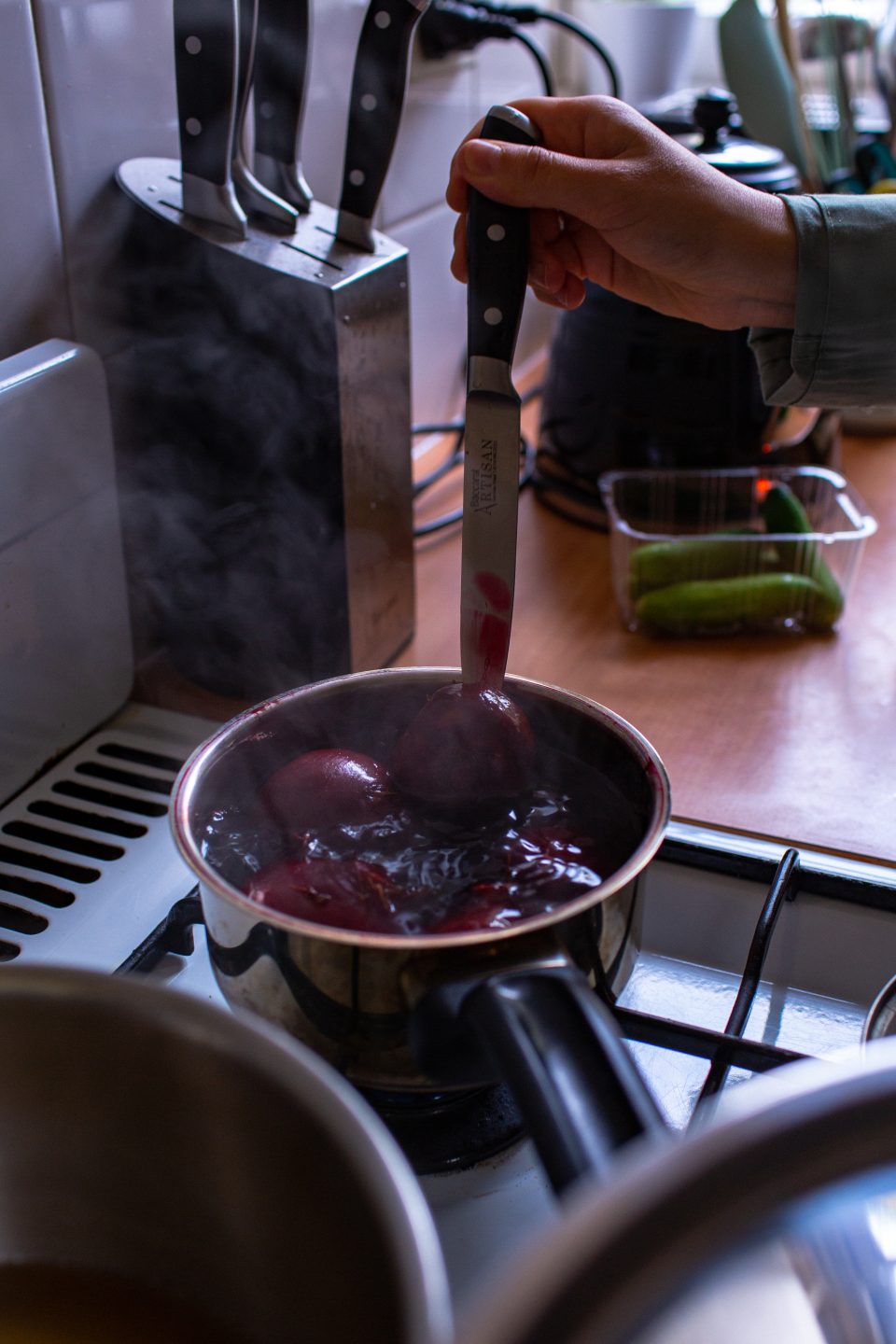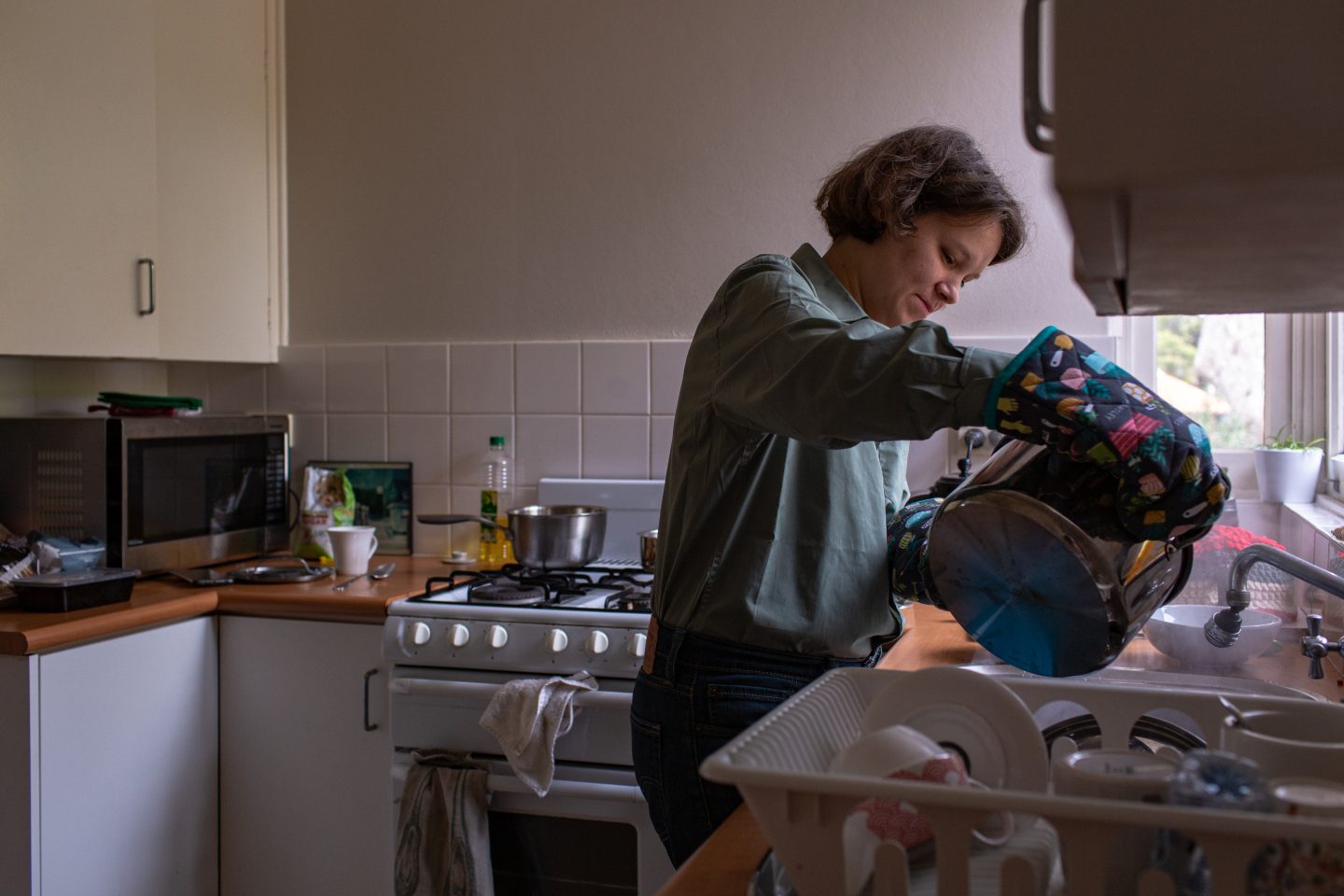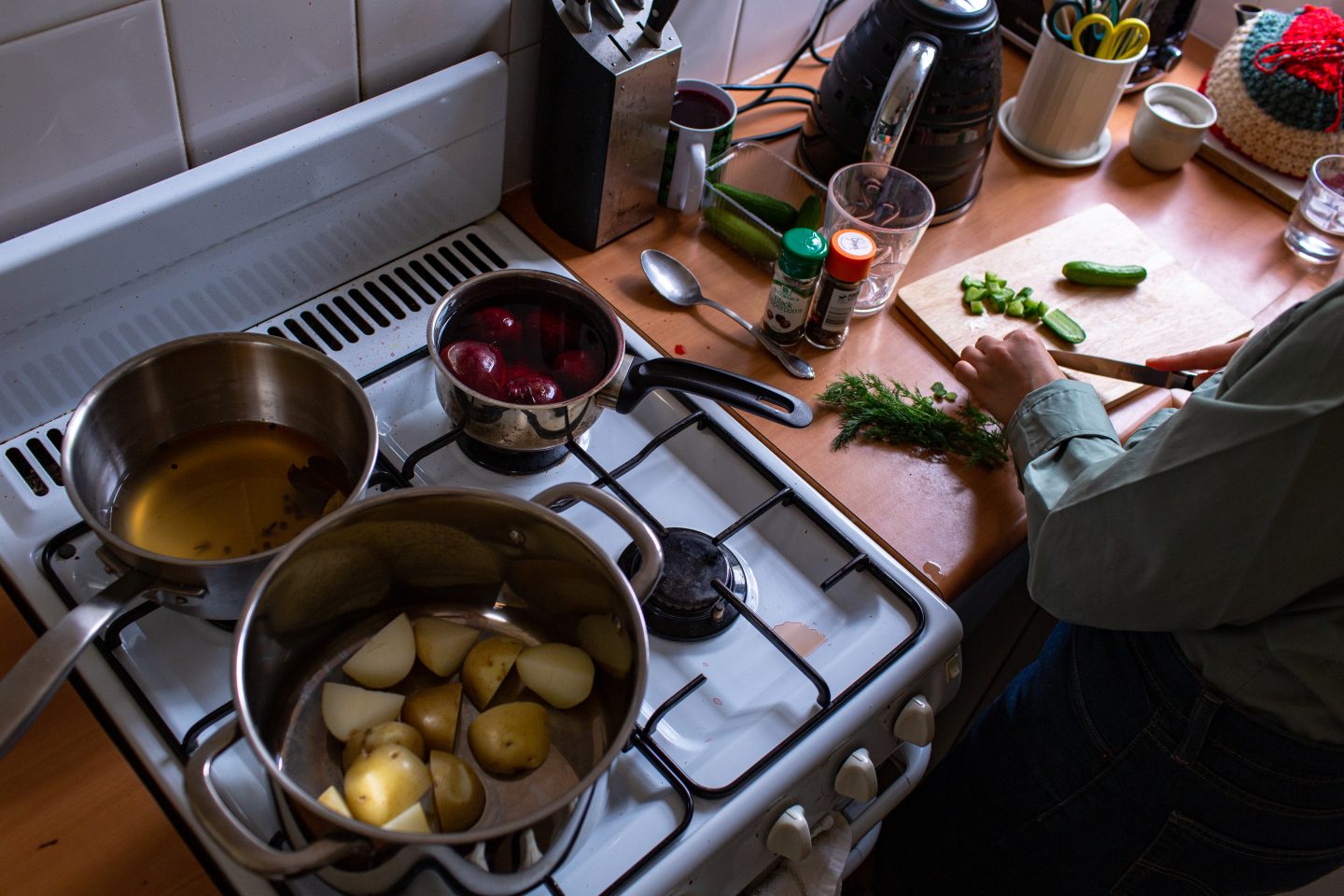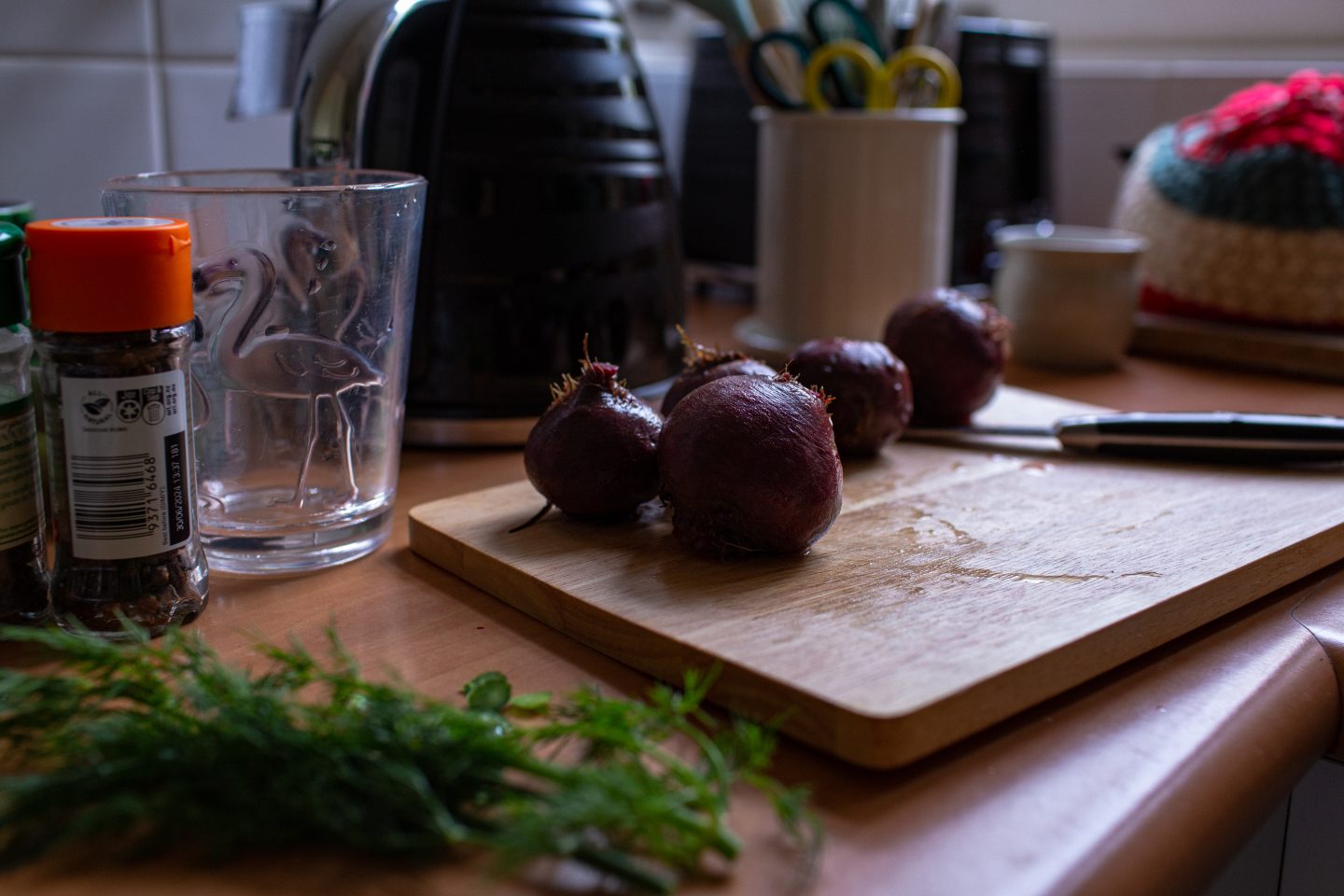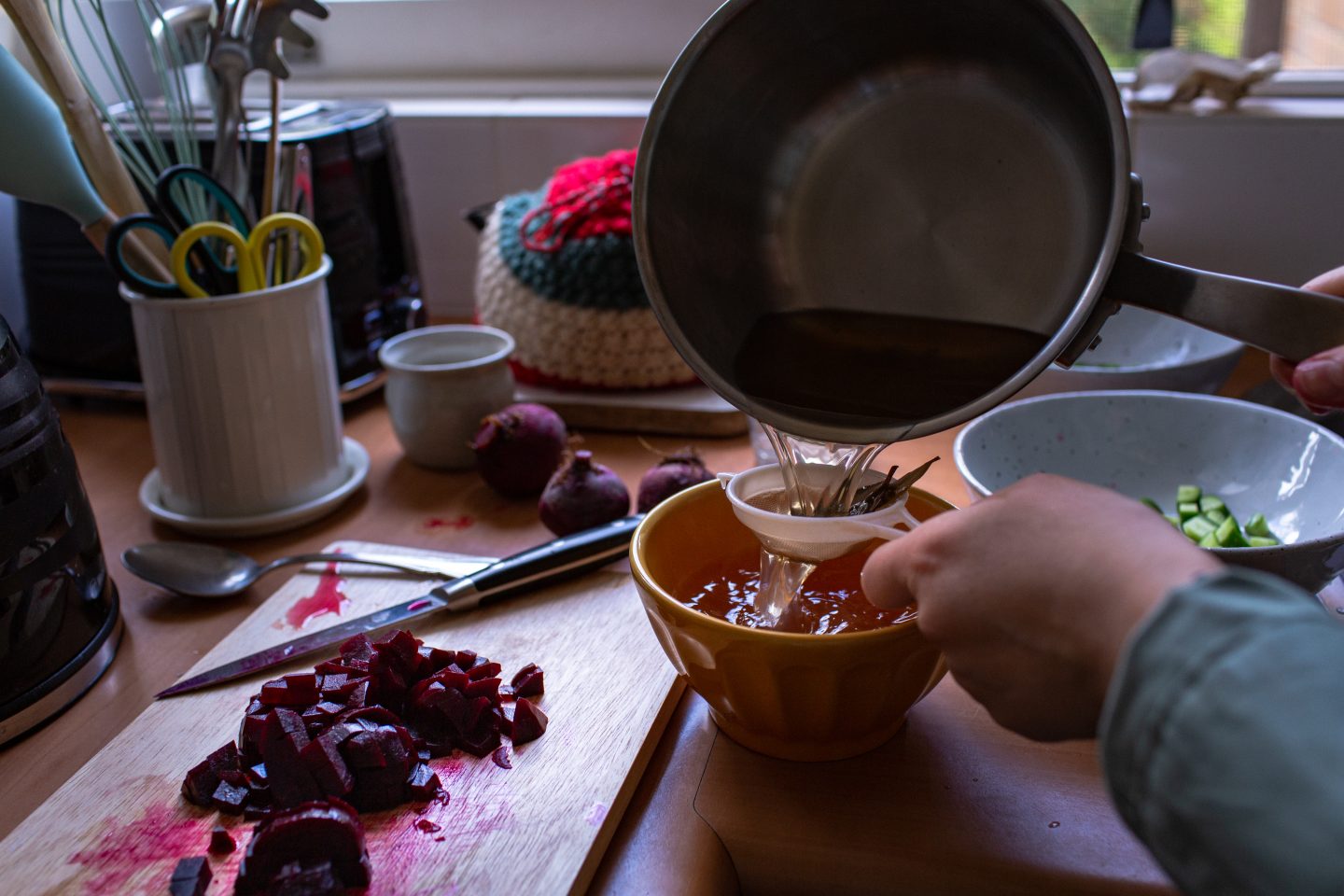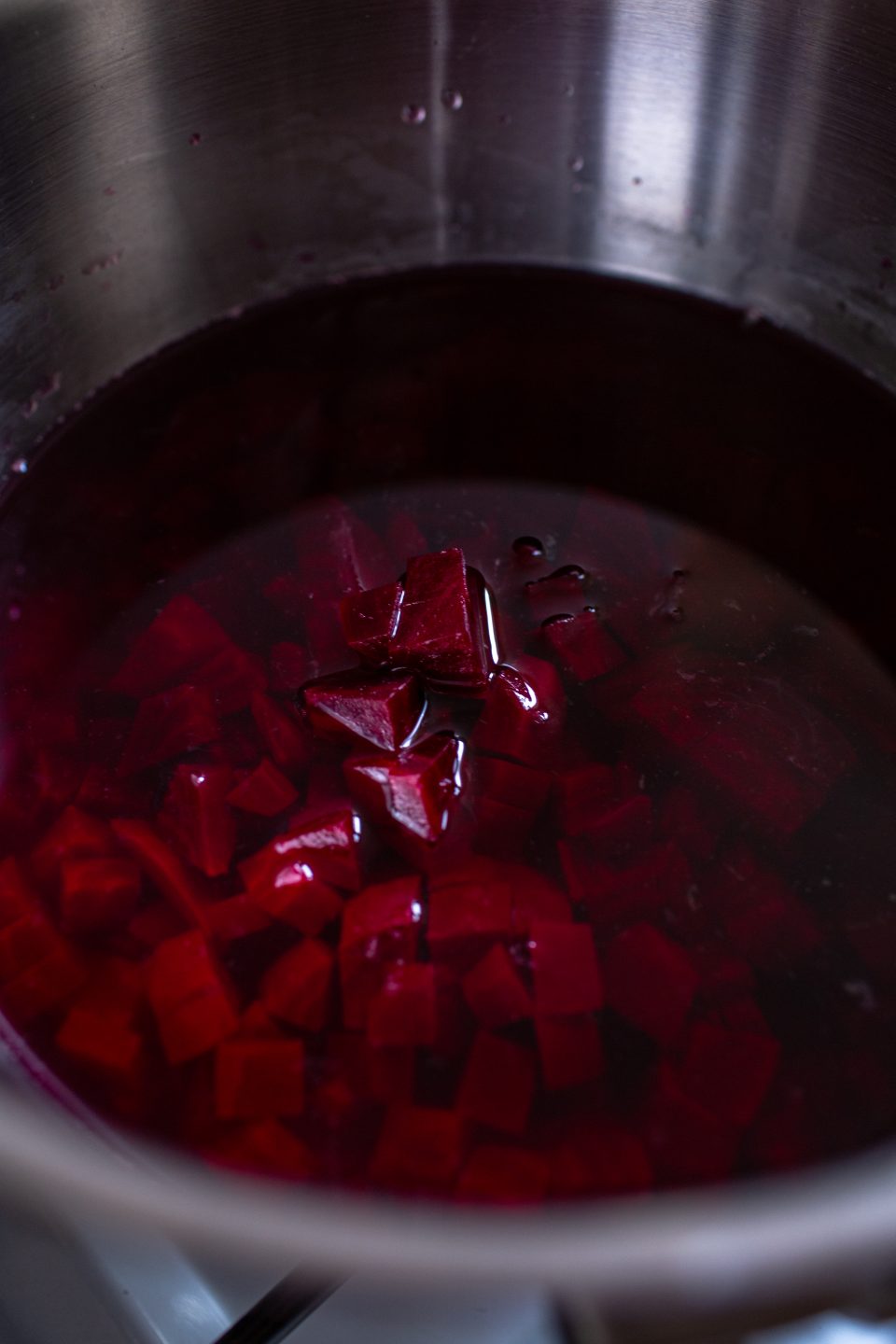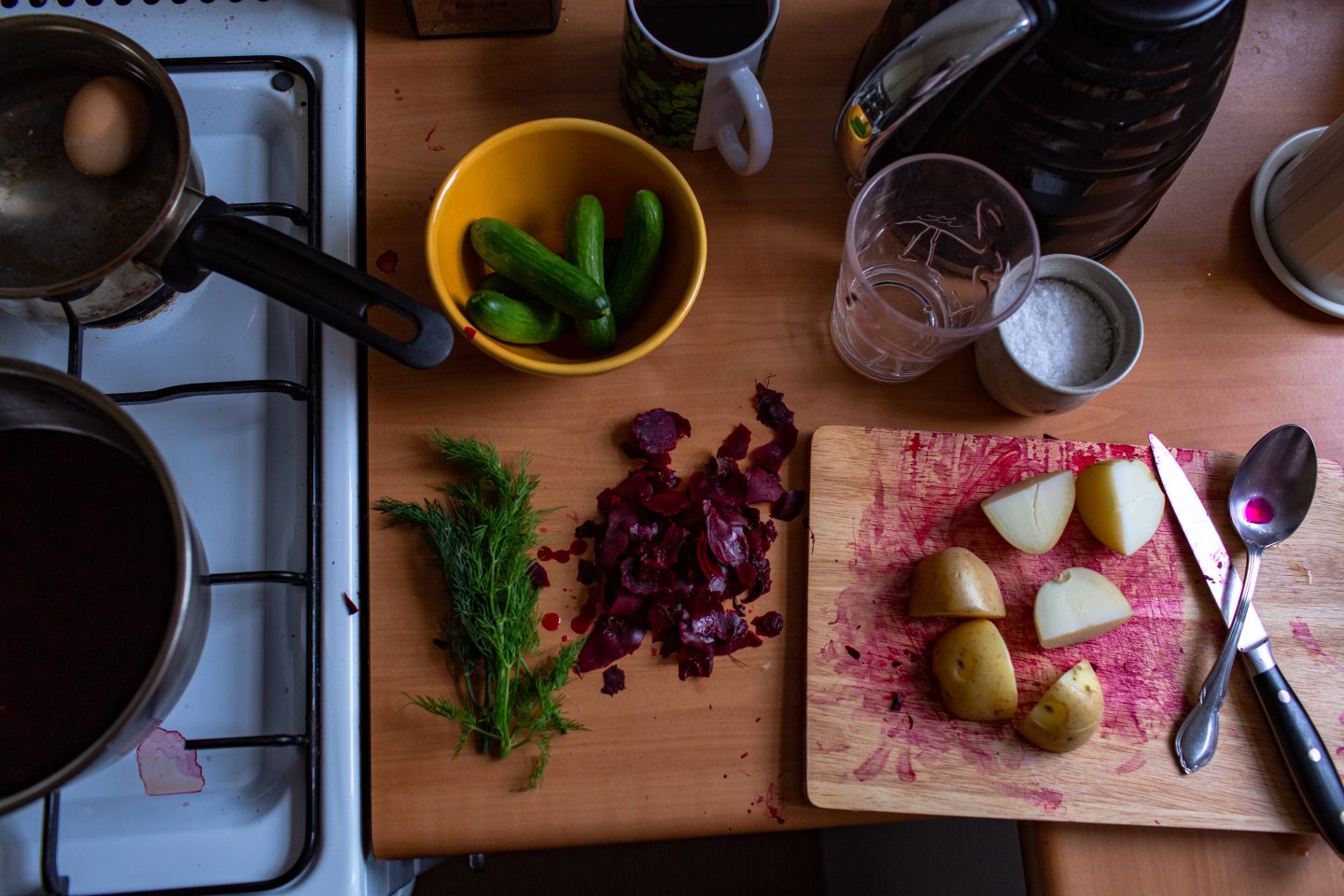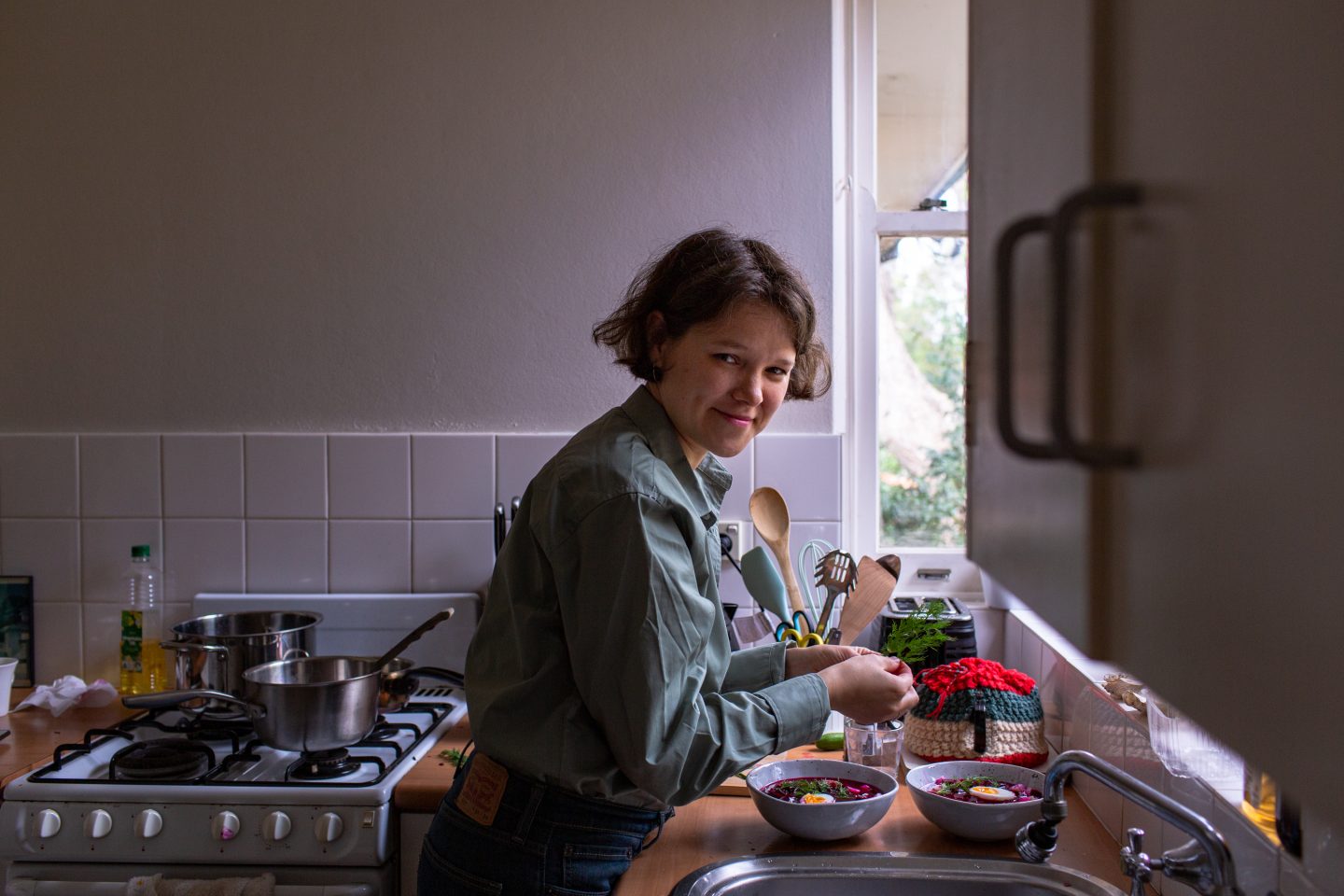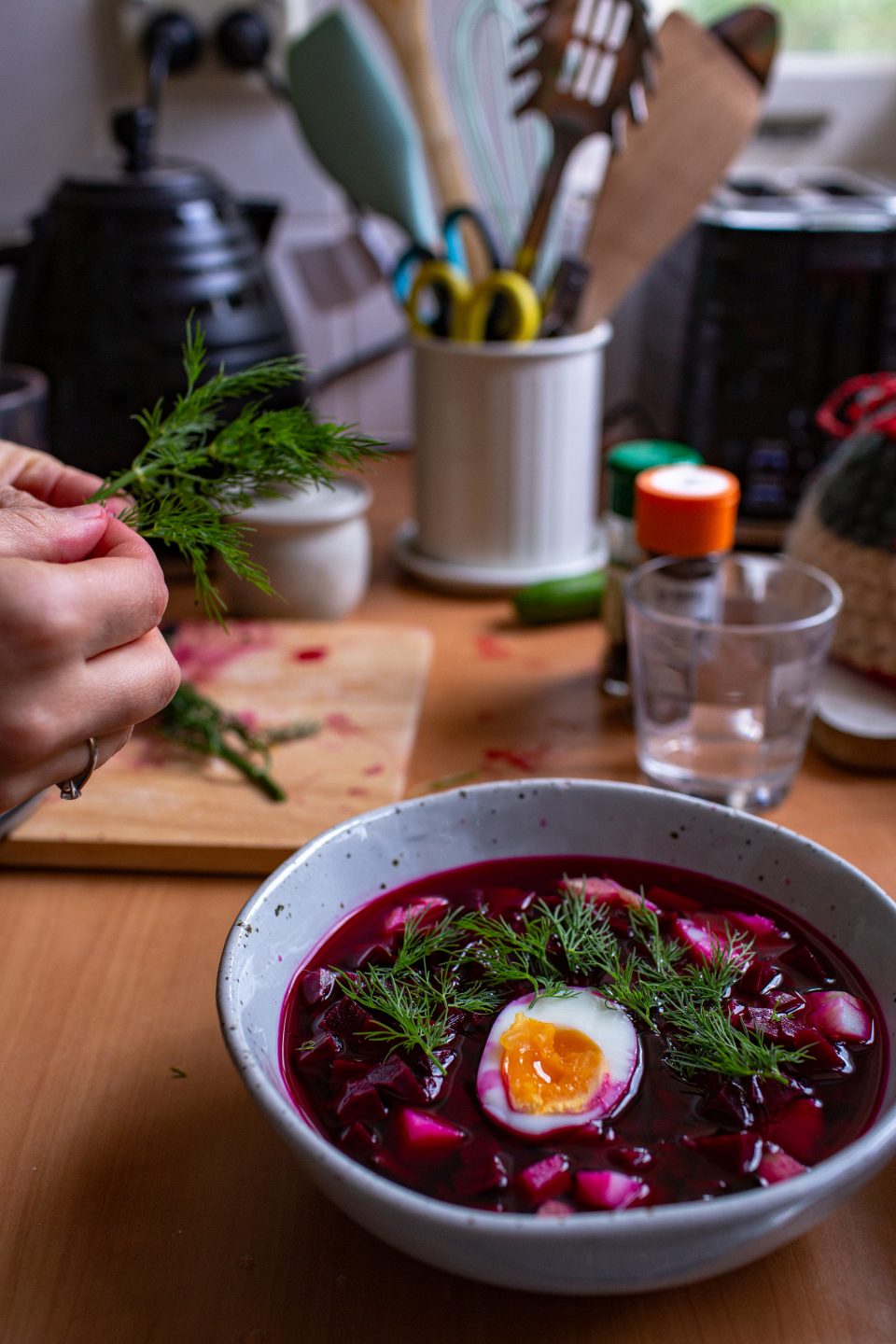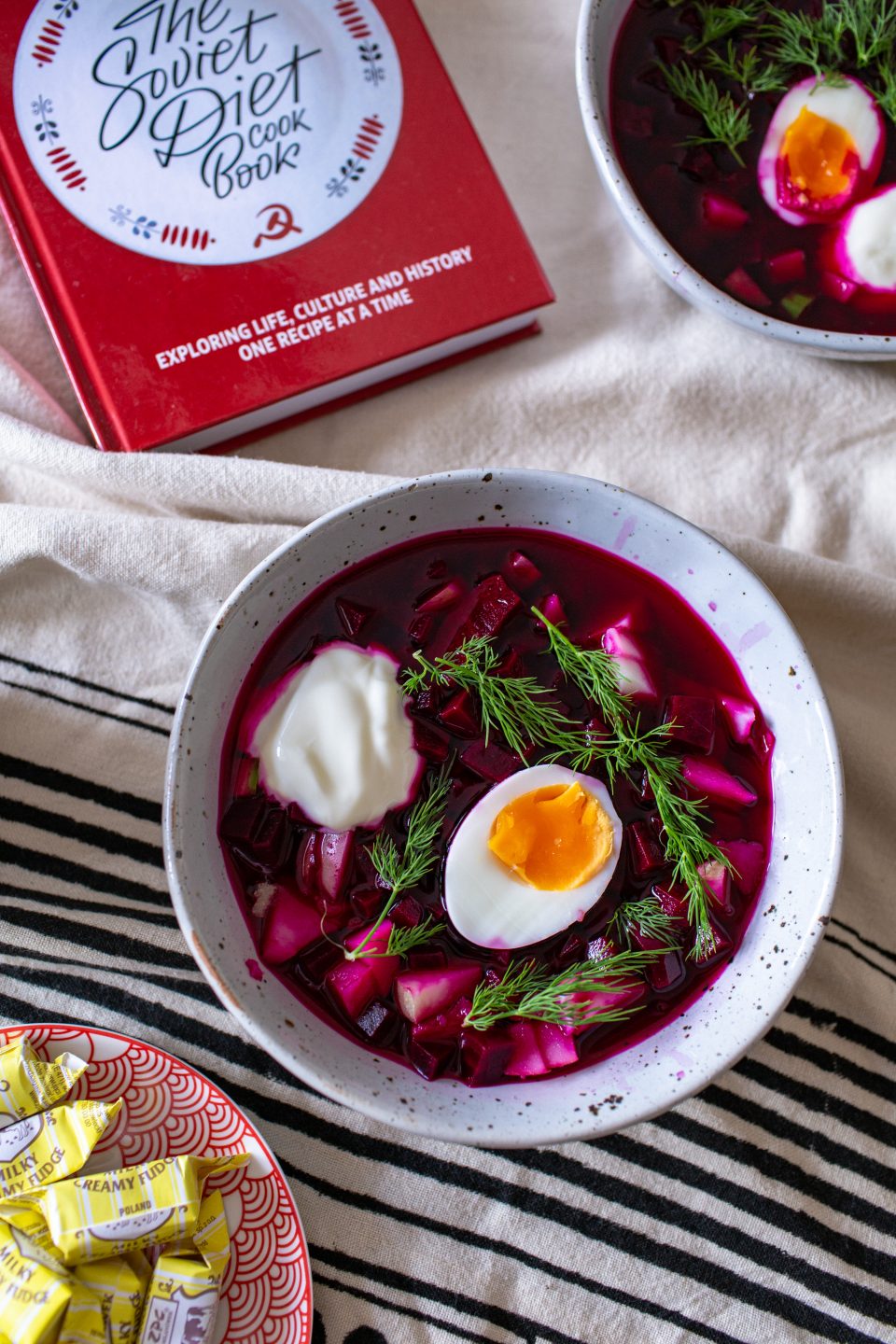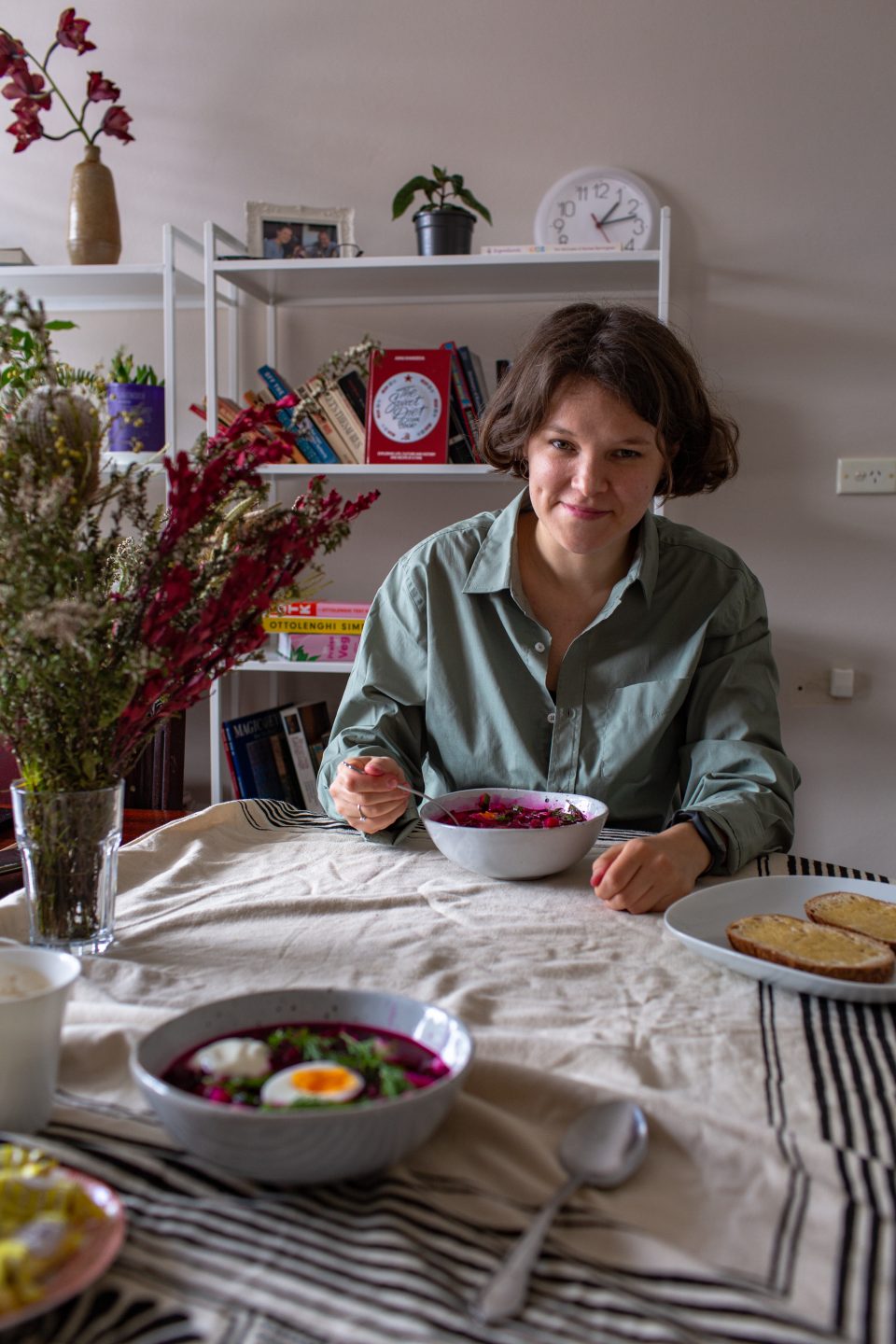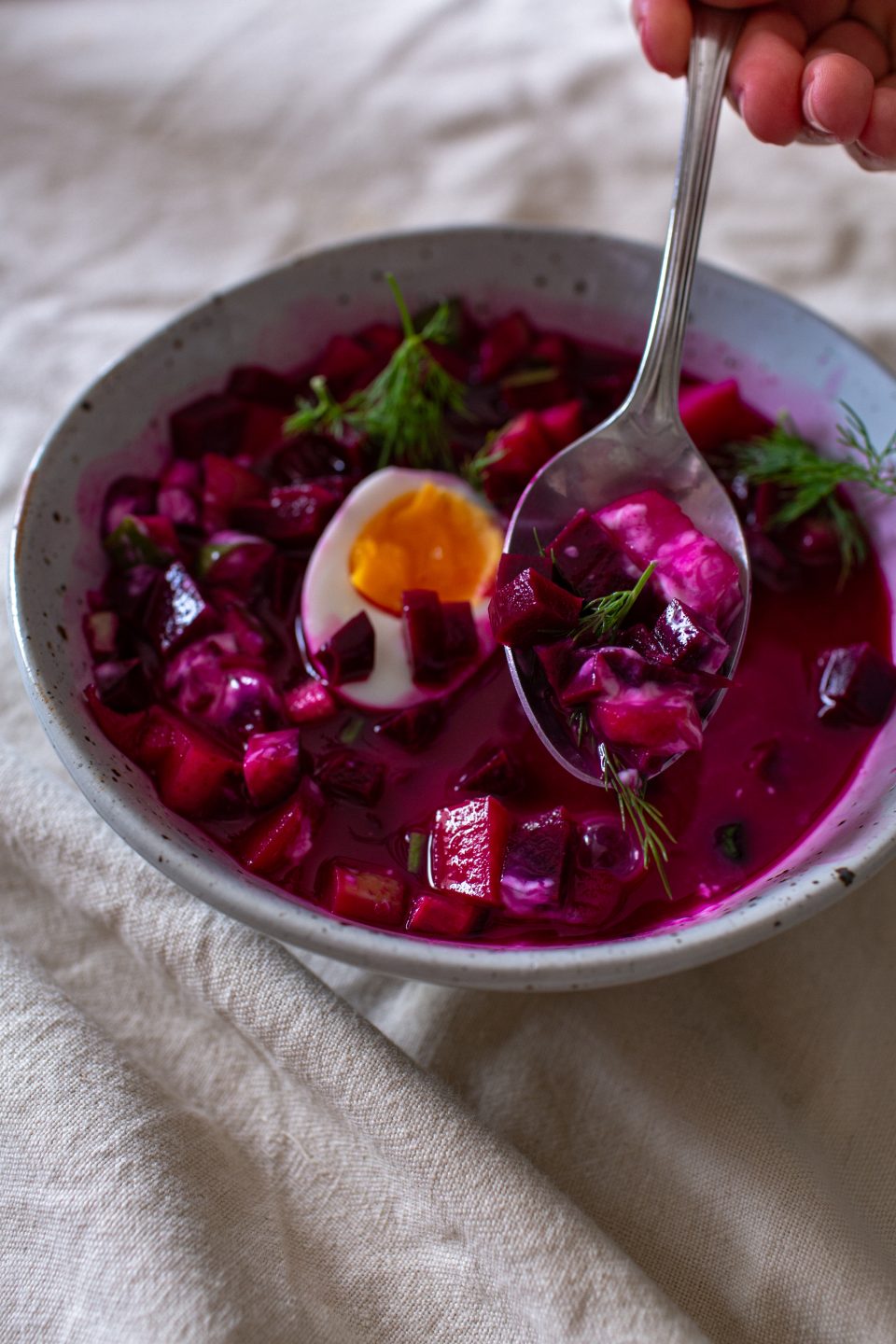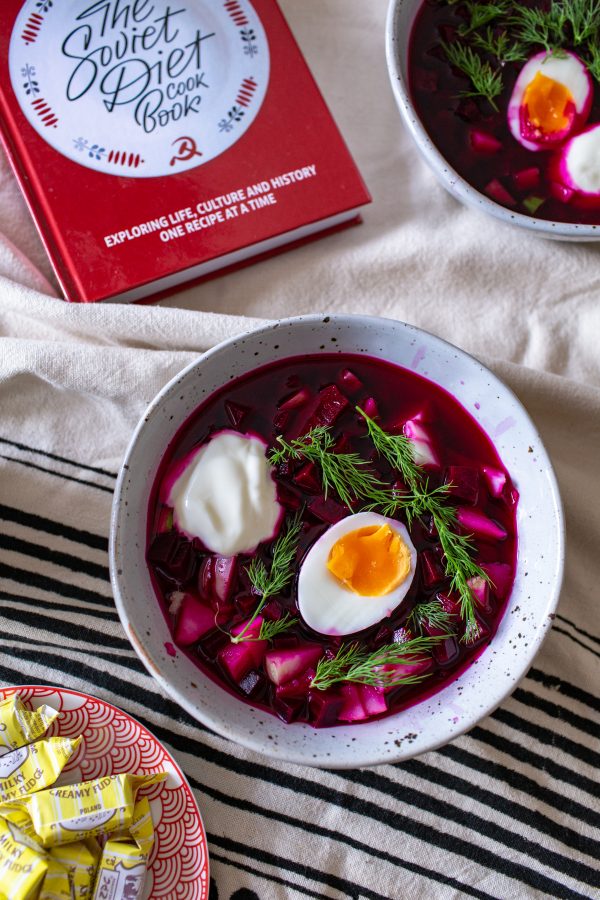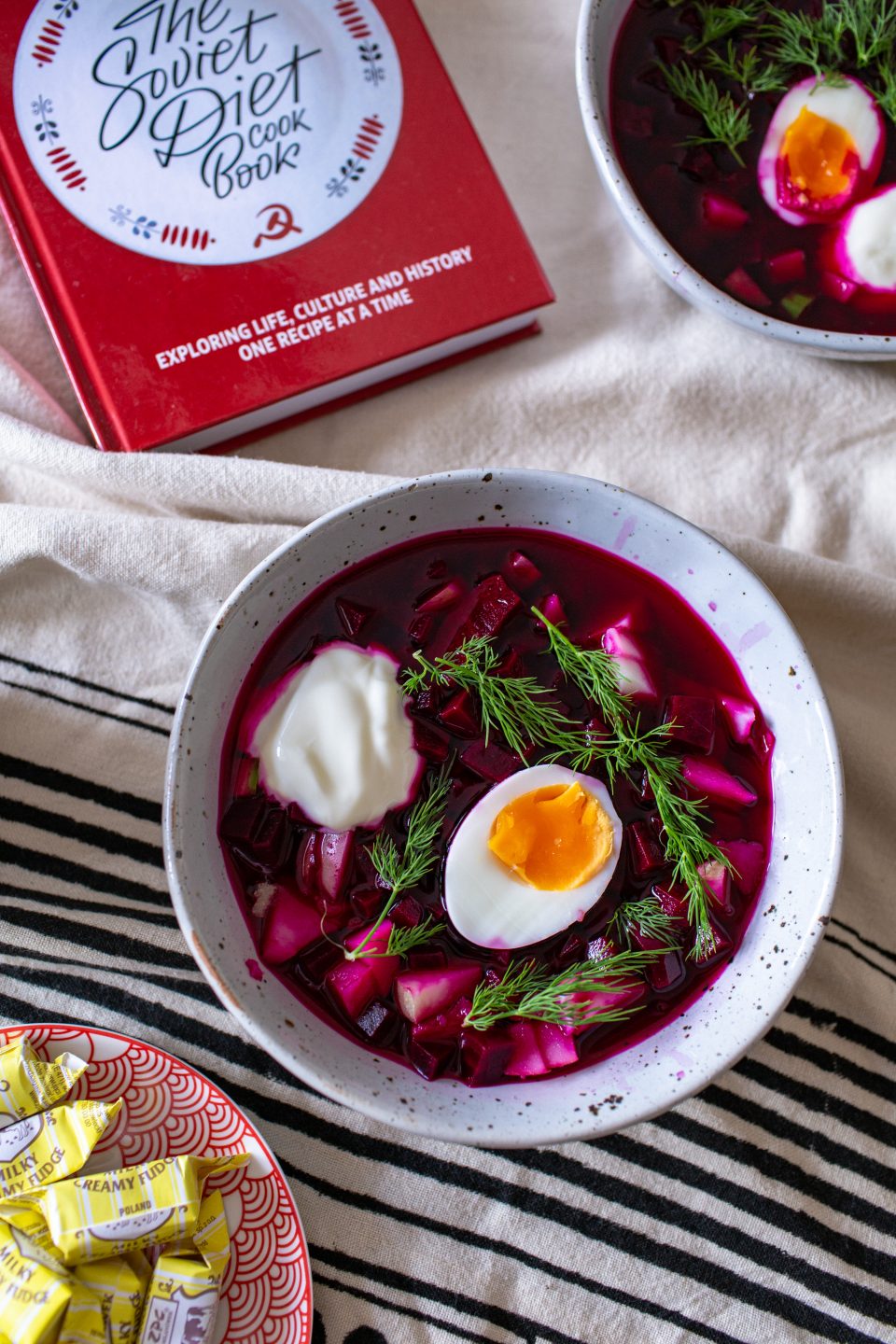 Svekolnik (Marinated Beetroot Soup)
Prep time: | Cook time: | Serves 2
500gr beetroot
1 – 2 cucumbers, diced
1 – 2 potatoes, boiled and diced
1 sprig of dill
Salt to taste
Sour cream to serve
1 egg, soft boiled
Sparkling water, 1 glass – an option
For the marinade:
250ml water
100ml vinegar
2 teaspoons salt
3 tablespoons sugar
5-7  whole black peppercorns
3-4 cloves
1 bay leaf
Prepare 3 pots to boil the: beetroots, potatoes and egg. Scrub the dirt off the beetroots and potatoes, place them (skin included) in their own pots, cover with water and boil for around 40 mins, depending on size. A trick to know when they are cooked is by piercing a knife or fork into it, if it pierces easily then it is cooked. Once they are cooked, place the beetroots and potatoes onto a chopping board to cool and leave the beetroot water aside. In a separate pot, boil the egg for 6 mins to achieve soft boiled egg yolk. Quickly place in a bowl of icy cold water for easy peeling.
In the meantime, combine the ingredients for the marinade and boil for 5-7 minutes then let it cool down. Dice the beetroot into bite size, place in a clean jar and top with the marinade liquid. Let sit in the fridge for at least 2 hours.
To serve Svekolnik, dice the potatoes and cucumber into bite size and place them in individual serving bowls. Add in the marinated beetroot pieces, a couple of pinches of salt and a couple of spoonfuls of marinade liquid into each bowl. Top with beetroot water (you can add some sparkling water), half a soft boiled egg, sprig of dill and lastly sour cream.
This recipe makes for more beetroot than you'll need, but it keeps for a long time so you can eat it as a side, add it to salads or make more Svekolnik later!