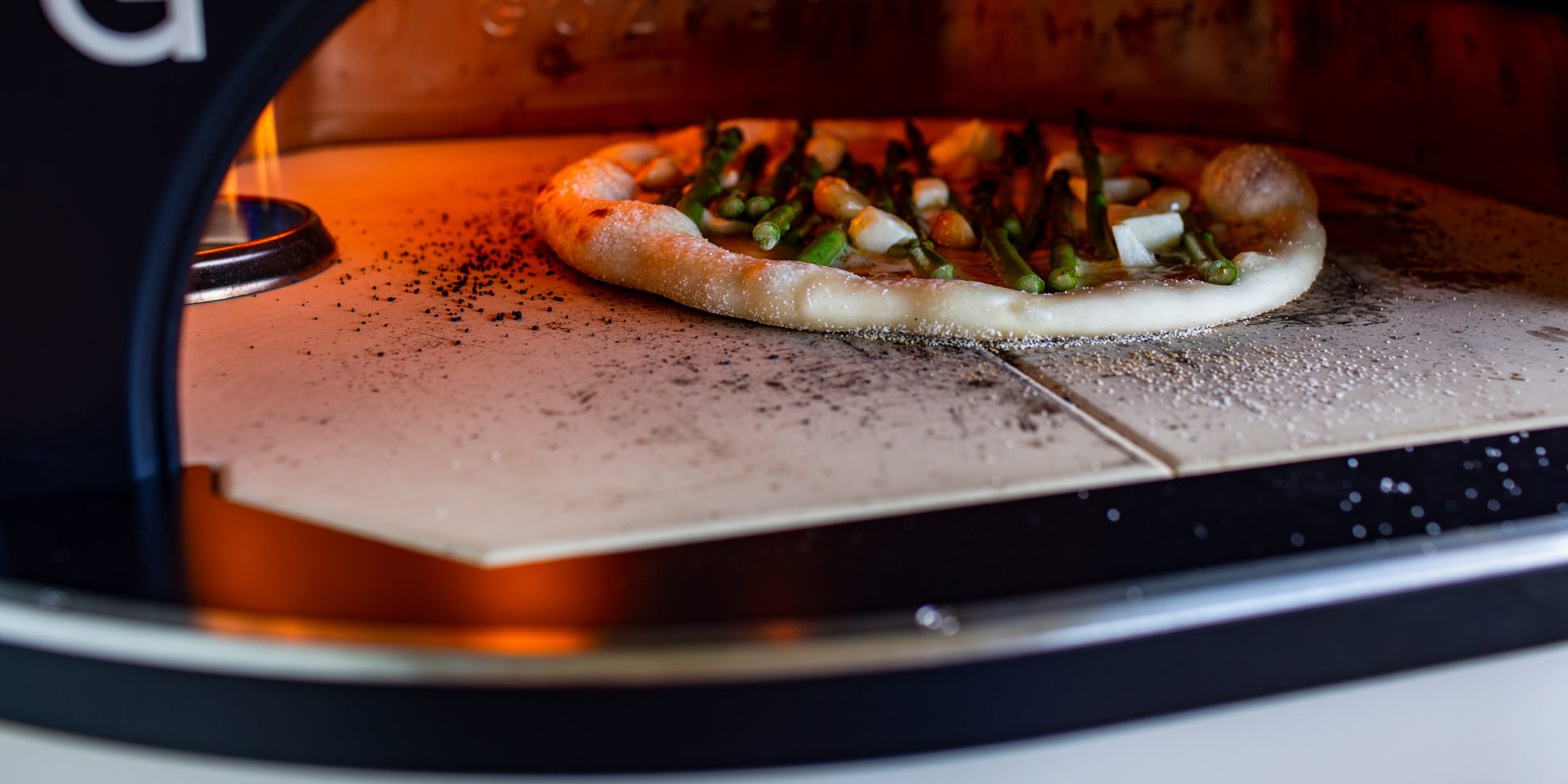 "I worked really hard to make my passion for food my full time job – and through my job as Food Director for Woolworths, I get a really unique opportunity to influence how millions of people eat, everyday!"
Few years ago, after her day job as a civil engineering officer, Tamara would spend her nights in the kitchen cooking and baking away so she could bring delicious treats for her colleagues the next day. Until one day she realised she might have been in the wrong career. So she embarked and thrived in the world of MasterChef Australia 2017 and came out as one of the top finalists.
Obsessed with her recent purchase of an outdoor oven, Tamara made the best home made pizza I've ever had! My tastebuds were blown away by her clever flavour combinations of home made cacio e pepe white sauce, home made preserved garlic in olive oil, asparagus and Fior di Latte. The second topping which was 'Nduja, mozzarella and honey was equally excellent.
Family origin
Mum is Sri Lankan, Dad has Irish background
I can't live without
My doggo, my chihuahua called Apples (sorry husband!)
Dream Job
What I'm doing now, I worked really hard to make my passion for food my full time job - and through my job as Food Director for Woolworths, I get a really unique opportunity to influence how millions of people eat, everyday!
Currently I'm obsessed with
My Gozney pizza oven! But my obsessions change very regularly. Other recent obsessions; canelé, hibachi, finding exotic plants to grow on our tiny balcony
Childhood taste
My mum's chicken curry, my grandma (Dad's mum) ginger fluff sponge. Mum worked several jobs when we were in high school, and one of them was at a creperie; and if we were lucky, she'd bring us home a chocolate crepe for dessert
I will always have in my pantry
Every different kind of rice. Lemons. In my fridge, pickled jalapenos, Greek yoghurt, chilli oil and anchovies
I learnt to cook from
I feel like I got a great palette from eating food from my mum and the rest of her family while growing up - but I never cooked when I was young. Once I moved off campus from university when I was about 21, I learnt to cook for the first time from cookbooks and magazines - and my passion grew from there
Currently I'm listening to
'Feel good dinner' playlist on Spotify, with a dash of Lizzo
One day I must visit
Puglia in Italy - after my most recent trip to Italy, I'm so keen to explore more. I'm also keen to get to Sri Lanka to see where my mum grew up
Go to meal
That's tough, I feel like we don't have anything on regular rotation! It always depends on what recipes I've been testing lately, where I've been out to dinner that I've been inspired by. I'm addicted to pho for takeaway!
I am really good at
Cooking! Although I have never stopped learning, and am so keen to explore new skills all the time.
The unforgettable meal
There's been so many - most of them overseas because I love to make food the focus when I travel! Probably making and eating dumplings in Hong Kong
My piece of Sydney
I still consider myself a newbie to Sydney, so I'm learning and exploring all of the time. We have just settled in Dulwich Hill this year, and we love it!
Favourite spice
Chilli, fennel seeds, vanilla
Best flavour combo
One thing that comes to mind is a simple dish that I had at Sonny in Tasmania - cucumber toast - sourdough spread with garlic aioli, crispy cucumber slices and salty anchovies. I love things that are salty and rich!
Guilty pleasure
Gelato from Mapo in Newtown - especially when they have their houjicha flavour on rotation!
Who does the dishes
Never me!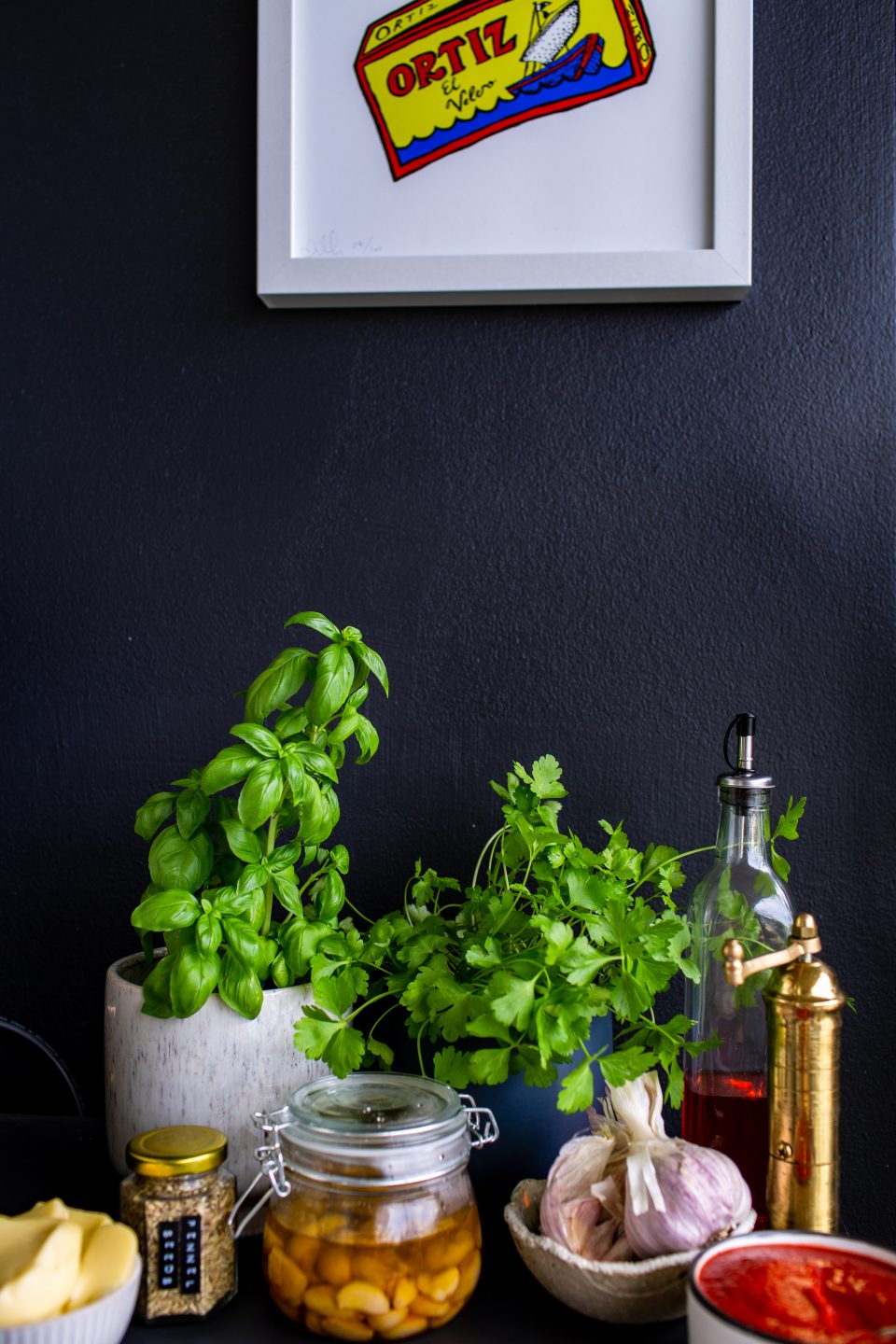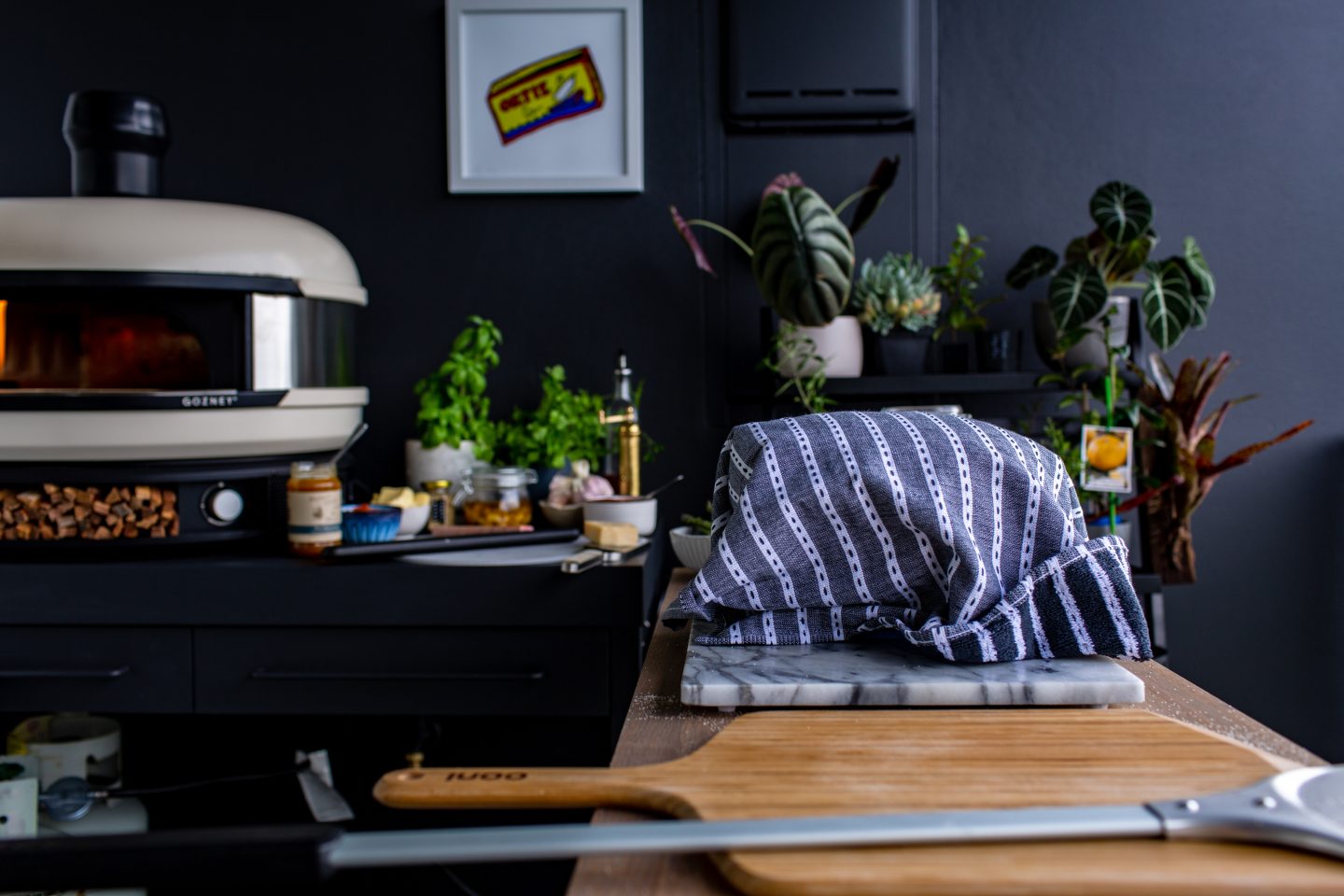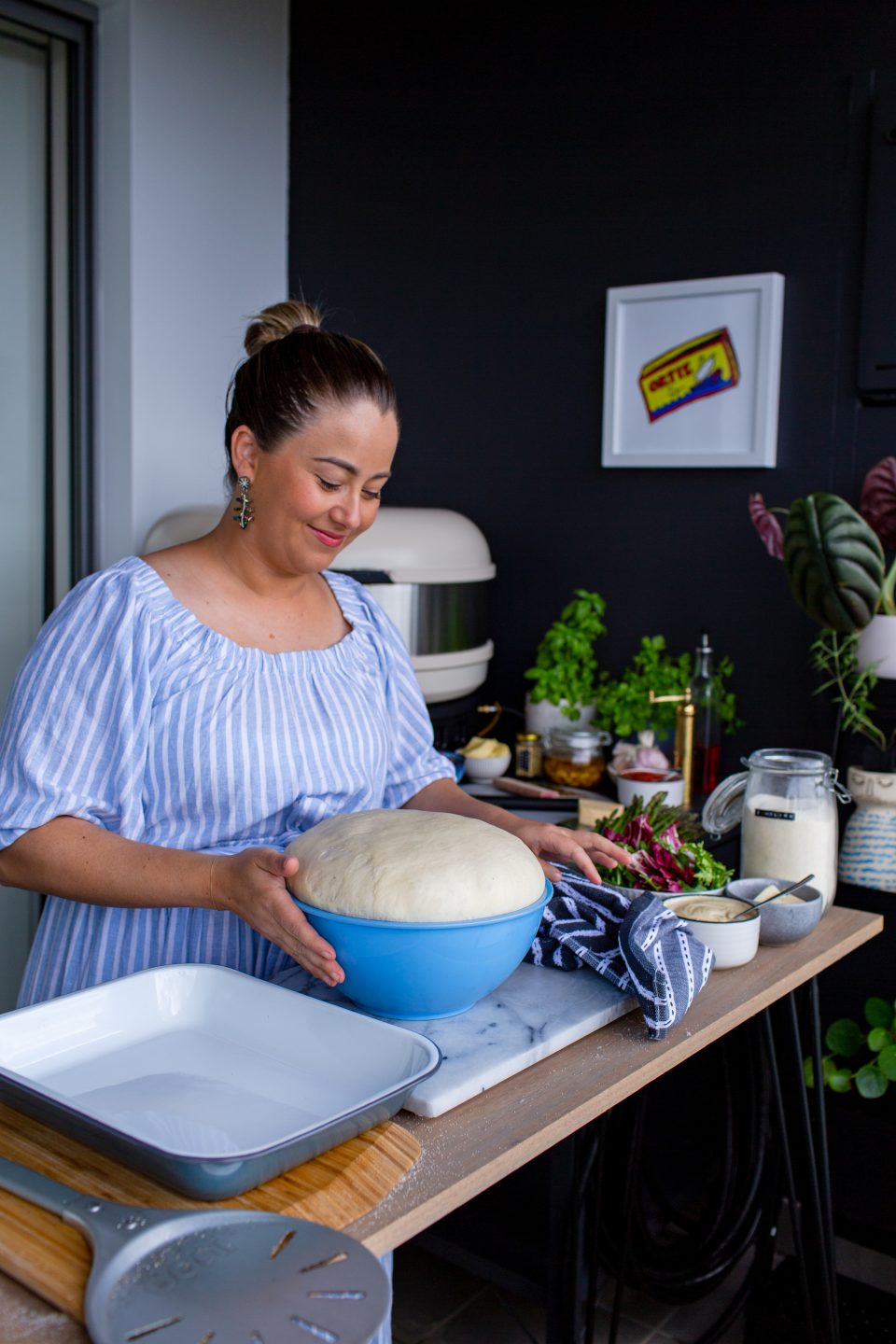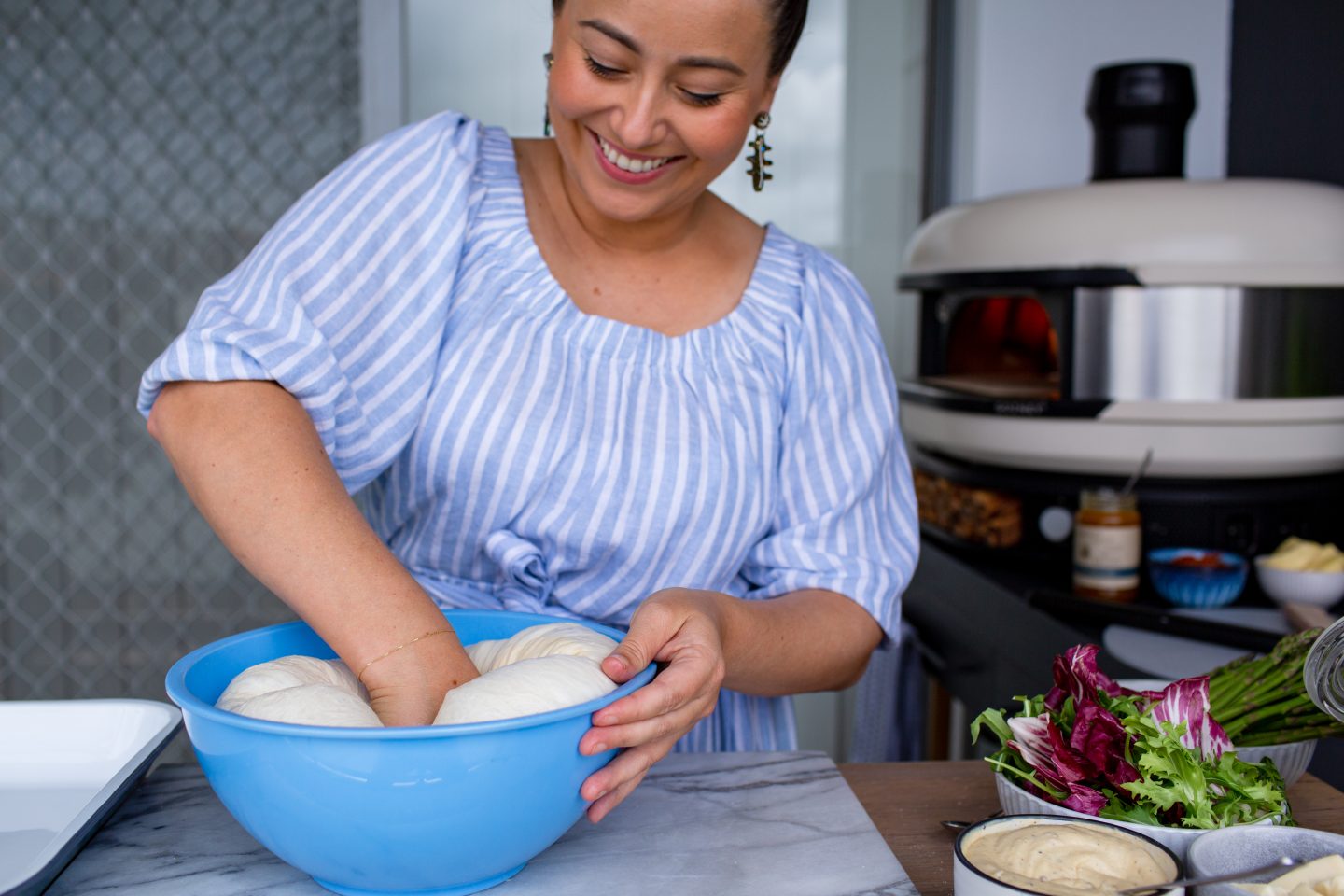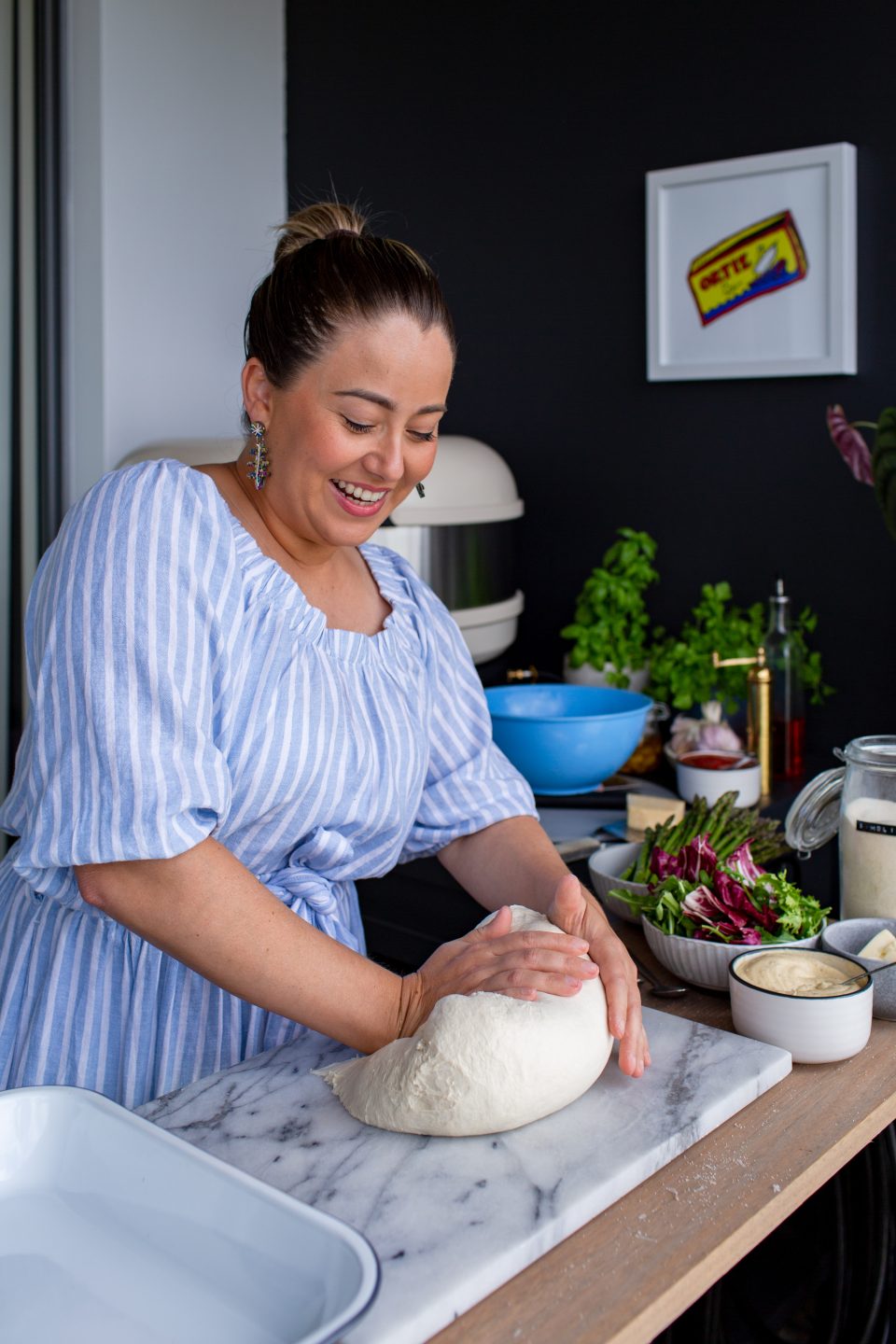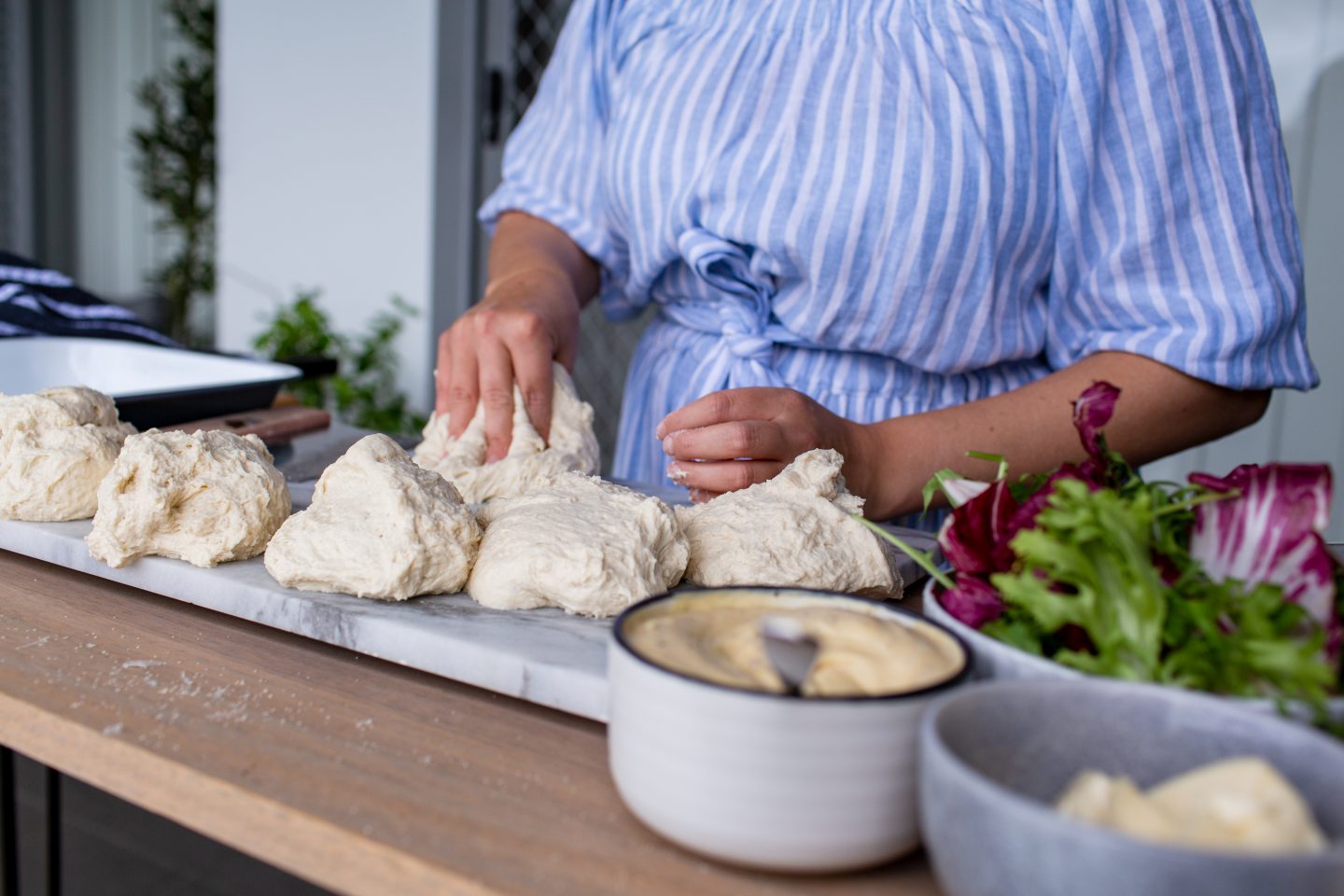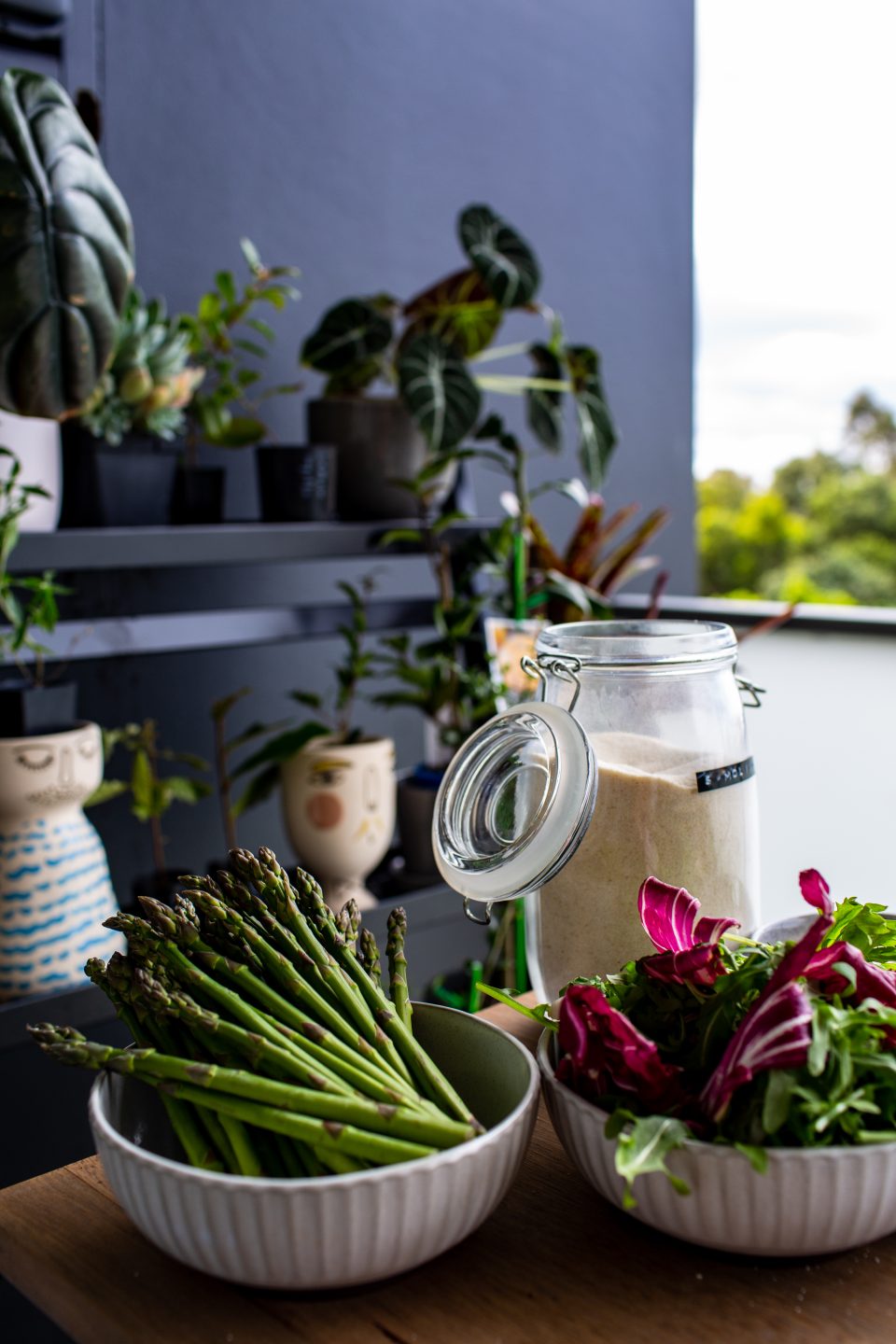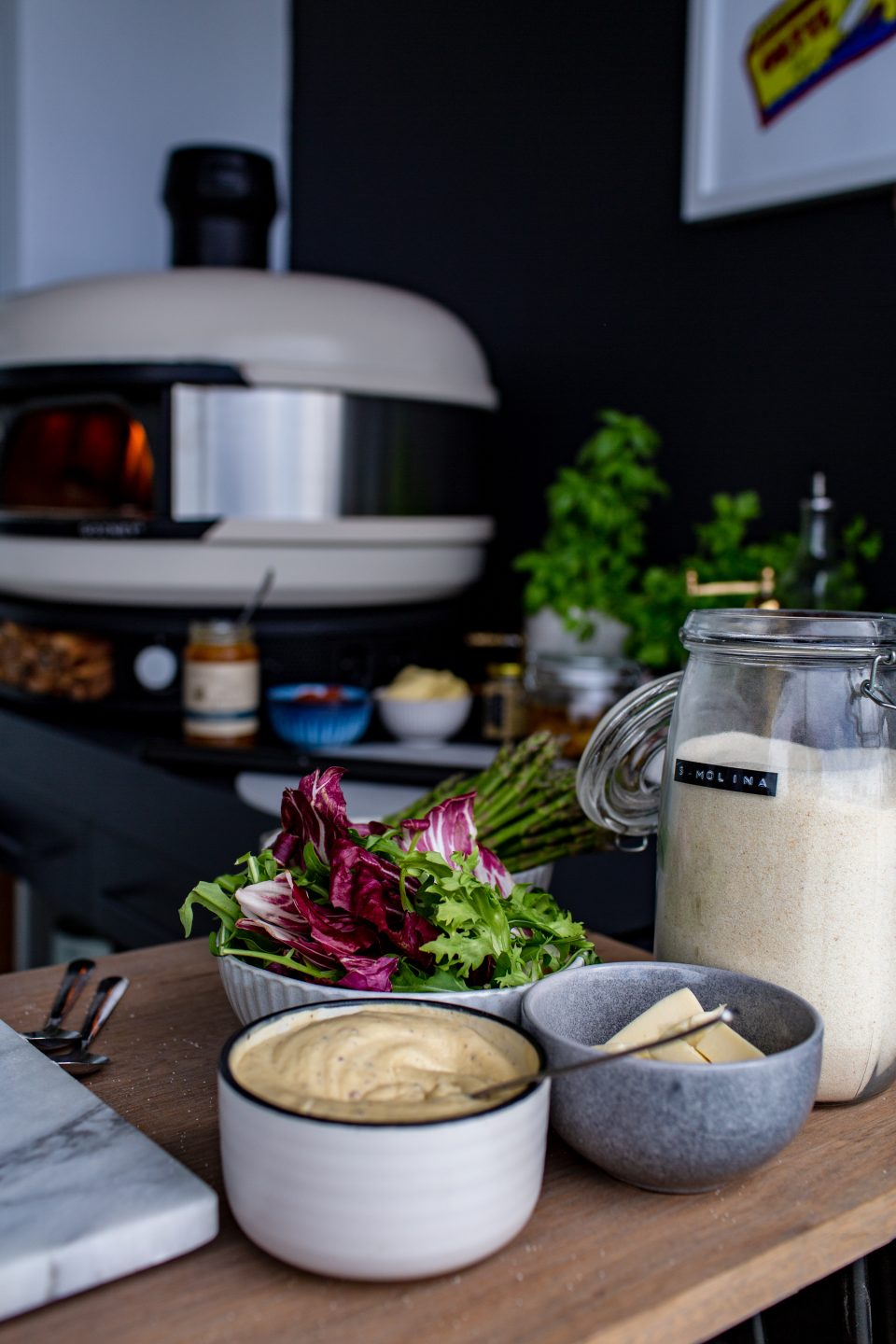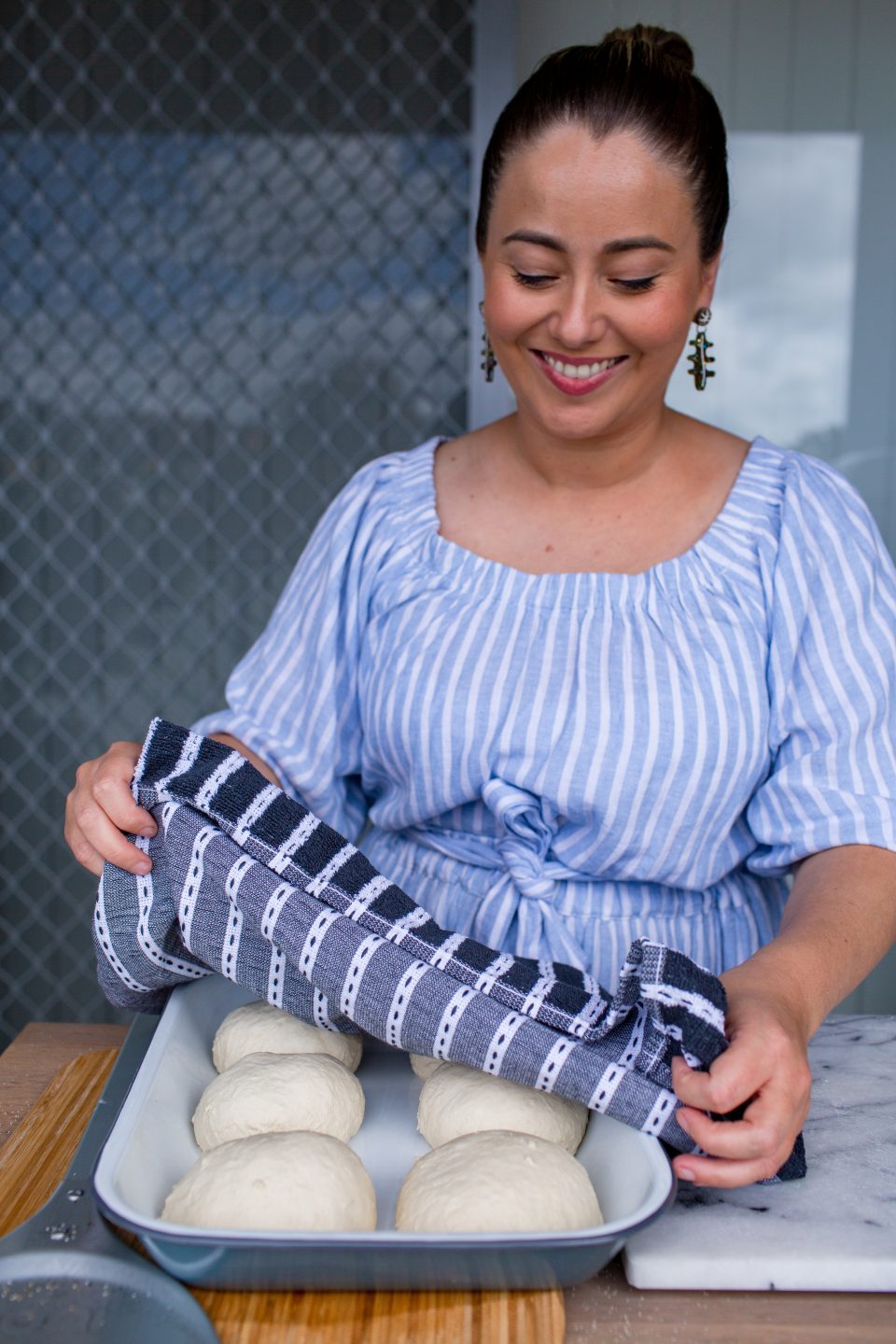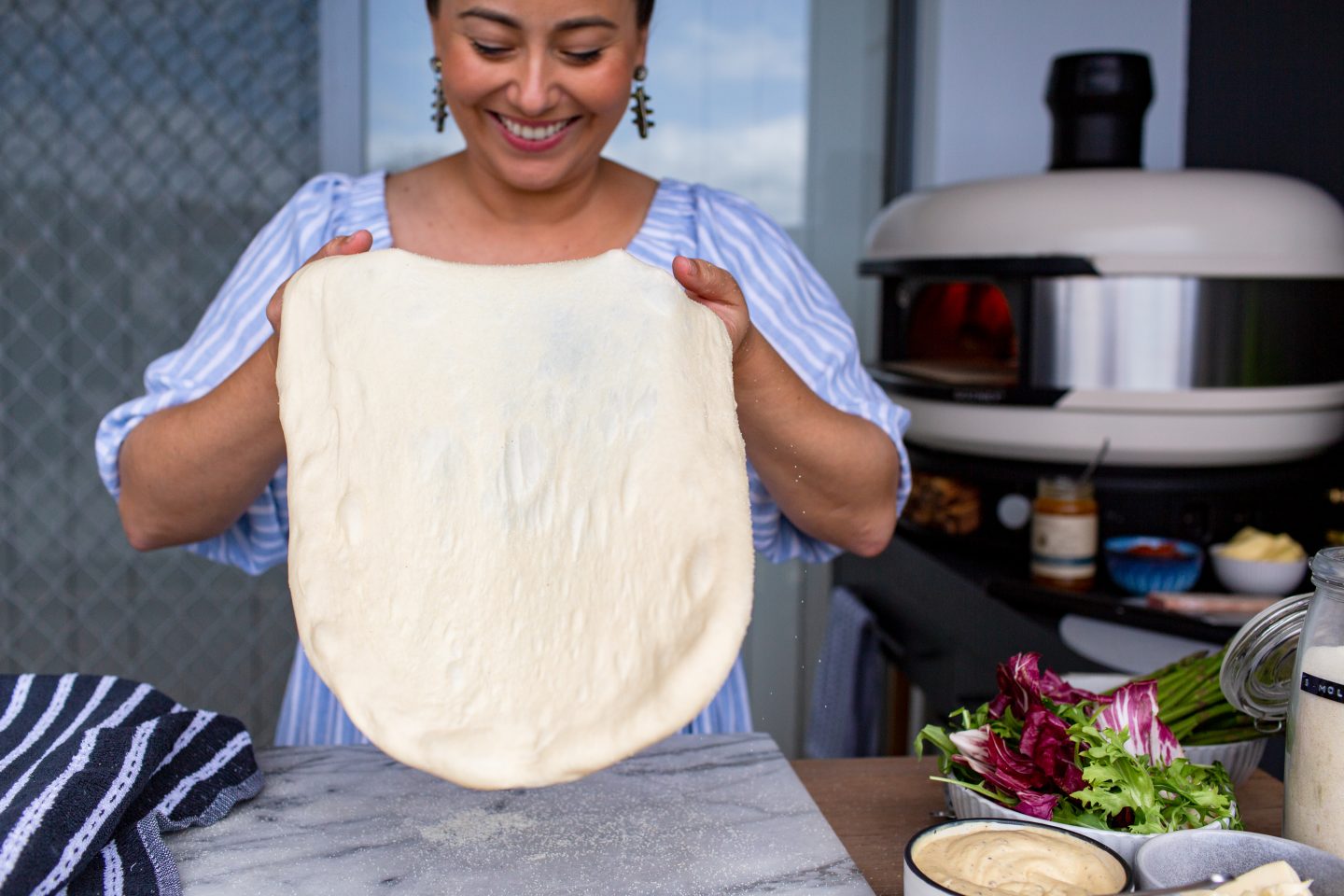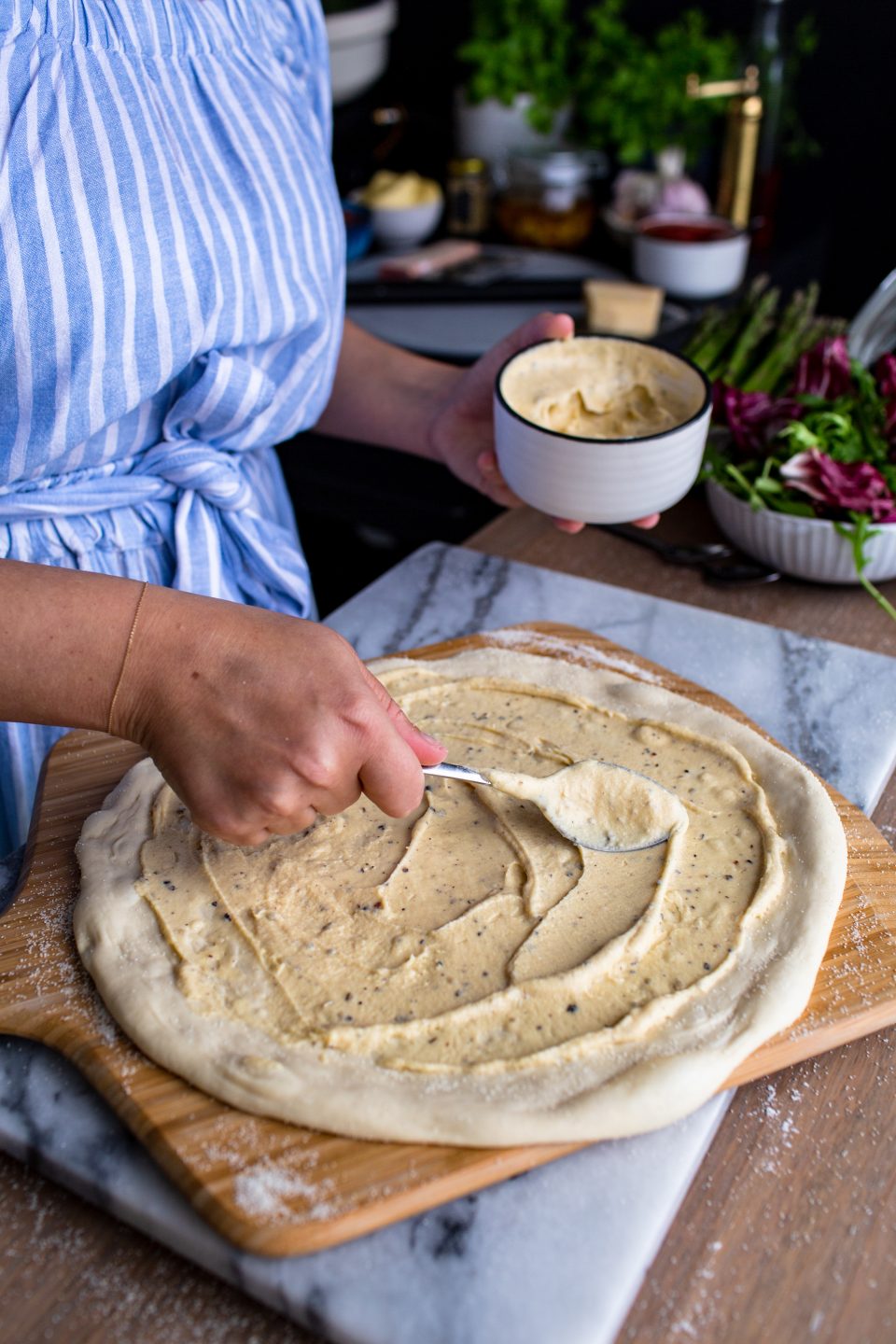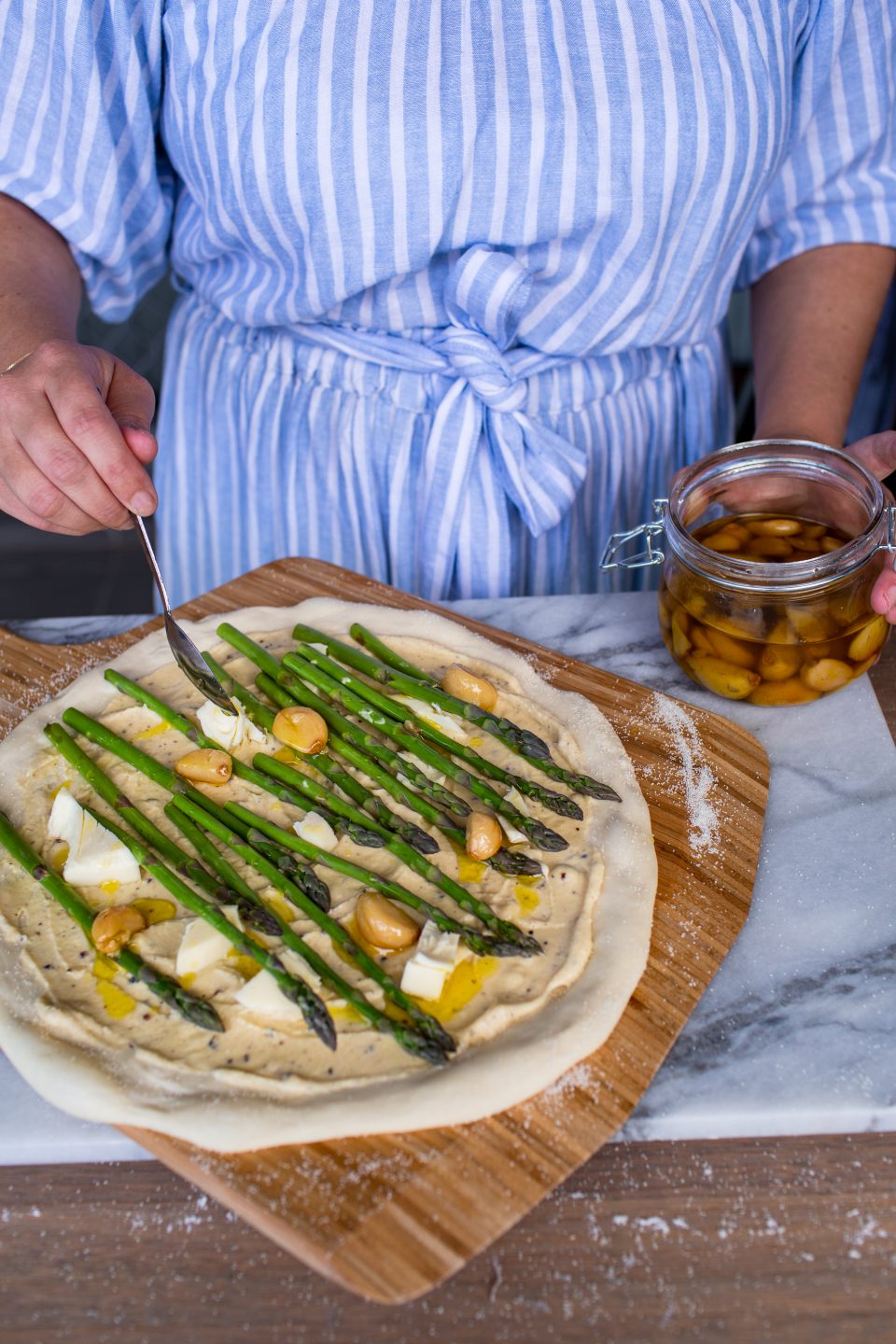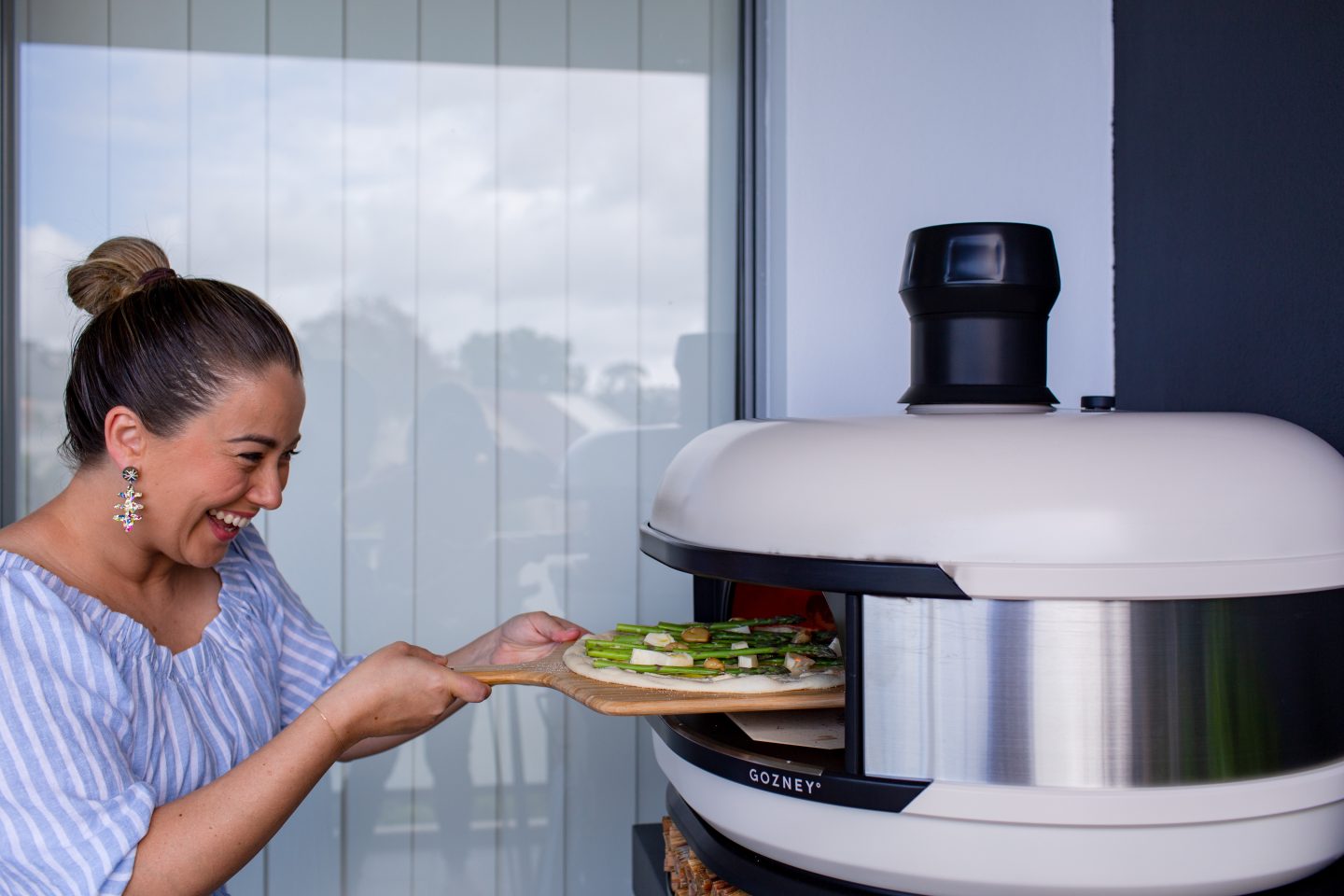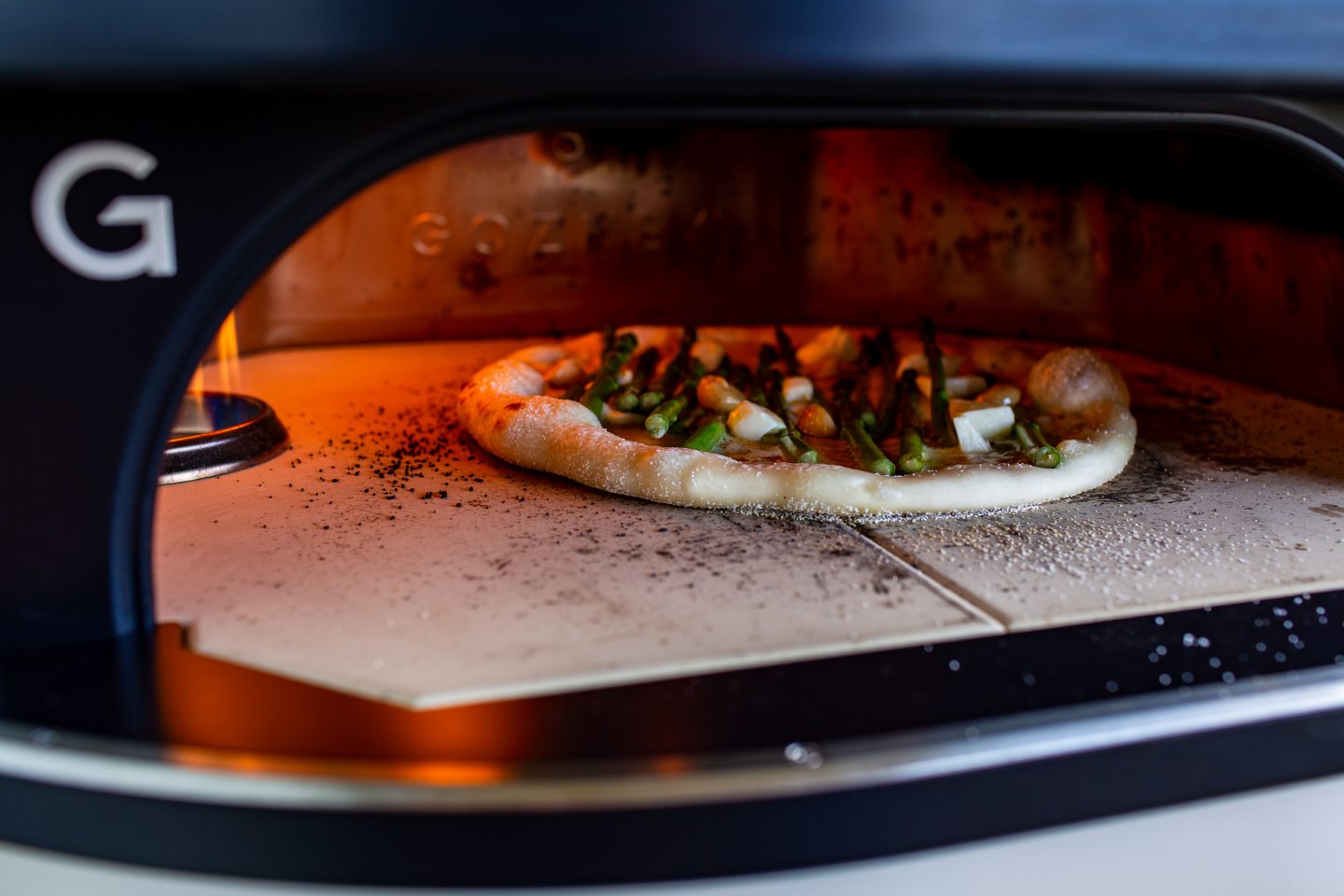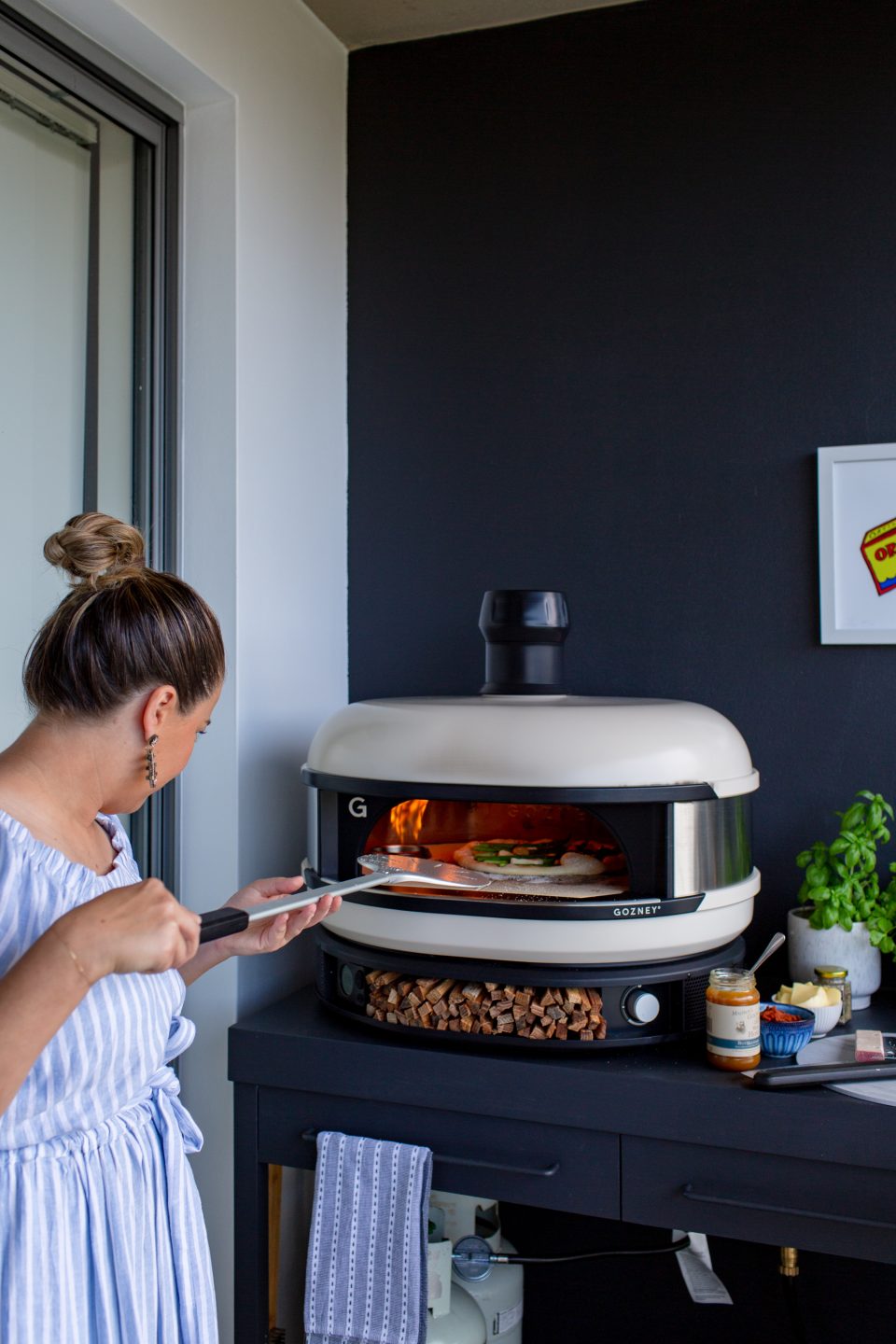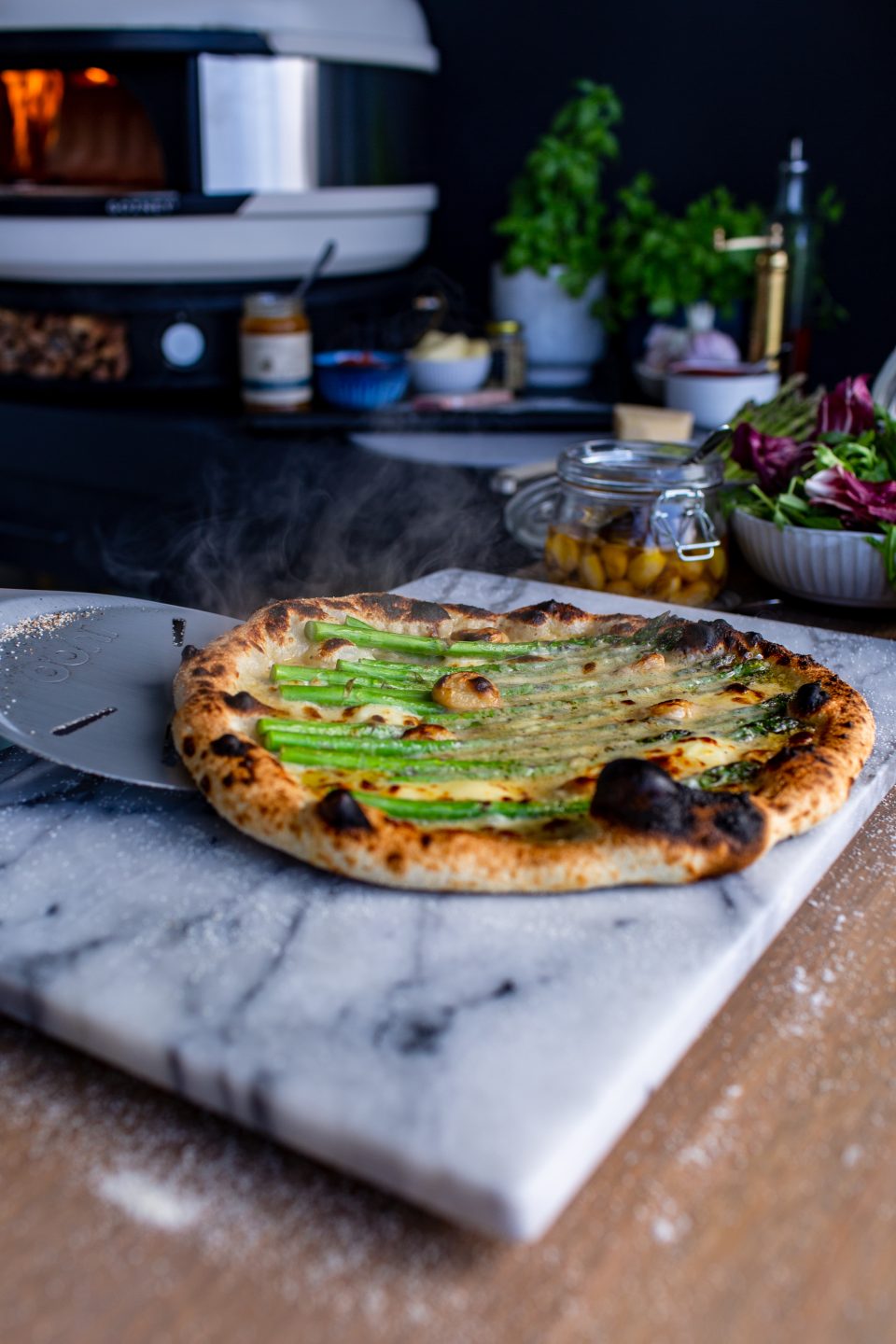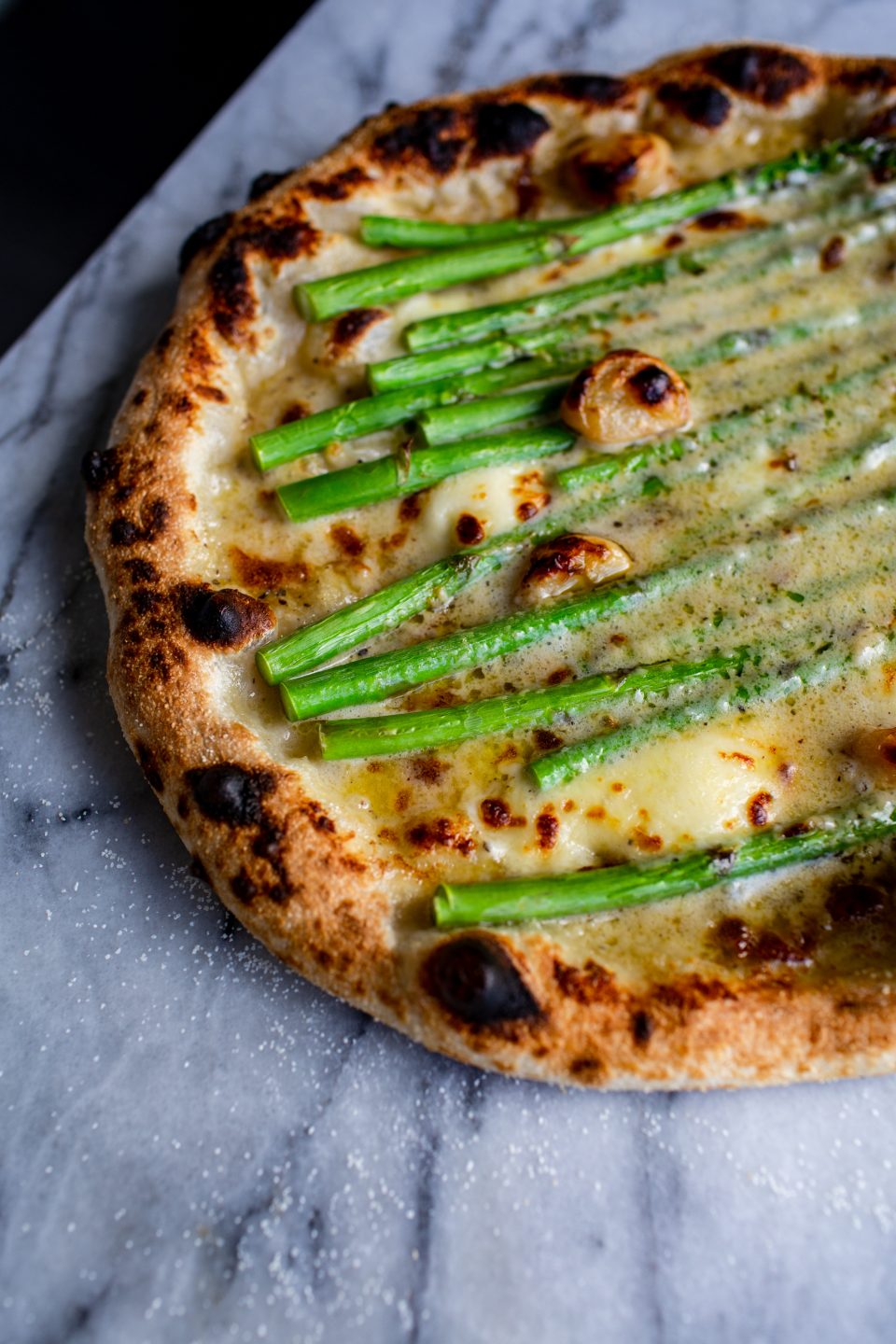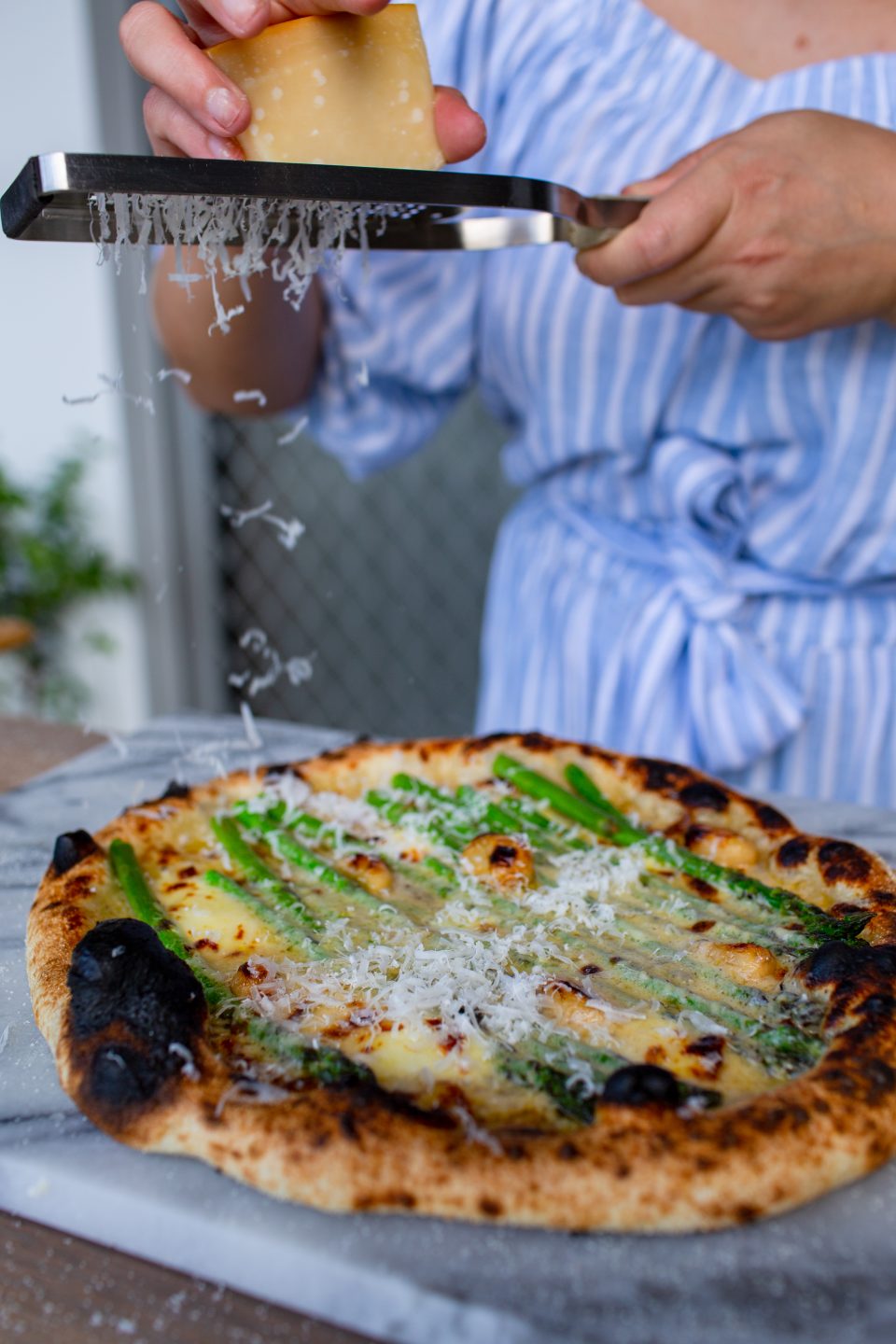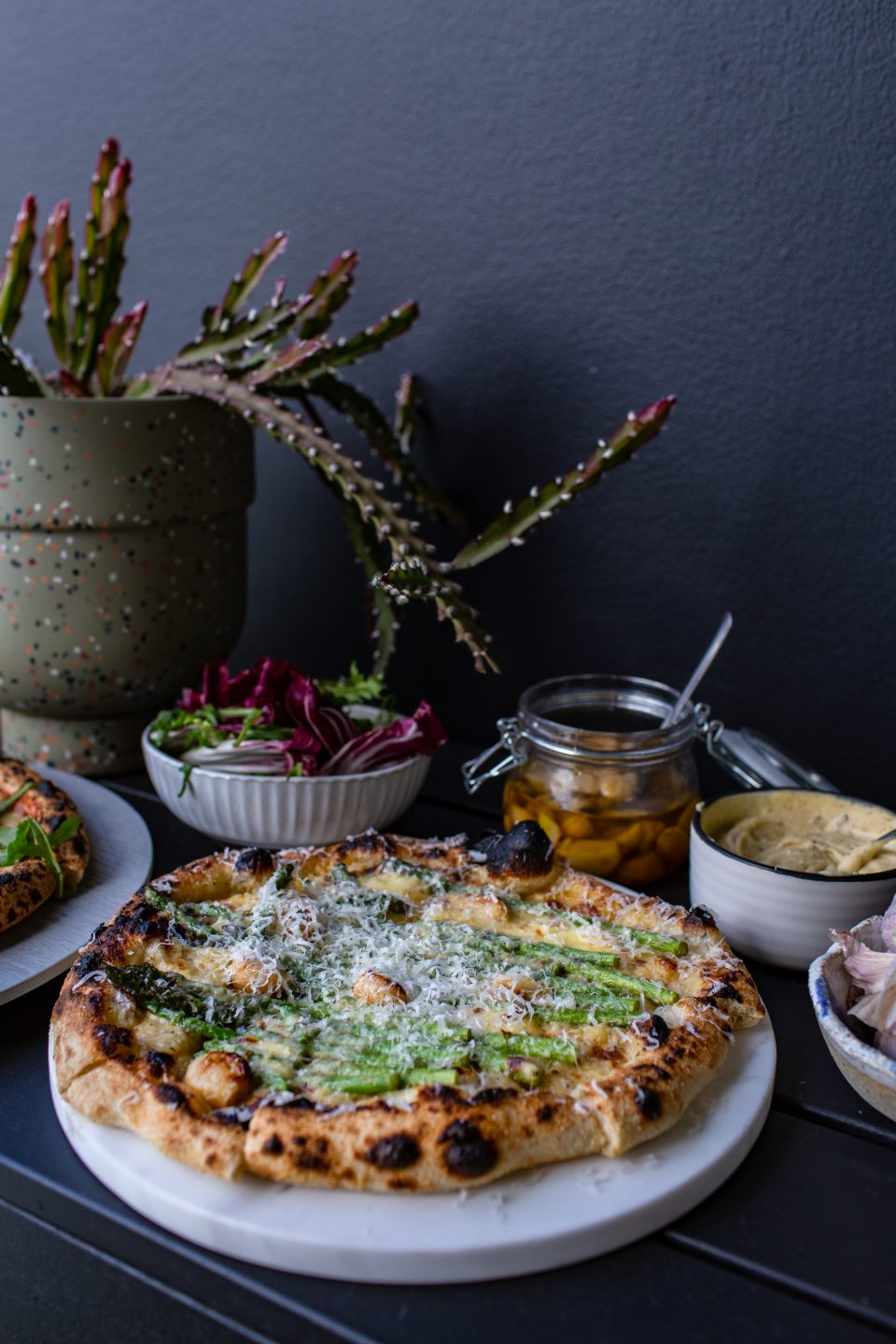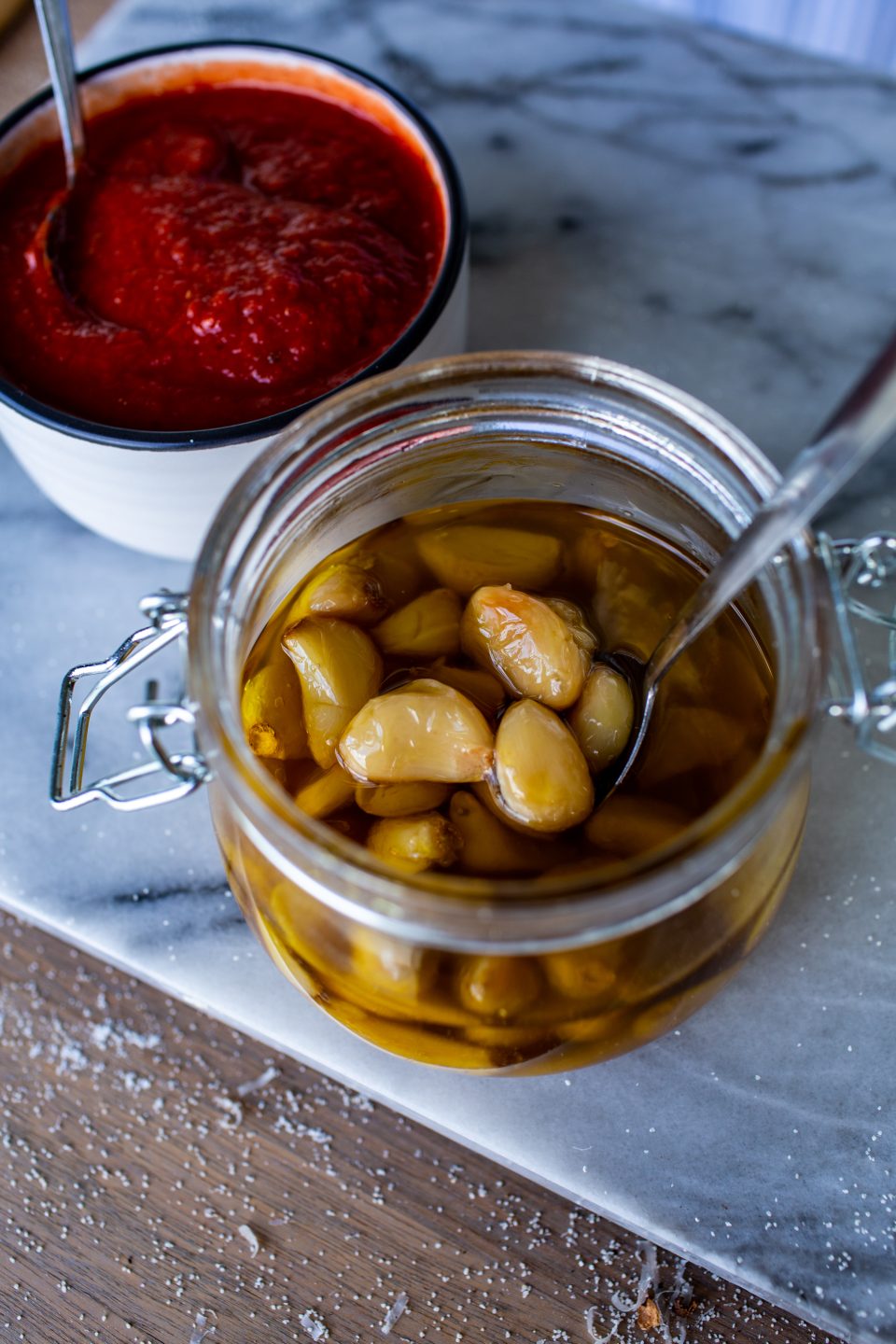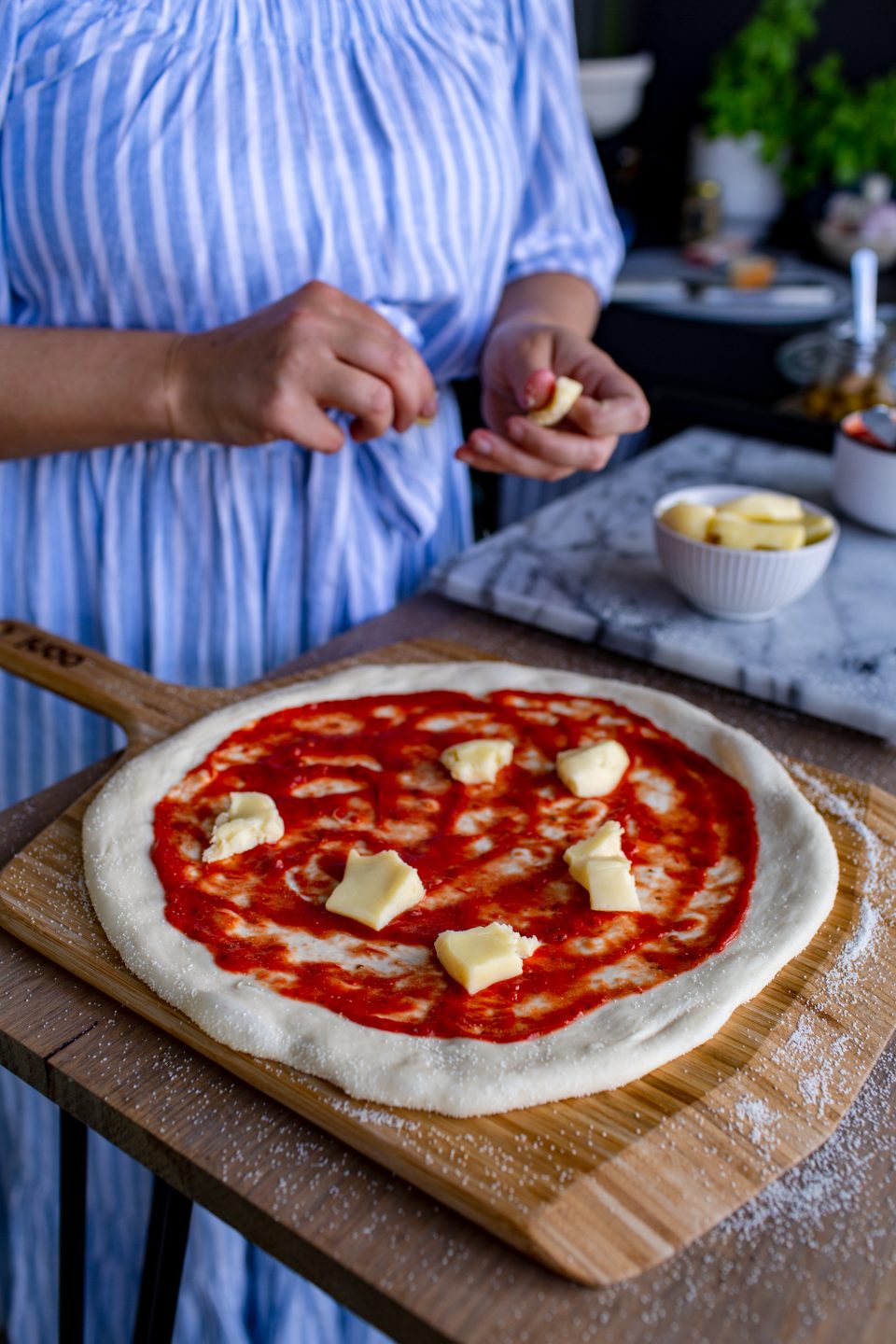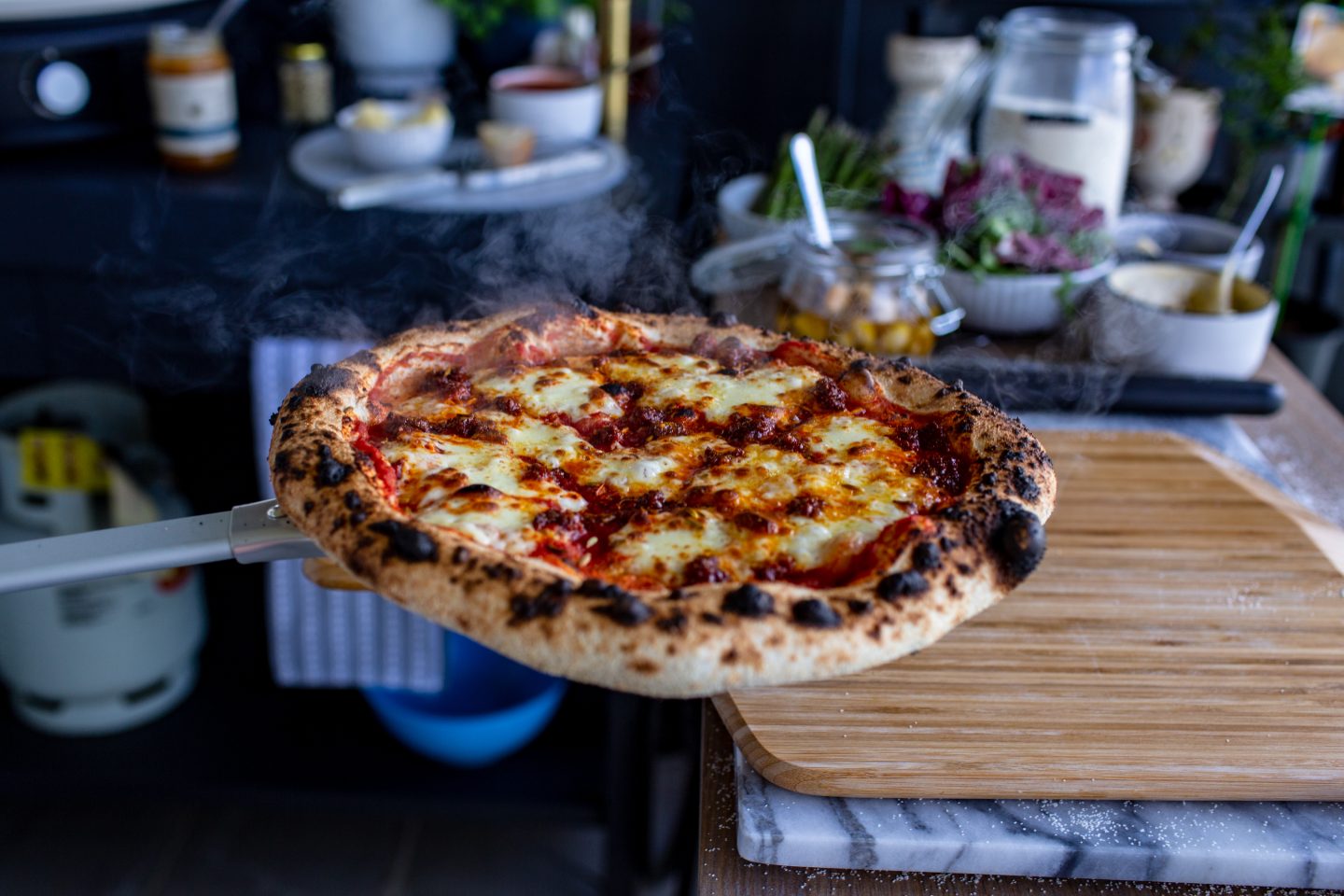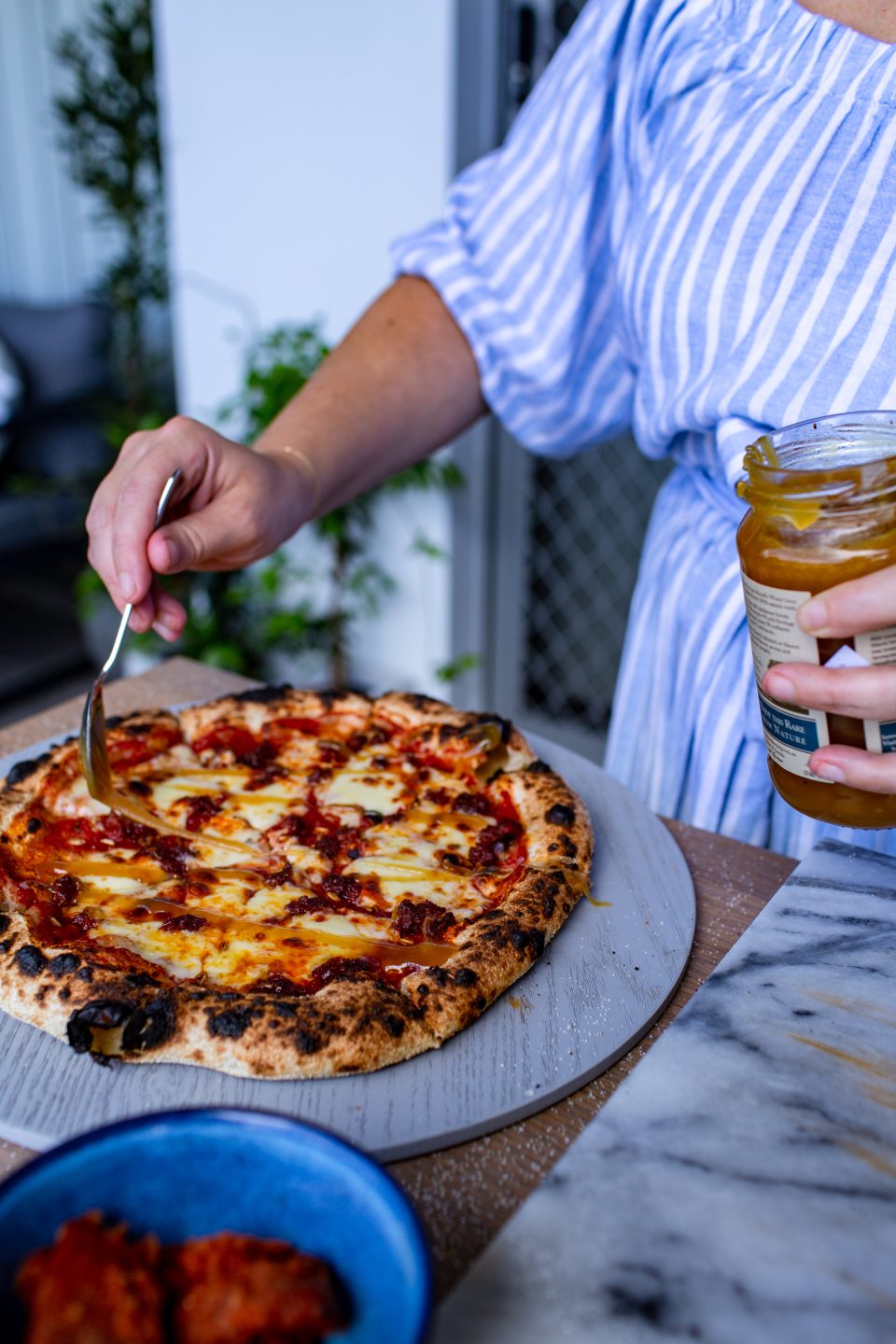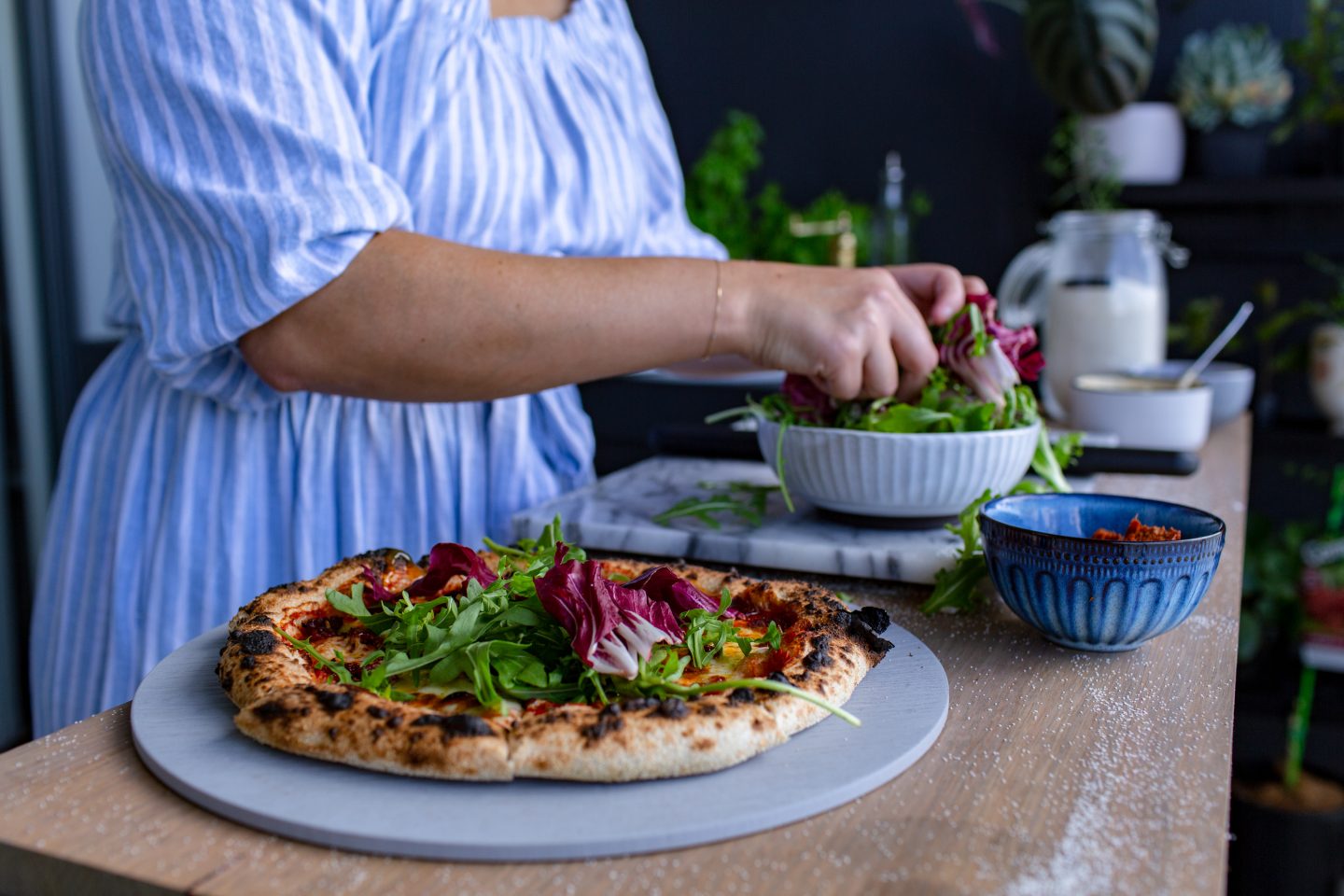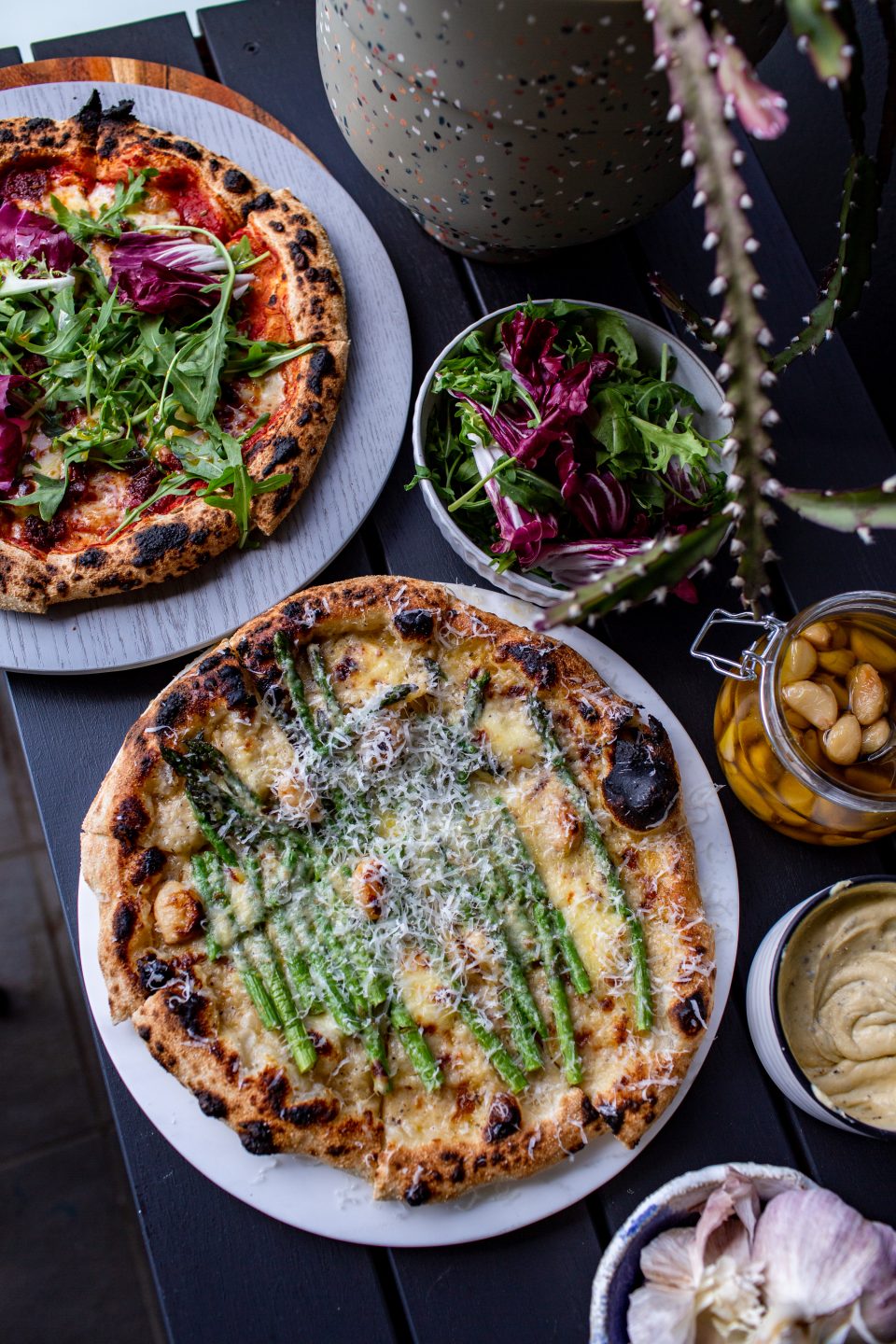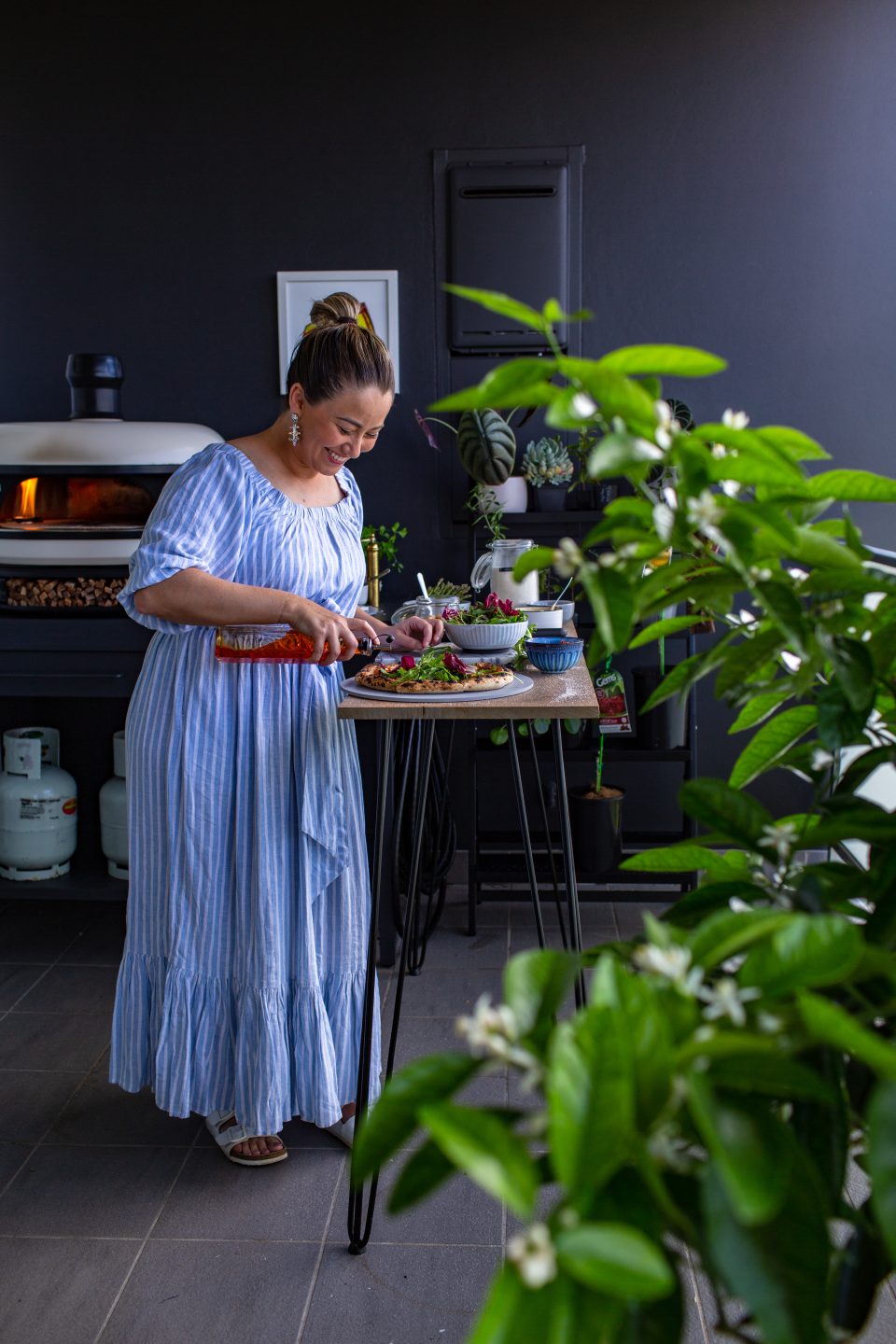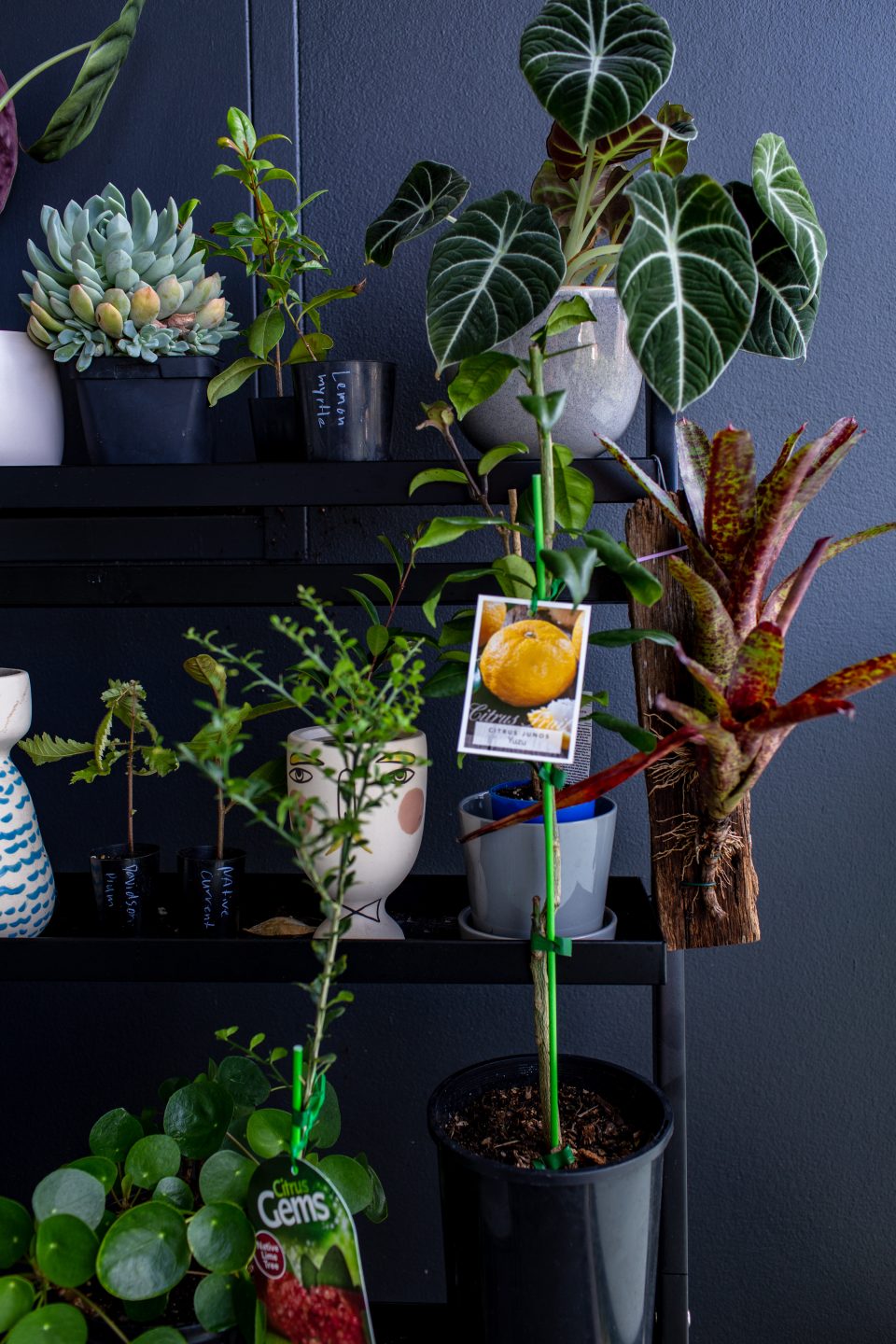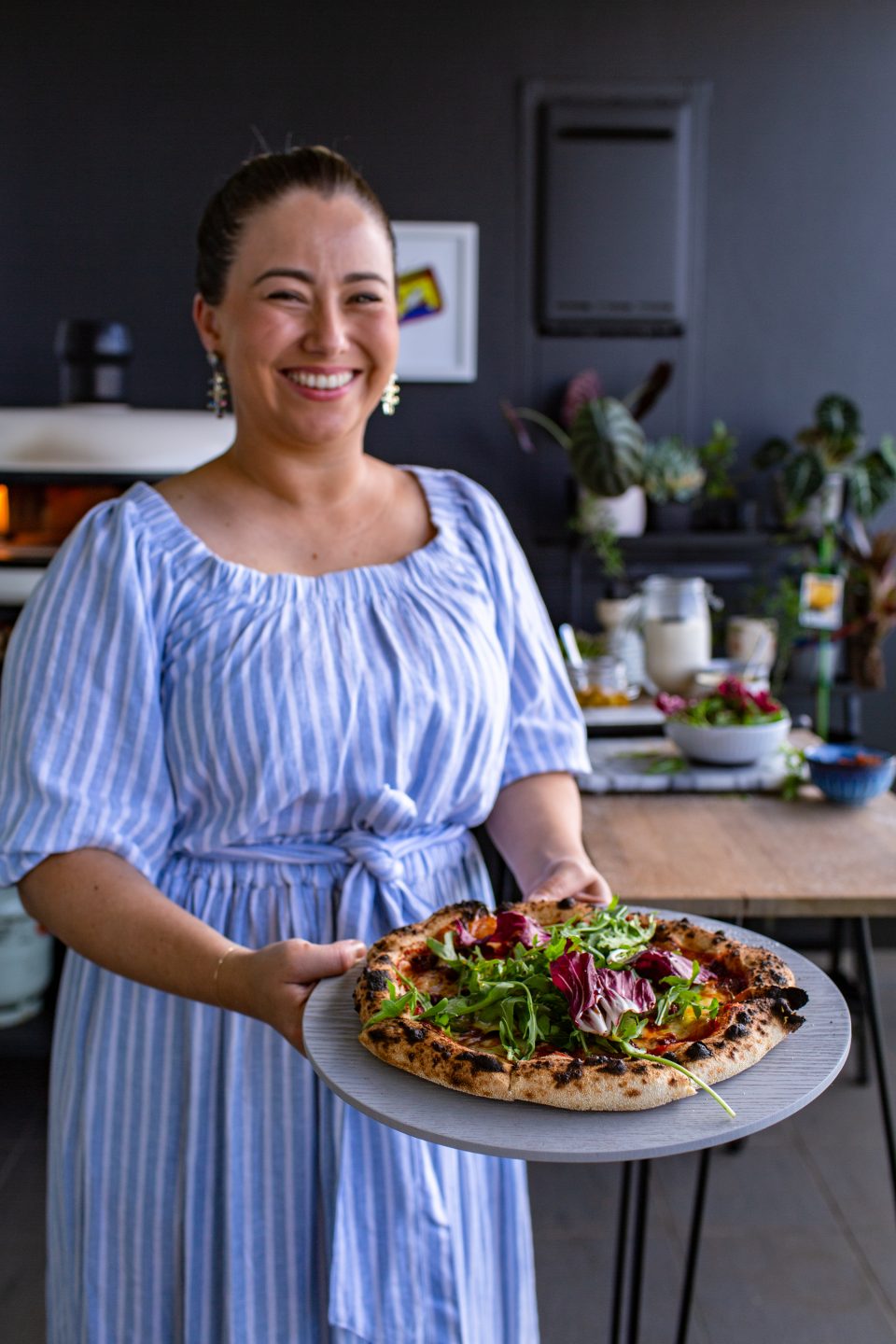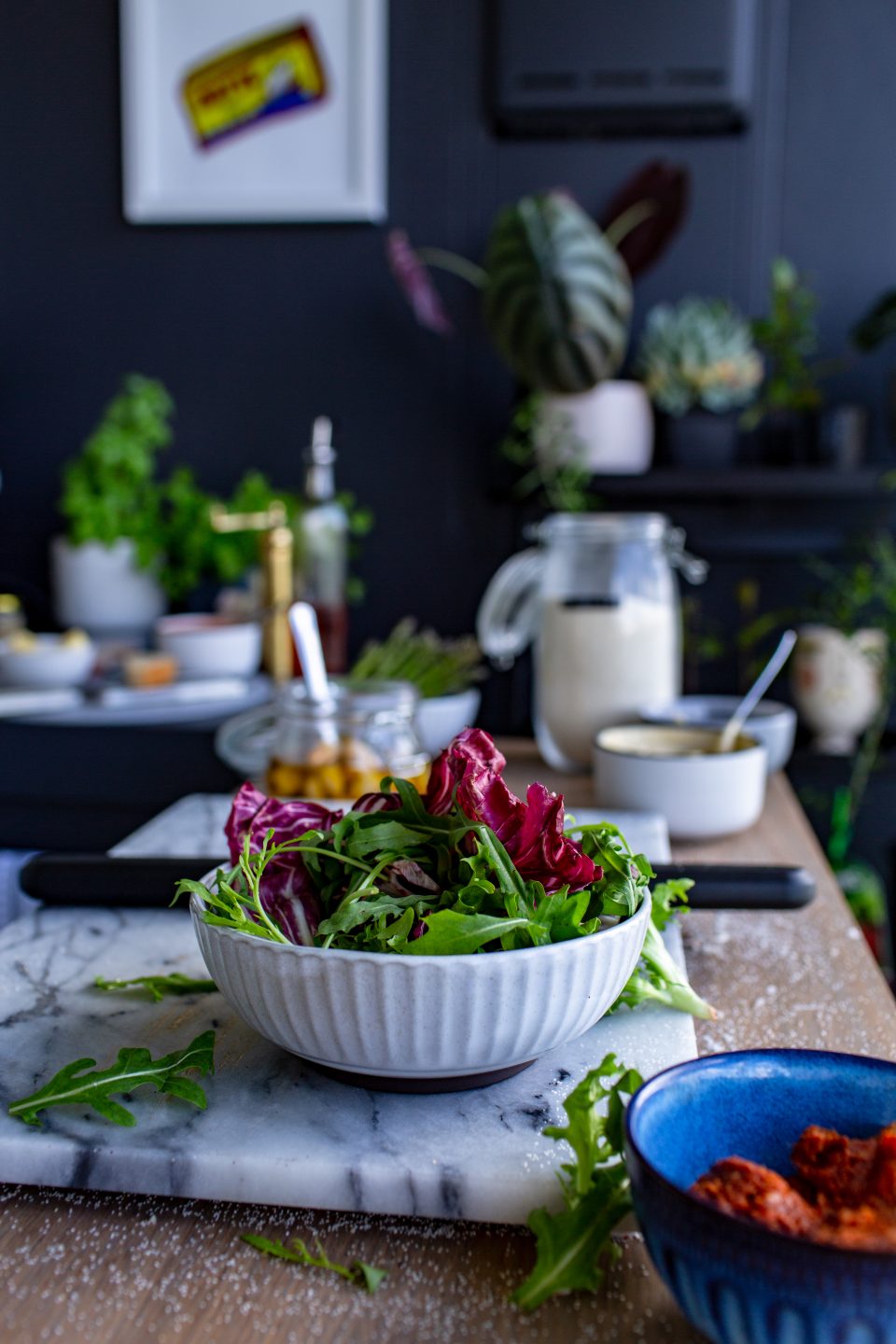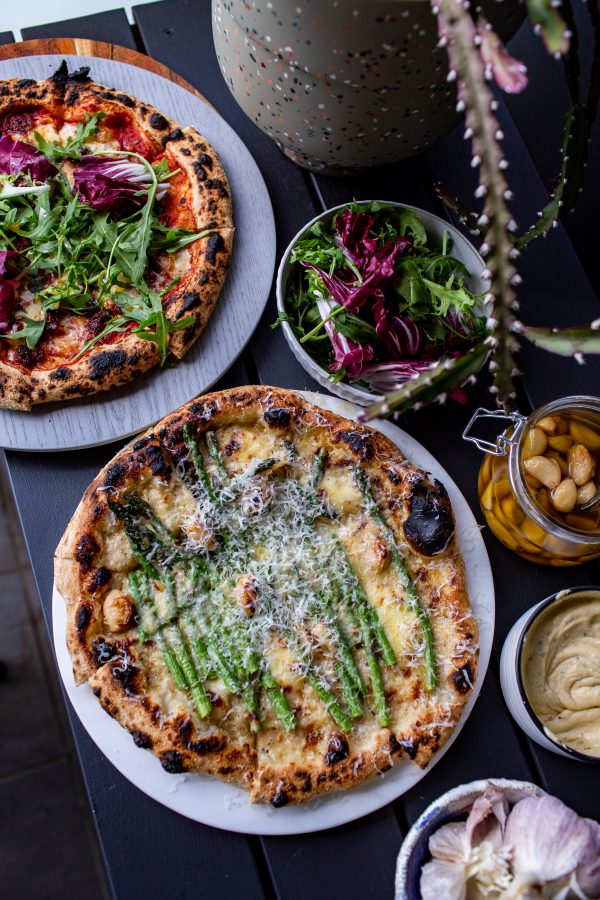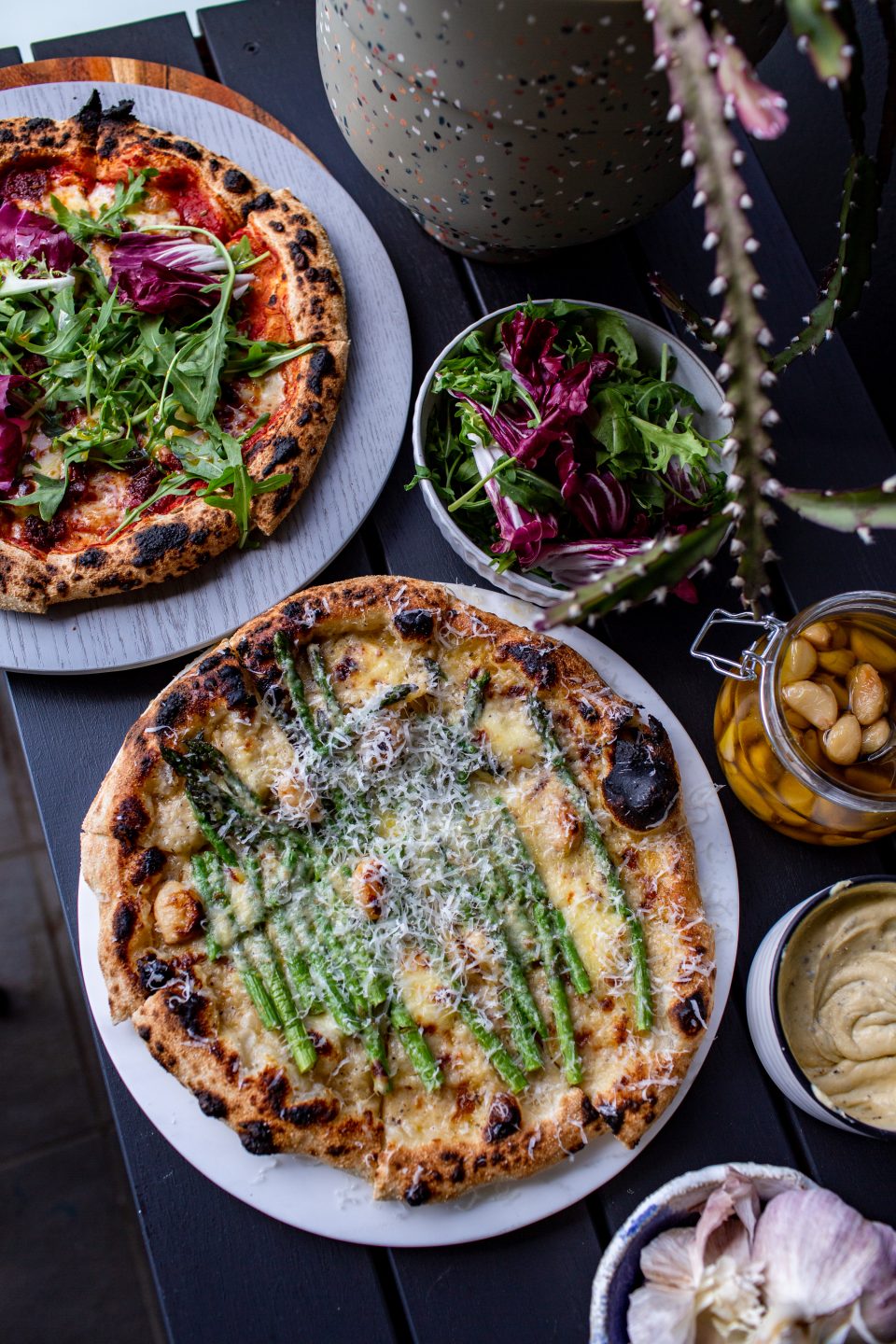 Asparagus Cacio e Pepe Pizza
Prep time: | Cook time: | Serves 6
Pizza Dough
1kg tipo 00 flour (I use Caputo Pizzeria flour)
650ml water
½ 7g sachet instant yeast
¼ cup extra virgin olive oil
¼ cup sea salt flakes
¼ cup fine semolina
Cacio e Pepe sauce
2 tbs butter
2 tbs plain flour
1/2 tsp salt
2 tsp freshly ground black pepper
1/2 cup grated parmesan
1 cup milk
Pizza topping #1
1 bunch mini asparagus
200g Fior di Latte
4-5 preserved garlic in olive oil (optional)
Pizza topping #2
2 tbs passata sauce
1 tbs Nduja (Calabrian spreadable salami)
a pinch of fennel seeds
2 tsp honey
a handful of fresh rocket and radicchio leaves
Pizza Dough. Place flour, yeast and 650ml room temperature water into a stand mixer fitted with a dough hook. Combine on low speed until a shaggy dough forms. Add salt and oil. Continue on low speed for 10 minutes, or until dough is smooth and elastic.
Place dough into a large lightly oiled bowl. Cover with tea towel and allow to rise until doubled in size, about 2 hours. Divide dough into 6 portions and roll into balls. Place into a shallow dish and cover tightly. Refrigerate for 24 hours before using.
Pull pizza dough out of refrigerator whilst pizza oven (see tip for using regular oven*) preheats to 400°C. Sprinkle work surface with semolina. Use fingertips to spread out pizza dough on top of semolina, being careful to never crush the outside edge of the dough round (which will become the puffy crust of the pizza). Pick dough up and use the weight of the dough to help to stretch into approximately 25cm round.
Cacio e Pepe sauce. In a saucepan, melt butter over low heat and whisk in the flour bit by bit until all used up. Follow with milk, keep whisking to avoid any lumps and you have reached a thick sauce consistency. Remove saucepan from heat and fold in the grated parmesan, ground black pepper and salt. Set aside to cool.
Dress the pizza. Sprinkle semolina onto a pizza peel. Place dough round on top. Spread the cacio e pepe sauce on the dough, leaving about 1 inch around the edge for the crust. Top with the mini asparagus, preserved garlic and small chunks of Fior di Latte (don't overcrowd the pizza to avoid having soggy pizza). Cook in pizza oven for 90 seconds, turning every 10-15 seconds, until crust has 'leopard' spots and toppings are cooked. *If using a regular oven, heat as high as your oven can go, and preheat a pizza stone. Pizza will take a little longer in a regular oven – cook until crust is golden and cheese is melted.
Topping #2. Spread some passata sauce, follow with small chunks of mozzarella, nduja and sprinkle of fennel seeds. Drizzle with honey when out of the oven and top with fresh radicchio and rocket leaves.