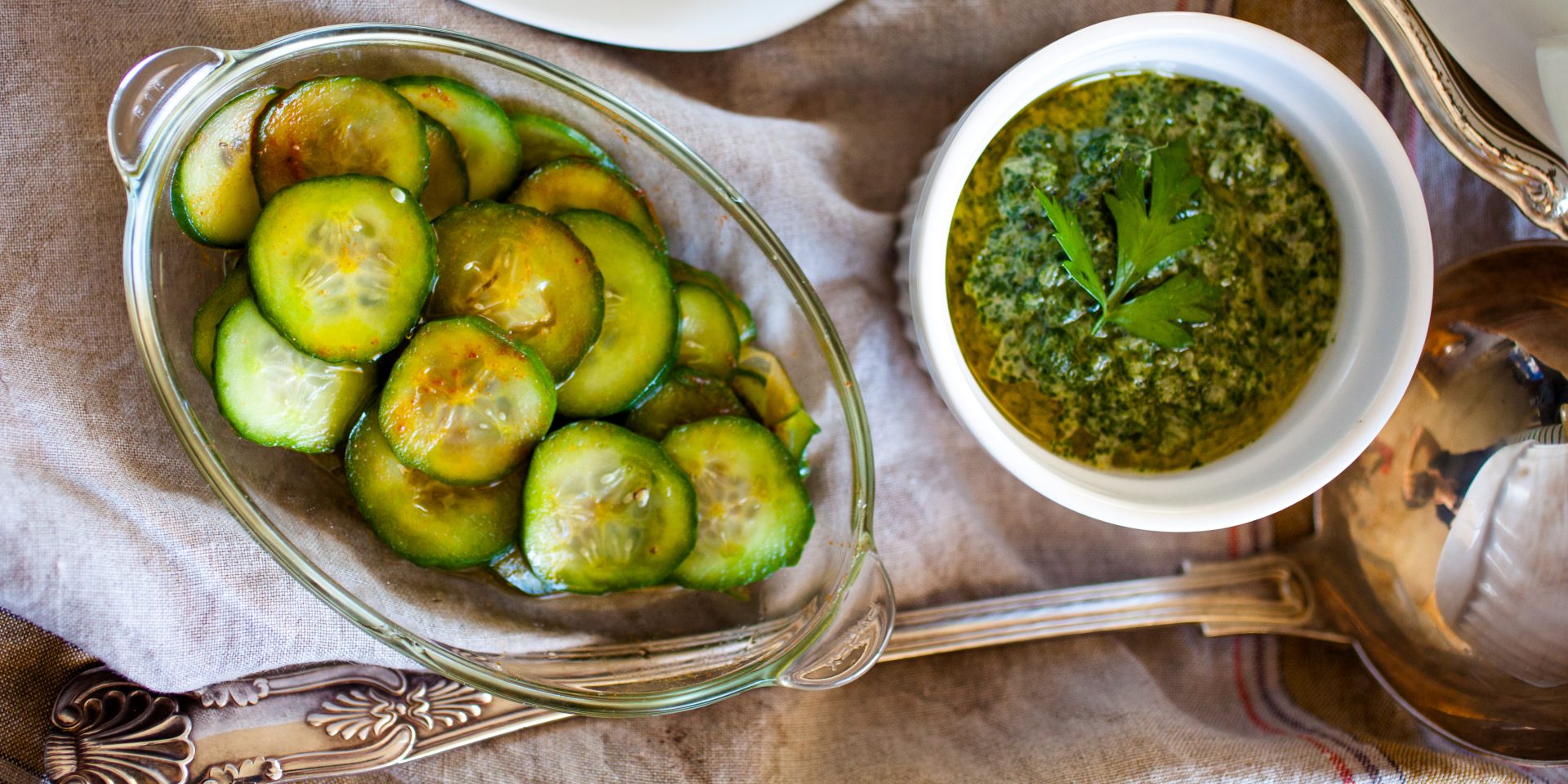 Growing up, Naomi's grandma used to make chicken soup with Matzo Balls every week. This kosher dish that is traditionally served during the Passover can also be enjoyed in your own home at anytime. Here Naomi shares her family version of Matzo Balls soup using the coarse meal (instead of the fine) as it gives the balls a fluffier and lighter texture.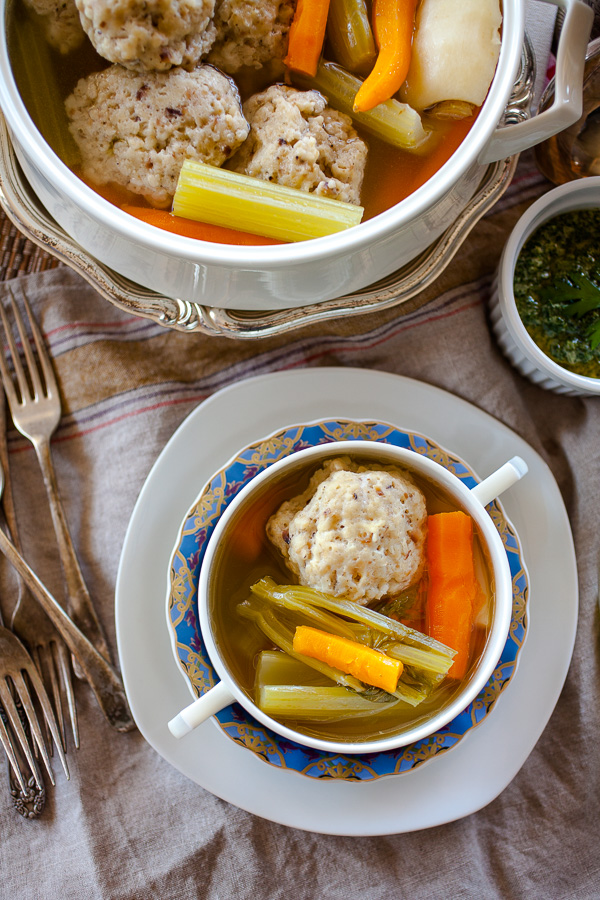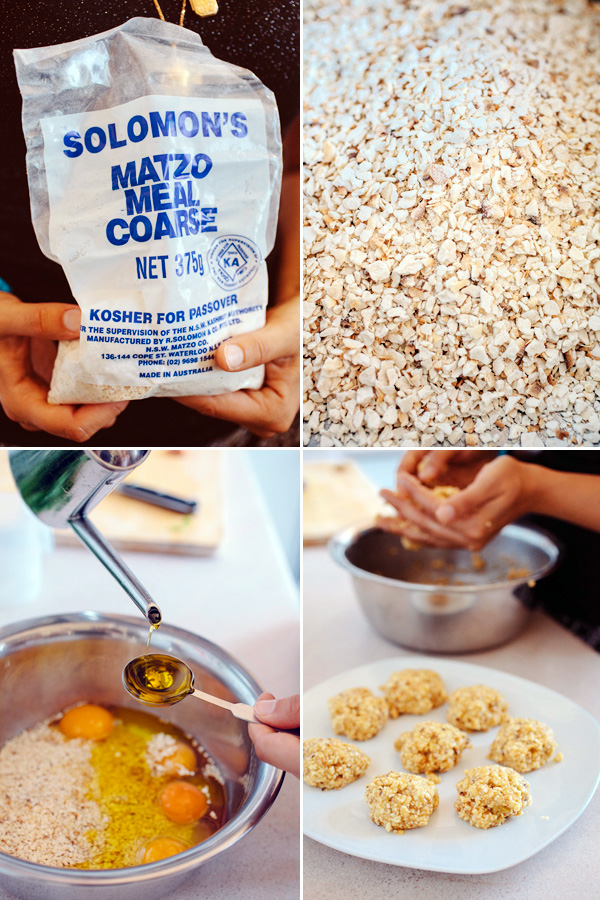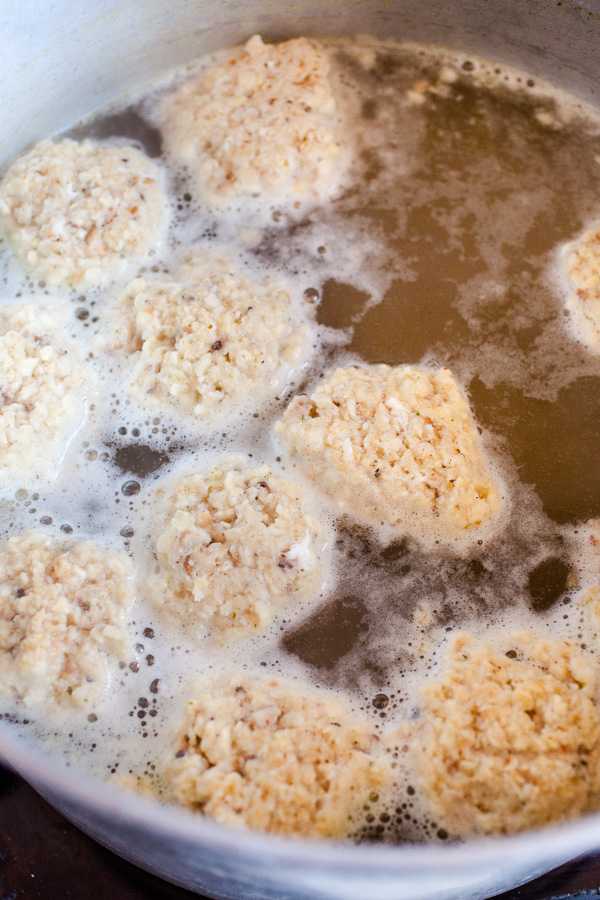 These matzo balls expand as they absorb all the goodness of the chicken stock.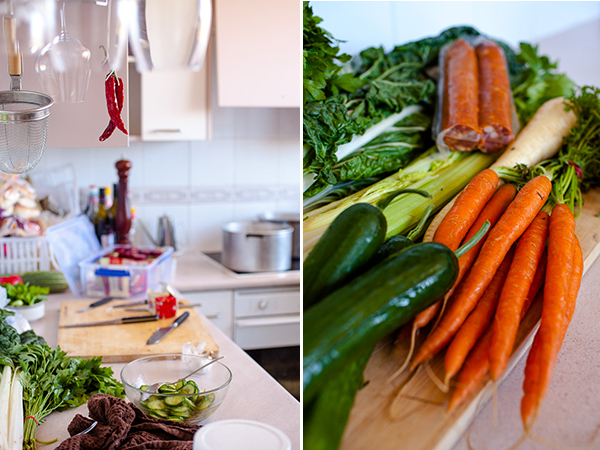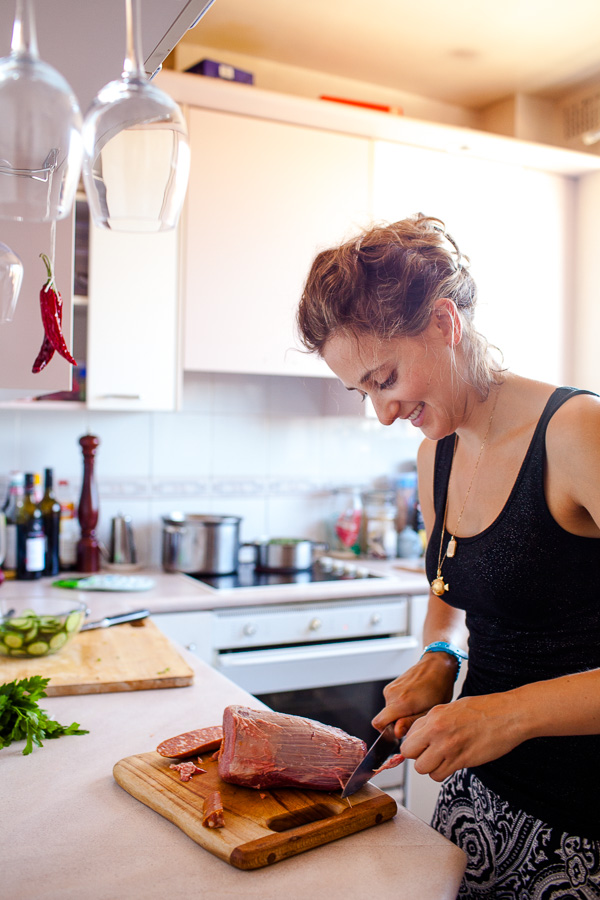 While the matzo balls and chicken soup are cooking, Naomi prepared the second dish – a roast stuffed with Csabai, a mouth watering specialty of her Oma's. Csabai is a delicious Hungarian sausage, similar to salami but with lots of paprika. Naomi says,"If you thread it through the roast length-wise you will get a piece in every slice of the roast – a hidden treasure!"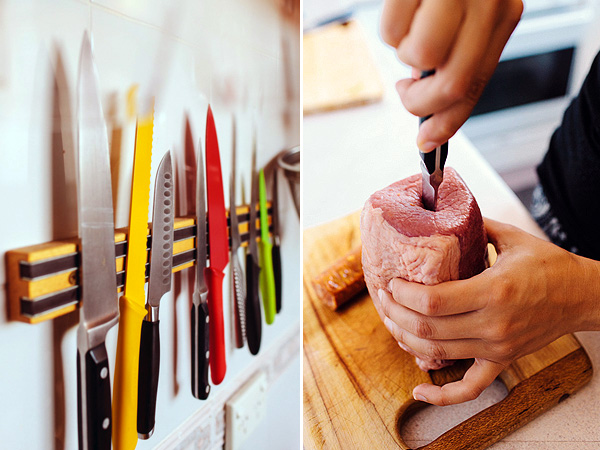 Cut two slits to form a cross length wise through the eye of the roast then stuff with Csabai.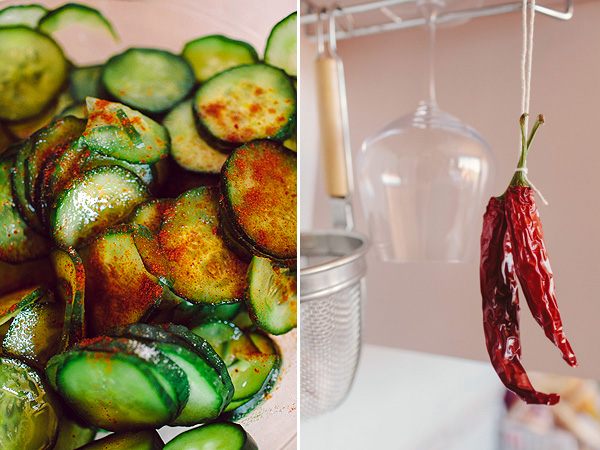 Hungarian pickled cucumber with a touch of paprika.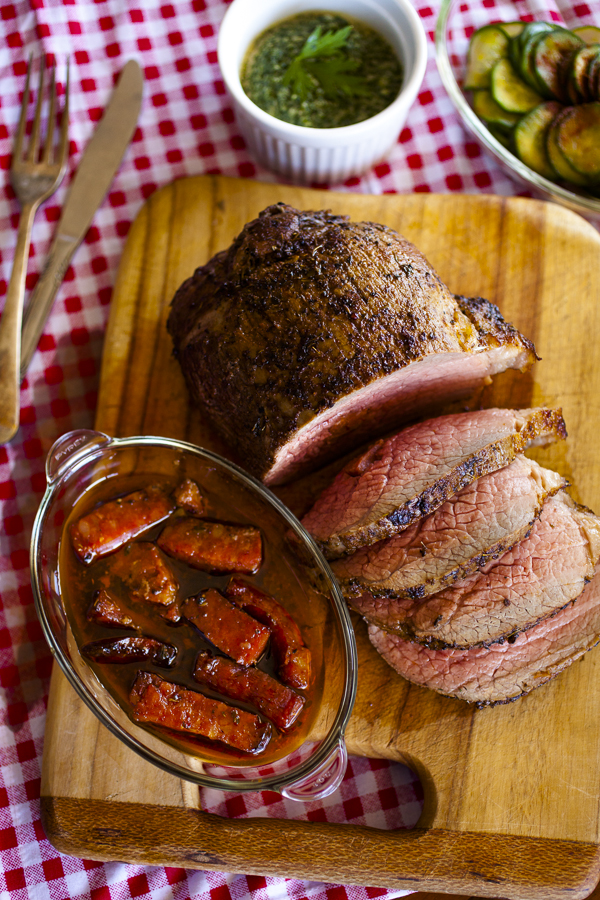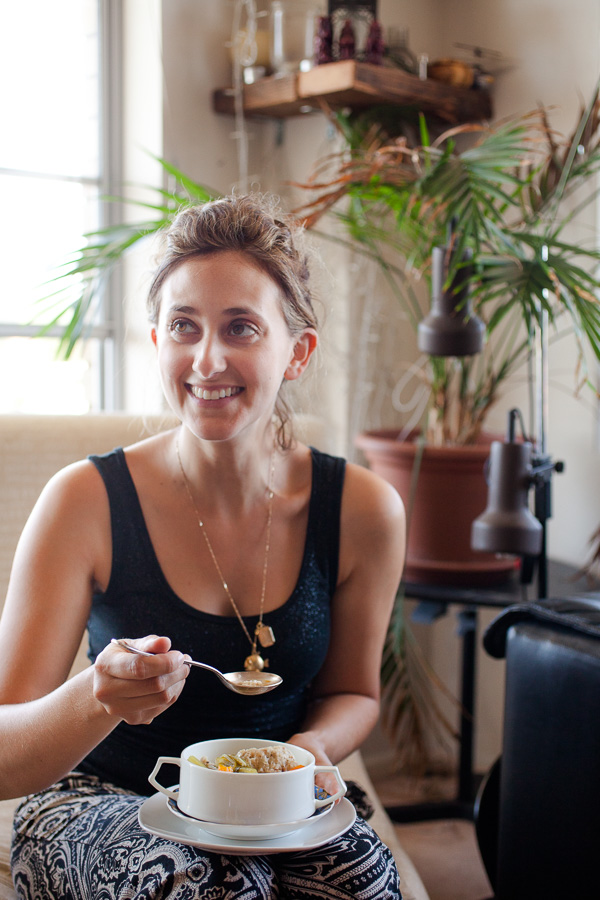 Who: Naomi
Home is: Sydney
Family origin: Eastern Europe (Hungary)
I can't live without my: Asthma puffer (literally)
Occupation: Landscape designer
Dream job: Movie reviewer!
Childhood taste: My grandma's chicken schnitzel with 

Vegemite

I will always have in my pantry: Pasta, paprika, chicken stock
The one place I must visit: Spain + Morocco + Sweden + New Orleans + Africa + Italy! (can't narrow it down!)
Go to meal: Spaghetti with hot smoked ocean trout, capers, cream and lemon or fried rice (leftover anything chopped up in rice)
3 Unforgettable meals: Freshly caught frogs in the Borneo jungle, Ainoya Restaurant ocean trout with Japanese pesto, Green Pandan custard in Thailand served with steamed hot white bread (amazing)
Perfect night in/out: Good food, wine + company – in or out
My piece of Sydney: Cottage Point for fishing
I do my groceries at: Coles and Asian grocery store
Guilty pleasure: triple cream brie on 

Doritos

Who does the dishes: Our dishwasher!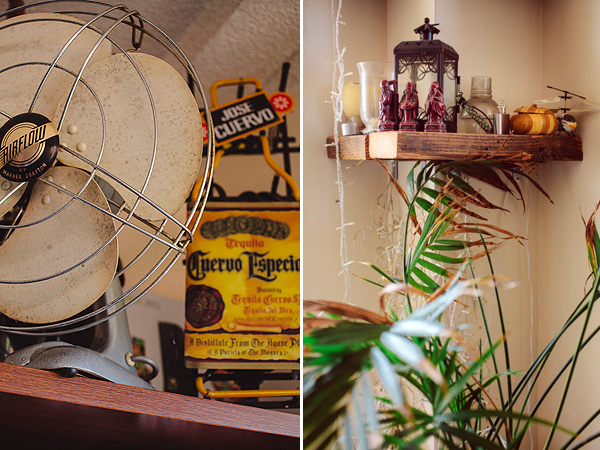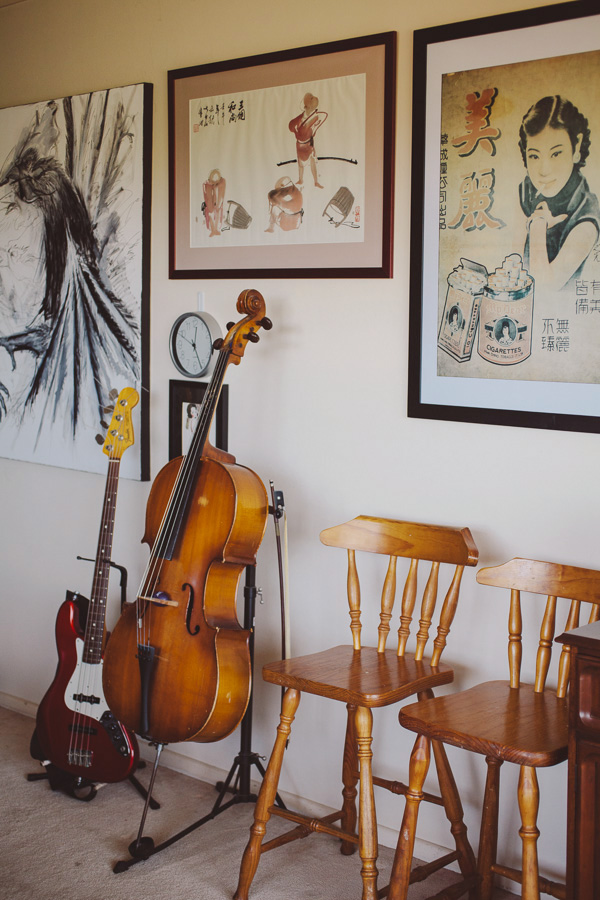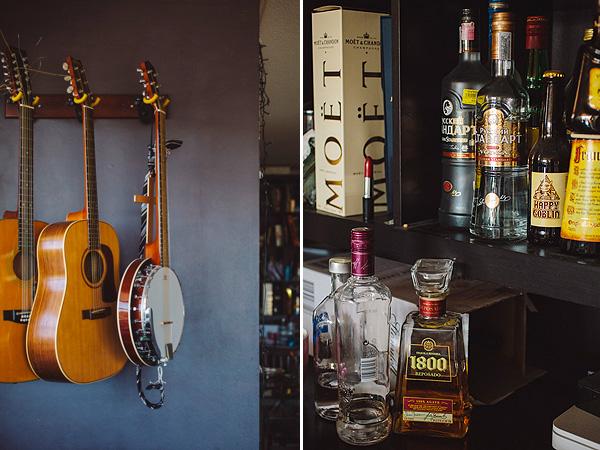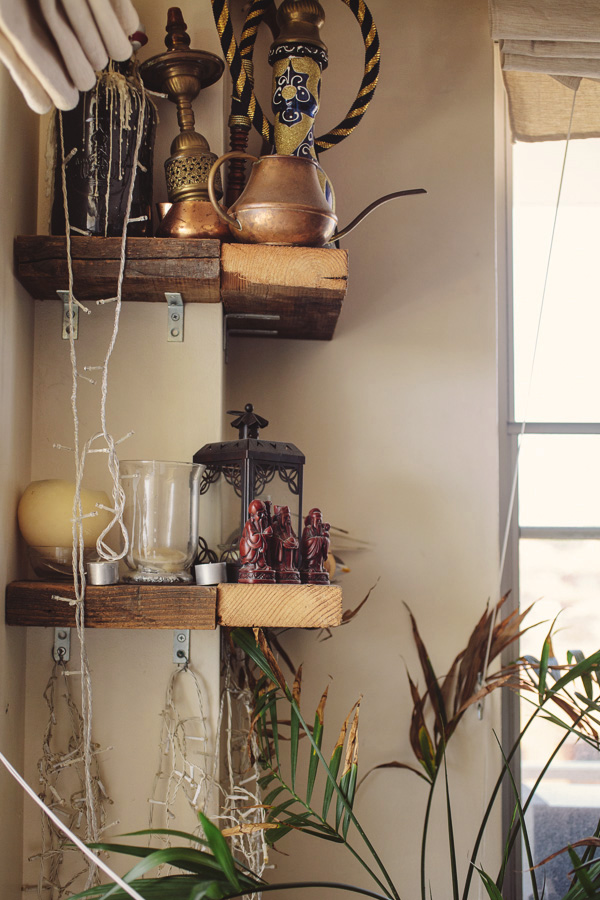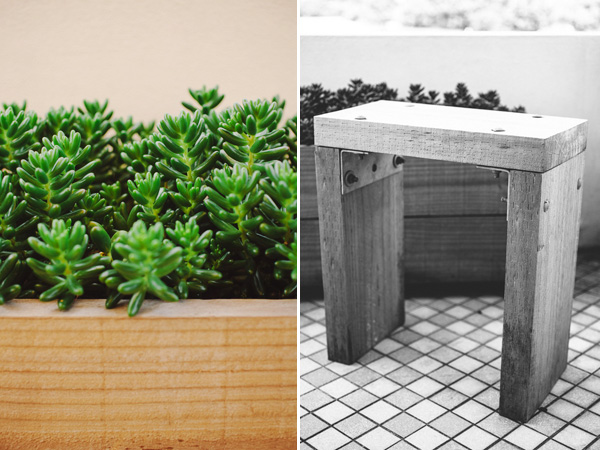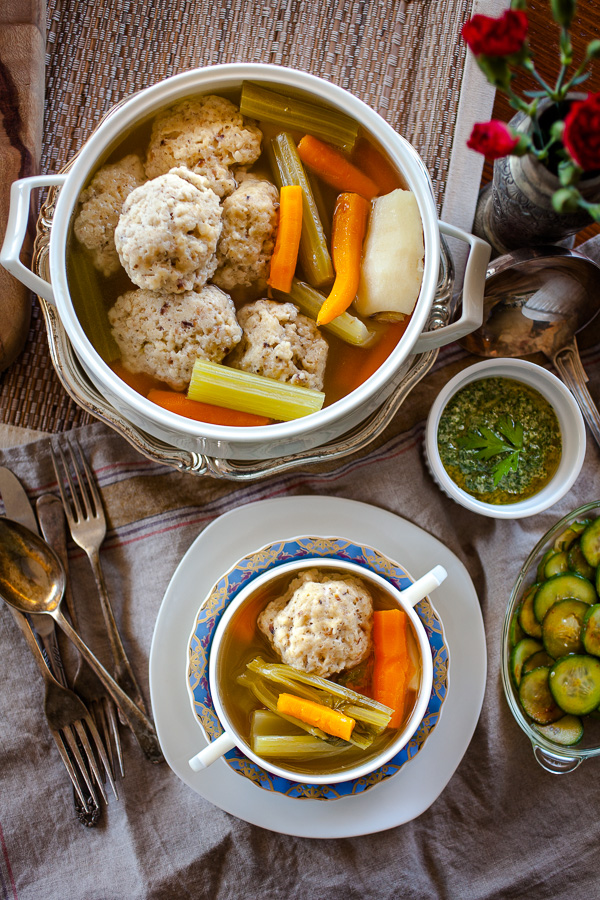 Matzo ball soup served in Naomi's mum's wedding gift retro china from the 70s.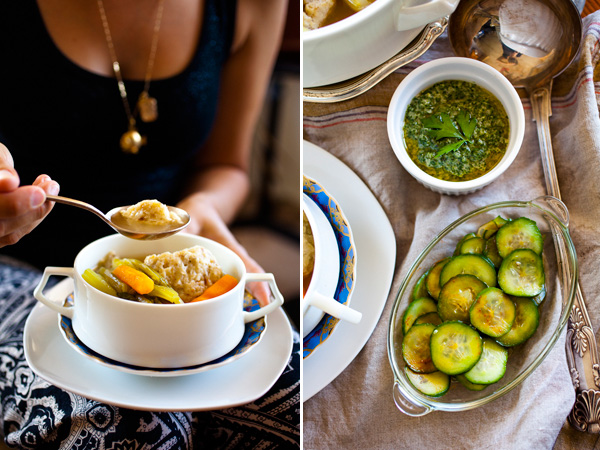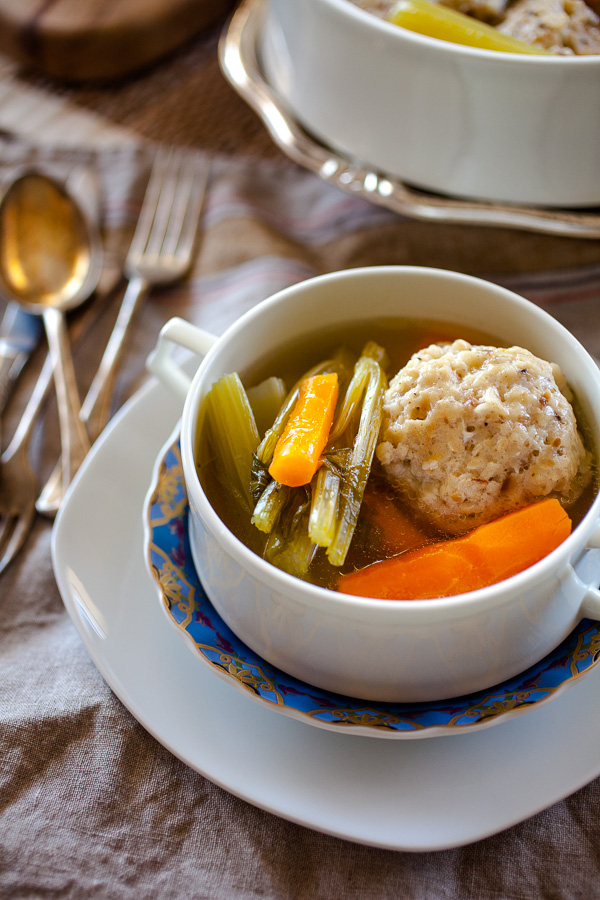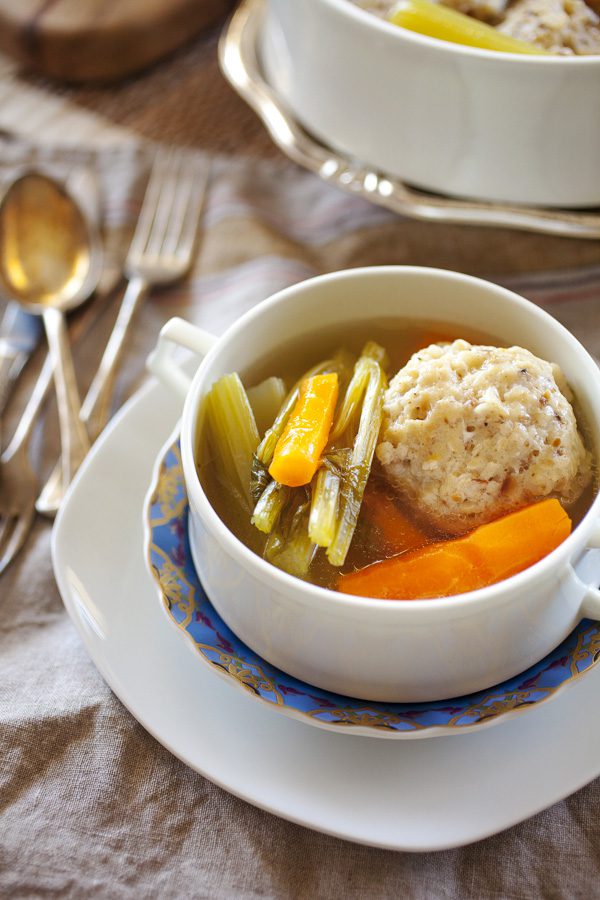 Matzo Ball Soup
Prep time: | Cook time: | Serves 8
For Matzo balls
1/2 cup coarse matzo meal (can usually find this at Franklins)
2 eggs
2 tbs oil
Salt
Pepper
1/2 tsp bicarb soda
1/2 chicken stock cube or 1/2 teaspoon of powder chicken stock
1/2 tbs soda water or water
For Chicken soup
8-10 Chicken Wings
Additional chicken bones if you can find them!
4 Carrots (quartered)
Half celery (sliced in 10cm sticks)
Parsnip (halved)
Onion
Salt + Pepper corns
Chicken Stock cube
Parsley/Dill
Matzo balls. Lightly combine all ingredients, don't over mix. Leave for a few minutes. Gently mould balls the size of golf balls (they won't be circular) and place in simmering chicken stock. Cook on simmer for 20 mins or until soft all the way through. NB: Cook matzo balls in a separate pot of stock – not in soup!
Chicken soup. Roast the chicken wings in oven until lightly brown before putting them in the pot with water, it seems to bring out more flavour and reduce some of the fat.
In a large pot – add celery, carrots, parsnip, onion, a teaspoon of peppercorns, lightly roasted chicken wings & stock cube. Cover generously with cold water.
Simmer gently for about 2 hours. Occasionally you will need to skim the surface to remove fat*.
Serve the Matzo balls, vegetables and chicken soup in a serving bowl.
Add dill/parsley to your taste. Season to taste.
*If you want to remove all the fat, cool the soup in the fridge over night and skim the hardened fat off the top.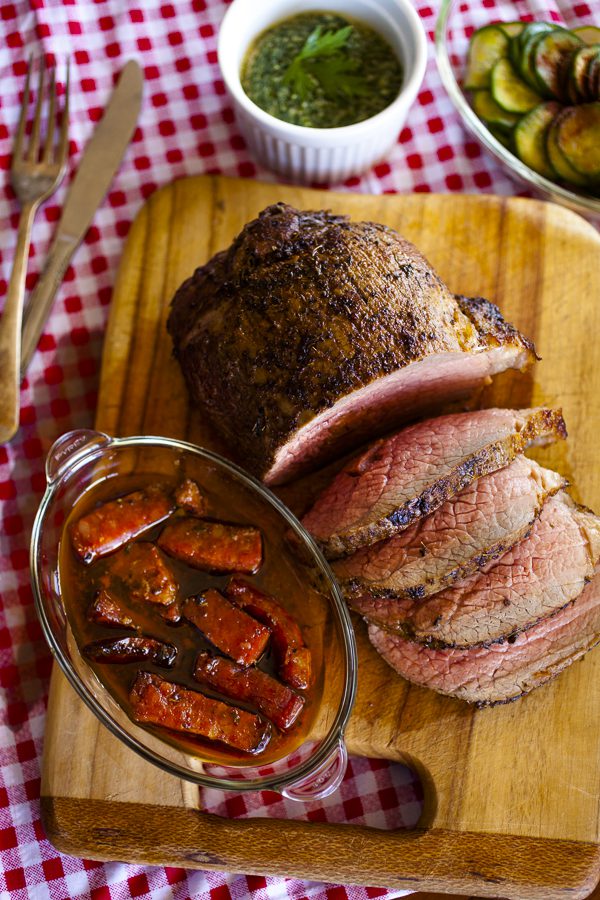 Roast with Csabai
Prep time: | Cook time: | Serves 6
1 Eye fillet or other roasting cut
1 Csabai
Paprika
Thyme
Rosemary
Smoked paprika
Pepper
Salt
Cut two slits to form a cross length wise through the eye of the roast. Stuff with csabai. Sprinkle meat with these ground dried herbs: paprika, smoked paprika, rosemary, thyme and pepper. Brown on all sides in a hot pan with oil.
Move to an oven bake dish and cook further on 180˚c for about 30 – 40 mins or until ready.