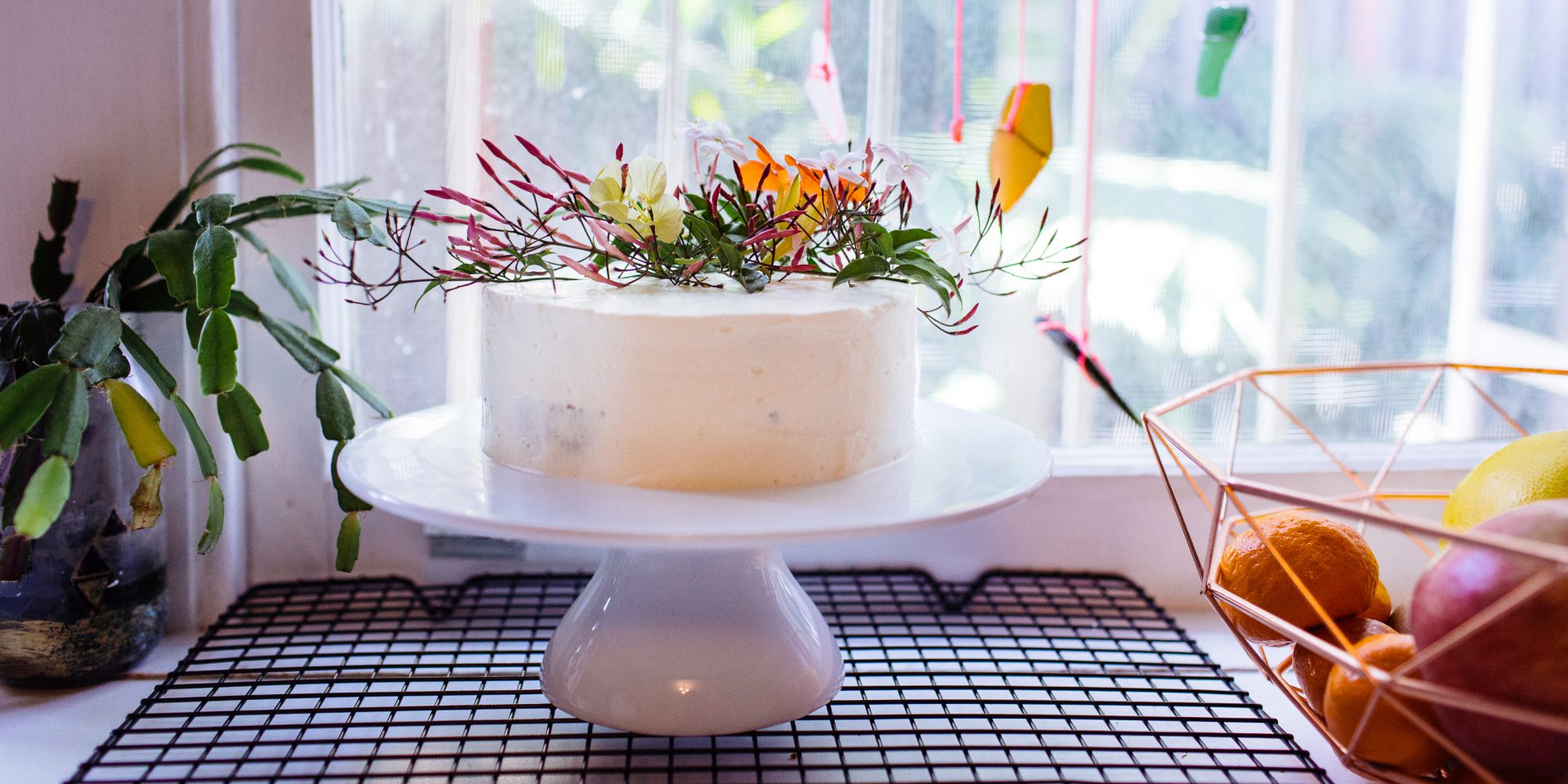 Rebecca is really interested in catering for all dietary needs and making sure everyone gets a slice of cake.She started the journey when she realised she wasn't able to eat dairy, but needed to fulfil her sweet tooth needs. Starting with cupcakes, cookies, muffins and then went on from there. She has a fine art background and really enjoy working with her hands. After lots of different jobs in different fields, she found that cake decorating is the perfect combo for her. A Greenberg & Co Cakes was established to make celebration cakes more accessible and still be beautiful and delicious.
Rebecca: My grandmother baked cakes for all of our birthdays and now baking is a way for me to provide a meaningful gift for people. Sharing food is very important to me and the basic nurturing need that it meets. I have social anxiety and find making food is a way of participating, but not having to participate, if that make sense. When my grandma didn't bake our cakes, she bought them from a Jewish Bakery called Julia's back at home in the States. She called them "Real Birthday Cakes" and I've been trying to live up to the expectation.
Rebecca made a vegan chocolate buttercream cake using Aquafaba – a replacement for egg white. *It is composed of carbohydrates, proteins, and other soluble plant solids which have migrated from the legume seeds (in this case it's chickpeas) to the water during the cooking process. This unique combination of ingredients gives it a wide spectrum of emulsifying, foaming, binding, gelatinising and thickening properties. This discovery was made by a French chef Joël Roessel in December 2014. He also published recipes for floating island of Chaville, chocolate mousse, and he made a meringue made from chickpea liquid, sugar, corn starch and guar gum to demonstrate its foaming capabilities.
Like egg whites, aquafaba has the ability to form stable foams when whipped which makes it suitable for desserts such as meringues. The foam formed by aquafaba is novel in that it can remain stable for prolonged periods of time without collapsing (e.g., hours), whereas egg white foams can become dry and collapse. Aquafaba can also be repeatedly frozen, thawed, heated, or cooled without substantially changing its properties as an egg replacer. The proteins are already denatured, and the starches are already gelatinised from the cooking process. In contrast, egg white irreversibly coagulates when its proteins are heated. The ability for aquafaba to be used at any temperature allows for novel applications such as hot foams, instant mixes, and recipes that take advantage of emulsification under heat. (*source:Wikipedia)
Family origin
Northeast United States
I can't live without
Potatoes & my partner (but I better say the other way around)
Occupation
Cake Decorator
Currently I'm obsessed with
My chickens (Raptor, Houdini, Blondie & Ichiban) and learning about chicken keeping. Did you know they sleep cuddling on a roost?
Childhood taste
Very fondly remember homemade food from my mom, dad and grandma. Especially Jewish favourites like kugel and latkes. Yummmmm!
I will always have in my pantry
Masa harina to make tortillas, tamales and arepas...a lovely remnant of a not so lovely ex
I learnt to cook from
Watching my family and lots of trial and error. I LOVE cooking shows and asking Google
Currently I'm listening to
Podcasts during the day (WTF, Lore and This American Life are my favourites). Clarissa Estes "Bedtime Stories" at night. Her voice lulls me to sleep, I will never know how the story ends
One day I must visit
'd really like to go everywhere given the opportunity. Really, there is no where that is not worth learning about
Go to meal
Whatever goes with mashed potato
I am really good at
Making things seem organised, but not actually cleaning. Convincing myself I'm not very good at things. Being patient
The unforgettable meal
Too many to remember, but lots shared with my partner Panda, who shares my love of degustation menus
My piece of Sydney
La Perouse beach: Little Congwong: A hidden paradise with a picnic
Guilty pleasure
Chocolate and Rom Coms/ Chocolate with Rom Coms
Who does the dishes
We share. I'm very lucky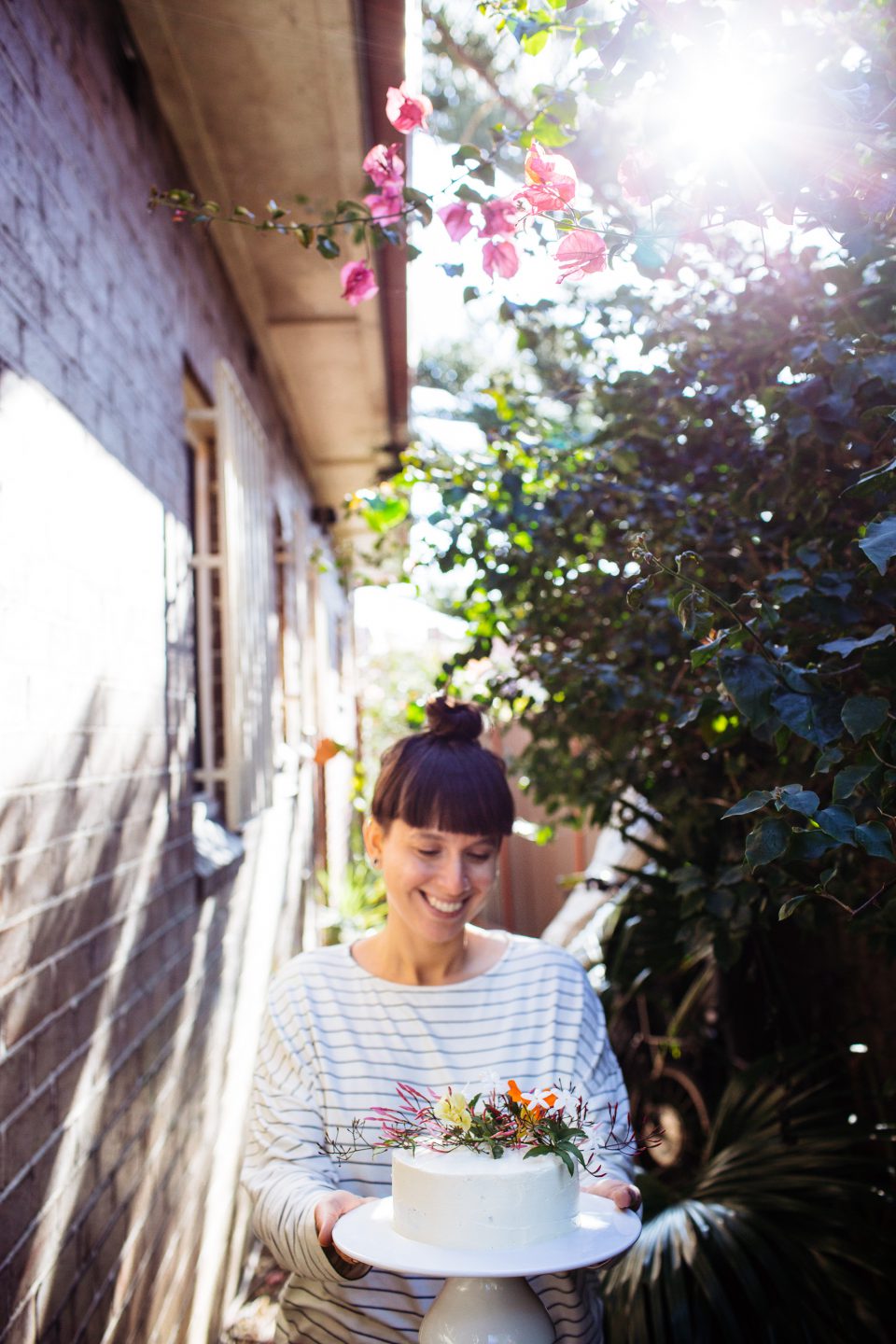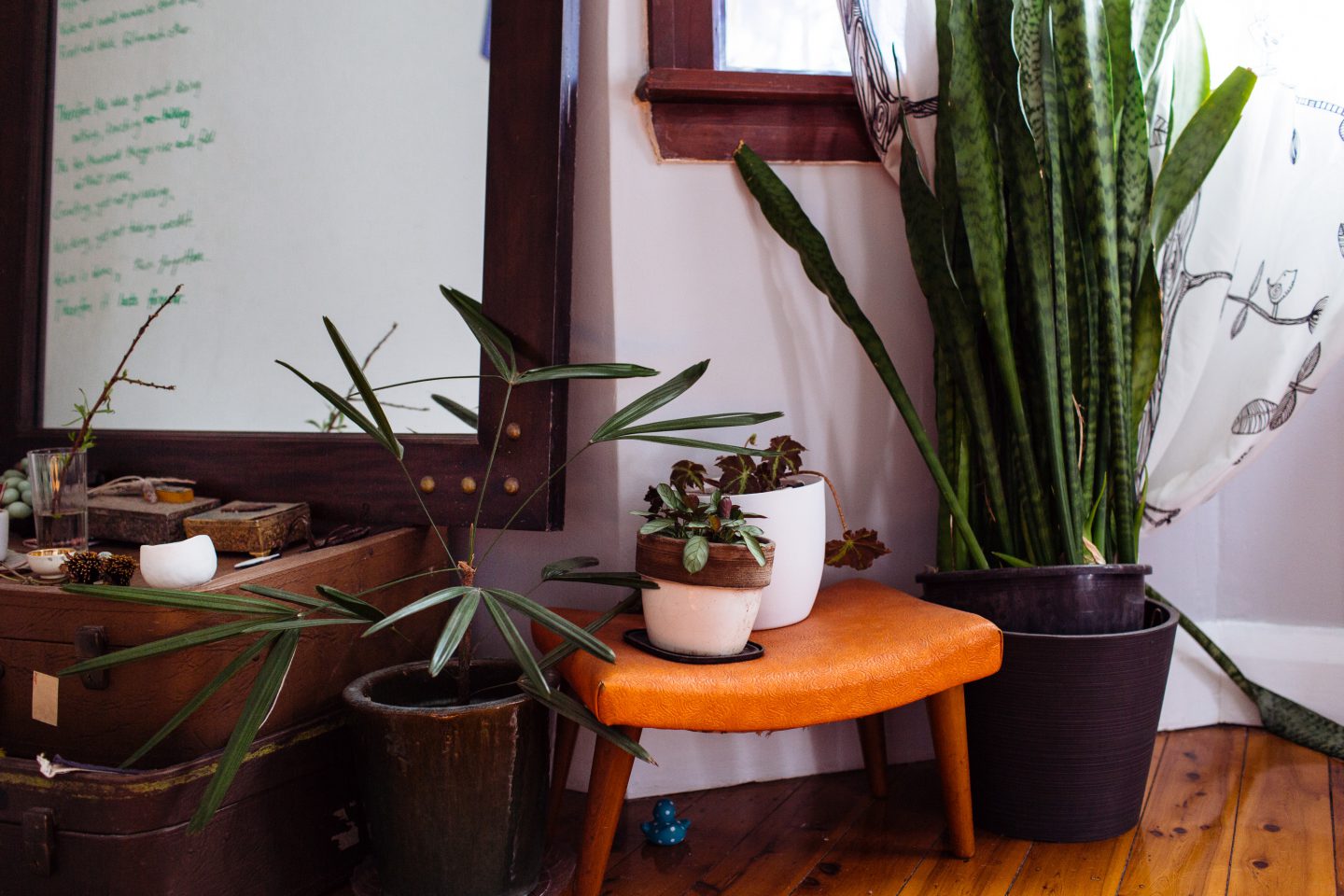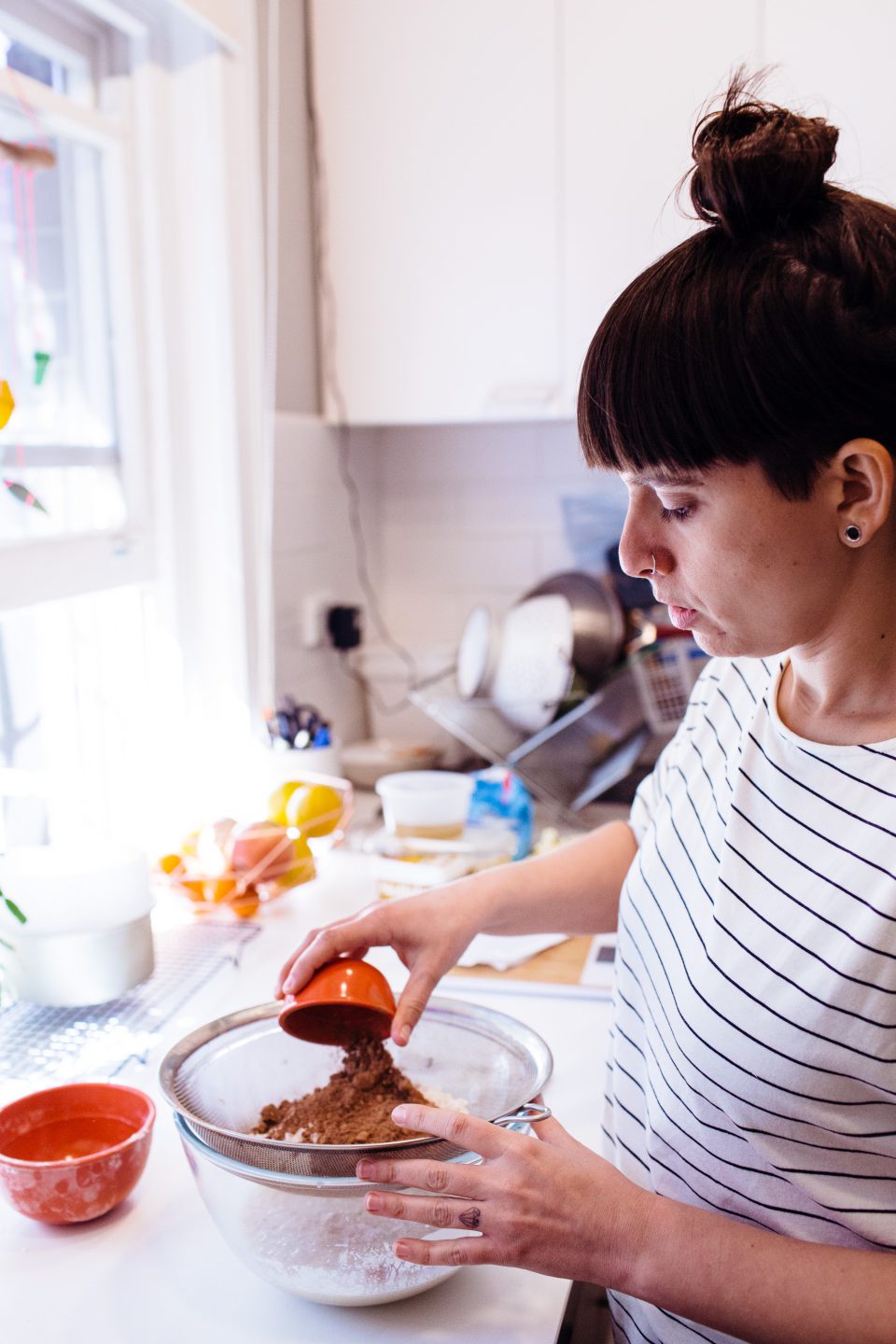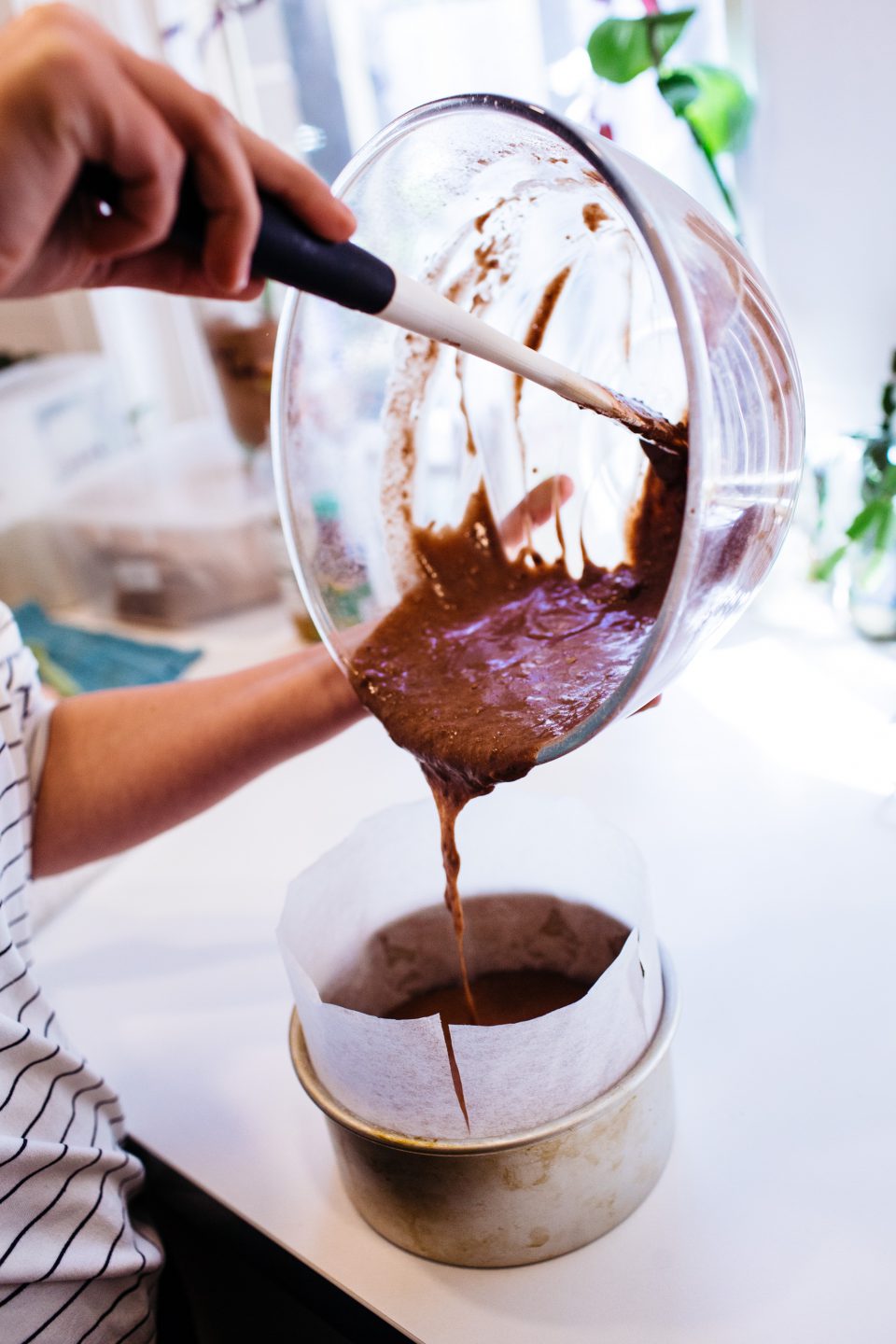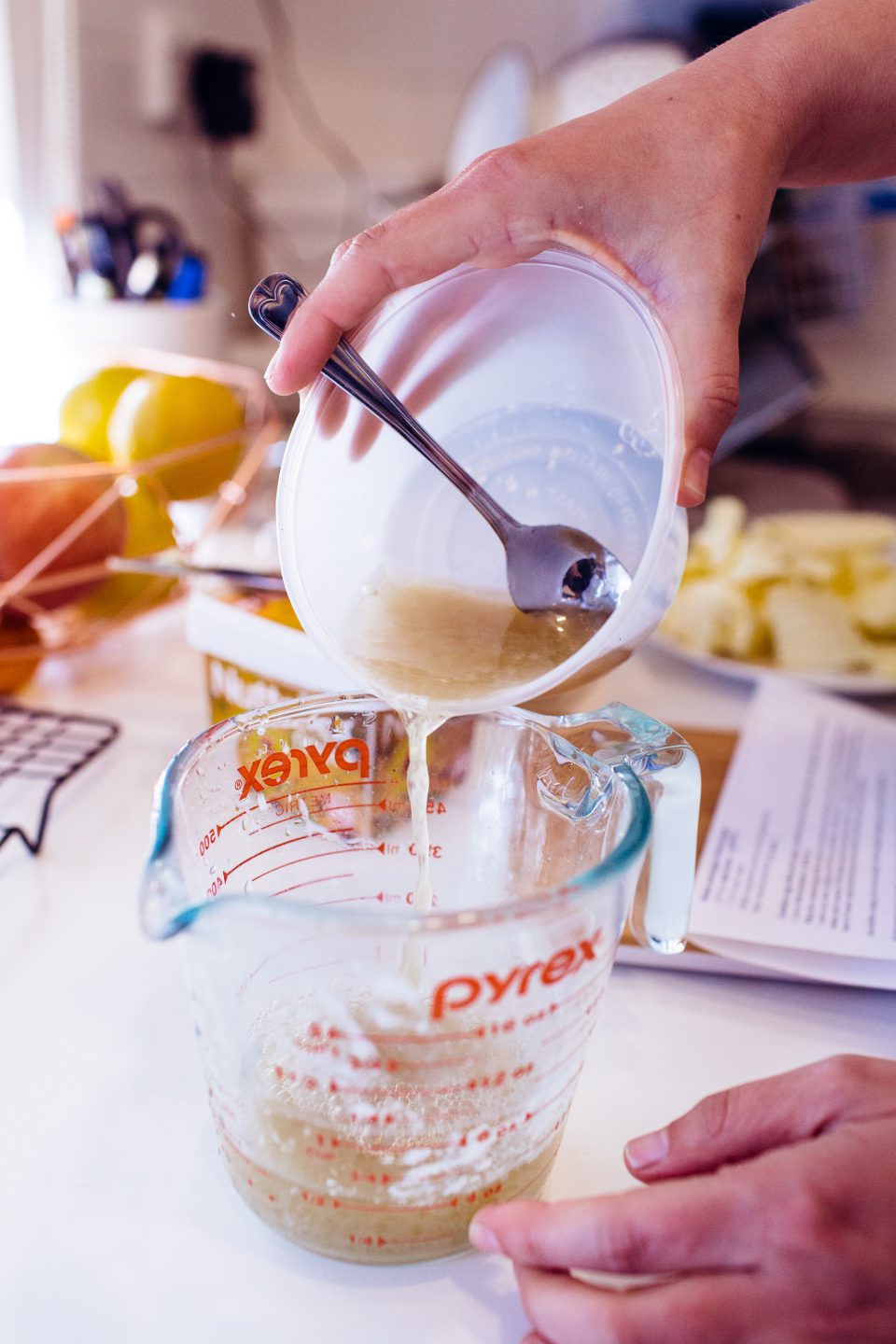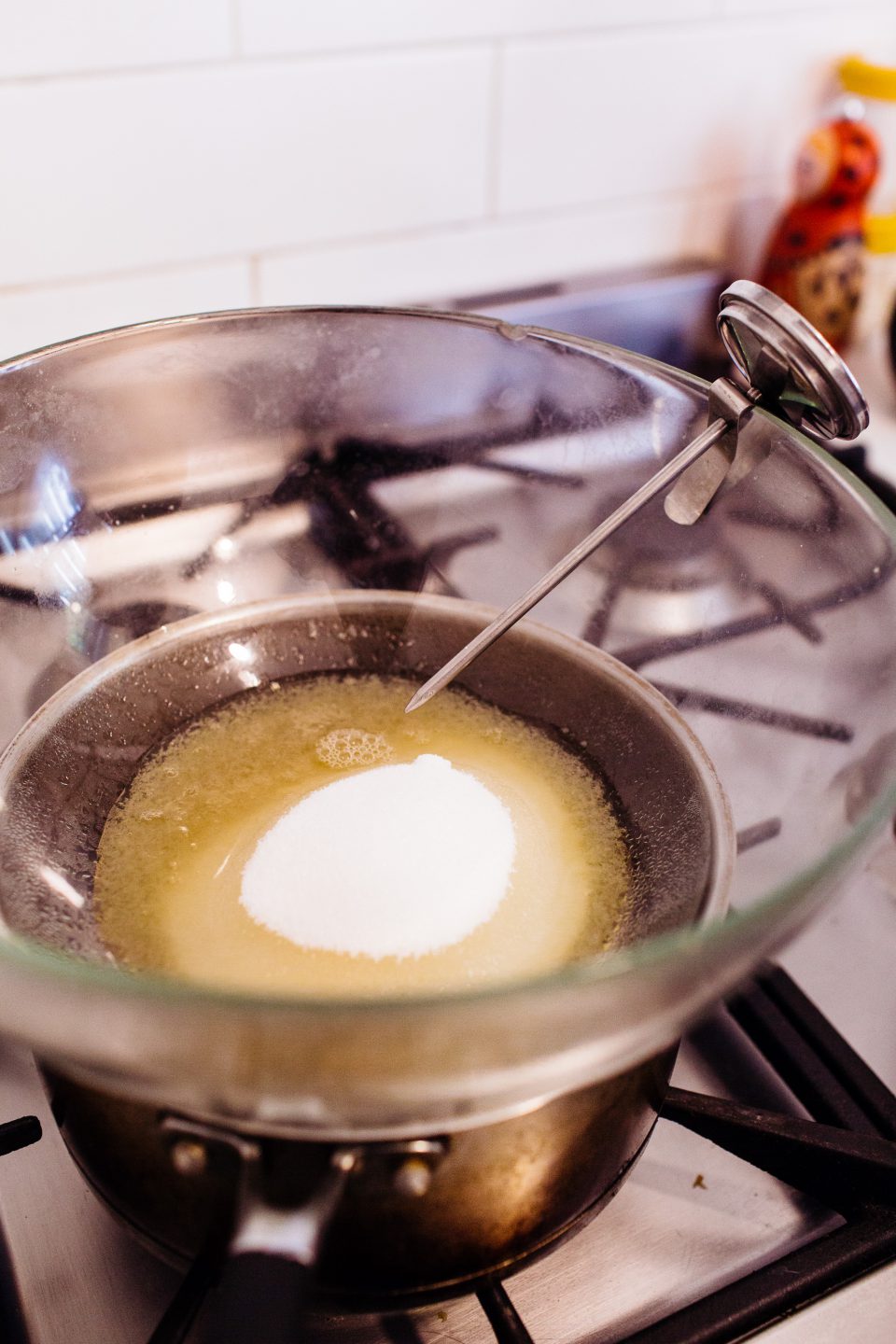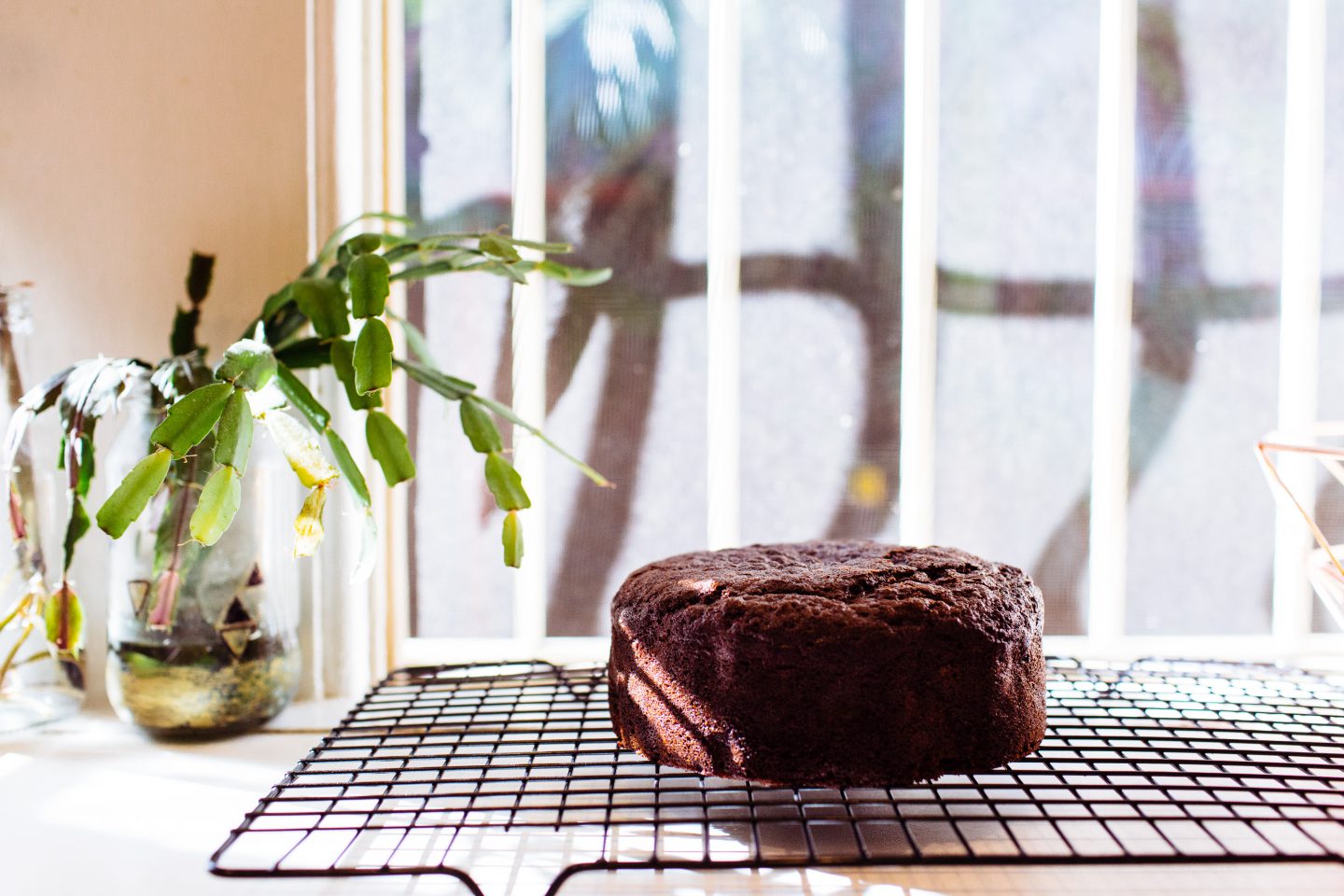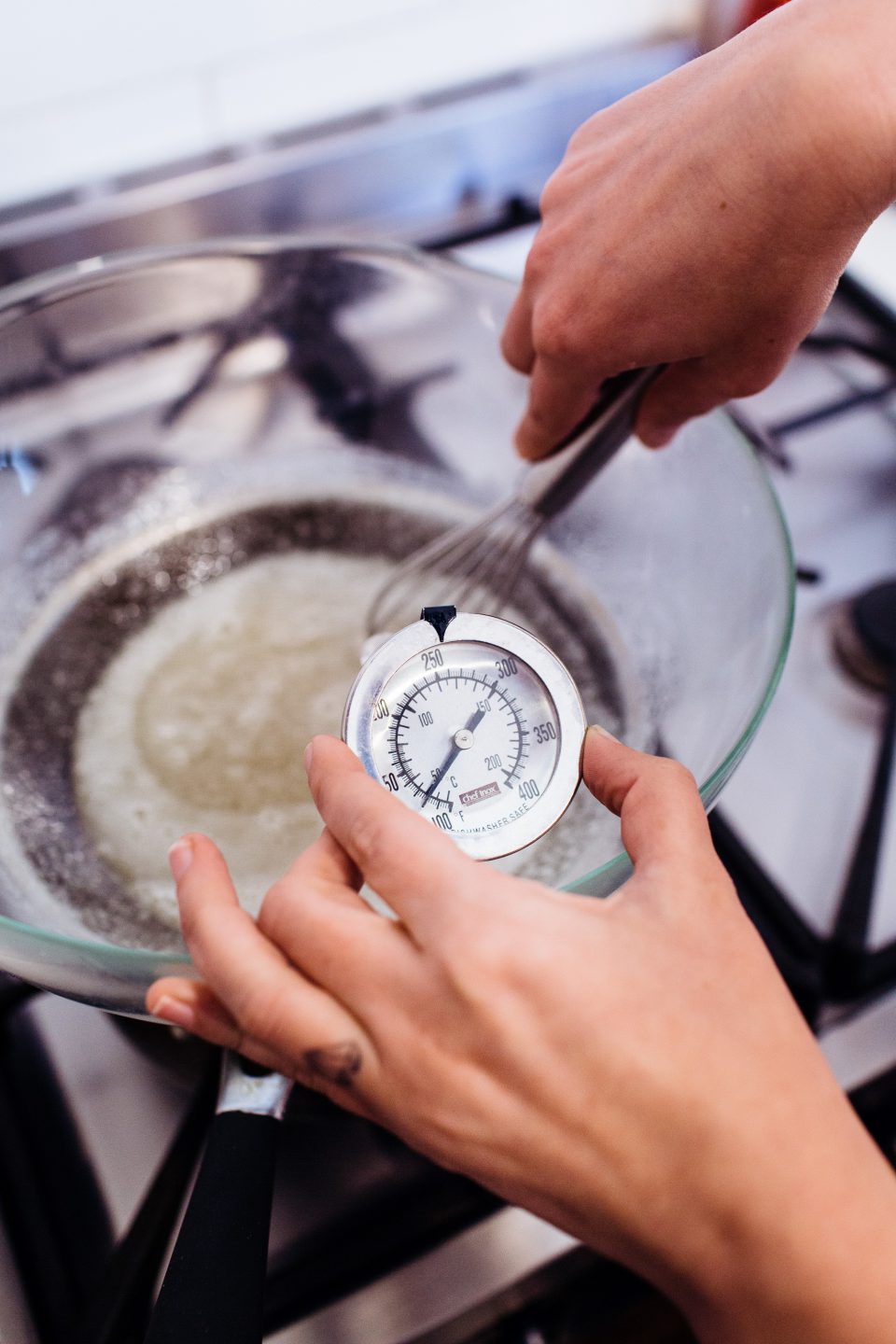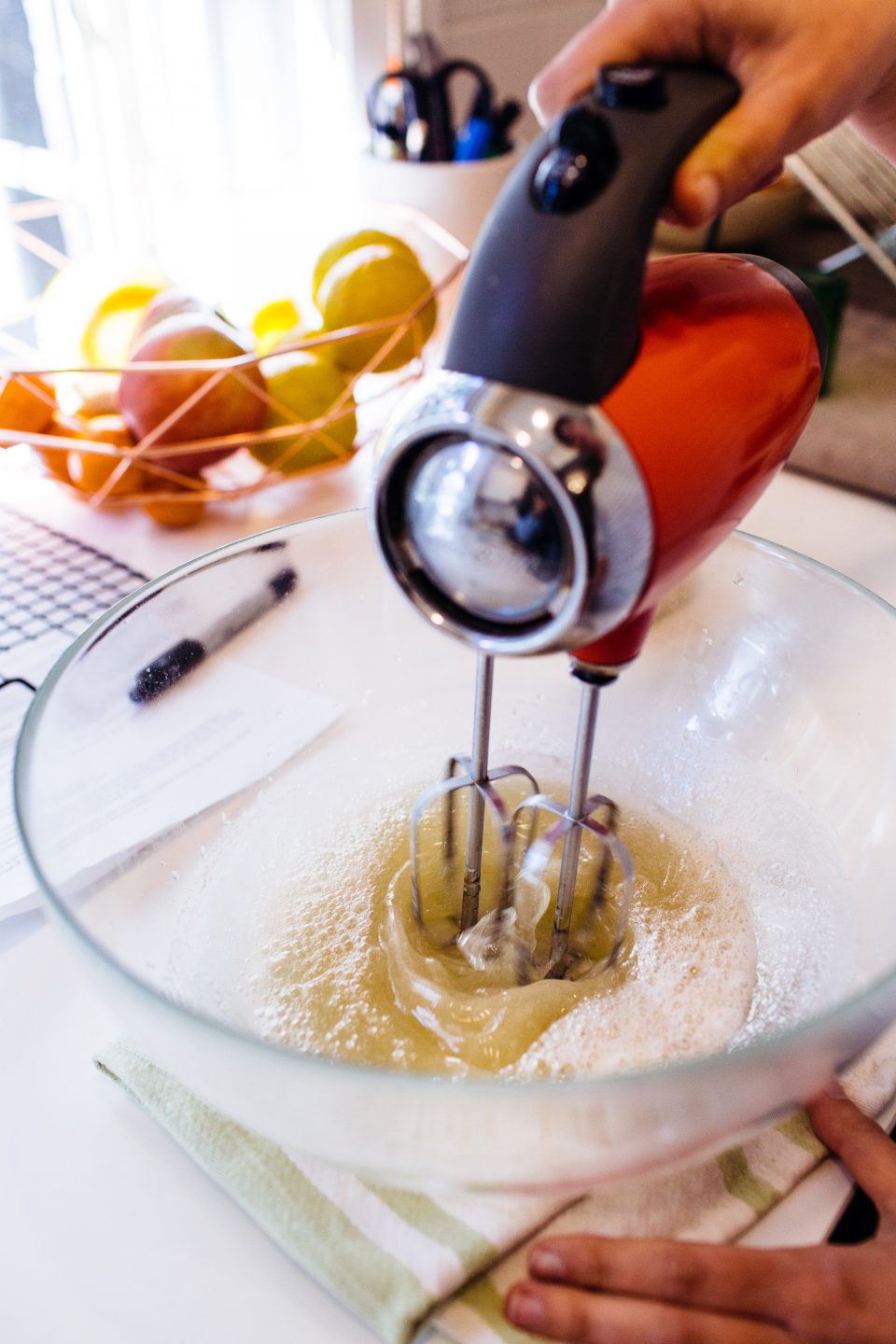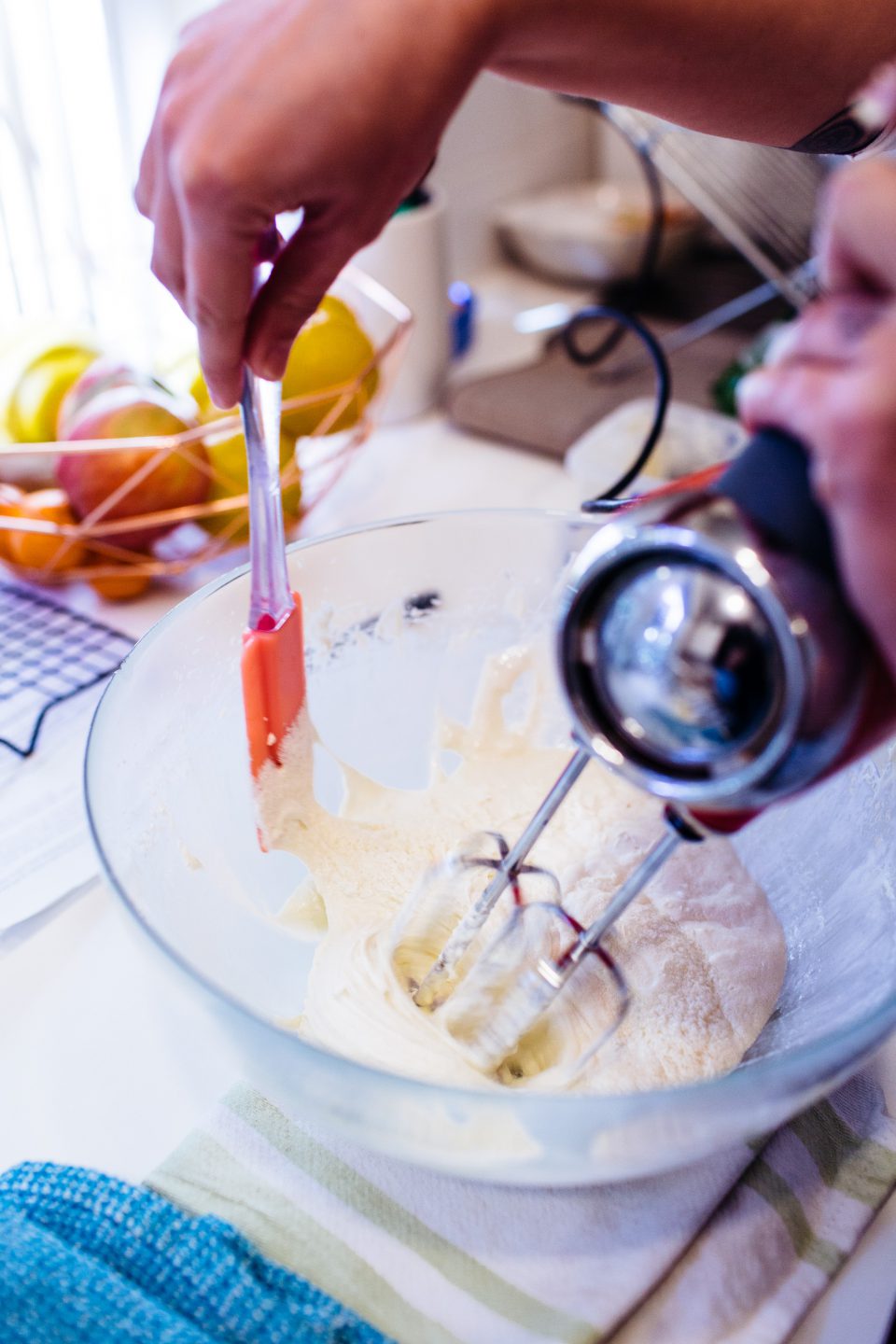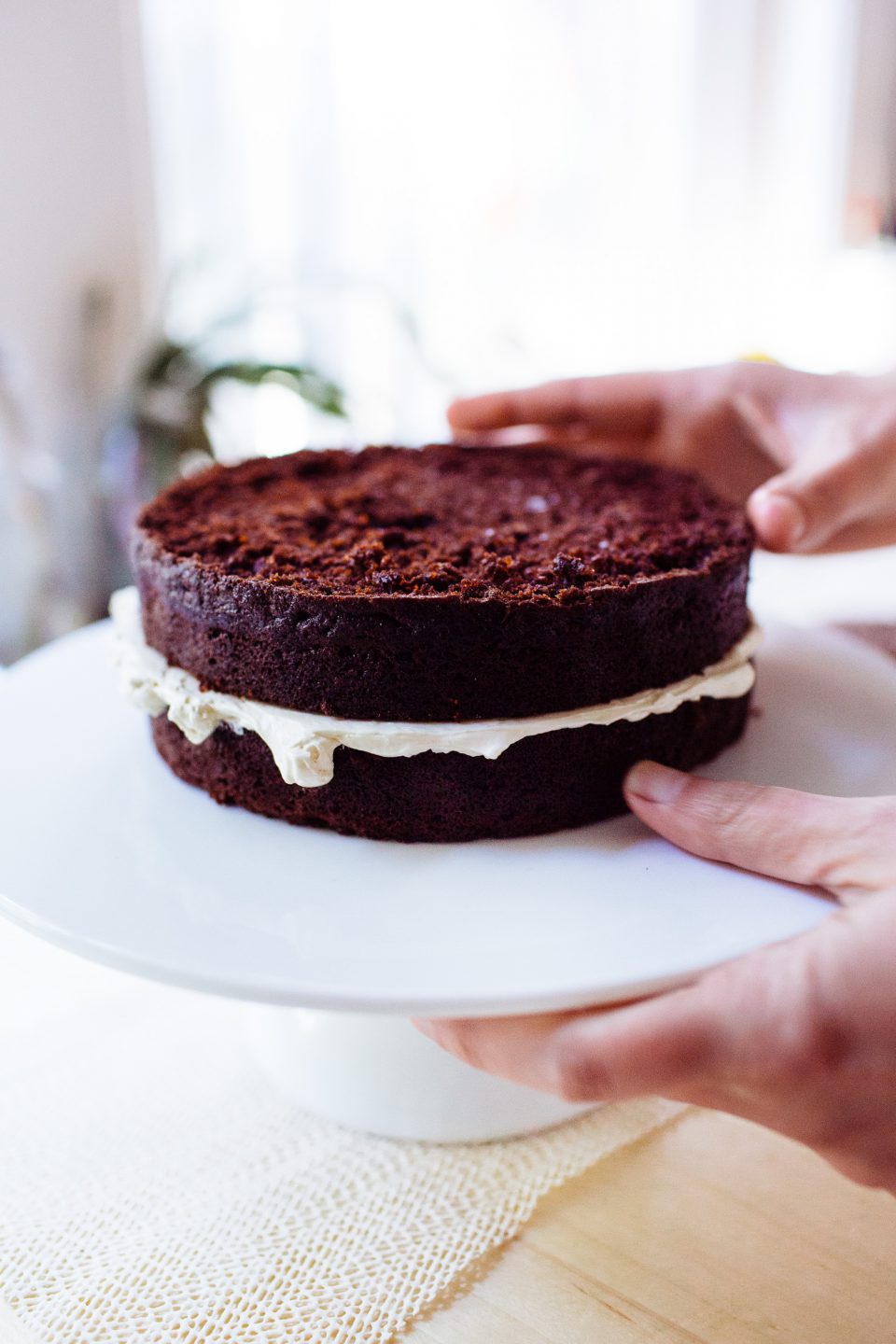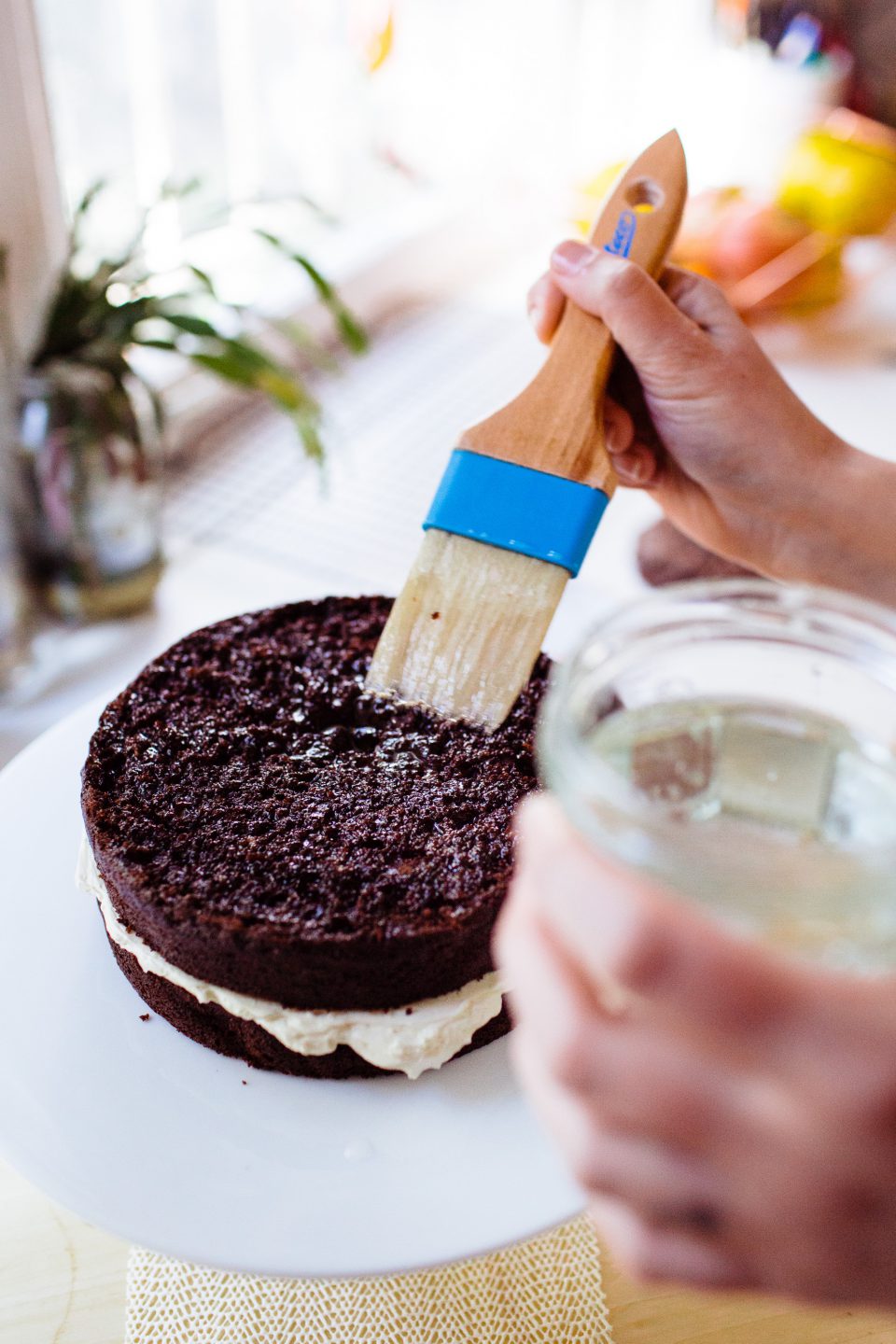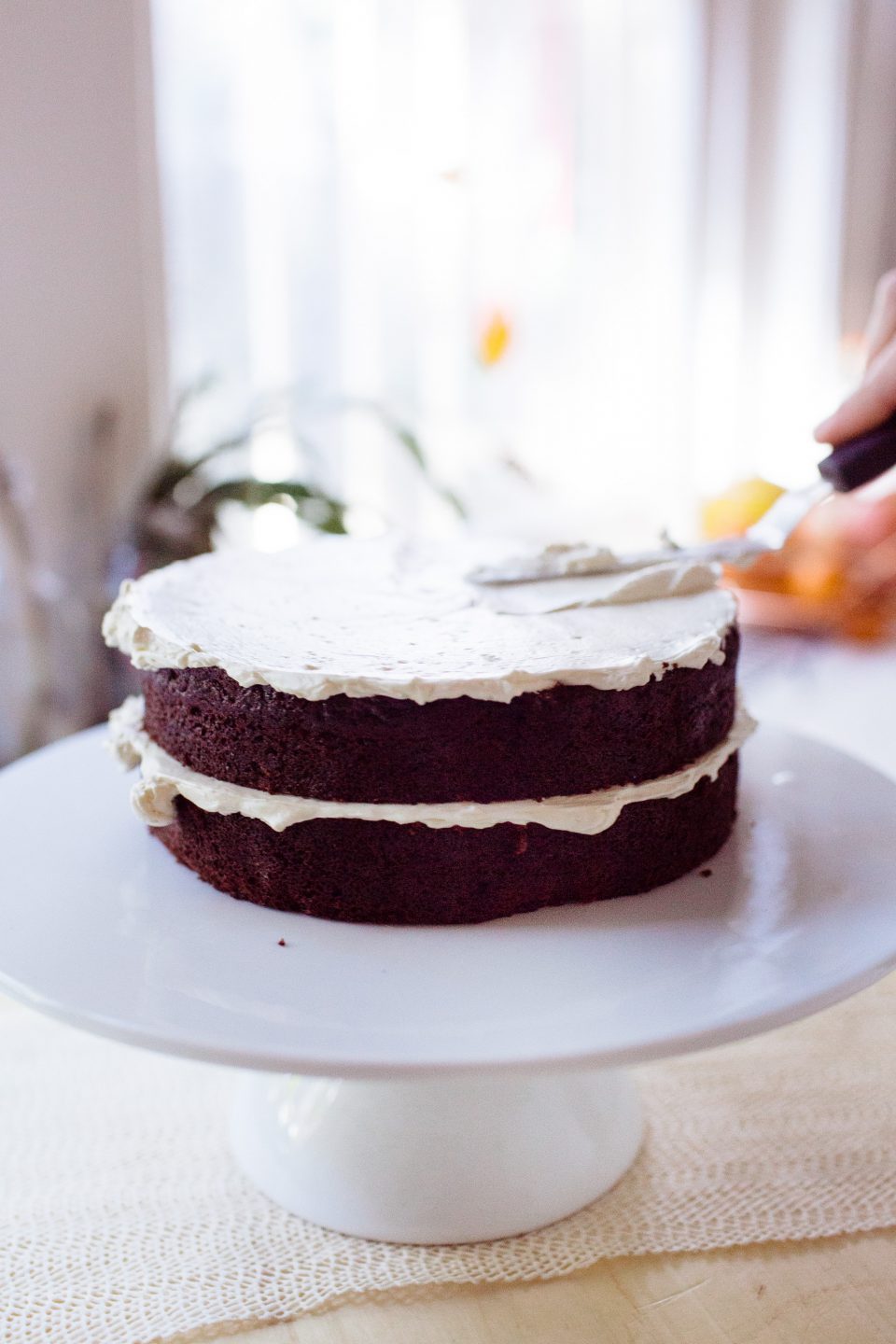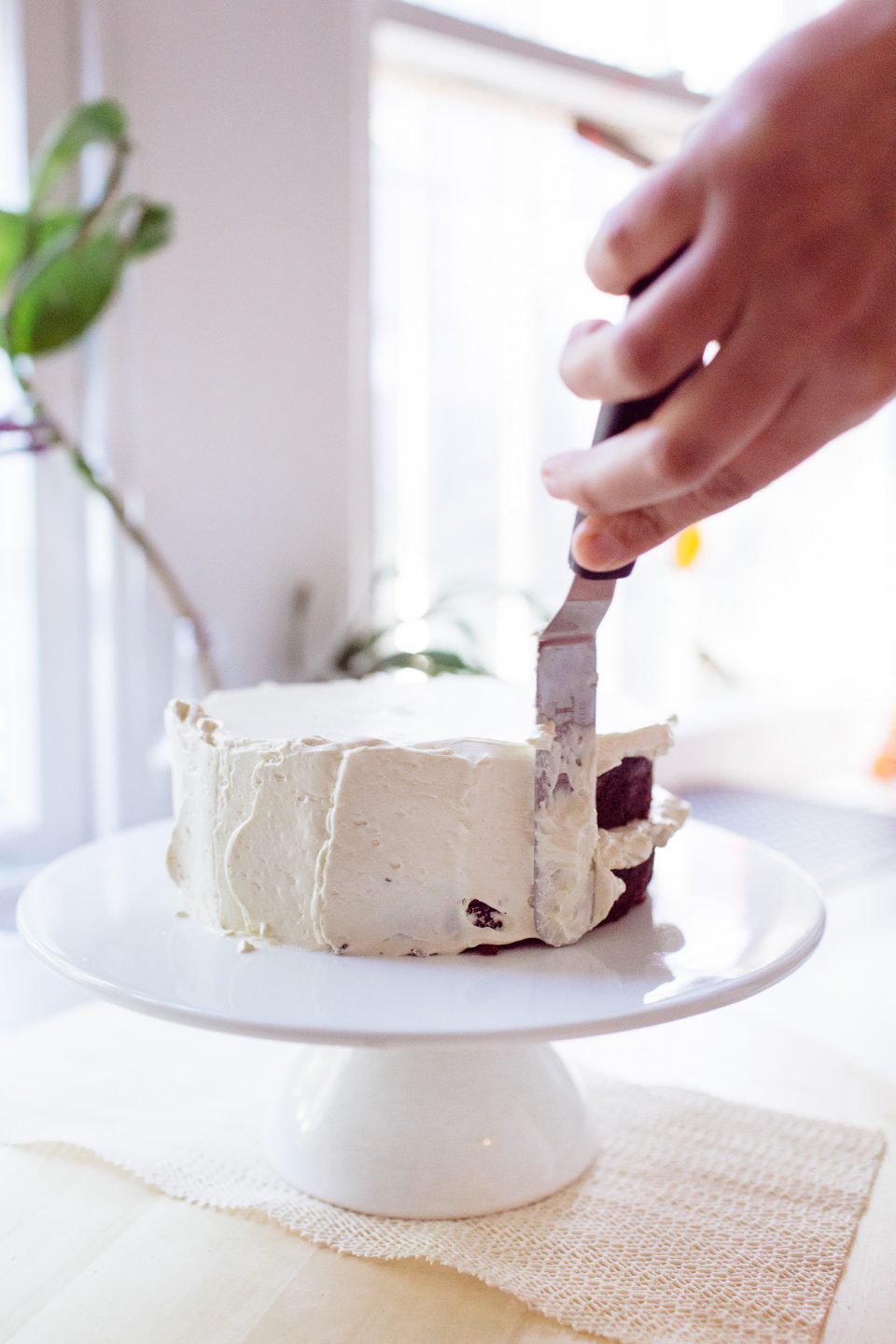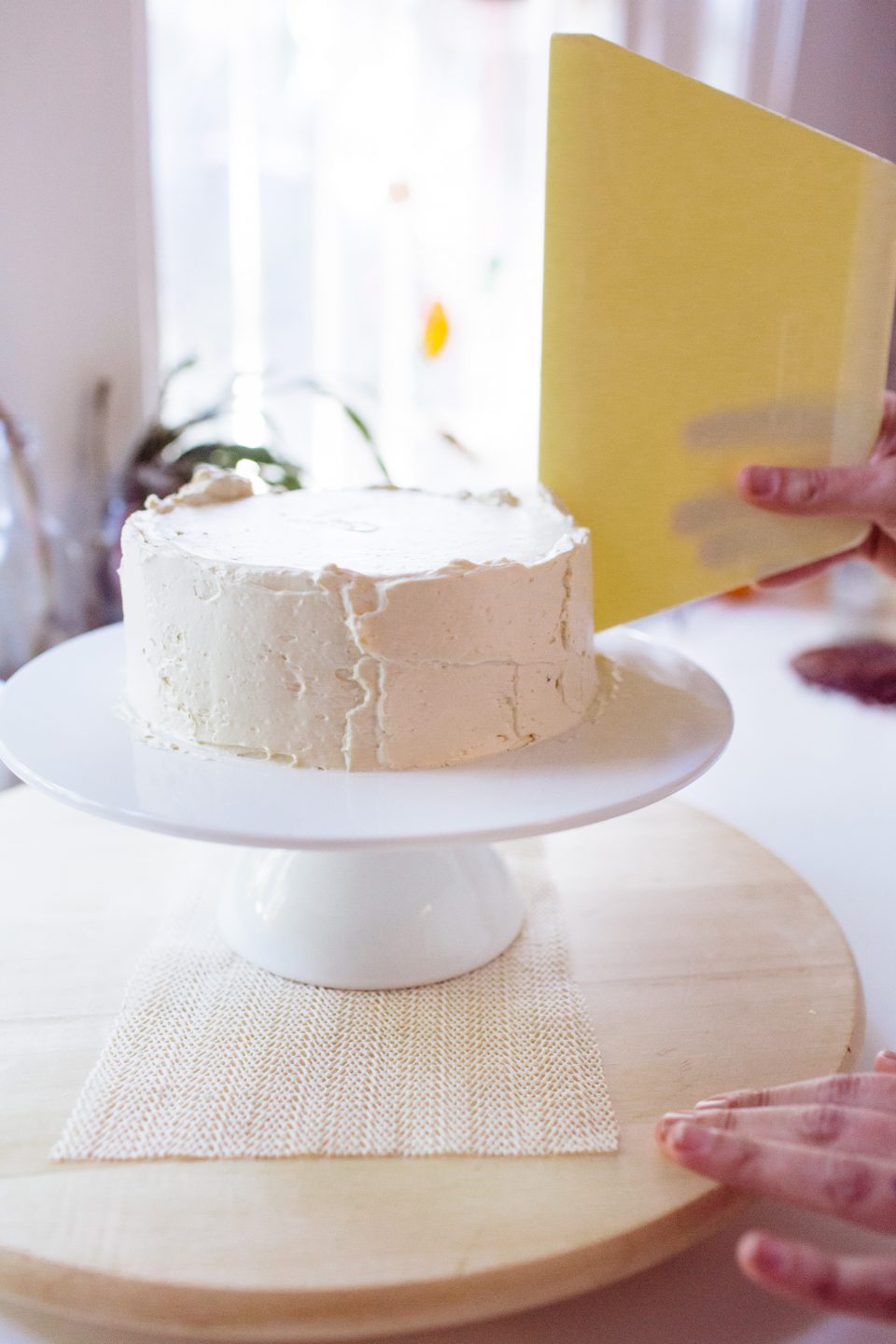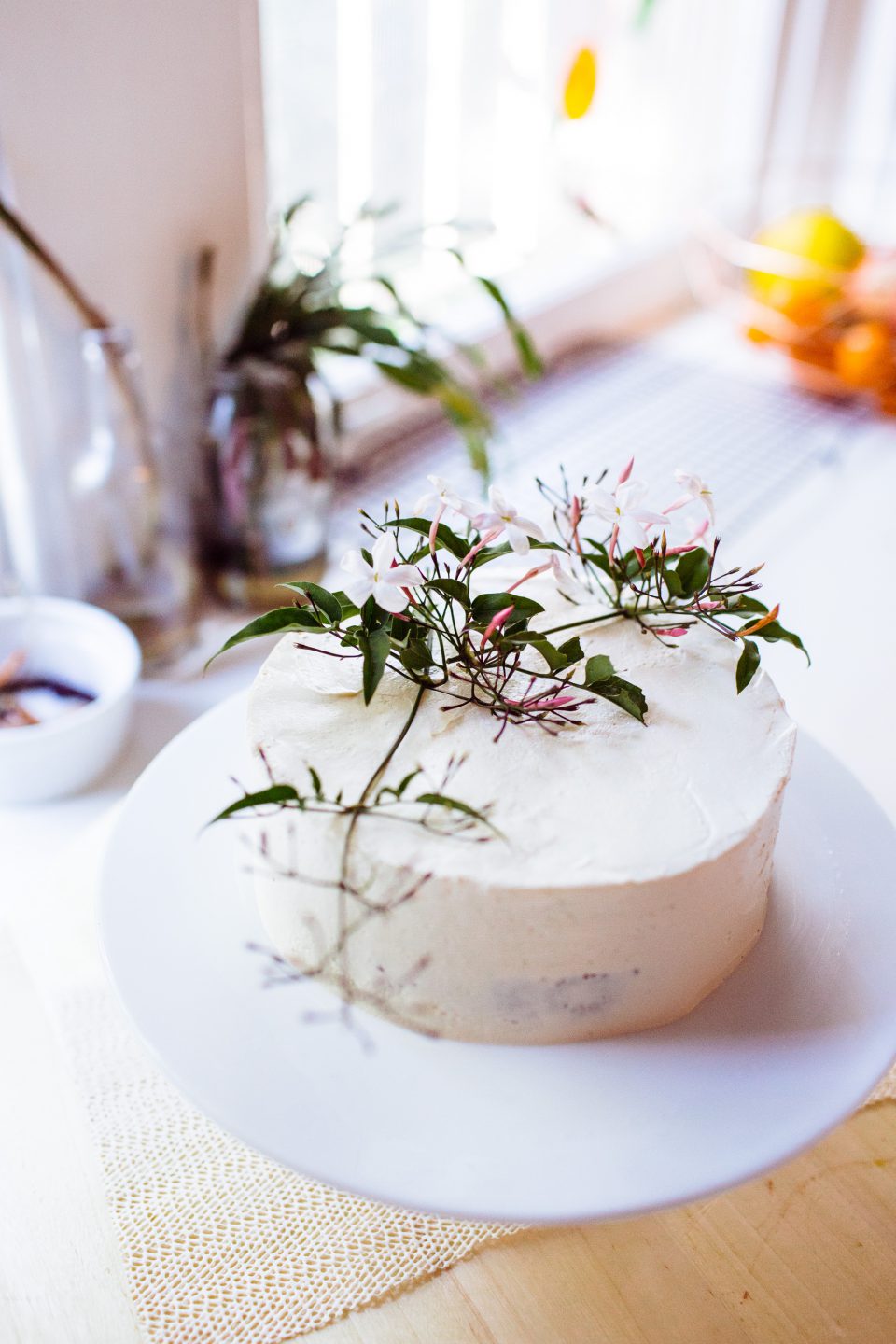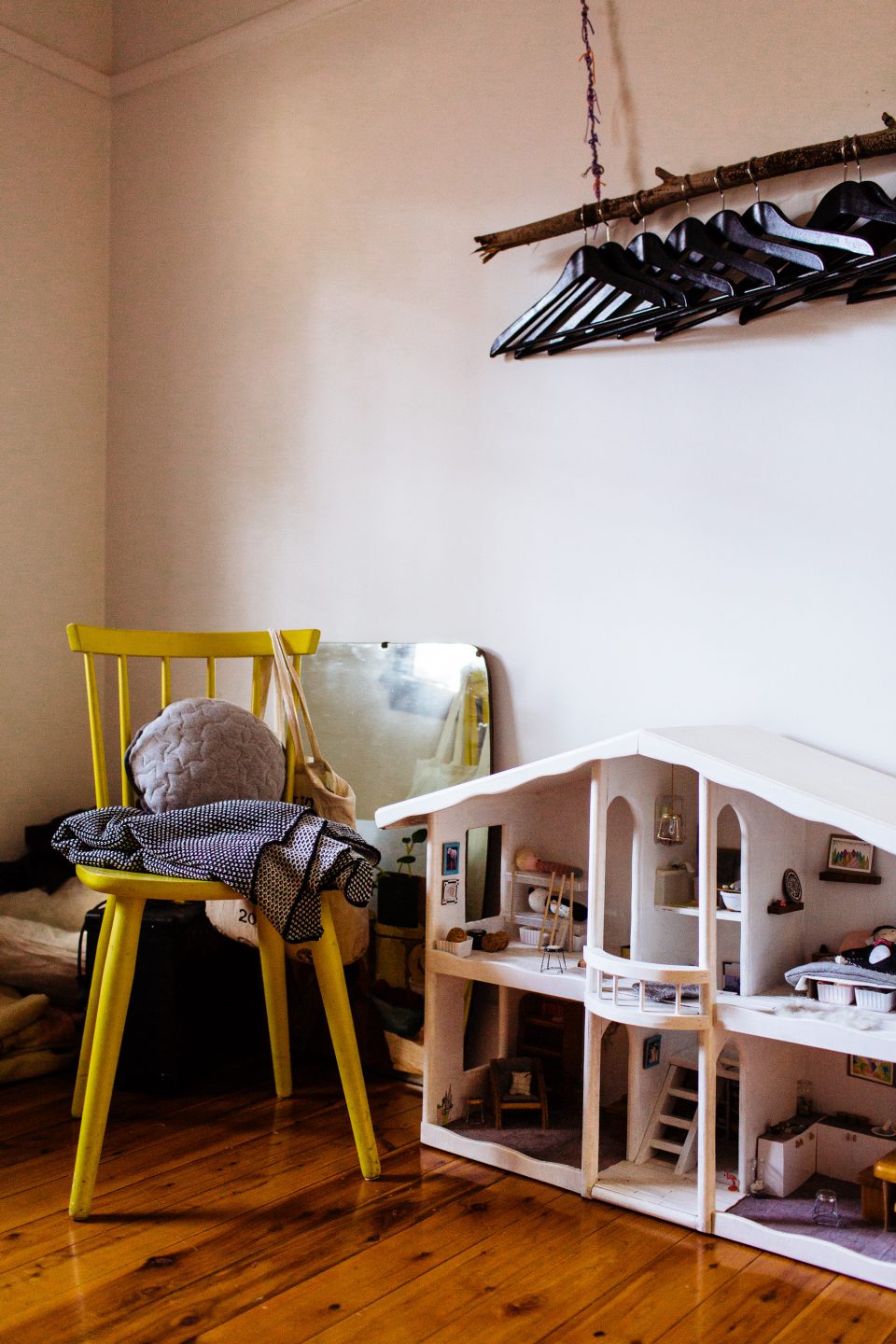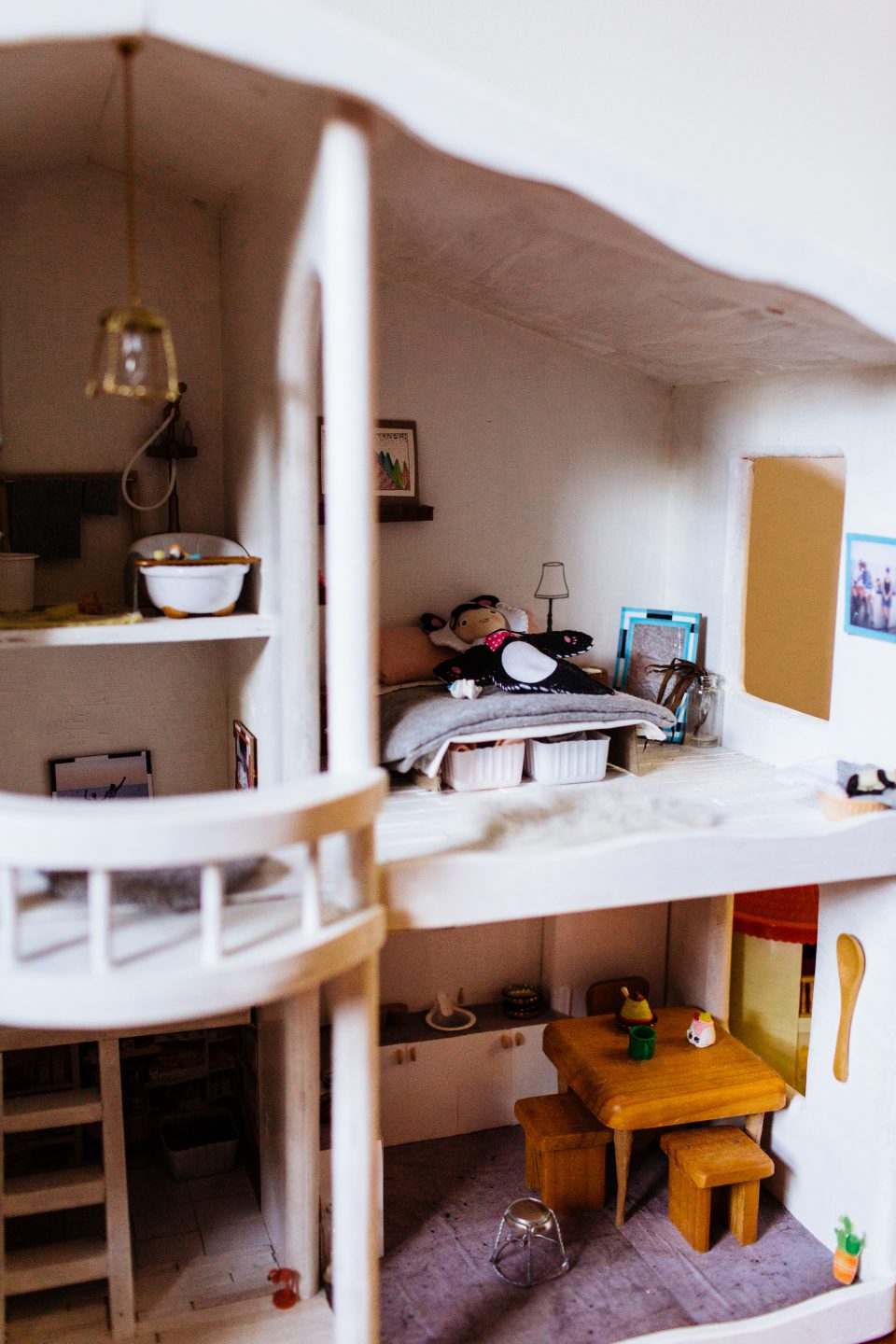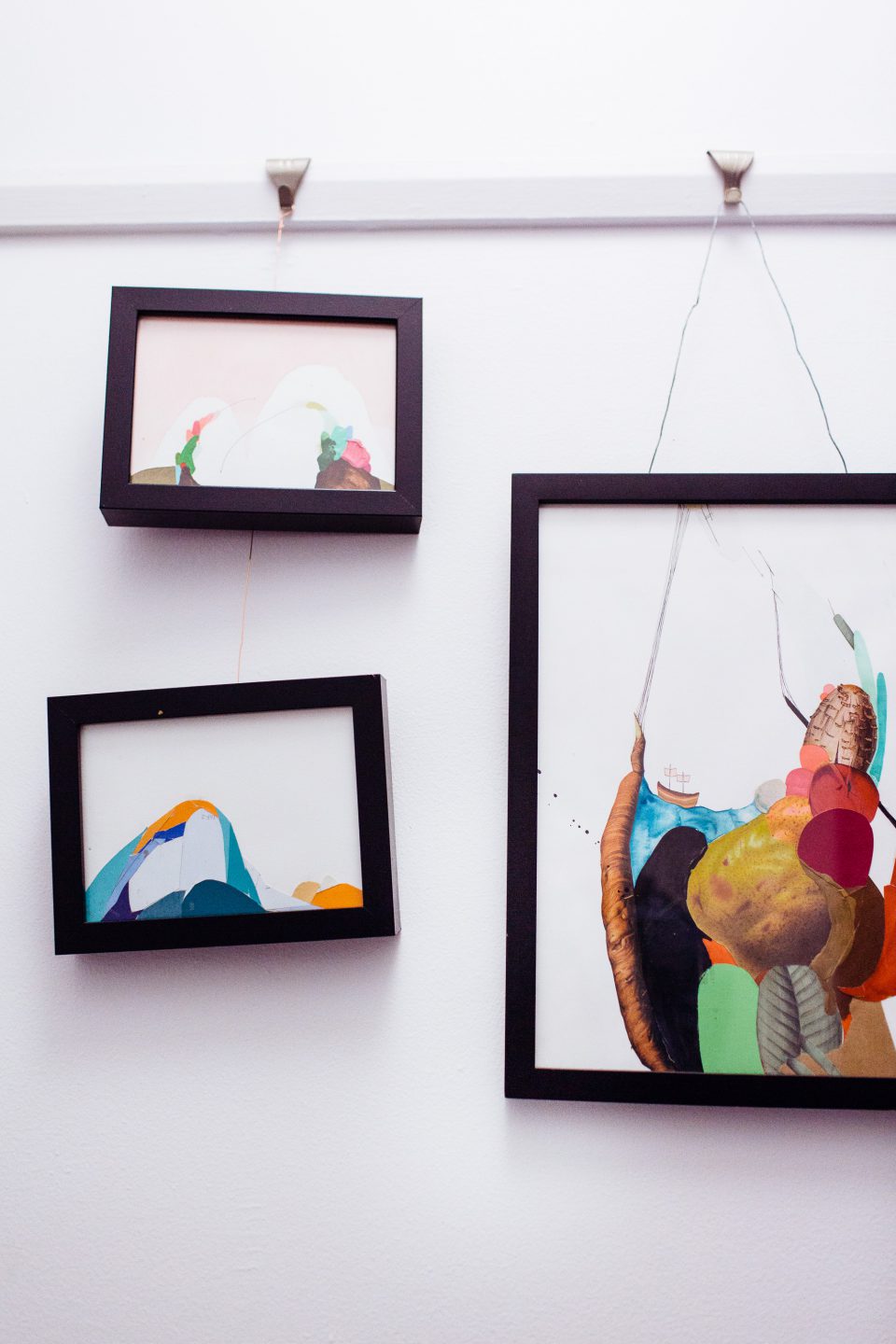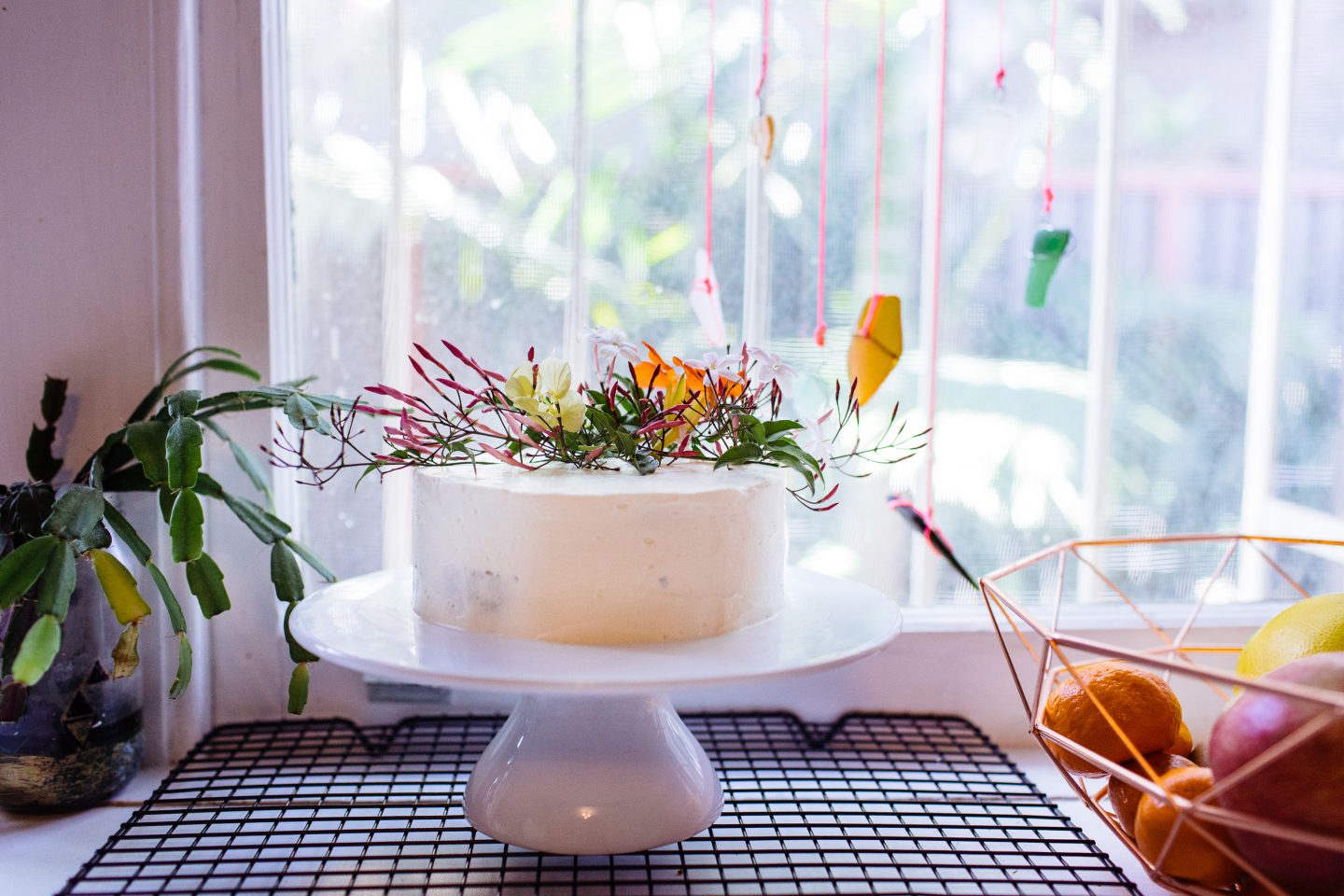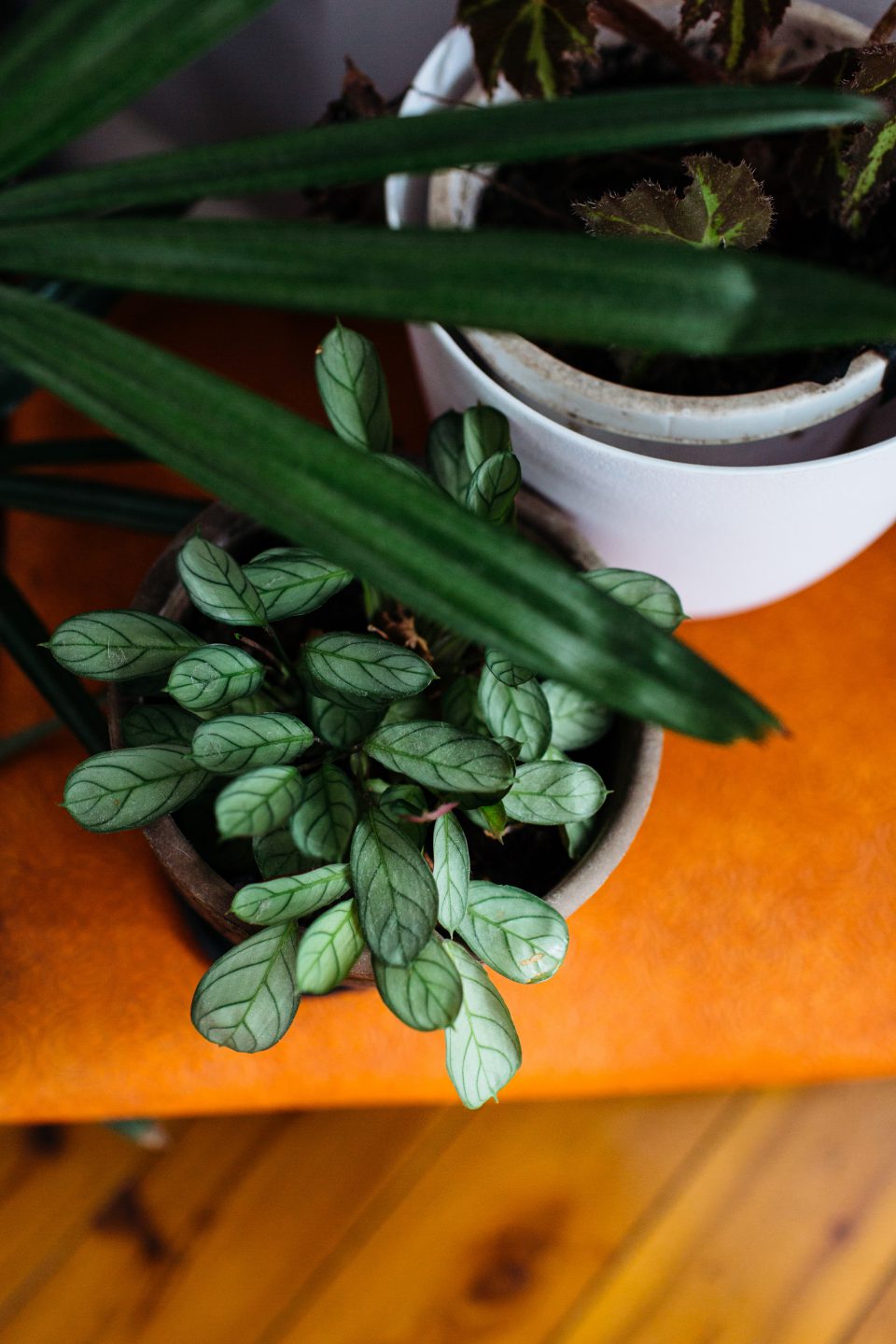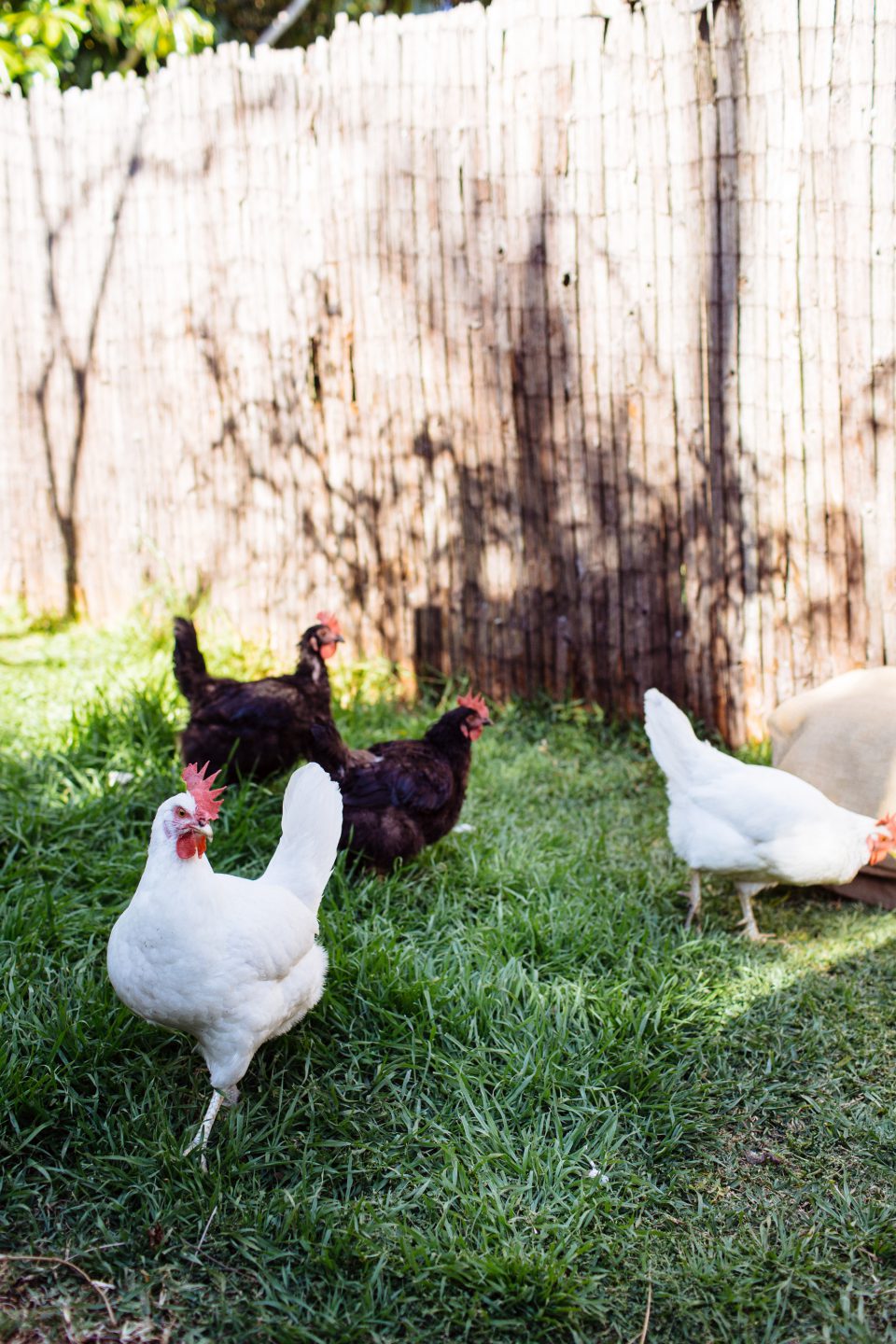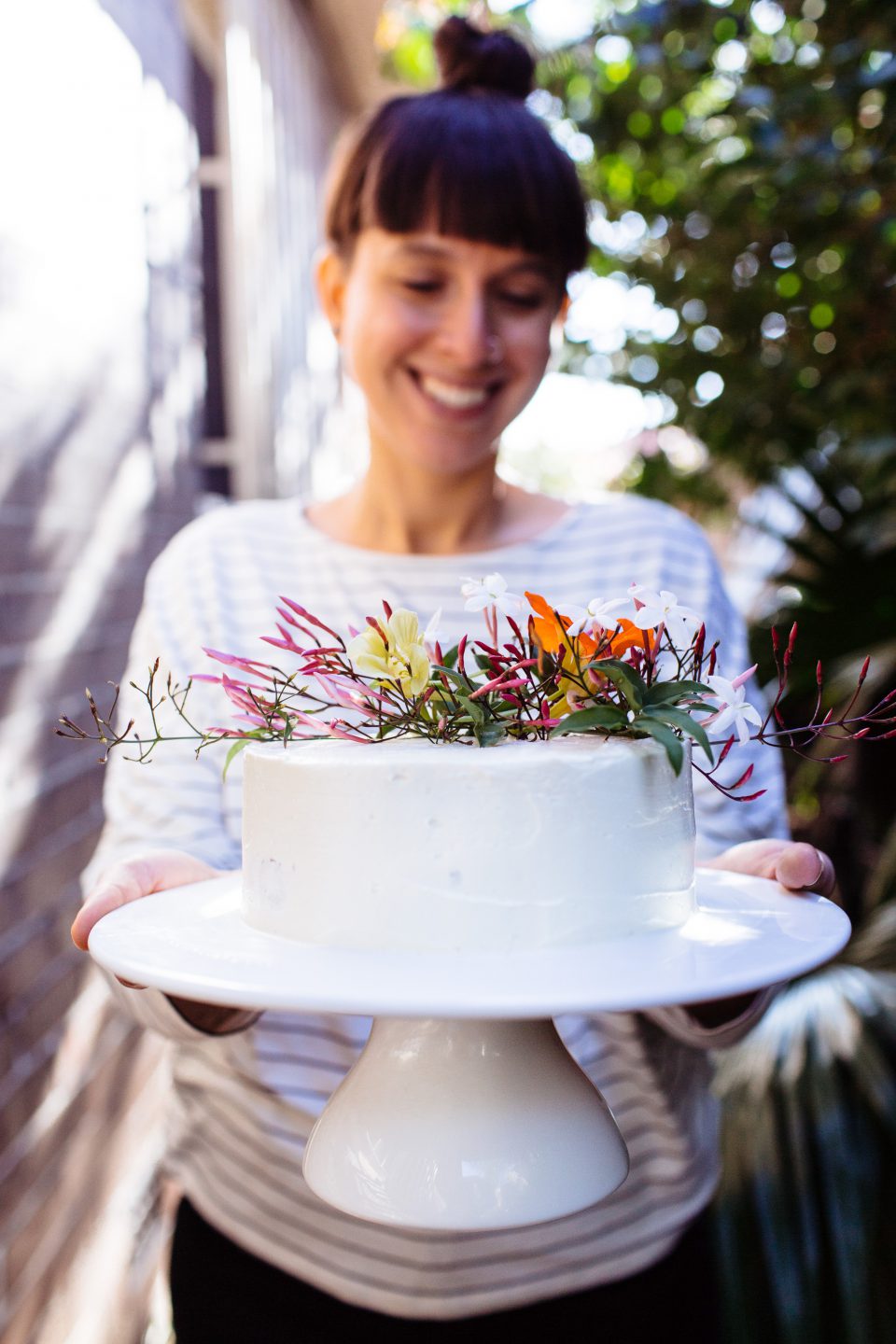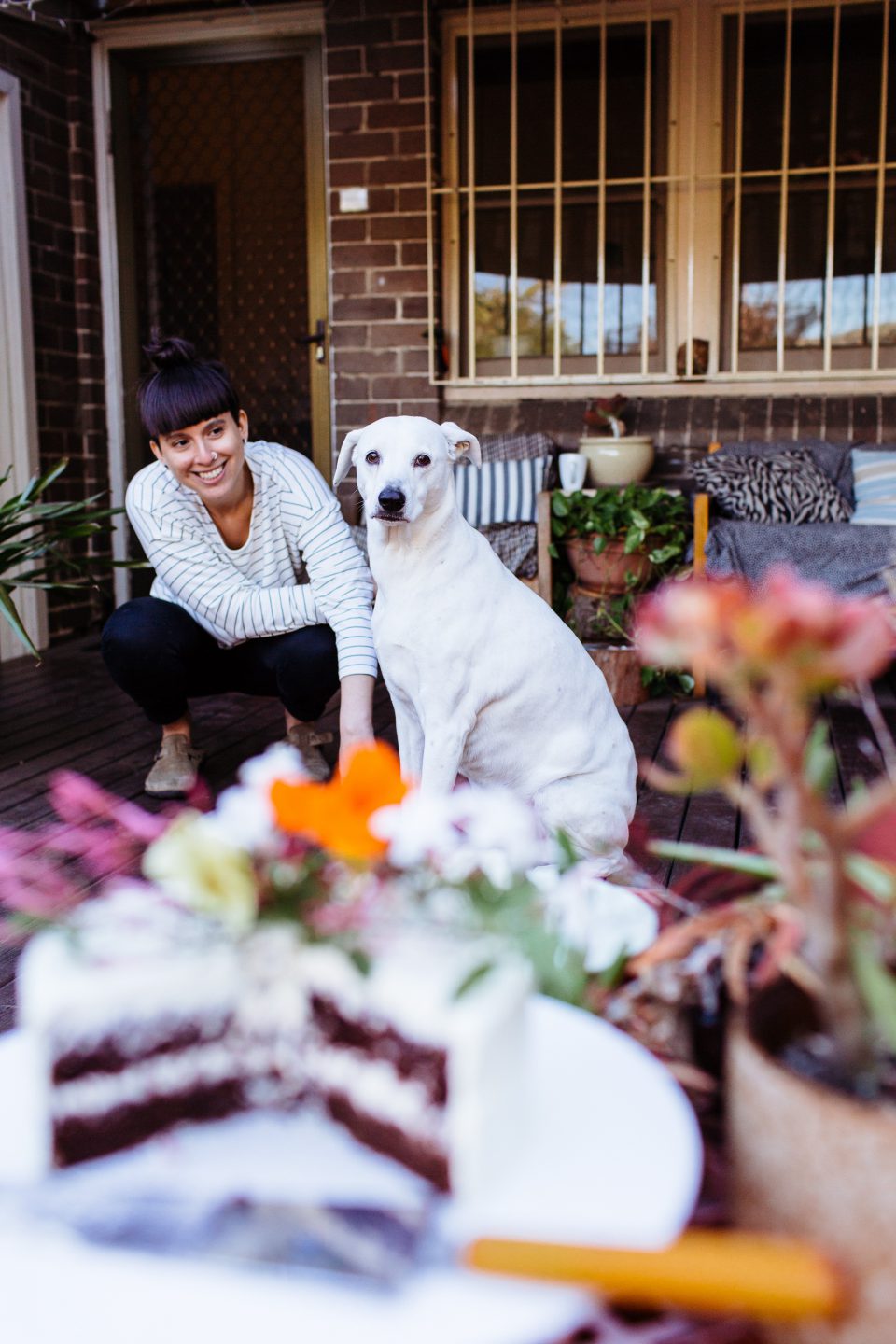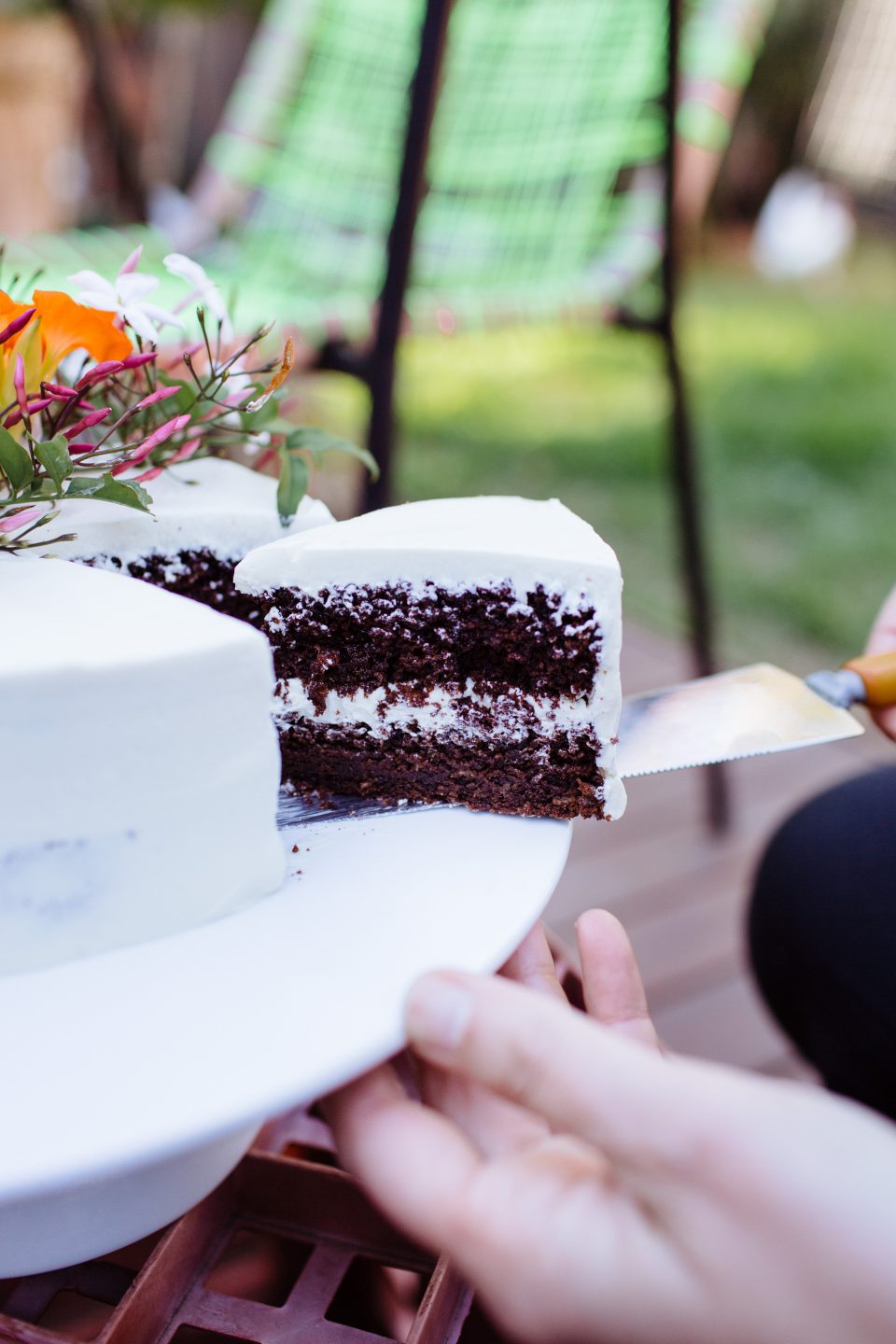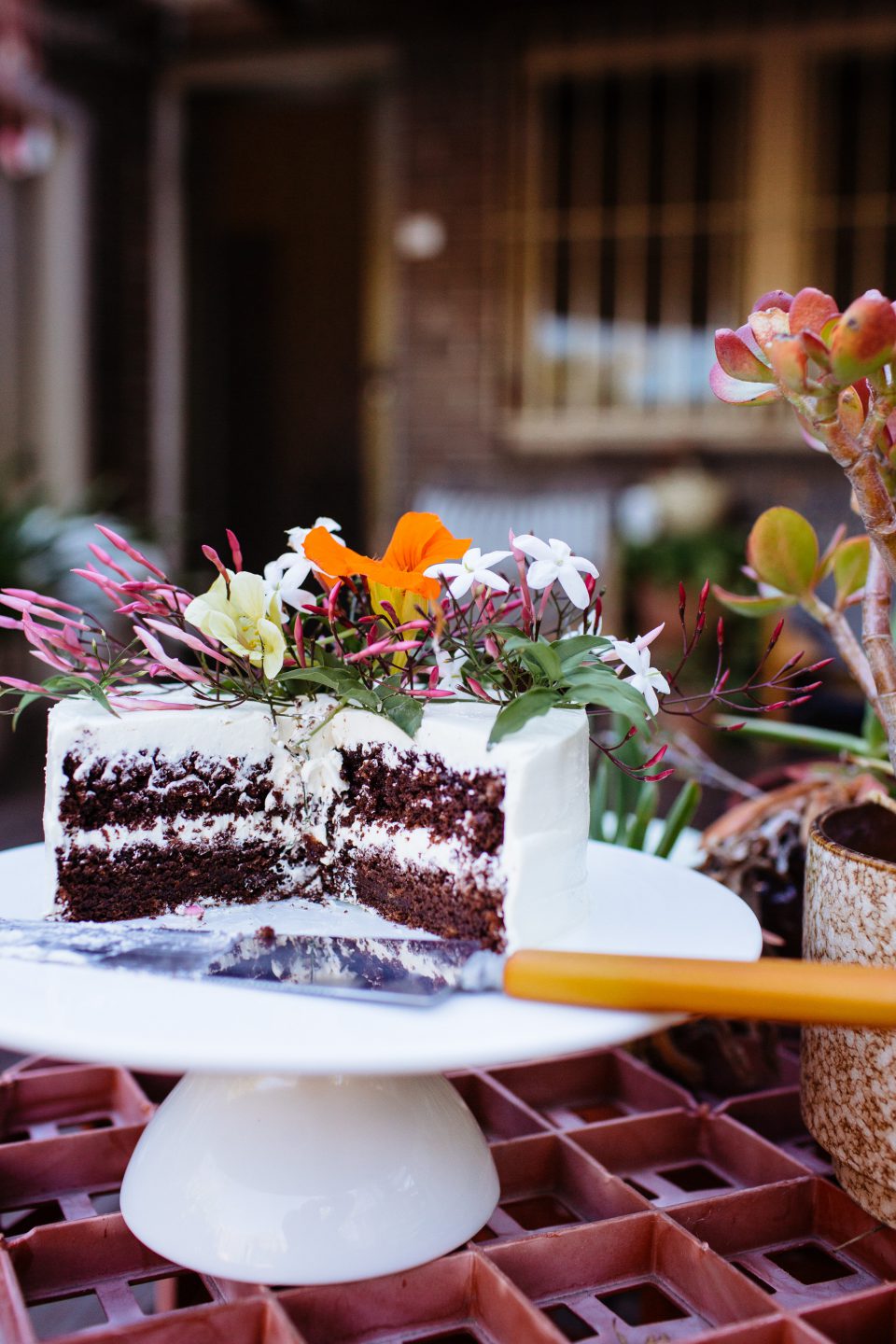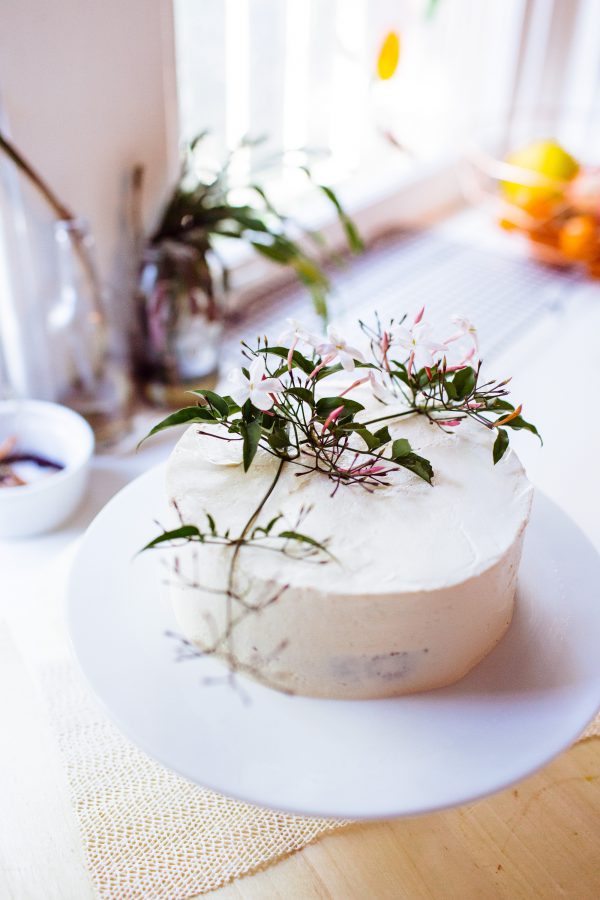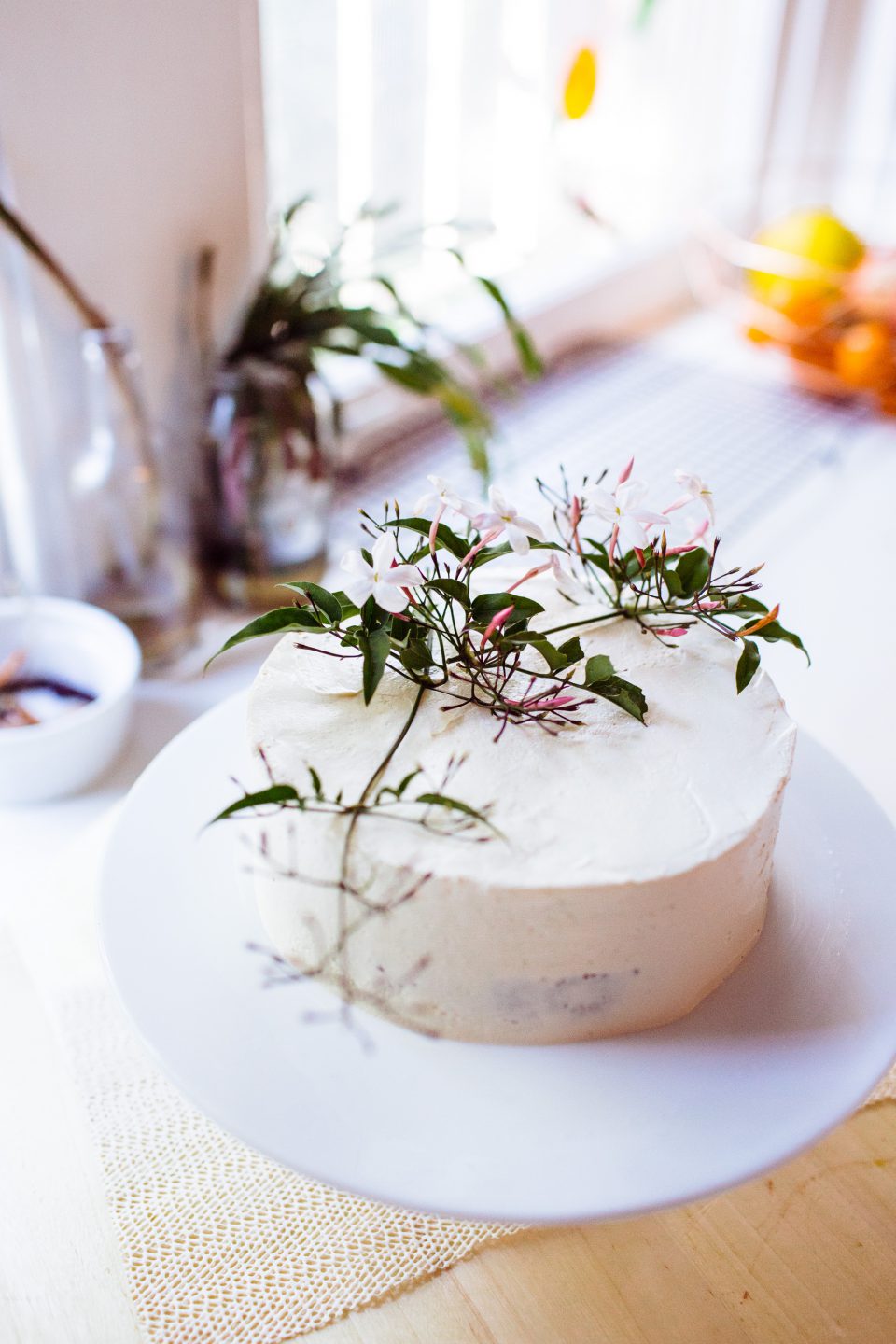 Vegan Chocolate Cake with Swiss Meringue 'Butter'cream
Prep time: | Cook time: | Serves 6-8
Chocolate Cake
1 cup non-dairy milk of choice (I use soy)
1 tsp apple cider vinegar
3/4 cup raw sugar
1/3 cup neutral oil (I use sunflower)
1 tsp vanilla extract
1 cup unbleached wheat flour
1/3 cup cocoa powder
3/4 tsp baking soda
1/2 tsp baking powder
1/4 tsp salt
Swiss Meringue Buttercream
1/2 cup aquafaba
1 1/4 cup caster sugar
345 g Nuttelex or vegan butter of choice (room temperature)
2 tsp vanilla extract (or more to taste)
Chocolate Cake. Preheat oven to 185C and grease a 6″ round baking tin. Line tin with baking paper as well.
Combine the milk and apple cider vinegar in a small bowl and set aside to curdle. Combine sugar, oil and vanilla together. It will resemble caramel. Add milk apple cider vinegar mix and mix well. Sift dry ingredients into wet ingredients and combine well, making sure no large clumps remain. Be careful not to over mix.
Bake for 40 minutes at 185C. Cool in baking tin and transfer to a wire rack to cool completely.
Swiss Meringue Buttercream. Combine aquafaba and sugar in a bowl set over a water bath. Whisk until the mixture has reached 60C or feels hot to the touch and sugar is dissolved.
Whip the warmed mixture in an electric mixer until cool to the touch, 5-10 minutes. Gradually add Nuttelex, 1 piece at a time, beating well after each addition. If the buttercream is warm, it may look soupy. Chill briefly and then reheat until smooth. If the buttercream is too cold, it may look grainy. Warm the buttercream over a large bowl of water and then beat until smooth. Add vanilla and beat until incorporated. The finished buttercream will be light and fluffy. It takes awhile to get there, but it will make the change.