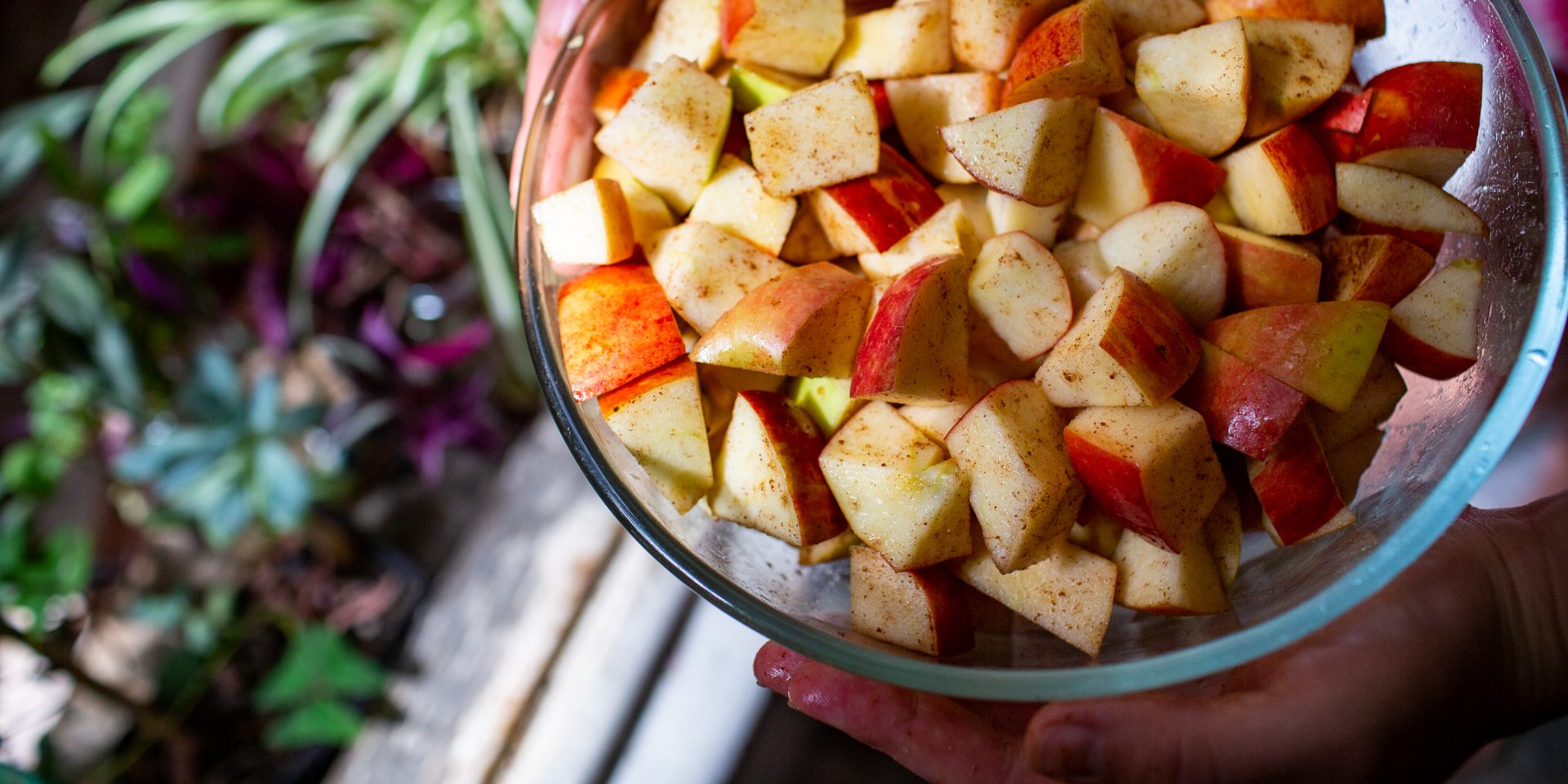 Everyone should find joy in cooking. Transforming raw ingredients into something comforting and delicious is a life skill we all need. Imogen the creator of The Talented Eater has been cooking for her Mum and sister since she was in primary school. Her Mum taught her how to cook with only what they have, appreciating food and cleverly combining flavours, textures and time into any dish she creates. When Imogen started living in share houses – she witnessed a lot of food was left forgotten in the back of the crisper. This is when Imogen came to the rescue of these sad looking produce and turned them into delicious meals. As a primary school teacher full of passion to teach, Imogen combines her love of food and education and started the Saved by Supper Club in October 2020. A communal dinner using unloved food donated from guests' fridges and pantries. On the night everyone discusses ways to reduce food waste and get really creative in using up the ingredients to make delicious meals together.
On the day I turned up at Imogen's house, she happened to have a bag of apples that needed to be used. Imogen likes to shop at the fruit & veg shop up the road on the weekend when they sell their end of the week produce really cheap. Apart from saving money this is also a great way to avoid these apples from going to landfill. Apple crumble is on the menu, dessert is sorted. And to accompany the sweets she whipped up a Aglio e Olio inspired pasta dish using whatever produce she had that day, some parsley from the garden and the capsicum relish she made last week using old wrinkled capsicums.
"When cooking a meal, I like to think of all the elements involved before starting and try to eliminate waste where possible. Like this pasta dish and dessert combination, one whole lemon is used throughout both recipes. Grate the zest first, as the pasta requires zest from one whole lemon, then the juice is divided up between the dishes, as they only require juice from half a lemon each. This way, all that is left of the lemon is the bitter pith."
Two lovely hours full of chats about food waste and cooking experiences, everyone felt happy, full and satisfied. This is the power of cooking skills.
Who
Imogen @thetalentedeater
I can't live without
food/access to a kitchen/being able to cook
Dream Job
being paid to cook and share food with others
Currently I'm obsessed with
Mexican food
Childhood taste
Pesto pasta, I would always request this after coming home from a class trip
I will always have in my pantry
Chickpeas
I learnt to cook from
My Mum and Ready Steady Cook
Currently I'm listening to
Latino beats
One day I must visit
Japan
Go to meal
Pasta based dishes
I am really good at
throwing something together from pantry/fridge ingredients
The unforgettable meal
Franklin in Tasmania, when Analiese Gregory was head chef, they made the most amazing octopus dish with currants and almonds and a dessert that used thin slices of potato as crispy pastry.
Best flavour combo
Cumin and coriander
Guilty pleasure
My housemate's chocolate mousse
Who does the dishes
If I cook then my housemate will do the dishes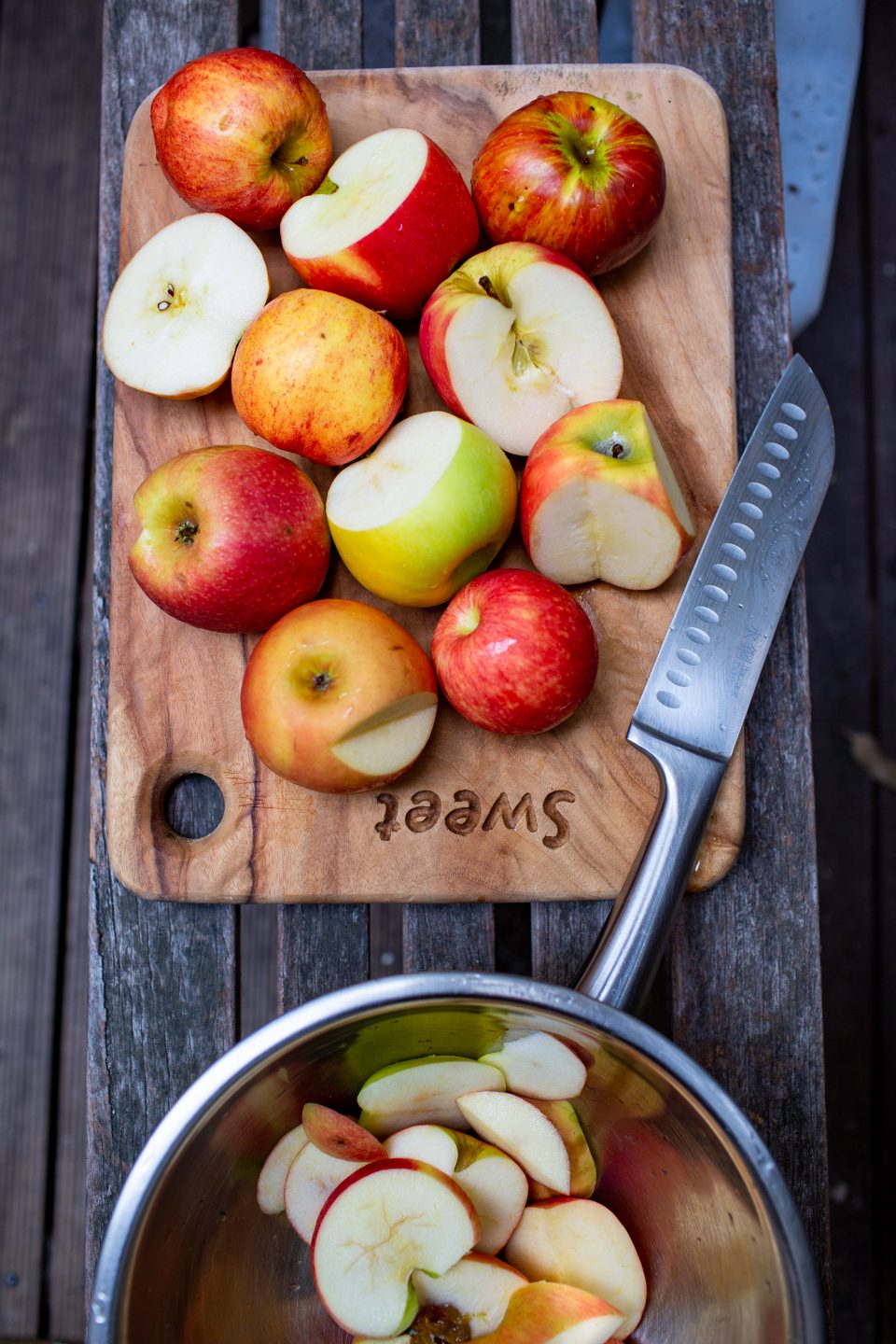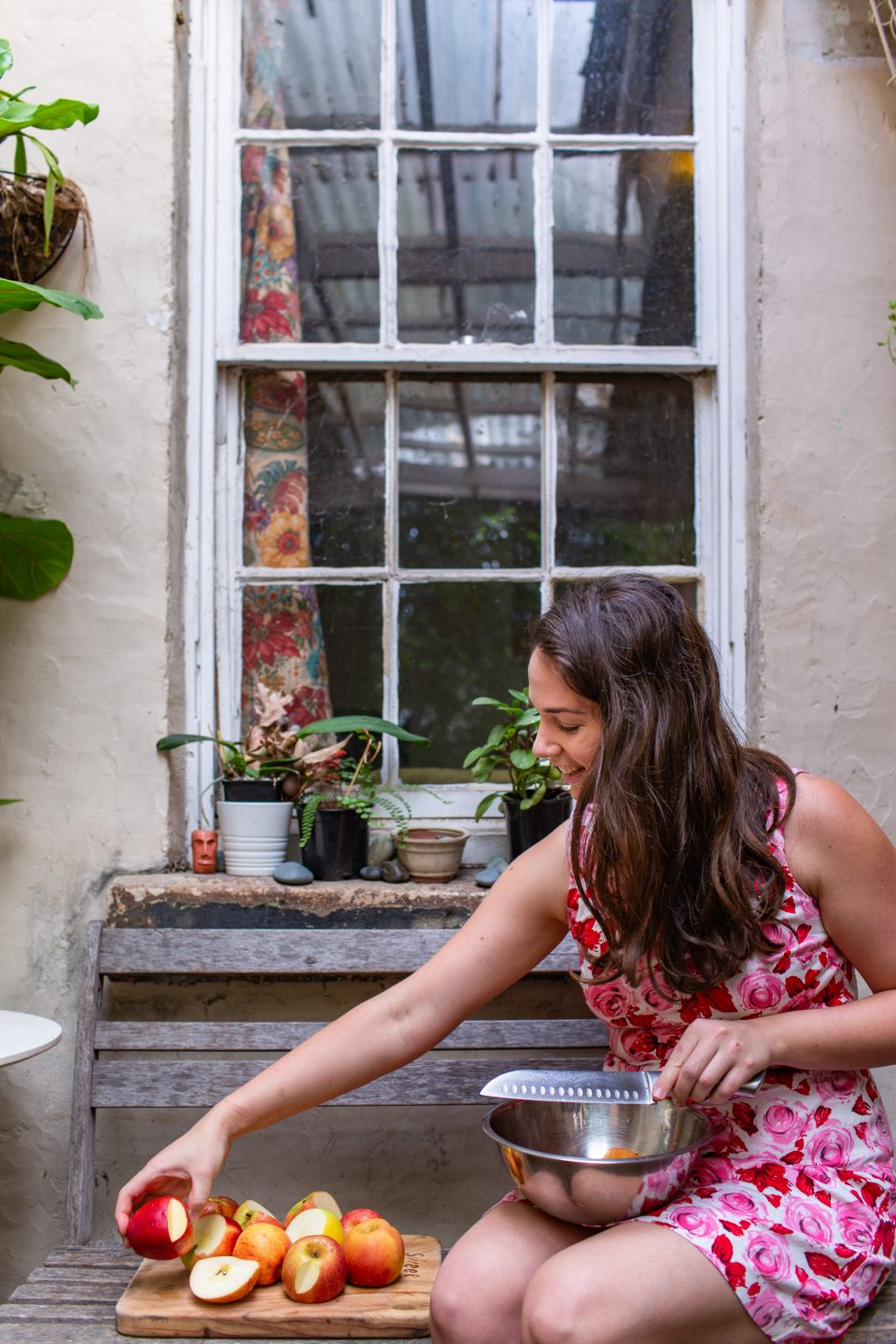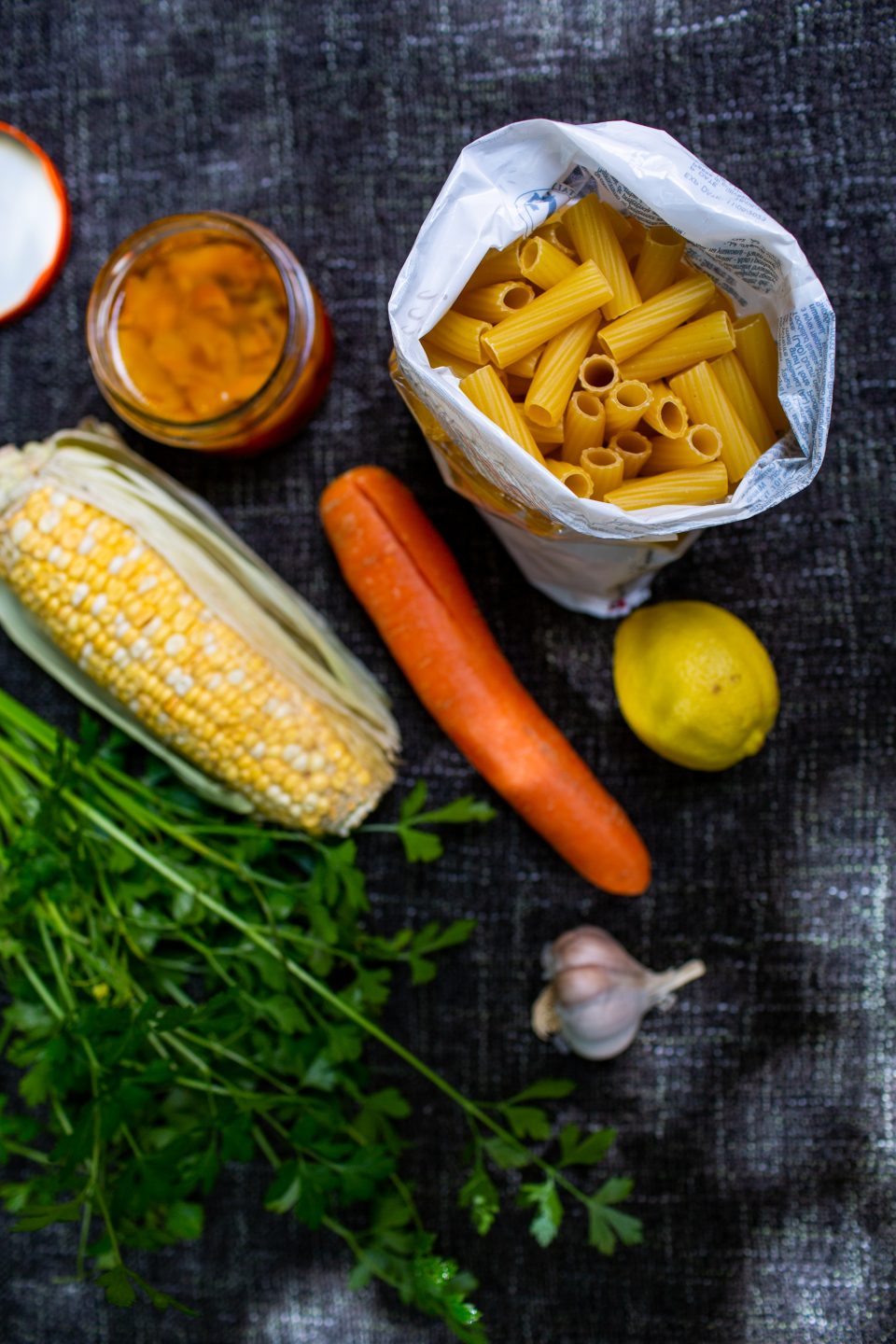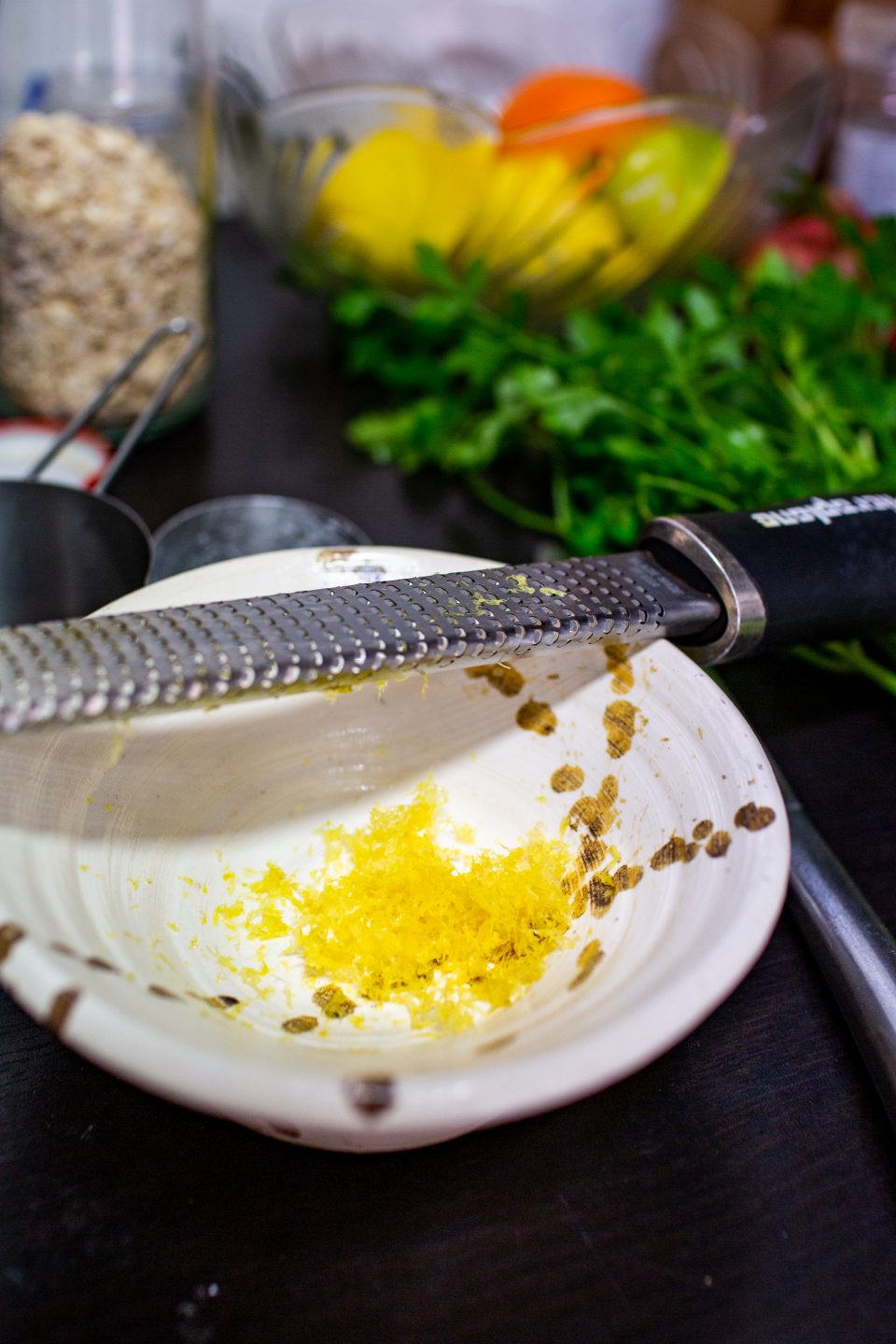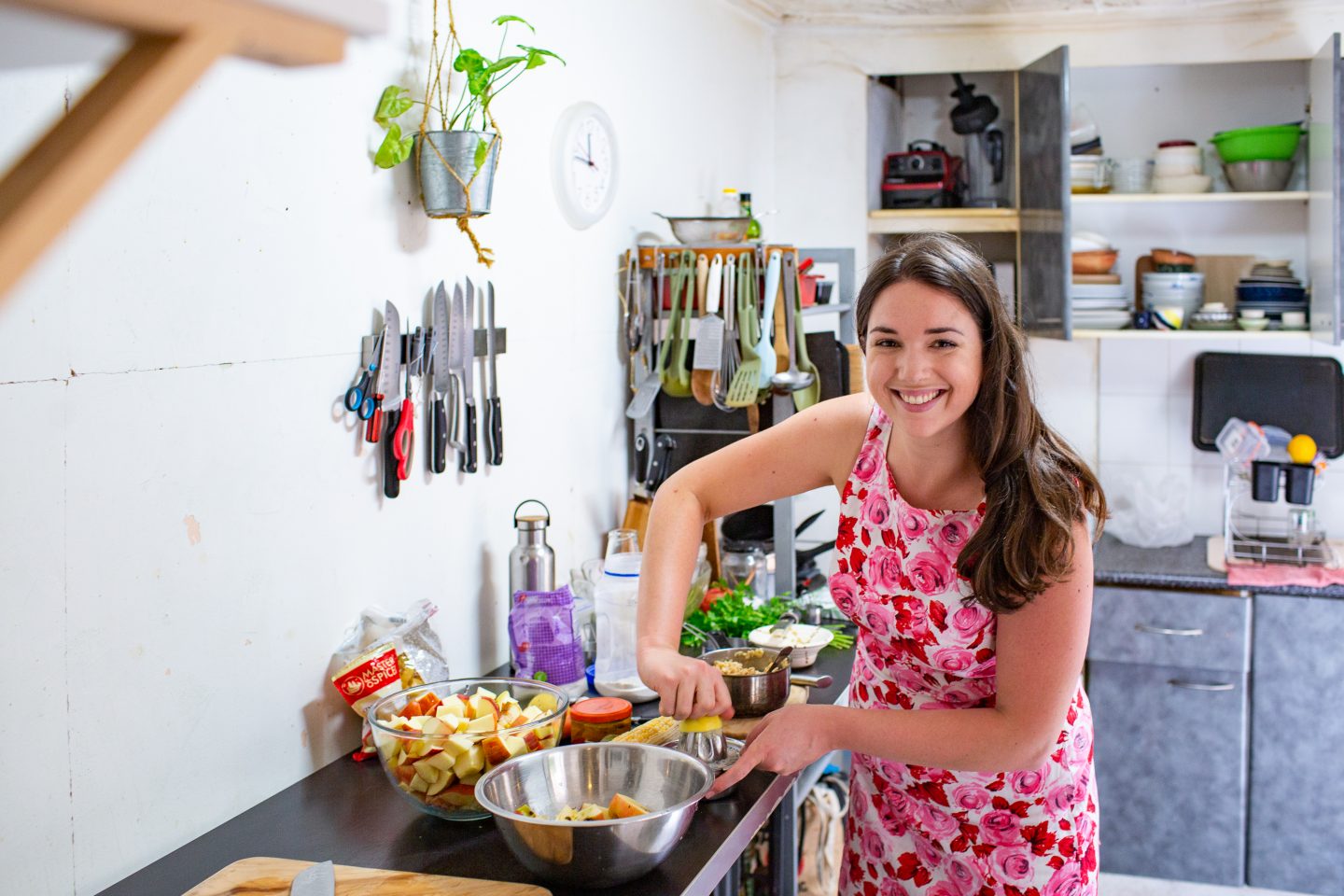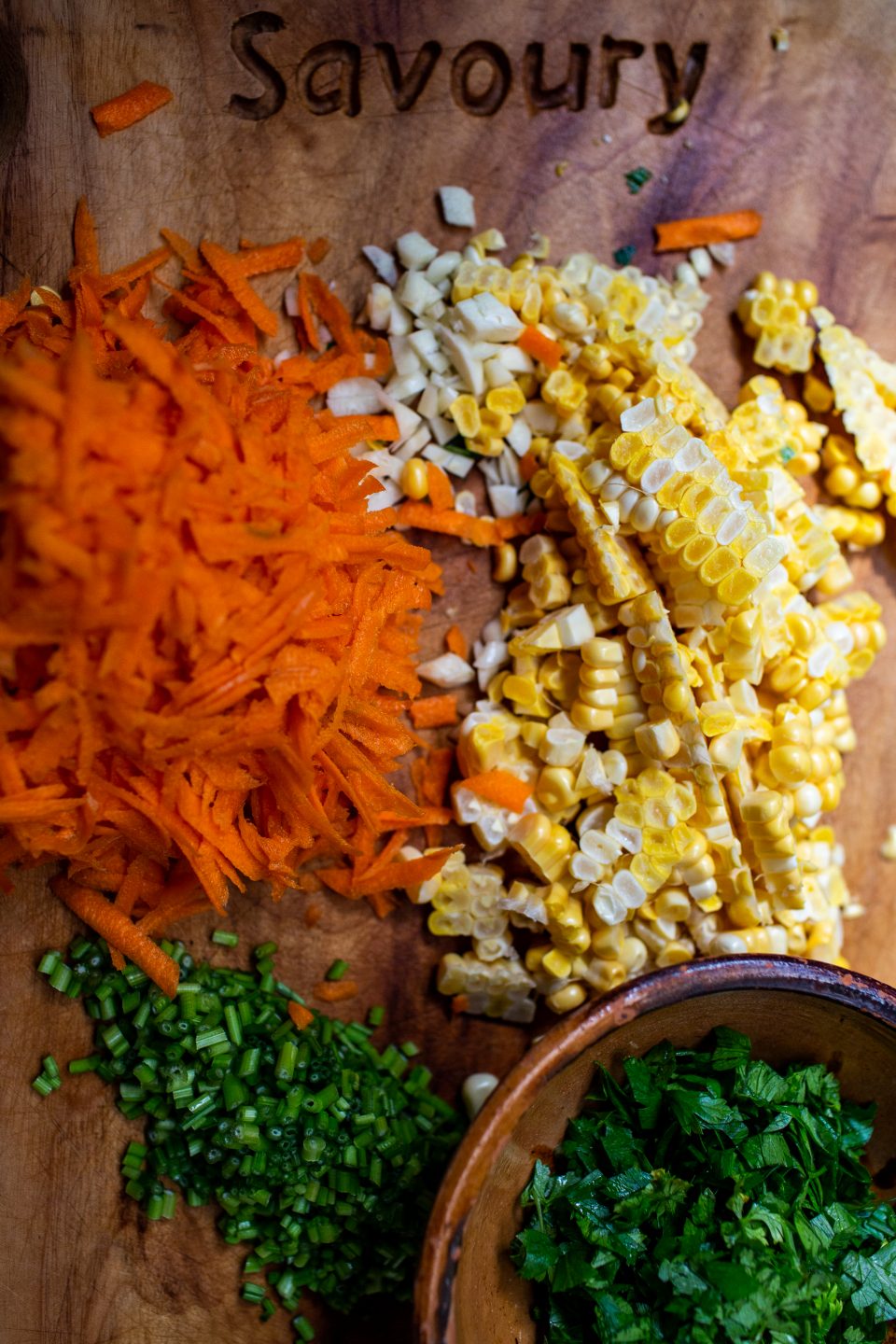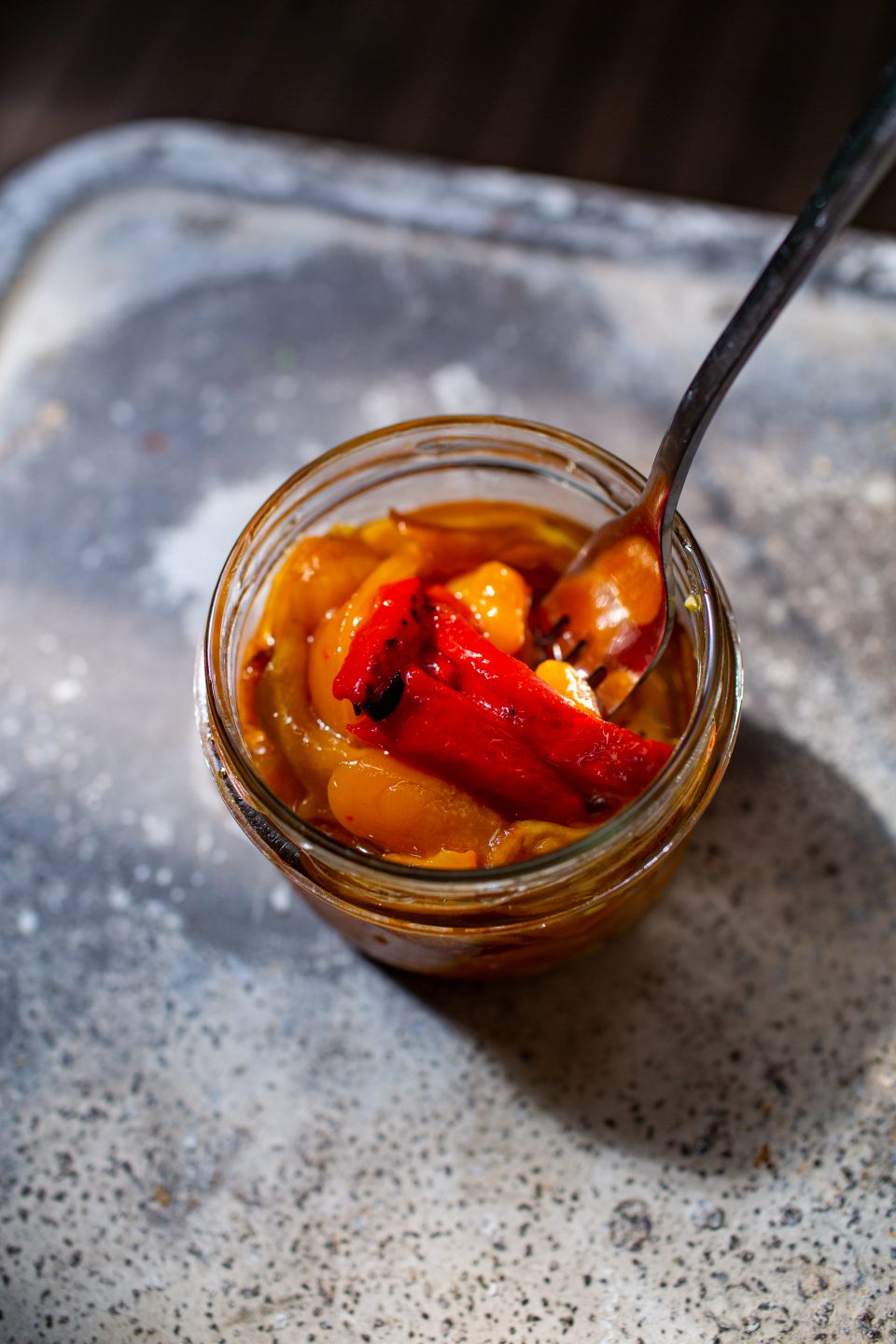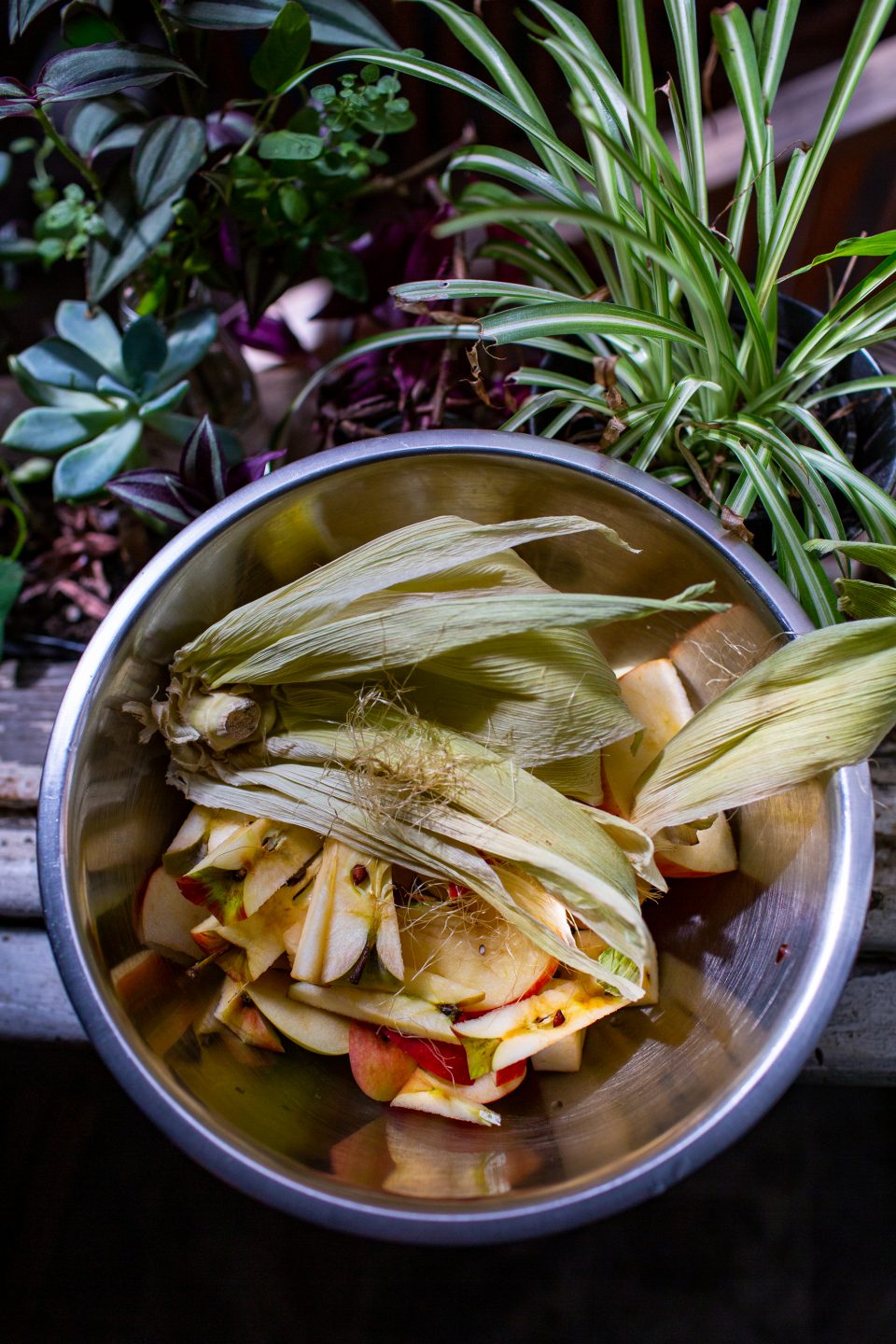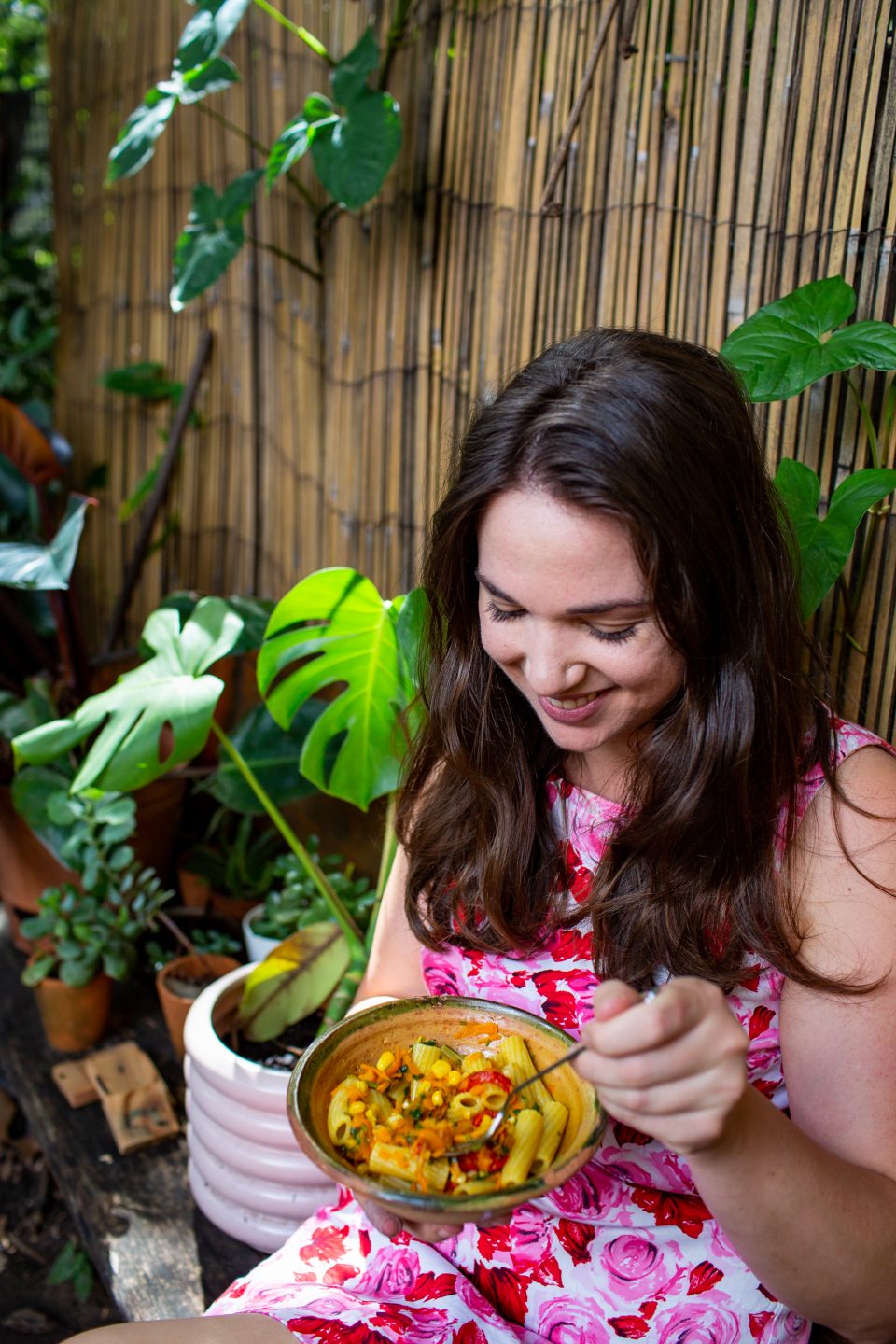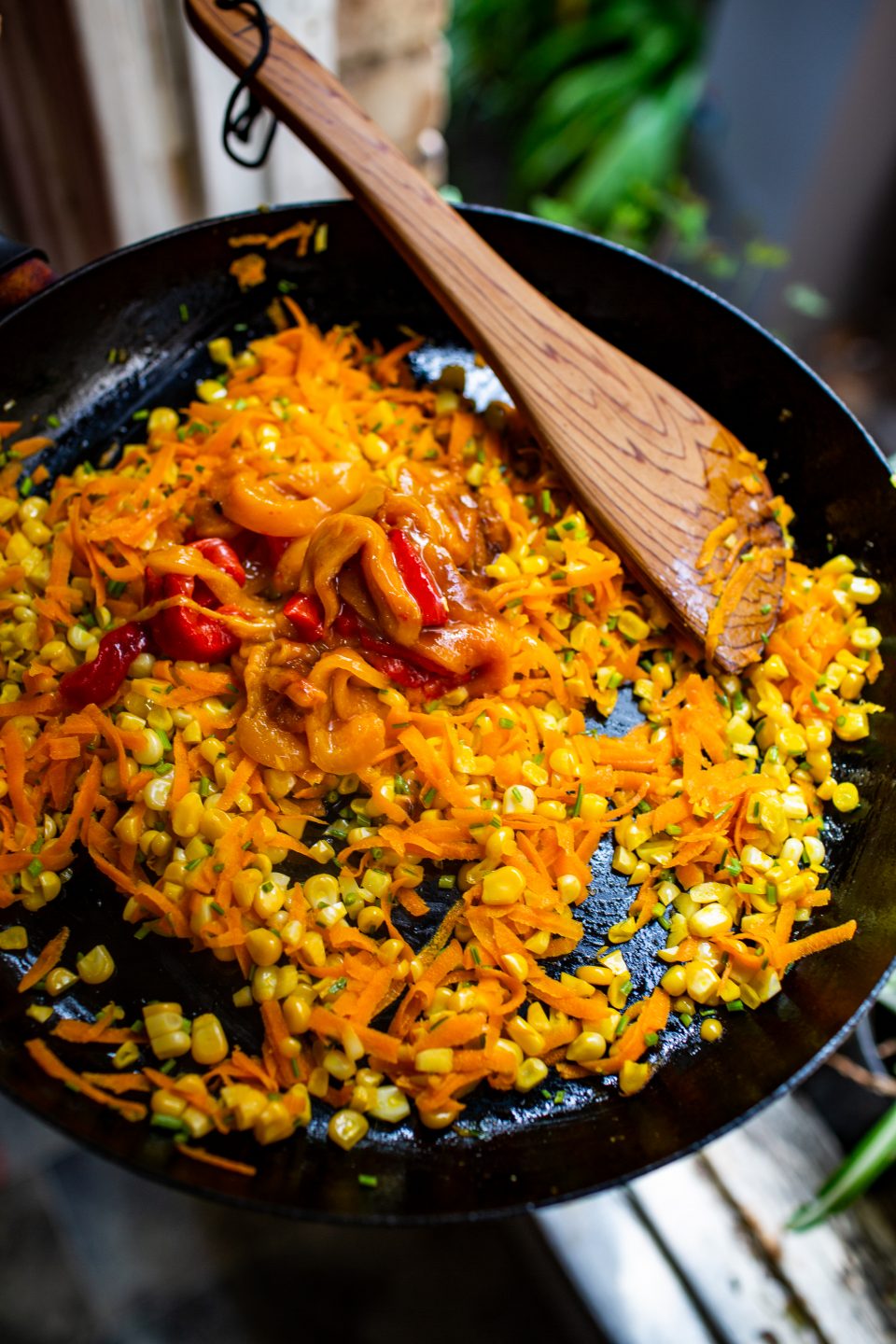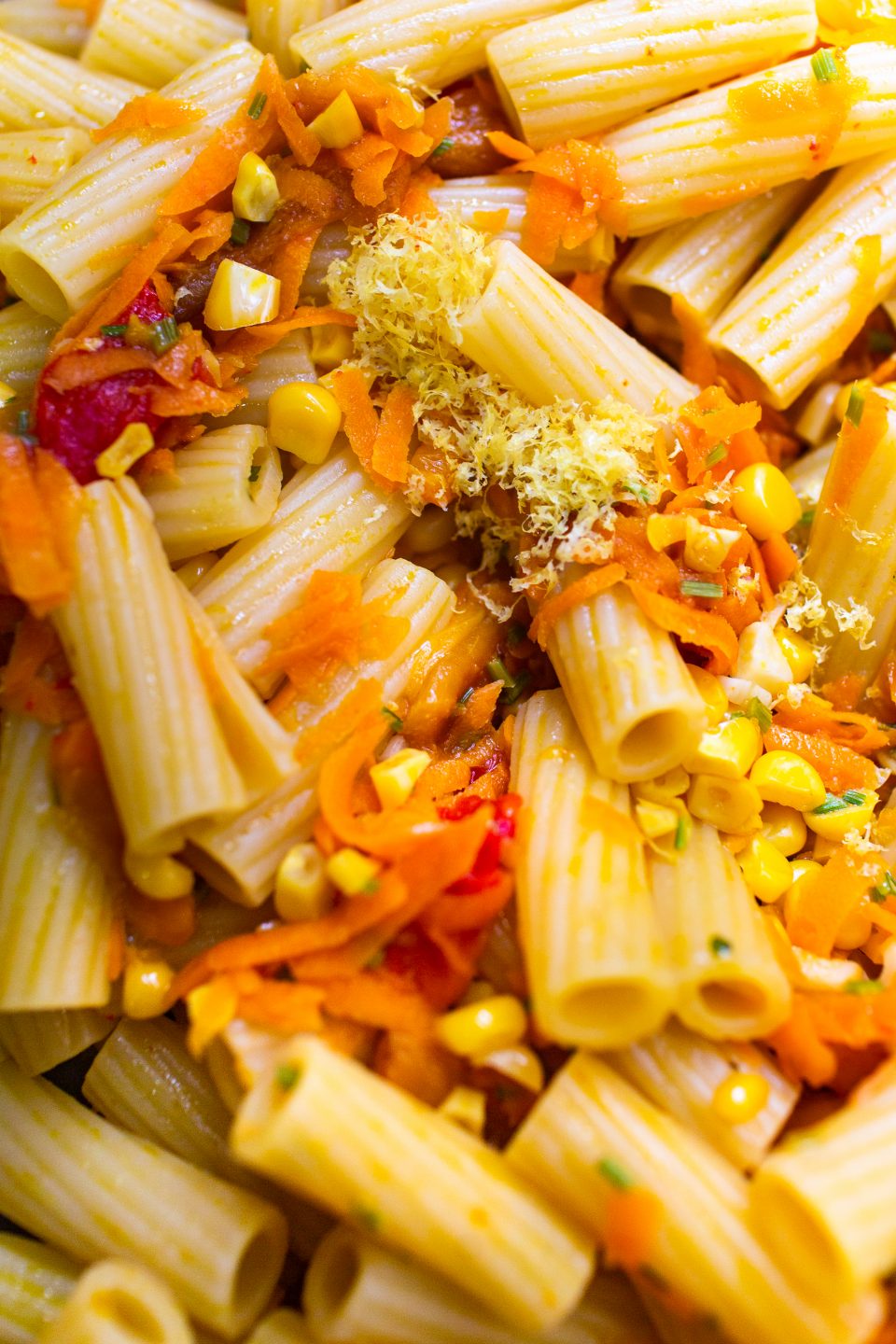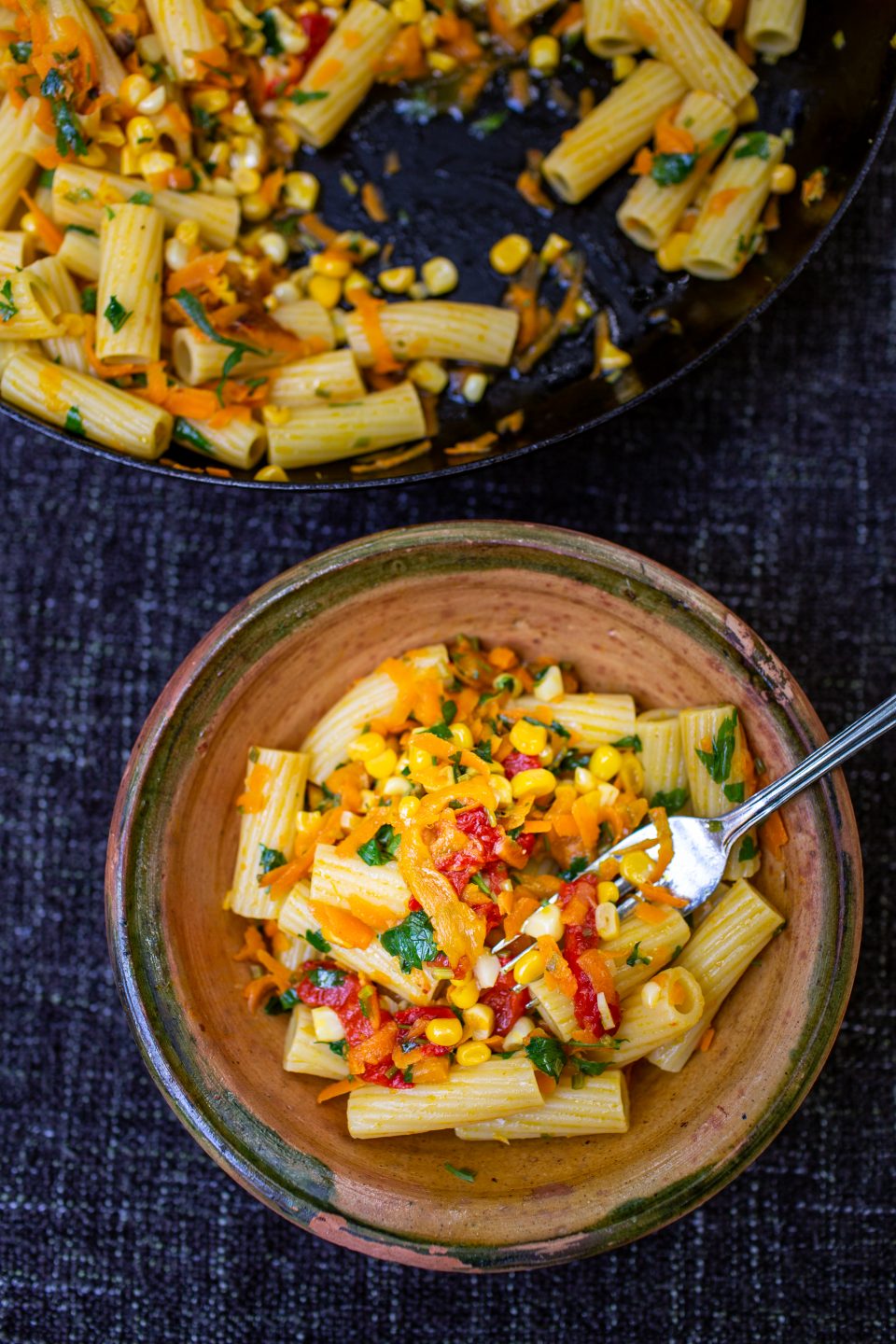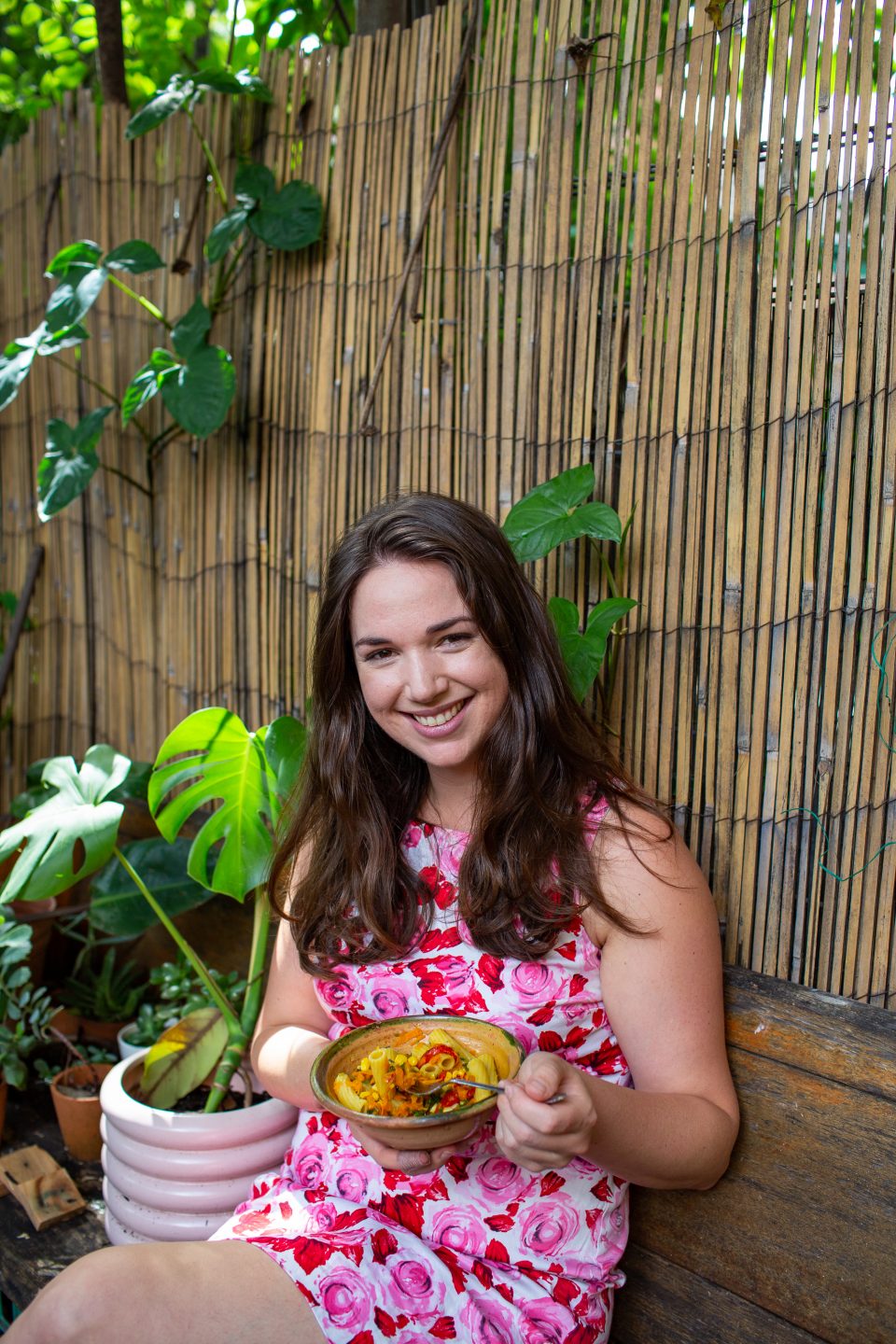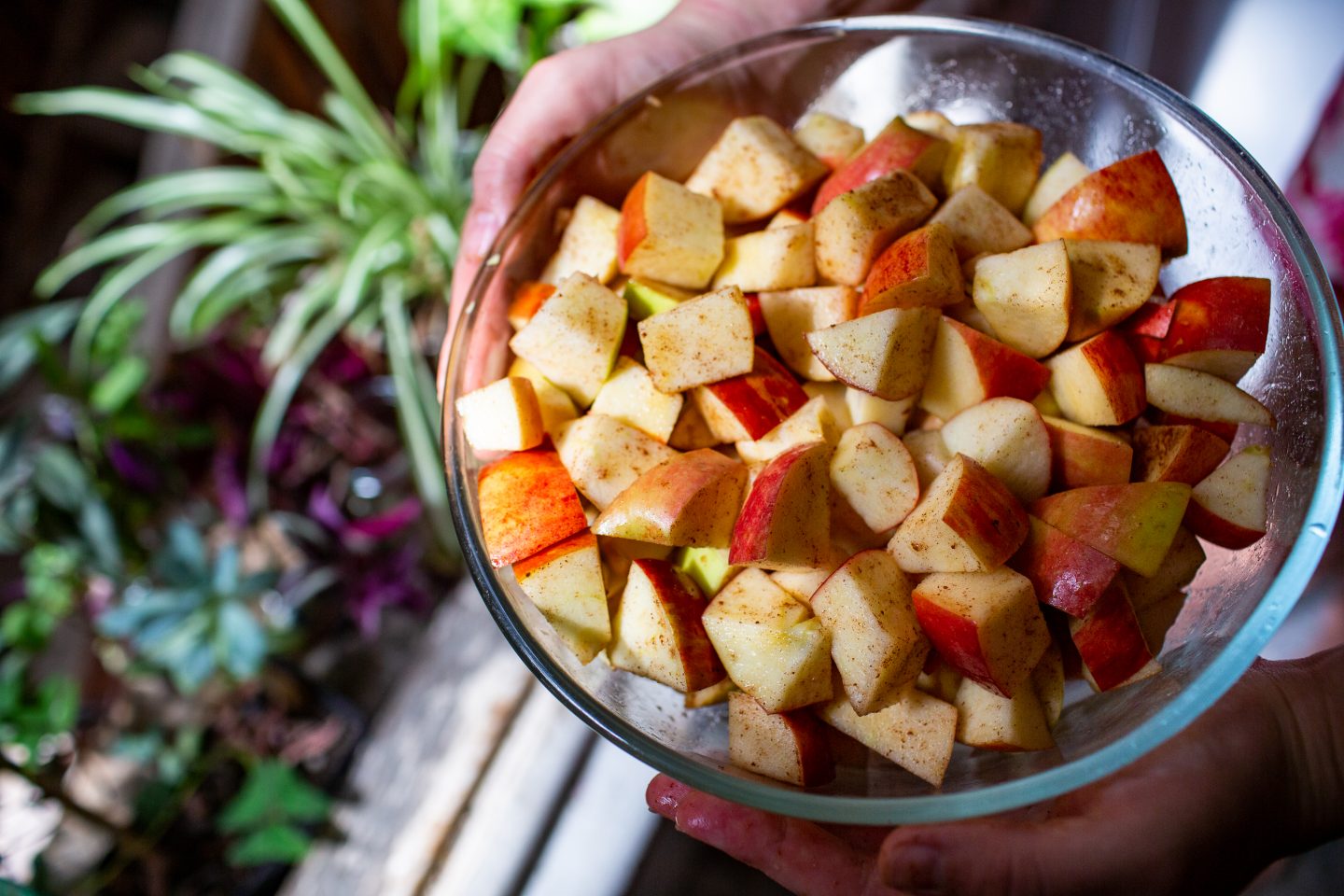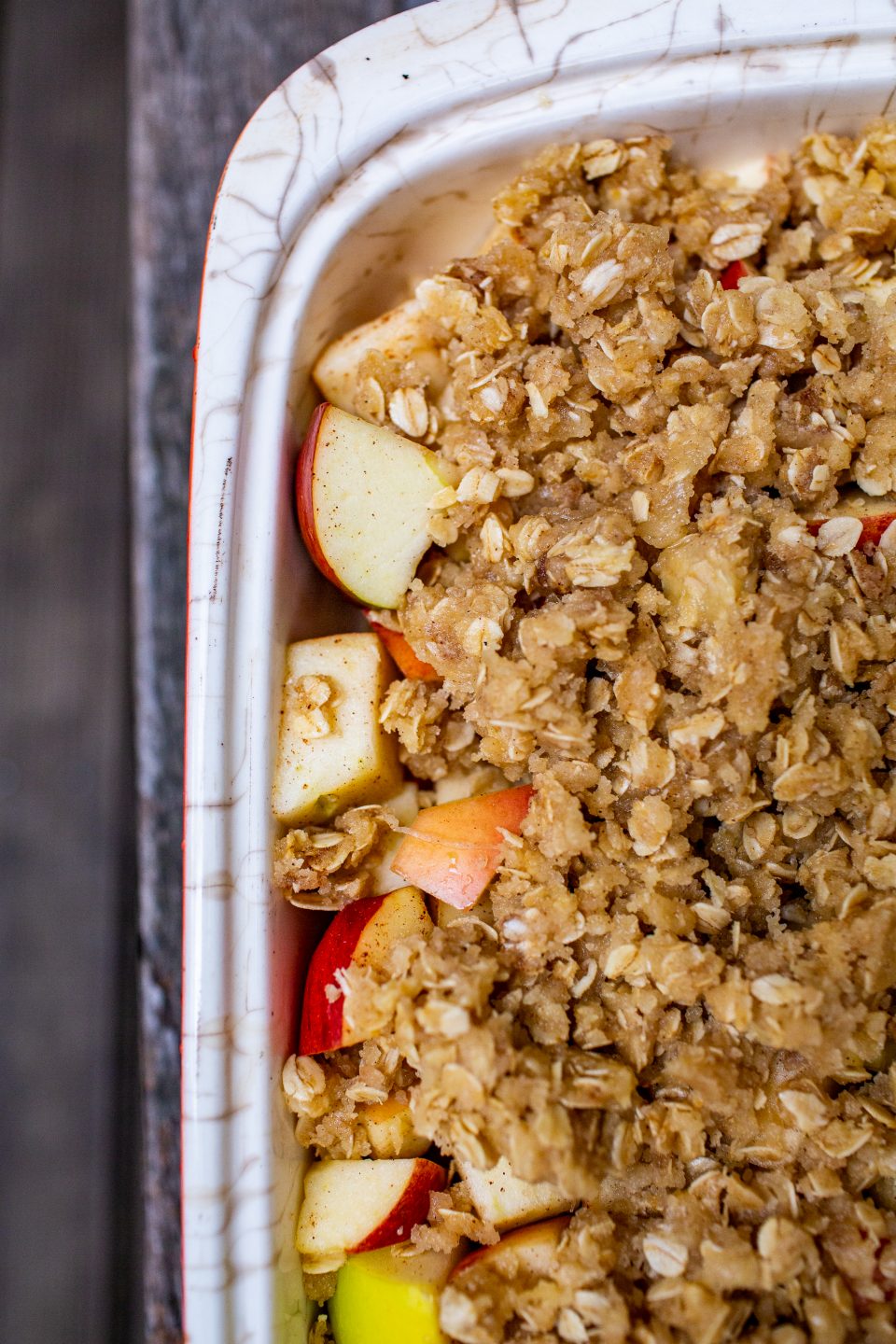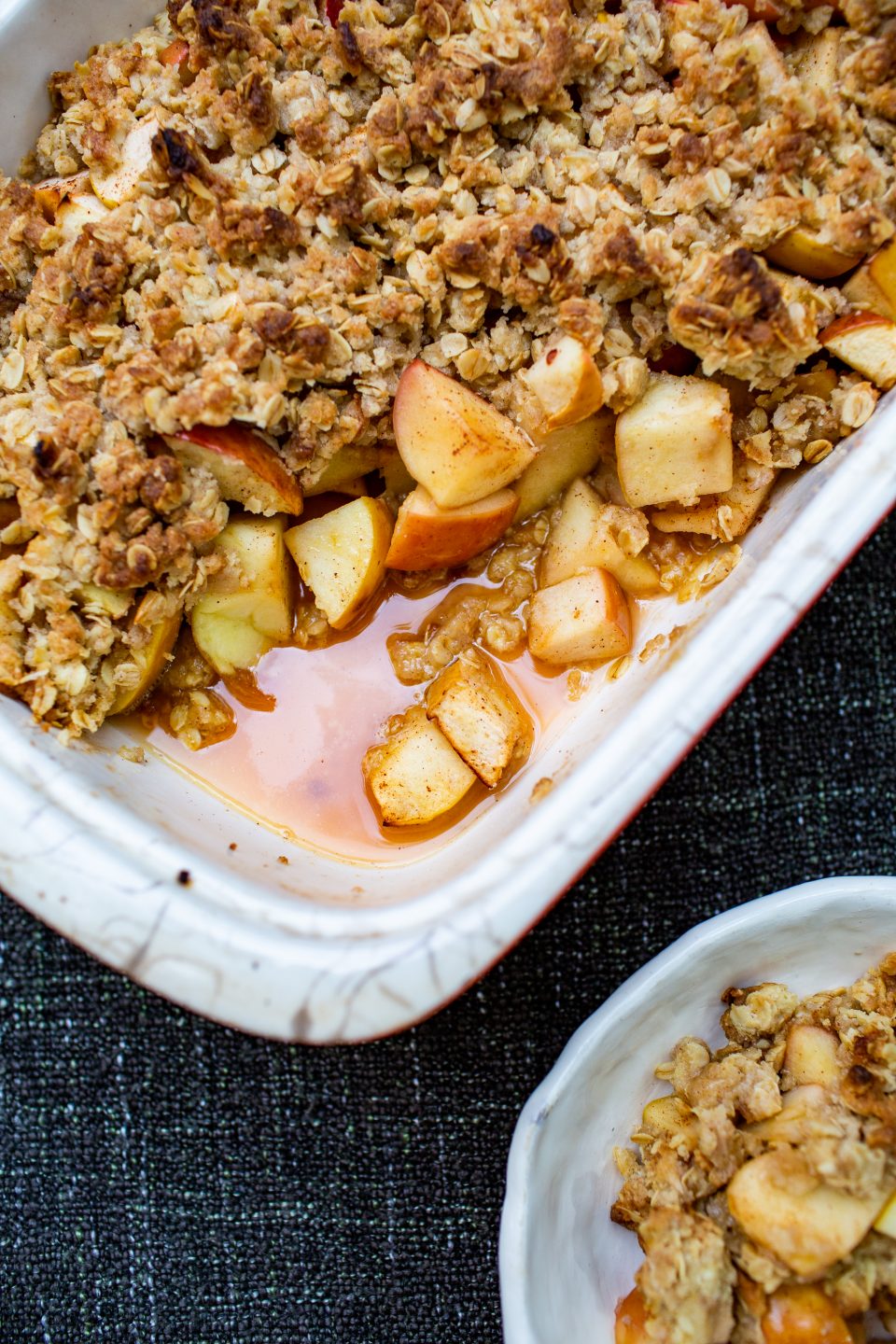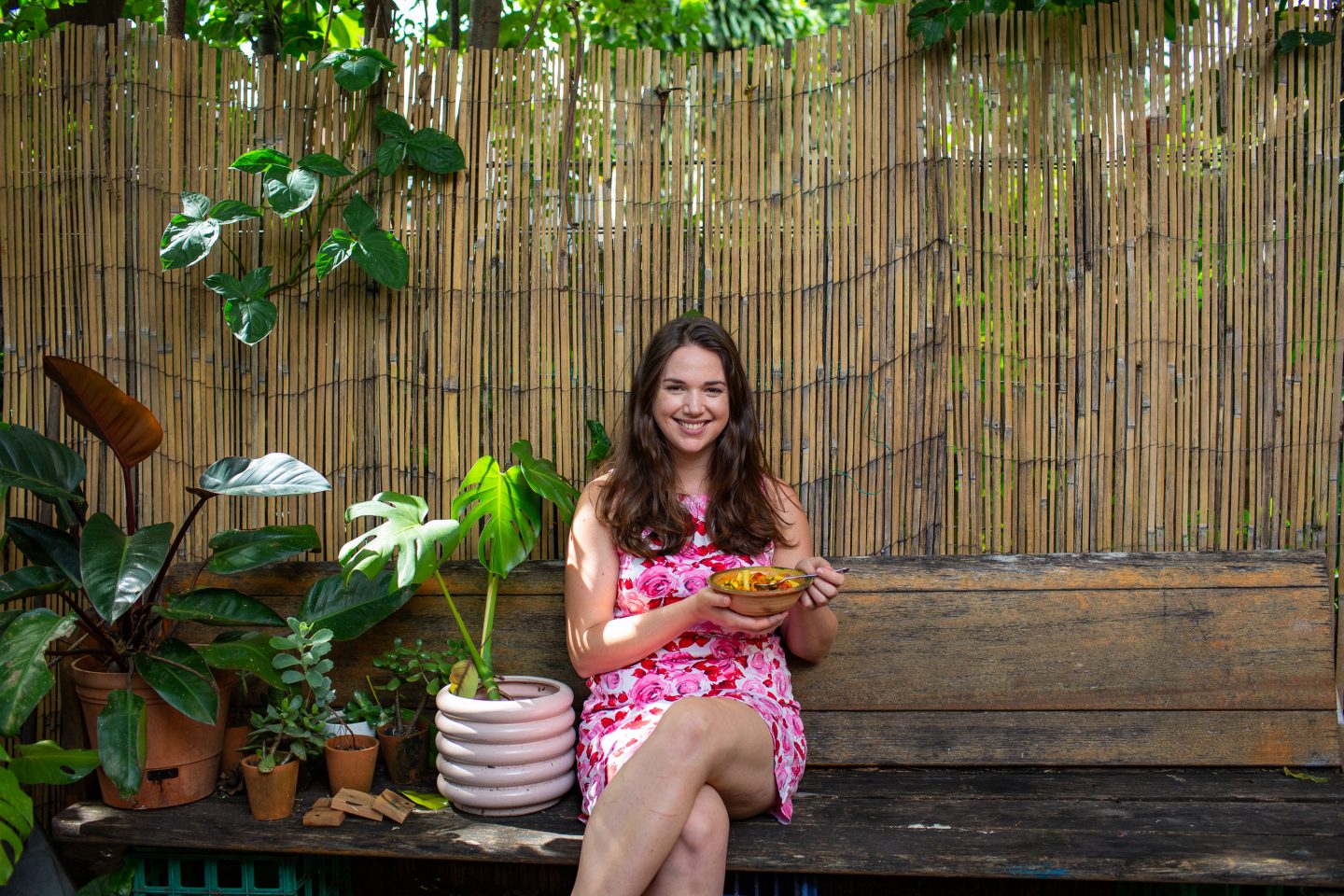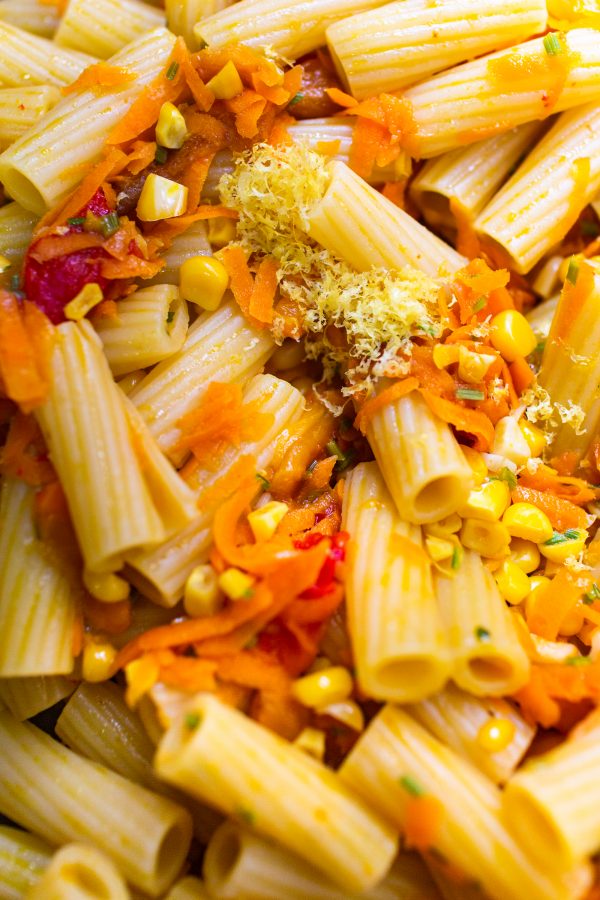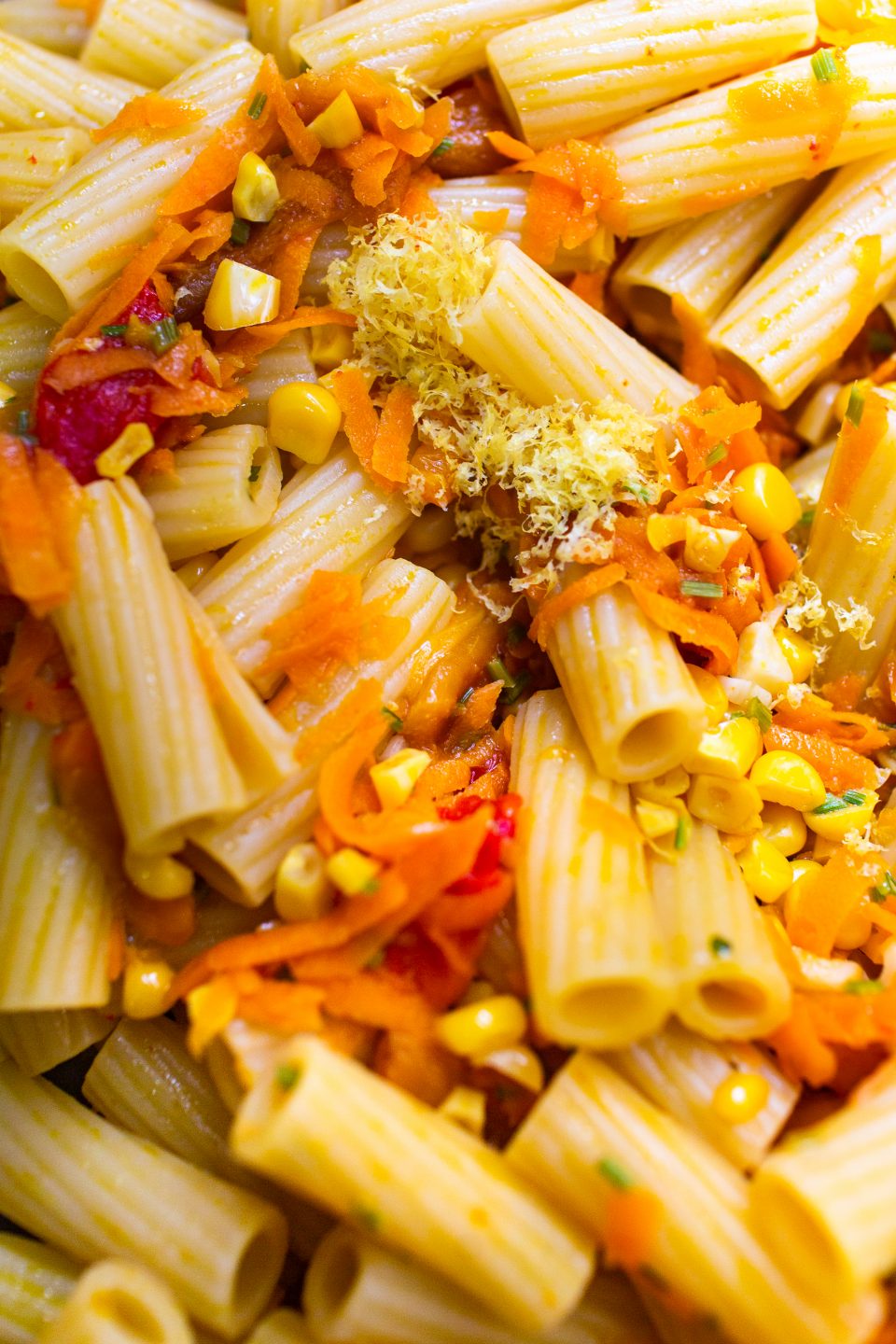 Aglio e olio inspired Pasta Pantry
Prep time: | Cook time: | Serves 4
Good quality olive oil

3 cloves garlic, roughly chopped

½ bunch parsley + stems

1 carrot, grated

1 corn cob

200gm roasted and marinated capsicums

1 lemon (zest from one whole lemon, juice from ½, use the other ½ in the crumble)

300gm pasta of choice

Pasta water (set aside 1 cup, only use what you need)
Boil the kettle. Microplane the lemon zest.

Separate the parsley leaves from the stems. Roughly chop the leaves and set aside for later. Finely chop the parsley stems. Separate the corn kernels from the cob, freeze the corn cob and husks to add to veggie scrap stock.

Add the pasta to a pot of salted boiling water and cook until very al dente. The pasta will continue to cook in the sauce. While the pasta cooks, start cooking the vegetables.

In a large pan, on low-medium heat, gently warm the oil. If the capsicums are marinated in oil, you can use the oil from them. Add the garlic, parsley stems, corn and grated carrot to the oil. Cook on a gentle heat, stirring often.

Once the pasta is very al dente, save 1 cup of pasta water. Transfer the pasta to the corn and carrot mix, using a slotted spoon so little bits of pasta water transfer over as well. This helps meld all the flavours together. Add in the capsicums and a little of their marinade. Stir, and cook till the flavours combine and the pasta is at desired consistency. Add more pasta water as needed. 

Take off the heat, stir in the parsley leaves, lemon zest and juice of ½ lemon. Taste, add more lemon, salt, pepper or oil to taste.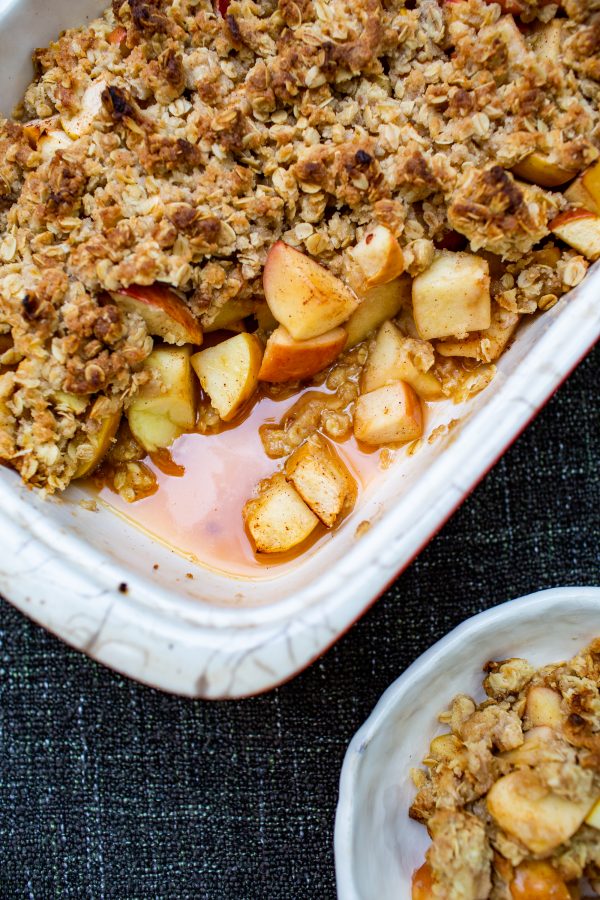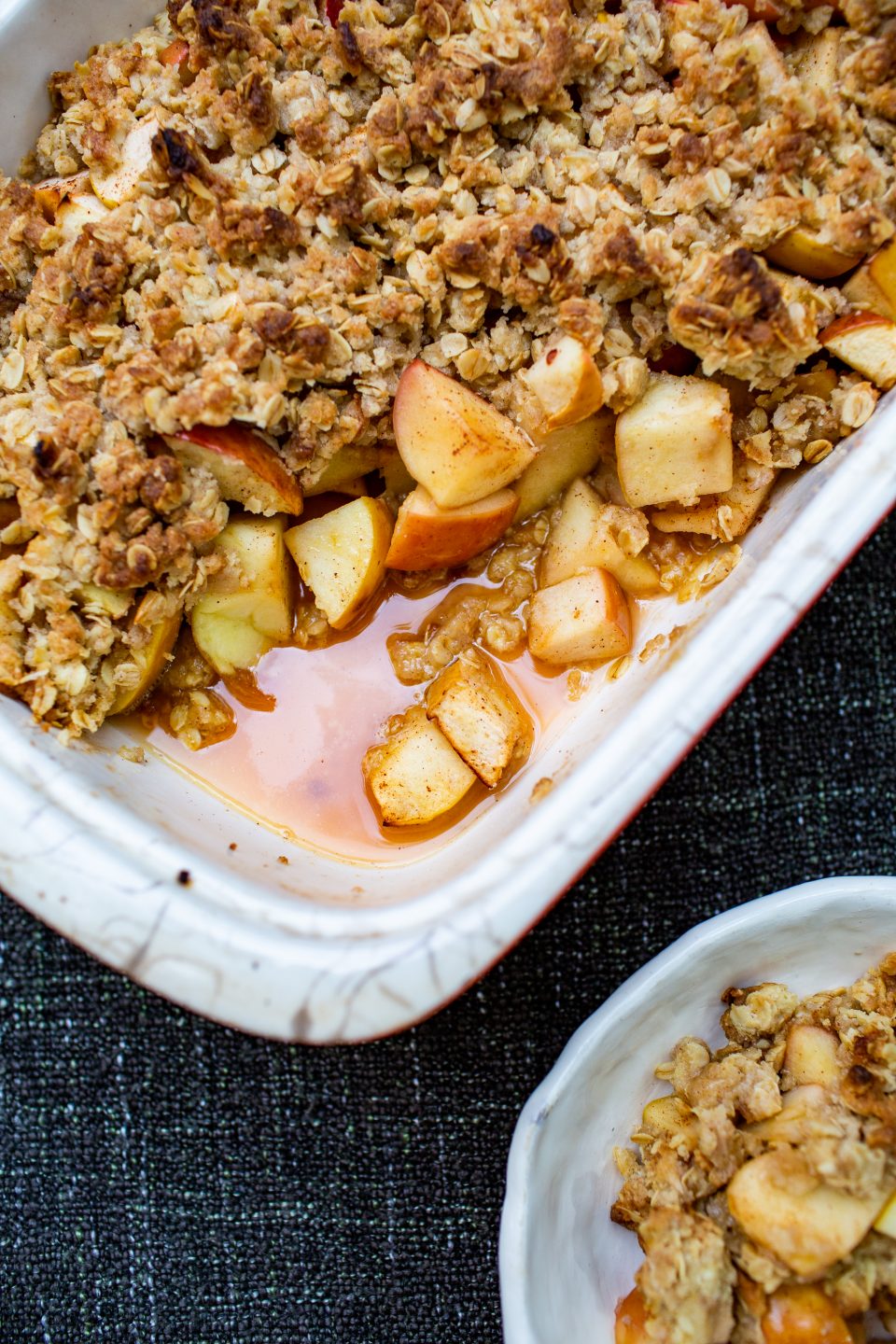 Imogen's Apple Crumble
Prep time: | Cook time: | Serves 8
Equivalent to 6-7 whole apples

1 tsp cinnamon or ½ tsp nutmeg

1 tsp sugar

½ lemon, juice

Crumble topping 

1 cup plain flour

½ cup sugar

⅔ cup rolled oats

150gm butter, melted

1 tsp cinnamon or ½ tsp nutmeg
Preheat oven to 180c.

Core and dice the apples. I find cutting each apple quarter into 6 pieces is the ideal size and keep the apple skins on, as this helps prevent a soggy crumble and saves unnecessary food waste. Place the apples in a large baking dish and mix in the cinnamon or nutmeg, sugar and lemon juice. The lemon juice helps stop the apples from browning, and prevents the crumble from becoming overly sweet.

In a separate bowl, combine all the crumble ingredients. Sprinkle evenly over the apples.

Bake in the oven until brown and crispy on top, but the apples still hold their shape. Depending on your oven and the size you cut the apple cubes, this should take between 45mins-1hr.

Serve warm with a scoop of vanilla ice cream if you have it handy.