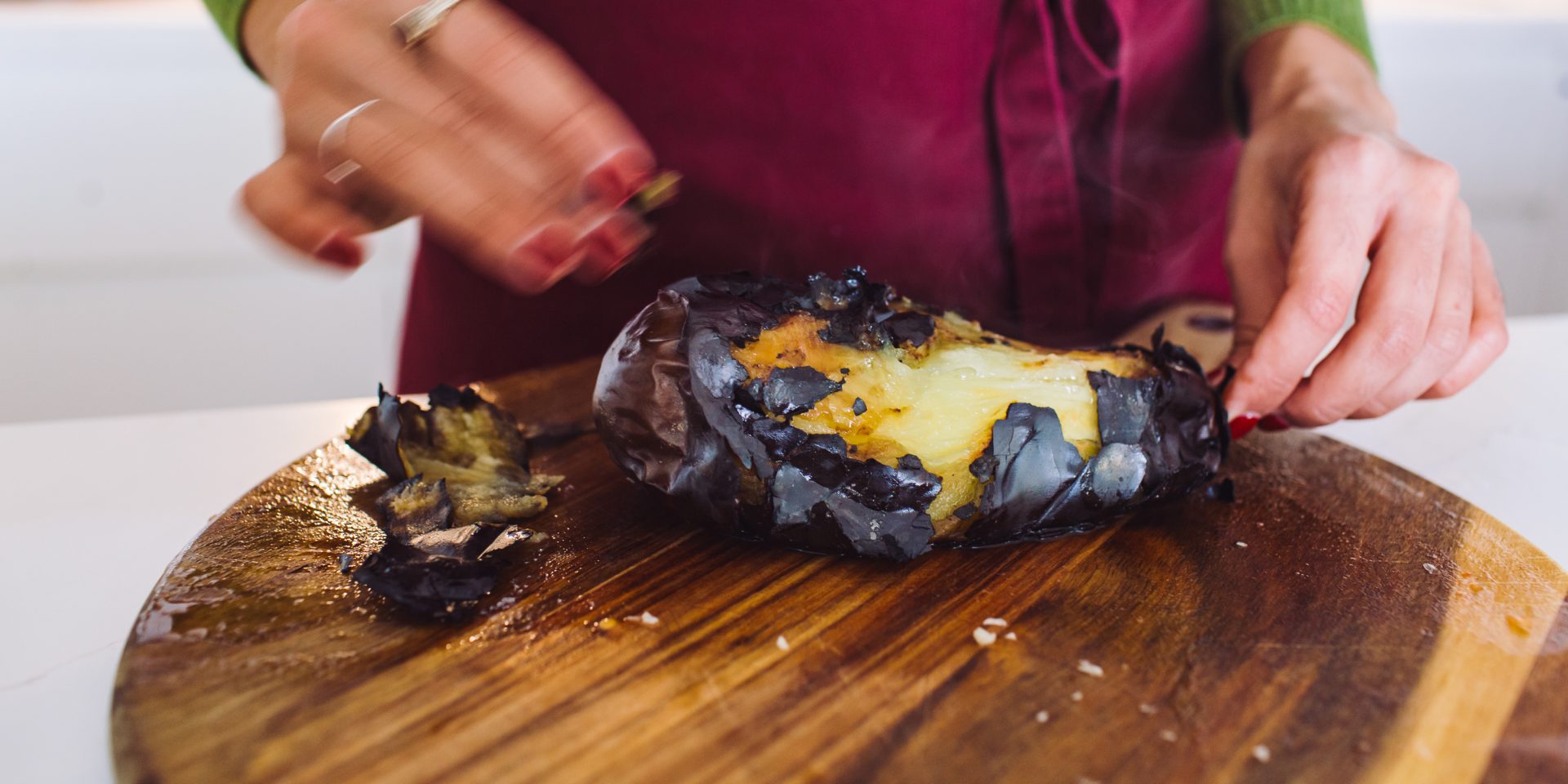 Ismat shared with me her fond memories as a child playing with her food. Not in a wasteful way but in a creative way that got eaten! Growing up there was always Sabzi (greens) or Baingain ka Bharta (a Pakistani roasted eggplant mash of sorts) on the dinner table. Ismat would then mix these with pasta instead of having it with rice the traditional way. The deep desire of creating fusion food started early, resulting in a journey of many wonderful creations that is growing and loved by many. Ismat sees herself as a TCK (third culture kid). She is a Darwin born Pakistani who grew up in Timor-Leste.
"The world of TCK is very singular but also universal because it connects you to different cultures, people and places on one plate. I still believe that you are respecting and paying homage to those ingredients, cultures and histories, but just through making it your own."
The special dish featured here is Ismat's very own Baingain Bharta Pasta. A delicious marriage between pasta alla Norma and Baingain ka Bharta. The al dente casarecce pasta coated evenly with this subtle but bold at the same time sauce-like roasted eggplant mash, topped with cumin seed bread crumbs, micro herbs and creamy burrata.
Ismat's cooking journey. There wasn't much to do growing up as a teenager in Timor-Leste but Ismat liked to keep herself busy after school. She would often find herself in the kitchen doing substitute cooking especially with the Bilimbi fruit (kind of like a cross between apple and citrus) that grew abundantly in her backyard. She made Bilimbi salad, Bilimbi pasta with added other local ingredients. When there was shortage of butter and egg in the country, Ismat would then use olive oil to make a cake. She learnt how to be resourceful and that's also the time she fell in love with cooking. After high school Ismat ventured into the culinary school Le Cordon Bleu, starting in their Sydney campus and finished off at the Paris campus, majoring in both cuisine and patisserie studies. Living in Europe really opened up her palette and tastebuds to more! Considering she grew up with such blended influences of Pakistani, Portuguese and Indonesian flavours. After Le Cordon Bleu, Ismat worked in Parisian restaurants for a while, then she decided to learn the management side of the industry. So in 2014 Ismat enrolled in Ecole hôtelière de Lausanne in Switzerland to complete a bachelor of international hospitality management. "It was a phenomenal experience because it rounded up my management and business perspective of the food industry. During my degree as part of the internship, I worked in the food media for 6 months back here in Sydney. This was the time when I realised that I want to be a food creative."
Now equipped with all the tools to thrive in the food industry, Ismat is still (and always) keeping herself busy with various creative food projects. Amongst them are: helping launch the opening of Chaco Bar restaurant, testing recipes for Gourmet Traveller, writing for RESY, and cooking fun yummy food for BuzzFeed videos.
For all creative collaboration on all things food please contact the multi-talented Ismat Awan.
I can't live without
Flaky salt
Dream Job
Building on what I'm doing now
Currently I'm obsessed with
Jackfruit chips
Childhood taste
Nanoo's (grandma's) chili beef
I will always have in my pantry
Extra virgin olive oil and Mum's spices
I learnt to cook from
My environment and my grandma
Currently I'm listening to
Old school RnB
One day I must visit
Japan
Go to meal
Cheesey Fridge frittata
I am really good at
Connecting with people
The unforgettable meal
In the mountains of Pakistan roadside naan and dahl
My piece of Sydney
Flemington markets
Favourite spice
Toasted Coriander seed
Best flavour combo
Sweet and salty
Guilty pleasure
Bad tv shows
Who does the dishes
Collective efforts in the family
Ismat's food waste tips
Lemon peels get saved and frozen for teas/cakes/dressings or for the dishwasher (makes things have a lovely scent).
Label, date and freeze leftover food: I'm always revamping things and finishing up food this way. 
Take any sad looking veg that's lying in the fridge and turning them into veg patties to freeze or fry.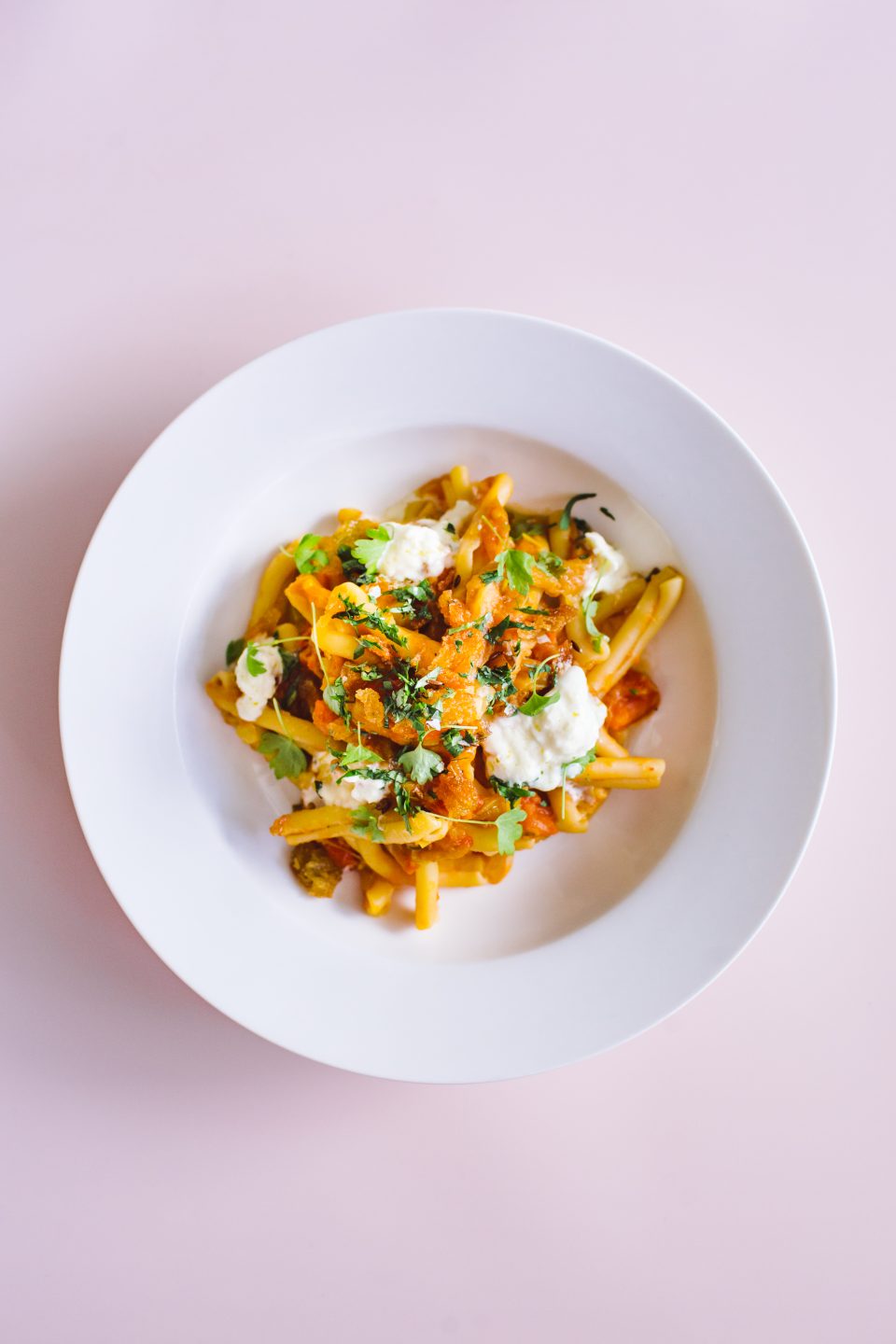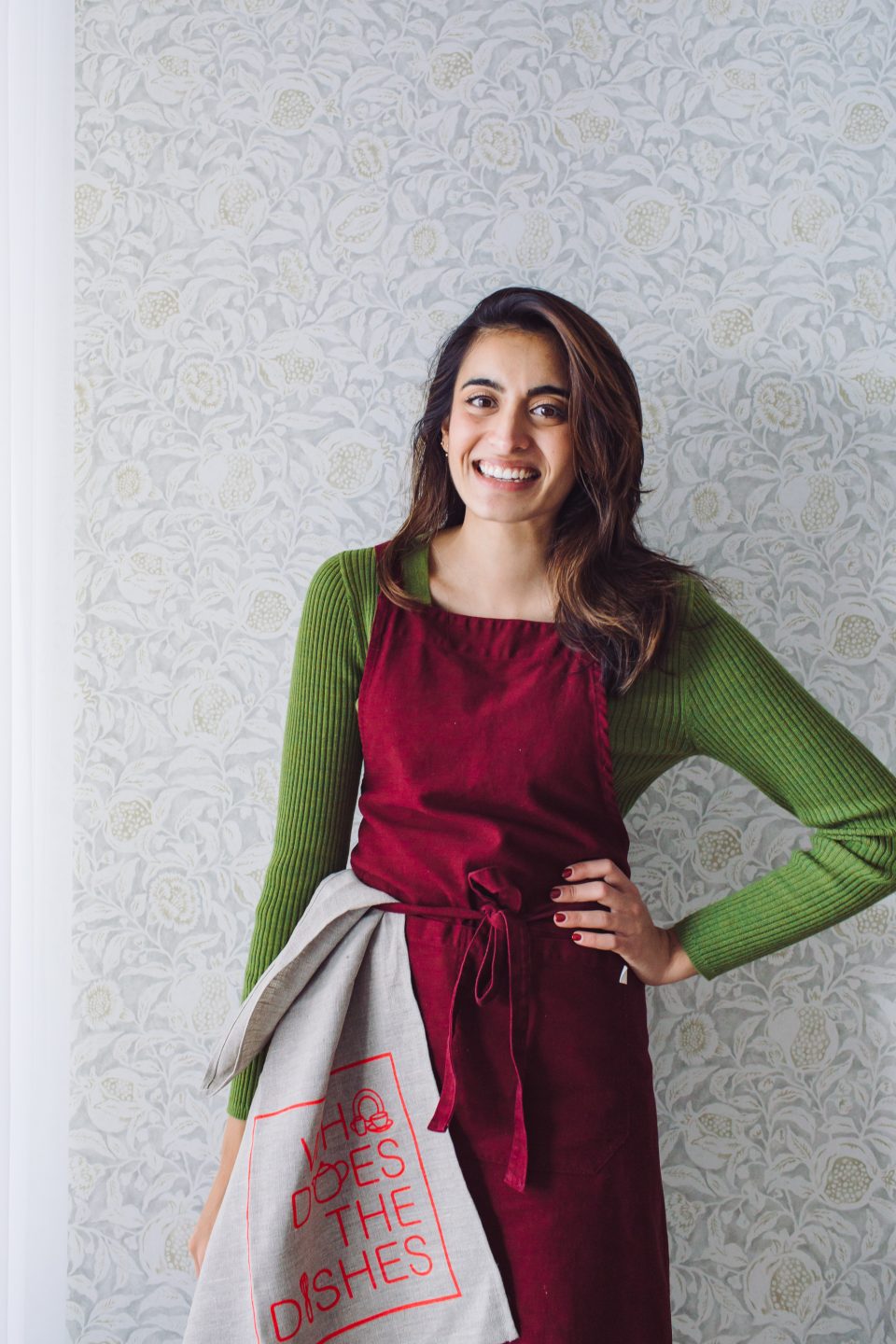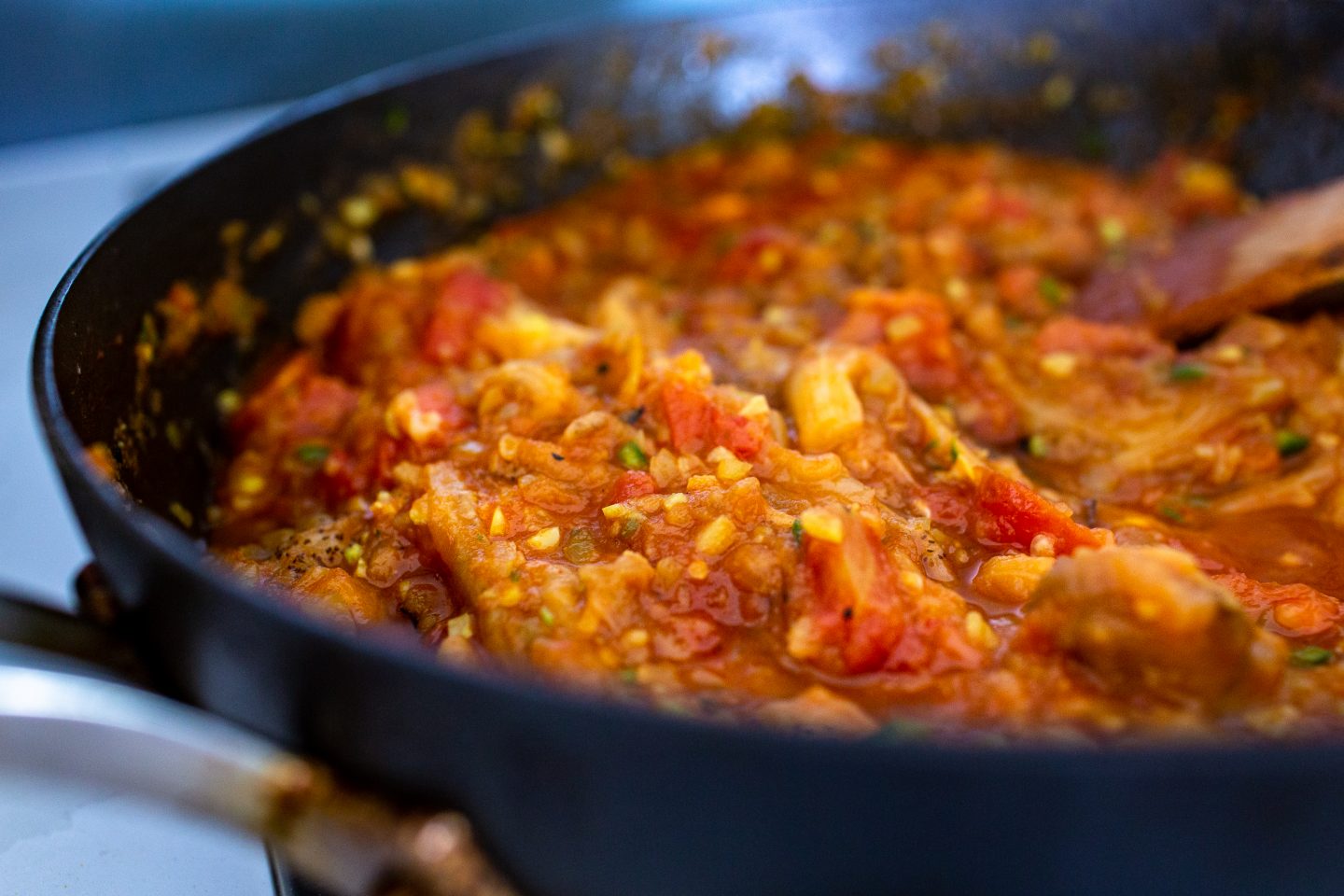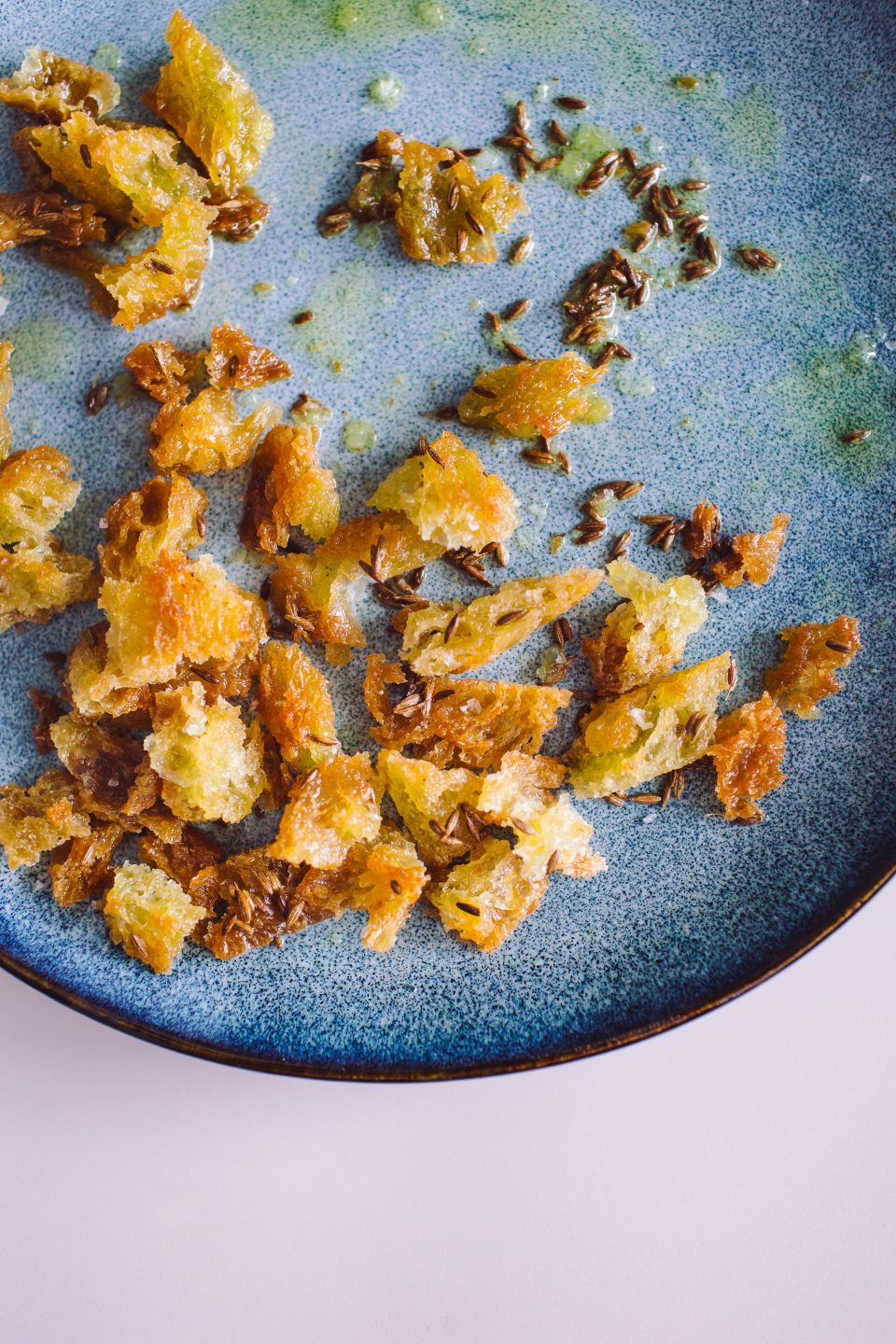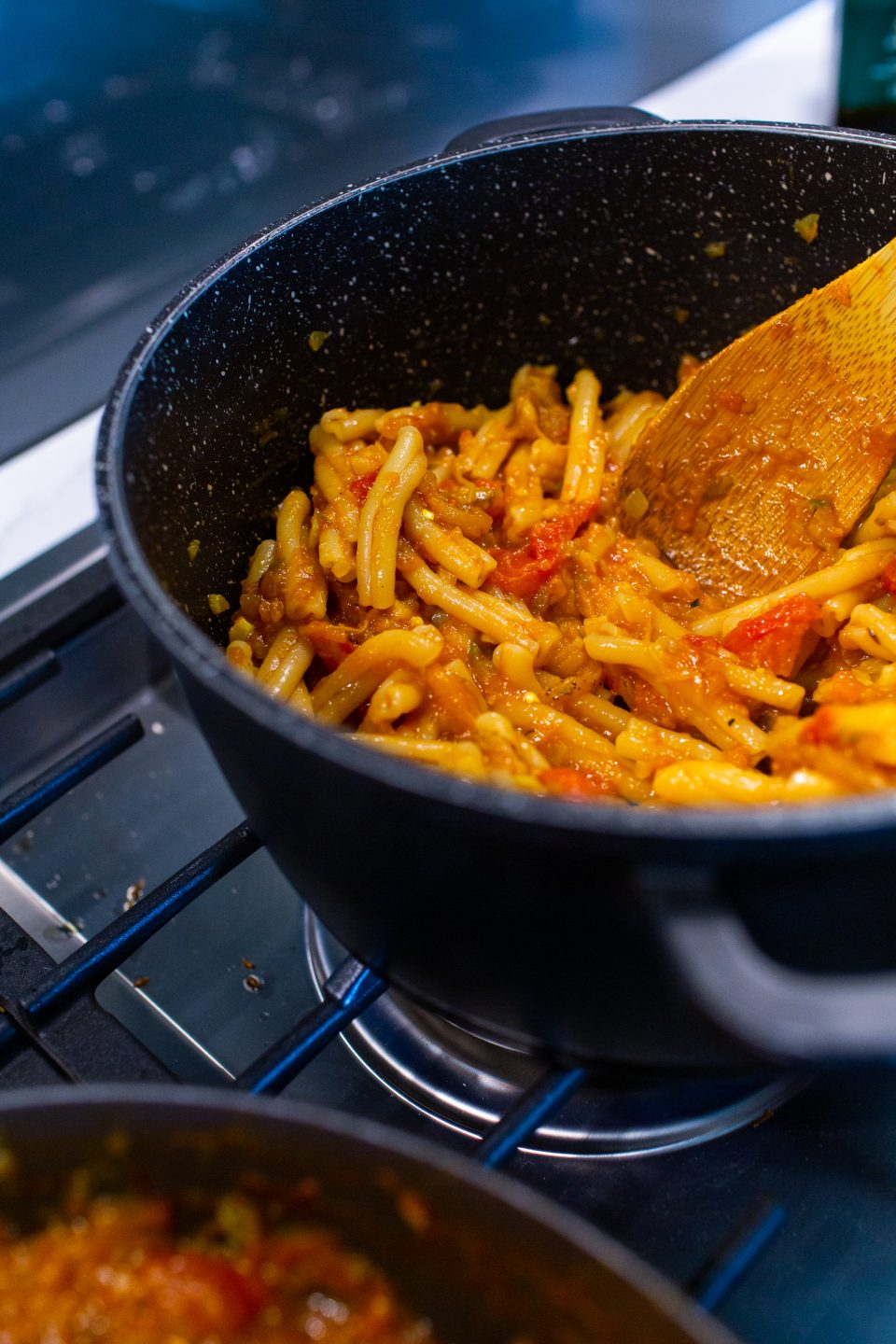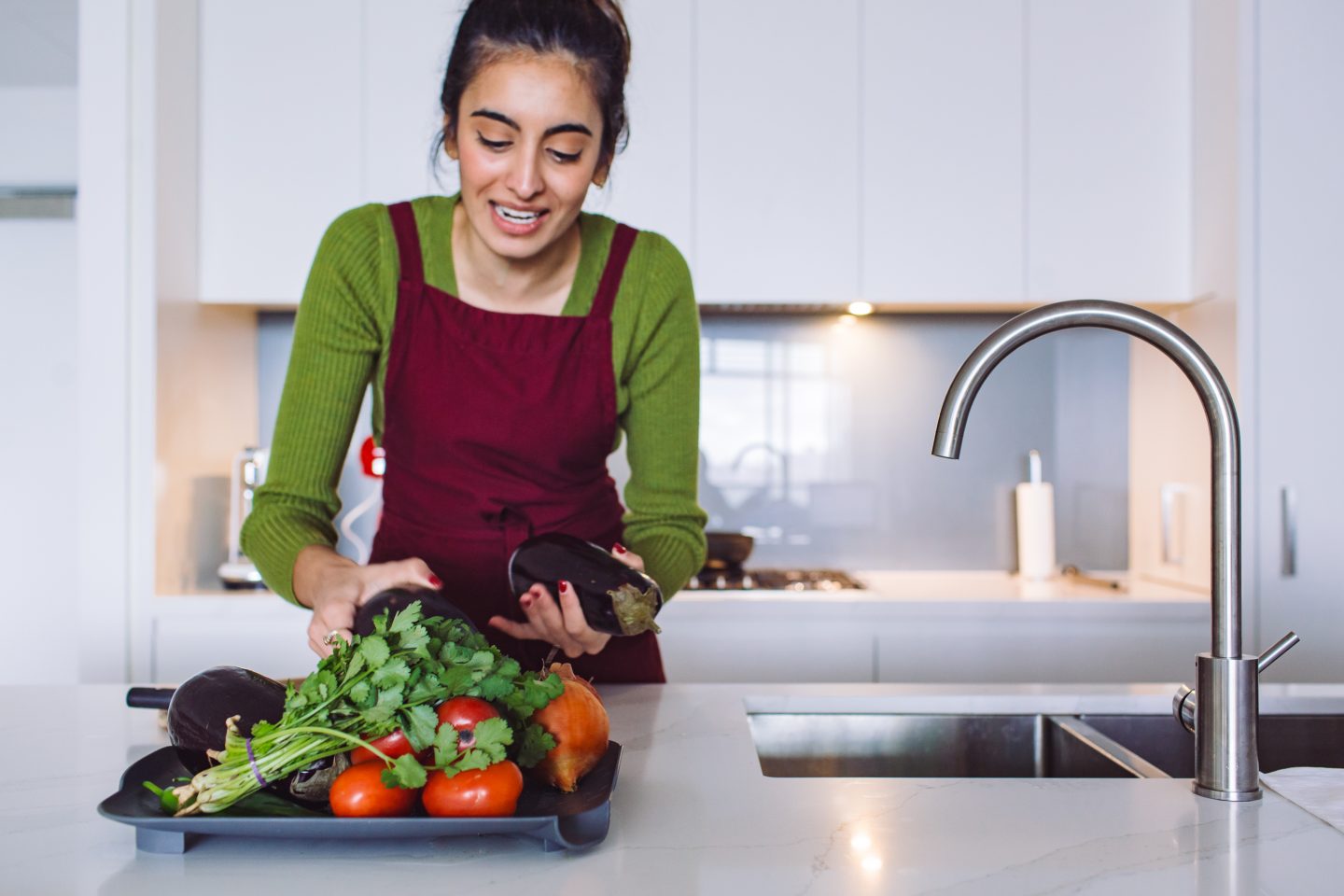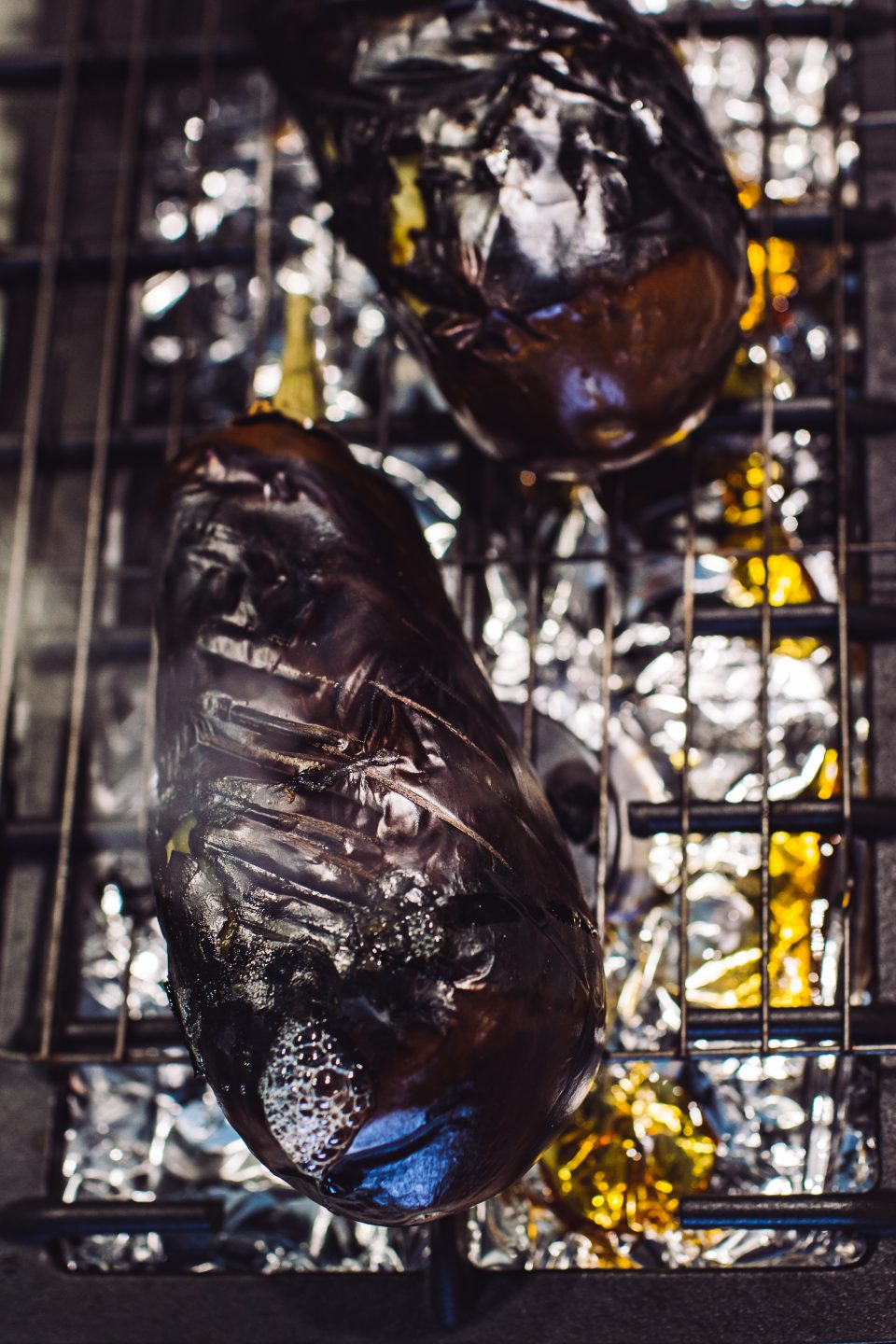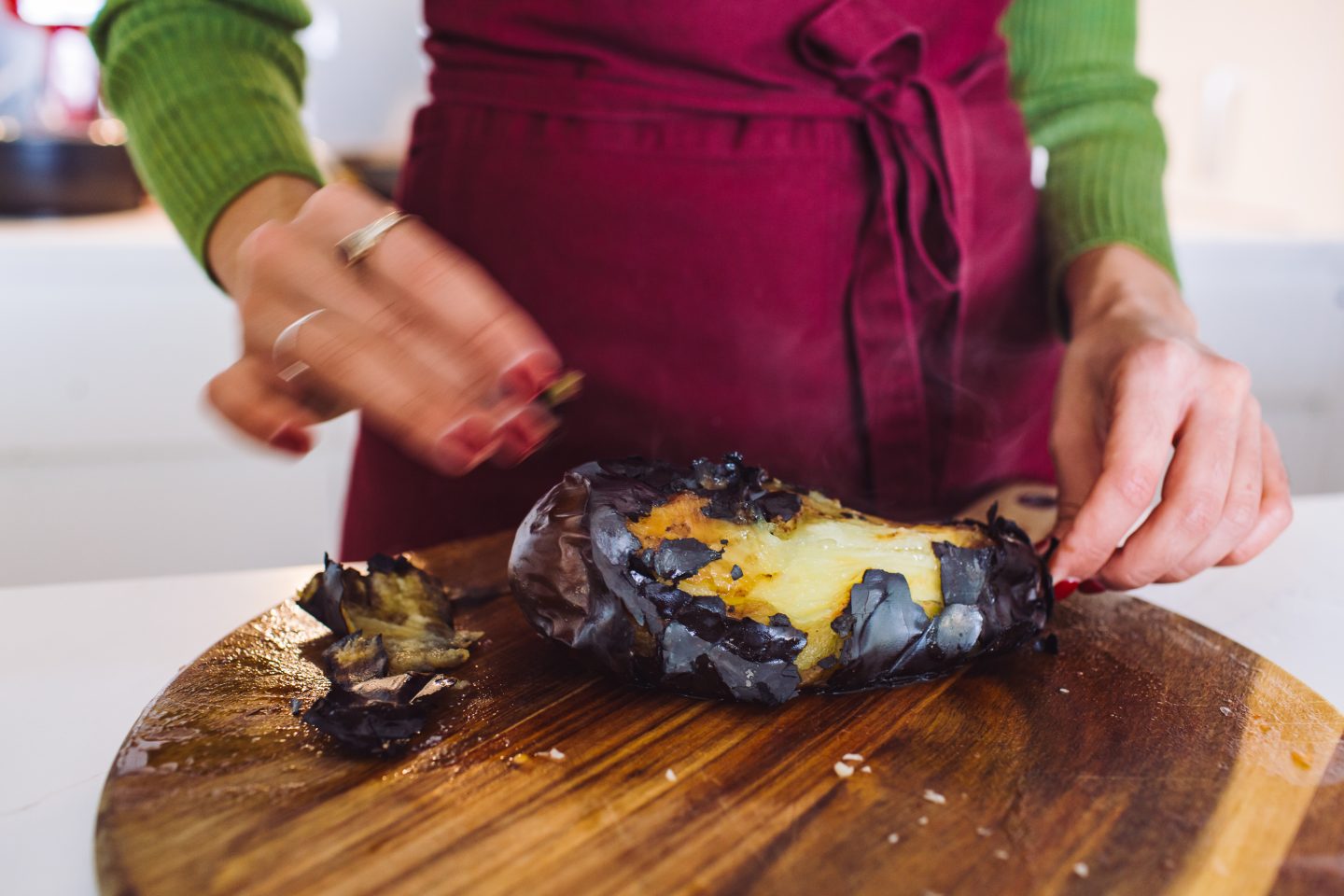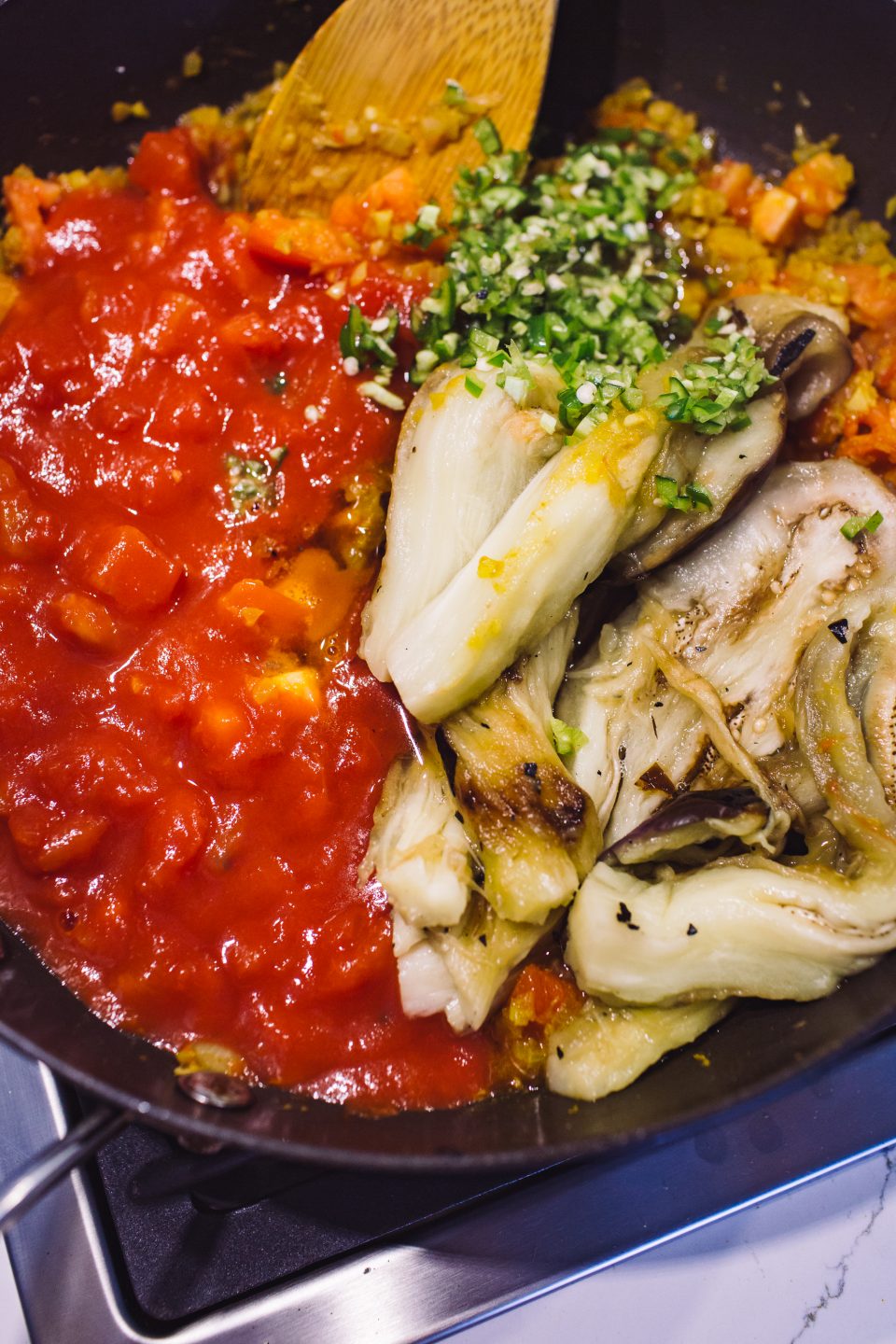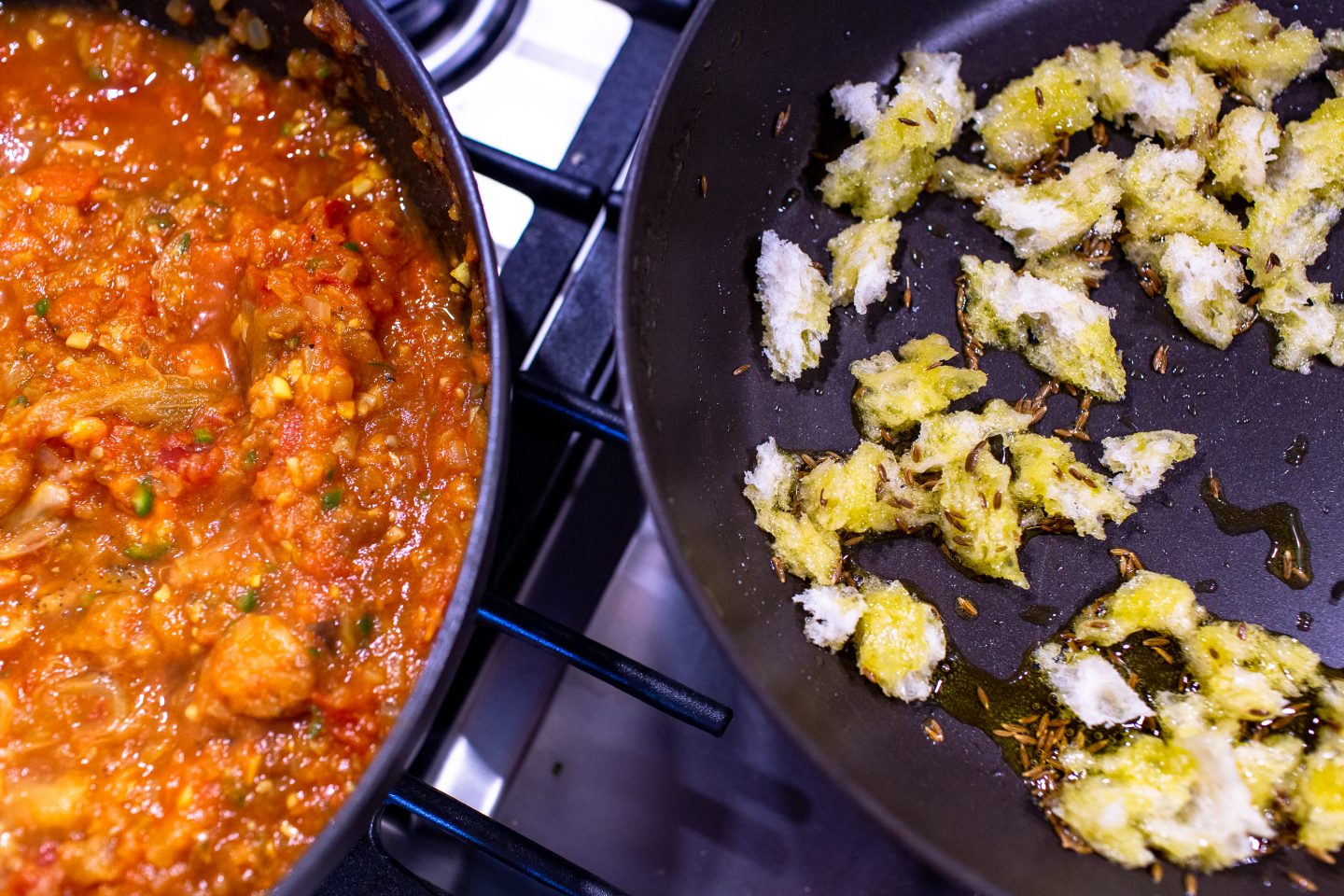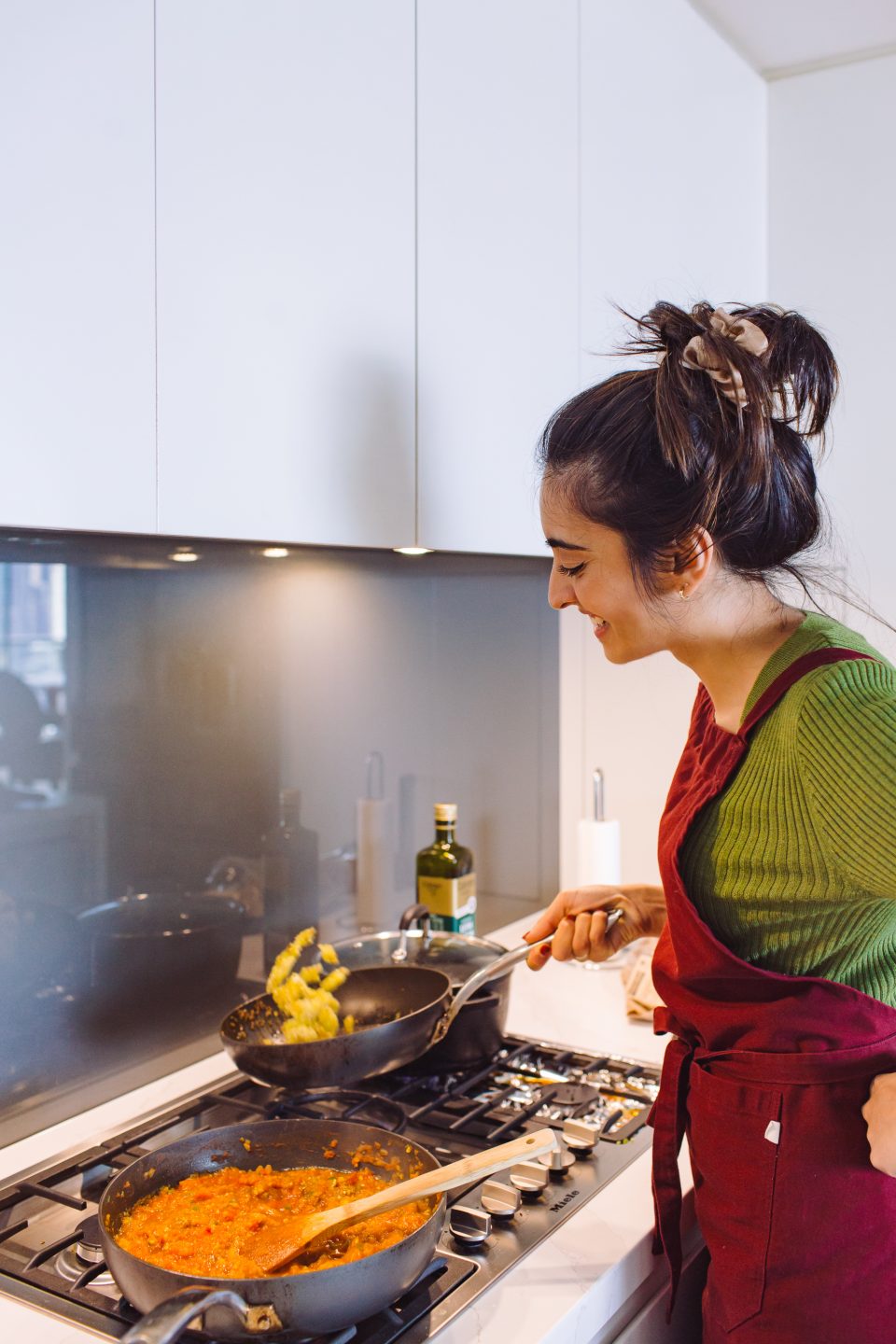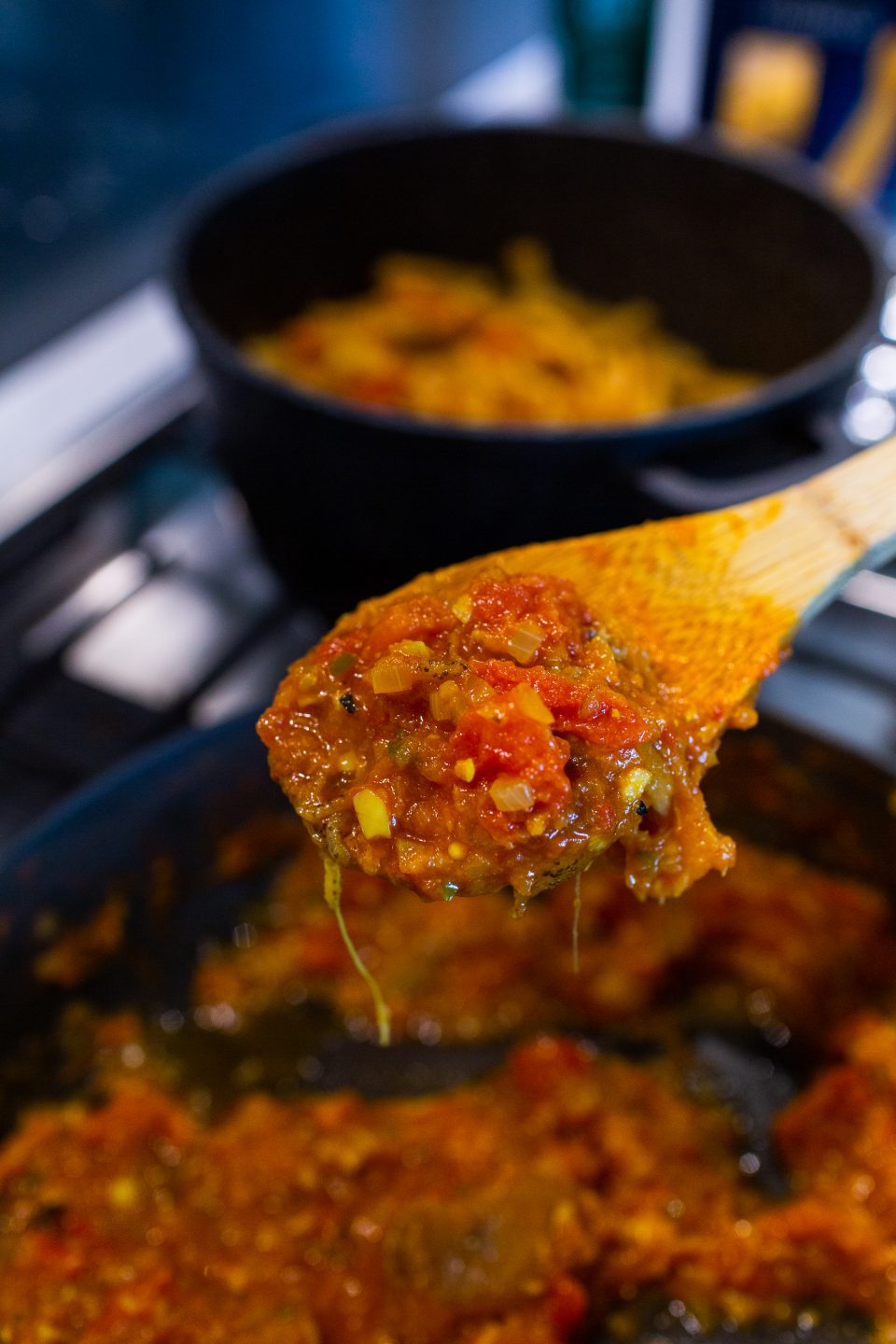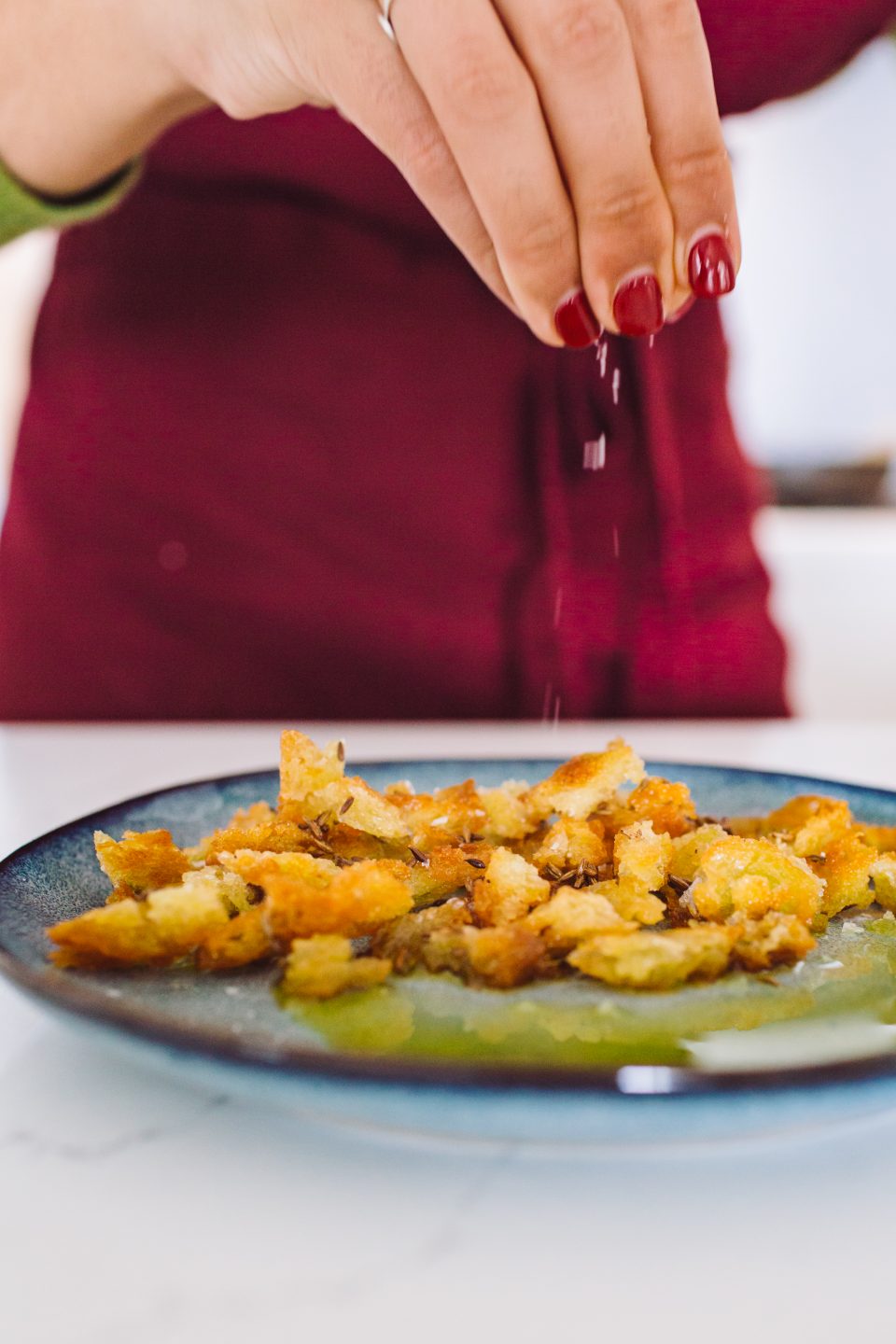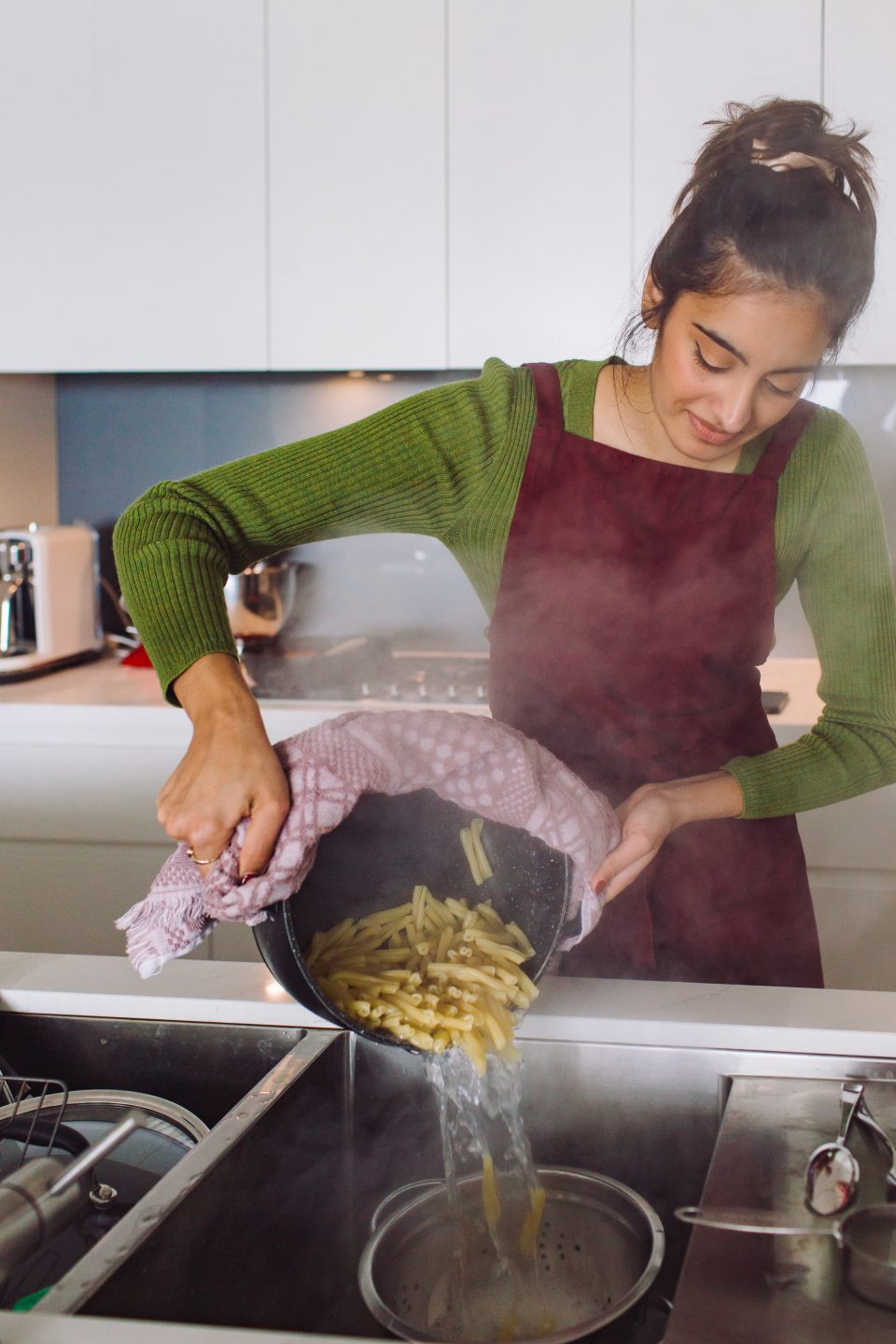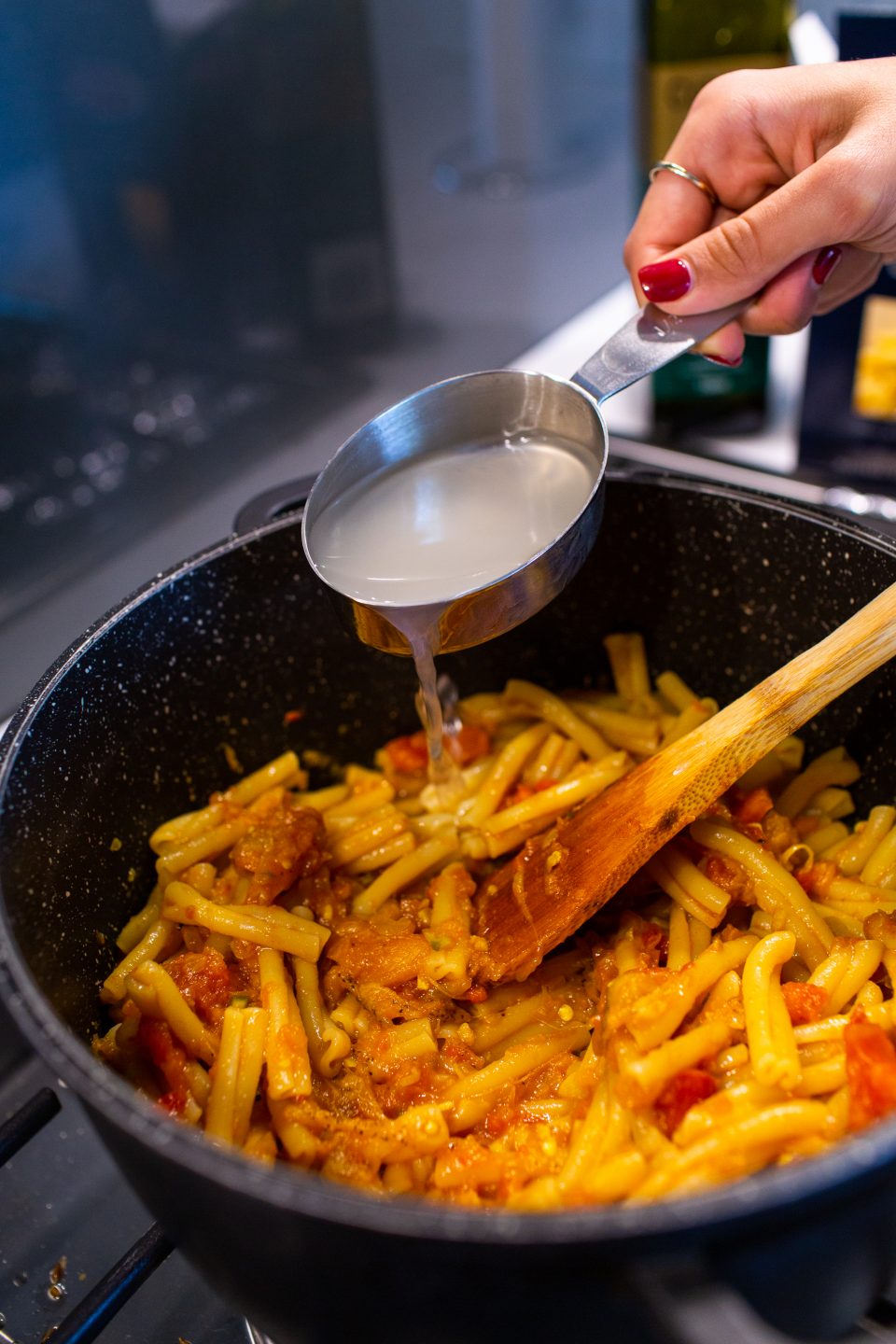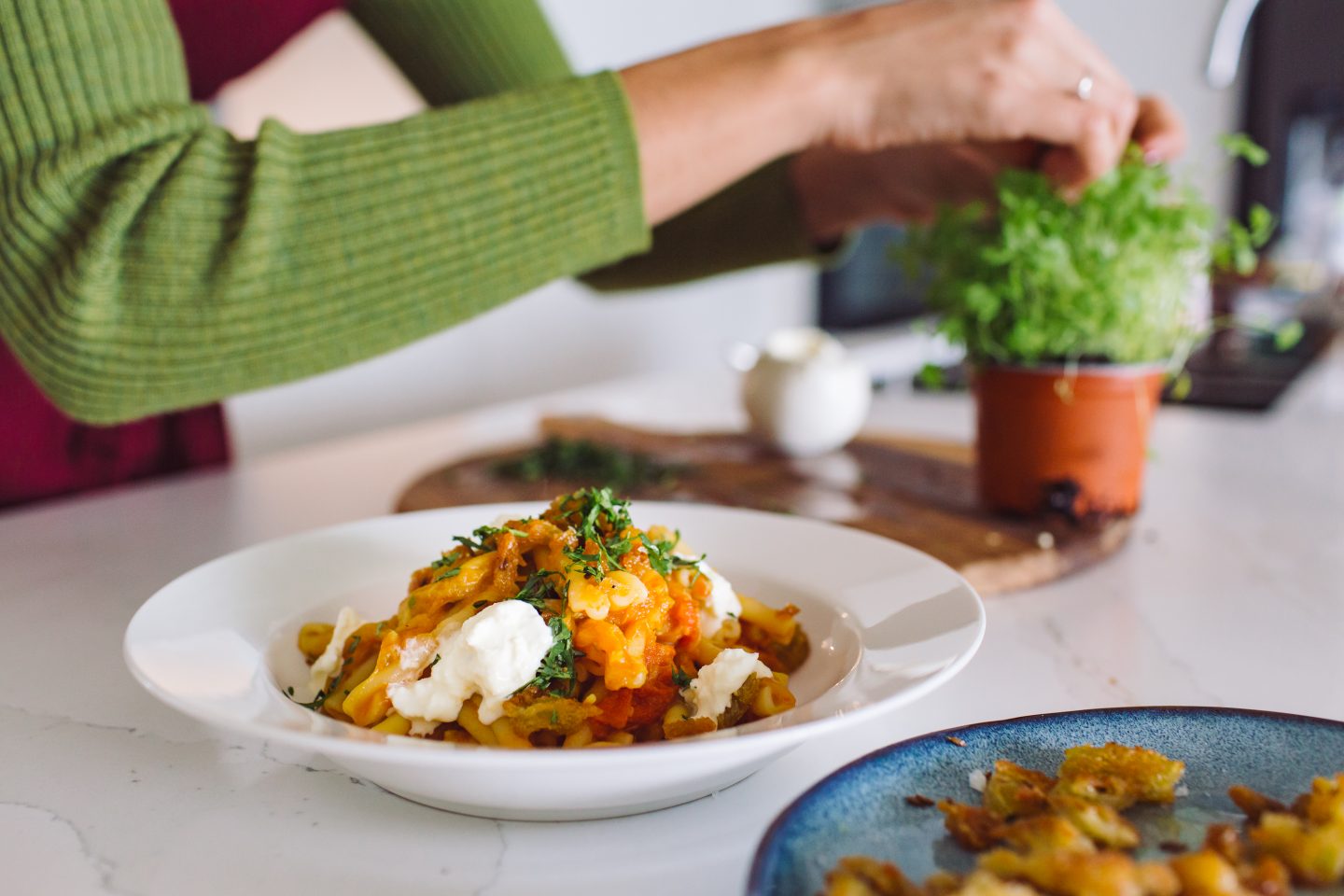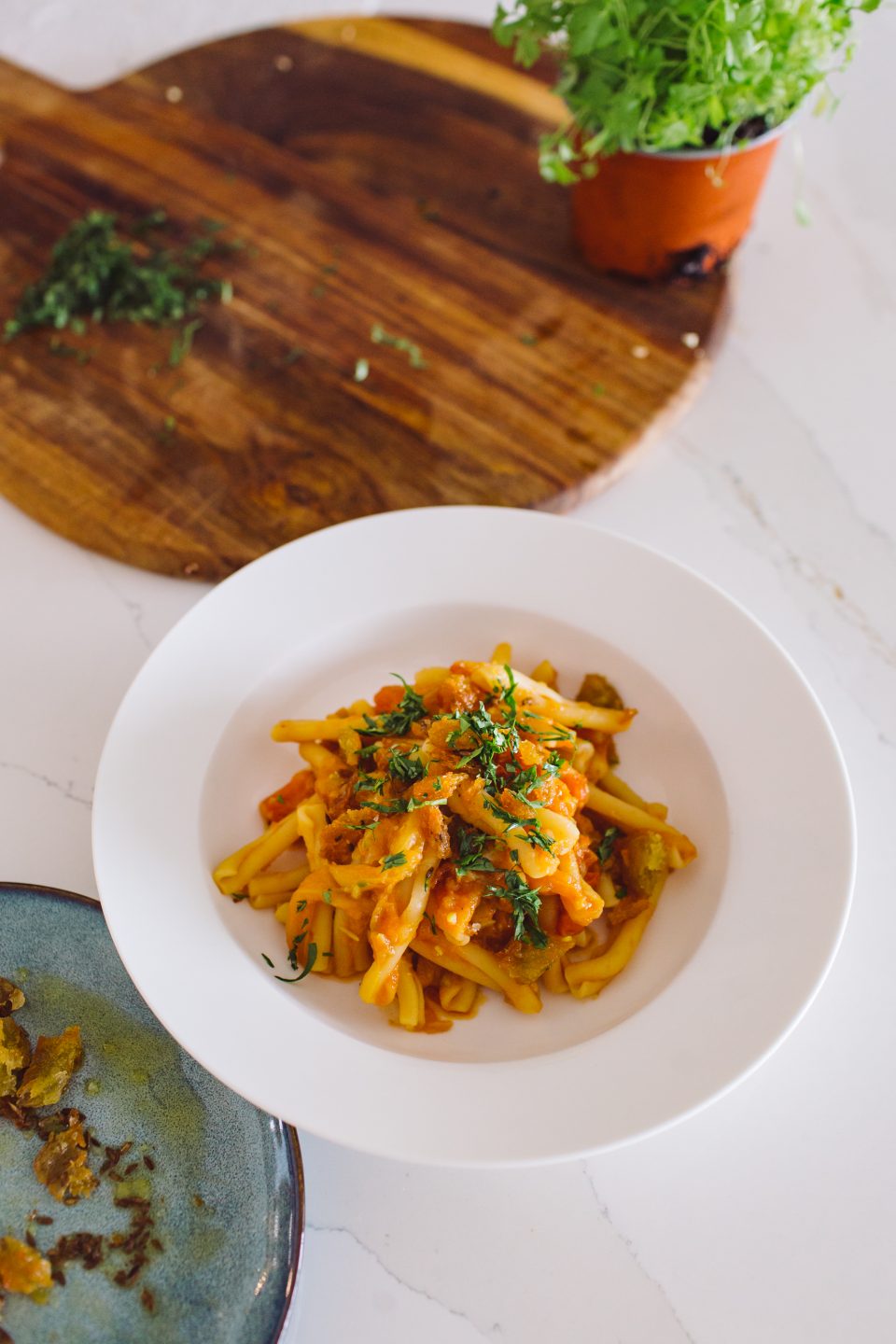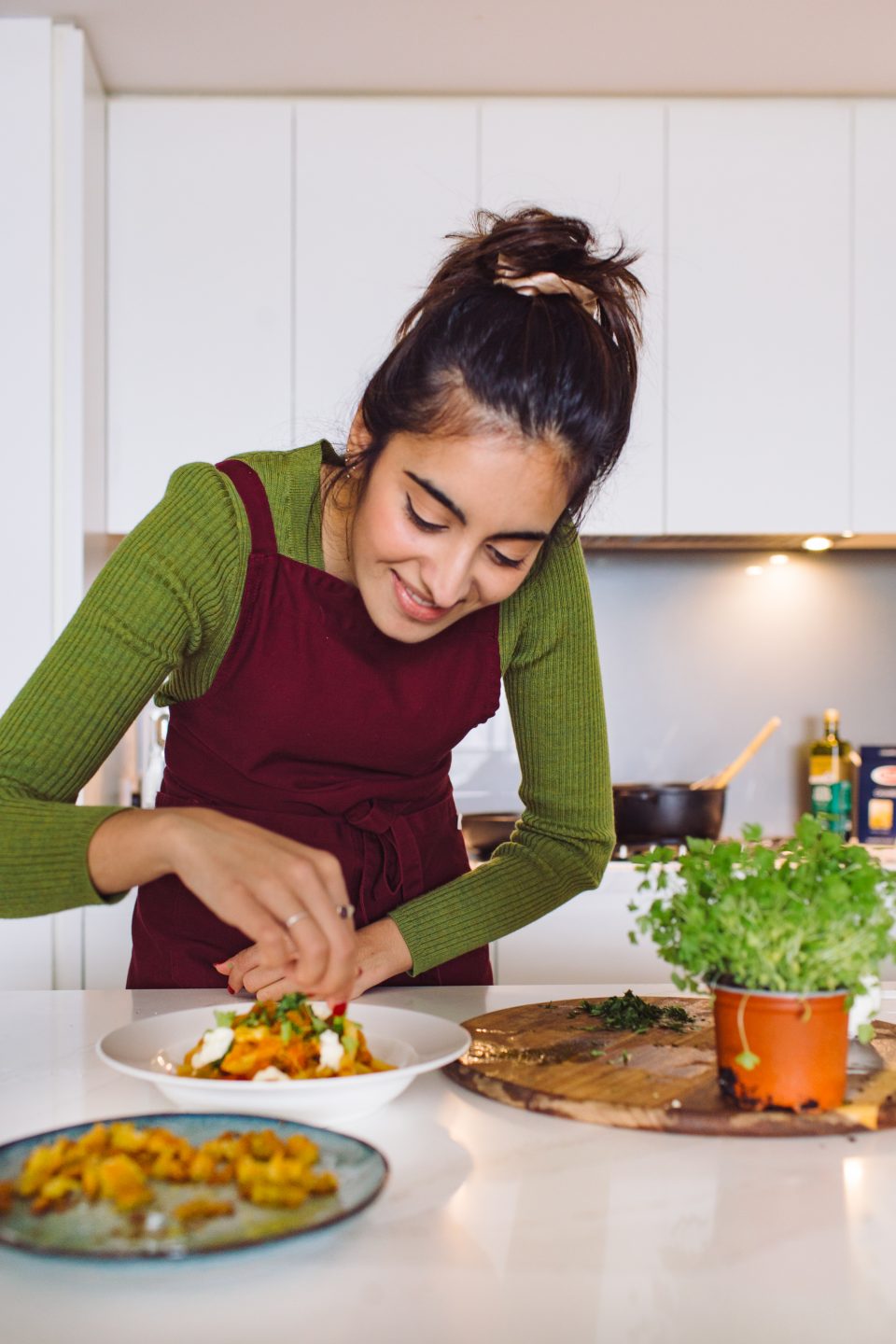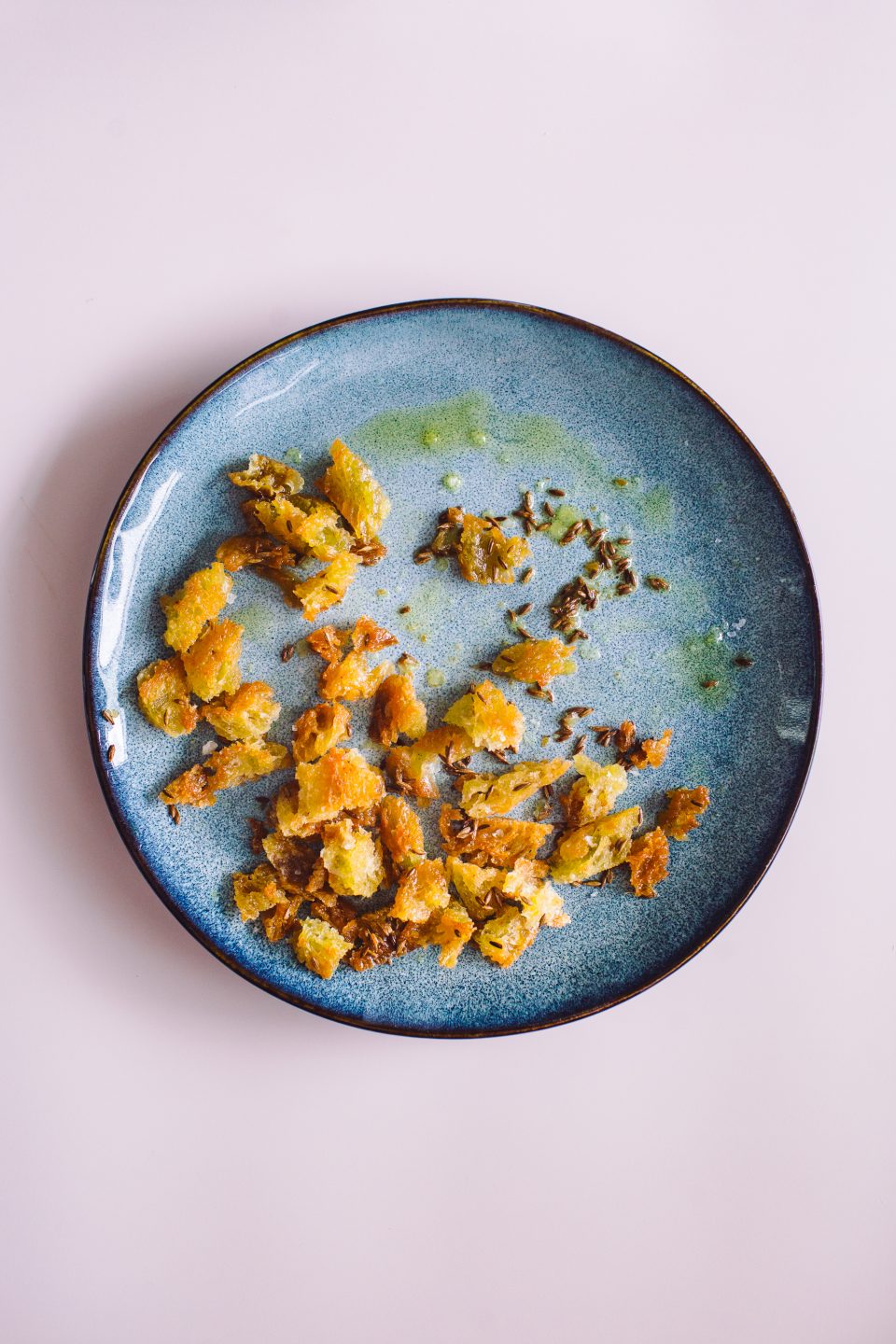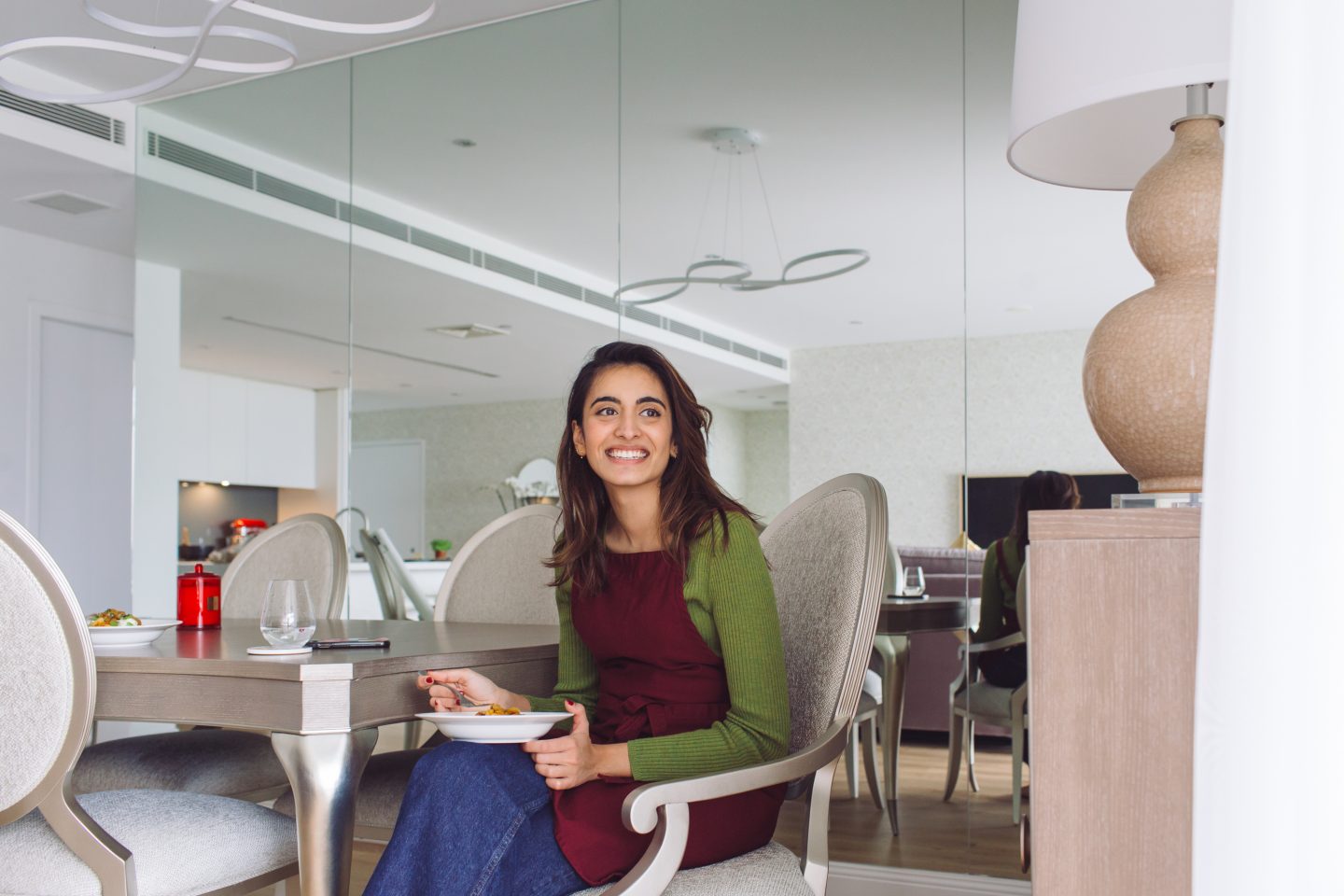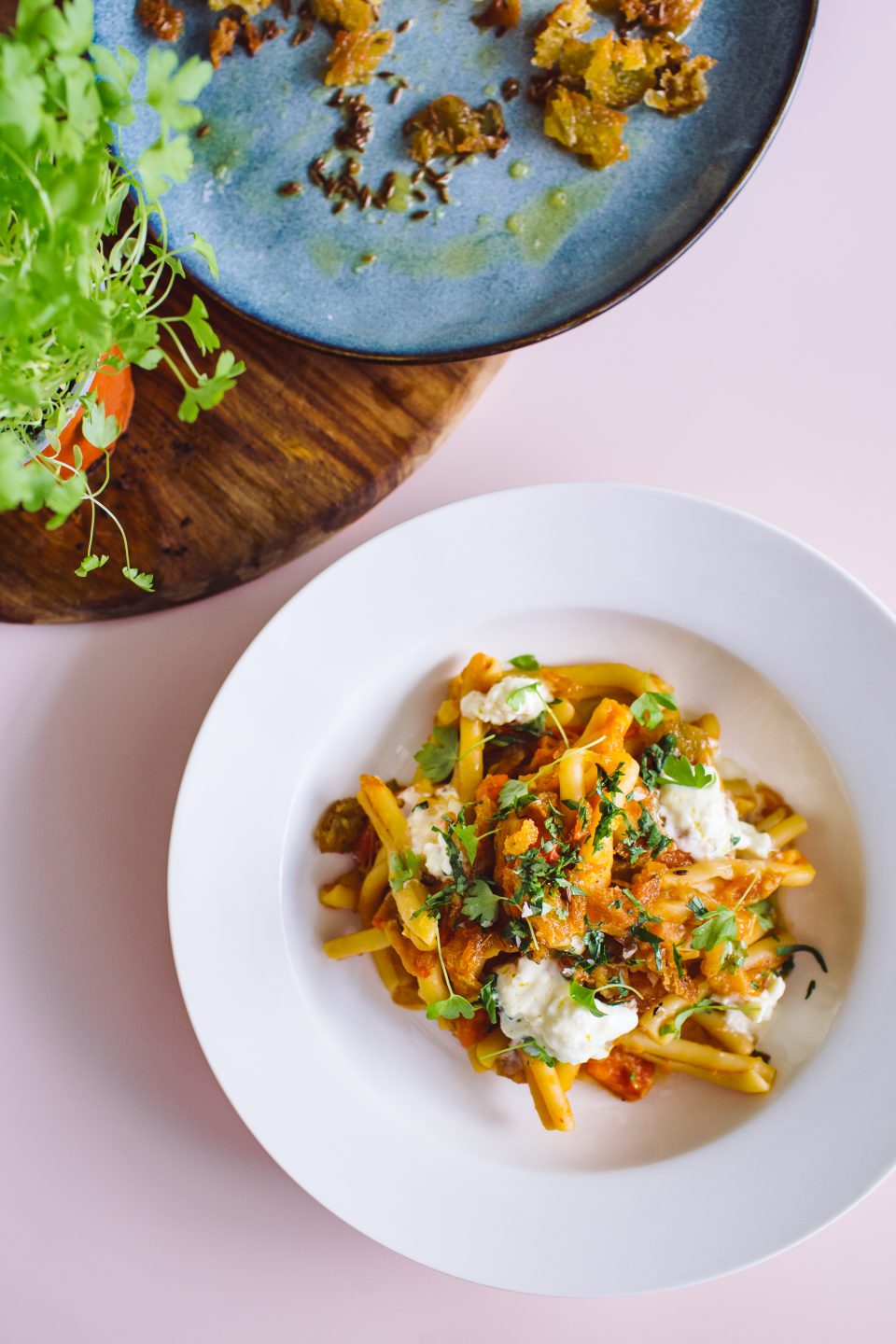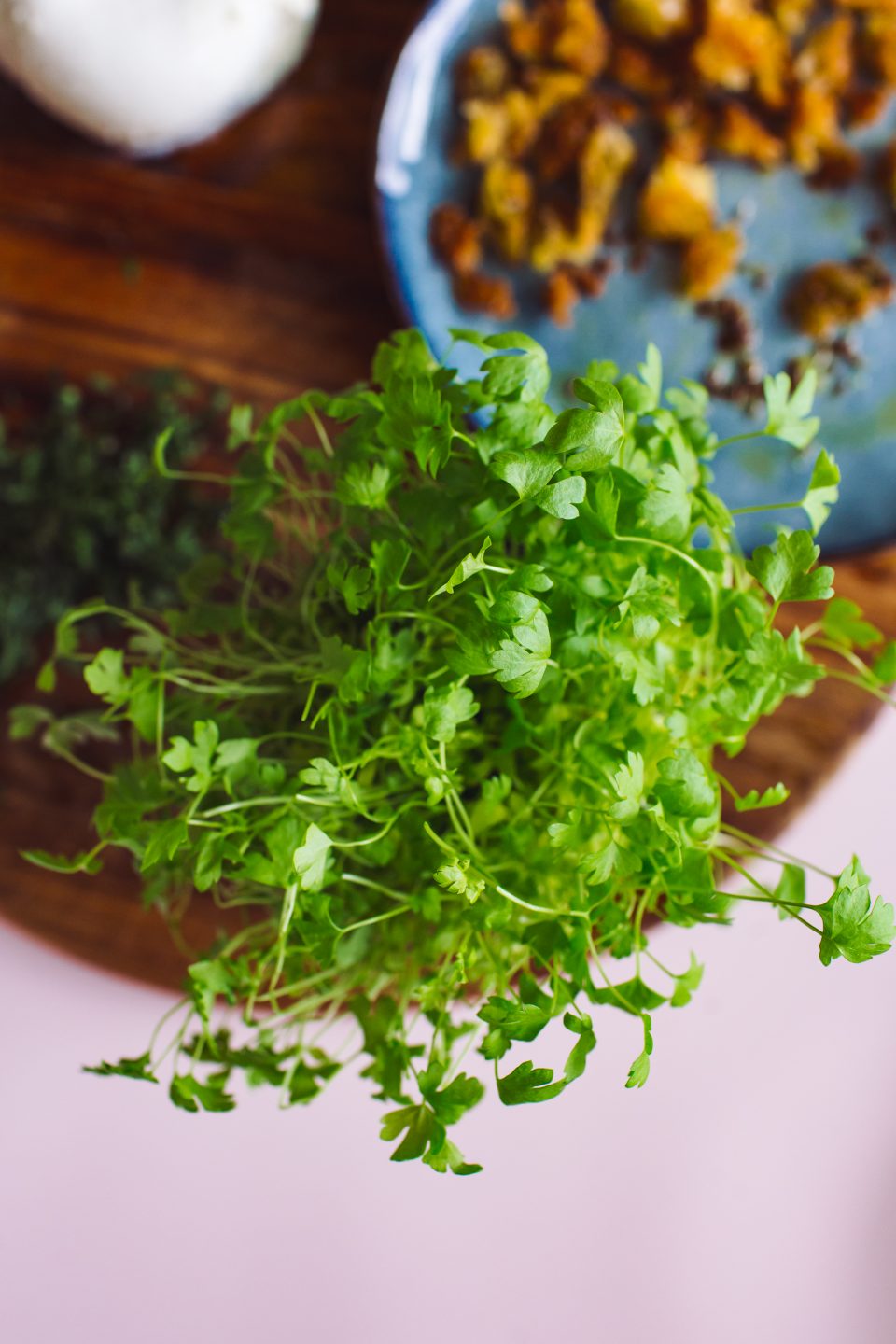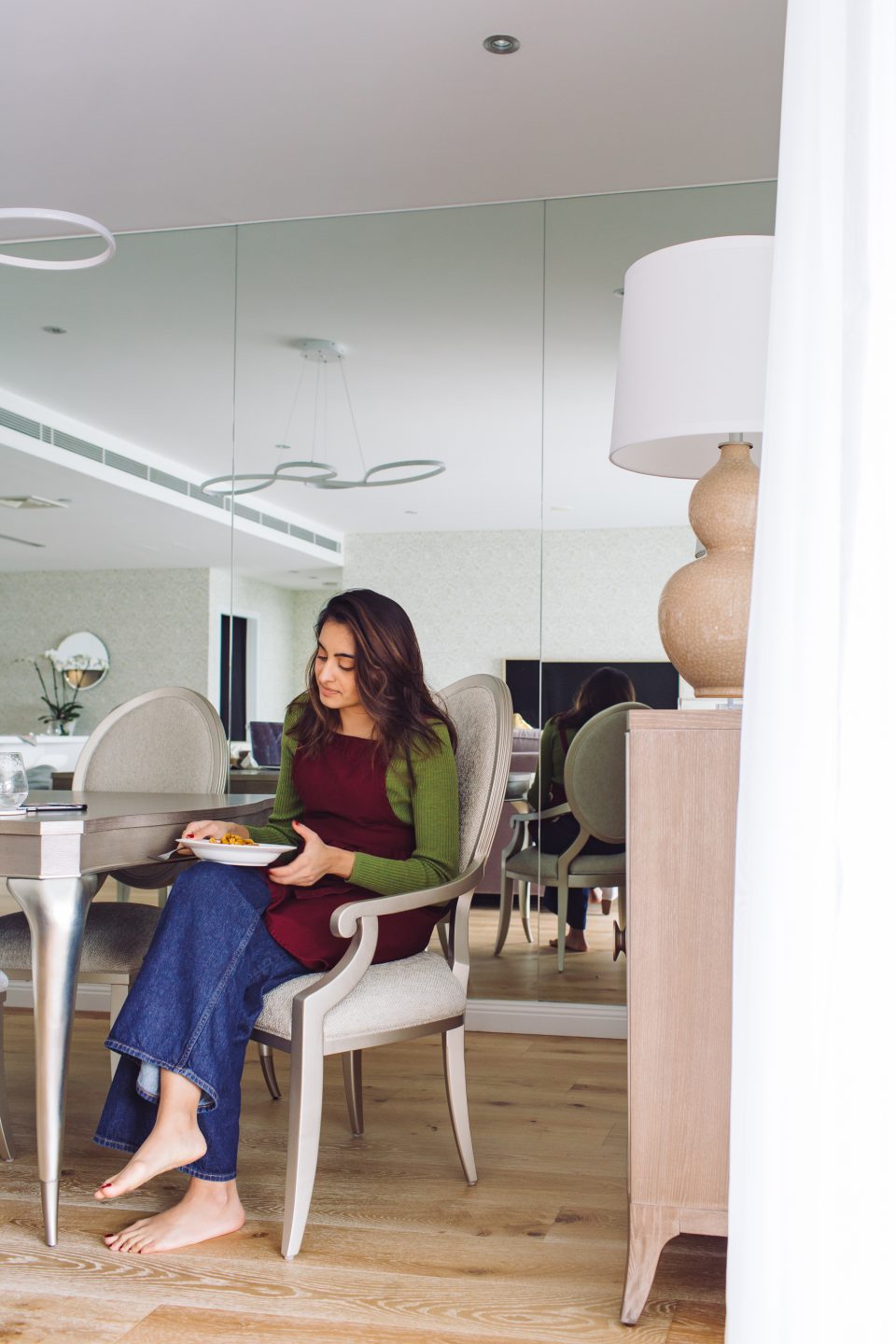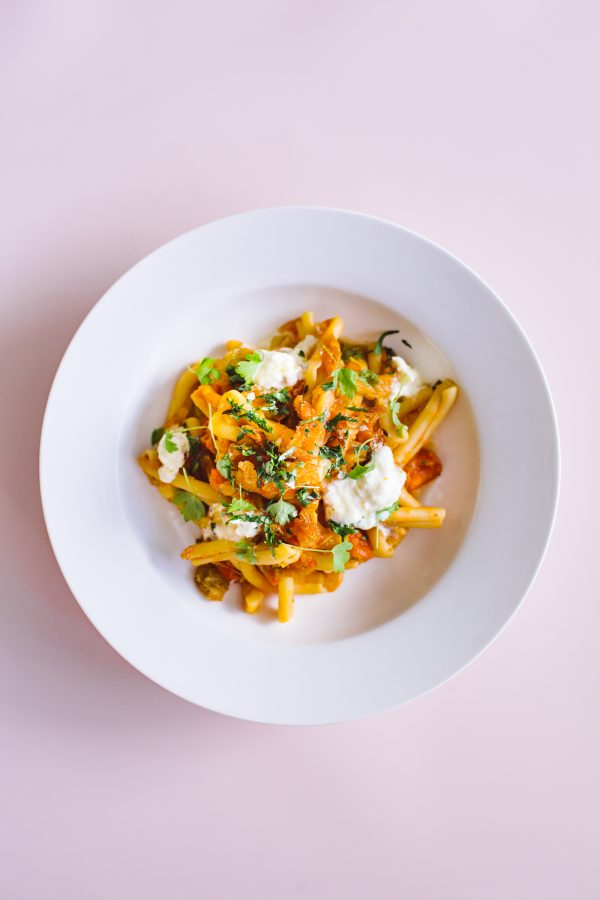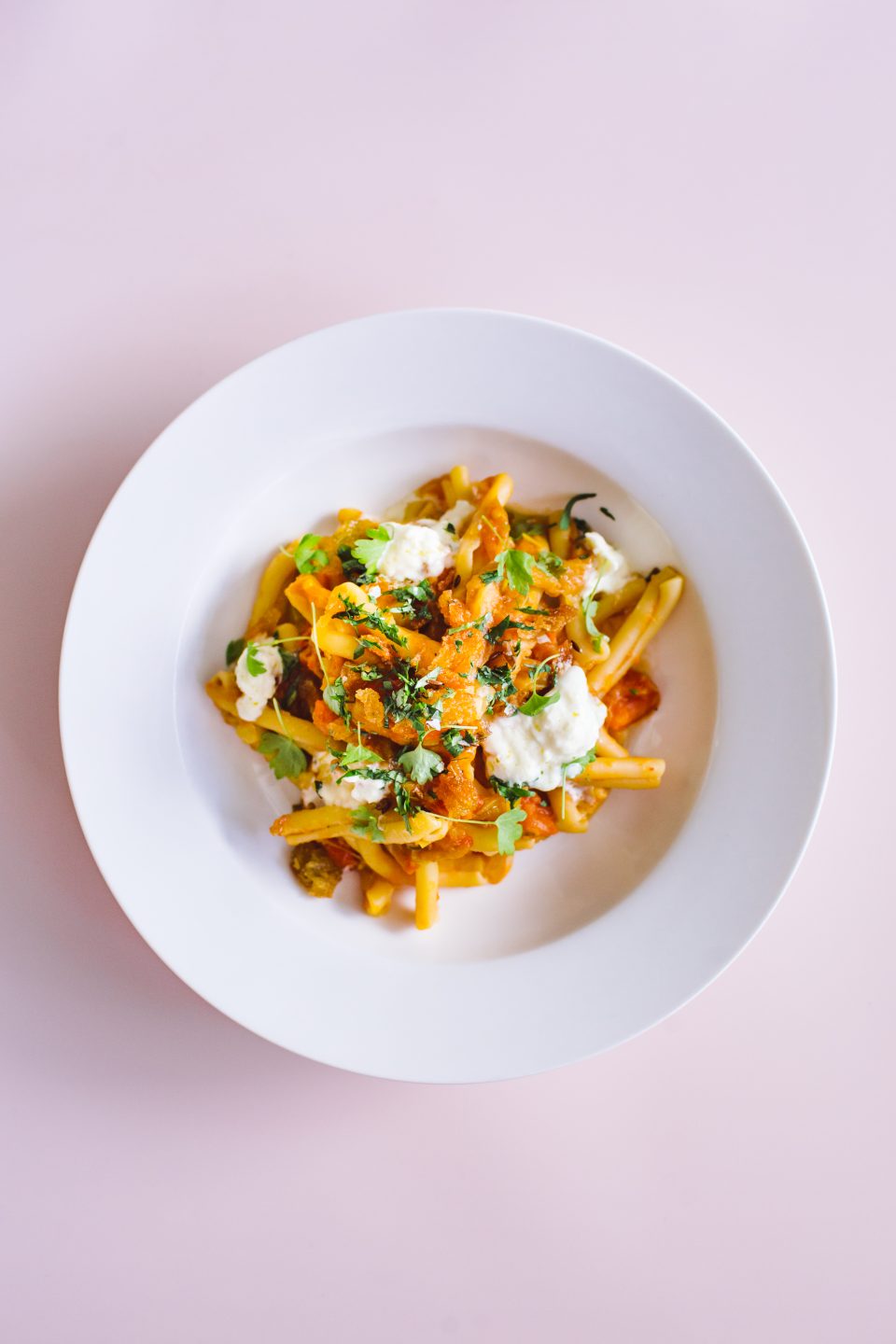 Baingain Bharta Pasta
Prep time: | Cook time: | Serves 4-5
2 large eggplants
1 brown onion finely diced
2 cloves of garlic finely chopped
2-3 ripe medium-sized tomatoes finely diced
1/2 can Italian chopped tomatoes
1/2 tsp Chilli powder
1/2 tsp Cumin powder
1/2 tsp Cumin seeds
1/2 tsp Turmeric
1 long green chilli, finely chopped
1 tsp freshly grated ginger
Flaky salt
Good quality extra virgin olive oil
200g Sourdough bread pulled into bitesize
Casarecce pasta
1 bunch coriander + micro herb of your choice
Burrata cheese
There's three parts to this dish. The pasta, the 'sauce' which draws flavours from a classic South Asian dish called Baingain ka Bharta (a roasted, spiced eggplant mash of sorts) and the garnishes: a Turka Pangrattato (turka = the tempering of oil and spice that finishes a lot of daals and curries. Pangrattato = breadcrumbs/croutons), Burrata cheese and herbs. Essentially, it's a Pakistani twist on Pasta alla Norma.
Char the eggplant on a gas stove until blackened. Do this by prepping the area first: lay foil down (around the burner) and plating a rack over the fire, to help with a) the clean-up and b) evenly charring the eggplant.

 

Place blackened eggplant in a heatproof bowl and cover with cling. This will allow the skin to 'sweat' off and reveal luscious eggplant innards.

 

Sauté your onion, ginger, garlic and spices until golden, add in the eggplant, tomatoes (fresh and crushed) and chillies.

 

Let it simmer down and reduce for 20-30mins, you'll end up with a rich sauce/bharta.
While the sauce is simmering, cook the pasta then drain. Keeping a little bit of the pasta water aside.
To prepare the Turka Pangrattato, heat up some extra virgin olive oil and cumin seed on the frying pan on low-medium heat until fragrant then add in the pulled sourdough. Fry until crispy.
Toss the cooked pasta into the sauce and add 1-2 spoonful of the pasta water to create a slight creaminess texture.
Garnish with the turka pangratatto, burrata and herbs.