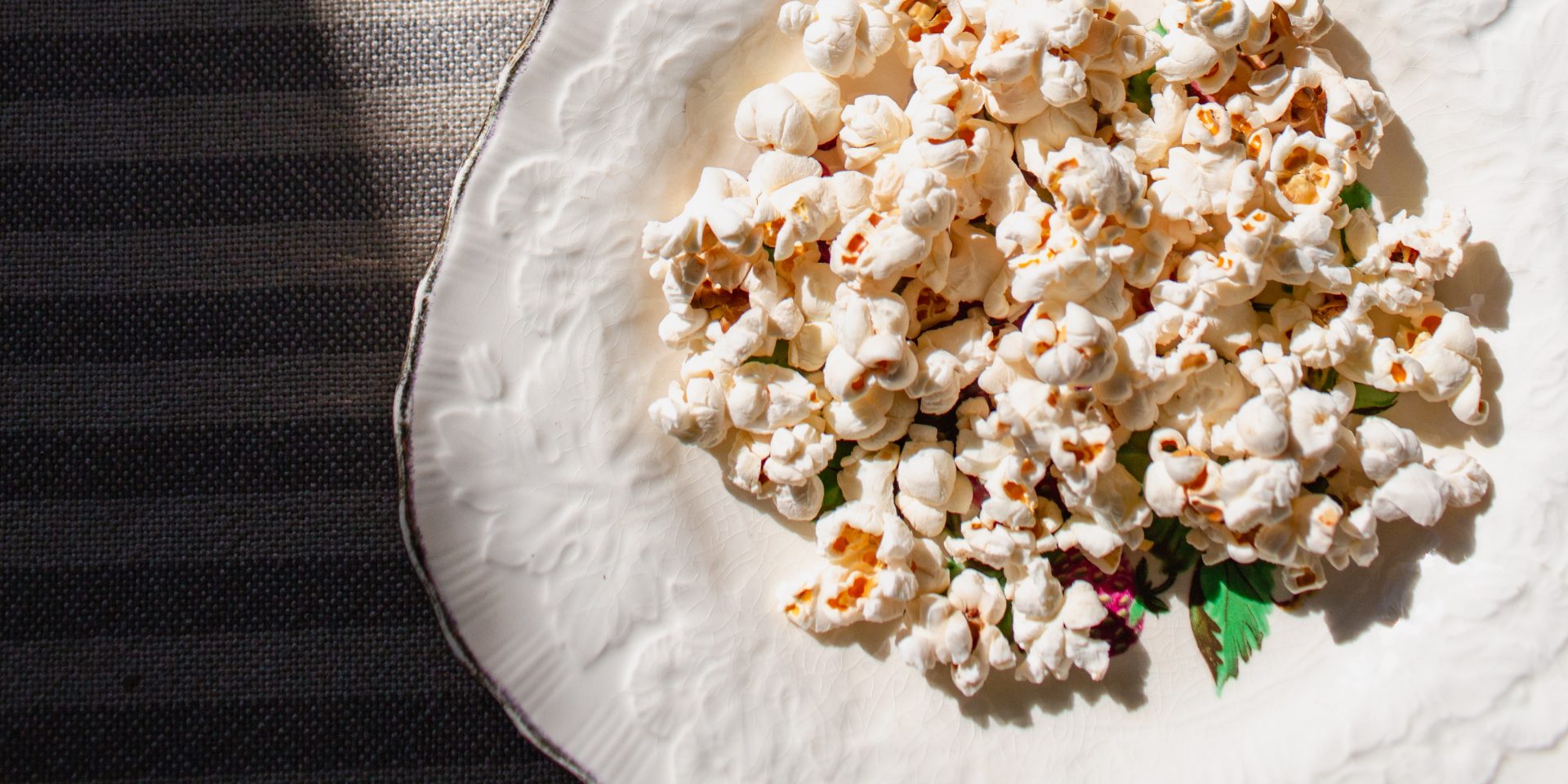 For those of you who love gardening, you'd be delighted when you step into Laurie's backyard that's filled with wonderful varieties of edible plants, herbs and fruit trees – complete with her beautiful chooks. On my visit, Laurie was super excited to show me her newly blossomed banana tree and babaco (champagne fruit). I got to see fresh sea samphire for the first time (only seen the pickled version in a jar), run my fingers through the sweet smelling passionfruit marigold tree and carefully touched the spikes on the naranjilla plant.
The recipe Laurie shares here is her Berries Fruit Leathers, a home made healthy sweet that is much loved by her family and perfect for any picnic and school lunches. There were a few keriberries left on her tree and we picked some to go into the mixture with the raspberries.
"Homemade fruit leathers are a great way to use up excesses or fruit that's past its prime. This recipe is easy to make at home with kids, is a popular lunch box snack & only includes four natural ingredients. My family likes the combination of raspberries and banana, but any combination of fruit can be used (apple & cinnamon, cherry & cranberry or mango & pineapple are also delicious). If you don't own a dehydrator these can also be made in the oven, though drying times may vary."
Laurie Green is a Sydney based permaculture designer and founder of Crop Swap Australia which facilitates the swapping of homegrown produce, seeds and plants through local, cashless markets. These groups have proven to successfully build local community, increase awareness around sustainable living practices, reduce food waste & help people to eat better for less. The initiative currently operates over 30 national groups with an additional one in Vancouver Canada, and has an audience of over 50k. These days Laurie channels her creativity into community food projects, urban permaculture, low waste living, organics & into her writing for The Sustainable Living Magazine.
Family origin
A small valley in France
I can't live without
My family, community, sunshine & nature
Occupation
Permaculture Designer
Dream Job
It's taken years to get here but I love my current work as a permaculture designer/ consultant & the myriad of projects I get to work on as part of my business.
Currently I'm obsessed with
The book 'How I can use herbs in my daily life' by Isabell Shipard.
Childhood taste
Passionfruit. Eaten straight off the vine at home, often picked prematurely with a healthy dose of childhood impatience, almost certainly barefooted with sticky juice running down my forearms. I hope my kids have similar memories of our garden.
I will always have in my pantry
I hope our pantry is never without honey. We use it for lots of different purposes; as a substitute for sugar in baking, in herbal tea & the higher UMF manuka & native varieties are very useful as medicine. I prefer raw local honey, much of which is swapped, as this can help to build an immunity towards pollen allergies.
I learnt to cook from
I'm still learning! I'm really interested in the idea of food as medicine so try to create and plan meals using this approach. By cooking diversely, with an aim to include 30 different fruits, vegetables, herbs, nuts or seeds in our weekly diet, this should have a beneficial impact on our guts and therefore our overall health.
Currently I'm listening to
Gretta Ray's cover of Billy Joel's 1977 classic 'Vienna' & Charlie Arnott's 'The Regenerative Journey' podcast.
One day I must visit
One of the oldest food forests in the world planted by Robert and Robyn Guyton 29 years ago in NZ
Go to meal
A simple laksa made with bone broth, topped with lots of seasonal herbs from the garden such as mint, self heal, coriander, sorrel, lemon balm & perennial basil, plus crispy fried shallots.
I am really good at
Interpreting the factors that influence a site, visualising how that place could be more productive & then designing interlinking systems that form complex relationships to make it operate as simply, efficiently & practically as possible. When I visit a site for the first time I like to spend a few moments at the end of the visit pausing to appreciate it's features, it's at this time that the main elements come together to form the basis of the design for me.
The unforgettable meal
A traditional Lebanese banquet in Beirut while visiting expat friends living there. We ate, laughed and had the best time. Even today it feels like such a simple, authentic moment so far beyond my current day to day. In retrospect this meal was probably a once in a lifetime experience.
My piece of Sydney
is a suburban block that we have transformed into a permaculture farmette. It is our small slice of country living in the city & is jam packed with elements that you would typically find on a larger scale property, such as chooks, bees, guinea pigs, yabbies, composting & water saving systems, productive trees, a community herb garden & annual beds.
Favourite spice
I always enjoy people's surprise when they try a herb that resembles the taste of a different food. This is natures version of Heston Blumenthal! Olive herb or chocolate mint are particular favourites.
Best flavour combo
Poached eggs from our girls, served with sorrel, avocado, goats cheese, sumac & a squeeze of lemon on swapped sourdough bread (As above, the art of breadmaking is a work in progress!)
Guilty pleasure
Sunday afternoon in our outdoor bath with dark chocolate & a hot cup of homegrown herbal tea.
Who does the dishes
Not the cook!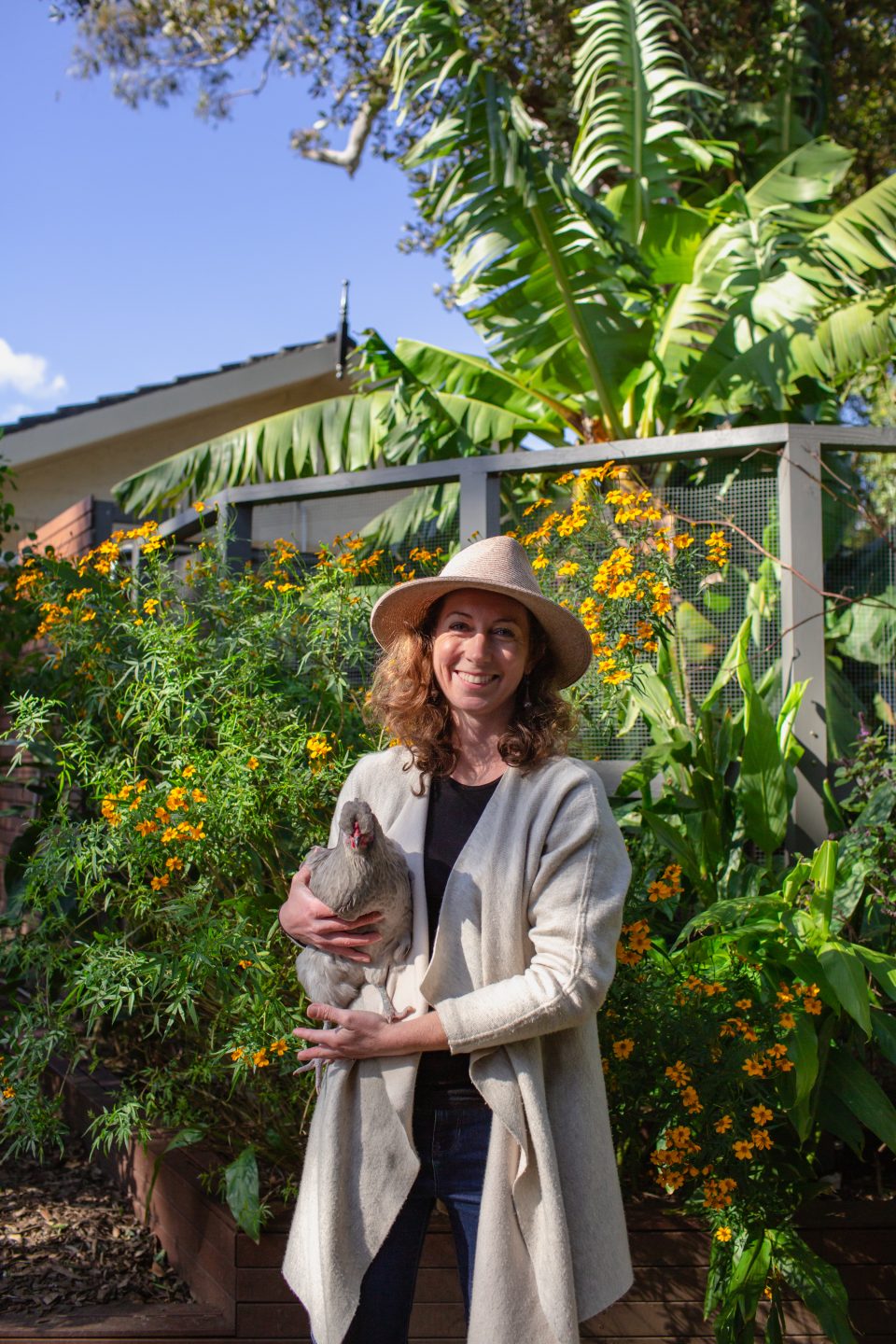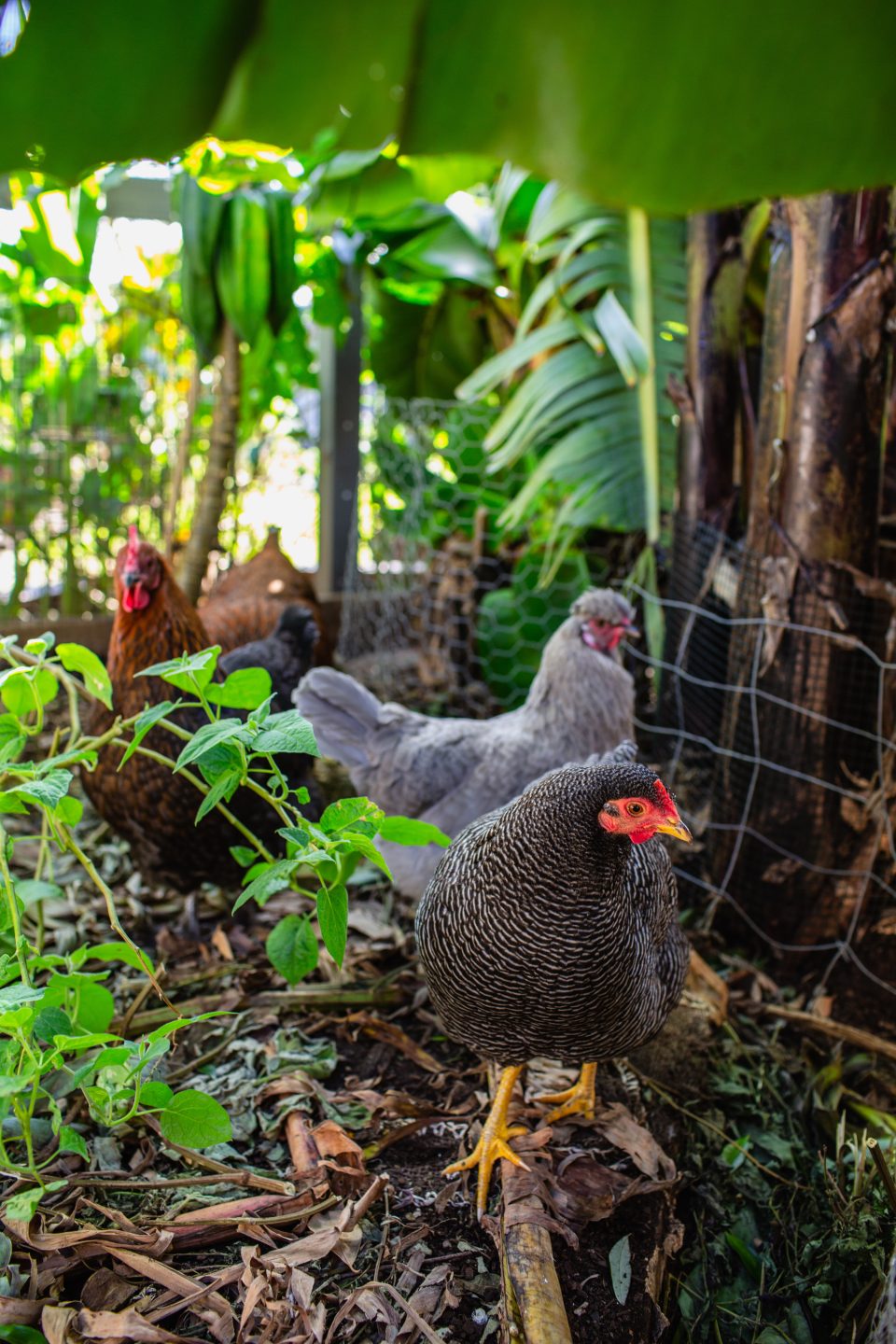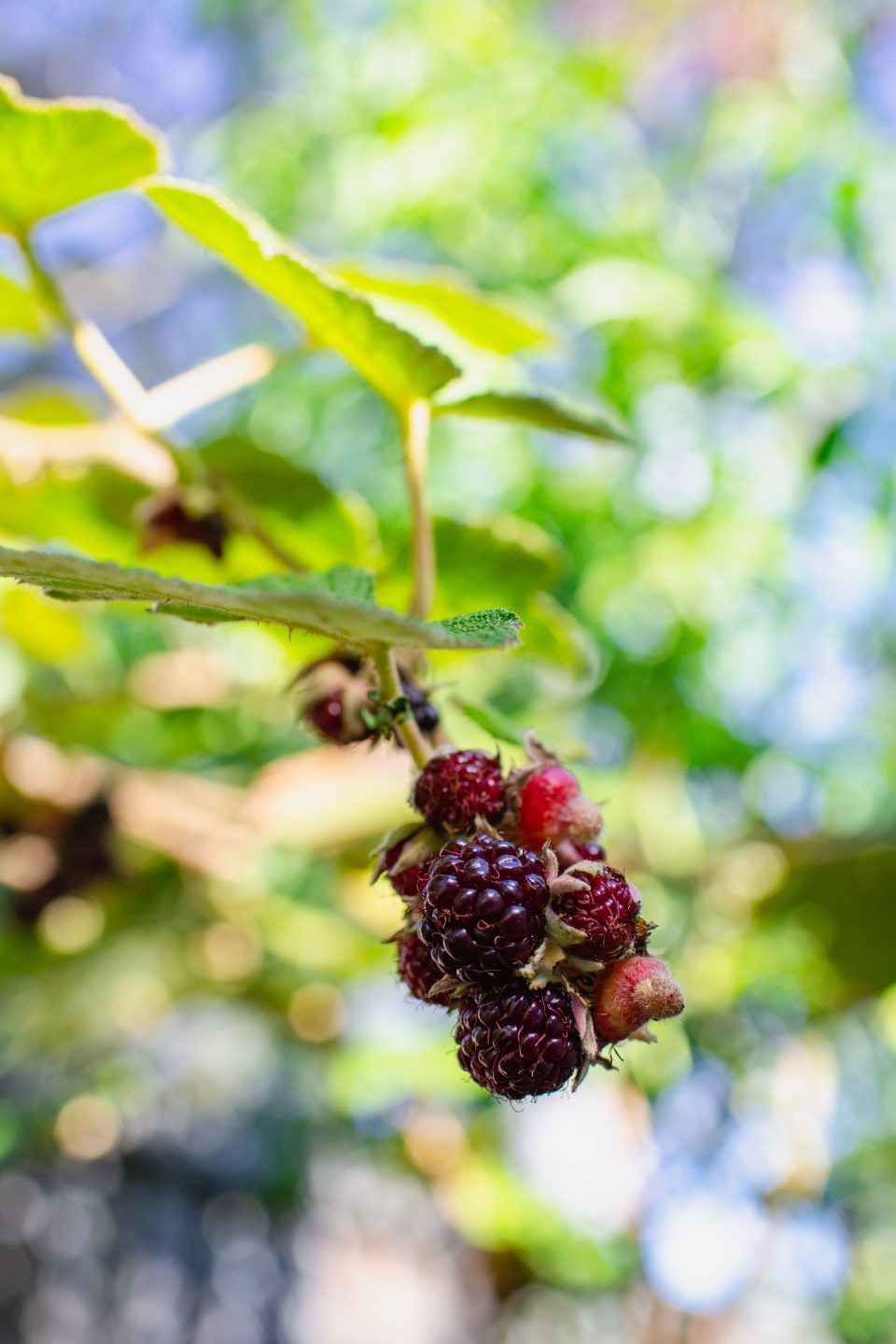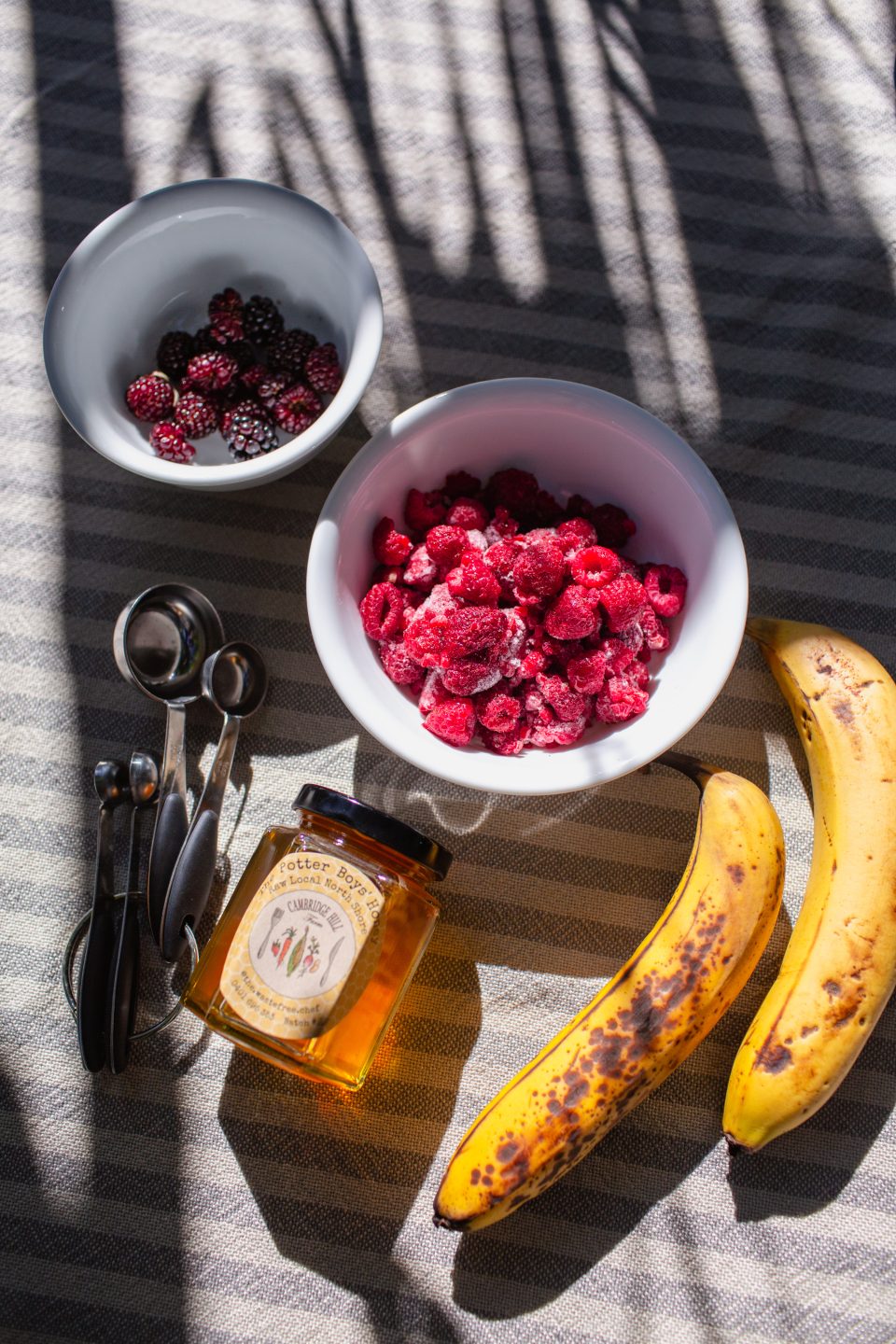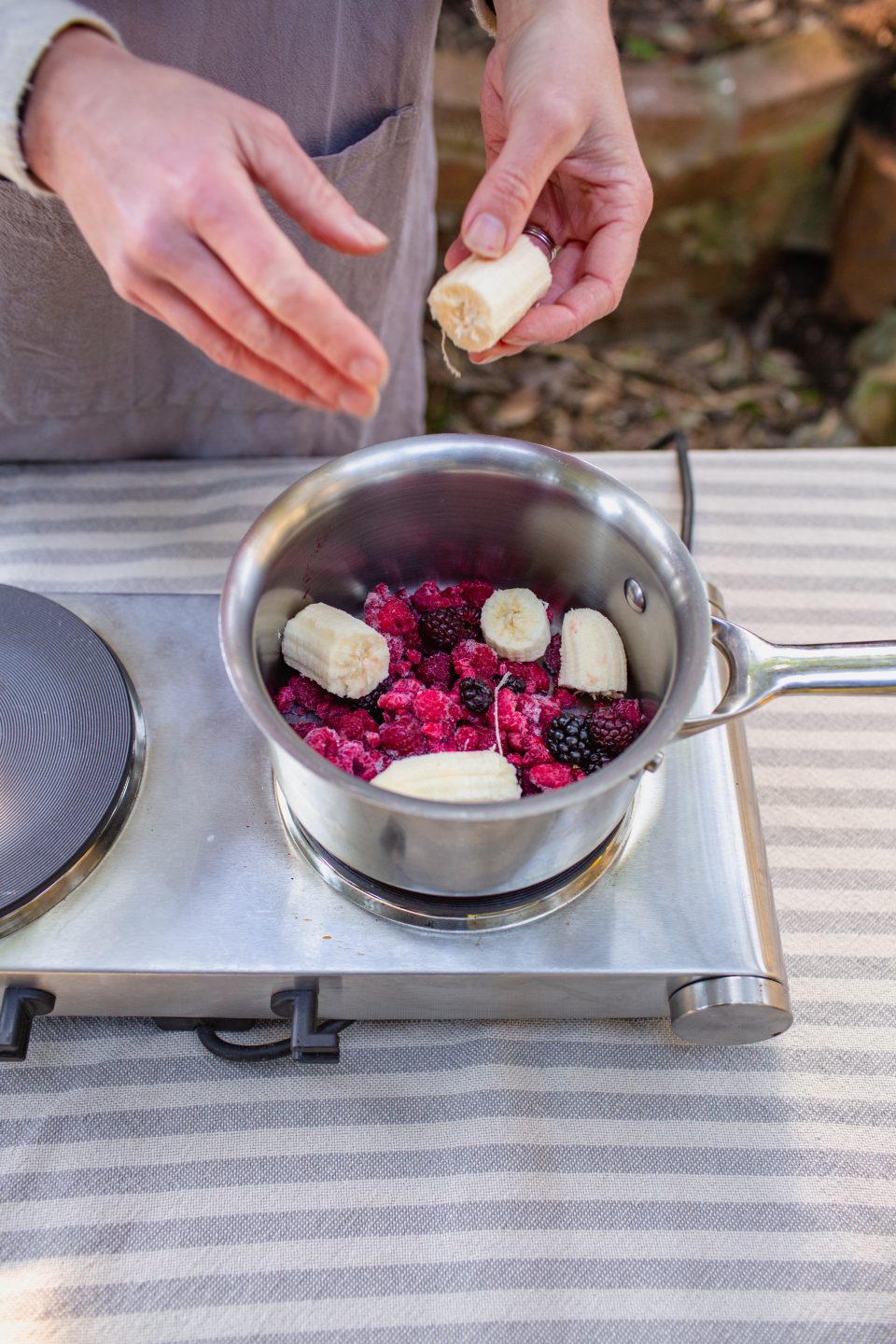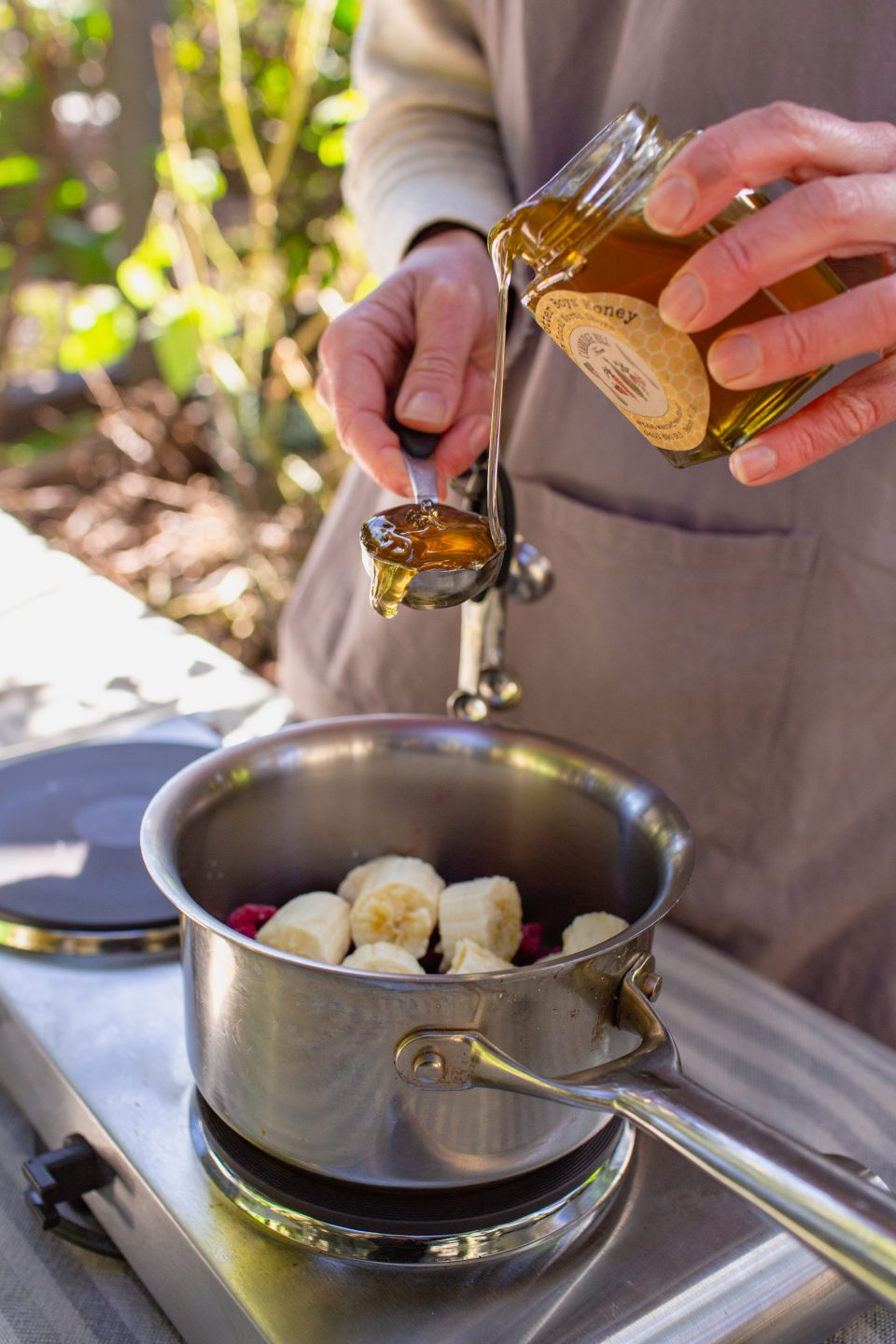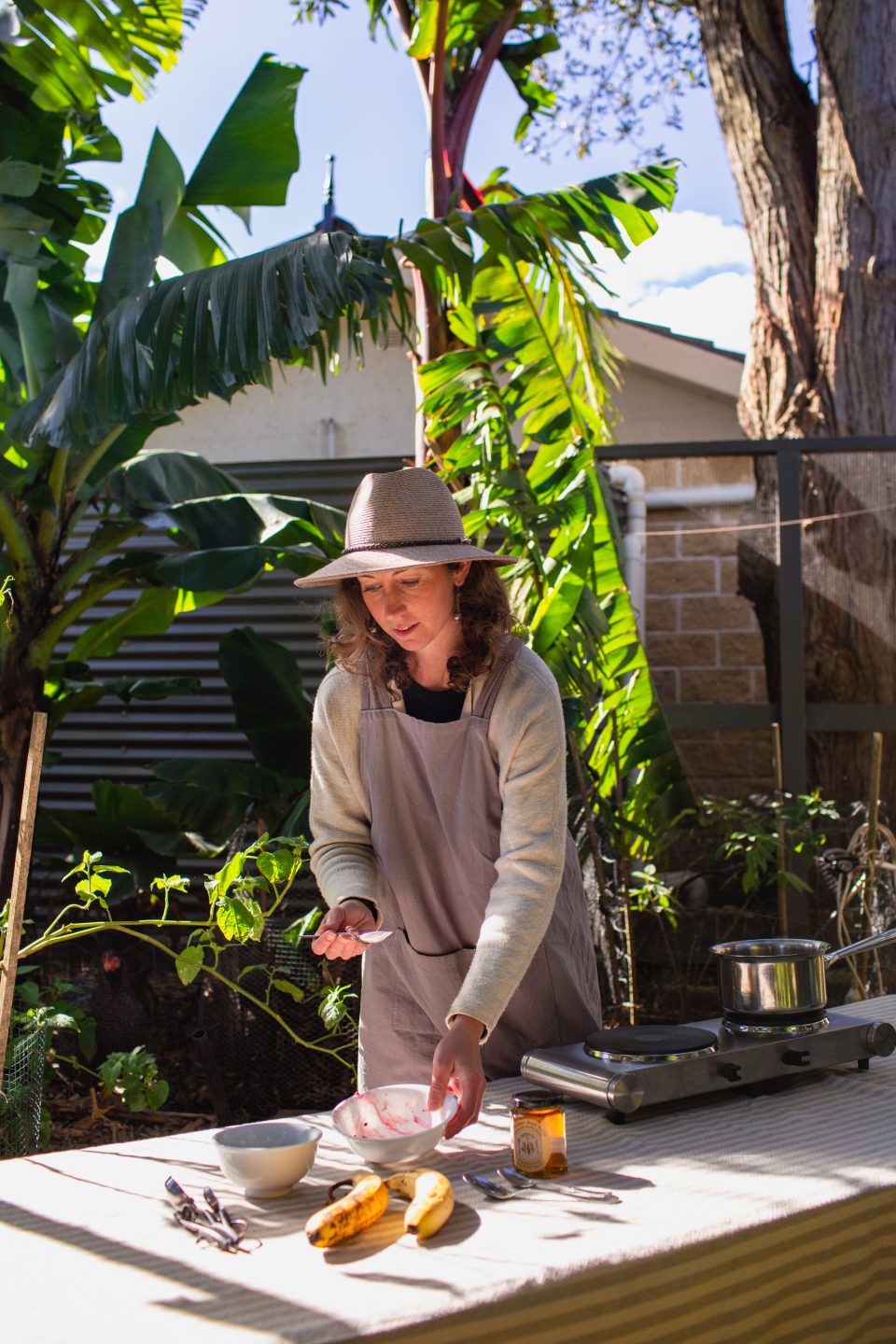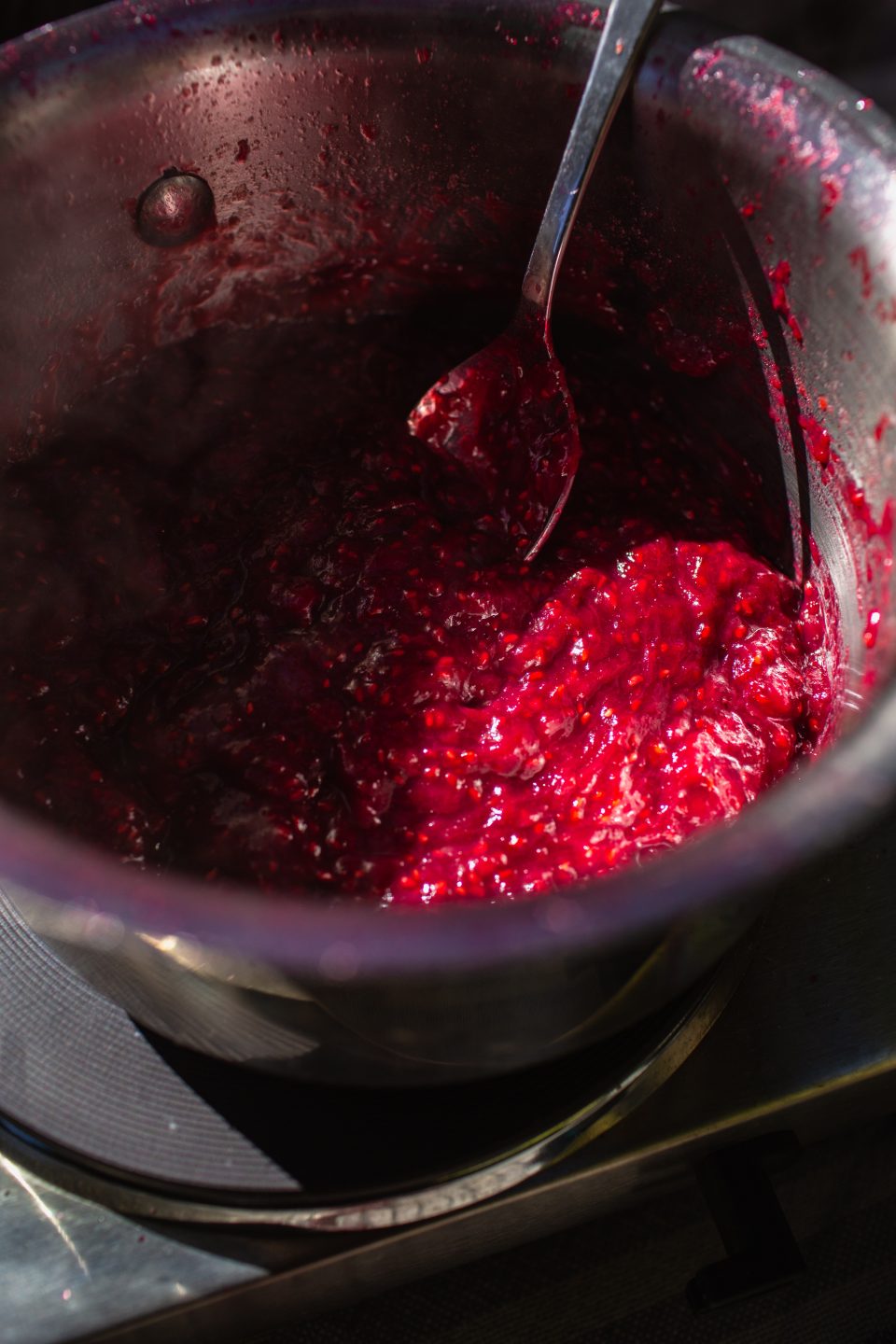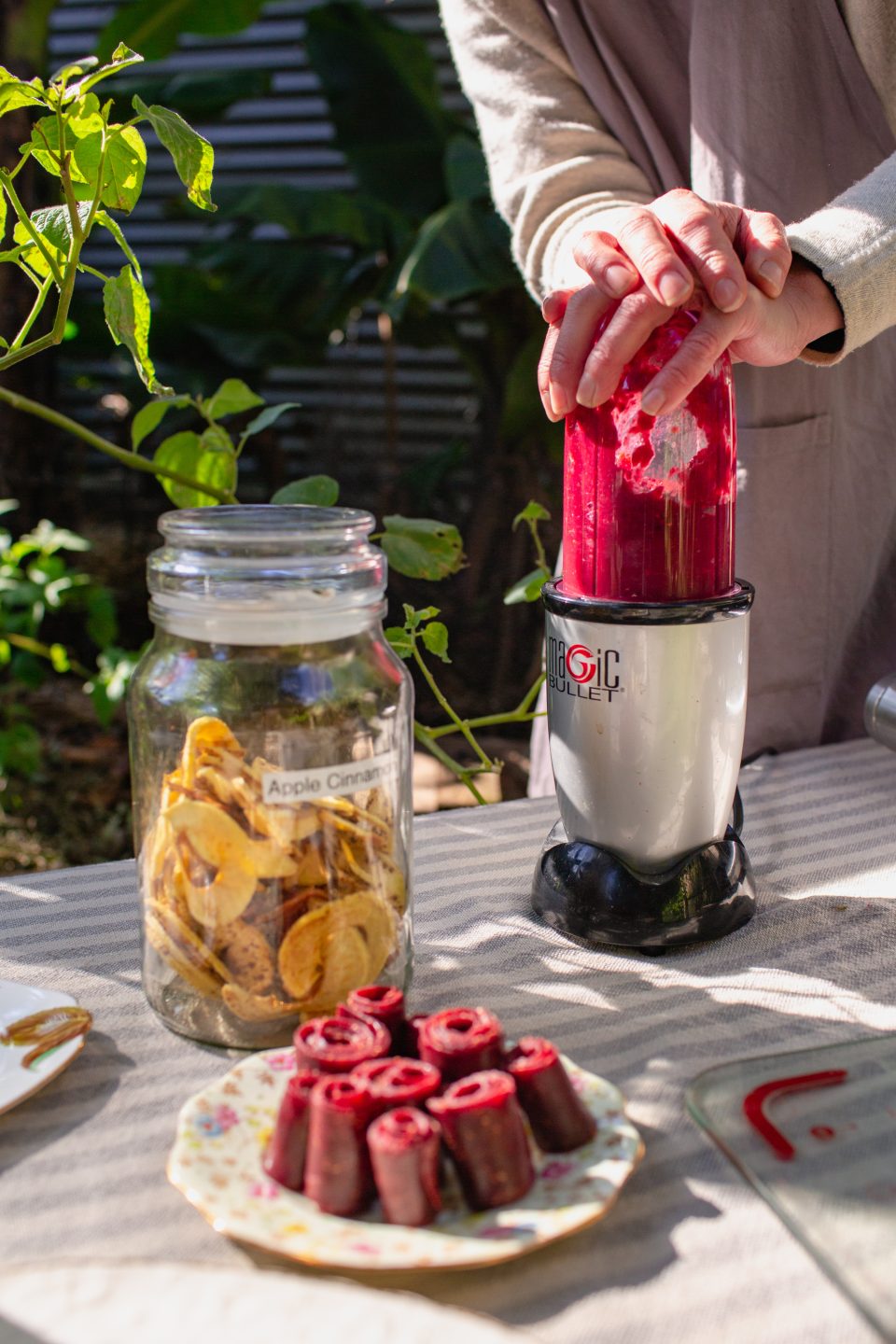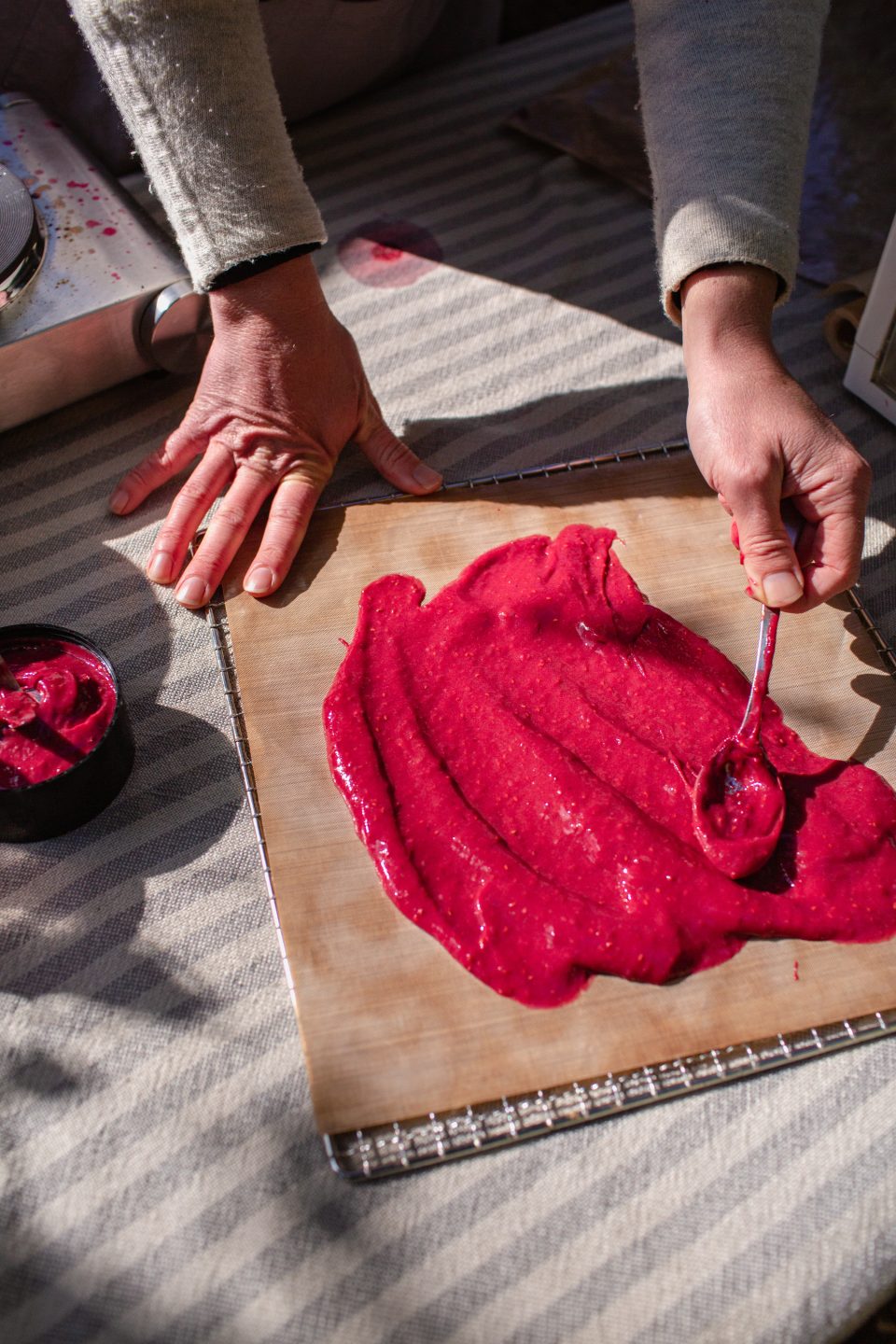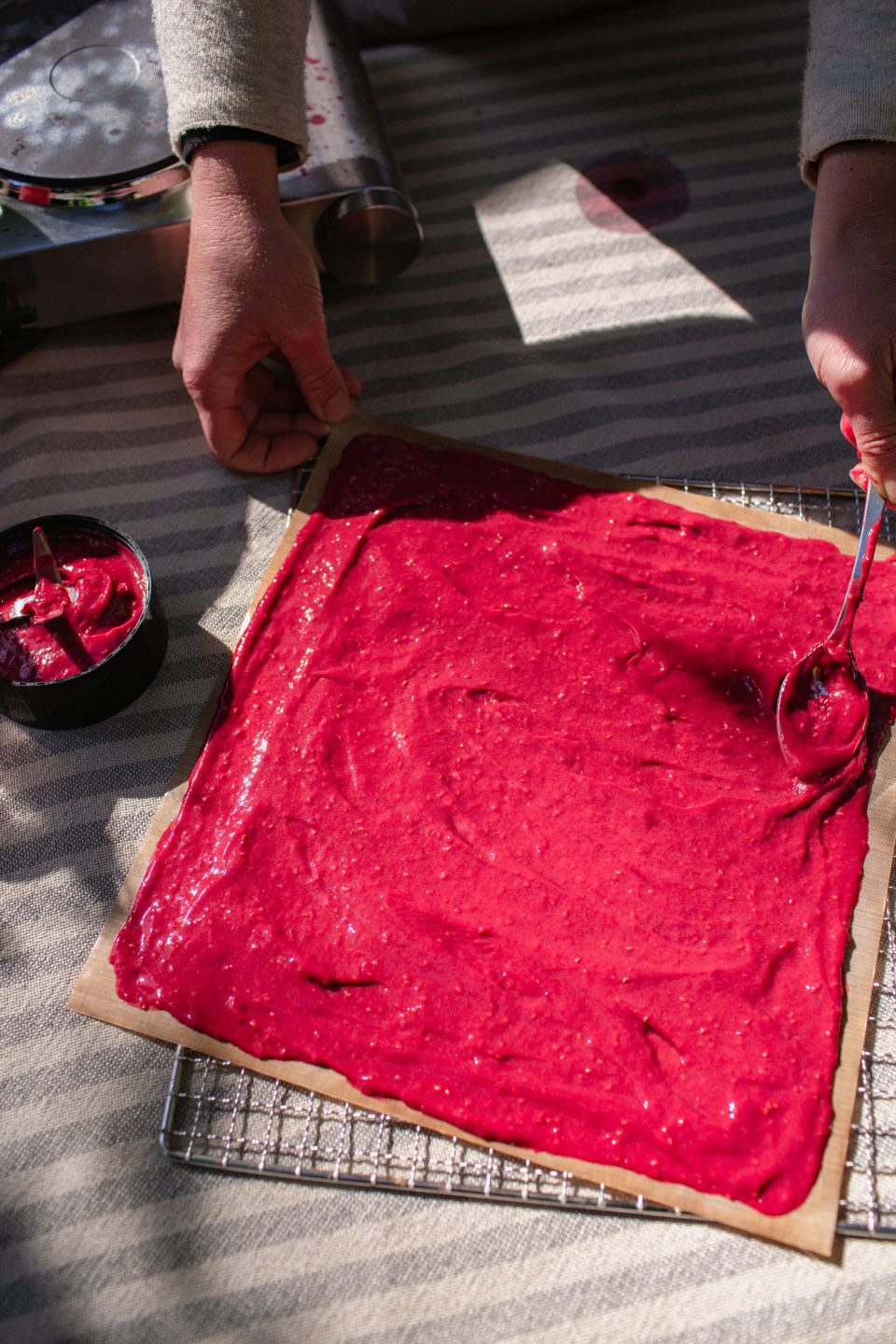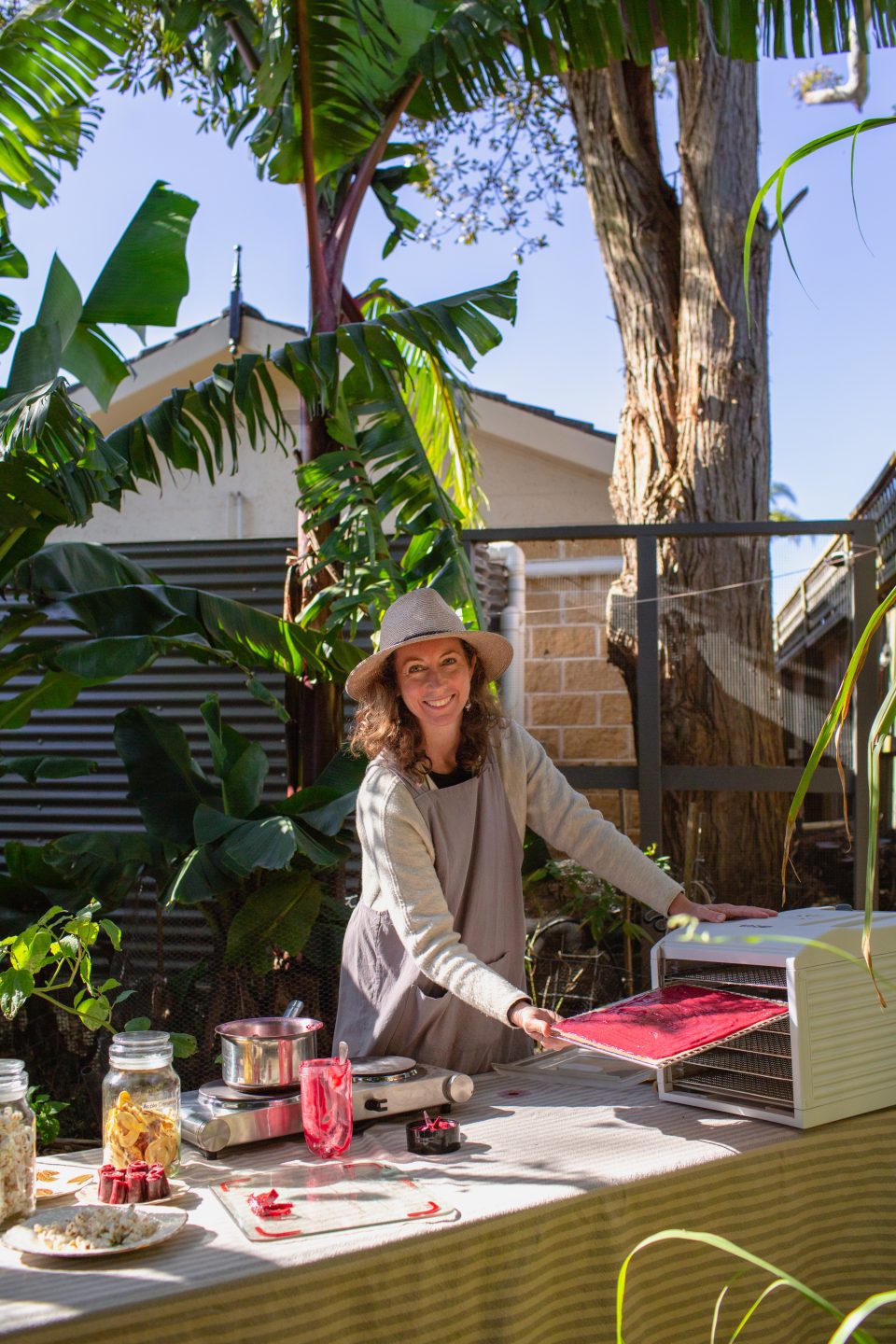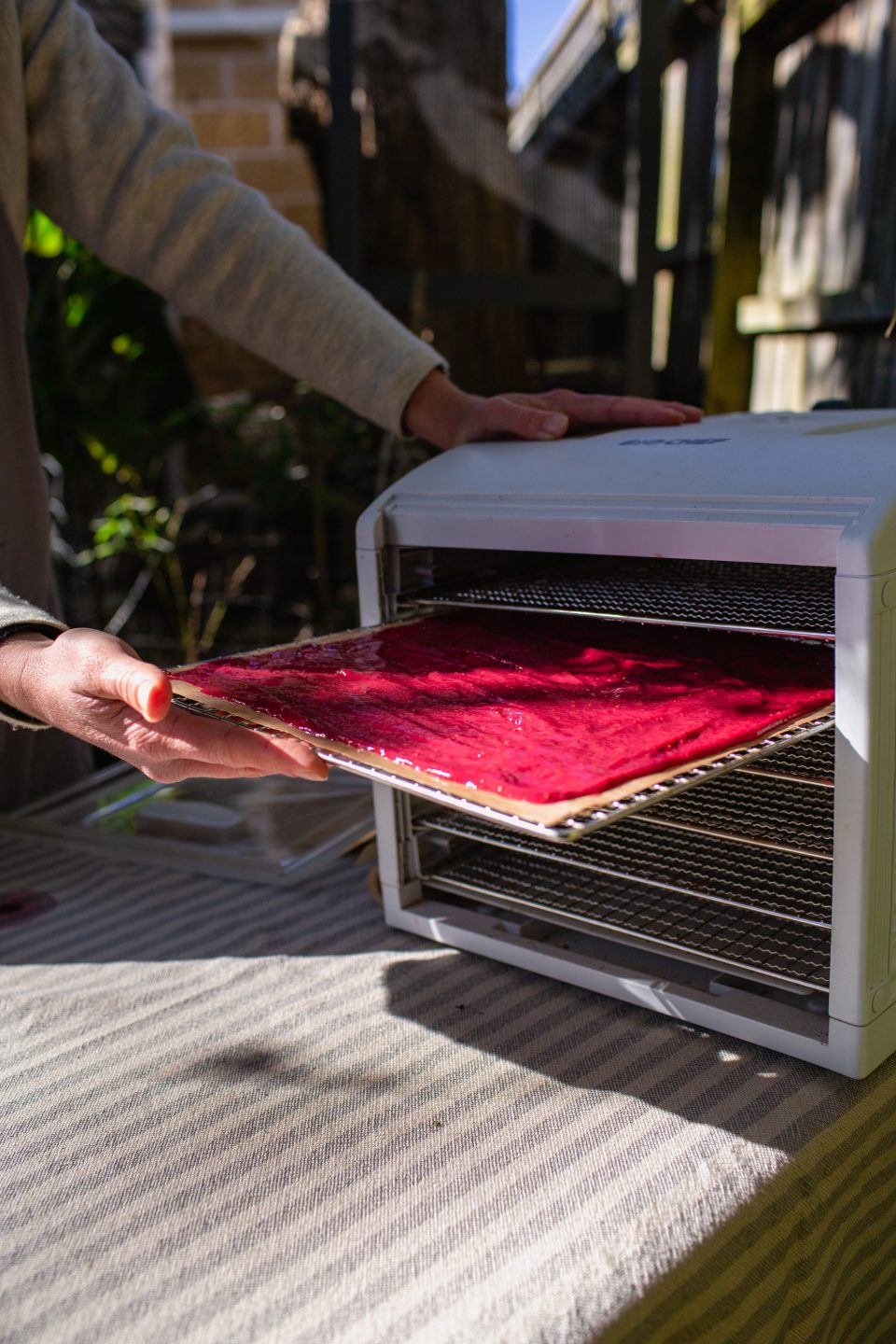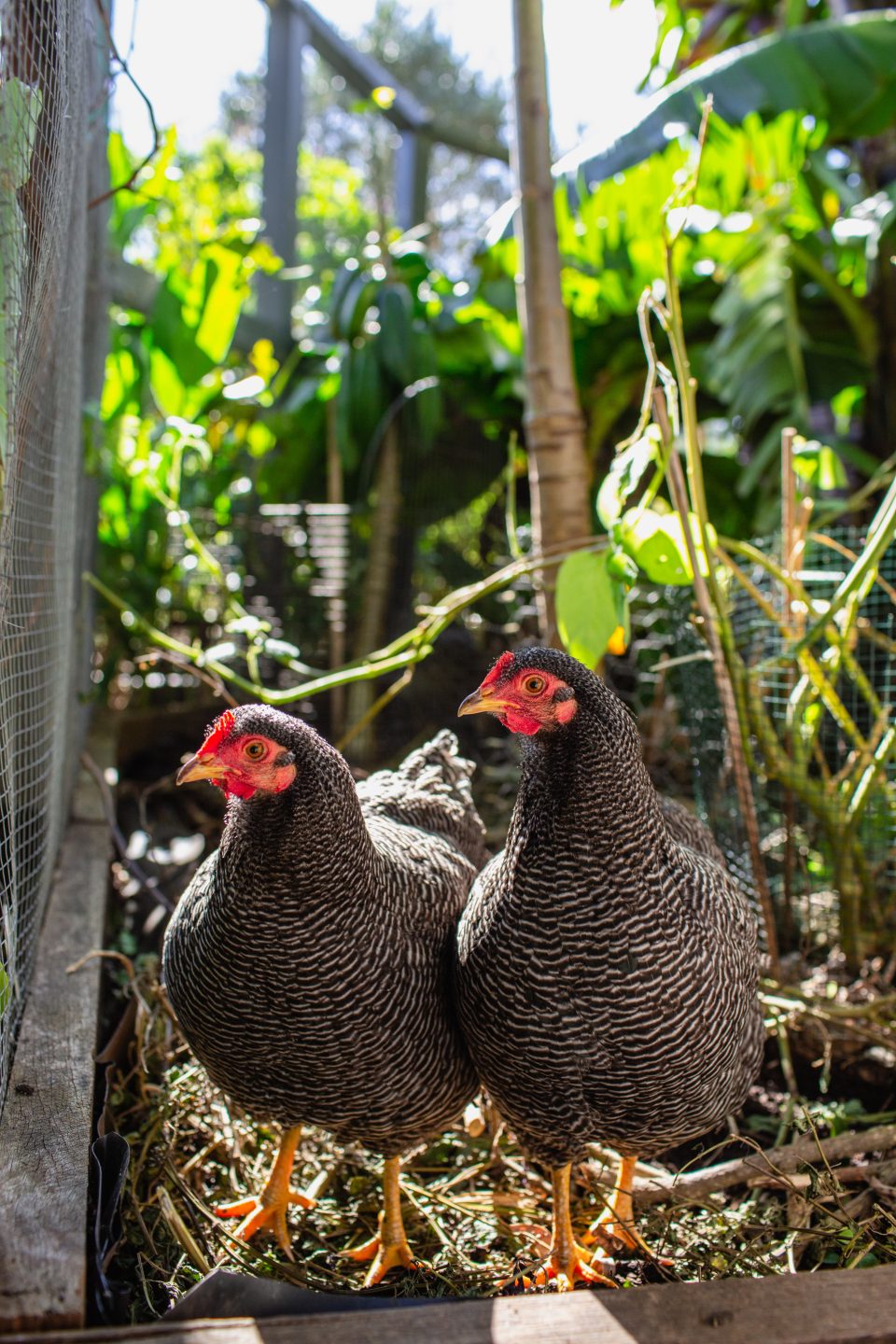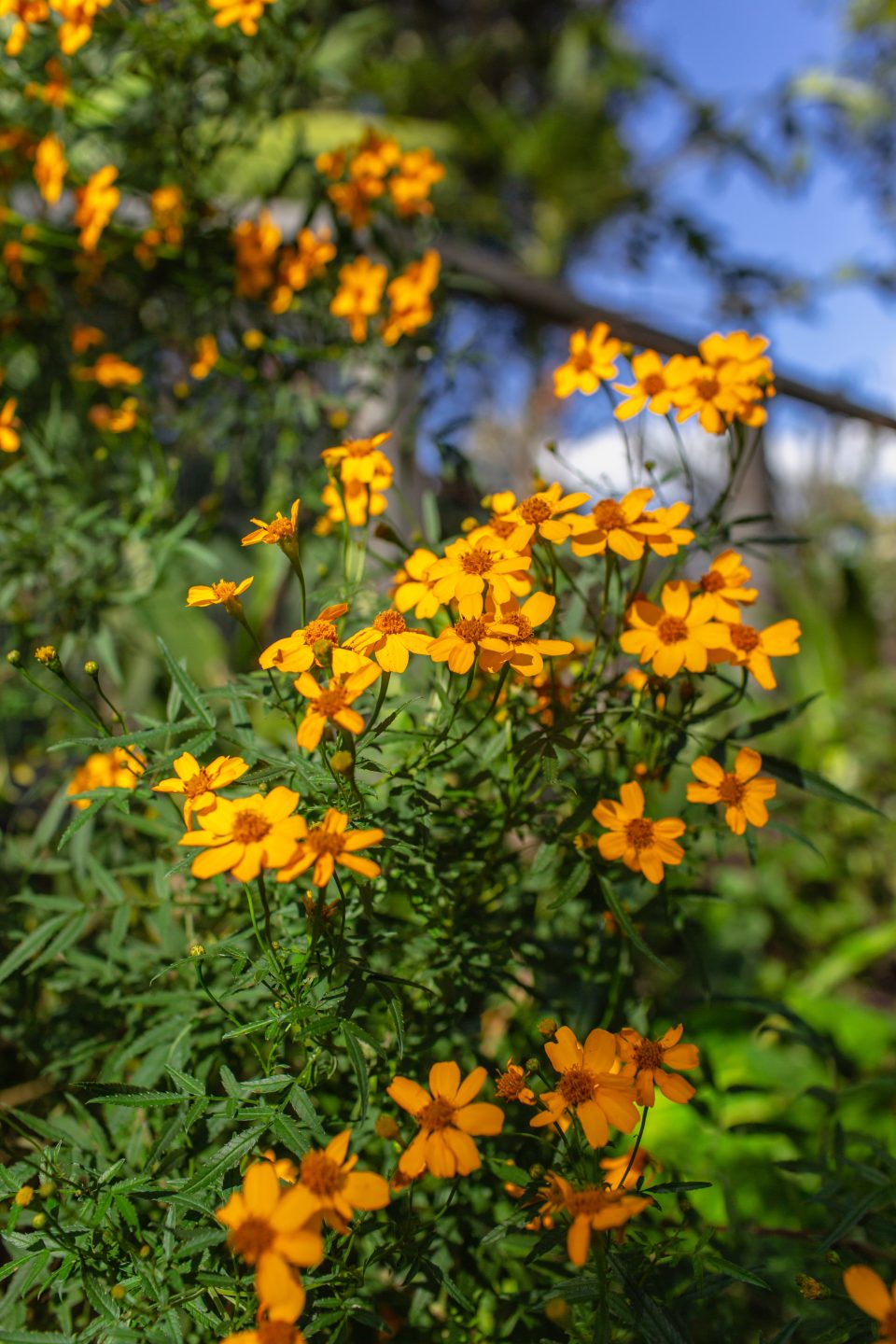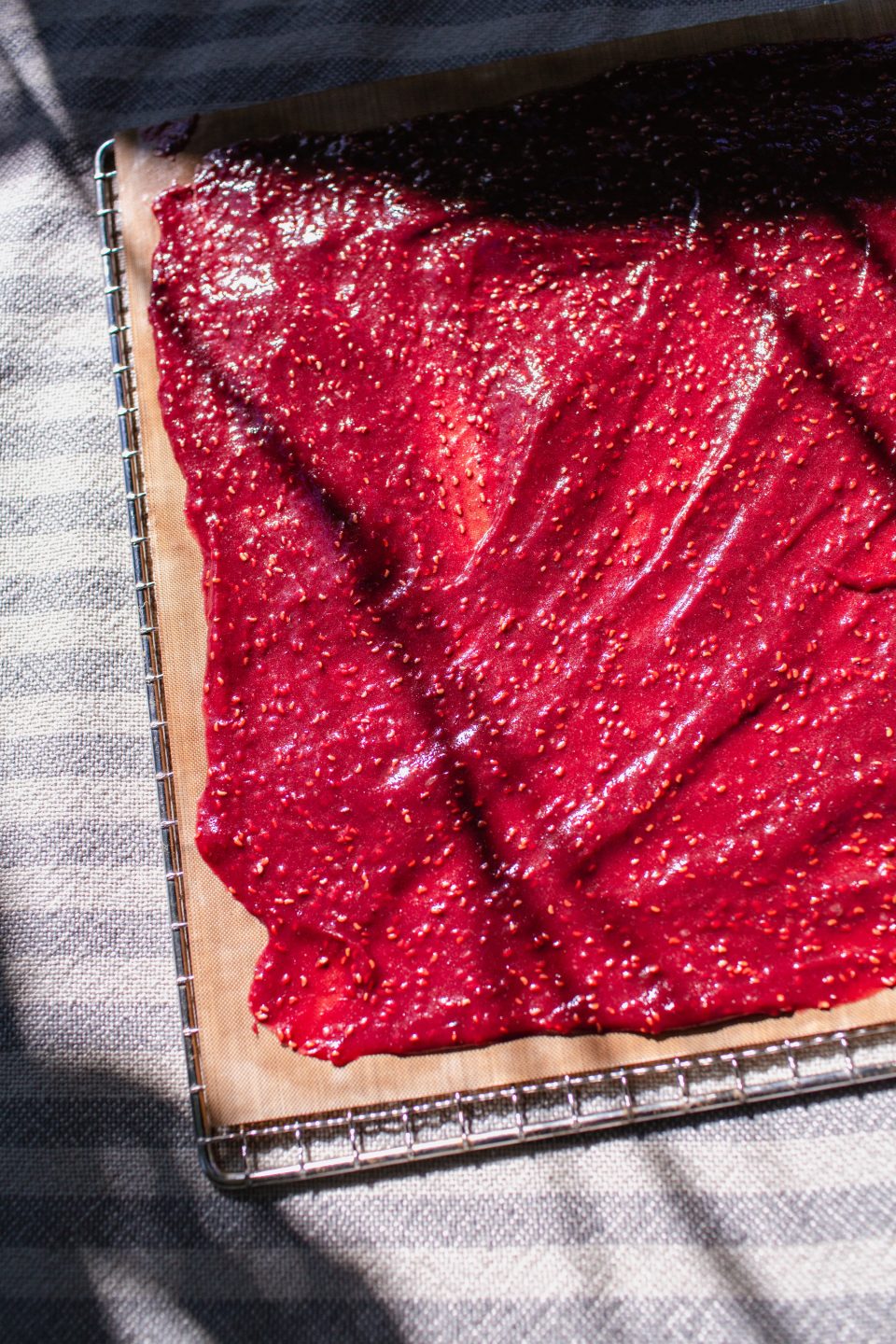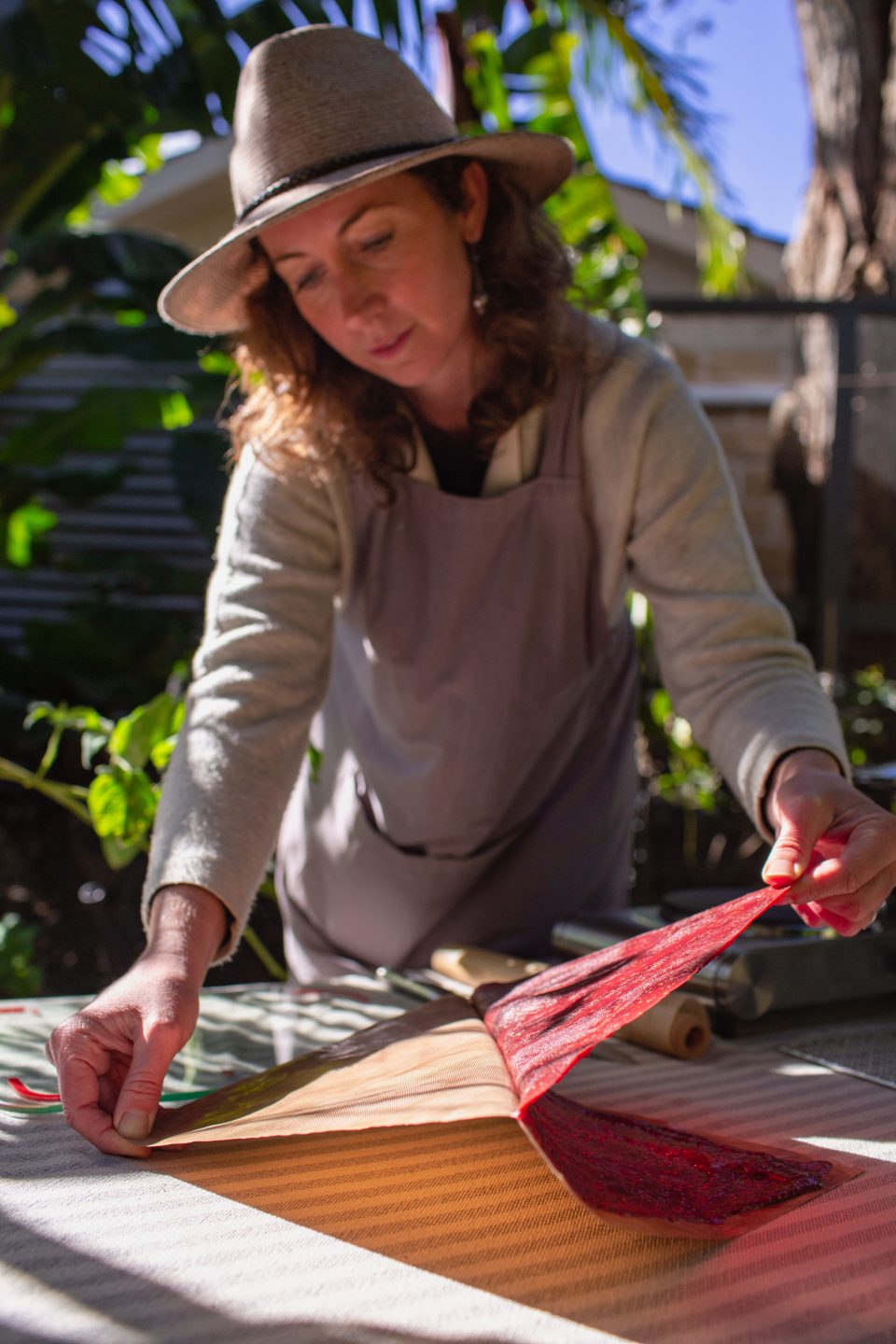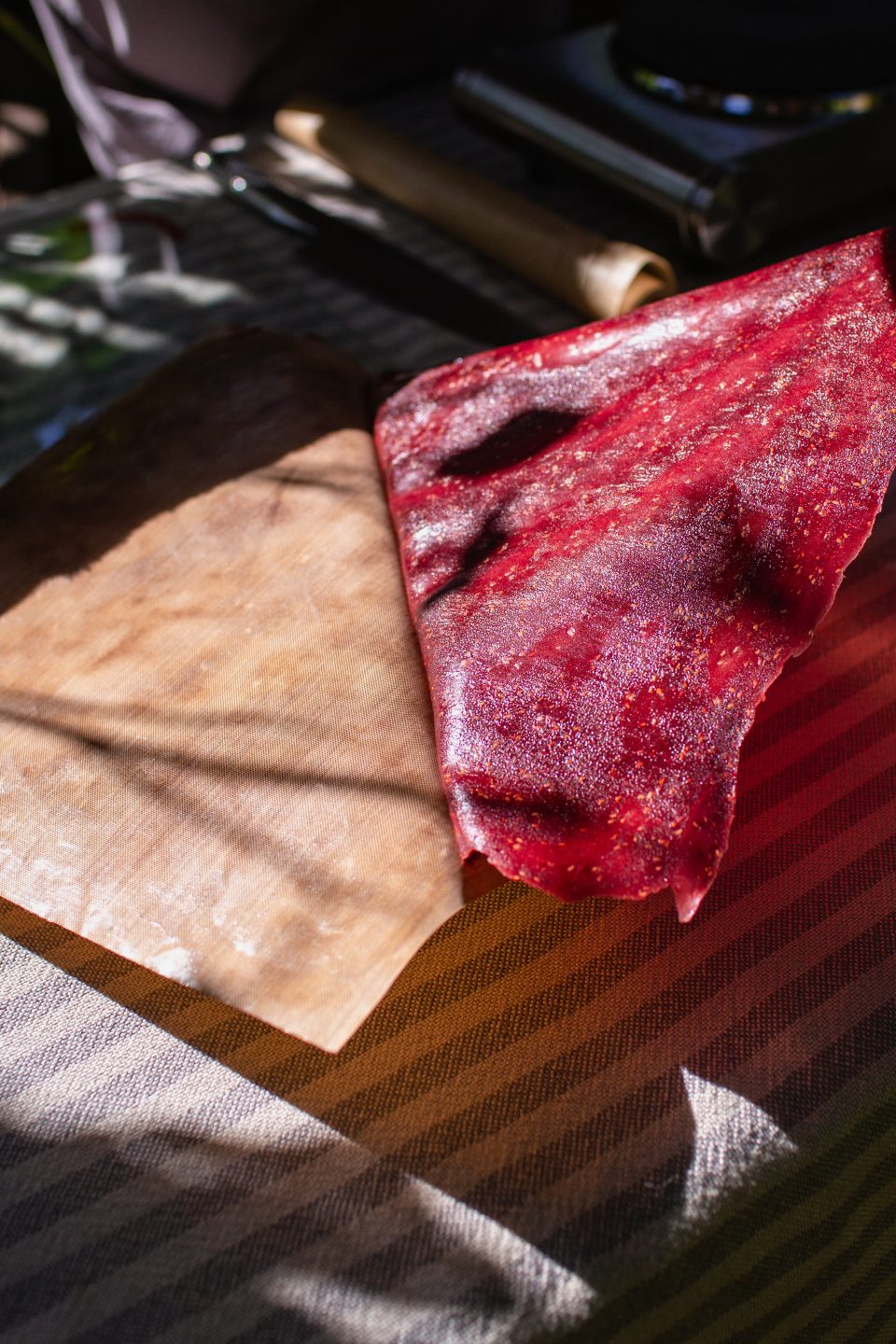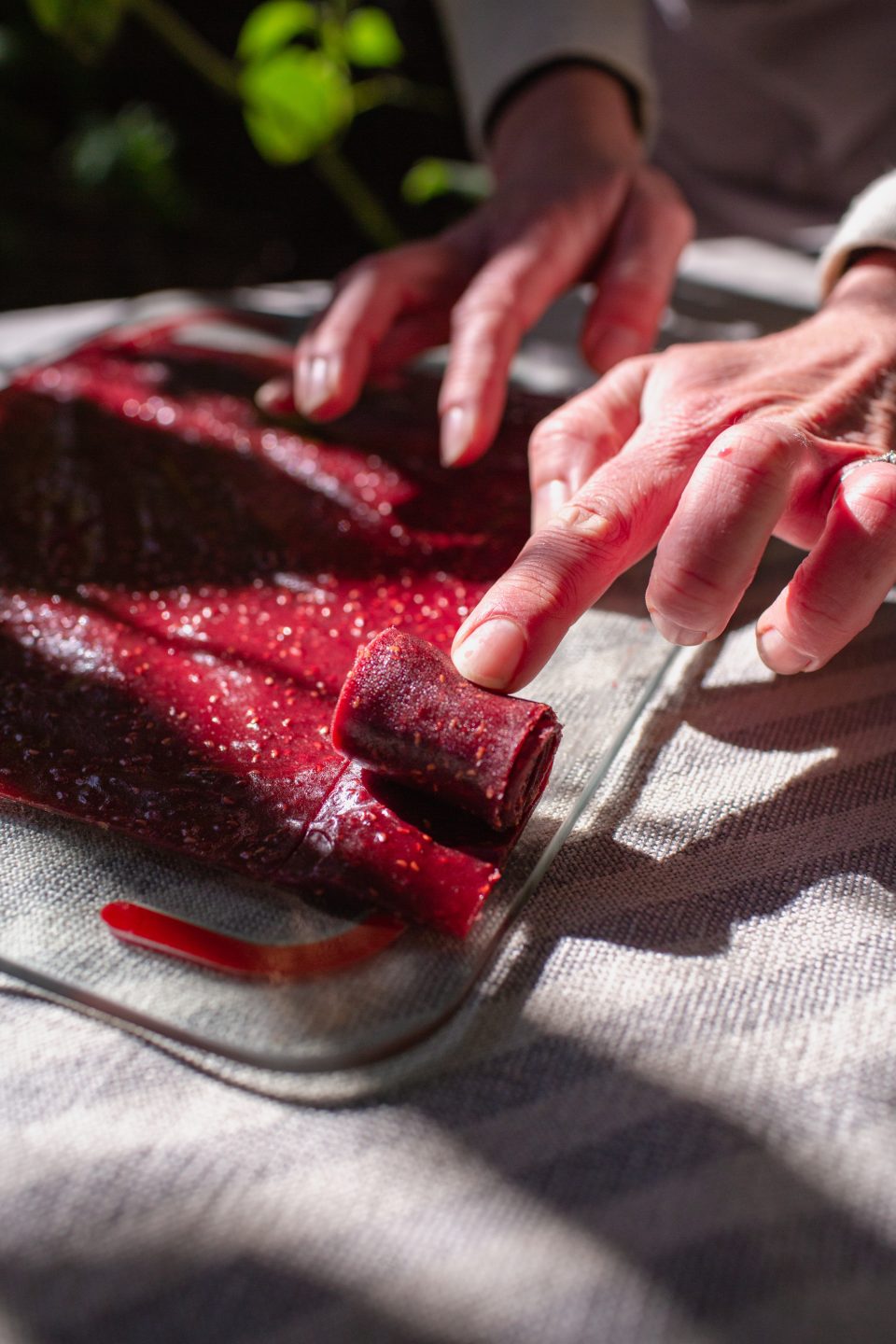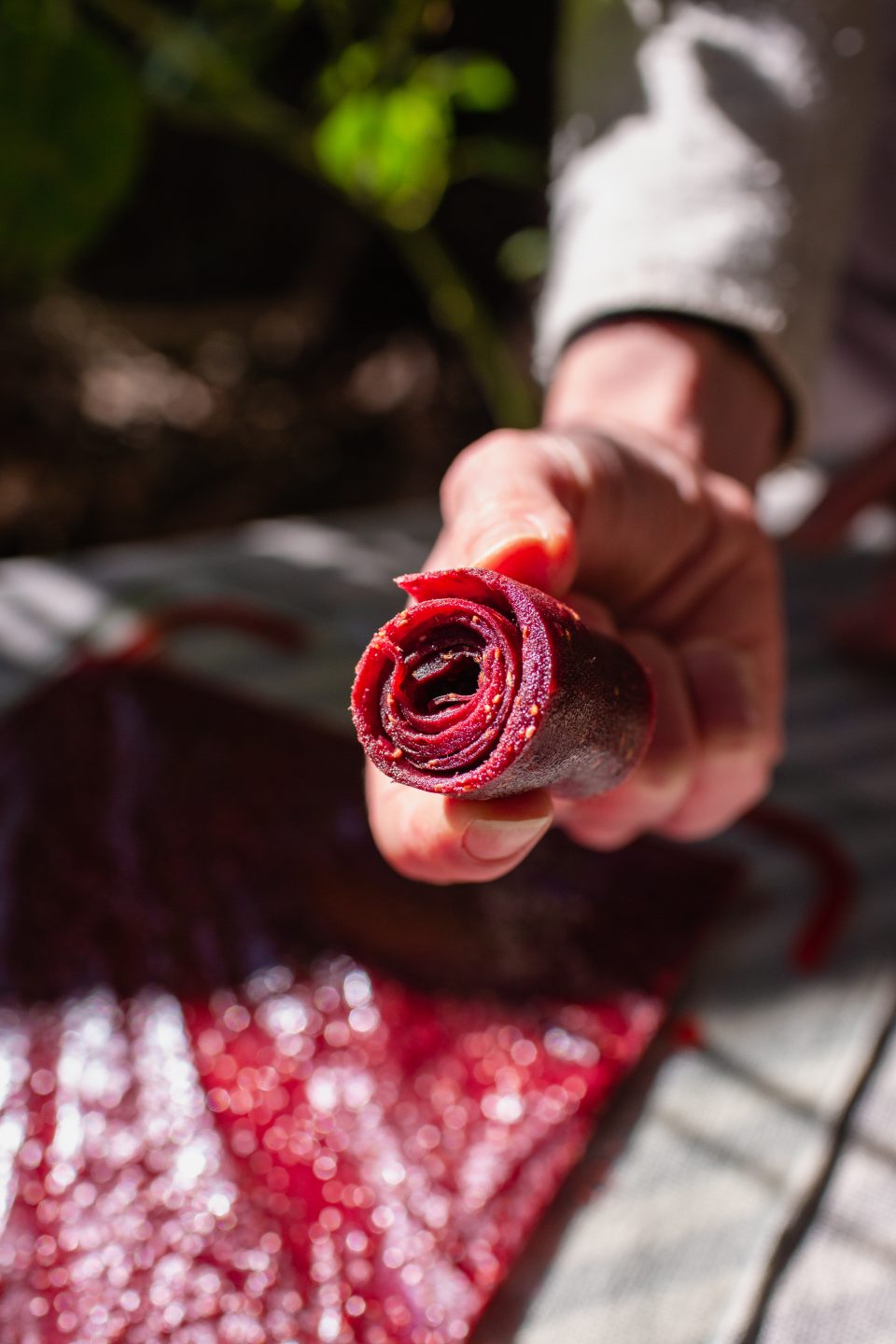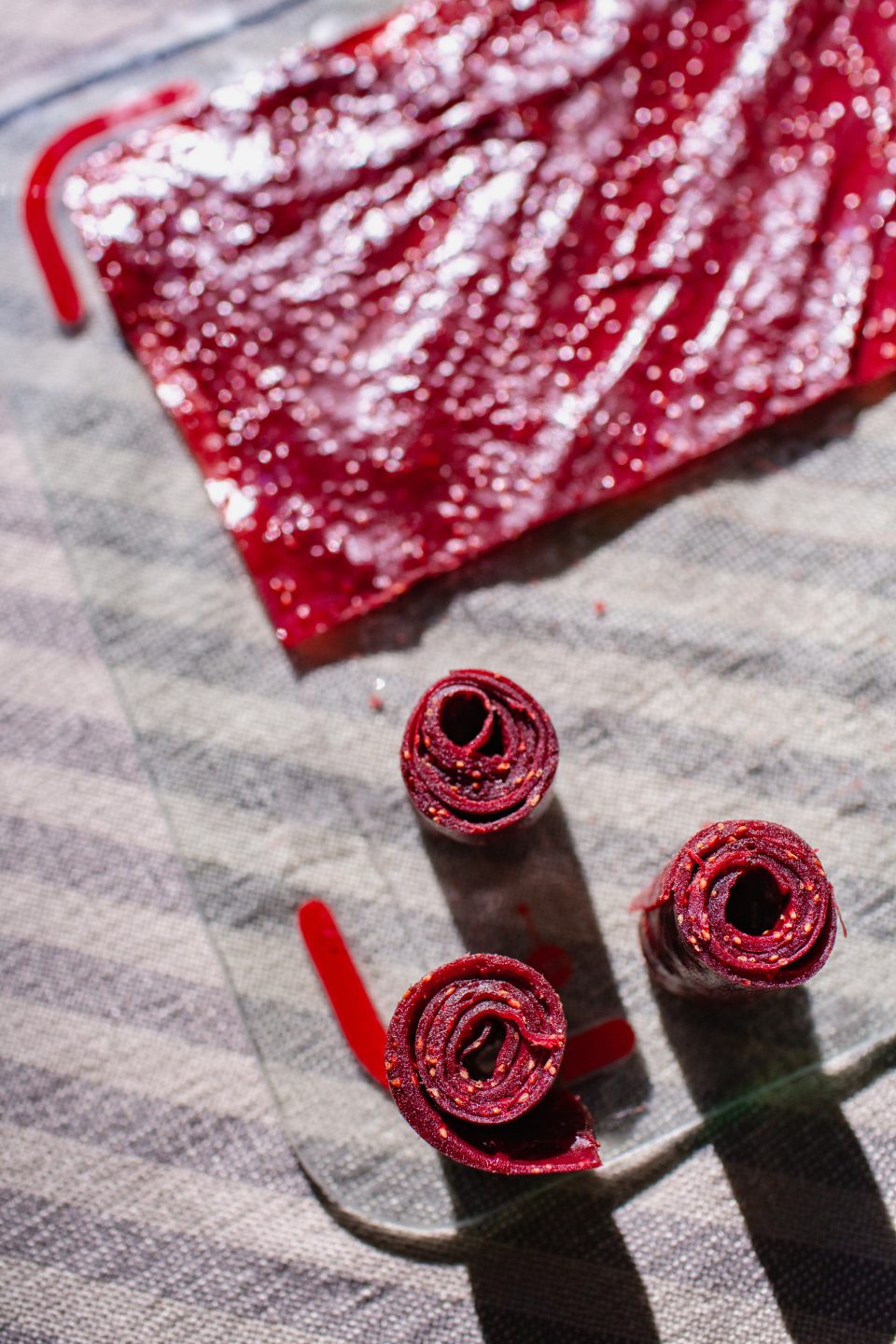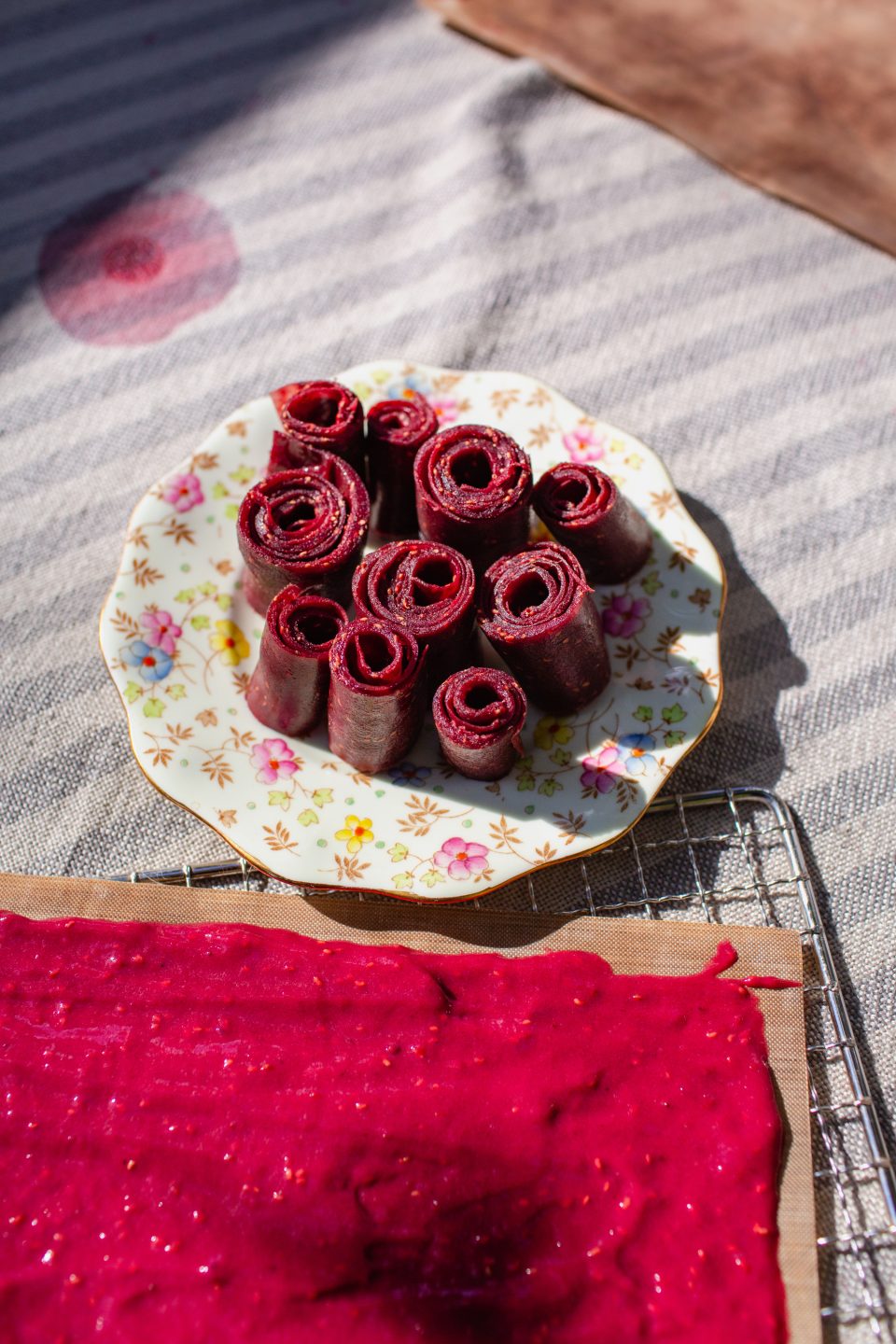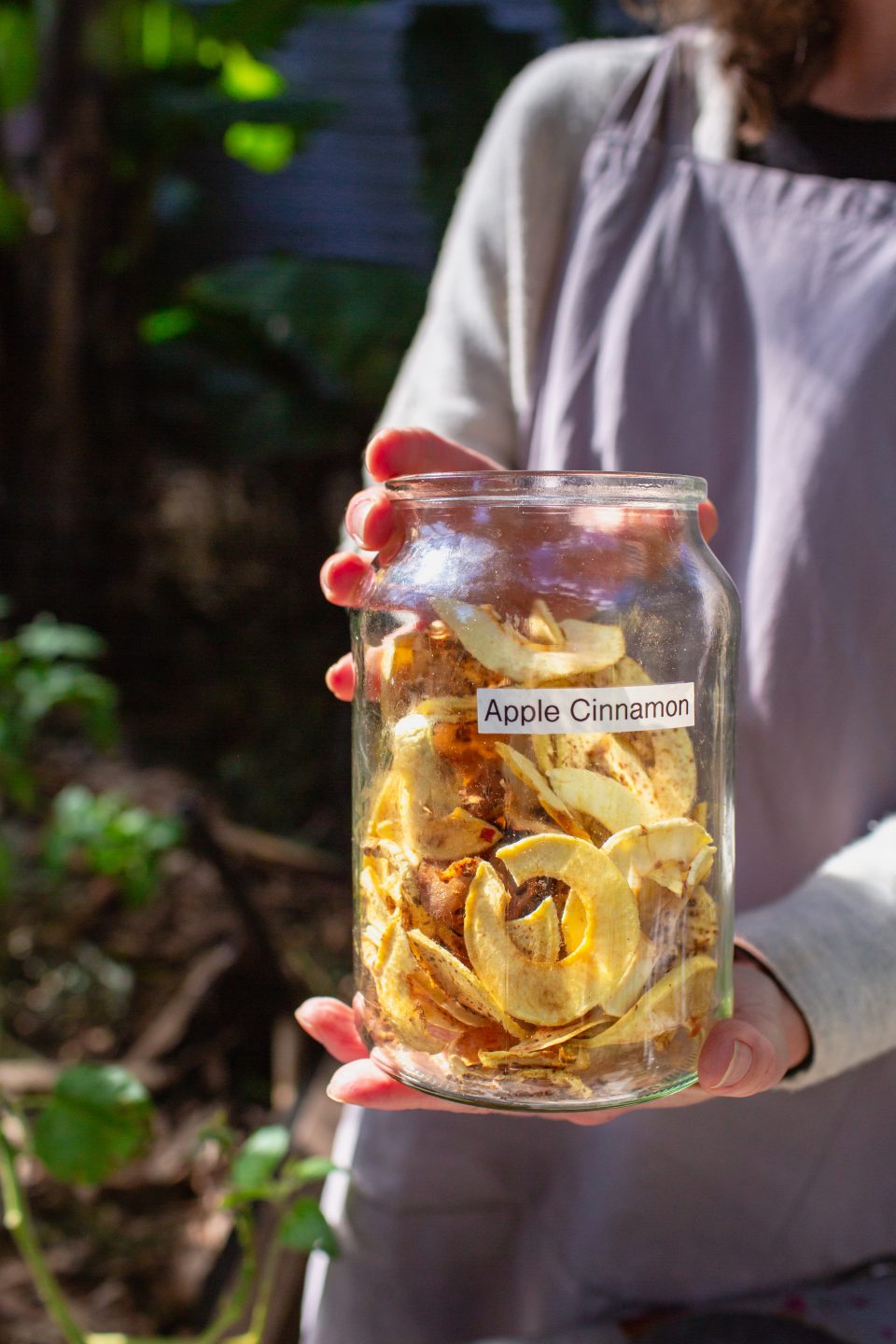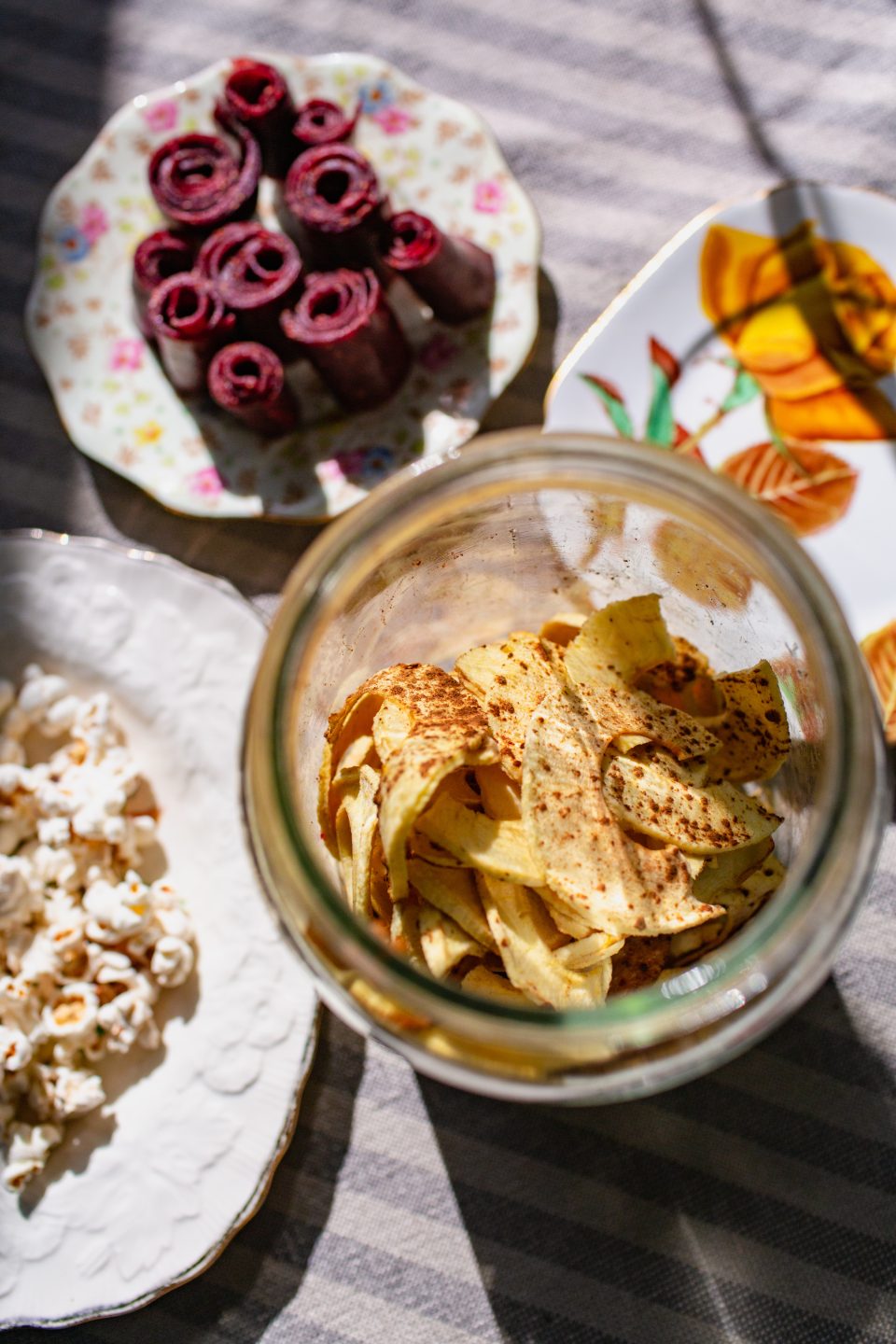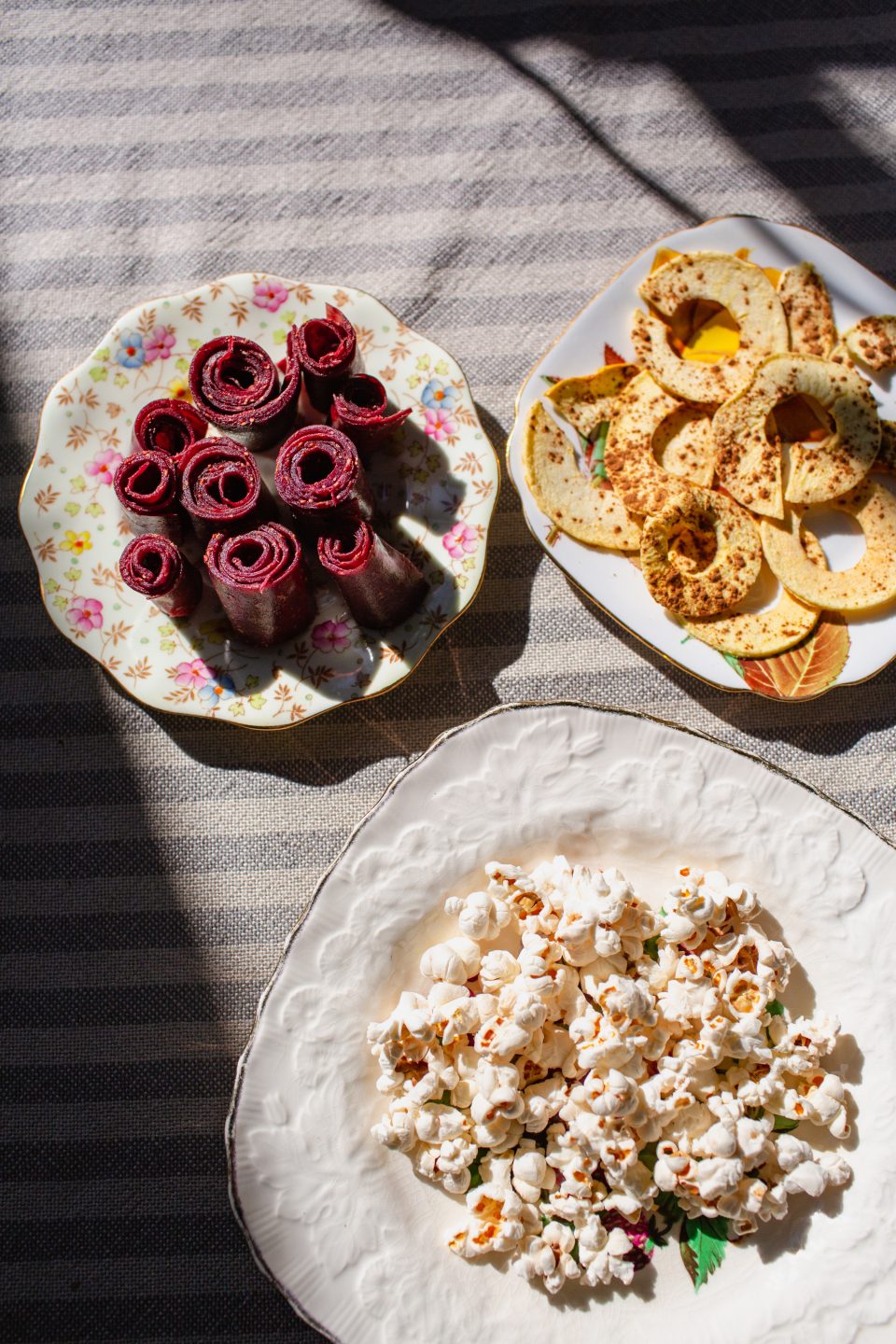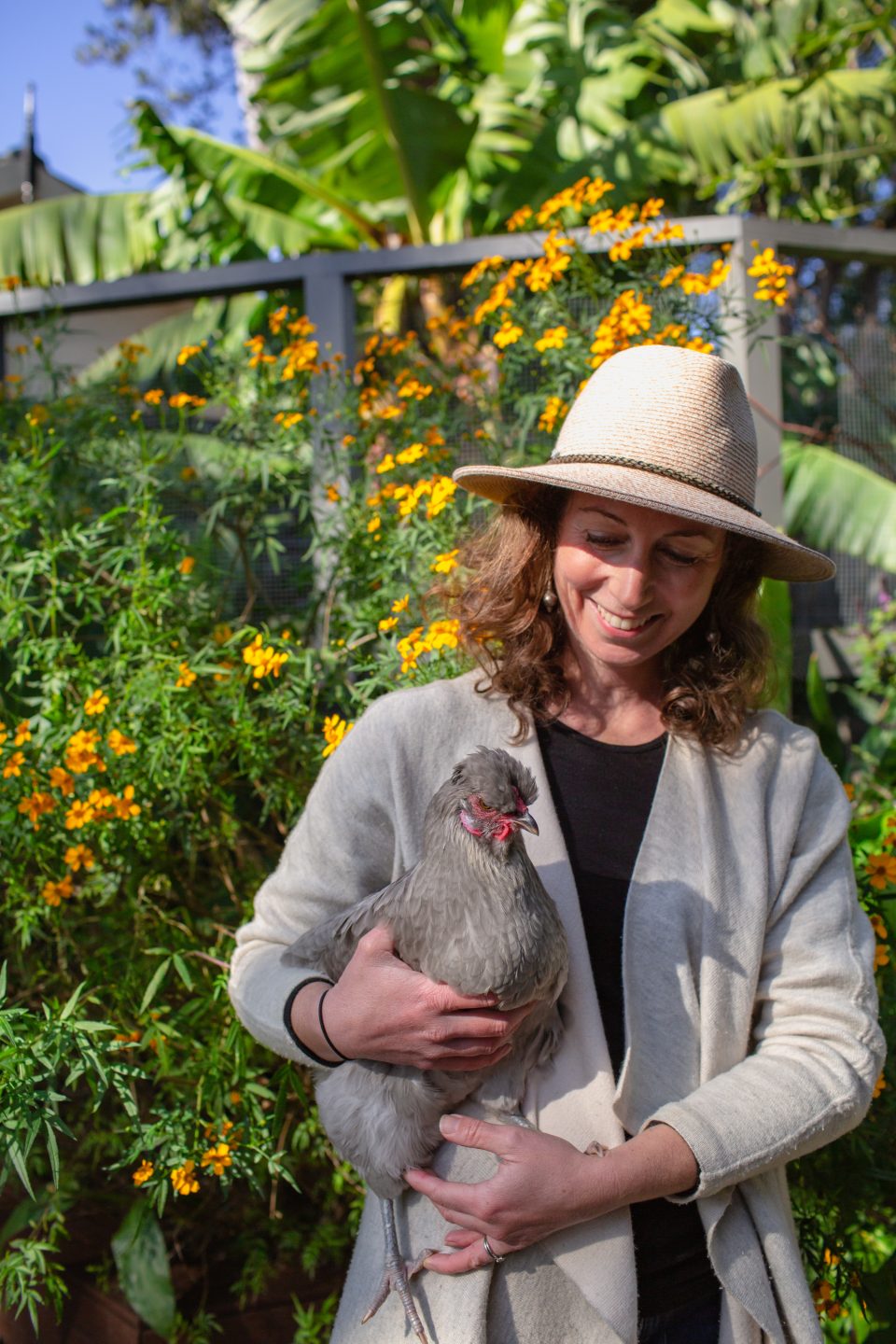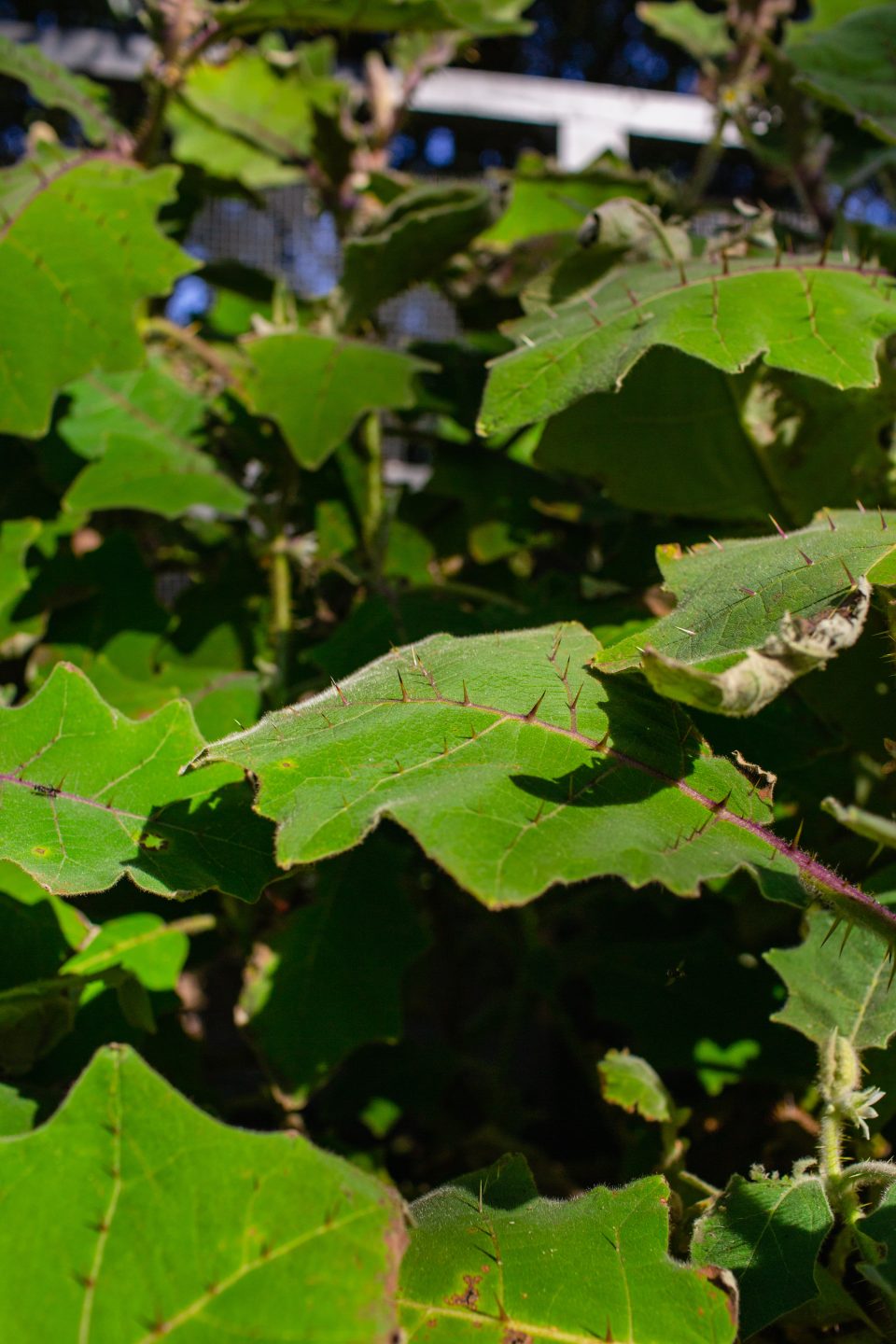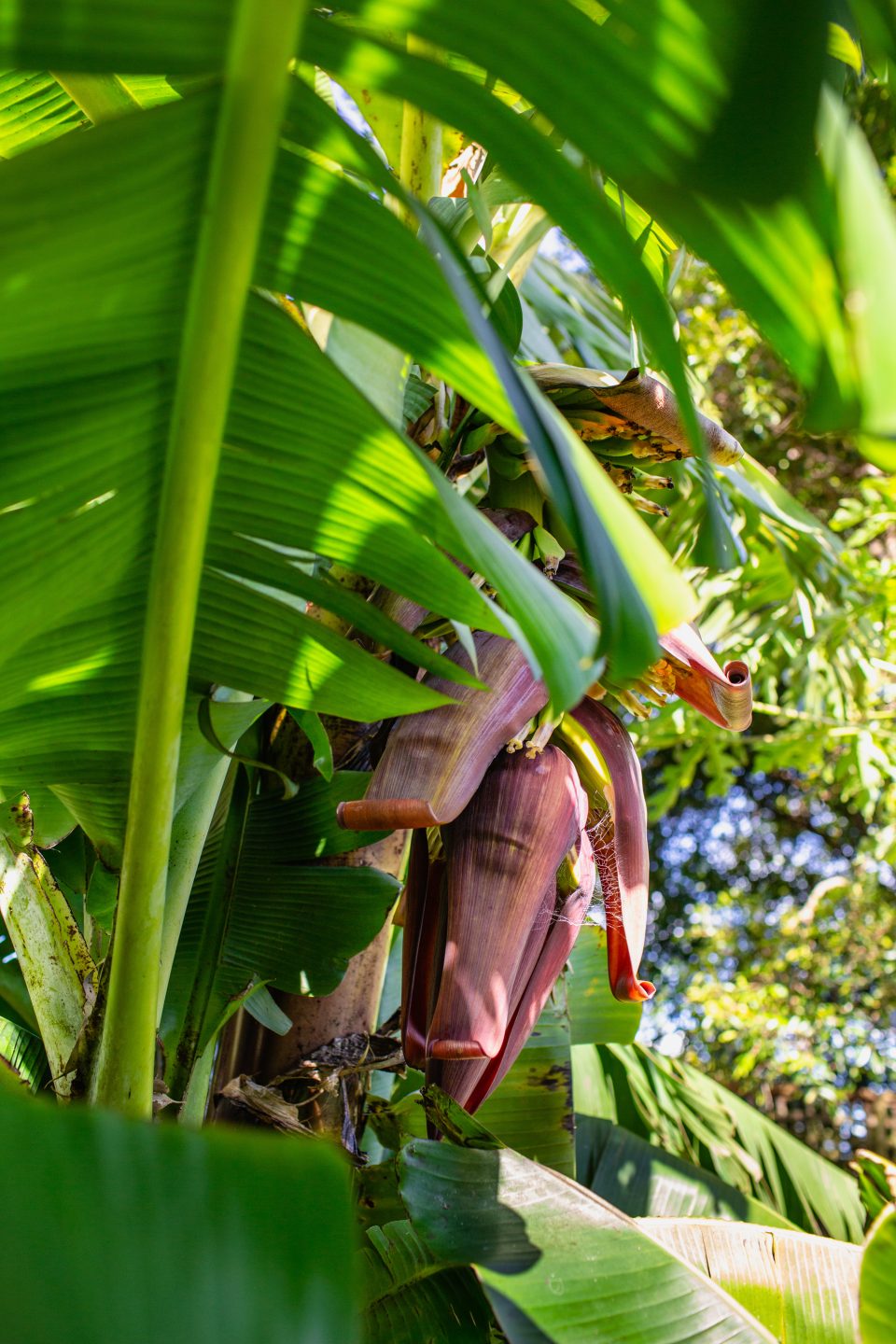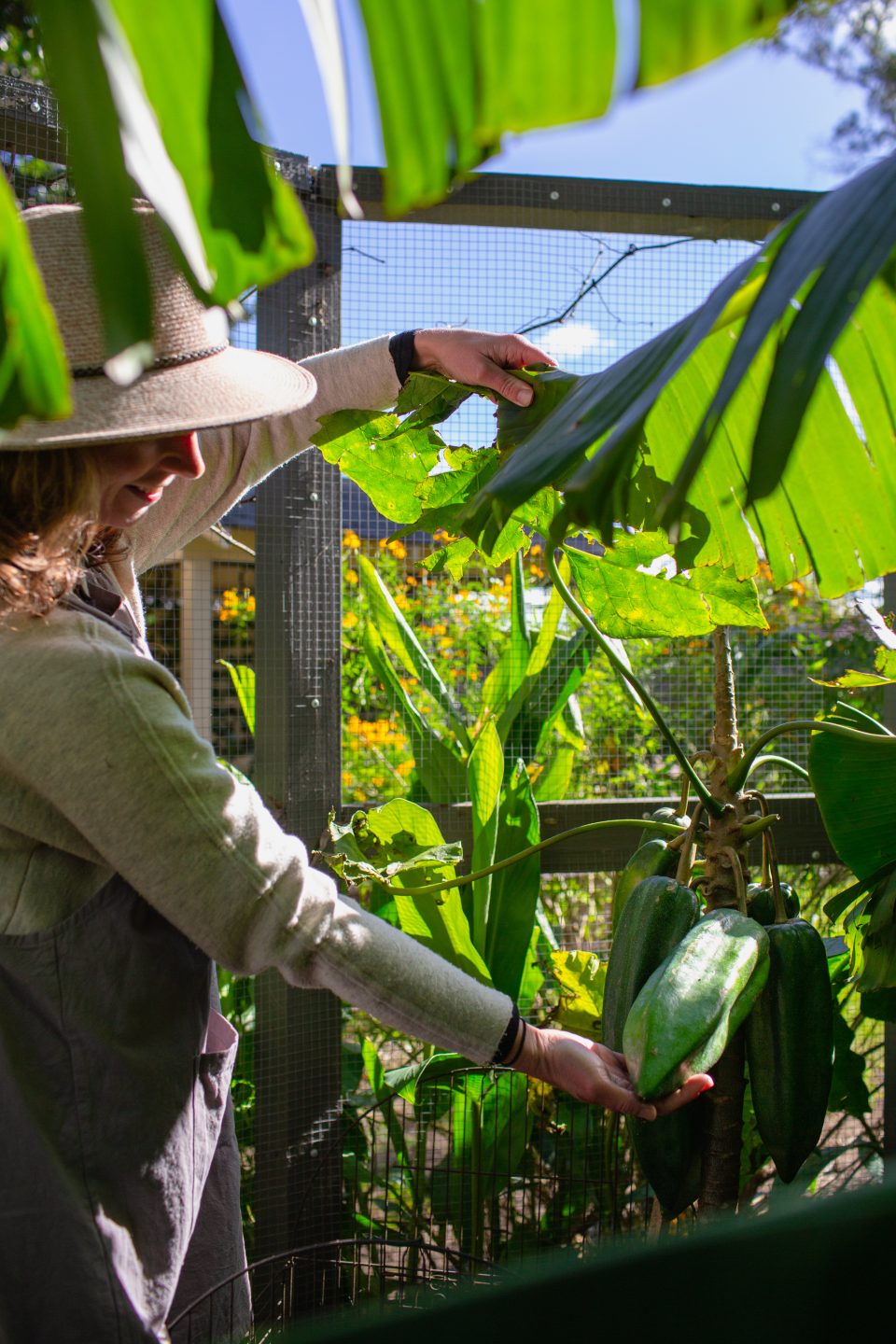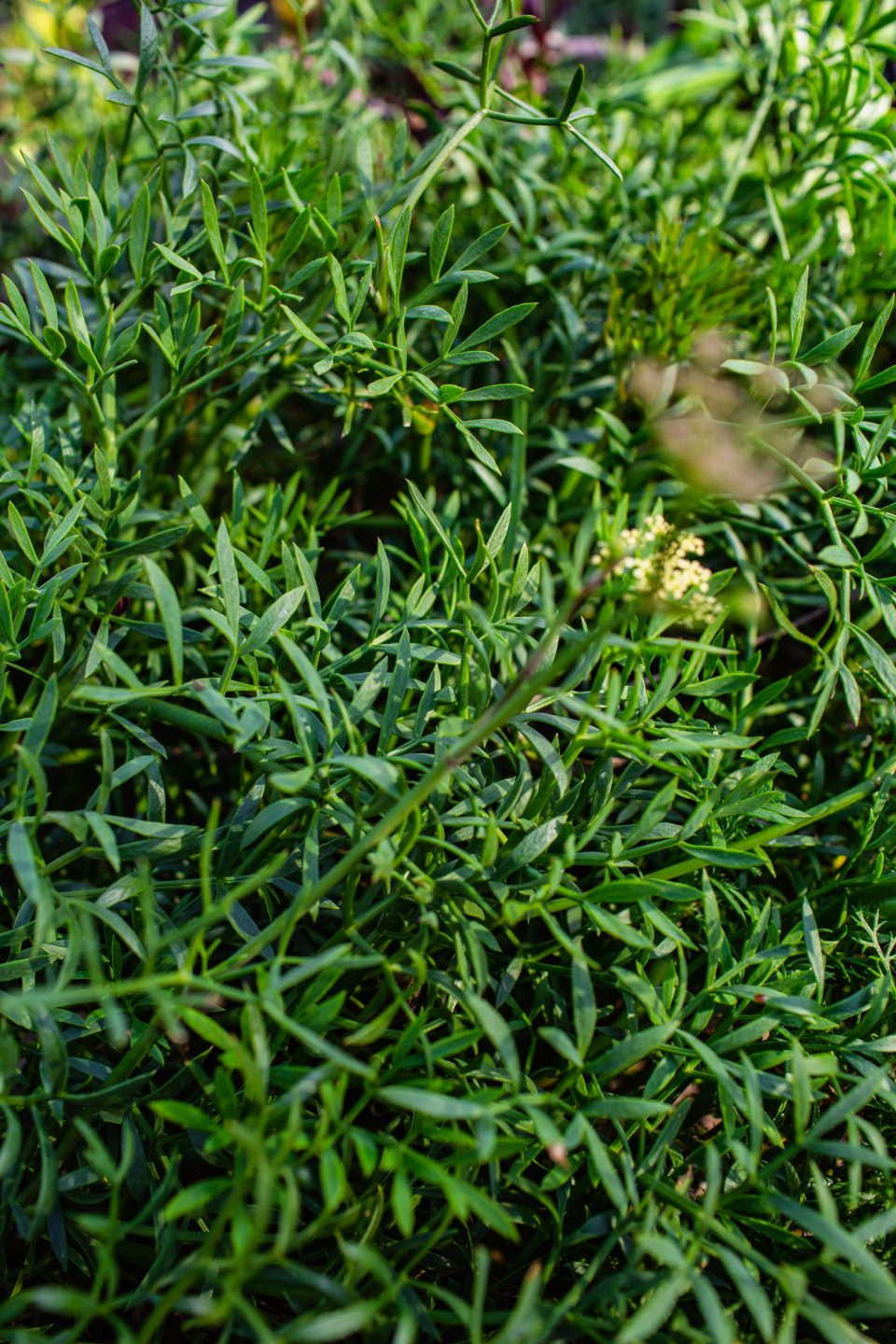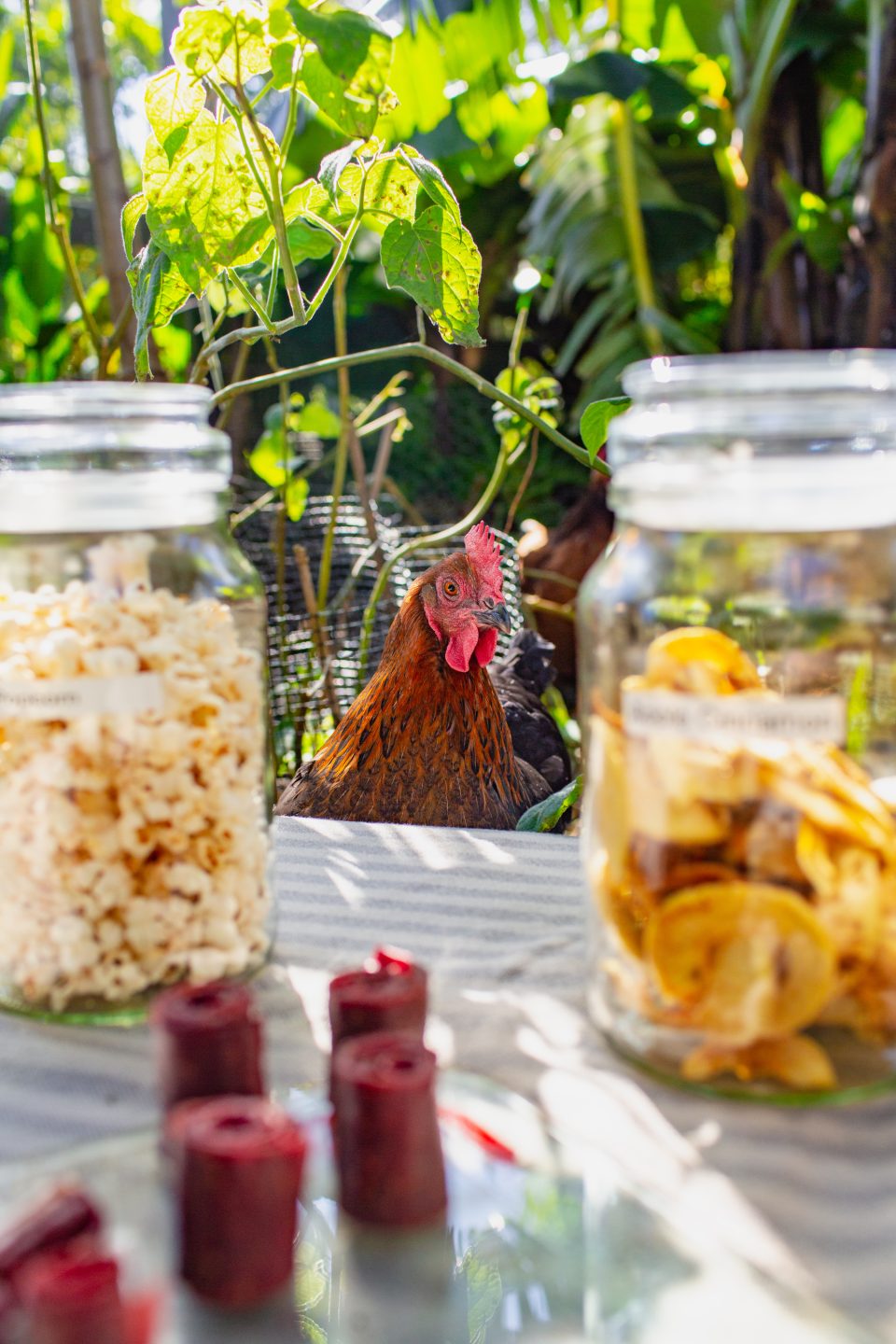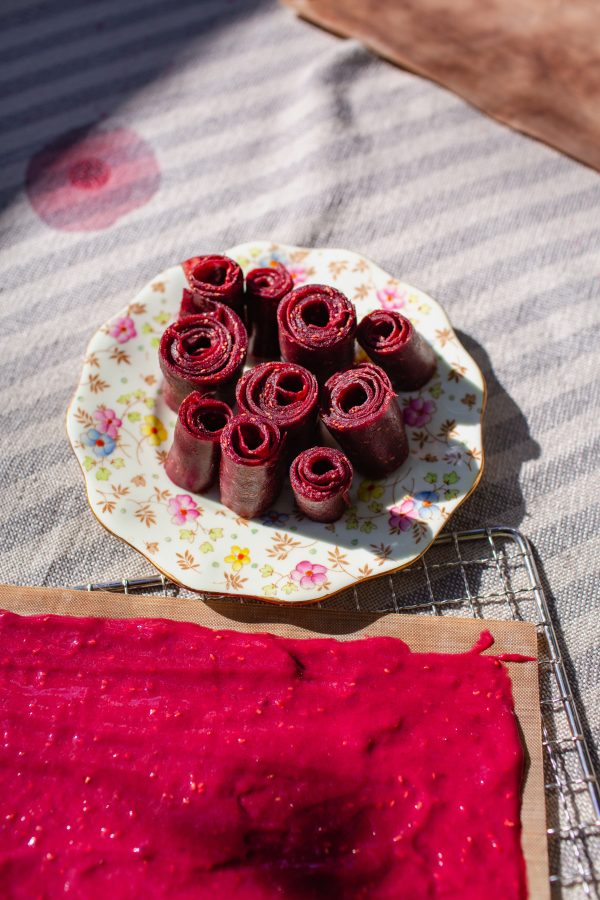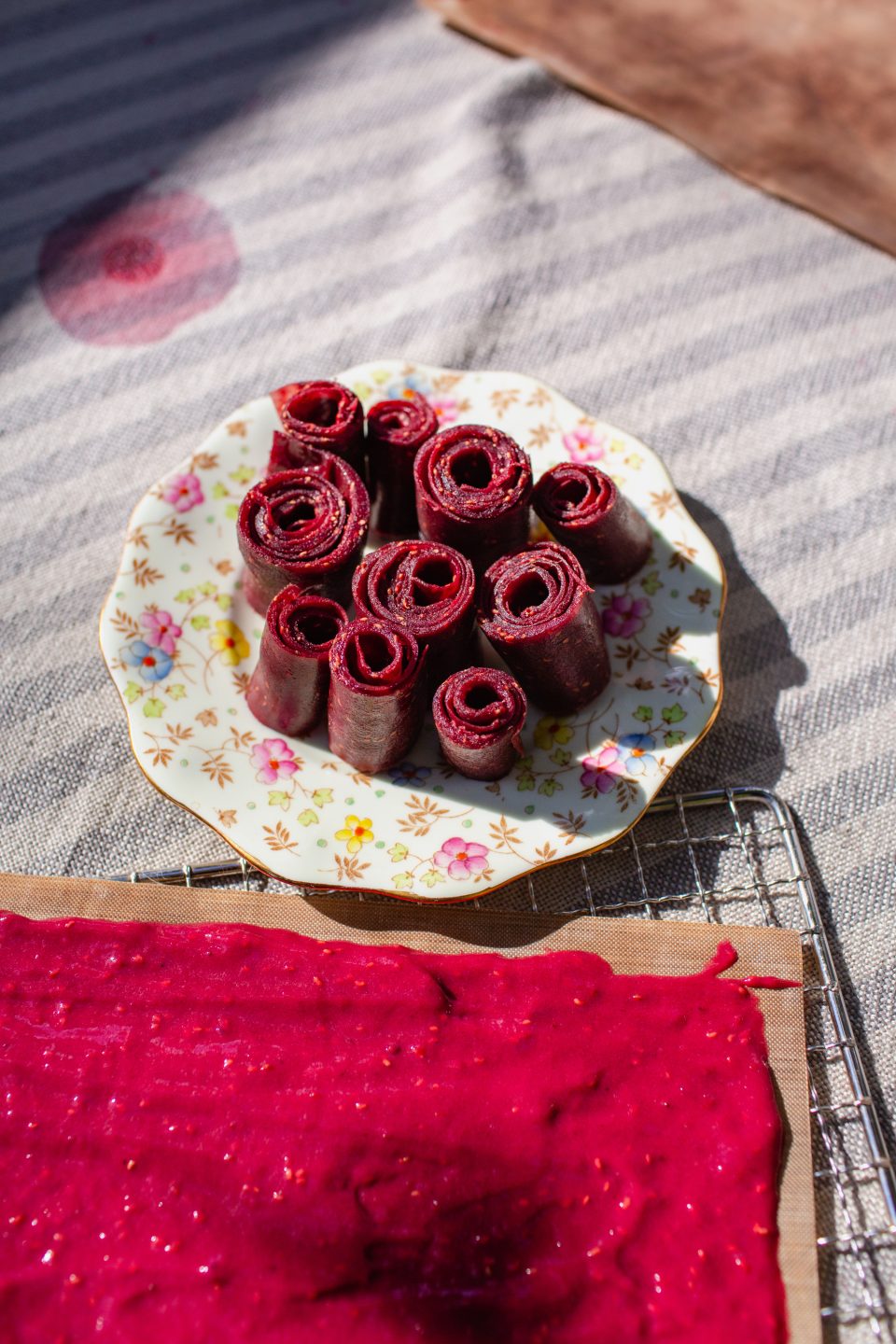 Berries Fruit Leather
Prep time: | Cook time: | Serves 8
1.5 cups raspberries (fresh or frozen)
1.5 cups banana (fresh or frozen)
3 tbsp honey
1 tbsp lemon juice
Combine all ingredients in a saucepan over medium heat. If using frozen fruit there's no need to thaw or chop it prior, it will melt and combine quickly once heated.
Cook on low heat until the fruit is released in juices and starts to combine.
Stir intermittently to prevent it from sticking to the bottom of the pot.
Let the mixture reduce until it is quite thick, similar to a jam consistency.
Remove from heat and allow the mixture to cool.
Add to blender or food processor and blend until very smooth (can use a nutribullet).
Spread the thick puree onto a dehydrator sheet/silicon baking mat/baking paper. Try to ensure that the thickness is as even as possible.  Roughly about 1/2-1cm thick works well.
Dehydrate at 65C for about 6 hours. If you don't have a dehydrator, home oven works too. Set it to fan setting on 90C and cook for about 4 hours. Cooking condition depends on the humidity in the air, positioning of your tray and the consistency/thickness of the mixture. Please adjust accordingly.
You will know when it's done when the mixture is tacky, but not sticky, and very easy to peel off the mat/sheet.
If sections look to be drying inconsistently turn the tray or flip the mixture to even out the process.
Once sufficiently cooled down and dry to the touch, peel the fruit leather off the sheet and cut into portions. These can either be served as is, cut into strips/ shapes with cutters or rolled in baking paper to resemble conventional roll ups.
If dried sufficiently and stored properly in an airtight container these should last a month in the pantry.