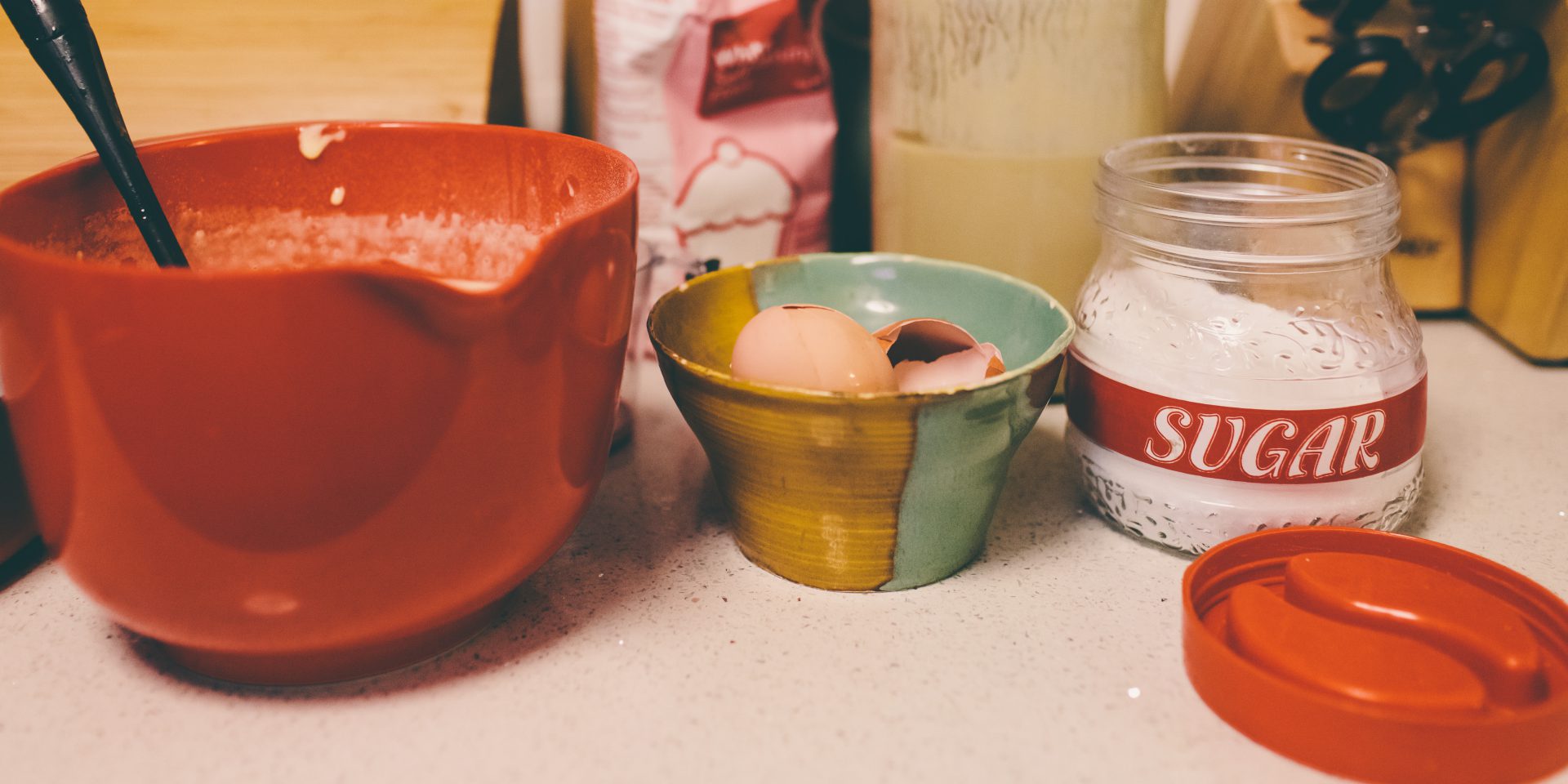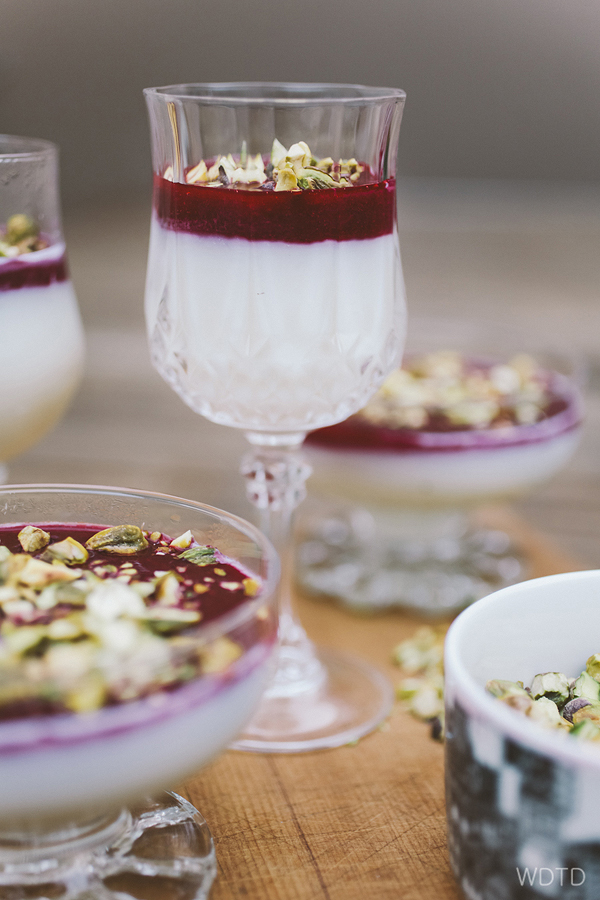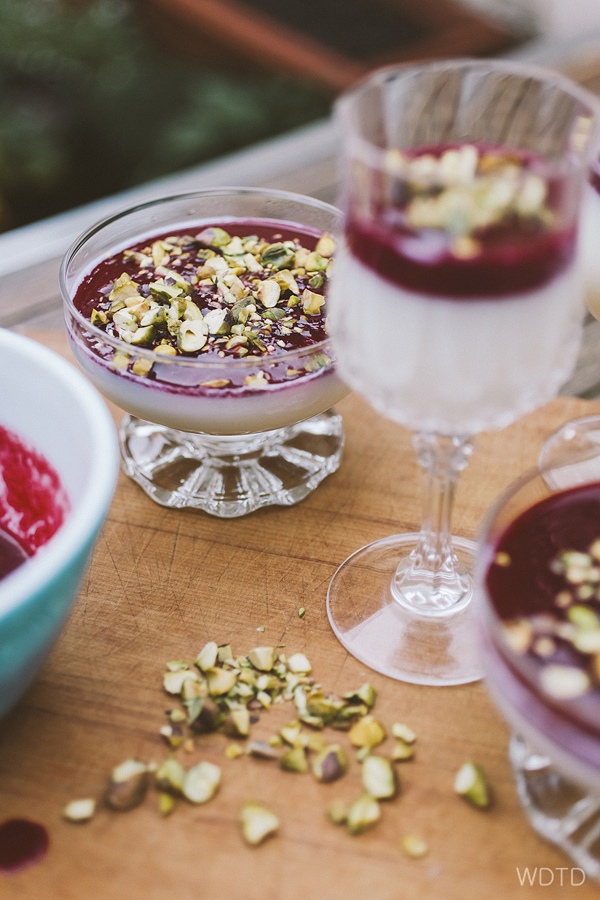 Hadas shares with us two of her most favourite Israeli desserts. Not only delicious, they are also very easy to make and look drop dead gorgeous. Perfect for an afternoon tea or those dinner parties you plan to organise.
Let's start with Malabi – with its inviting and alluring vivid red of the raspberry coulis contrasting harmoniously with the bright green of pistachio nuts and milky white pudding, perfumed with rose water. It is truly a feast for the eyes (and tastebuds) and I couldn't stop photographing it from every angle possible. There's something nostalgic about the look of this dessert…
Hadas: A lot of the dishes I make are inspired by Israeli/Middle-Eastern food. One of my favourite things about going back to Israel is the food and how simple, fresh and yummy everything is. Malabi is a staple dessert in Israel and something I've always loved particularly in summertime. It's a simple and light option for dessert and the best thing is that it's so easy to make! This is my Mum's recipe but you can find lots of different variations online.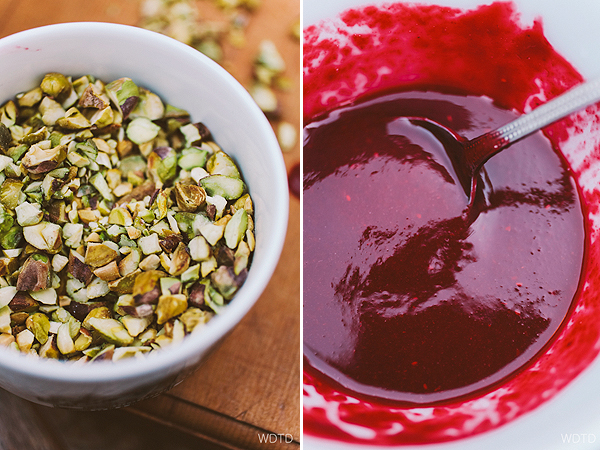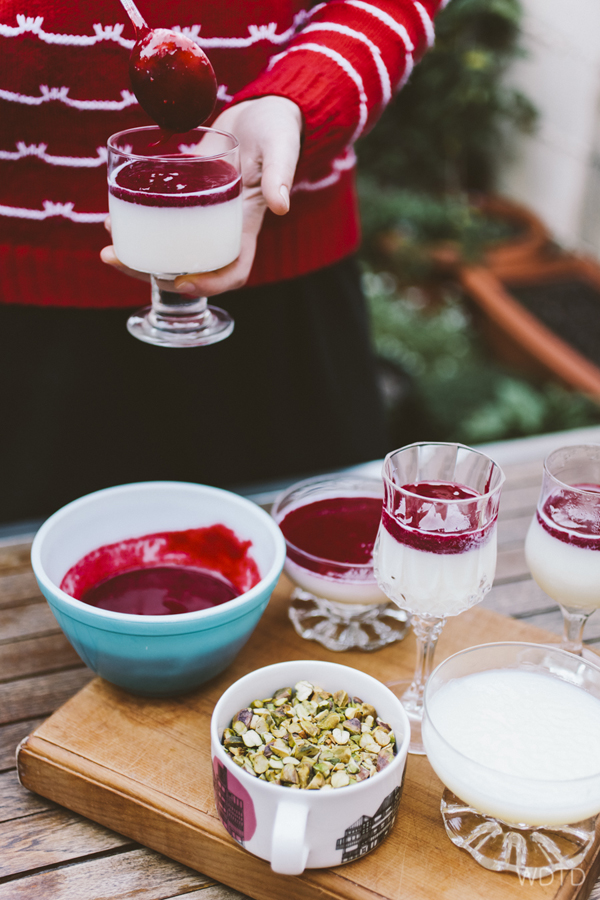 Prepare the Malabi mixture about 5 hours prior to adding the toppings. Let it cool at room temperature then cover with glad wrap and place in fridge until set like jelly.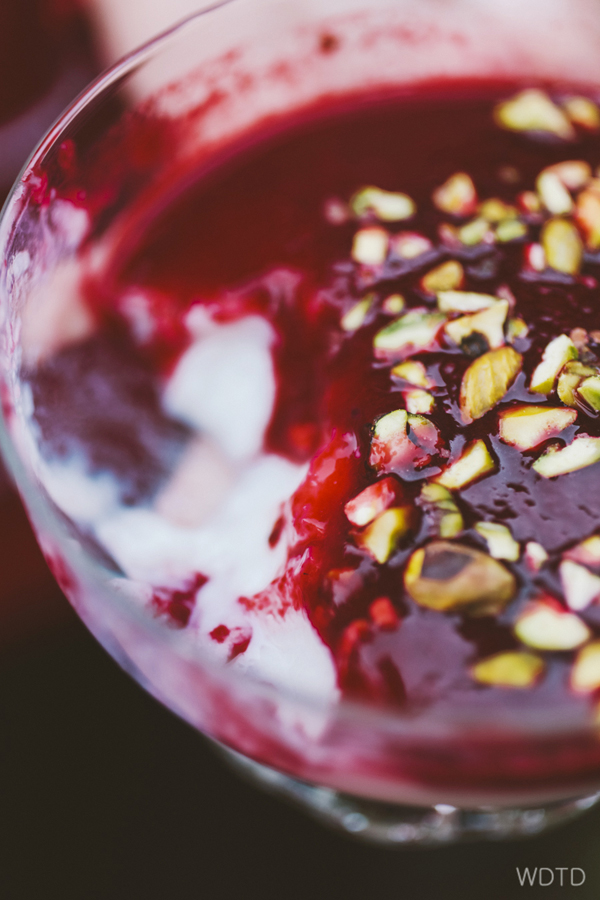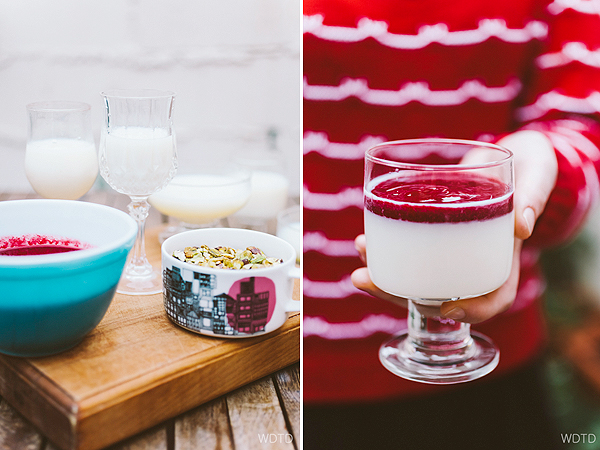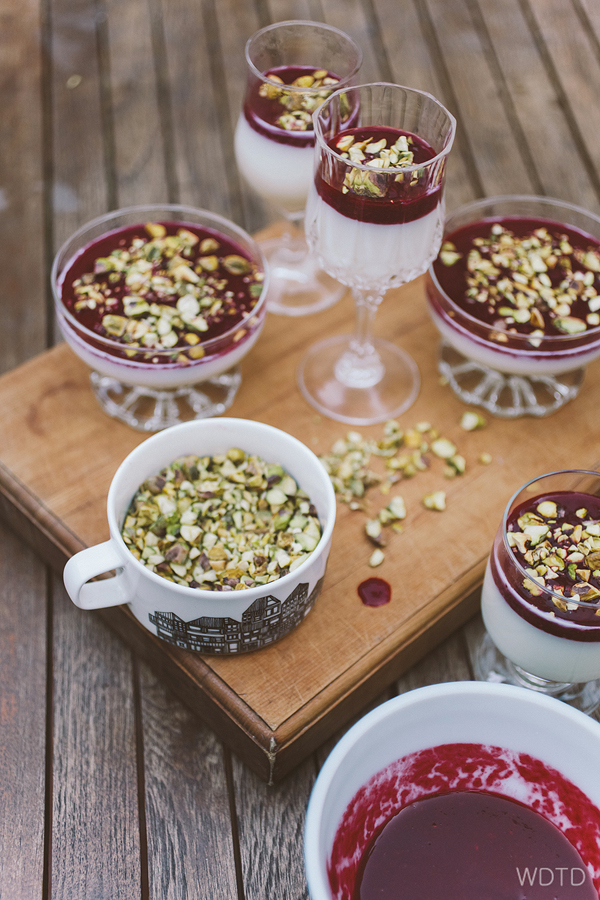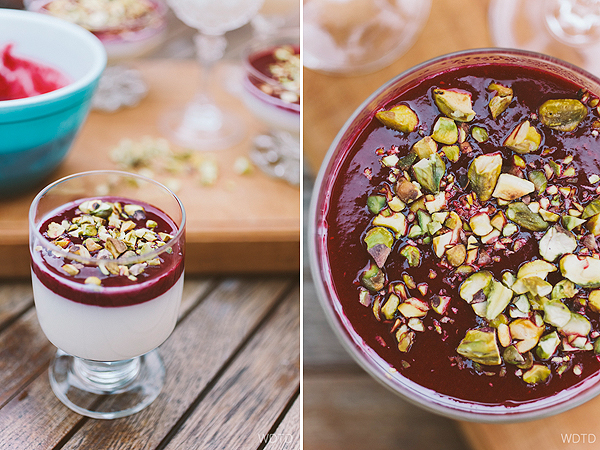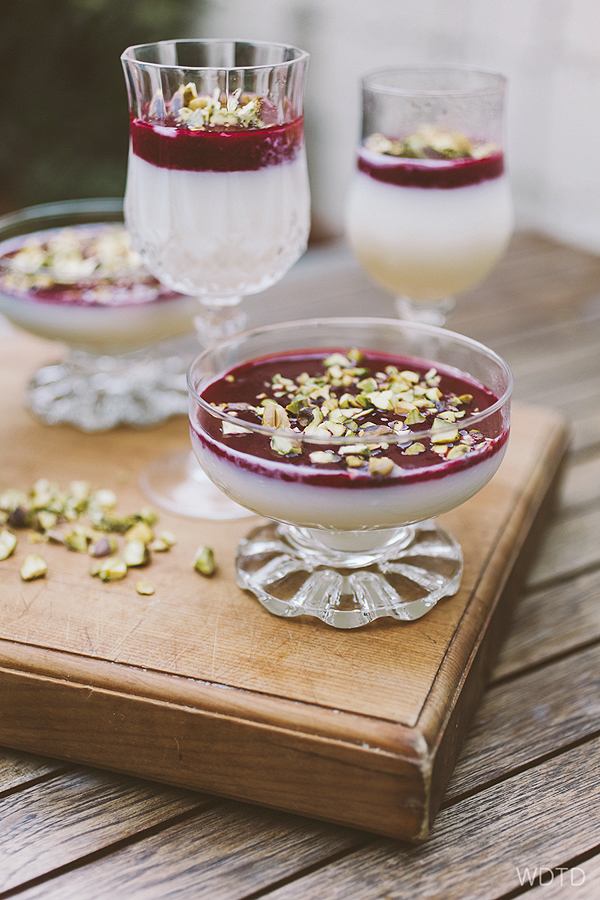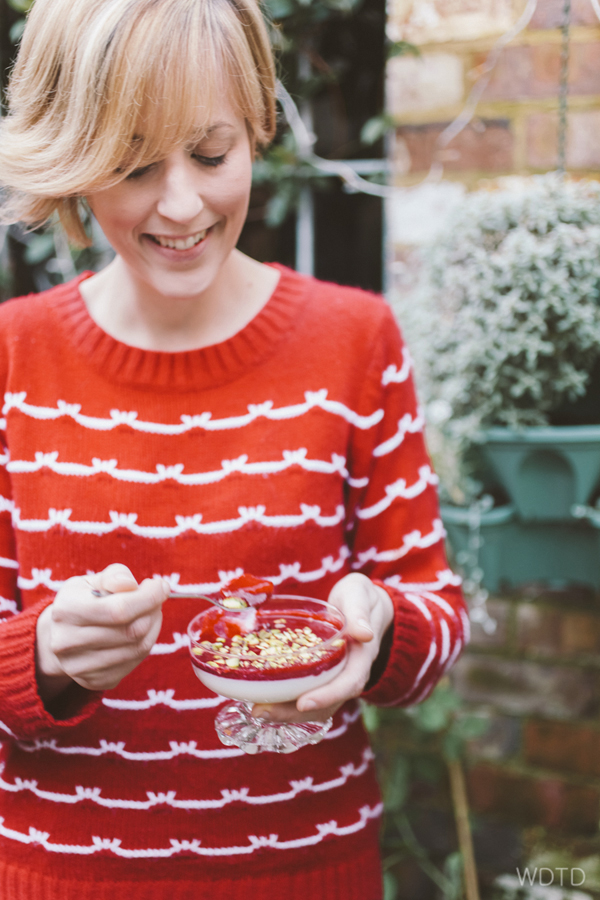 Who: Hadas Benjamin
Home is: Redfern
Family origin: Israeli
I can't live without: Family, friends, Matt, oh…and coffee
Occupation: Event Coordinator
Dream Job: A job the lets me sleep in each morning until I am ready to get up
Currently I am obsessed with: My record collection! I've always been adding to my collection but the last few months have got out of control. My friends got me a beautiful new record player for my birthday which hasn't helped my addiction!
Childhood taste: Spaghetti with my Mum's pasta sauce and salad with my Dad's dressing
I will always have in my pantry: Fresh fruit and veggies
I learnt to cook from: My family
Currently I'm listening to: The National, Frank Ocean, Camera Obscura & Sigur Ros
One day I must visit: New Orleans, for the food and the music!
Go to meal: Fresh bread with cream cheese, avocado and a fried egg
I am really good at: Enjoying the simple things in life
The unforgettable meal: Both meals are made by my Saftas (Grandmothers). Meal 1: Safta Anna's cous cous with all the trimmings! Hand-made cous cous, veggie soup broth and an array of different salads, pickles and meats – amazing!  Meal 2: Safta Norma's crepalough. I think its a Polish dish which is sort of a hand-made dumpling filled with minced meat and onions, and either boiled or fried. Good on their own, or in bowl of chicken soup
My piece of Sydney: Home sweet home
Guilty Pleasure: Love a sweet treat after dinner – chocolate, cake or biscuits are all good options!
Who does the dishes: Usually Matt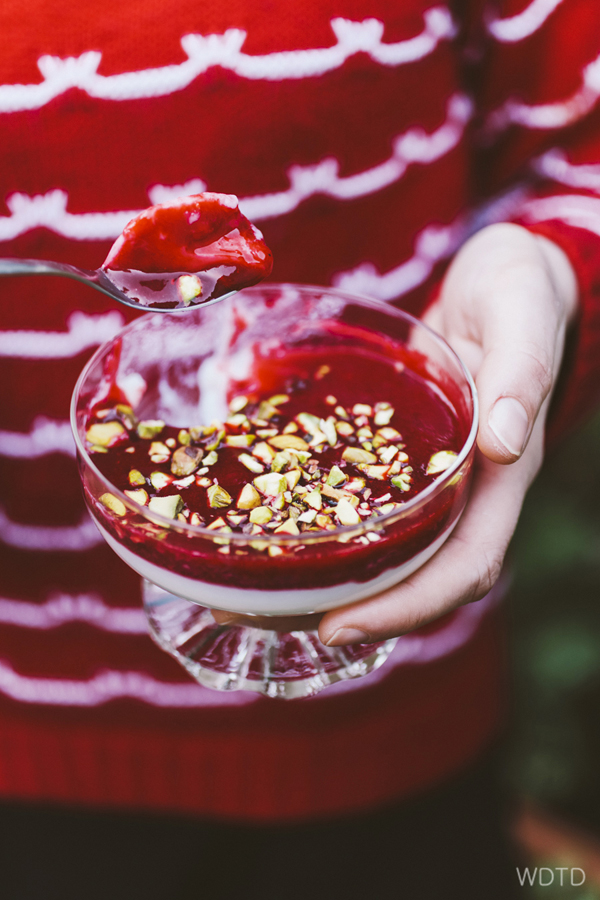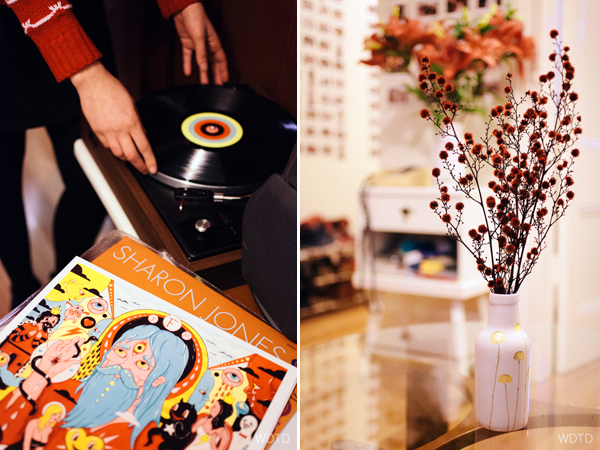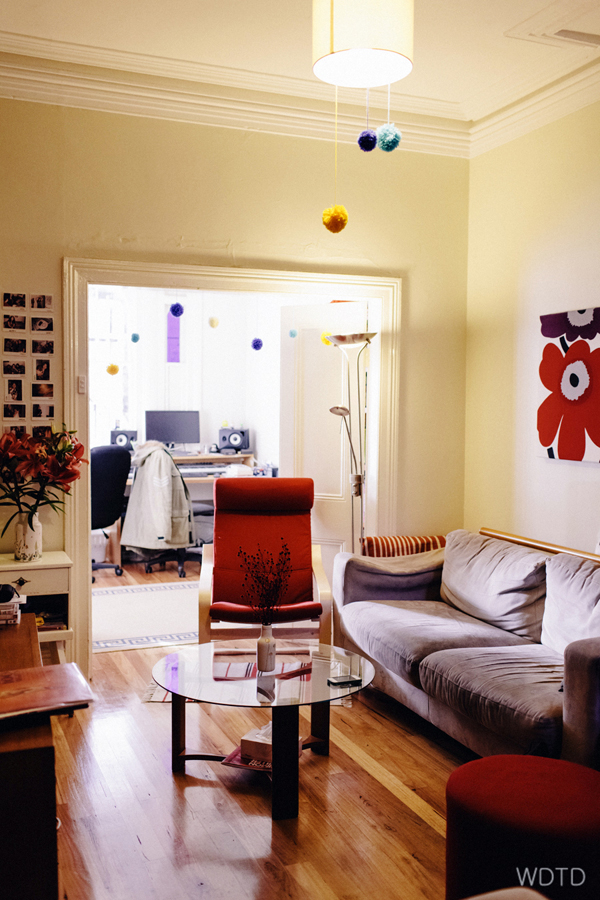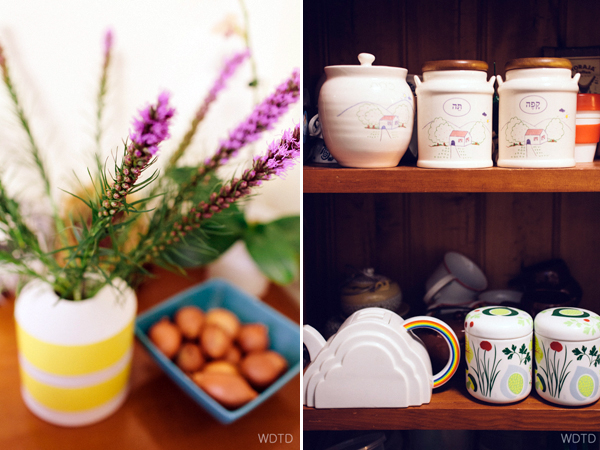 Next is the Tahini and Date Syrup Cake.
Hadas: The Tahini & Date Syrup cake was a recipe my Mum picked up after having it at a friend's place in Israel. She was describing it to me and it sounded so good I just had to make it!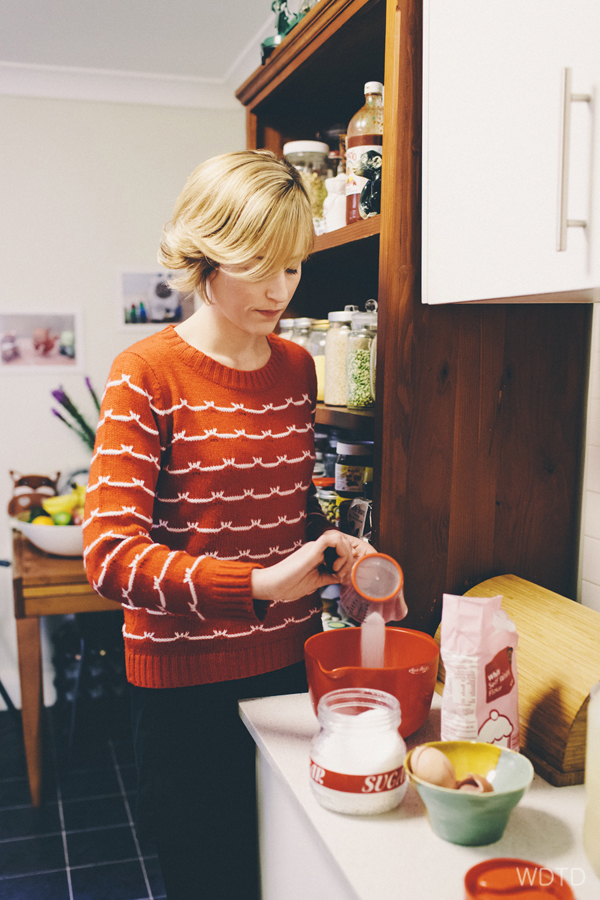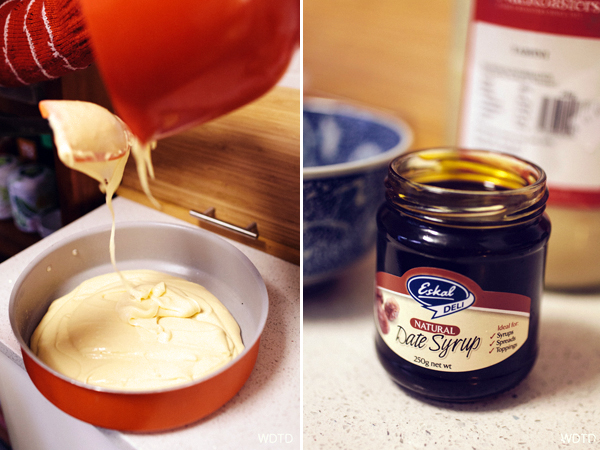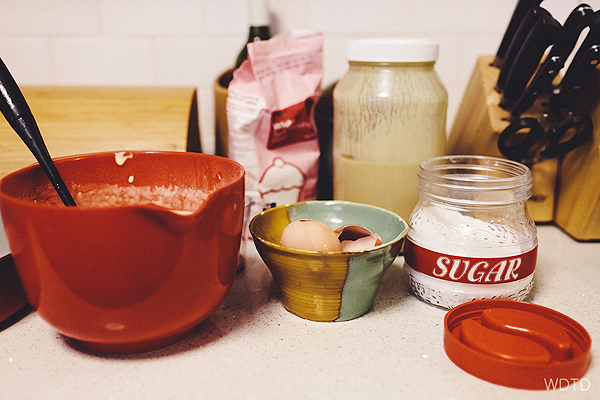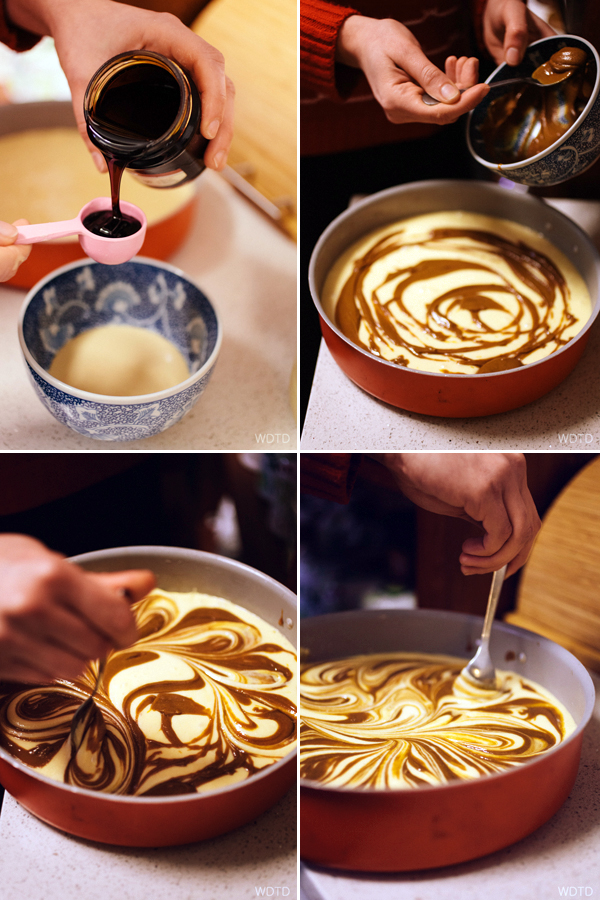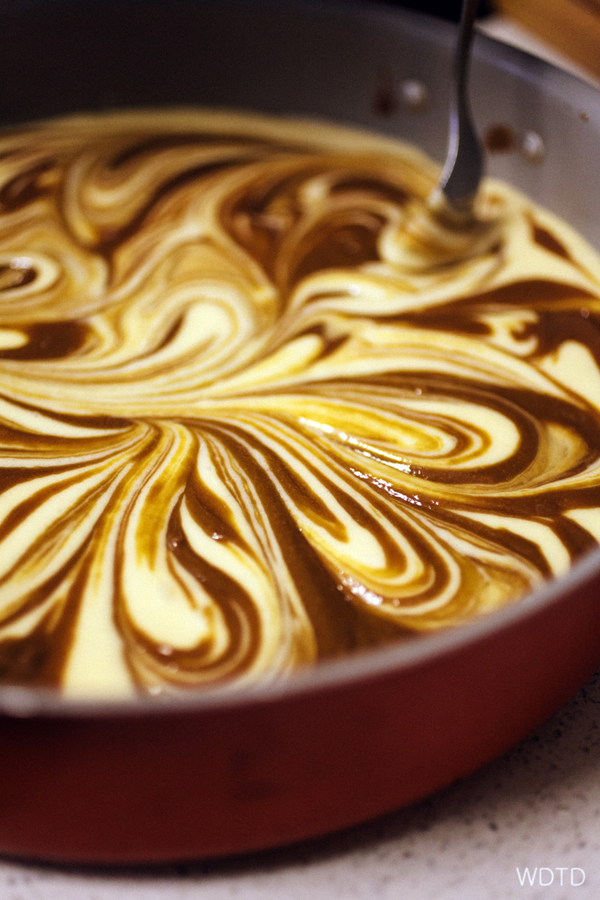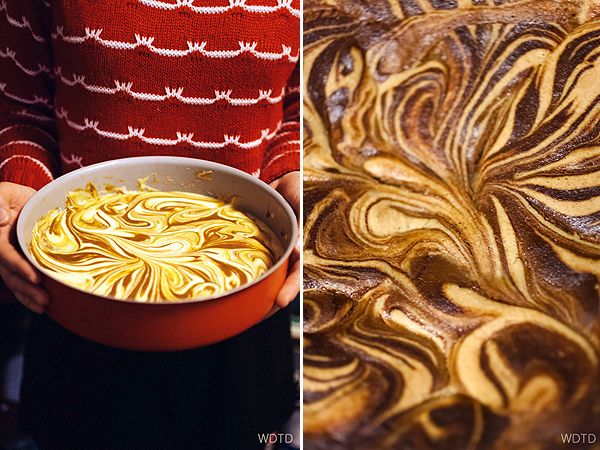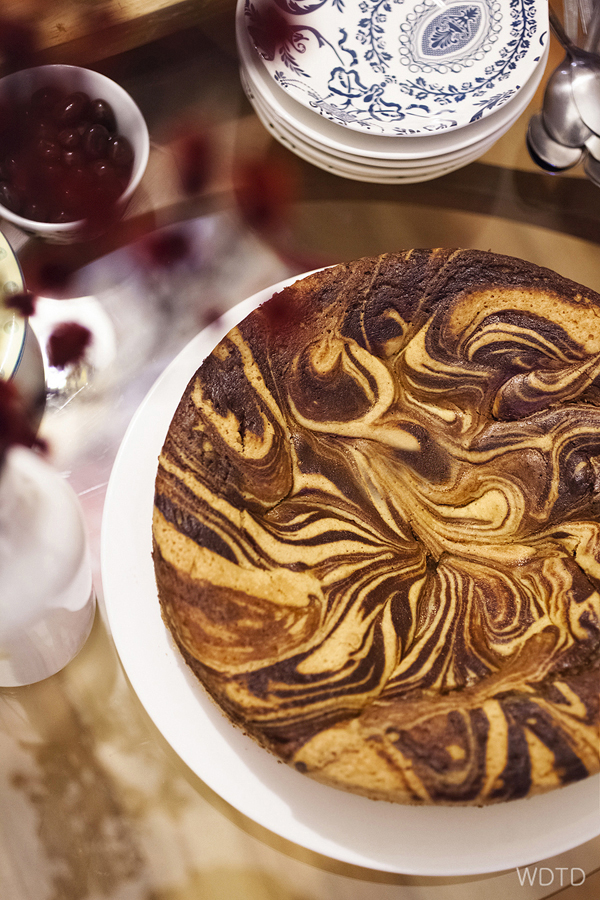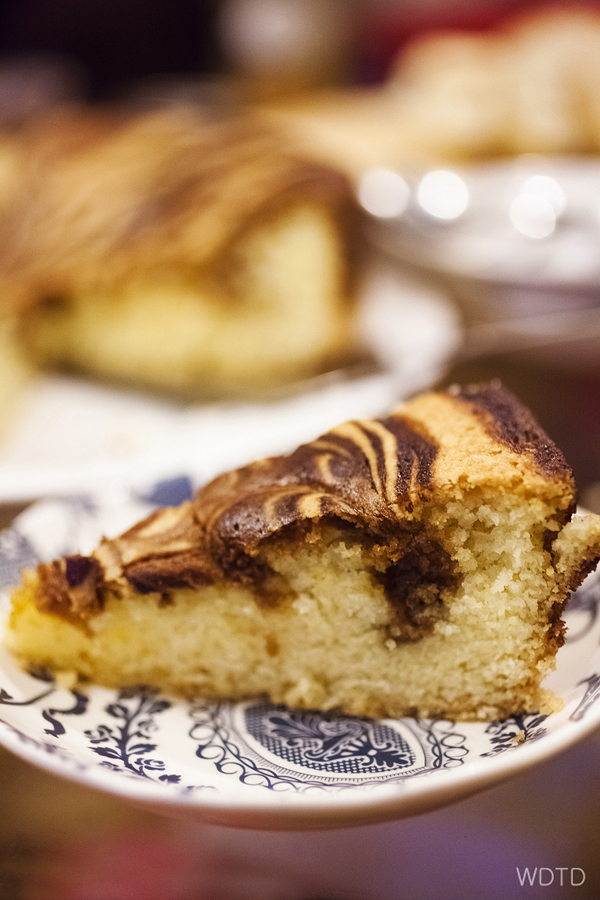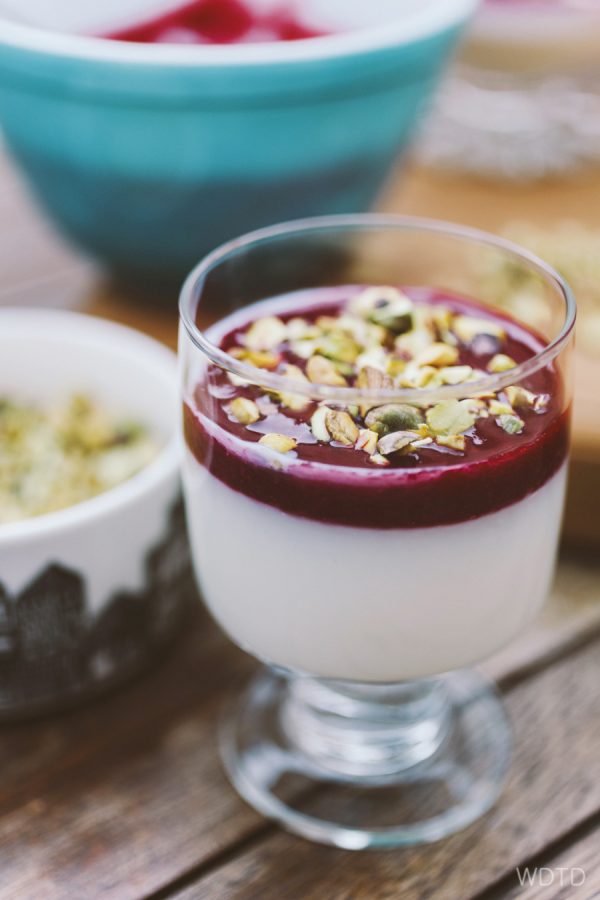 Israeli Malabi
Prep time: | Cook time: | Serves 6-8
Malabi
1.5L milk (skim milk is best)
1/2 cup of sugar
1/2 cup corn flour
4 tbs rose water
200g pistachio nuts
Raspberry Coulis
2 tbs of caster sugar
3 tbs water
1 bag frozen raspberries, thawed
For Malabi. In a bowl mix the corn flour and 1 cup milk, stir until corn flour has dissolved.
In a saucepan heat the rest of the milk and the sugar, stirring constantly.
As soon as it comes to boil, place on a low heat and add in the corn flour mix and the rose water.
Stir continuosly for 5 minutes until mixture is thick and smooth.
Pour into mini bowls or cups.
Let cool at room temperature then cover with glad wrap and place in fridge for 4-5 hours. Mixture should set like jelly.
For Raspberry Coulis. Heat the raspberries, sugar and water in a small saucepan over medium heat, stirring from time to time, until the sugar dissolves completely, about 5 minutes.
Put the mixture in a blender and puree.
Strain through a fine mesh sieve to remove the seeds.
Place a tablespoon of raspberry coulis and chopped pistachio nuts on the chilled Malabi and serve.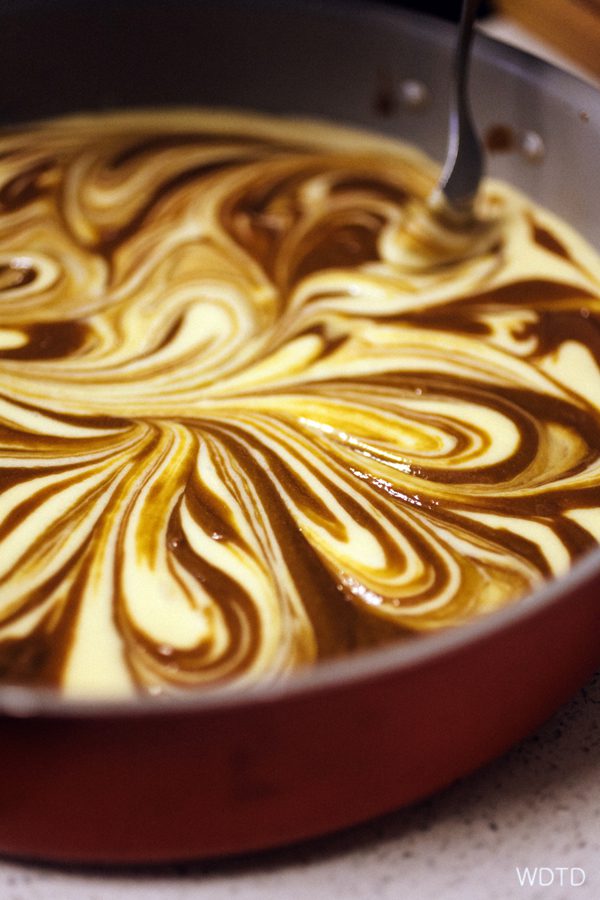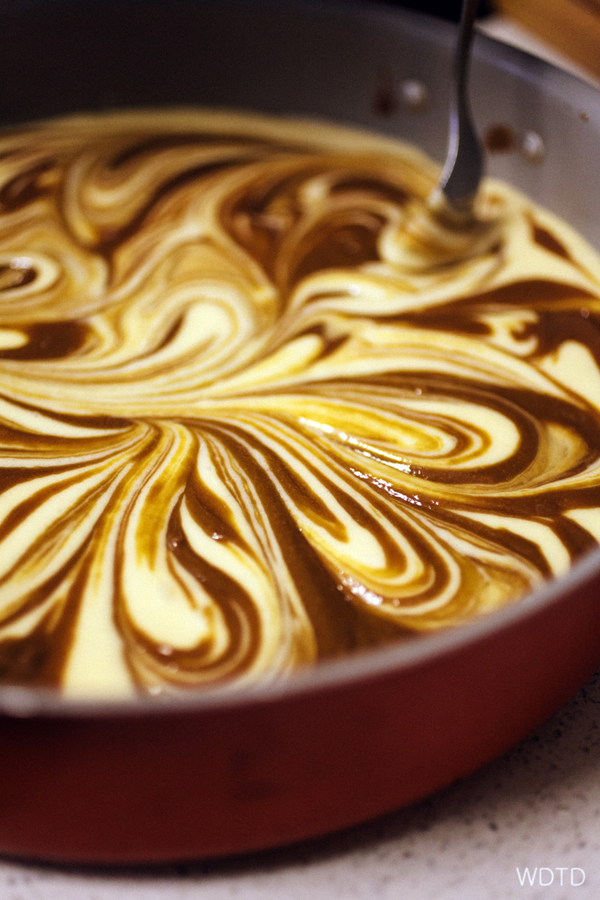 Tahini and Date Syrup Cake
Prep time: | Cook time: | Serves 12
4 eggs
1.5 cups of sugar
3/4 cups of cooking oil
2 cups of self raising flour
3 tbs of tahini
3 tbs of date syrup
Preheat the oven to 180˚C.
In a bowl, mix the eggs with the sugar until light and creamy.
Mix in the oil and flour.
Pour in cake tin.
In a small bowl, combine the tahini and date syrup.
Drizzle over the cake mixture and then swirl through the mixture using a teaspoon.
Bake for approximately 20 mins on 180˚C.
Serve with tea or coffee.