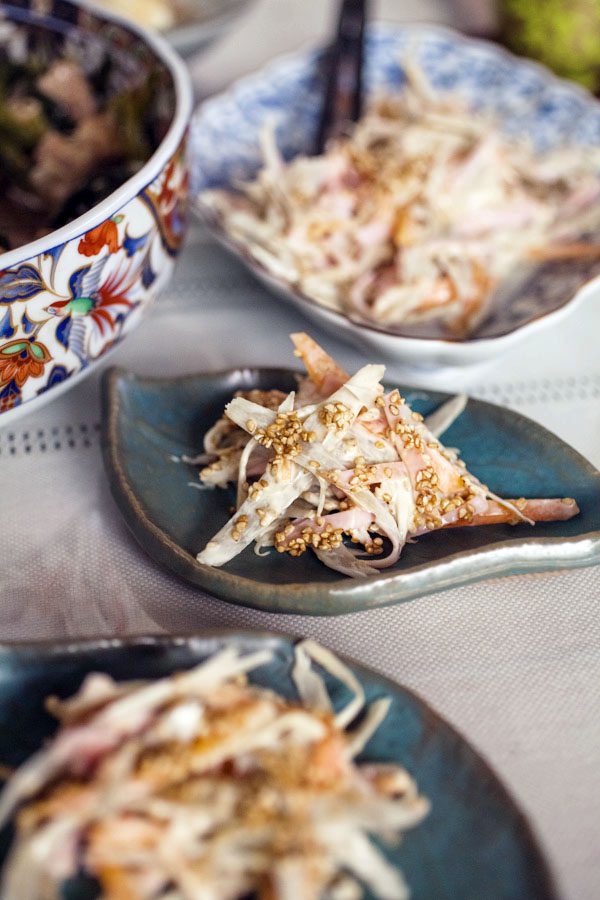 Prep time: | Cook time: | Serves 4
1 Burdock root or Jerusalem Artichoke coarsely grated or julienned

1 big carrot coarsely grated or julienned
6 pieces of ham julienned
4 tsp roasted sesame seed
2 tbs Japanese mayonaise
2 tbs sesame seed paste (Tahini)
1 tbs white vinegar
3 tsp light soy sauce
1 tbs sugar
To prepare the burdock root (or Jerusalem Artichoke), pill the outer skin and grate into coarse strips or julienne then soak in water for about half an hour with a bit of vinegar to stop discolouring and enhance crunchiness after parboiling.
Rinse the soaked burdock root and parboil with the carrot for about 5 mins then drain and toss well with julienned ham.
For the dressing, whisk together the mayonaise, tahini, white vinegar, light soy sauce and sugar.
Mix well with the salad and garnish with roasted sesame seed.