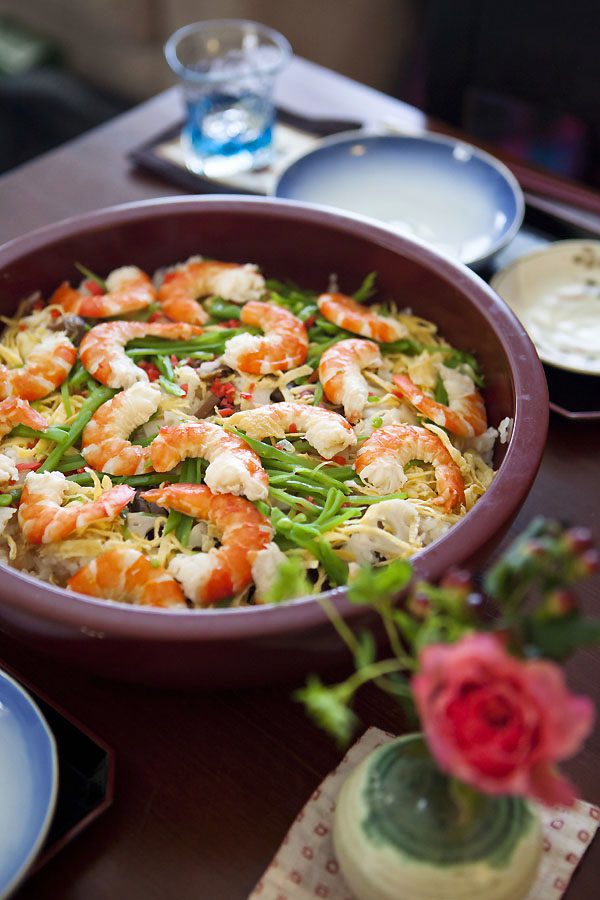 Prep time: | Cook time: | Serves 4
2 cups of short grain / sushi rice
1 cup of water
1 piece of konbu (dried kelp)
mirin (sweet cooking sake)
rice vinegar
sugar
salt
10g of kanpyo (dried gourd strips)
egg omelette
50g snow peas
1 medium size lotus root (can be replaced with frozen ones)
5 dried shiitake mushroom
12 tiger prawns
Combine water, rice, and konbu and cook in rice cooker.
Prepare the kanpyo by rinsing it in cold water and soak in warm water for 10 mins with a pinch of salt.
After the rice is cooked add 25ml rice vinegar, 15g sugar, 10g salt and kanpyo then mix thoroughly. Set aside to cool.
Boiled the unpeeled prawns with 1 tbs of rice vinegar, 1 tbsp of mirin. When cooked, peel and slice in half.
Soak the shiitake mushrooms in hot boiling water just enough to cover the mushrooms for around 5 hours then boil it in a pot with 1 tbs of mirin, 1/2 tbs of sugar, and 1&1/2 tbs of soy sauce until all liquid is reduced. Allow to cool and slice thinly.
Peel and place the lotus root in a pot and cover with water, soy sauce, mirin and rice vinegar 1 tbs each. Boil on low heat for half hour, set to cool, then slice thinly.
Thinly slice the egg omelette into long thin strips.
Boil the snow peas, drained and sliced thinly.
Put the mixed rice in a large serving bowl and scattered each sliced ingredients on top layer by layer.