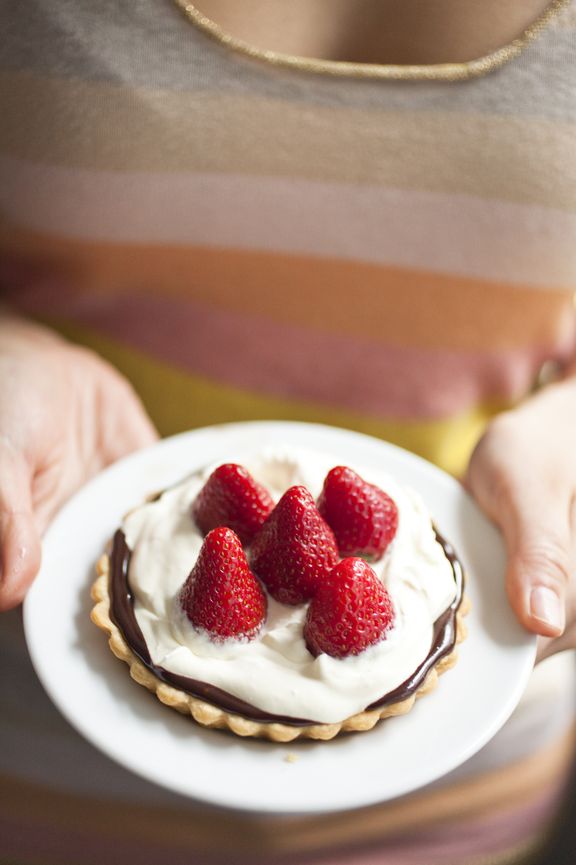 Prep time: | Cook time: | Serves 4
240g plain flour

150g unsalted butter

pinch of sea salt

300ml thickened cream

1 tbs caster sugar

1 punnet strawberries

160ml cream

40g unsalted butter

180g Lindt dark chocolate, finely chopped
Pastry. If you are feeling lazy, you can get the pre-made version of this at the supermarket but I find making it from scratch actually tastes fresher! Put the flour, softened butter and a pinch of salt into a mixing bowl and mix until it creates breadcrumbs like texture. Then add 1 -2 teaspoons of cold water and mix again until the dough comes together nicely. Place the dough on a floured board or bench, shape it into a disc like shape then wrap it with cling wrap and refrigerate for an hour.
By this time your pastry should be nice and firm but still soft – if you know what I mean. Flatten it with the roller to about 3 mm thickness then line it on 4 of 10 cm tart tins. Make some holes lightly with a fork and place tins into the fridge for about half hour.
Chocolate Ganache. Put the cream and butter in a saucepan and stir over medium heat until butter has melted. Turn off the heat and slowly add the finely chopped chocolates until all gone. Place saucepan somewhere to keep its warmth like inside a microwave.
Take out the pastry tins from the fridge and preheat oven to 180˚c. Line the tins with baking paper and fill it with rice grains. Bake for about 10 mins then remove rice and paper and bake for further 10 mins or until golden. While waiting, whip the thickened cream with caster sugar until soft peaks.
Place the pastry onto a dessert plate and pour the warm chocolate ganache follow with a big dollop of sweetened cream and top with strawberries. SO GOOD!