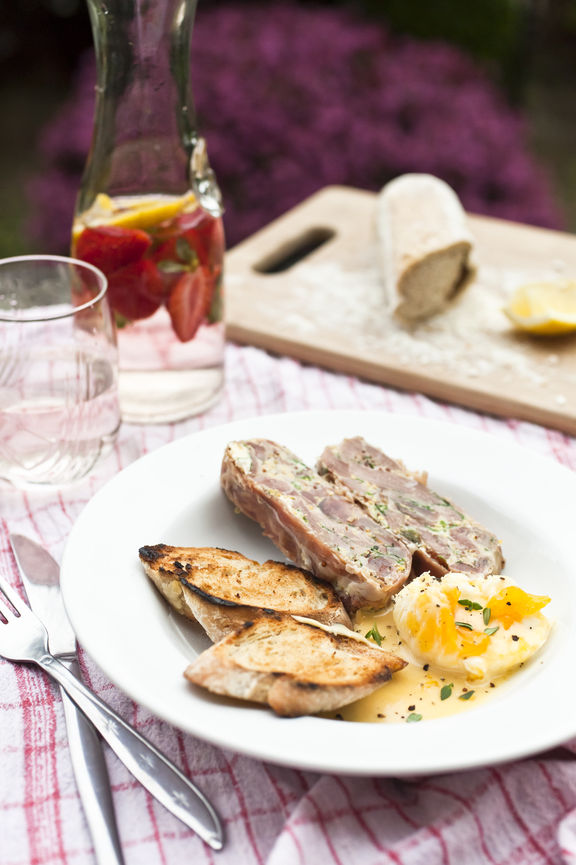 Prep time: | Cook time: | Serves 2
1 smoked ham hocks
2 carrots
1 brown onions
1 sprigs celery
2 fresh bay leaves
Few sprigs fresh thyme
2L chicken stock
½ bunch flat leaf parsley leaves, washed and chopped
125g butter, softened
2 tbs black mustard seed
1 tbs fennel seed
handful of grated apple
6 slices prosciutto
Extra virgin olive oil
2 eggs, to poach
1 tsp vinegar
1 baguette loaf
Chopped parsley leaves, to serve
Terrine. Place the ham hock in a large stock pot with a bit of olive oil then add diced carrots, onions, celery, bay leaves and thyme then pour in the chicken stock. Let it boil over high heat then put in the preheat oven on fan forced 280˚c for about 1 hour. By this time your ham hock will be falling off the bone, or it should anyway – if not, put back in the oven for another 30mins. Drain out the stock and freeze it, it can be used for another dish. Pull apart the ham and mash and mix it slightly with the vegetables and let it cool.
Slightly whisk the softened butter and mustard seed season with a dash of cayenne pepper and fennel seed then add this mixture into the ham hock and vegetables mash follow with the grated apple.
Grease your small – medium size terrine mould (a rectangle bread loaf tin will do too) and line with cling wrap enough to wrap the mixture. Then line the prosciutto in rows neatly slightly overlapping each other then pour in the ham mixture. Fold over the prosciutto then wrap everything tightly with the cling wrap. Find a brick and wrap it with tea towel and place on top of terrine mould and refrigerate overnight. The next morning, the almighty terrine awaits to be served as breakfast! Unwrap the top part and cut a couple of slices out – it should be firm and moist. Serve on plate with drizzle of olive oil.
Poached Egg. In a small saucepan, bring water to boil on low heat then add a tsp of vinegar. If this is your first time, crack the egg onto a bowl and slightly slide it into the water. Use a slotted spoon to keep the egg from sticking to bottom of pan. After 3 mins or so, slot out the poached egg and place next to the terrine pieces with the sourdough toast. Sprinkle with chopped parsley leaves. Bon Appetit!