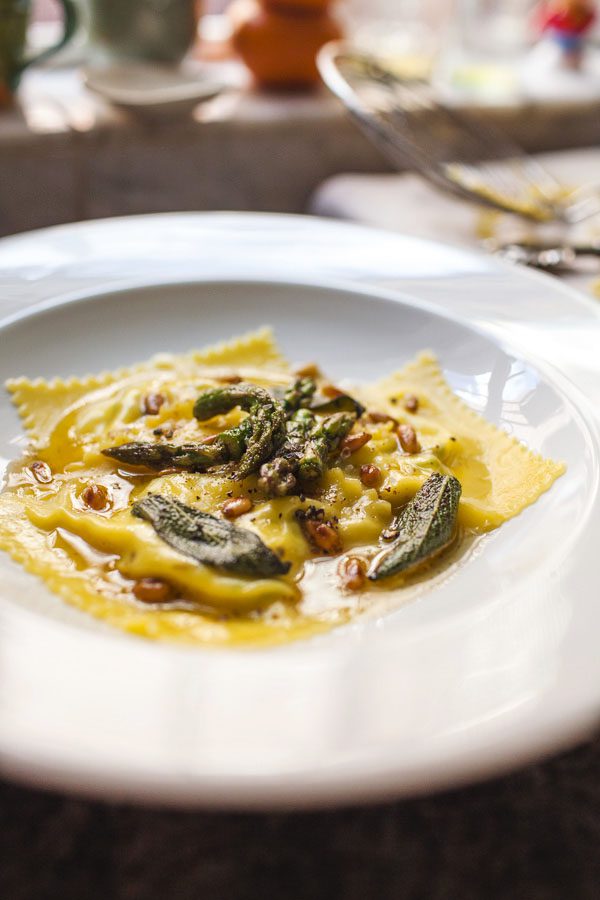 Prep time: | Cook time: | Serves 4-5
200g Haloumi cheese, grated
100g fresh ricotta cheese
1 egg, beaten
1 bunch asparagus, sliced finely (cut off tips for sauce)
1 packet of wonton wrappers
salt & pepper to taste
175 unsalted butter
3 tbs pine nuts
1/3 cup sage leaves
Mix together grated Haloumi, Ricotta, and sliced asparagus until combined. Add salt & pepper.
Add beaten egg and mix thoroughly.
Lay out a square of wonton wrapper. Place about a teaspoon of filling in the middle of the square.
Using the tip of your finger or a thin pastry brush, brush the edges of the wonton wrapper with water.
Place a second wrapper on top of the first, carefully pressing down the filling and removing as much air as possible, sealing the edges. Using a ravioli cutter, roll around the sides of the ravioli to seal.
Place the completed ravioli on a well-floured board or baking paper. Repeat until all the wrappers are used up, or you have a desired number of ravioli. These can also be frozen and placed in boiling water straight from freezer.
To cook, gently slide 3-4 ravioli into boiling water for a few minutes until they float to the surface. Lift out with a slotted spoon and drain. Repeat until all done.
Toast pinenuts until golden. Set aside.
Meanwhile, place butter in a frying pan over medium-low heat. Cook for 3-4 minutes or until butter just starts to turn brown. Add sage and cook for 1 minute or until crisp. Add asparagus tips and toasted pinenuts. Continue to cook butter until golden brown.
To serve, divide ravioli between serving plates and then pour over the butter sauce, dividing asparagus, sage and pinenuts evenly.
Season with salt and pepper.
This entry was posted in
Starters
,
The DIshes
and tagged
asparagus
,
burnt butter
,
haloumi
,
italian
,
pine nuts
,
ravioli
,
ricotta
,
sage
,
vegetarian
,
wonton wrapper
. Bookmark the
permalink
.
← Osterbrot
Japanese Braised Pork Belly (Buta No Kakuni 豚の角煮) →