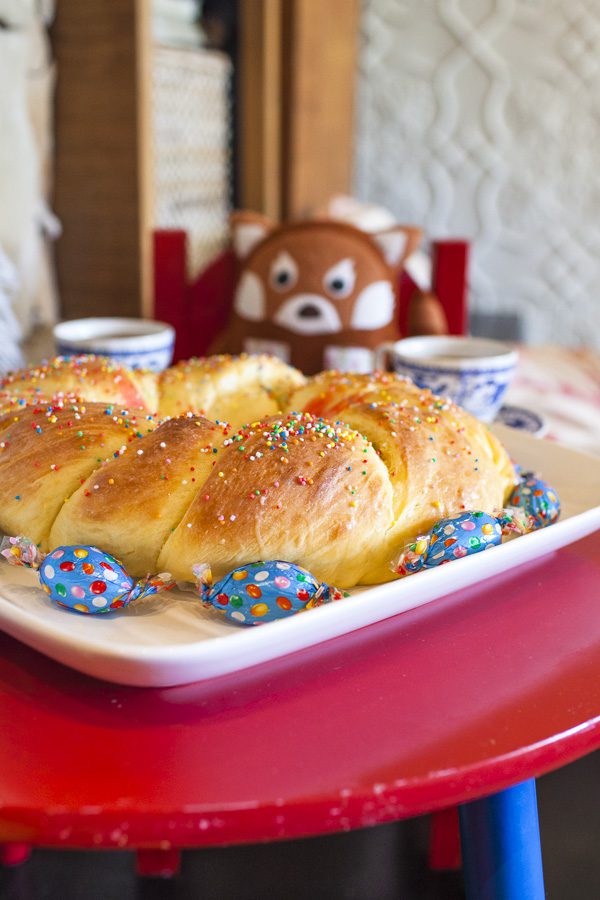 Prep time: | Cook time: | Serves 10
Dough
8 cups flour
1.5 cups milk
2 oranges, zested and juiced
½ cup granulated sugar
2 sachets of yeast
1 cup melted margarine
8 eggs
1 tsp salt
¼ tsp aniseed oil (we used 2 tsp aniseed essence, ratio is 1:4 with oil and essence)
Glaze
Icing/Confectioners sugar
Milk
100s and 1000s (sprinkles)
Dyed Eggs
6 raw eggs
Food colouring
Vinegar
Place flour in a large mixing bowl.
Place the milk in a small saucepan over low heat – the aim is to get it warm but most definitely not hot. While the milk is heating, combine the orange zest and sugar and rub together with fingers until combined.
Once the milk is warm to the touch, pour in the sugar mixture and stir until dissolved.
Add the yeast to the milk mixture. Set aside for 10 minutes (it will thicken and bubble).
Begin mixing the milk mixture with the flour (you can do this by hand or with a mixer and dough attachment). Gradually add the melted butter, then add the orange juice.
In a separate bowl, lightly whisk the eggs, aniseed oil and salt. Add this mixture to the dough and beat to combine.
At this point you may need to add more flour to get the dough to come together. We used about 1-2 cups more flour! It is really dependent on how much juice you get from the oranges. Use feel/touch here.
Knead the mixture for five minutes on a lightly floured surface. Transfer to an oiled bowl and let rise for up to 1hr, or until the mixture has double in size.
Split the dough mixture in half, and then in half again, so you have four balls of dough. Shape each ball into a rope of around 50cm long. Plait two ropes and shape into a hollow circle. Do the same with the remaining two ropes. Place on two baking sheets lined with baking paper, and allow to rise for another 45 minutes.
Now's the time for egg dying! Place the food colouring of your choice and vinegar in a bowl and turn for around 5 minutes for a nice even coverage, or until desired colour is achieved. Don't overdo it as it can start to peel away. Place the dyed eggs in the centre of your breads – they will cook through as the bread bakes.
Preheat the oven to 180˚c then place the breads in the oven for 30-40 minutes. Once they are lightly browned, remove and allow to cool before glazing.
Once cooled, mix together around 1 cup of icing sugar with ¼ cup of milk – you want a light, runny consistency. Use a pastry brush to paint the glaze onto the tops of your breads, then apply 100s and 1000s to your heart's desire!
Serve with tea and butter – Lecker!