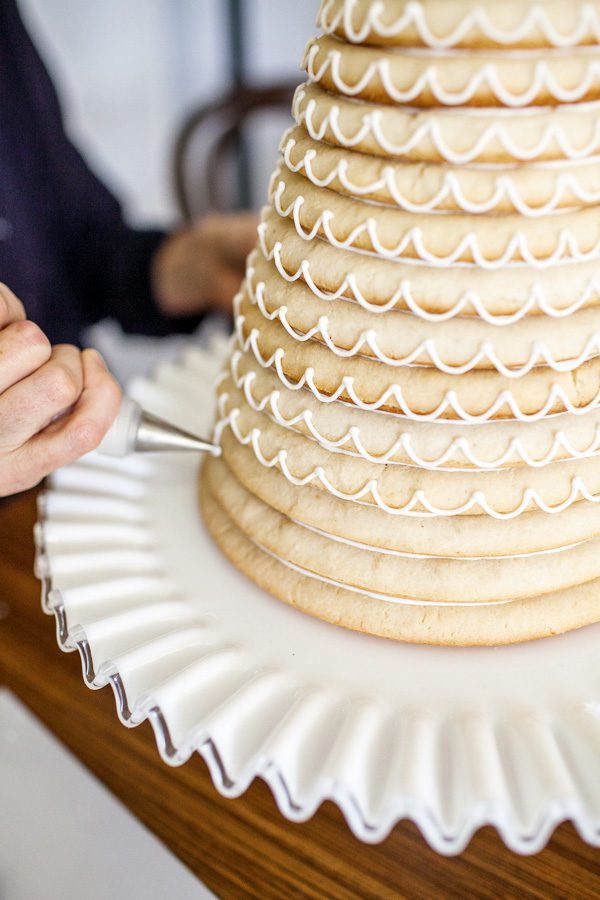 Prep time: | Cook time: | Serves Up to 50 in petit fours pieces
For Kransekake
500g almond meal
500g pure icing sugar
4 egg whites
cornflour for dusting
For Royal Icing
2 large egg whites
2 tsp fresh lemon juice or 1 tsp acetic acid
3 cups (330 grams) confectionery (icing) sugar, sifted
Lightly beat egg whites.
Add almond meal and icing sugar and work into a pliable dough.
Cool in fridge overnight.
Next day preheat oven to 180˚C.
Roll out dough to finger size sausages, put into kransekake forms sprayed with cooking oil.
Butt and pinch ends to form a circle.
Bake for 17 mins, when cool remove from forms and turn onto a cooling rack.

In the bowl of your electric mixer (or with a hand mixer), beat the egg whites. Add the sifted powdered sugar and beat on low speed until soft peaks form.

Add lemon juice or acetic acid and mix through. The icing needs to be used immediately or transferred to an airtight container as royal icing hardens when exposed to air. Cover with plastic wrap when not in use.

To assemble, fill a piping bag with royal icing and use a number 4 round tip. Pipe a line of icing around the bottom side of the largest ring and secure it to your stand or base.
Continue to pipe icing onto the underside of each successive ring until the tower is assembled.
Using a number 2 round tip, pipe fine scalloping around each ring, starting at the top and finishing at the base. Decorate with dusted icing sugar, fresh fruits and flowers or Norwegian flags.