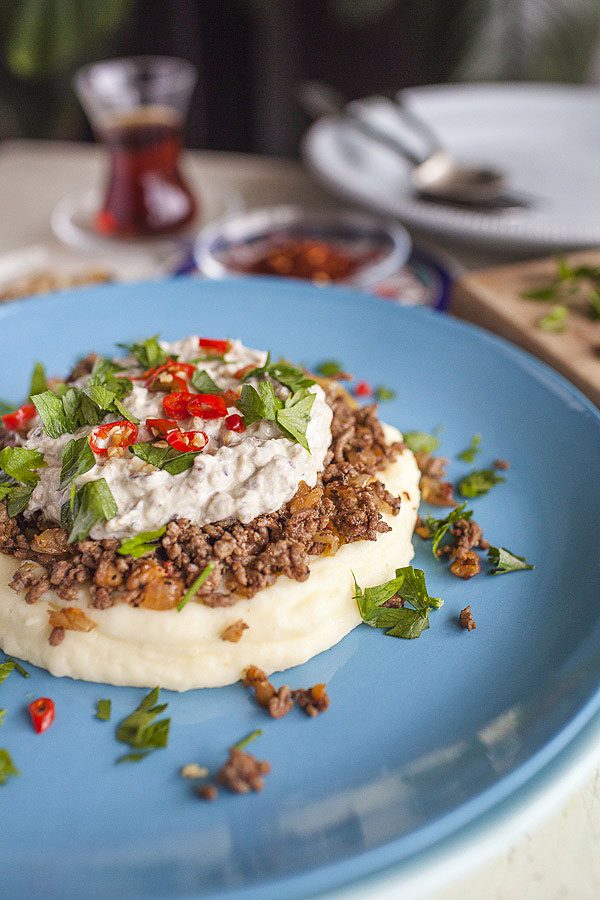 Prep time: | Cook time: | Serves 2
2 average size eggplants
4-5 tbs of drained plain Greek yoghurt
4 average size potatoes chopped
Splash of milk and cream (about 4-5 tbs full each)
1 tbs butter
A hand full of grated cheddar cheese
A hand full of chopped walnuts
500 gr of lean beef mince
1 large onion chopped
5 gloves of garlic, 4 sliced 1 crushed
Fresh chillies to your taste, sliced
2 medium size Banana capsicum, thinly sliced
Mild chilli flakes
Dried oregano
Salt and pepper to your taste
Fresh parsley to garnish
Olive oil
Prick and roast the eggplants on the BBQ for a rich smokey flavour about an hour on mid temperature. The longer they cook, the better they get. If you don't own a BBQ then put them in the oven on about 150˚C.
While they are roasting, boil the chopped potatoes with two teaspoons of salt for a mash.
Fry the mince in a deep frying pan with little olive oil and spices. Add the chopped onion, 4 cloves of garlic, chopped walnuts, the sliced banana capsicum and fresh chillies. Add more olive oil if need to. Season it with salt and pepper to your taste.
Mash the cooked potatoes with a hand mixer and add the cream, milk, butter and cheese.
Scoop the flesh out of the cooked and cooled eggplants then mash them roughly with a spoon or fork. Mix it with the strained yoghurt and crushed garlic. Season it with salt and pepper.
On a serving plate put the half of mash potatoes, put the mince mixture in the middle and the eggplant mixture at the top. Garnish it with chopped parsley and sliced chillies.