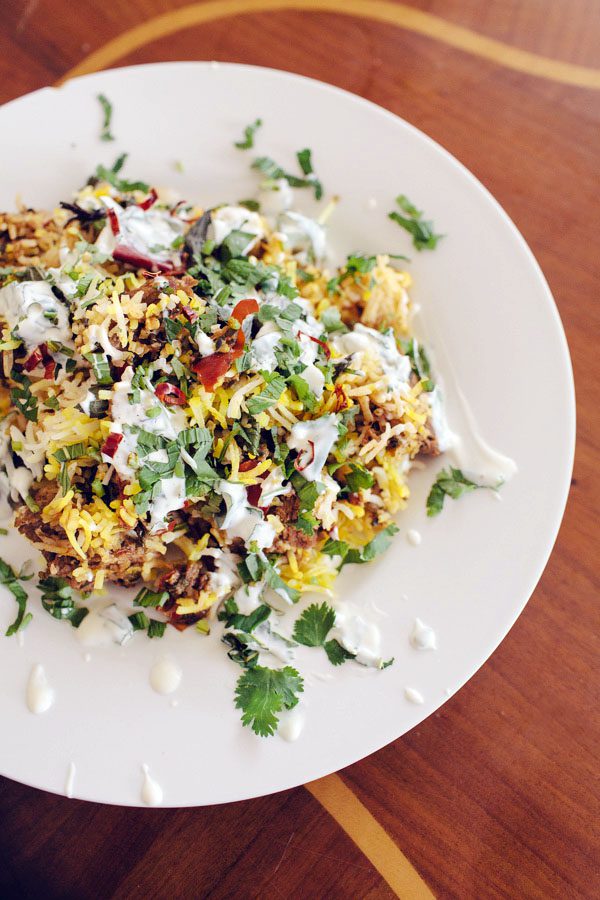 Prep time: | Cook time: | Serves 4-6
4 cloves garlic
2 inch long ginger
3 long (milder) red chillies
2 tsp sea salt
1kg Lamb (leg) trimmed and cut into 1 inch cubes
3 tbs plain yoghurt
2 tbs vegetable oil
2 onions finely diced
1 tsp salt
1 cinnamon stick
3 hot dried chillies chopped up
2 tsp coriander seed
1 tsp cumin seed
6 cardamom pods
6 whole cloves
1 bunch mint leaves
1 bunch coriander
2 tomatoes chopped
black pepper
2 cups Basmati rice
500g plain yoghurt
1 cucumber
a pinch of saffron (optional)
Finely chopped or put in the food processor the 4 cloves of garlic, ginger, 3 red chillies and salt. Marinate the lamb with this paste and 3 tablespoon of plain yoghurt and refrigerate overnight.

Biryani Paste. Fry the chopped onions, coriander stems along with the cinnamon stick and chopped dried chilies on a low heat for as long as 30 minutes. Stirring frequently letting these ingredients releasing their aroma.

In a separate pan on a low medium heat toast the coriander seeds, cumin seeds, cardamom pods and cloves for a few minutes until you can smell all the fragrance releasing. Grind to a find powder in a mortar and pestle.

Add the powder to the browned onion mix and cook until oil starts to separate out.

Add to the pot the marinated lamb, chopped tomatoes, mint and coriander leaves and simmer on low with a lid on for an hour then lid off for about another hour so curry thicken but should not let go dry.

The Rice. Wash 2 cups Basmati rice until water runs clear and soak for at least an hour. Bring a big pot of well salted water to boil, strain soaking rice, and boil for 5 minutes before draining well. The rice should still have a slight bite to it.

The Dish (Finally!). Put a heavy based non stick pot on a low medium heat with a splash of oil. Layer a third of the rice on the bottom. Then half the lamb curry, then more rice, then rest of the curry and finish with rice. For a special touch pour over a pinch of saffron that has soaked in hot water for a while. Put the lid on and let steam on low for 30 mins to finish the rice. If this makes you nervous about burning the bottom of the dish then 180˚c in the oven for the same time works.
Yoghurt Raita. Mix finely diced cucumber skin, finely chopped mint and coriander into the plain yoghurt. Serve generously on the lamb biryani and add some more freshly chopped of the remaining herbs as garnish.