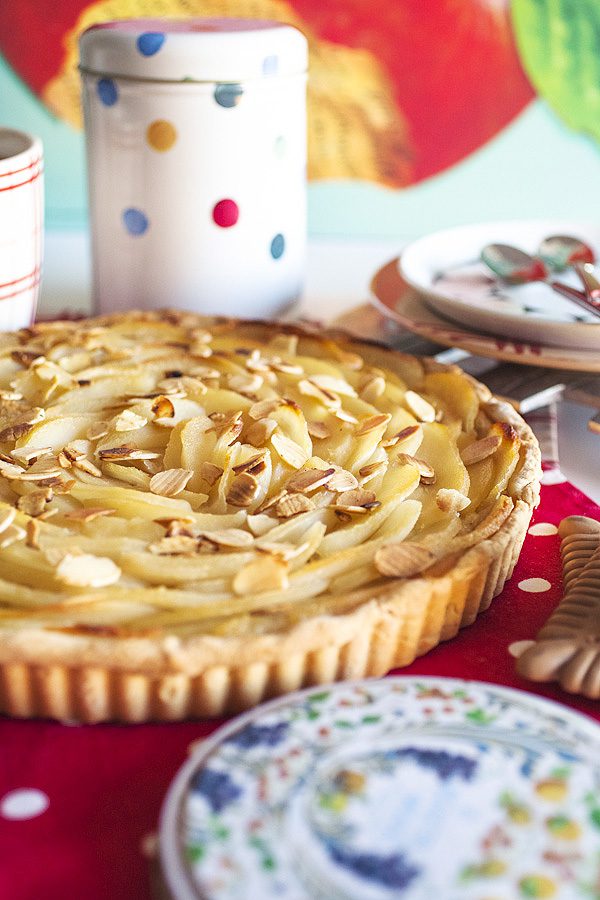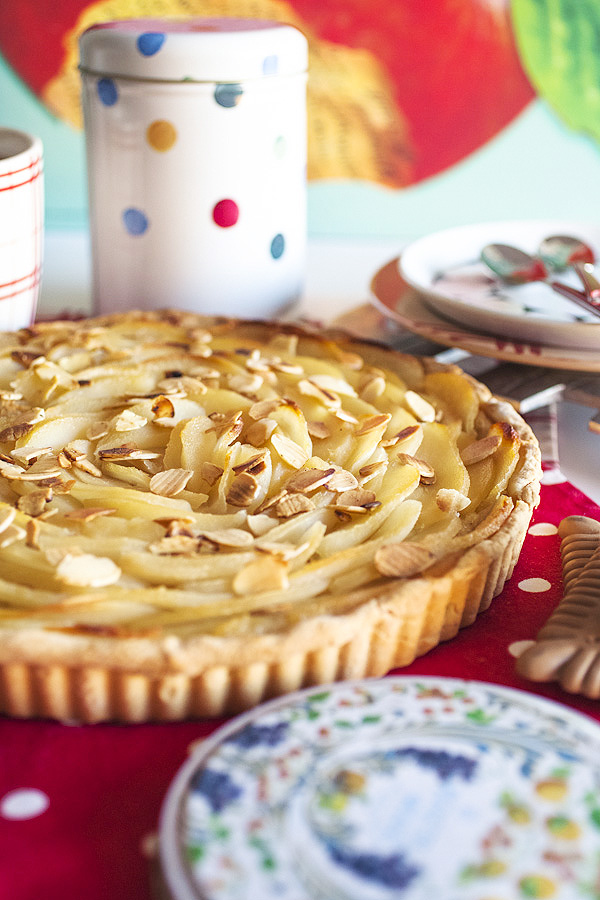 Prep time: | Cook time: | Serves 8-12
For the pastry
1 egg
60g of sugar
250g of flour
125g of butter – soft divided in small cubes
A pinch of salt
For the filling (Crême Patissière)
2 eggs
250g of caster sugar
75g of flour
0.5L of milk
60g of almond meal
Vanilla essence
For the topping
2 big tins of pear halves – cut the pear halves into thinner slices
Some almond flakes – toast them under the grill or in a frying pan with a bit of butter
Making the pastry. Work together the egg, the sugar and the salt into a foamy mix.
Add the flour in one go and mix the whole preparation up into a kind of sandy texture.
Add the butter and knead the dough.
Leave the dough rest in the fridge for about one hour.
Making the crême patissière (custard). Bring the milk to boil. In a bowl, beat together (with the egg beaters) the sugar, eggs and vanilla essence until white and foamy then add the flour.
Mix in the hot milk and the almond meal.
Put the whole mix in a saucepan and cook the preparation over high heat; keep whisking and keep applying the whisk to the bottom of the saucepan to prevent the mix from burning. Keep doing this until the mixture is thicken then take it off the heat.
Assembling the tart. Preheat your oven to 180˚C. Take the pastry out of the fridge, knead it until it is quite elastic.
Roll it out with a rolling pin on a kitchen bench top or a table over which you would have spread some flour to prevent the pastry from sticking.
Put the rolled out pastry sheet in a buttered quiche/tart dish.
Add the crême patissière, spread it so it covers the whole surface of the dish.
Arrange the pear slices in a circle from the outside all the way to the centre of the dish.
Put the tart in the oven and bake for about 1hr at 180˚C.
The tart should be cooked when the pastry looks dry and the pears have lightly browned up.
Take out from the oven and spread some toasted almond on top.
Eat when it has cooled down – it is even better the day after if there are leftovers!