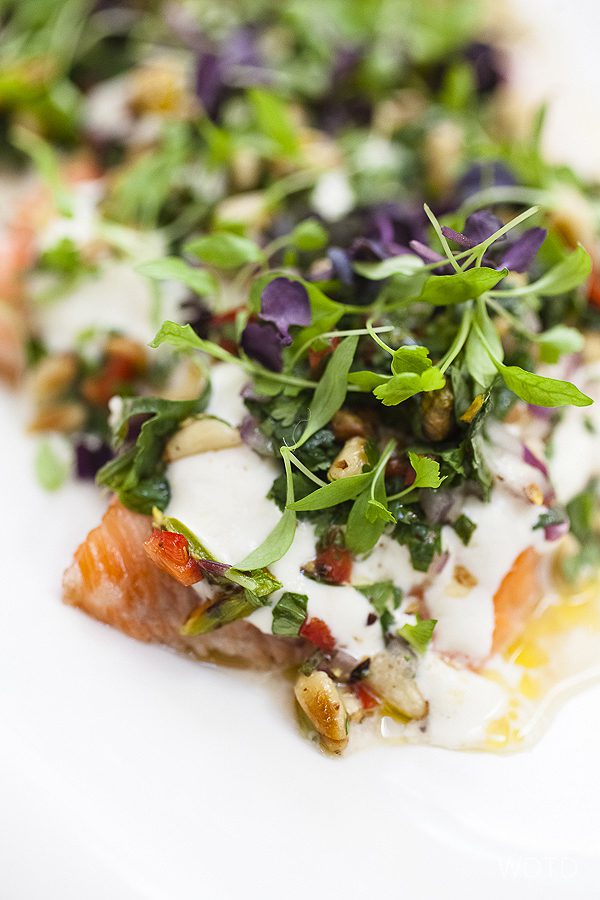 Prep time: | Cook time: | Serves 4
4 x 200g of salmon, skinned and de-boned
extra virgin olive oil
Dressing
1/2 clove of garlic
1/2 tsp salt
200g natural yoghurt
50ml tahini
Lemon juice to taste
Salad
90ml extra virgin olive oil 50 pine nuts
50g pistachio
Juice 1-2 lemons (to taste)
1 small red onion
1-2 long chillies (as you like it)
1 bunch coriander leaves
1 bunch mint leaves
10g sumac
Garnish
Pomegranate seeds
Green and purple micro herb
Dressing. To make the dressing, place the garlic and salt in a mortar and crush well. Stir the garlic, yoghurt and tahini together until it becomes a thick paste. Mix slightly with lemon juice (consistency of pure cream). Taste for salt and refrigerate.
Salmon. Preheat the oven to 50˚c. Place the salmon fillets on a large sheet of baking paper. Season all over with salt and pepper and liberally drizzle olive oil. Cook until salmon is cooked through and flakes or internal temperature reaches 48˚c. Remove from the oven and leave to cool to room temperature.
Salad. Turn the oven up to 200˚c and roast nuts until coloured. Remove from the oven. Chop finely and set aside.
In a bowl, whisk the remaining oil with the lemon juice, salt and pepper. Add the onion and chilli and whisk lightly. Add the chopped walnuts, herbs and sumac.
Plating. Spread or pipe yoghurt dressing over the top of the salmon. Spoon the salad over the salmon, covering it as neatly as possible. Sprinkle with micro herbs and pomegranate.