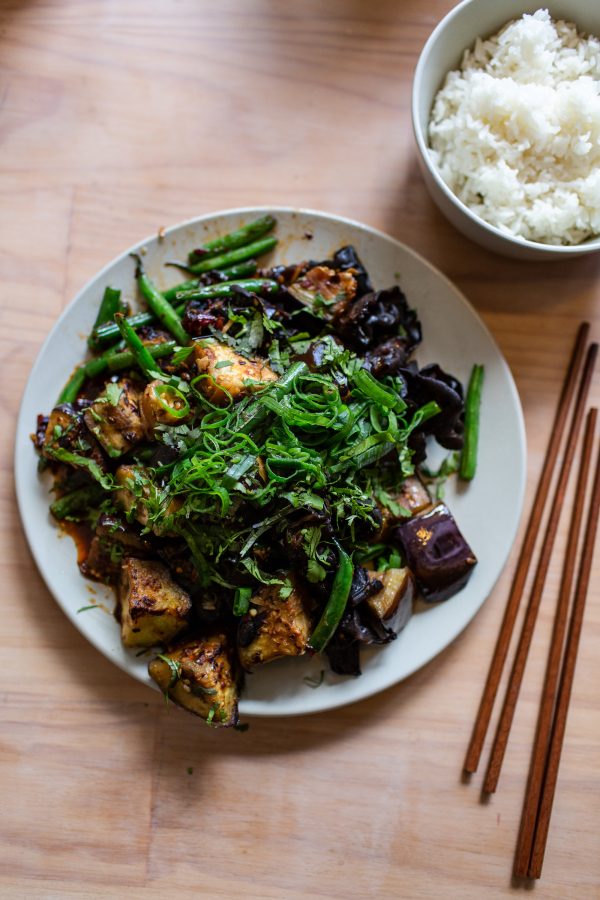 Prep time: | Cook time: | Serves 4
For the stir fry
1 medium size eggplant
A handful of green beans
A handful of wood ear mushrooms
2 cloves of garlic minced
1 thumb size piece of ginger julienned
1 medium red chilli
For the sauce
2/3 of a cup of vegetable stock
2 tablespoons of black vinegar
1.5 tablespoons of fermented black bean chilli paste
Plain flour
For Garnish
Chopped Spring onions
Chopped coriander
Cut the eggplant into chunky bite size pieces, rub salt on them and leave for at least 40 minutes to take out any moisture. Pat the eggplant dry with a paper towel.
Take the ends off the beans and cut to whatever size you like.
If your heat isn't that high you'll have to cook this in batches otherwise you don't get any golden colour. Firstly, fry off the wood ear mushrooms for about a minute and add a bit of stock and cover for 30 seconds. Then dust the eggplant with some flour (this will give it a bit of crunch and thicken the sauce).
Remove the mushrooms from the pan and add a couple of table spoons of peanut or canola oil. Fry off the eggplant for about 5 – 8 minutes depending on the size of the pieces but make sure you don't overcrowd the pan. After it's 70% cooked through you can remove from the pan and place with the mushrooms.
Add a bit more oil and fry off the green beans, with the ginger/garlic and chilli. Cook and toss for a couple of minutes and return the eggplant and mushrooms. Mix through the ingredients and add the stock/black vinegar and chilli bean pace. Toss for a few minutes and let the sauce reduce and thicken. Taste for seasoning and garnish with the spring onions and coriander.