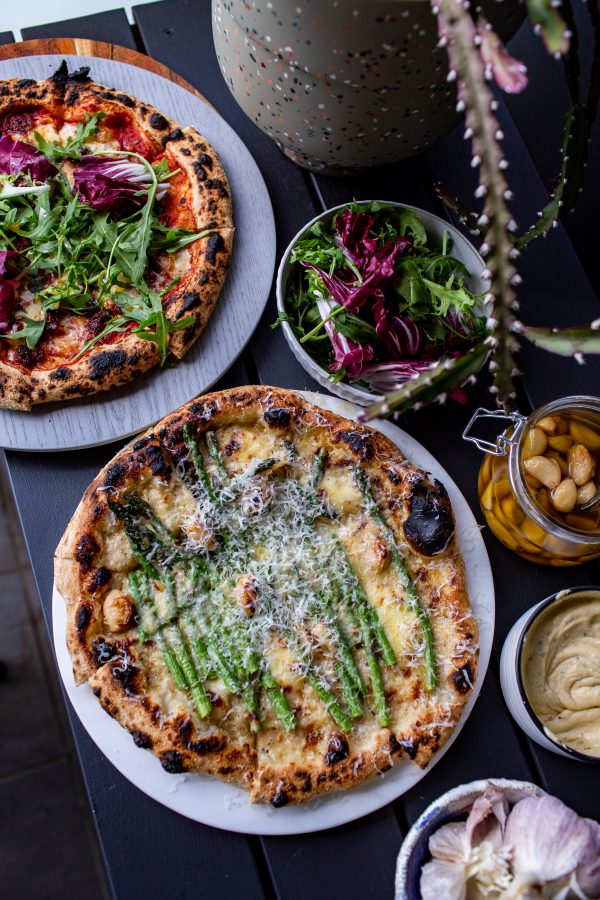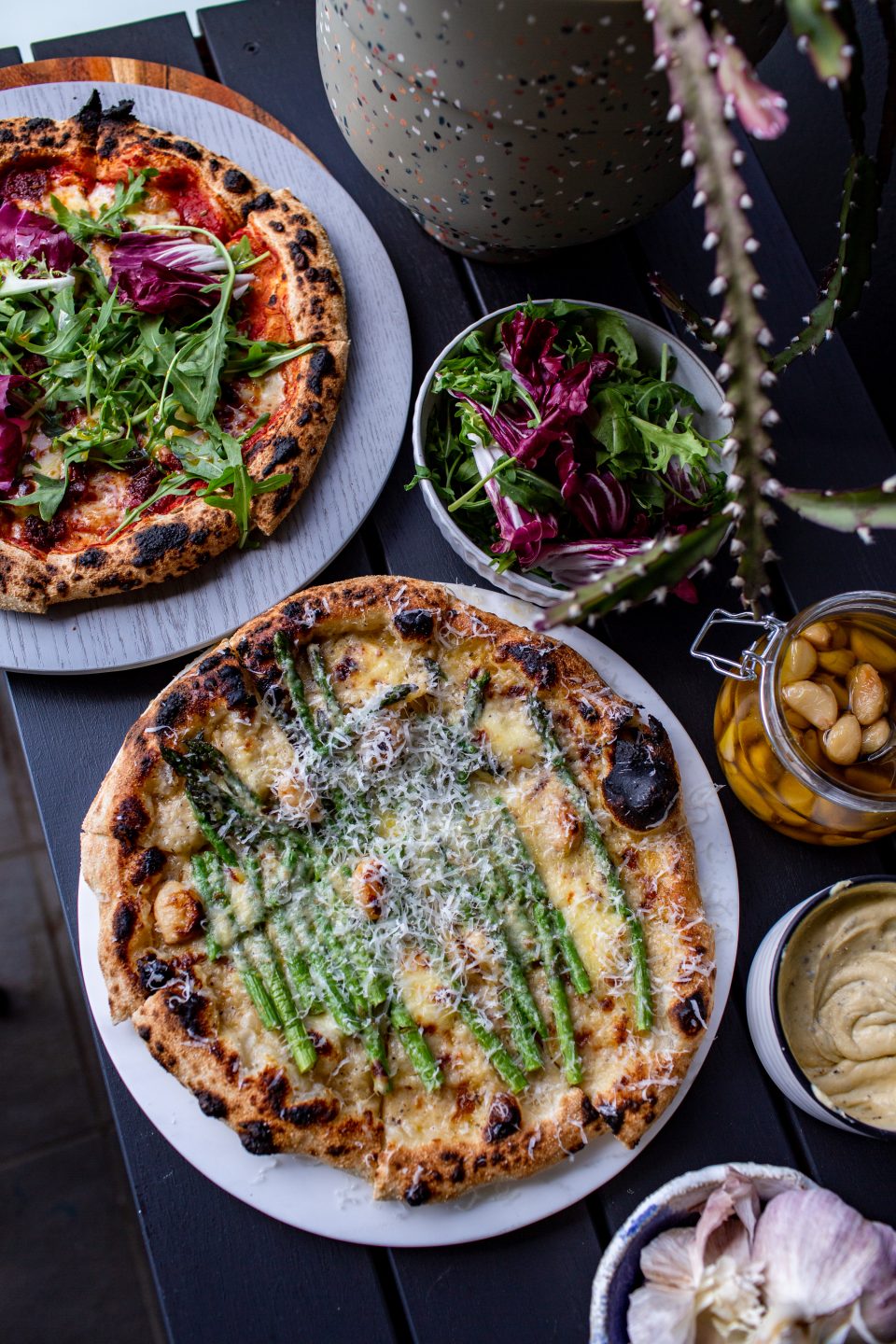 Prep time: | Cook time: | Serves 6
Pizza Dough
1kg tipo 00 flour (I use Caputo Pizzeria flour)
650ml water
½ 7g sachet instant yeast
¼ cup extra virgin olive oil
¼ cup sea salt flakes
¼ cup fine semolina
Cacio e Pepe sauce
2 tbs butter
2 tbs plain flour
1/2 tsp salt
2 tsp freshly ground black pepper
1/2 cup grated parmesan
1 cup milk
Pizza topping #1
1 bunch mini asparagus
200g Fior di Latte
4-5 preserved garlic in olive oil (optional)
Pizza topping #2
2 tbs passata sauce
1 tbs Nduja (Calabrian spreadable salami)
a pinch of fennel seeds
2 tsp honey
a handful of fresh rocket and radicchio leaves
Pizza Dough. Place flour, yeast and 650ml room temperature water into a stand mixer fitted with a dough hook. Combine on low speed until a shaggy dough forms. Add salt and oil. Continue on low speed for 10 minutes, or until dough is smooth and elastic.
Place dough into a large lightly oiled bowl. Cover with tea towel and allow to rise until doubled in size, about 2 hours. Divide dough into 6 portions and roll into balls. Place into a shallow dish and cover tightly. Refrigerate for 24 hours before using.
Pull pizza dough out of refrigerator whilst pizza oven (see tip for using regular oven*) preheats to 400°C. Sprinkle work surface with semolina. Use fingertips to spread out pizza dough on top of semolina, being careful to never crush the outside edge of the dough round (which will become the puffy crust of the pizza). Pick dough up and use the weight of the dough to help to stretch into approximately 25cm round.
Cacio e Pepe sauce. In a saucepan, melt butter over low heat and whisk in the flour bit by bit until all used up. Follow with milk, keep whisking to avoid any lumps and you have reached a thick sauce consistency. Remove saucepan from heat and fold in the grated parmesan, ground black pepper and salt. Set aside to cool.
Dress the pizza. Sprinkle semolina onto a pizza peel. Place dough round on top. Spread the cacio e pepe sauce on the dough, leaving about 1 inch around the edge for the crust. Top with the mini asparagus, preserved garlic and small chunks of Fior di Latte (don't overcrowd the pizza to avoid having soggy pizza). Cook in pizza oven for 90 seconds, turning every 10-15 seconds, until crust has 'leopard' spots and toppings are cooked. *If using a regular oven, heat as high as your oven can go, and preheat a pizza stone. Pizza will take a little longer in a regular oven – cook until crust is golden and cheese is melted.
Topping #2. Spread some passata sauce, follow with small chunks of mozzarella, nduja and sprinkle of fennel seeds. Drizzle with honey when out of the oven and top with fresh radicchio and rocket leaves.