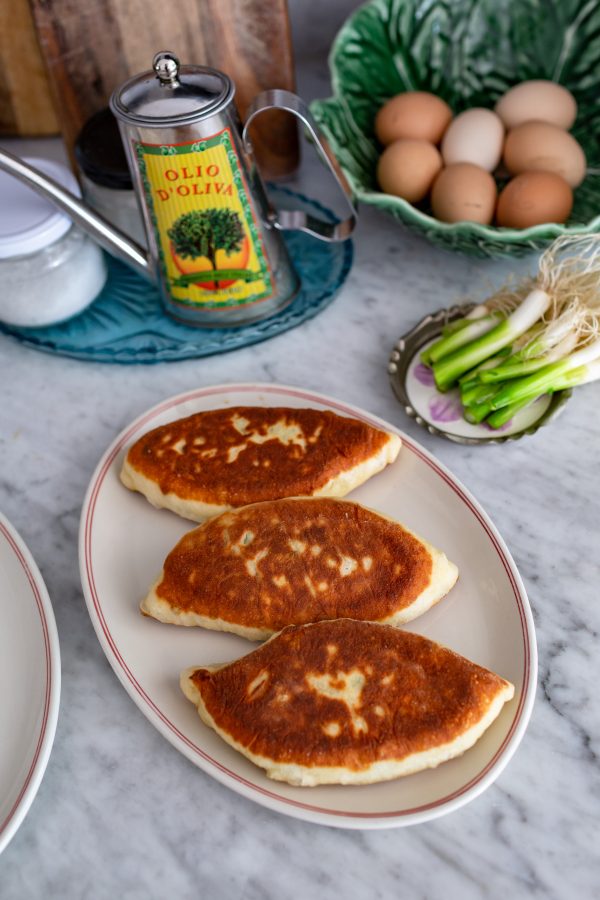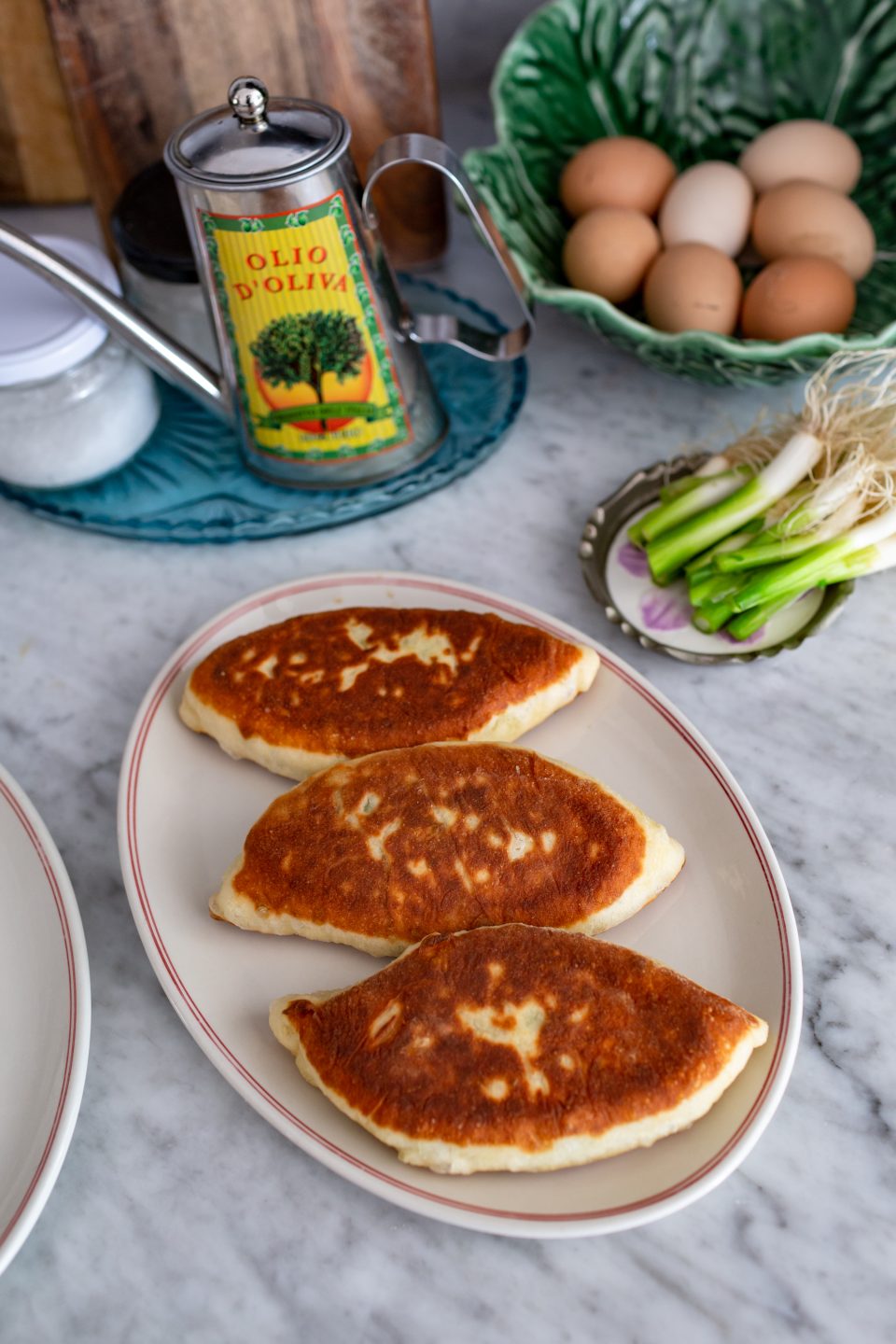 Prep time: | Cook time: | Serves 16
Dough

50g sunflower or olive oil + extra for cooking
14g dry yeast (instant dry yeast works best)
50g caster sugar
3 generous pinches of salt
550g plain flour* + extra for kneading
500ml water (lukewarm) – warm tap water is also great

*Cooking notes:
The specific amount of flour depends on how much the dough 'takes' that day. Start with the 550g that is recommended and then add more while you knead it and you can be generous with the flour when you roll these out.

Greens and Egg Filling

1 large bunch of leafy English spinach
1 large bunch of spring onion
1 large bunch of dill
1 large bunch of parsley
4 medium eggs

 
Heat the water for the dough in a small pot until it's lukewarm. Remove from the heat.

In a large mixing bowl add in the oil, the yeast, the caster sugar and the salt. Use a whisk to roughly combine these ingredients together. Sieve in the flour and pour in the luke warm water. Use a whisk or spatula to mix together until it's formed a sticky and rough textured dough.
Generously coat a kitchen bench or large wooden board in flour. Transfer the dough mixture onto this surface and sprinkle plenty of extra flour over the top. Flour your hands really well then begin to knead the dough. Knead for approximately 5 or so minutes or until the dough has come together nicely into a smooth surfaced round shape. Feel free to add a bit more flour if you need to (this always varies day to day and on humidity etc).
Place the dough into that same original mixing bowl – with the surface of the bowl lightly floured. Cover with wrapping or a large enough board and place into the fridge for 30 minutes.
Prepare the filling by placing the eggs into a pot of cold water. Cover with a lid and bring to a gentle boil. Reduce the heat to a simmer and cook the eggs for approximately 10 minutes. Remove from the heat, pour out the hot water and fill with cold tap water to cool the eggs.
Meanwhile, roughly chop all of the greens and place into a large mixing bowl.
Peel and roughly chop the eggs. Transfer the chopped egg into the mixing bowl with the greens. Season with lots of salt. Mix through really well and set aside.
To make the pirozkhi, remove the bowl with the dough from the fridge. Use a knife to cut, divide and weigh the dough into around 65g pieces. Lightly flour the surface and flour the rolling pin along with your hands. Use the rolling pin to roll the pieces out into slightly oval rectangular shapes that have a medium thickness. Place approximately 2 heaped tablespoons of the filling into the centre. press the opposite edges together, pinching it where needed. Flip it and place onto a lightly floured surface. Repeat until you have at least 3 or so ready and then begin to cook them.
To cook them heat a large pan with a generous amount of oil. On a medium high heat, cook the pirozkhi on each side until golden – approximately a few minutes. Adapt the heat slightly if needed – reduce or increase as every stove top and pan spreads heat differently. Place the cooked pirozkhi on a plate, into a pot or a platter that's line with paper towels.
While you cook a few at a time, continue to roll out, fill and make the pirozkhi. Enjoy and eat straight away if you can!