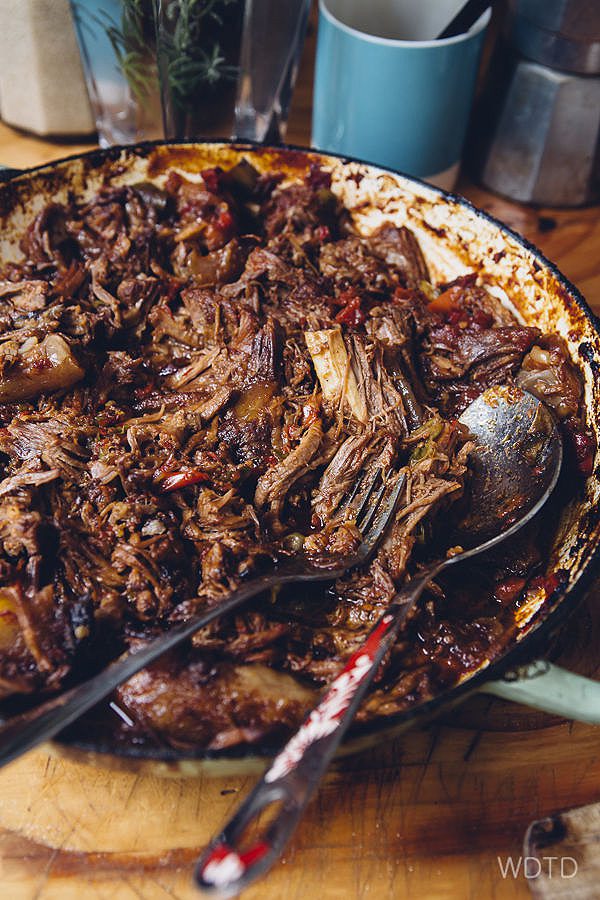 Prep time: | Cook time: | Serves 15-20 as part of Chilli Dog or 6-8 as main meal
1.5 – 2kg beef brisket (super cheap cut from your local butcher)
Salt & pepper
Olive oil
1 cinnamon stick
1 tbs of ground cumin
1 tbs of smoked paprika
2 dried bay leaves
1-2 red capsicums
1-2 yellow capsicums
2 x 400g tinned chopped tomatoes
½ litre beef stock (preferably liquid stock but it's okay to use stock cubes)
2 x Spanish onions
Splash of red wine vinegar
A bunch of fresh coriander
Place the beef brisket (which will usually come in two pieces) on a chopping board and score one side.
Pound/bash the cinnamon, cumin, paprika with a mortar and pestle then rub into the cuts in the beef. Then season well with salt and pepper.
Drizzle over some olive oil and brown the brisket pieces all over to seal in a large frying pan over a high heat. If you don't have a large enough frying pan then just pop it into a baking tray and put the tray over two burners.
Meanwhile, whilst you are browning the brisket (make sure you don't burn it), place the bay leaves, capsicums, tomatoes and stock in a large pot on another burner and bring to the boil.
Return to the brisket and add the chilli and onion to the pan, cook for 5 minutes.
After your tomato mixture has come to the boil, transfer it to the large baking tray with the brisket cover with foil, and leave to bake on 140˚c for 4–5 hours, the longer the better.
When the beef is ready all the sinews, tendons and fat should melt gently into the meat. It will pull apart easily with a fork when you test it.
Once removed from the oven, pull the beef apart using 2 forks. Remove the bay leaves and add some coriander. You might have to adjust the seasoning and add some more salt and pepper. Also add a splash of red wine vinegar at this point.
You can then serve the brisket in two ways. Either traditionally with some tortilla and a fresh homemade salsa (freshly chopped tomato, Spanish onion, coriander, olive oil and seasoning), or as a Chilli Dog!