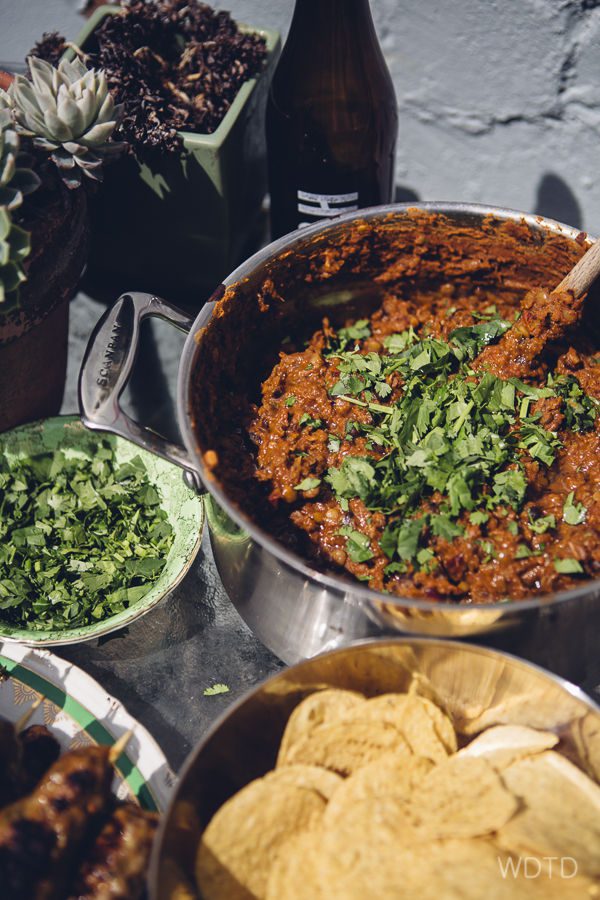 Prep time: | Cook time: | Serves 15-20 as part of Chilli Dog or 6-8 as main meal
4-6 cloves garlic
1 leek
2 medium brown onions
1 long fresh red chilli
Olive oil
½ a cinnamon stick
2 tbs ground cumin
2 tbs ground coriander
2 tbs smoked paprika
1 nutmeg, grated
1 bottle/jar tomato passata
250g dried red lentils
2 x 400g tins red kidney beans, drained
2 x 400g tins black beans, drained
2 x 400g tins chopped tomatoes
1-2 litres of vegetable stock
Salt and pepper
A bunch of fresh coriander
Finely chop the garlic and onions and finely slice the leek and chilli then place into a large (heavy-based) pot over a medium heat with some olive oil.
Fry for about 5 minutes until softened and browned. Add all of the spices and herbs, including the grated nutmeg, then fry for another 2 minutes. If the ingredients dry out a little you can add a little water or olive oil.
Stir in the tomato passata and cook for another 2-3 minutes.
Stir in the lentils, beans and chopped tomatoes, then add the vegetable stock, season with salt and pepper.
Bring all the ingredients to the boil then let it simmer and bubble for at least 2 hours. We cook our Chilli Con Veg for about 3-4 hours so it really absorbs all the delicious herbs and spices. Make sure you stir it every 20-30 minutes and be diligent so it doesn't stick to the pan or burn. It will thicken and reduce and will be ready to serve.
Serve with a splash of olive oil and some fresh coriander.