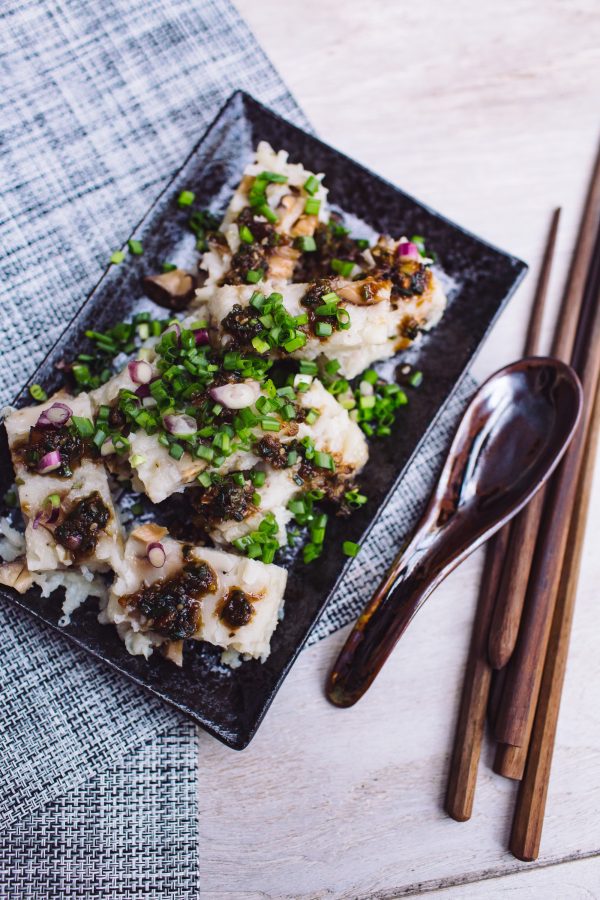 Prep time: | Cook time: | Serves 4
Marinated Mushroom
6 tbsp soy sauce
1 green onions (sliced)
3 tbsp brown sugar
3 tbsp honey
2 tbsp sesame oil
1 tbsp sesame seeds
1-2 chillies
2 cloves garlic, crushed
8 dried shiitake mushrooms (soaked, strained and chopped finely)
Chai Tow Kway
1 medium sized daikon (grated), the tops can be chopped and used as a garnish
1 cup rice flour
1 tbsp corn flour
1 cup water (plus additional)
marinated mushrooms (½ recipe below)
Remaining marinade from marinated mushrooms (recipe below)
2 green onions (sliced)
A steamer
Sesame chilli oil
2 tbsp sesame seeds
1 tbsp dried chilli flakes
2/3 cup sesame oil
Marinated mushroom mince. Using a mortar and pestle grind garlic and chillies into a paste
.
Add sesame seeds and grind together roughly
.
Transfer chilli mixture into a bowl and stir through remaining ingredients until combined
.
Add mushrooms and let soak for 15 minutes
.
Scoop mushroom mince into a wok or fry pan and cook over medium heat for 10 minutes or until brown, save remaining marinade.
Chai Tow Kway. Oil a baking dish (20cm x 20cm will do – I use a smaller casserole dish but whatever you have in your kitchen will do).

Add daikon and water to a pan or wok and cook over medium heat for 10 minutes.

Transfer liquid from the pan/wok to a measuring cup and add more water until you have a cup of liquid
.
Add daikon, reserved water, rice flour, cornflour and mushrooms to a large bowl and mix.

Pour batter into your baking dish until batter is 2cm thick (test by putting a clean knife into it).
Steam for 50 minutes on medium heat or until firm.

Let cool and then turn the cake onto a cutting board
.
Wet a knife with water and then slice cake into bite-sized pieces (wet knife between each slice to stop it from sticking).

Optional: Shallow fry pieces in oil until brown
.
Heat marinade in a fry pan on low/medium heat until it thickens
.
Serve chai tow kway on a plate, drizzle with sauce and top with green onions and daikon tops.
Sesame chilli oil. Combine sesame seeds and chilli flakes in a bowl.
Heat sesame oil over medium heat (splash water into the pot – if it sizzles, it is hot).
Pour hot oil over dry ingredients and save in a container for anytime use.