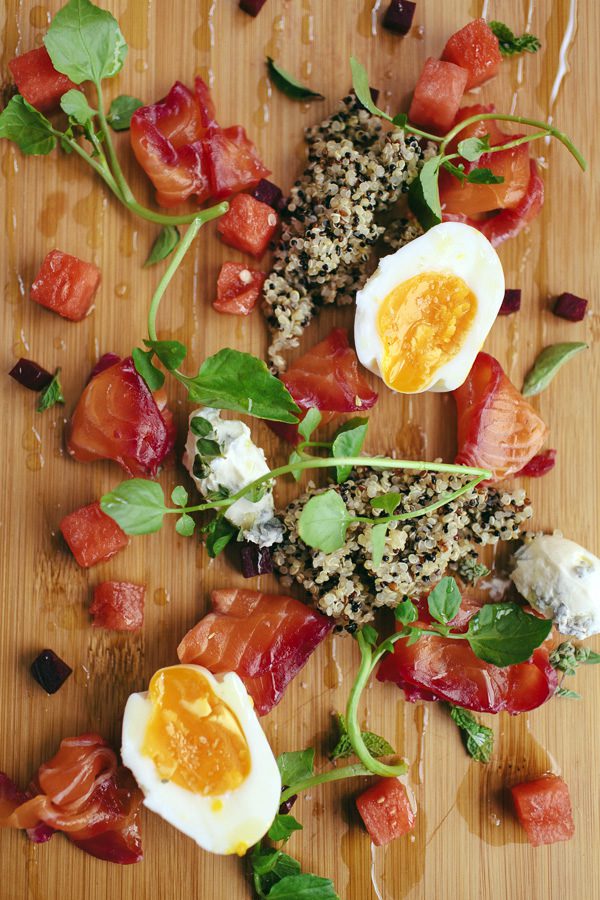 Prep time: | Cook time: | Serves 10
1.4kg side of salmon
250g salt
250g sugar
2 bunches of dill (roughly chopped)
2 large beetroot (grated)
zest of half a lime
a shot of snaps or vodka (optional)
cooked quinoa
small cubes of watermelon and beetroot
watercress, lemon basil, marjoram
soft boiled egg
creme fraiche
olive oil
lime juice
Lay 3 sheets of cling wrap overlapping on the counter or your kitchen bench top.
Mix sugar and salt together and place half of the mixture down on the cling wrap.
Place salmon skin side down on the sugar/salt.
Evenly coat the salmon with the remainder of the mixture followed by the lime zest, chopped dill & grated beetroot.
Wrap the salmon firmly in the cling wrap and refrigerate with a weight on top. (I used a wooden board and sat a jar on top.)
After 24 hours, remove salmon from the cling wrap and wash under cold water to remove residual sugar/salt.
Slice thinly and serve with cubed beetroot and watermelon, quinoa, marjoram creme fraiche, soft boiled egg w/ fennel salt, watercress and a variety of fresh herbs (marjoram, dill & lemon basil.)
Final touch, dress the board lightly with olive oil & lime juice.
This entry was posted in
Mains
,
Starters
,
The DIshes
and tagged
beetroot
,
creme fraiche
,
dill
,
fennel salt
,
gravlax
,
lemon basil
,
marjoram
,
nordic
,
quinoa
,
salmon
,
swedish
,
watercress
,
watermelon
. Bookmark the
permalink
.
← Borscht
Matzo Ball Soup →