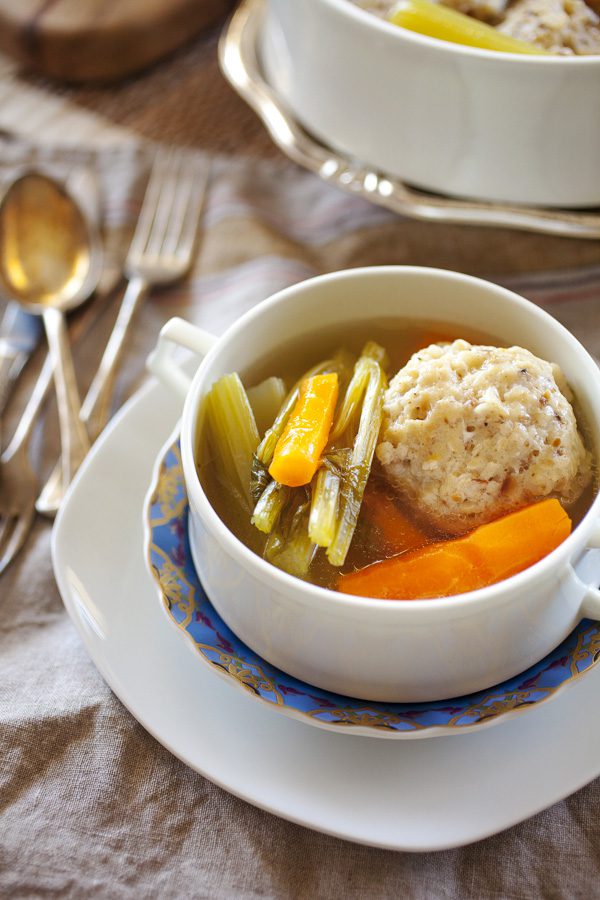 Prep time: | Cook time: | Serves 8
For Matzo balls
1/2 cup coarse matzo meal (can usually find this at Franklins)
2 eggs
2 tbs oil
Salt
Pepper
1/2 tsp bicarb soda
1/2 chicken stock cube or 1/2 teaspoon of powder chicken stock
1/2 tbs soda water or water
For Chicken soup
8-10 Chicken Wings
Additional chicken bones if you can find them!
4 Carrots (quartered)
Half celery (sliced in 10cm sticks)
Parsnip (halved)
Onion
Salt + Pepper corns
Chicken Stock cube
Parsley/Dill
Matzo balls. Lightly combine all ingredients, don't over mix. Leave for a few minutes. Gently mould balls the size of golf balls (they won't be circular) and place in simmering chicken stock. Cook on simmer for 20 mins or until soft all the way through. NB: Cook matzo balls in a separate pot of stock – not in soup!
Chicken soup. Roast the chicken wings in oven until lightly brown before putting them in the pot with water, it seems to bring out more flavour and reduce some of the fat.
In a large pot – add celery, carrots, parsnip, onion, a teaspoon of peppercorns, lightly roasted chicken wings & stock cube. Cover generously with cold water.
Simmer gently for about 2 hours. Occasionally you will need to skim the surface to remove fat*.
Serve the Matzo balls, vegetables and chicken soup in a serving bowl.
Add dill/parsley to your taste. Season to taste.
*If you want to remove all the fat, cool the soup in the fridge over night and skim the hardened fat off the top.
This entry was posted in
Mains
,
Starters
,
The DIshes
and tagged
carrot
,
celery
,
chicken
,
dill
,
jewish
,
kosher
,
matzo balls
,
parsley
,
parsnip
,
soup
,
stock
. Bookmark the
permalink
.
← Beetroot Gravlax
Roast with Csabai →