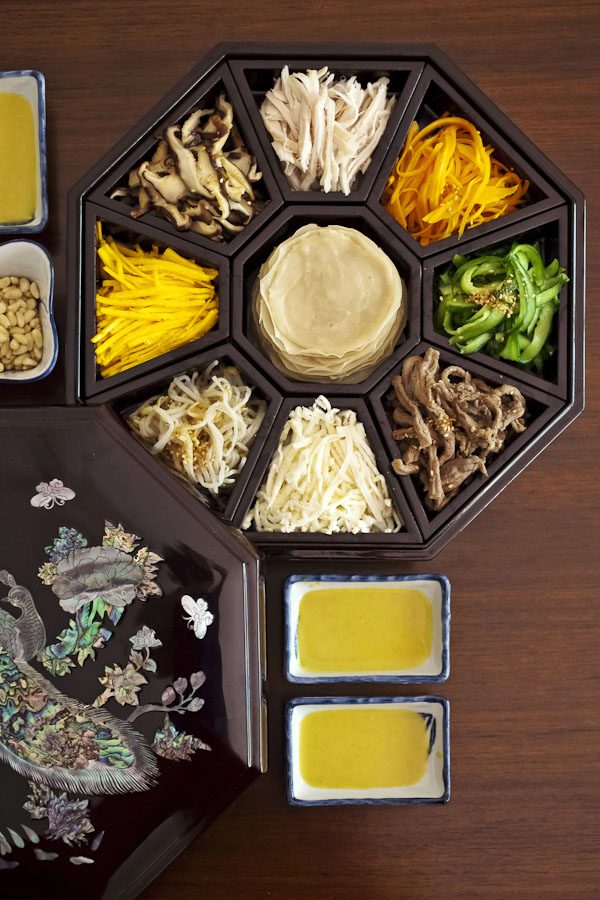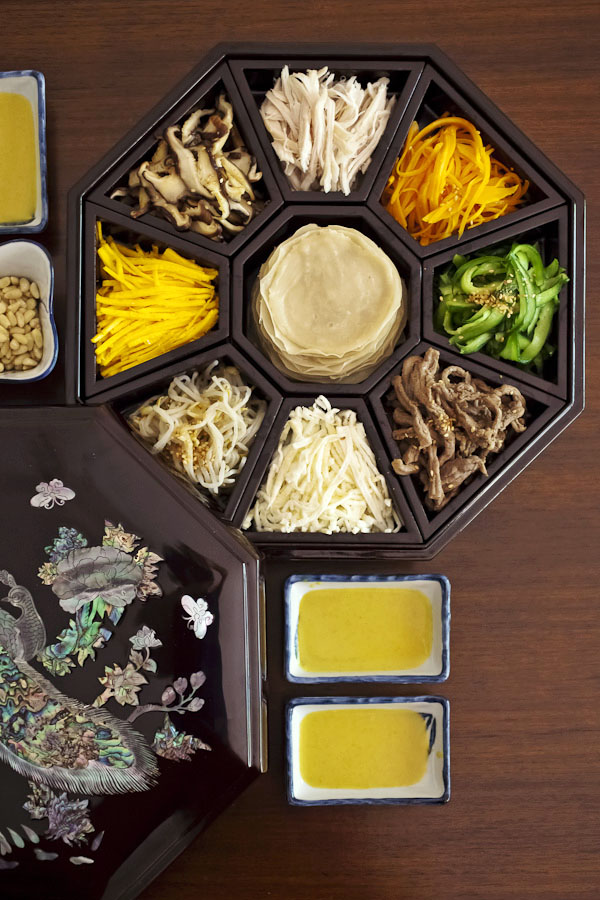 Prep time: | Cook time: | Serves 6
100g beef skirt

1 tbs soy sauce

pinch of ground black pepper

1/2 piece of chicken breast

1 carrot

2 cucumbers

1 pack of bean sprout

5 dried shiitake mushrooms

3 eggs

1 cup of flour

1 cup of water

1 heaped tsp hot english mustard

2 tsp vinegar

2 tsp water

3 heaped tsp brown sugar

roasted sesame seed

handful of pine nuts

sesame oil

cooking oil

salt
Mix 1 cup of flour with 1 cup of water then leave in the fridge for over an hour. When ready, pour a tablespoon of flour mixture into the frying pan at low heat with a bit of oil. If using a large fry pan, pour about 4 x 1 tbs creating 4 pancakes.

Soak the dried shiitake mushrooms in water for 1 hour or until rehydrated. Cut into thin slices then fry with sesame oil and a bit of salt.

Slice the beef into very thin strips then marinate with soy sauce and black pepper and leave for half hour. When ready, stir fry and add sesame oil to taste after cooked.

Boil the chicken breast in salted water until tender then hand peel into thin strips.

Julienne the cucumber skin and carrot into 3mm thick, massage with salt then a quick fry on high heat with a bit of oil until colour turns vibrant.

Trim roots of bean sprout and cook in salted boiling water for about 10 mins. Rinse with cold water then squeeze out excess liquid. Toss with sesame oil and salt to taste.

For the eggs, separate the yolks from the whites. Add 1tsp of water into the yolks and 1tsp of oil into the whites. Whisk and fry separately with a bit of oil on a low heat, cut into 6cm segments then julienne.

For the sauce, mix the hot english mustard with water, vinegar and sugar. Add salt to taste.

All the ingredients should be cut into the same length and width if possible. Plate all of the ingredients evenly on a platter and sprinkle a small amount of roasted sesame seed on each of them. Serve with a small bowl of pine nuts and sauce.
This entry was posted in
Mains
,
Starters
,
The DIshes
and tagged
bean sprout
,
beef
,
carrot
,
chicken
,
cucumber
,
egg
,
julienne
,
Korean
,
pancake
. Bookmark the
permalink
.
← Cold Soba Noodle
Basic White Sourdough Bread (adapted from Northwest Sourdough) →