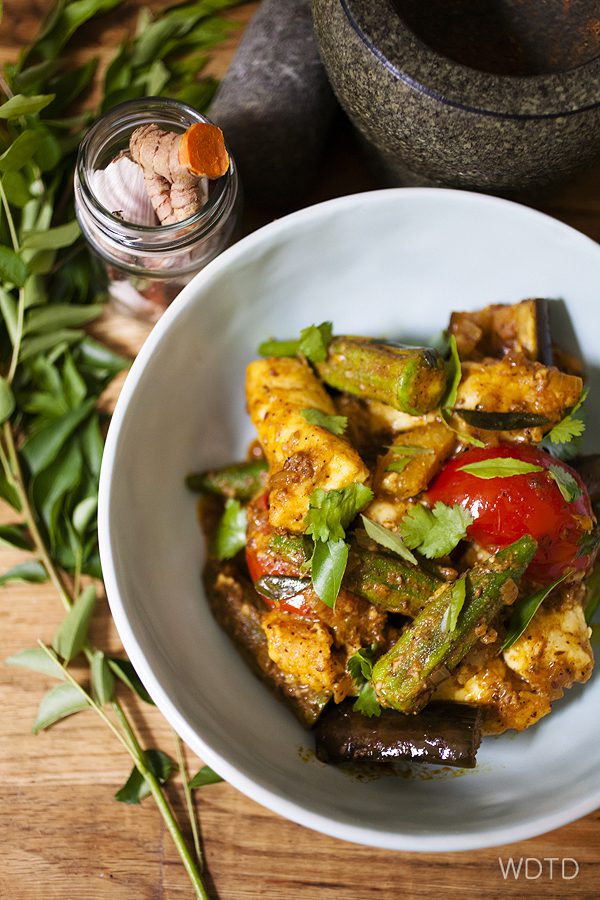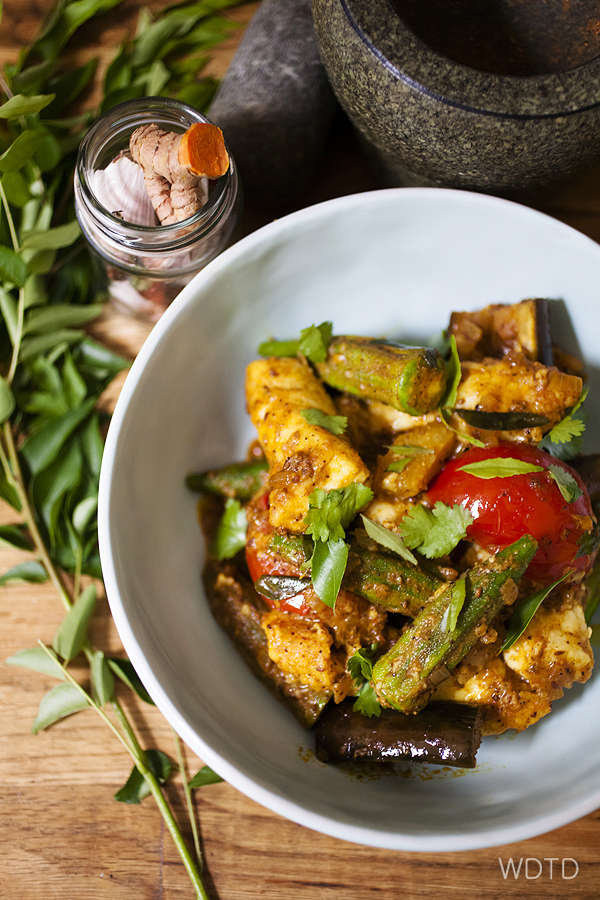 Prep time: | Cook time: | Serves 2-4
6 Small dried chillies
2 Fillets of Ling*
Rice flour
2 Cloves garlic
1 Big brown onion
Thumb size of ginger
Thumb size of fresh turmeric
1.5 tbs Cumin
2 tbs Coriander
1 tbs Mustard seeds
1 tbs Paprika
2 tsp Curry powder
1 tsp Chilli powder
2 tsp Sugar
2 Stalks fresh lemongrass
4 Lebanese eggplants
2 Tomatoes
500g Okra** (about 8 or so)
2 tsp Fish sauce
250g Coconut milk
50-100 ml Water
Vegetable oil
Rehydrate your chilies in hot water for 15-30 minutes. Drain and roughly chop.
Put your cumin, coriander and mustard seeds under the grill or dry-roast for about 5 minutes or until nice and fragrant. Pound in a mortar and pestle until fine (or whiz in a food processor).
Cut ling into large chunks. Coat the chunks in rice flour. Fry in vegetable oil for about 5-6 minutes, turning once. Set aside.
Finely chop onion, garlic, turmeric and ginger.
Quarter the tomatoes. Cut the eggplant into 5 cm chunks. Top and tail the okra.
Add vege oil to a medium-large pot. When hot, fry the garlic for a few minutes, then add the onion, turmeric and ginger.
When onion is translucent, add the rehydrated chillis, cumin, coriander, paprika, chilli powder and curry powder. Stir and add the coconut milk gradually.
Add the curry leaves and 2 tsp fish sauce.
Stir in the eggplant.
Pound the white part of the lemongrass, chop finely and add to the pot.
Add 2 tsp sugar, the water, tomato and pineapple chunks.
Reduce heat to cook at a high simmer for about 15 minutes. Stir in the okra after about 5 minutes.
Taste, adjusting with salt/sugar to taste if necessary.
Serve with white rice and garnish with fresh curry leaves and coriander.
* You can use a different white fish if you prefer (ie. red snapper or hoki) but ling holds together pretty well for this dish.
** If you can't find okra you could substitute zucchini, though I would insist you keep the tomatoes because they make sure the curry isn't too uniform in flavour.