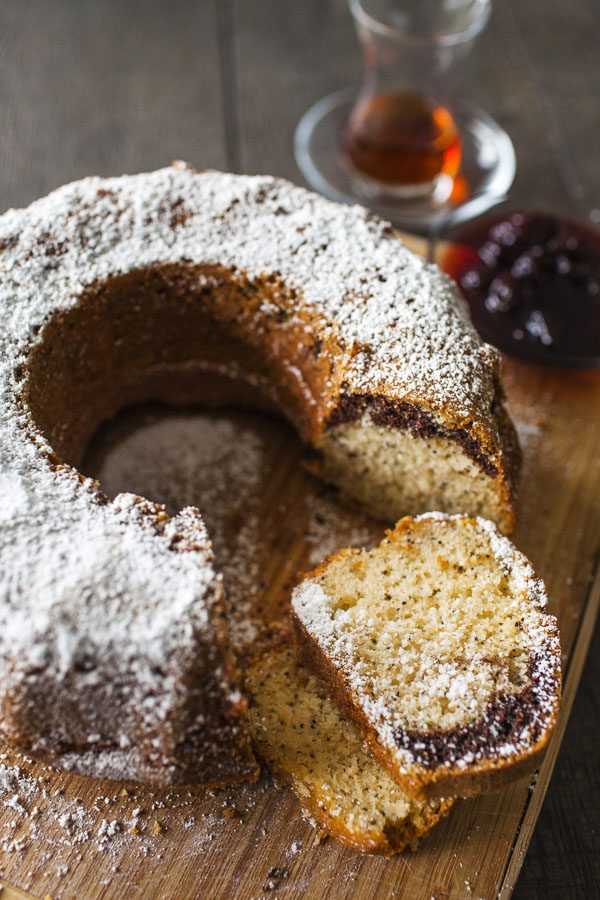 Prep time: | Cook time: | Serves 12
3 eggs
1 cup sugar
1 cup + 4 tbs milk
1/2 cup liquid cooking oil
2- 2 1/2 cups self raising flour
1 tsp vanilla essence
1 lemon rind
4-5 tbs cocoa powder
4-5 tbs poppy seeds
Pre-heat the oven to 180˚C .
Mix the eggs and sugar until it turns to pale cream colour. (Takes about 5-7 mins).
Add the oil, 1 cup of milk, vanilla essence and the lemon rind continuing mixing. Gradually add the sifted flour and mix. Add the poopy seeds and mix.
Grease the cake tin with butter and dust it with flour. Pour 3/4 of the batter in to the tin.
Add the cocoa powder and 4 table spoons of milk to the remaining cake mixture and beat until it is all combined.
Pour the cocoa mixture on the top of the plain cake mixture. With the help of a chopstick marble the two colours and bake it about an hour until the skewer comes out clean.  Transfer the cake to a cooling rack to cool down then dust with icing sugar. My son Jake calls it the snowy cake.