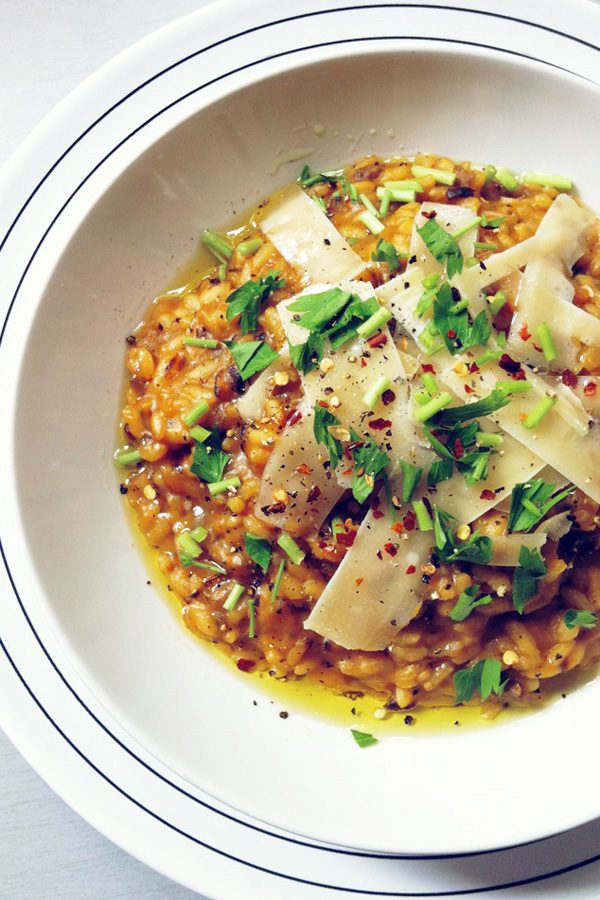 Prep time: | Cook time: | Serves 2-4
1/2 small butternut pumpkin mash
1 can of cream of pumpkin
500 ml chicken stock
450 ml of water
20g of thinly sliced beef scotch fillet
1&1/2 tsp fennel seed
a pinch of dried chilli flakes
small knob of butter
2 small onions thinly sliced
2 cups of semifino risotto rice
salt and pepper to taste
extra virgin olive oil
cooking oil
a squeeze of lemon juice
a handful of chopped flat leaf parsley
a handful of grated aged parmigiano reggiano
To make the pumpkin mash, put quartered pumpkin on a baking tray and drizzle with olive oil and sprinkle of sea salt. Put in oven on 150˚C for about 20-30 mins. Scoop out the flesh and drain excess water. Keep in fridge or use straight away.
Heat up some oil on a non-stick deep pan and fry the onion. Let it sit for a couple of minutes to encourage some caramelisation, stir again and repeat until they are golden and soft.
Mix in the rice and fennel seeds then stir for a further minute or so then turn the heat down to medium and pour in the chicken stock and cream of pumpkin a bit at a time while stirring until all is used up. Keep stirring and scraping the bottom of pan.
Mix in the pumpkin mash and thinly sliced beef scotch fillet then add the water a bit at a time until all used up. Season with salt and pepper to taste.
When cooked, move pot away from the stove and stir in the butter.
Serve in a semi-bowl, drizzle with extra virgin olive oil, squeeze of lemon, grated parmigiano and chopped parsley.
Season with cracked black pepper and chilli flakes.
For vegetarian version, replace chicken stock with vegetable stock and replace beef slices with soaked porcini mushrooms and thinly sliced celery stick.
This entry was posted in
Mains
,
The DIshes
and tagged
beef
,
butternut pumpkin
,
chicken stock
,
fennel seed
,
flat leaf parsley
,
lemon juice
,
parmigiano
,
reggiano
,
risotto
,
scotch fillet
. Bookmark the
permalink
.
← Marble Tea Cake
Osterbrot →