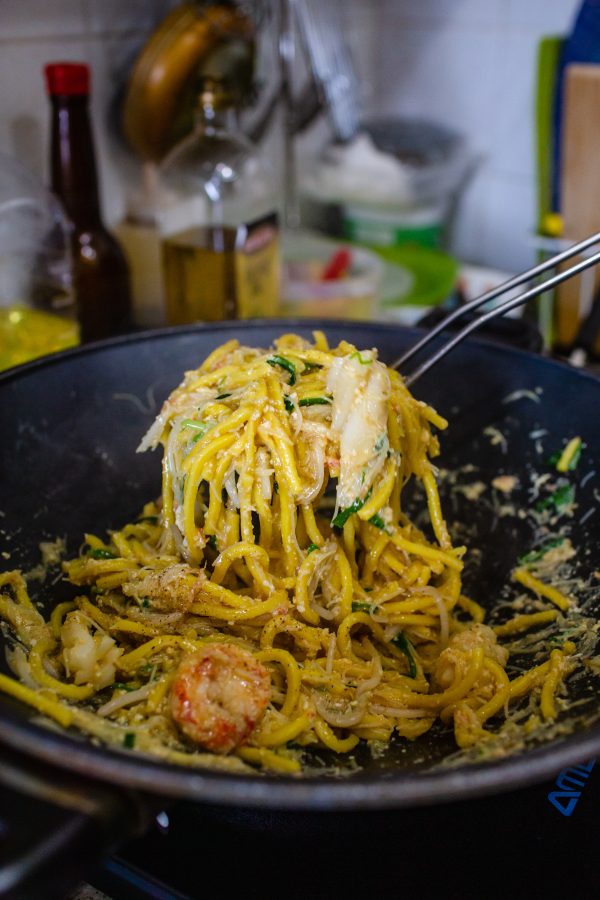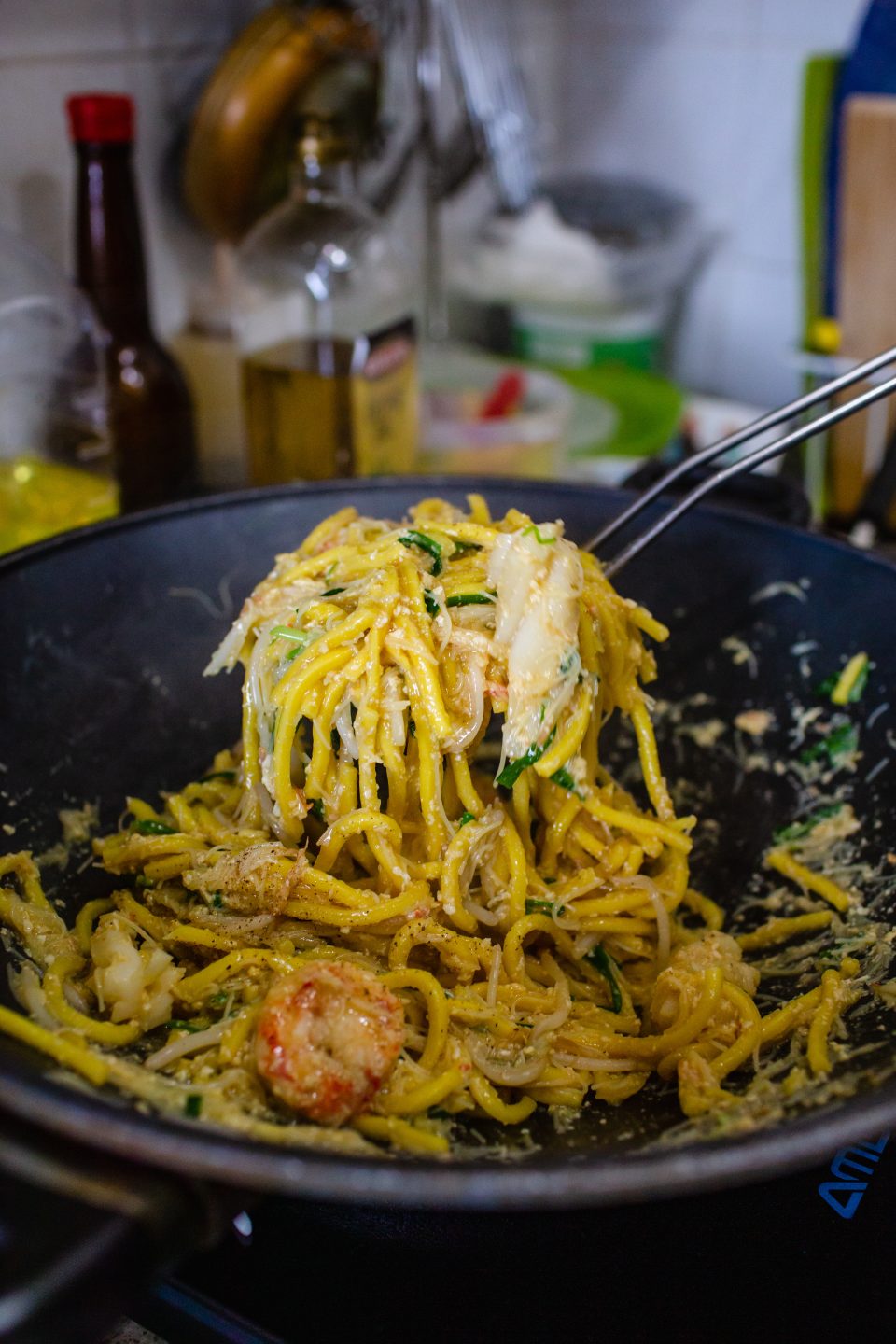 Prep time: | Cook time: | Serves 6
Broth:

1kg prawn head, 300g pork meat/ bone

Noodles:

800g of squid

1kg prawns 

1 packet of Hokkien Noodles 

1 bunch of dried Bee Hoon (Vermicelli)

2 packets of mung bean sprouts 

5 cloves of garlic 

2 bunches of Chinese chives 

6 eggs 

3 limes

9 tsp oyster sauce 

Belachan (shrimp paste)

6 tsp soya sauce 

6 tsp white pepper 

6 tsp salt 
Peel fresh prawns and place in a bowl, remove the prawn heads and set aside in a separate bowl.
Wash off any dirt from the fresh prawns.
Take 1 tsp of chopped garlic and stir fry the prawn heads over medium-high heat until they turn red, become fragrant and have absorbed all moisture.
Take the 300g of pork bone or cut of choice and the stir fried prawn heads and place in an instant pot/ pressure cooker. Add about 1.5L of water (or enough to just cover the prawn heads and bones). Cook for 20-30 minutes then release the steam according to your pressure cooker instructions.
Start cooking the broth for 20-30 minutes.
Meanwhile, while the broth is cooking, boil a large pot of water and add the Hokkien noodles. Cook for about 3 minutes until it is half cooked.
In another bowl soak the dried Bee Hoon (vermicelli) noodles until they are slightly softened and the noodles can be separated.
Wash and chop the Chinese chives into 3 cm pieces.
Wash and prepare the bean sprouts.
Slice the squid into 2cm thick rings or small rectangle pieces with diagonal scores on its surface.
Place all your ingredients beside the stove for easy access when stir frying the noodles.
Once the broth is ready place it next to the stove.
Use a wok to stir fry the noodles.
Stir fry 6 portions individually.
Over medium high heat add 2 tsp of chopped garlic.
Add 5-6 pieces of squid and three prawns.
Stir fry for about 2-3 minutes, until the prawns have turned slightly red.
Add a ladle of the broth for 1 minute.
Add a large handful of chives and beansprouts and stir fry for 3 minutes.
Add both noodles, a handful of Bee Hoon and Hokkien noodle. Ratio of noodles is 1:1.
Add 2 more ladles of broth.
Once noodles are mostly cooked and ideally soft and thickly coated with broth, make a well in the noodles and crack in 1 egg then mix gently.
Add 1.5 tsp of oyster sauce, 1 tsp of soya sauce, 1 tsp of pepper, 1 tsp of salt and mix.
Ideally the noodles should be cooked yet still wet but not soupy. The noodles are ready to be plated.
When plating add 2 wedges of lime (lime is essential in the Hokkien noodles, the acidity will pair well with the rich gravy noodles) and a small dollop of Belachan, sambal or Asian chilli sauce of choice.