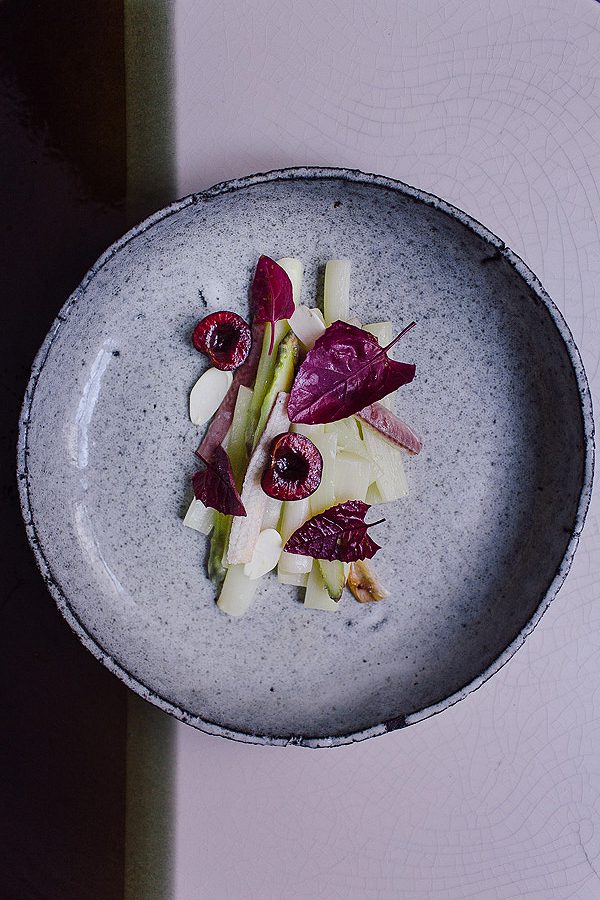 Prep time: | Cook time: | Serves 4
12pc large white asparagus
40g butter
Sea salt
Juice of half a lemon
200g smoked eel (skin off, deboned and cut into batons the same size you will cut the white asparagus)
200g cherries (halved and deseeded)
100g young almonds (peeled and halved)
Red arroche (wild spinach)
Peels the white asparagus and cut 3cm off the base or when it starts to look less woody.
Blanch the asparagus in salted boiling water for 3 minute or until tender. Take the asparagus out and refresh in ice water to stop the cooking process. When the asparagus is cold, cut it down lengthways and then in half to make batons.
Reheat the Asparagus in a saucepan with the butter and a few drops of water. Season with some salt and finish it off some lemon juice.
Take off the heat and divide into four plates. Arrange the remaining ingredients on top and serve.
This entry was posted in
Starters
,
The DIshes
and tagged
Bastille market
,
butter
,
cherry
,
french
,
fresh almond
,
red arroche
,
smoked eel
,
spring produce
,
white asparagus
,
wild spinach
. Bookmark the
permalink
.
← Spanakopita
Oysters with Rhubarb Mignonette →