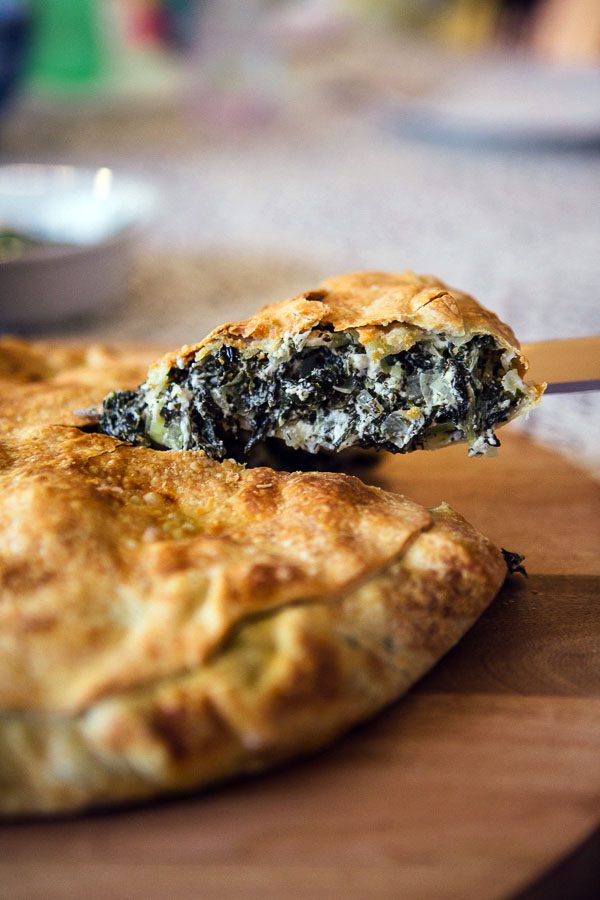 Prep time: | Cook time: | Serves 6
Filling
1kg silver beet, stalks removed
a big handful of chopped dill
a small handful of chopped mint
150ml extra virgin olive oil
1 big leek, finely chopped
1 onion, finely chopped
1 egg, lightly beaten
Dried Greek oregano, to taste
500g fresh ricotta
Salt and freshly ground black pepper, to taste
1 cup olive oil, for brushing
extra plain flour, for dusting
Filo Pastry
500g plain flour
225ml water
1 egg, lightly beaten
1 teaspoon salt
Make filo pastry: Combine flour, water, egg and salt in a bowl and stir until it comes together into a dough. Transfer to a lightly floured surface and knead for 2-3 minutes or until smooth. Wrap in plastic-film and set aside for 1 hour.
Make filling: Wash silver beet leaves and with the water still clinging to them, place them in a saucepan, cover and cook over medium heat until just wilted. Drain in a colander and squeeze to extract as much liquid as possible. Roughly chop and set aside in a bowl.
Heat olive oil in the saucepan, add onion and leek and cook over a low heat for 6-8 minutes, until soft.
In a mixing bowl, combine the chopped silver beet, add dill, mint, egg and oregano. Gently fold in ricotta, season to taste with salt and pepper, cover and refrigerate.
Preheat oven to 200ºC. Cut filo pastry in half and roll out 1 half on a lightly floured surface to make a 60cm square. Using a dinner plate as a guide, cut a round in the centre of the pastry, then cut remaining pastry into 8 equal pieces and brush the 8 pieces liberally with oil. Place the 8 pastry pieces on top of one another, top with the pastry round, dust generously with flour and roll out into a 40cm round. Trim edges to make a neat 40cm round. Place this round on a 26cm pizza tray. Repeat rolling, cutting and layering with the remaining pastry half. Trim edges to make a neat 40cm round and set aside. Spread filling to edges of pizza tray, then fold excess pastry over filling, pleating sides as you go. Gently gather second sheet of rolled pastry with two hands and place on top of pie, allowing it to fold.
Brush generously with olive oil and bake for 30 minutes or until golden. Serve warm or at room temperature.
Janni Kyritsis' tips if you plan to use nettles: When preparing nettles, wear rubber gloves as any contact with the nettles will cause itchiness for days. Harvested from the wild, only the young shoots and tops of nettles are eaten, but they must be cooked beforehand to remove the stinging element. If nettles are unavailable, just use the other greens. This pie is ideal for a picnic or light lunch. You could use this pie filling with a commercial filo pastry, which is what many modern Greeks would choose to do.
This entry was posted in
Mains
,
Starters
,
The DIshes
and tagged
dill
,
filo
,
greek
,
greek oregano
,
onion
,
pastry
,
silverbeet
,
spanakopita
,
spinach
,
vegetarian
. Bookmark the
permalink
.
← Chilli Con Veggies
White Asparagus from Provence with Smoked Eel, Cherries and Young Almonds →