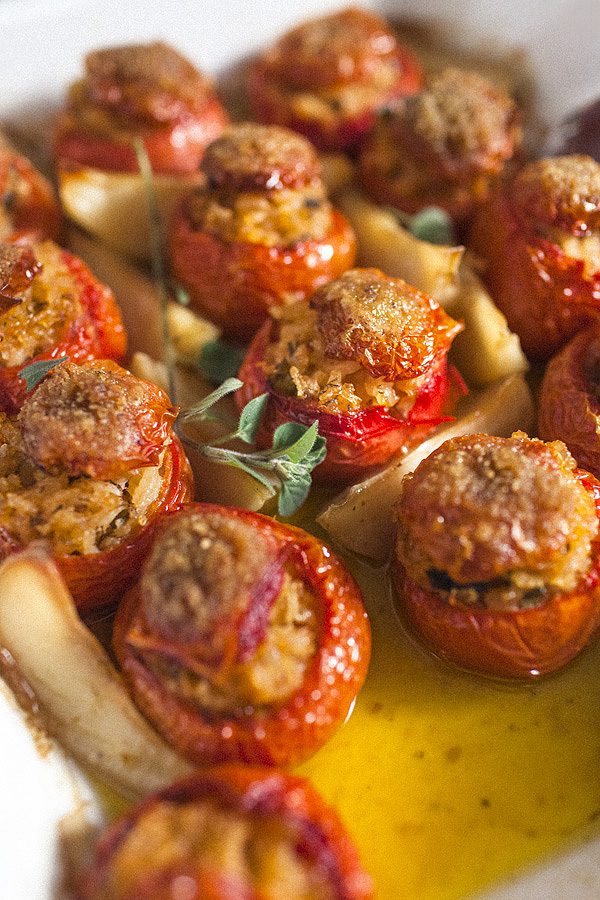 Prep time: | Cook time: | Serves 6
12  small-medium tomatoes
2-3 spring onions, finely chopped
2-3 cloves of garlic, finely chopped
2-3 sprigs of dill
1 cup of short grain rice
1/2 kilo of potatoes cut into wedges
butter, salt and olive oil
bread crumbs
Preheat the oven to 190˚C. Slice the tops off the tomatoes and reserve. Scoop out the insides, placing in a separate bowl, taking care not to split or pierce the tomato skins. Sprinkle the cavities with salt and turn upside down in the baking dish you will use, allowing them to drain.
Grate or puree the insides of the tomatoes in the separate bowl.
Saute the chopped onions and garlic in olive oil, over medium heat, in a frying pan. Keep stirring so that they do not become overly brown or scorch. When the vegetables are soft add the dill and stir throughly. Then add the rice and stir, coating it in the herb and garlic flavoured oil.
Add the pureed tomatoes and about a cup of water. Cook over a low heat until the rice has absorbed most of the liquid. You may need to add a little more water from time to time to stop the rice from sticking to the pan.
Remove from the stove and fill each tomato with the mixture. Be careful not to stuff too full, or the tomatoes will split. Place the filled tomatoes and potato wedges into a baking dish – replace the caps on the tomatoes. Add about 1/4 cup of water to the base of the pan. On the top of each tomato cap – sprinkle some bread crumbs and add a little dollop of butter. Bake for about 1 hour covered with foil. Remove the foil and then cook for around 1/2 hour. Serve with a plate of feta cheese and olives – or as the vegetable accompaniment to the slow cooked lamb. These tomatoes are also wonderful served the next day at room temperature.