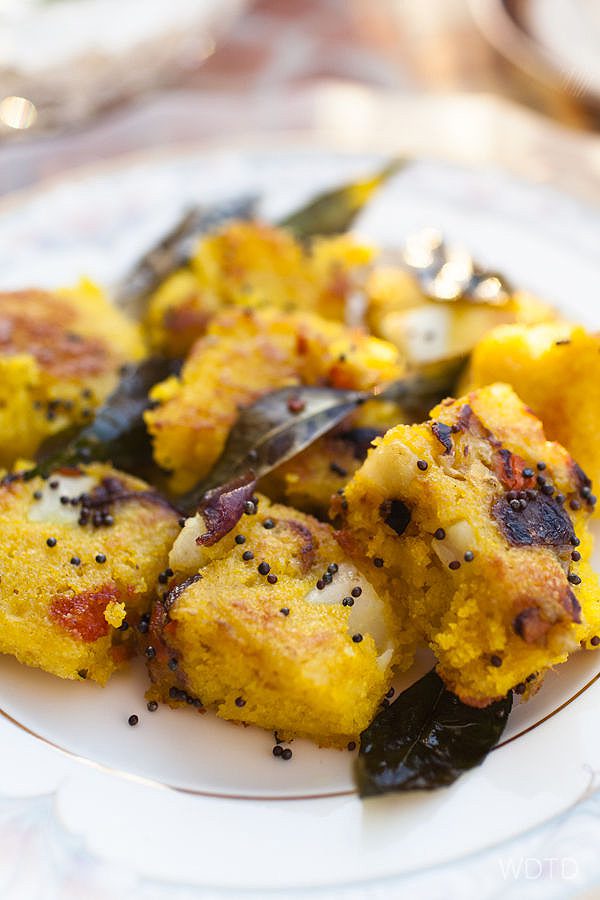 Prep time: | Cook time: | Serves 8
For dhokla mixture
1 cup of split chickpeas ( Chana Dhal)
1/4 cup of yellow split peas
3 cups of jasmine rice
2 tbs plain yogurt
1/4 cup of vegetable oil
2 tsp turmeric powder
1/2 tsp of Eno powder
2 tsp salt
For vegetable fillings
2 large potatoes
1 large onion
100g cabbage
1 carrot
For yoghurt dip
2 tsp of cumin seeds
1 tsp sea salt
a few sprigs of mint leaves finely chopped
4 tbs greek/plain yoghurt
Day 1 – Soak the rice and peas in water overnight on separate bowl
Day 2 – Blend the soaked grains in a blender with a bit of the water from soaking as you want a yoghurt-like consistency. Mix the two blended grains together in a container then add yoghurt and turmeric powder. Ferment the mixture overnight at room temperature. In warmer days, find a cooler spot to leave overnight to slow down the fermentation process.
Day 3 – Prepare the vegetable fillings: Cut potatoes in small cubes, steam it and set aside. Finely chop the rest of vegetables. Sauté over medium heat until golden brown and set aside.
Add salt, oil and Eno powder into the fermented Dhokla mixture and mix well.
Lightly grease the steamer container and place 2 cups of mixture. Sprinkle the sautéed vegetables and steamed potato cubes on the top. Steam it for 15 mins.
You can serve Dhokla hot straight out of the steamer or lightly pan-fry with curry leaves and black mustard seeds. Highly recommended!
To make the yoghurt dip, grind some cumin seeds and sea salt using mortar and pestle. Mix in well with the yoghurt and finely chopped mint leaves.
The rest of the mixture keeps well in the fridge for up to 5 days, a great way to have daily supply of fresh Dhokla.
This entry was posted in
Mains
,
Sides
,
Snacks
,
The DIshes
and tagged
black mustard seed
,
breakfast
,
chana dhal
,
curry leaves
,
dhokla
,
dhokra
,
gujarati
,
indian snack
,
jasmine rice
,
turmeric
,
vegetarian
,
yellow split peas
,
yoghurt
. Bookmark the
permalink
.
← Galettes de Blé Noir (Buckwheat Crepe)
Roast Rack of Veal with Mushroom Ragu →