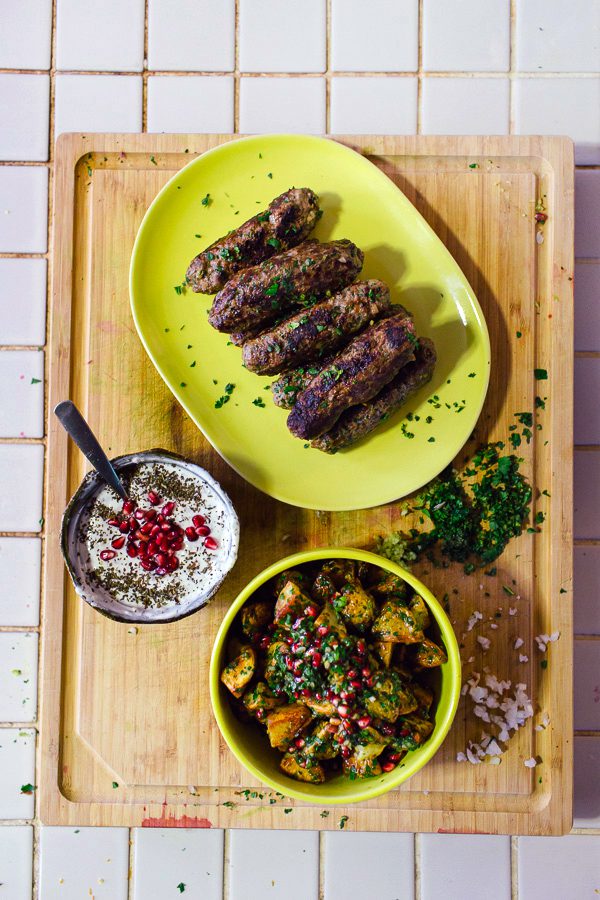 Prep time: | Cook time: | Serves 4
500g lamb (or beef) mince
1 bunch of parsley
1 bunch of mint
3 good sized spring onions
1 tbs of Baharat spice mix (a Lebanese spice mix containing Paprika, Pepper, Cumin, Cassia, Cloves, Coriander Seed, Cardamom, Nutmeg)
Olive Oil
Salt and peper
As many smallish waxy potatoes as you wanna eat but enough for four people
Pomegranate mollasses
Chilli powder
4 cloves of garlic
1 juicy lemon
Handful of Pomegranate seeds
Start with the potatoes. Cut the spuds into sort of 1cm cubes or quartered. I like to go small cause they end up extra crunchy. Douse in olive oil and salt, chuck into a baking dish and pop in a preheated 220c degree oven. Cook until super golden.
While they're crisping up, take the mint, 3/4 of the parsley and the three spring onions and dice super fine. No stalks. Knead the herbs and onion into the mince with your hands. Sprinkle in the Baharat. This will give it the authentic Middle Eastern flavour. Chuck in a dollop of olive oil and mix until it's well combined and looks consistent.
Wet your hands and make little sausage shaped morsels out of the mince around 10cm long.
Heat a pan with some oil on med-high and cook each little kafta for a couple minutes on each side until slightly firm to touch. They would be better on the BBQ, but I was out of gas and feeling a bit lazy.
On a clean board, dice the rest of the parsley, the coriander and the garlic. Again, super fine. Put in a bowl. Pour in a healthy amount of olive oil. Maybe half a cup will do. Add salt and pepper, chilli powder, a good dollop of the pomegranate molasses and the juice of one lemon. Now mix in your crispy potatoes into the deliciousness and stir around, coating them thoroughly. Now's the time to bung in the pomegranate seeds too if you're using them.
Serve the potatoes and the kafta together. Feel free to whip up a quick mint yoghurt to dip the kafta in. It's a great accompaniment and so delicious.
This entry was posted in
Mains
,
The DIshes
and tagged
baharat
,
chilli
,
coriander
,
kafta
,
lamb
,
Lebanese
,
mince
,
mint
,
molasses
,
parsley
,
pomegranate
,
roast potatoes
. Bookmark the
permalink
.
← Oysters with Rhubarb Mignonette
Vegan Chocolate Cake with Swiss Meringue 'Butter'cream →