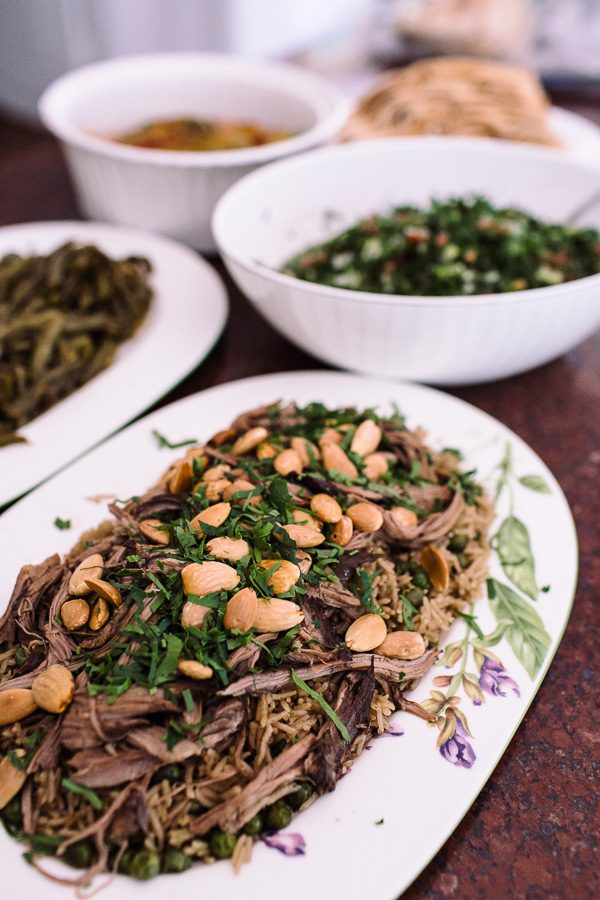 Prep time: | Cook time: | Serves 6
1 lamb shoulder with bone
1 large brown onion
1 carrot
1 stick of celery
3-4 tbs of Baharat spice mix
1 tbs black peppercorns
4-5 cinnamon sticks
1 cup roasted almonds
2 cups long grain or basmati rice
1 cup frozen peas
Salt to taste
Put lamb, onion, carrot, celery, mixed spice, peppercorns and salt into a large saucepan on high heat. Cover with water and bring to the boil, then reduce heat and let simmer for 4-5 hours. The longer you cook the more tender the meat will be.
When cooked, remove the shoulder and strain stock, removing the fat from the top of the stock. Discard the fat and the vegetables from the stock, put the strained stock aside.
Meanwhile, put two cups long grain rice (washed and drained) and one cup frozen peas into a saucepan. Pour four cups of the lamb stock over the rice, cover the saucepan and bring to the boil, then reduce heat and let simmer until stock is absorbed and rice is cooked (about 15-20 minutes).
While the rice is cooking, remove the meat from the bone and break into pieces.
To serve, put rice into serving dish, arrange meat on top with the roasted almonds. Can also garnish with chopped continental parsley to taste.
This entry was posted in
Mains
,
The DIshes
and tagged
baharat
,
lamb
,
Lebanese
,
middle eastern
,
mix spice
,
pilaf
,
rice
,
slow cook
,
tender
. Bookmark the
permalink
.
← Lebanese Stuffed Zucchini
Tennis ball squash, sunflower paste & anchovy →