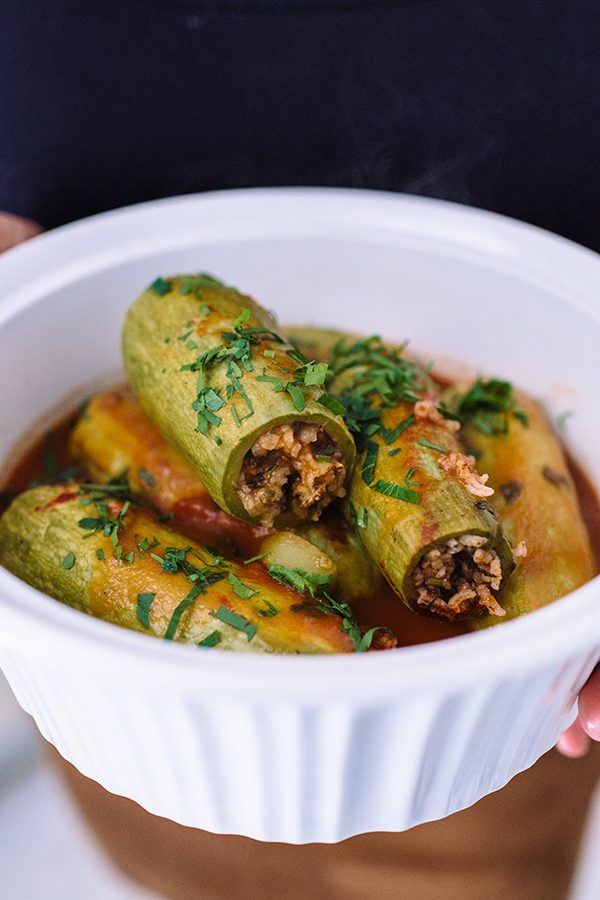 Prep time: | Cook time: | Serves 6
10-12 medium sized grey Zucchinis
4 tablespoons tomato paste
Stuffing
1 chicken breast, chopped finely (can also use lamb)
¾ cup of basmati rice
1 medium onion, chopped finely
1 cup finely chopped continental parsley
1 cup finely chopped mint
2 medium tomatoes – finely chopped
1 tbs ghee, melted
2 tbs Baharat mixed spice
Salt & pepper to taste
Wash the zucchinis and cut off the tops. Gently scoop out the flesh, being careful not to break the skin. Rinse again well and drain the hollowed out zucchinis
.
Mix together all the ingredients for the stuffing in a bowl. Fill each zucchini by about ¾ with the mixed stuffing (try not to 'pack' the stuffing too tightly as you need to allow for rice expansion) .
Place zucchinis in a saucepan. Mix 4 tablespoons of tomato paste with enough water to cover the zucchinis. Bring to the boil and then simmer until cooked (about 45mins-1 hour).